Mid-summer is the season for berry blues. In many parts of the U.S., dark, luscious, wholesome blackberries are ripe, inspiring this easy Blackberry Scone recipe.
It's an easy bake for breakfast and calls for just a cup of blackberries. So, you'll only need a small 6-oz package from the grocery store. Or, if you picked your own blackberries, it will leave you with extras for berry desserts like cobbler and pie.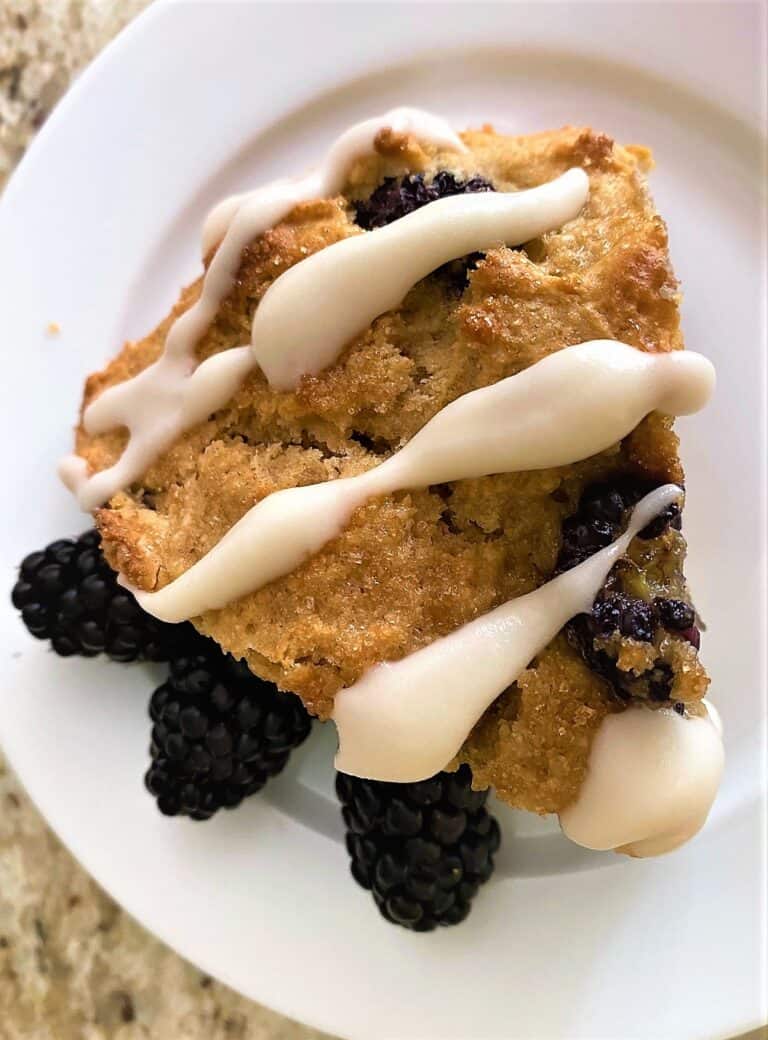 (Dessert, of course, is only one way to employ any extra blackberries, but my mind wanders in that direction before considering using them to top yogurt or cereal!)
Blackberry Scones are nutritious and healthy, perfect for enjoying any time you want a tasty snack.
You may be skeptical. How can scones be healthy? They have a reputation as a teatime treat or indulgent breakfast food. (Not quite as decadent as donuts, but almost!)
With just a few tweaks, such as choosing whole grain flours and healthier fats, this scone transforms from simply tasty to truly nutritious.
Of course, fruits in a scone boost the sweetness and help improve the health profile whether they are the traditional raisins or the juicy blackberries in this recipe.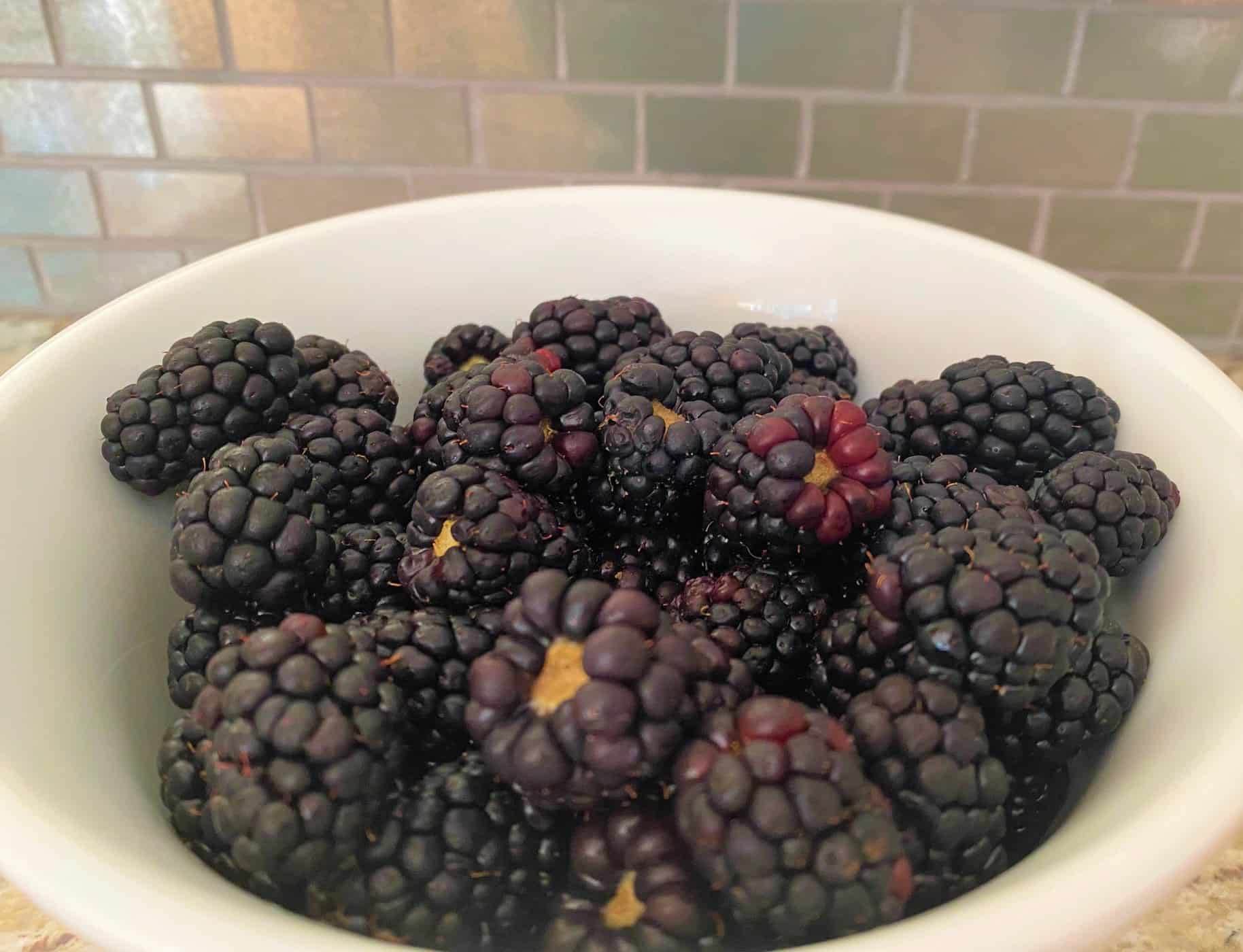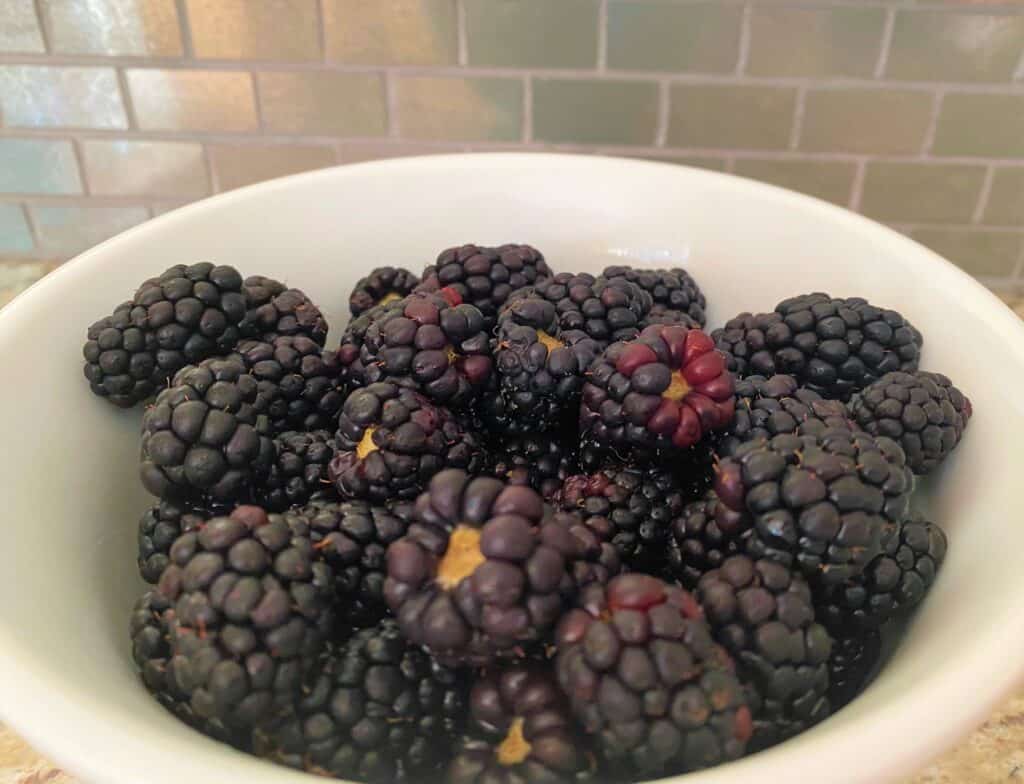 Nutrition Bonuses
Blackberries are one of the most nutritious fruits to toss into a scone (or a muffin) batter.
Here are some of the healthful highlights of a 100-gram serving* (a scant cup):
5.3 grams fiber
29 mg calcium
0.62 mg iron
162 mg potassium
0.53 mg zinc
21 mg vitamin C
25 mcg folate
20 mcg vitamin K
*Nutrition information from the USDA's Food Data Central website
There is nutrition synergy here between calcium, vitamin K, and vitamin C. Blackberries are an excellent source of vitamins K and C, both of which improve the absorption of calcium, needed for strong bones and teeth.
Clearly, blackberries are a boon for bone health! If you have a minute to read through the nutritional details for the Blackberry Scone recipe below, you'll see that each scone offers 55 mg of calcium.
So, enjoying a Blackberry Scone (or maybe two) will help a little bit if you're trying to reach the RDA (Recommended Daily Allowance) for calcium, which is 1,000 mg for adults younger than 50. This is especially true given the nutrient combo in blackberries.
Berry powerful: Flavonoid phytonutrients
Blackberries are also rich in anthocyanins, which are a type of flavonoid phytonutrient and the source of their blue-black color.
Anthocyanins act as antioxidants, protecting our bodies from free radical damage and tamping down inflammation. These plant-based nutrients may have benefits for heart disease and cancer. Research has shown that flavonoid anthocyanins support vascular health, improving high blood pressure, venous insufficiency, and diabetic retinopathy.
Other foods high in anthocyanins include: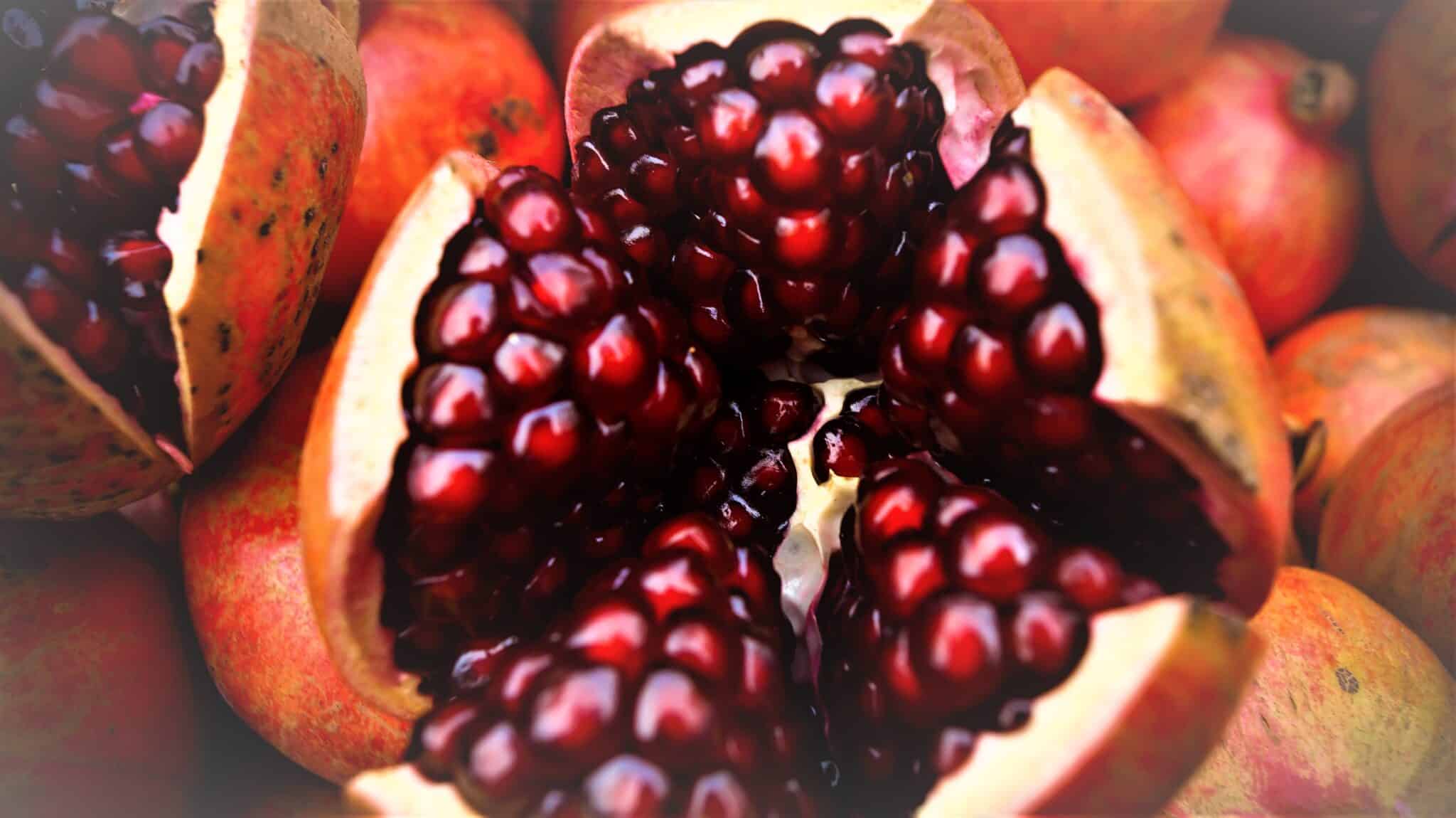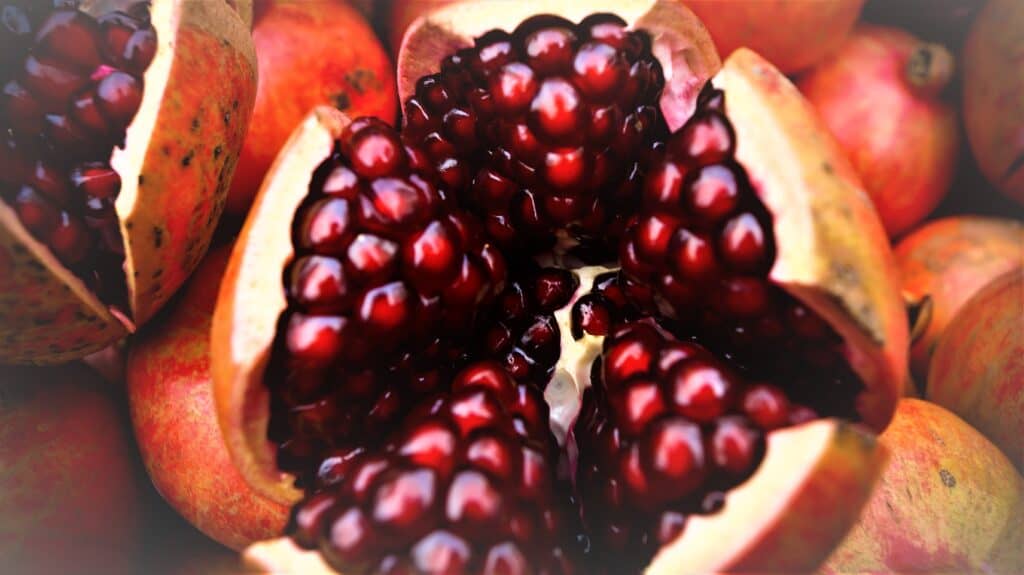 Black raspberries
Black currants
Raspberries
Pomegranate arils
Blueberries
Forbidden rice
Purple carrots
Credit: Arjun Kapoor on Unsplash
Plants with good amounts of anthocyanins are deep red or purple. The color of hibiscus flowers, rosehips, and goji berries comes from anthocyanins.
For a bone-health breakfast, you could eat the scones with a small dish of yogurt topped with goji berries or simply top the yogurt with more fresh or frozen raspberries or blackberries.
Refining your choice of flour for optimal nutrition
Healthwise, the Blackberry Scone recipe has more going for it than anthocyanins and calcium. Each scone supplies a hearty serving of whole grains and healthy fats that will keep your stomach from rumbling for some time.
Whole grains supply B vitamins, for energy, as well as fiber, magnesium, trace minerals, and some protein. The whole wheat flours in the recipe are whole grain.
For those of you who choose gluten-free baking, teff and millet flours are whole-grain alternatives. You could also substitute nut flour like almond or coconut for up to 25 percent of the flour in the recipe to add nutrition.
No matter what flour you bake with, this scone recipe is very forgiving. All-purpose (AP) white flour and standard gluten-free flour will yield a delicious result.
If you want to try regular or stone-ground whole wheat flour, you'll get a better-tasting scone by combining about a cup of white AP with ¾ cup of whole wheat flour.
Proteins to pair with Blackberry Scones
Suppose that you are making the scones for Sunday breakfast. Combine them with a protein, such as eggs, the aforementioned yogurt, or some type of breakfast sausage.
Although the Blackberry Scones are nutritious, they don't provide a meal-sized amount of protein. Make them more sustaining with easy protein add-ons, such as cottage cheese and nut or seed butter.
Think outside the peanut butter jar here. Sunflower seed butter and pumpkin seed butter are yummy options. To learn more about seed butter, read Sunflower Seed Butter vs. Peanut Butter, or try my recipe for chocolate pumpkin seed butter.
Can vegans eat Blackberry Scones?
Yes, they can, with the following substitutions. Use plant-based milk combined with lemon juice instead of the buttermilk in the recipe. Substitute a flax egg for the chicken egg.
To make a flax egg, combine 1 tablespoon of flaxseed meal (raw, ground flaxseed — I keep this in the freezer) with 2 ½ tablespoons of water. Stir and let the mixture sit for about 5 minutes until it gets a bit thick and stiff.
Note that flax eggs do not have the same leavening qualities as regular eggs. Consider adding another ½ teaspoon of baking powder if you are making this substitution.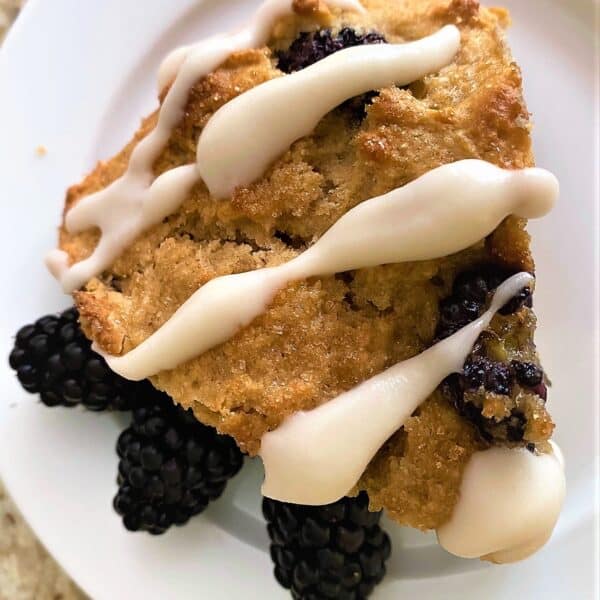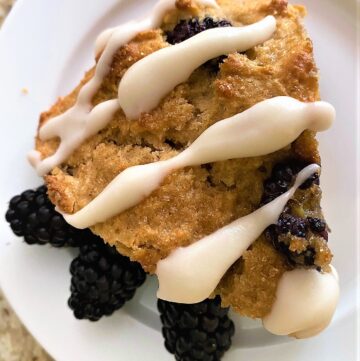 Blackberry Scones with Buttermilk
Tender, American-style wedge scones filled with plump blackberries and flavored with lemon and vanilla. Made with whole-grain flours and healthy fats!
Equipment
Medium bowl, 1 cup liquid measure, dry measuring cups, measuring spoons, pastry cutter, forks, spatula, baking sheet, parchment paper or silicone mat
Ingredients
1

cup

whole wheat pastry flour

¾

cup

white whole wheat flour

1½

Tablespoons

sugar,

granulated; can use coconut sugar

½

teaspoon

baking powder

½

teaspoon

baking soda

¼

teaspoon

salt

½

cup

buttermilk;

can sub ½ cup regular milk or plant milk + 1 teaspoon lemon juice

1

egg,

or use flax egg if vegan

2

Tablespoons

brown Truvia,

can sub ¼ cup regular brown sugar

2

teaspoons

lemon juice

1

teaspoon

lemon zest

1

teaspoon

vanilla

2

Tablespoons

butter,

very cold, cubed or grated

2

Tablespoons

canola oil,

chilled

1

cup

blackberries,

fresh or frozen
Lemon Glaze
½

cup

powdered sugar,

can use erythritol or stevia (Truvia) powdered sugar substitute

Lemon juice;

use enough so that the glaze is runny, but not drippy
Instructions
Whisk together flours, baking powder, baking soda, sugar, and salt in a medium bowl.

Combine buttermilk, egg, brown Truvia (or brown sugar), lemon juice, lemon zest, and vanilla in a liquid measuring cup. Beat with a fork.

Add cold butter (cubed or grated) to the bowl of dry ingredients. Drizzle chilled canola oil over the top. Using a pastry cutter, work the fats into the dry ingredients until the mixture is crumb-like.

Make an indentation in the center of the flour-fat mixture. Beat the wet ingredients briefly with a fork and pour them into the center. Add the berries. Using the fork or a spatula, mix everything together quickly, making a sticky dough. Be careful not to overmix.

Dump the dough out onto a prepared baking sheet. Shape into a circle, 8-10 inches in diameter. The dough might remind you of a drop biscuit and it will look like a large, thick pancake.

Bake in the center of the oven for about 18 minutes, rotating the baking sheet midway through the cooking time. Start checking for doneness after 15 minutes.

The edges will be browned and the scone will be golden in other spots. A toothpick inserted in the middle should come out clean.

Let the scone cool for 5 minutes. While the scone is cooling, whisk together the powdered sugar and lemon juice in a small bowl.

Drizzle glaze over the top of the scone and cut int 8 wedges using a serrated knife.
Notes
♦The other easy substitution is butter for the canola oil. Use ¼ cup of very cold butter instead of half butter and half canola oil.
Alternatively, it's possible to make an acceptable scone by leaving out the butter entirely. Simply add ¼ cup of canola oil with the liquid ingredients. This is quicker, easier, and possibly, healthier than cutting in butter plus oil.
🧈 That said, butter does improve the flavor and texture of the scones as does keeping the ingredients very cold.
♦Blackberry Scones taste best when eaten on the day they are baked. To save any extra scones, wrap them individually in wax paper. Then, place them inside a large plastic zip-top bag and freeze.
---
In case you do not have a pastry cutter, I include a link to this inexpensive piece of baking equipment. Sometimes, it's just not worth getting your food processor dirty!
A pastry cutter is perfect in this type of situation. It also spares the cold butter from the warmth of your hands, keeping the chill in the dough as long as possible.
YOU SHOULD KNOW THAT I do not count calories from the glaze in the final nutritional tally. This is because I use a confectioner's sugar substitute with minimal calories (Swerve or Truvia). These sweeteners are made from erythritol and/or stevia and are less likely to cause digestive upset than artificial sweeteners.
Nutrition
Calories:
218
kcal
Carbohydrates:
34
g
Protein:
5
g
Fat:
8
g
Saturated Fat:
3
g
Polyunsaturated Fat:
1
g
Monounsaturated Fat:
3
g
Trans Fat:
1
g
Cholesterol:
30
mg
Sodium:
217
mg
Potassium:
131
mg
Fiber:
4
g
Sugar:
13
g
Vitamin A:
182
IU
Vitamin C:
6
mg
Calcium:
55
mg
Iron:
1
mg
COPYRIGHT © 2021 FOOD HALL BY JANI