During our COVID-19 dominated existence, do you feel transported back in time to the days when fast food wasn't readily available and a restaurant meal was a special occasion? Although delivery, take-out, and drive-thru meals are there for us (if you've got the money), we're all hanging out more in our kitchens rustling up grub.
               While trying to pursue our professional duties at home, the day may revolve around household tasks. Think cooking and laundry – both larger volume jobs with more loved ones at home – and, of course, home-schooling and cleaning and sanitizing all those frequently touched surfaces.
               I wish I could offer you some timesaving tips on cleaning and laundry, but all I have for you is a quick, delicious drop biscuit recipe that may take you back to a better time. These little gems are easy and savory.
               They are also inexpensive and reasonably healthy. Because they contain shortening (butter flavor!), they are not true health food. They will only improve your well-being by providing comfort and saving you a few minutes of prep time.
BAKING WITH SHORTENING: WILL IT HURT YOUR HEALTH?
               Let's talk about shortening. Is it okay to bake with? (You can skip these next paragraphs if you don't care!)
               You may be aware that shortening was reformulated by manufacturers several years ago, removing the partially hydrogenated oils (PHOs) to minimize the amounts of trans fats. Using an enzymatic sleight of hand called interesterification, manufacturers chemically rearranged the structure of the fats so that the product that behaves like the old shortening we know and love.
(For information about the hydrogenated oils in peanut butter and sunflower seed butter, read my post: SUNFLOWER SEED BUTTER VS. PEANUT BUTTER.)
               Of course, we know that the PHOs that used to be included in shortening raise LDL cholesterol and lower HDL, increasing the risk of heart disease. The current formulation of Crisco brand shortening contains less .5 grams of trans fat, which by law allows its label to show 0 grams of trans fat.
               So, it's likely that this reformulated baking fat is better for you than the old product, but it may pose the same risk to your health as…butter.
                Reasons to choose shortening instead of butter are cost and ease. Butter does not get as creamy, nor does it hold baked goods together in the same way. If you like the taste of butter (and really who doesn't), you could replace half the shortening with butter and still end up with a tender product that has a melting quality in the mouth.
         The reformulated shortening produces a tender crumb and has a high melting point (it can be used for frying). Some old-time bakers have noticed that the new product doesn't perform exactly like the old formulation in baked goods.
         It does contain more saturated fat than the old product, but I will trade more saturated fat for zero-to-no trans fats any day. The Food and Drug Administration (FDA) has declared that trans fats are not "generally recognized as safe" (or GRAS).
FDA LIMITS TRANS FATS
         The FDA began regulating trans fats in 2003 when they required manufacturers to list the amount on their labels by the year 2006.
          In 2015, the FDA intensified trans-fat regulation with an edict that banned PHOs, the source of artificial trans fats, in foods. (Note: natural trans fats are found in the guts of cattle and other ruminants.) The agency initially gave manufacturers until June 18, 2018, to remove the unhealthy PHOs but subsequently moved the date to Jan.1, 2020, to give them more time to comply.
          The food industry's answer to the FDA's new regs is this interesterification of fats. With interesterification, shortenings behave pretty much as usual, yielding a flaky pie crust and soft, tender cakes, cookies, and – in this instance, biscuits.
HEALTH EFFECTS OF INTERESTERIFIED FATS?
           Since the 1940s interesterification has been used to make lard, a hard, mostly saturated fat, creamier.
           Even so, the number of studies looking at its health effects is small. One of the more recent studies looked at the health effects of fully saturated fats versus the interesterified kind. It found only a slight difference in the negative effect either type had on cholesterol. Interestingly, the researchers found that interesterified fat increased blood glucose by 20% more than the saturated fat.
             A couple of caveats with this study are that the saturated fat used was not butter. It was palm oil. Also, one of the researchers works for the Malaysian Palm Oil Board of Kuala Lumpur.
             Hopefully, a study in the pipeline, The INTER-CARDIO Study: The Impact of Commonly Consumed Fat on Cardiovascular Health; a Randomised Controlled Trial, will provide some guidance when it is published.
              This study comes from Kings College in London. The subjects are 40 healthy male and female adults between the ages of 35 and 75 who trial four different types of oils: interesterified (like shortening), non-esterified (perhaps vegetable oil), rapeseed oil (canola), and butter.
               If you are concerned about the effects of fats on heart health, keep your eye out for a future blog post discussing the study results, probably when we are no longer fully consumed by COVID-19 concerns. (Hopefully, that will happen.) Also, here is a meta-analysis that rounds up the health findings of several studies on interesterification.
BACK TO BISCUITS
               Health considerations aside, here is the biscuit recipe. It's a drop biscuit, which means no rolling out and cutting. It forms a thick batter, easily mounded onto parchment paper or a foil-covered baking sheet slicked with spray or oil.
               These morsels are good breakfast breads or tasty homemade extras with dinner. They also make a nice dumpling on a vegetarian gratin. Enjoy!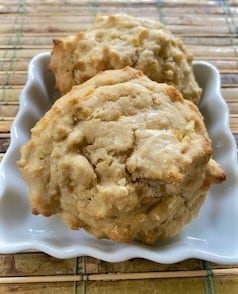 Easy Cheese Biscuits
Ingredients
2

teaspoons

distilled white vinegar

1

cup

of milk

¾

cup

whole wheat pastry flour

¾

cup

unbleached all-purpose flour

1

teaspoon

baking powder

½

teaspoon

baking soda

¼

teaspoon

nutmeg

¼

teaspoon

cayenne pepper

¼

teaspoon

salt

½

cup

shredded Colby-Jack cheese

¼

cup

butter-flavor shortening

1

egg

beaten
Instructions
Preheat oven to 400 F.

Line a baking sheet with parchment or foil that has been greased.

Pour the vinegar into the milk and set aside.

In a bowl, combine flours with baking powder, baking soda, spices, and salt. Stir vigorously with a whisk or a fork.

Cut in the shortening with a pastry cutter, fork, or well-floured fingers until the mixture resembles coarse crumbs. Stir in the cheese.

Combine the beaten egg with the milk/vinegar. Make a well in the center of the dry ingredients and add the wet ingredients. Stir just until all ingredients are moistened, being careful not to overmix.

Using a scoop or large spoon, drop about an eighth of the batter onto the baking sheet.

Repeat using the remaining batter.

Check biscuits after 10 minutes. They should be firm and the tops should spring back lightly when touched.

Leave for an additional 2 to 5 minutes to finish baking, if necessary.
Notes
These homespun drop biscuits taste of old-fashioned goodness. They are tender, thanks to the butter-flavored shortening, but you can replace half the shortening with butter if you prefer.
Nutrition
Serving:
1
g
Calories:
183.82
kcal
Carbohydrates:
19.1
g
Protein:
4.93
g
Fat:
10.03
g
Saturated Fat:
3.68
g
Sodium:
180.7
mg
Fiber:
1.81
g
Sugar:
1.73
g
Copyright © 2020 Jani Hall Leuschel