Lettuce pray that the salad we eat at Thanksgiving – often, one of the more innocent items on the table when it comes to calories, fat, sodium, and sugar (all the usual suspects) – will not be the cause of severe GI distress. Usually, the holiday post-meal stomachache is from eating too much, but the Centers for Disease Control and Prevention (CDC) with the help of the FDA and public health authorities continue to investigate the latest outbreak caused by E. coli 0157:H7 in romaine lettuce grown in the Salinas, Calif. area, which includes Santa Cruz, Santa Clara, San Benito, and Monterey counties.
The CDC announced on Nov. 26 that 67 people in 19 states and 1 person in Canada were sickened; 39 needed hospitalization; and 6 experienced a type of kidney failure known as hemolytic uremic syndrome (HUS). The illnesses began on Sept. 24; the latest case is from Nov. 14 according to the CDC.
H-E-B stores spent last weekend scrutinizing their greens. Mabrie Jackson, director of public affairs for Central Market and H-E-B, explained in an email that "The CDC and the FDA issued a notice to retailers and suppliers to withdraw romaine lettuce due to a potential contamination of E. coli linked to product from the Salinas, California."
"In an abundance of caution, H-E-B removed all products that contain romaine lettuce in response to this notice.  Most of our romaine products have been replaced with romaine not impacted by the withdrawal," Jackson said.
Kroger stores have removed romaine products and Whataburger is not selling salads, according to reports from television stations WFAA and KHOU. Whataburger had this sign posted: "Out of an abundance of caution, we are not selling salads due to a CDC investigation of romaine lettuce from certain regions."
The CDC is advising consumers to throw away any romaine labeled as grown in the Salinas area or any romaine that is not labeled and whose origin is not known. Romaine grown in other areas or in greenhouses, or with hydroponics, is considered safe to eat.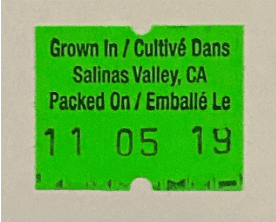 The big hitter, or rather, the company taking the biggest hit to their romaine products appears to be Ready Pac Foods and parent company Bonduelle, based on statements from the CDC and media reports.  Missa Bay, LLC, a Swedesboro, New Jersey establishment is recalling 75,233 pounds of salad products. Many store brands have been recalled including many store brands. The Food Safety Inspection Service (FSIS) list of products that may be contaminated can be found here. The latest expiration date for the products is the first of November.
In Maryland, the E. coli strain causing the illnesses was found in a Ready Pac Bistro Chicken Caesar Salad; DNA fingerprinting known as whole genome sequencing (WGS) confirmed that the bacteria are similar to the strain that caused illness in 2017 and 2018, according to the CDC. In Texas, there have been two cases. The states with most cases are Wisconsin with 21 and Ohio with 12.
In a statement, Scott Horsfall, the CEO of the Leafy Greens Marketing Agreement (LGMA), said, "For the past year, producers have been voluntarily labeling romaine lettuce with information on harvest date and growing region."
Salinas-area greens implicated in the outbreak were most likely harvested in September and October, according to the LGMA. The Ready Pac Bistro Chicken Caesar Salad that tested positive in Maryland for the bacteria had an expiration date of Oct. 31.
The LGMA is an industry group committed to safety practices in the production of greens. The organization is comprised of two groups, one in California and one in Arizona, whose members produce 90% if the leafy greens grown in the U.S. Several times per year, members are subjected to government audits by USDA-certified inspectors.
After the E. coli outbreak around the time of Thanksgiving 2018, the LGMA updated its safety protocols for irrigation and increased buffer zones between leafy greens farms and adjacent animal operations. The LGMA statement from Nov. 22 said that leafy greens production is currently transitioning from Salinas to other areas like Arizona and southern California.
E. coli lives in the intestinal tracts of cattle, and it does not make them sick. It is found in their manure and can get into nearby soil and water. It was found in an irrigation canal in the Yuma, Ariz. in the large outbreak of 2018 that sickened more than 200 people in 36 states and resulted in five deaths, according to an Environmental Assessment conducted by the FDA.
Many strains of E. coli are part of a healthy intestinal environment and do not cause illness. The types that can result in diarrhea, stomach cramps, and vomiting are known as Shiga-toxin producing E. coli (STEC) and enterotoxigenic E. coli (ETEC). They usually cause the most serious illness in young children, older individuals, and people with compromised immune systems. The romaine lettuce contaminant, E. coli 0157:H7, is a STEC strain. People usually feel sick 2 to 8 days after consuming these microbes.
Contracting an E. coli infection from leafy greens, whether they are romaine, spinach, or mixed lettuces, is not an unusual occurrence. In the wake of the current outbreak, Food Safety News published a table showing at least one outbreak each year since 1995. Many years had multiple outbreaks: 1995 and 2012 each had four.
The farmers, through vehicles like the LGMA, and the USDA, assembling a multi-disciplinary environmental assessment team from the FDA and the CDC (with expertise in produce safety, agriculture, veterinary medicine, epidemiology, microbiology, environmental health, and sanitation), have attempted to address the safety questions associated with leafy greens production. They have come up with recommendations, but these have not prevented the current outbreak.
E. coli can't be washed off greens, but on their website, the CDC has the following recommendations for preventing infection when handling food:
You can't tell whether meat is safely cooked by looking at its color.
Problem: One in four burgers turns brown before it has reached a safe internal temperature of 160°F.
Solution: Use a food thermometer.
Cook ground beef, pork, and lamb to an internal temperature of at least 160°F (70˚C).
Insert a food thermometer into the side of the patty, to the center, to check.
Cook beef steaks and roasts to an internal temperature of at least 145°F (62.6˚C) and allow to rest for 3 minutes after you remove meat from the grill or stove.
Check the temperature in the thickest part of steaks or roasts.

Prevent cross-contamination by thoroughly washing hands, counters, cutting boards, and utensils with soap and water after they touch raw meat.
Don't eat raw dough or batter.
Drink pasteurized milk and juices.
Copyright © 2019 Jani Hall Leuschel