In kitchens across the 50 states, the District of Columbia and several Canadian provinces, cooks are wondering what to substitute for onions. This is because of a massive food safety recall of that workhorse allium, the basic bulb onion.
On Aug. 1, Thomson International, a large produce company out of Bakersfield, Calif., recalled red, yellow, white and sweet yellow onions shipped since May 1 because they may be contaminated with Salmonella Newport. The onions were shipped to restaurants, wholesalers and retailers including Food Lion, Kroger and Walmart.
More than 500 people have fallen ill in the U.S. and Canada, according to the Centers for Disease Control (CDC) and the Public Health Agency of Canada (PHAC). Four states have more than half of the U.S. cases: Oregon (71), Utah (61), California (49) and Montana (33).
The CDC said there were 59 hospitalizations in the U.S. as of Aug. 1. No deaths have been reported.
On July 10, the CDC had detected 13 cases of illness in three states. That number quickly jumped to 396 cases in 34 states by July 29, which illustrates the importance of onions as an ingredient in a huge variety of foods.
People reported becoming sick after eating sandwiches, salads, wraps, dips and salsa.
THROW YOUR ONIONS AWAY, SUBSTITUTE OTHER TYPES OF ALLIUMS
The health agencies in the U.S. and in Canada are urging you to look for the onions in your refrigerators and storage areas. They were sold in bulk cartons and mesh sacks ranging from 2 to 50 pounds as well as individually. You can look for stickers that identify Thomson.
Brands include Thomson Premium, TLC Thomson International, Tender Loving Care, El Competitor, Hartley's Best, Onions 52, Majestic, Imperial Fresh, Kroger, Utah Onions, and Food Lion.
If you find these onions, or onions whose origin you are unsure of, toss them in the trash or return them to stores where they were purchased.
When eating out or buying prepared foods that contain onions, ask the establishment where their onions came from. If they cannot confirm the source of their onions, do not eat or buy the items.
EQUAL SUBSTITUTIONS FOR FRESH ONIONS
In place of fresh onions, you can use shallots, leeks, or green onions in a cup-for-cup substitution. Depending on the recipe, shallots are my choice. Although they are smaller than onions, they chop and slice similarly and have a nice depth of flavor – at once delicate and sharp.
Shallots also contain more of the health-promoting chemical allicin than leeks or green onions. Allicin is an anti-inflammatory compound found in alliums that has benefits for your heart and blood vessels.
Shallots and garlic (see my post on Garlic Goodness) are particularly good sources of allicin.
USING SPICES AS ONION SUBSTITUTES
If it's simply a matter of onion flavor, you can, of course, reach for the onion powder. I always combine onion powder with other dried spices to punch up my burger patties – whether they are animal or vegetable. You can jump to the bottom of this post to see a good basic recipe for seasoning bean, beef, fish or fowl burgers.
Onion granules or powder work beautifully in soups and sauces (especially store-bought ones) and are an easy add-in for meatloaf or meatballs.
(Many parents are savvy to onion powder, using it to prevent dinnertime protests from kids who object to any food that contains a shred of onion.)
Other good choices to infuse an allium bite are chives and garlic. Chives have the highest antioxidant activity in the allium family.
For my tastebuds, garlic is entirely different from onions. But, you may prefer gutsy garlic to onions and find that it is all a dish needs to sing.
Dried onion flakes are another thing altogether and can sit in for fresh onions in deli preps, i.e. egg, tuna, chicken and other protein salads. While they can also be used in stir-fries and vegetable roasts, be careful with your cooking temperatures. They will burn in a flash.
SUBSTITUTING AROMATICS FOR ONIONS
Sometimes removing the onion from a dish can cause a critical loss of both flavor and volume. To fix this, I pinch-hit with aromatics like celery, fennel and even, carrots.
If you try this, your casserole, soup or filling will taste different, but you may enjoy it even more. These savories increase the layers of flavor in your dish. Recently, I used this technique, combining a minimal amount of shallots with carrot and celery in a stuffed pepper filling. No one (including me) noticed the lack of onion.
TUMMY TROUBLE WITH ONIONS
Some people have digestive difficulties with onions that have nothing to do with Salmonella, recalls or food safety.
Although onions are excellent prebiotic food and a good source of phytonutrients (see my blog on quercetin), they can aggravate acid reflux or GERD. Most alliums, especially onions and garlic, are on the DO-NOT-EAT list for these conditions.
Onions are a no-go if you have irritable bowel syndrome (IBS) and follow an eating plan to minimize FODMAPS*, which are sugars that tend to ferment in the gut and cause distress. They are high in fructans.
Fructans are basically a mass of fructose (fruit sugar) molecules stuck together. Some people with sensitive digestion have trouble breaking down fructans and get a bad stomachache, diarrhea and other gut troubles.
For more information on low FODMAP eating, visit the folks at Monash University. They even have an app that tells you what foods to avoid and which are allowed if you want to eliminate these sugars for a happier gut.
THE ONION RECALL, SALMONELLA INFECTION
Using traceback information, the CDC and the U.S. Food and Drug Administration (FDA) have said that the likely source of the illness is red onions. Because of the way onions are processed, other varieties may have gotten cross-contaminated, so Thomson International has recalled all types of onions.
The outbreak of Salmonella may continue to grow as more people report the illness. There is usually a delay due to the time it takes between when a person starts feeling sick and when the illness is reported. This takes an average of 2 to 4 weeks.
Also, onions tend to have a long shelf-life. Although this recall has been widely reported by all major media to help raise public awareness of the onion danger, people may not hear about the recall.
While cooking the onions thoroughly may kill the bacteria, the best course of action may be to forgo them in the immediate future to avoid illness.
The symptoms of Salmonella infection are diarrhea, fever and stomach cramps that can occur 6 hours to 6 days after being exposed to the bacteria. The illness usually lasts 4 to 7 days. Most people recover without treatment.
Those most at risk for severe illness are the very young, older adults and people with weak immune systems. In serious cases, the infection can spread from the gut into the bloodstream and other parts of the body.
To report the illness to the CDC, call CDC INFO at 1-800-CDC-INFO (1-800-232-4636). Or, contact your local health department. You can find it by clicking here.
*FODMAP is an acronym for Fermentable Oligosaccharides Disaccharides Monosaccharides And Polyols. These are short-chain sugars/carbohydrates that can cause symptoms in people with IBS.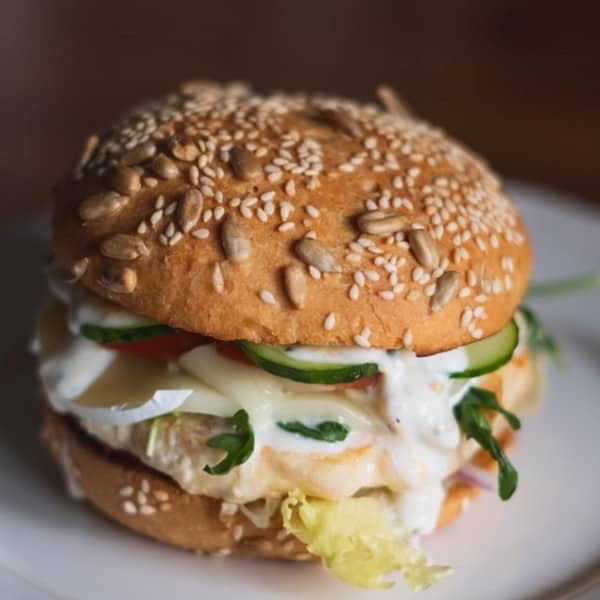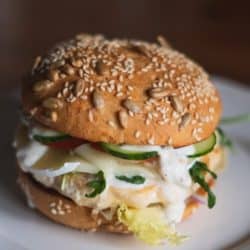 Burger Seasoning Blends
Dried spices can add oomph to the humble burger, no matter what you choose to make it from!
Ingredients
Basic seasoning:

1

Tablespoon

paprika

1 1/2

teaspoons

garlic powder

1

teaspoon

onion powder

1

teaspoon

kosher salt

1

teaspoon

freshly ground black pepper

1/4

teaspoon

cayenne pepper


Add the following

depending on your choice of burger.


For hearty burger blends

beef, pork, game:

1

Tablespoon

brown sugar


For poultry burgers:

1

teaspoon

sage

1

teaspoon

thyme

1/4

teaspoon

nutmeg


For salmon

fish patties:

1 1/2

teaspoons

Old Bay

1

teaspoon

thyme

Omit cayenne pepper


For grain and bean burgers:

1

Tablespoon

chili powder

1 1/2

teaspoons

cumin

1

teaspoon

oregano
Instructions
Combine all spices in a small storage container. Mix thoroughly, or put the lid on the container and give it a good shake to evenly distribute spices.

Apply liberally to the outside of burgers up to an hour before you cook them.

Note: If not cooking burgers immediately, cover with plastic wrap and refrigerate. Sometimes, I will season my patties and place them in between wax paper. Then, I make a stack and slip it into a zip bag to refrigerate or freeze for later use.
Notes
Please regard these blends for different types of burgers as suggestions and customize and experiment with your own favorite dried spices. For example, I have not included dried citrus rinds in any of these blends, but they add zip to both poultry and fish burgers.
What do you like? Curried black bean burgers topped with chutney or chipotle pork burgers with spicy barbecue sauce? 🍔
The basic seasoning blend is from Diana Rattray on the SpruceEats website. The adaptations are mine (and yours, I hope). 
Nutrition
Copyright © 2020 Jani H. Leuschel