Quercetin is "anti" everything. The flavonoid phytonutrient found in onions and dark berries is a wellness booster that fights viruses.
It's a powerful antioxidant and anti-inflammatory. It's an anticoagulant and anti-hypertensive for blood vessels, anti-aging for skin, anti-cancer, antihistamine and more. In COVID-times, however, the "anti" that has the attention of scientists is "antiviral."
Quercetin, pronounced "kwur si tin", belongs to the flavonol sub-group within the flavonoid category of phytochemicals. Once known as "vitamin P," these substances are the pigments in plants that help them resist disease and repel predators.
HOW QUERCETIN ENHANCES IMMUNITY
Researchers believe that quercetin and its polyphenolic plant brethren may do the same for humans. Lately, some scientists believe that part of quercetin's virus-fighting capability is due to boosting immunity.  When paired with vitamin C or bromelain, an enzyme from pineapple that enhances quercetin's absorption, it is most effective for increasing immune protection.
(If you want information on another way to use nutrition to bolster immunity, read my post on vitamin D!)
A review article published in June 2020 in Frontiers in Immunology proposed that quercetin and vitamin C are synergistic when taken together. According to the article, vitamin C helps you hang onto quercetin, rather than simply losing most of it in the urine. The four authors of this review* explain that vitamin C "recycles" quercetin and improves your body's capacity for absorbing of the flavonol.
The review makes clear that "quercetin inhibits several respiratory viruses" via many different mechanisms:
It blocks viral entry into cells.

It interferes with viral replication.

It competes with viruses for sites of uptake into the lungs and other organs.
Authors also note that quercetin increases T-cells, which can heighten the immune response to viruses, while vitamin C increases interferon, boosting anti-viral defenses.
QUERCETIN FOR HEALTHY LUNGS
Many studies with quercetin have shown positive effects on the lungs, including a study published in 2010 showing that eating quercetin-rich foods reduces the risk of lung cancer, especially for smokers.
Much of the research on how quercetin fights viruses has been done with animals or in cells (in vitro), but recent experiments have been performed on humans.
Quercetin had a protective effect on the lungs of mice who received flu virus and quercetin at the same time. Supplementation with the flavonol restored the pulmonary antioxidant capacity in the mice. Cyclists treated with quercetin showed more resistance to upper respiratory infection after endurance exercise than those who did not receive the supplement.
QUERCETIN FIGHTS CORONAVIRUS?
Both the authors of the June 2020 review and the Personalized Nutrition & COVID-19 Task Force of the American Nutrition Association advocate for the use of quercetin plus vitamin C or bromelain as a preventive nutrition strategy against coronavirus. They suggest that long-term daily quercetin could be particularly important for people with existing health problems like diabetes, obesity and heart disease – all of which have an inflammatory component.
Dosage in many studies is 500 mg taken once or twice a day. If you want to use supplements to prevent coronavirus or treat a mild case, 500 mg of quercetin plus 500 mg of vitamin C is suggested by the review. For severe cases of coronavirus, the authors propose 500 mg quercetin twice a day along with 3,000 mg of vitamin C every 6 hours for about a week.
(For more on how vitamin C may help you fight colds and improve healing, click here.) 
Short- and long-term supplements could improve immune status, but flavonoids often exist in concert with other beneficial nutrients when you eat them as food. Good amounts of quercetin, for example, can be found with vitamin C in berries.
EAT YOUR QUERCETIN – IT'S FOUND IN MANY FOODS
Nutrition scientists tend to think that quercetin is more present in commonly eaten foods than other flavonoids.
Most people in the U.S. get about 10 mg of quercetin daily from meals and snacks. Certainly, anyone who cooks with onions or eats apples (with the skin) will be relishing the phytonutrient. Good amounts are found in leafy greens, hot chilies, dark berries, stone fruits, tea and some seeds.
QUERCETIN RICH FOODS

per 100 g (3.5 oz)

Arugula

7.9 mg

Capers, canned

172.6 mg !! 😯

Cooked asparagus

15.2 mg

Blackberries

3.6 mg

Raw black plums fruit

12.5 mg

Blueberries

7.7 mg

Cilantro

53 mg

Chia seeds

18.4 mg

Dried cranberries, sweetened

12.8 mg

Raw figs

5.47 mg

Dried goji berries

136 mg

Elderberry juice concentrate

108.2 mg

Raw onion, red 🧅

39.2 mg

Red leaf lettuce

7.61 mg

Black tea ☕

2.2 mg

Watercress

30 mg
Source: USDA Database for the Flavonoid Content of Selected Foods, Release 3.3 (2018)
Capers are loaded with quercetin. Commonly used to add zing to salads or flavor to a bagel adorned with lox and cream cheese, capers are little flower buds usually found pickled in jars. (They add flavor to my Lemony Pasta Salad with Spinach. Click here to see the recipe.)
Many of the fruits and vegetables in this table are ripe during the warm seasons. Summer is an ideal time to buy plums, blueberries and leafy greens when you can find them locally grown (or harvest them from your own garden)!
You can, however, find items high in quercetin all year long, particularly capers, dried cranberries, onions and tea. The year-round availability of foods high in quercetin could be a reason that it may be the most ubiquitous flavonoid.
HOW TO GET QUERCETIN EVERY DAY
In addition to sprinkling capers on your bagel, here are some ideas for adding the "anti" nutrient quercetin that will up the nutrition in your day:
Breakfast:
Sprinkle dried cranberries on your yogurt or cereal.

Make a smoothie with frozen or fresh blackberries or blueberries.

       For extra quercetin, add dried goji berries.

Enjoy a cup of black or green tea with your food.
Lunch:
Fix a salad with dark, leafy greens. Think arugula, spinach, red leaf lettuce for maximum quercetin.

     Top the salad with citrus sections. The vitamin C content will help you absorb the quercetin, and their flavor pairs beautifully with spicy greens. (See the recipe for Colorful Leaves with Citrus at the bottom of this post.)

Have a bowl of onion soup. Click here for a French Onion Soup recipe.

Have a bowl of tomato soup plus a bean burger topped with red onion and leaf lettuce.
Snacks:
Cut an apple into slices, leaving the skin on. Spread the slices with creamy peanut butter.

Eat a couple juicy, black plums. Or have a prune or two if you don't have fresh fruit around.

Sip a cup of hot chocolate.

Eat a piece of toast topped with raspberry jam.
Dinner:
Add kidney beans to your favorite chili or minestrone.

Saute spicy greens or blanch asparagus to fill out a plate or grain bowl.

Make your meal chickpea-centric. Think falafel, chickpea stews and curries, or this vegan and nutrient-packed Coconut-Ginger Chickpea Soup.
*Authors of the Frontiers in Immunology review are Ruben Manuel Luciano Colunga Biancatelli, Max Berrill, John D. Catravas and Paul E. Marick.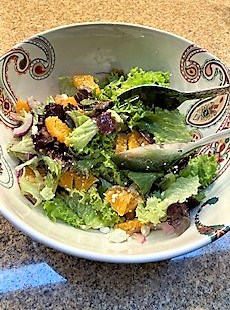 Colorful Leaves with Citrus
Equipment
salad spinner

paring knife

large bowl or container

small measuring cup

small whisk

salad tongs
Ingredients
1

head of red leaf lettuce

1/4

red onion

sliced

2

large Mandarins

1/4

cup

feta cheese crumbles

2

Tablespoons

of capers

optional

2

Tablespoons

extra-virgin olive oil

1

Tablespoon

red wine vinegar

1

teaspoon

honey

Pinch

of paprika

Salt and freshly ground black pepper to taste
Instructions
Wash and dry the lettuce and tear into pieces. You should have about 6 cups. Place in a large salad bowl or large storage container.

Peel the Mandarins with a sharp paring knife over a measuring cup to catch any juices and set the cup aside. Cut the Mandarins in half and slice the halves into rounds.

Top the lettuce with Mandarin and onion slices, feta cheese crumbles and capers.

Make a dressing by whisking all remaining ingredients together in the measuring cup with reserved citrus juice.

Toss with salad ingredients and serve.
Notes
You can prepare this easy salad ahead of time. Mix the dressing ingredients and salad ingredients separately. Whisk or shake the dressing and toss the salad right before serving.
This salad is rich in quercetin, a flavonoid whose health benefits include boosting immunity. The vitamin C found in the little Mandarins helps your body absorb both quercetin and the calcium in the greens.
I suggest red leaf lettuce as the base of the salad because it is high in quercetin, but any leafy green will taste fine. Arugula and spinach are also good sources of quercetin.
If you are short on time, you can substitute canned Mandarin slices for fresh.
For extra quercetin-credit, you can add some radicchio, which boasts more than 30 mg of quercetin in 3.5 ounces!
Nutrition
Serving:
1
g
Calories:
63
kcal
Carbohydrates:
10
g
Protein:
3
g
Fat:
2
g
Saturated Fat:
1
g
Polyunsaturated Fat:
0
g
Monounsaturated Fat:
0
g
Trans Fat:
0
g
Cholesterol:
4
mg
Sodium:
213
mg
Potassium:
229
mg
Fiber:
2
g
Sugar:
6
g
Vitamin A:
1021
IU
Vitamin C:
15
mg
Calcium:
79
mg
Iron:
1
mg
Copyright © 2020 Jani H. Leuschel