Physical activity is part of a healthy lifestyle, especially in the age of COVID-19. Whether your fit habit is a new piece in your routine or a long-standing part of your weekly wellness, taking it outside makes it more effective. By walking, running, biking outdoors – whatever form of cardio tickles your ticker – you add sunlight and healthy vitamin D levels to your arsenal of defenses against coronavirus and other illnesses.
Vitamin D is one of the four fat-soluble vitamins. The other fat-soluble vitamins are A, E and K. All of them have multiple jobs in the human body, but vitamin D may be the busiest of them all. Its starring role in assisting with the uptake of calcium is well-known; most calcium supplements contain vitamin D to help with absorption.
Vitamin D, however, is multifaceted. It acts as a pro-hormone, interacting with genes, regulating cell growth and neuromuscular activities; and it promotes a well-functioning immune system, particularly in the lungs and airways.
VITAMIN D: IMMUNE AND RESPIRATORY BENEFITS
Because of coronavirus, a strong immune system and healthy respiratory tract are in the forefront of everyone's mind. Sales of immune-boosting supplements like zinc, vitamin C, selenium, elderberry and others are sharply increasing.
Last week, New Hope Network (1) reported that earlier this month on Amazon, 17 of the top 20 vitamin category products in sales were immune-related. The article mentions vitamin C and elderberry, but what about vitamin D?
It turns out that having robust levels of the sunshine vitamin circulating in your bloodstream increases the number of bacteria-fighting biological molecules in your lungs, keeps your immune system functioning properly, and offers a host of other benefits.
A recent editorial in a scholarly nutrition journal (2) noted that countries in southern latitudes that get more days of sunshine have experienced reduced mortality from coronavirus. The editorial, which was published on April 20, stated that "all countries that lie below 35 degrees North have relatively low mortality. Thirty-five degrees North also happens to be the latitude above which people do not receive sufficient sunlight to retain adequate vitamin D levels during winter.
"This suggests a possible role for vitamin D in determining outcomes from COVID-19," the editorial stated.
Further, the four scientists who authored the editorial, Jonathan Rhodes, Sreedhar Subramanian, Eamon Laird and Rose A. Kenny, write that a body of research supports vitamin D's role in bolstering the immune system, particularly where respiratory illness is concerned. They explained that vitamin D doesn't necessarily fight viruses directly but may prevent what is known as a "cytokine storm."
VITAMIN D LOWERS PRO-INFLAMMATORY CYTOKINES AND BOOSTS ANTIMICROBIAL PEPTIDES
Cytokines are molecules spit out by immune cells that rush to sites of inflammation. Some are anti-inflammatory and some are pro-inflammatory. Vitamin D helps to reduce the level of the pro-inflammatory types that fan the flames of the fire in disease states. In the case of an area like the respiratory tract, a mass of pro-inflammatory cytokines can mean difficulty breathing and, in extreme cases, the need for a ventilator.
Vitamin D appears to protect cells in the airways by preventing these angry molecules from attaching. Yet another way vitamin D protects your airways is by increasing the amount of an antimicrobial compound in the airways called cathelicidins, according to a couple of recent studies. (3, 4.)
Cathelicidins are antimicrobial peptides, strings of amino acids that destroy bacterial invaders in your lungs. And they are rather effective against these germs. Cathelicidins are secreted in airway fluids and are resistant to bacterial adaptation and mutation, in which microbes change their makeup to evade killing agents, i.e., antibiotics.
Cathelicidins can penetrate great huddled microbial colonies known as biofilms (think that slime layer that forms in drains and fishbowls). These slimy massed microbes can form almost anywhere and are notoriously resistant to elimination. The antimicrobial peptides will insert themselves into these bacterial colonies, and to gird their bacteria-fighting ability, call out for reinforcements in the form of mercenary cells called phagocytes that gobble up bacteria.
Cathelicidins and their hungry phago-friends may prevent the synergy that happens when a virus meets bacteria and you end up feeling violently ill from the double-whammy. The kicker is that all this happens because of vitamin D, and your airways can activate the vitamin (5).
TO BE USEFUL, VITAMIN D MUST BE ACTIVE
One of the trickier aspects of vitamin D is that it doesn't become active in your body until it goes through a two-step program. (Thank goodness it's only two steps, not 12.) The first step is a liver process, and the second step was thought to happen mostly in the kidneys. Although the first step primes the vitamin, it's the second step that brings vitamin D to life and makes it functional in your body.
Researchers have discovered that in addition to happening in the kidneys, the second step can take place in the lungs. Isn't that convenient for fighting off respiratory infections and viruses?
SUNLIGHT AND FOODS FOR VITAMIN D
When the sun warms your skin, its UVB rays penetrate the outer layer and create vitamin D, which is diffused into the blood. UV radiation from the sun is the primary source of vitamin D for most people because so few foods contain this vitamin.
Vitamin D is naturally found in fatty fish like salmon and tuna and to a lesser extent in leaner seafood. Mushrooms treated with UV light contain vitamin D and egg yolks are another naturally occurring source. Beef liver is rich in vitamin D.
Also, that old punishment for naughty children, a spoonful of cod-liver oil, is a terrific source of vitamin D. It may not lead to moral improvement, but the time-worn remedy helps physical well-being.
Because it occurs naturally in so few foods, vitamin D is added to plant and dairy milks, cheese, cereals and sometimes other foods.
| | | | |
| --- | --- | --- | --- |
| Food | Serving size | Calories | Amount of vitamin D |
| Tuna (in oil) | 3 oz can | 168 | 228 IU |
| Salmon | 3 oz | 130 | 444 IU |
| Halibut | 3 oz | 94 | 196 IU |
| Cod-liver oil | 1 teaspoon | 41 | 452 IU |
| Yogurt | 6 oz | 74-190 | 60-90 IU |
| Milk (non-fat, 1% and 2%) | 1 cup | 83-122 | 116 IU |
| Almond milk | 1 cup | 91-120 | 96 IU |
| Orange juice | 1 cup | 117 | 100 IU |
| Fortified cereals | ⅓-1 ¼ cups | 74-247 | 8-100 IU |
| UV-treated mushrooms | ½ cup, grilled | 18 | 316 IU |
TOO MUCH OF A GOOD VITAMIN CAN BE TOXIC
Because vitamin D is fat-soluble, your body will maintain stores even if you miss a day in the sun or forget to take your supplement. Supplement overuse with this vitamin, however, can be toxic and cause hardening or calcification of different tissues like the kidneys, heart, lungs and blood vessels.
Other toxic effects from over-supplementation are hypertension, nausea, kidney stones and even kidney failure.
The beautiful thing about getting your vitamin D from the sun or from foods is that there is no risk of getting too much!
The limit or upper level for vitamin D has been set at 4,000 IU/day for individuals who are 9 years old and above. The Recommended Daily Allowance (RDA) for adults up to the age of 70 is 600 IU/day; for those older than 70, 800 IU/day is recommended. Some scientists in the nutrition community, particularly endocrinologists, feel that these levels should be set much higher for optimal health (6).
WHO IS AT-RISK OF DEFICIENCY?
People with gut disorders like celiac or Crohn's may have trouble getting enough nutrition in general because these disorders make nutrient absorption challenging. Darker skin can also cause you to absorb less vitamin D because it filters the sun's rays.
Overweight and obese people require more vitamin D than normal-weight individuals because it gets locked up inside fat cells. If you have had gastric bypass surgery, you also require extra vitamin D to maintain normal blood levels.
Also, infants who are breastfed and receive no other type of nutrition may not get enough vitamin D, so the American Academy of Pediatrics (AAP) recommends a supplement of 400 IU/day.
One of the most at-risk populations for vitamin D deficiency is the same group that is most at-risk for contracting a fatal case of coronavirus: Older people living in nursing homes who rarely spend time outdoors.
Risk factors for vitamin D deficiency:
Crohn's, celiac and other malabsorption gut disorders

Dark-skin

Obesity and overweight

Gastric bypass

Breastfed infants

Old age, especially when living in nursing homes
Certain medications are affected by vitamin D. Steroids like prednisone cause problems with uptake of calcium and vitamin D. Some weight-loss drugs and cholesterol medications also reduce the absorption of vitamin D. Interactions between anti-seizure medications like Dilantin and vitamin D can also be problematic.
Anyone considering adding a vitamin D supplement should speak with their doctor or health care provider to be sure there are no chancy interactions with these or other medicines and supplements. Also, if you are part of an at-risk group or simply concerned that you are not getting enough vitamin D, ask your doctor for the serum 25-hydroxyvitamin D test to check your blood levels of vitamin D.
Although there is some controversy over ideal blood levels of vitamin D, your blood measurement of the vitamin should be between 20 -50 ng/mL (7). Sometimes this is expressed as 50 -125 nmol/L (7).
GET OUT THERE! 🌞
Aside from the vitamin D it generates, sunlight has long been valued for its positive health effects. At the turn of the 20th century, Niels Finsen won the Nobel Prize (8) for using sunlight to cure tuberculosis of the skin. Soon after this, sunlight was found effective against many types of tuberculosis and other diseases. When penicillin was discovered in 1938, sun therapy for health fell out of favor.
Estimating the amount of time in the sun necessary to generate a good supply of vitamin D can be difficult due to sunscreen use and weather factors like cloud cover and time of year. A general guideline is to get 5 to 30 minutes of sun exposure on the face, arms, legs or back twice a week between the hours of 10 a.m. and 3 p.m. without applying sunscreen.
When you are going to be outdoors for an extended time, sunscreen should be applied to prevent skin cancer. Of course, sunscreen will still allow some UV light to penetrate your skin, so you will not totally miss out on vitamin D benefits while protecting against skin cancer. If you want to track your vitamin D, you could try using an app called D minder. It comes in free and paid versions available for iPhone and Android.
If you can go outside to walk, exercise, play games or work in the garden, your efforts will be rewarded. You will lay in stores of vitamin D and score important health benefits against coronavirus.
Plus, the combination of sunshine and movement makes a body feel good. During this crazy time of confinement, whatever makes us feel better is worthwhile! Have fun in the sun! (But don't forget to apply sunscreen.)
A PANTRY STAPLE WITH BIG D BENEFITS
We're all eating plenty of canned goods right now, so I am sharing a simple tuna melt recipe. It is not low-carb but is carb-conscious, and it's an easy, comforting lunch or quick dinner with a touch of nostalgia. Pair it with soup, potato chips and maybe some carrot and celery sticks.
Online, there is no shortage of tasty recipes that boast healthy levels of vitamin D. Here is a link to SOS Cuisine.com, a website from Canadian dietitians and health professionals with a plethora of recipes (9) based on the Mediterranean Diet. In addition to recipes full of vitamin D, this website offers users a purchase of weekly meal plans based on their dietary concerns, lifestyle and health needs.
Also, here's a collection of vitamin D-boosting recipes from EatingWell.com (10). The Salmon Tacos with Pineapple Salsa and Unicorn Smoothie look amazing!
This blog is not intended to be used as a substitute for health guidance from a doctor or other qualified provider.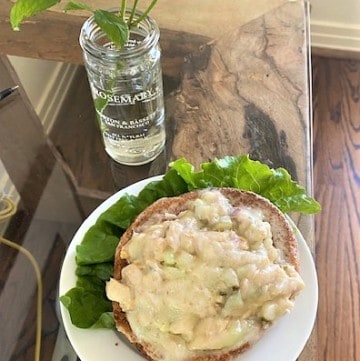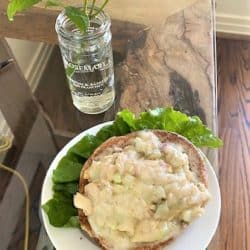 Open-face Tuna Melts
Ingredients
1 ½

whole wheat hamburger buns

Olive oil cooking spray

1 3

oz

can of low-salt Albacore tuna

1 ½

teaspoons

plain Greek yogurt

1 ½

teaspoons

mayonnaise

1

teaspoon

Dijon mustard

1 ½

teaspoons

lemon juice

freshly squeezed

1

Tablespoons

onion

minced

2

Tablespoons

celery

finely diced

½

reduced sodium dill pickle

finely diced

¼

teaspoon

Kosher salt

¼

teaspoon

black pepper

freshly ground

3

thin slices of Provolone cheese
Instructions
Heat the broiler on its lowest setting. (This is 450 F on many ovens)

Line a baking sheet with foil. Split the whole hamburger bun into two halves. Place all three half-buns on the foil and spray with olive oil cooking spray. Place them under the broiler to toast; this will take maybe 3 minutes. Remove from the oven and set aside.

Make the tuna salad by placing all remaining ingredients except for the cheese in a bowl and mixing thoroughly. It will not hold together completely. Taste and adjust seasoning as necessary.

Top each bun with ⅓ of the tuna salad.

Place one slice of cheese over each tuna bun.

Pop it under the broiler for about 2 minutes to melt the cheese.
Notes
This healthyish version of the diner classic makes a nice lunch with a cup of soup!
Feel free to alter the recipe to suit your tastes. We like the slight funk of Provolone in our house. But you might prefer a Cheddar or Swiss or maybe pepper-Jack cheese.
I use Greek yogurt more for its tangy flavor than for health reasons. If your taste buds prefer tuna salad made only with mayonnaise, go for it! Although mayonnaise has more fat, it is usually made with soybean oil, which is reasonably heart-healthy.
FYI: Chunk light tuna is higher in vitamin D than albacore, so use this type of canned tuna if you want to slightly increase the amount of vitamin D in the dish. (I used Albacore in the salad because it was what I had in the pantry!)
I have tried to cut one carbohydrate out of the sandwich to make it lighter and to leave room for other carbs, like fruit, chips, or soup noodles.
This recipe is diabetic-friendly! 😋🧡
Nutrition
Serving:
1
g
Calories:
183.15
kcal
Carbohydrates:
11.1
g
Protein:
13.6
g
Fat:
9.43
g
Saturated Fat:
3.45
g
Sodium:
458.9
mg
Fiber:
1.18
g
Sugar:
1.93
g
Copyright © 2020 Jani Hall Leuschel