Even though I am well into my middle-aged journey, I think of summer as my salad days. The expression, meaning youth or implying lack of wisdom, is from Shakespeare's Antony and Cleopatra. But, I am applying it more literally in the kitchen, throwing together some cool combinations of vegetables to offset the heat of summer.*
This quest for the perfect summer salad has inspired a love of lemony dressings, marinades and sauces. The bright, zippy citrus flavor brings a lightness and lift particularly suited to hot weather salads whether they are green and vegetal or grainy and carbalicious.
THE ESSENCE OF ZUCCHINI
I am sharing a zucchini-based salad inspired by one of Martha Rose Shulman's classic recipes. Shulman is a pioneer of vegetable cookery and healthy food recipes. Her body of food writing includes at least 20 cookbooks, reams of columns for The New York Times, and numerous pieces in other publications.
Her Marinated Zucchini is pure and simple. Ribbons of summer squash are left to stew in an olive oil and lemon bath kissed by a hint of garlic and showered with fresh herbs. For easier eating, I mandolined the zucchini and joined it with carrots for color and sweetness in my Eye-catching Zucchini-Carrot Salad. Cayenne, nutmeg and a wholesome amount of minced garlic add zip to the marinade. Fennel fronds lend a subtle anise note, and Italian parsley heightens all the flavors.
ZUCCHINI FOR BETTER VISION
Whether your summer palate calls for ratatouille, grilled slabs of the squash or this easy salad, zucchini are delicious and healthy. They are rich sources of lutein and zeaxanthin, precursor forms of vitamin A that are important for eye health. These carotenoids may help prevent damage from harmful ultraviolet light rays.
Diets high in lutein and zeaxanthin can sharpen vision in low light and stave off age-related eye problems. Some, but not all, studies have found that they reduce the prevalence of cataracts and slow macular degeneration.
Eye health appears to benefit more from foods with lutein and zeaxanthin rather than supplements with the antioxidant carotenoids. Studies exploring the use of supplementary lutein and zeaxanthin have not consistently found that they reduce the progression of macular degeneration. Results from food-focused research are more uniformly positive.
My zucchini-carrot salad recipe improves the absorption of these nutrients because the marinade contains plenty of heart-healthy olive oil. Lutein and zeaxanthin are fat-soluble and are more available to your body when eaten with some type of oil although this is more important with beta-carotene – supplied by the carrots in this dish.
Experiments were done with chickens that suggest the combination of high doses of beta-carotene with lutein/zeaxanthin can reduce your uptake of the latter. The zucchini-carrot salad, however, will not be supplying large enough amounts of any of these carotenoids for this to be a concern. Also, since lutein, zeaxanthin and beta-carotene occur naturally in these vegetables, they are more bioavailable.
(The optimal amount of lutein for eye health is estimated to be around 6 mg per day. The average American diet only supplies around 1 to 2 mg per day of lutein.) 
Although the vegetables in these salads are not cooked (to keep the summer kitchen cool), something to keep in mind for cooler outdoor temperatures is that applying heat to vegetables with carotenoids makes their nutrition more available to your body. 
Here's a quick nutritional rundown on zucchini.
ZUCCHINI SQUASH – 3.5 ounces

Calories

17

Protein

1.2 g

Carbohydrate

3.1 g

Fat

0.3 g

Fiber

1 g

Calcium

16 mg

Vitamin A

10 ᶙg

Vitamin C

18 mg

Folate

24 ᶙg

Beta-carotene

120 ᶙg

Lutein/Zeaxanthin

2.1 mg
---
A HEALTHY PASTA FOR SUMMER SALAD DAYS
To complement the elemental lightness of the zucchini-carrot mix, I assembled the Lemony Pasta Salad with Spinach. To view the post and recipe, click here. In this heartier recipe, the lemon flavor is muddled by a healthy dose of whole milk dairy.
The creamy dressing flavors a short list of ingredients: pasta, spinach, juicy cherry tomatoes, a soupḉon of shallots, and zingy capers. The resulting mélange is not heavy, but substantial enough for a lunch main. Plus, spinach is also a good source of lutein.
Here are some other foods that are great for eye health. Notice they are all green!
FOODS RICH IN LUTEIN AND ZEAXANTHIN

Per 3.5 ounces

Kale

5 mg

Spinach (!!!) 😲

12.2 mg

Broccoli

1.4 g

Romaine lettuce

2.3 mg

Pistachios

1.2 mg
To make a dinner out of the two salads, I added a poached salmon fillet, but any grilled, unfussy protein would fill out the plate. (For an easy salmon-poaching method and ideas on saucing, see my short post on poached fish.)
What all these foods have in common is that they are anti-inflammatory, heart-healthy and benefit eye health.
Salmon, of course, is rich in omega-3 fatty acids, which are believed to nourish many bodily systems, including the heart and the eyes. I use fish oil to help with my dry eye symptoms as recommended by my doctor.
A couple of studies have shown that omega-3 fatty acids can reduce the risk of macular degeneration. Other research points to a reduced risk of glaucoma and high eye pressure due to improved drainage of intraocular fluid.
Is this a Mediterranean Diet-appropriate meal? Absolutely!
Whether you're eating and cooking through the salad days of summer as a youth or an oldster, you'll show good taste (and good judgment) by loading your plate with vegetables and healthy fats. 
Zucchini, carrots, spinach and tomatoes are rich in antioxidants, vitamins, minerals, and fiber. Cured in a lemony sauce, they offer a refreshing hit of health.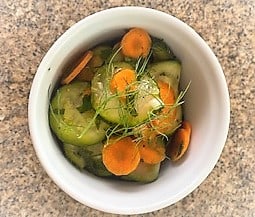 Eye-catching Zucchini-carrot Salad
Thinly sliced fresh zucchini and carrot rounds doused in a lemony bath
Equipment
mandoline

Medium bowl

juicer

whisk
Ingredients
2

zucchini

small

1

carrot

1 large or 2 small ones

2

Tablespoons

Fennel fronds

chopped

2

Tablespoons

Italian parsley

chopped

3

tablespoons

lemon juice

freshly squeezed

3

tablespoons

extra virgin olive oil

1

teaspoon

garlic

minced

Dash of cayenne

Pinch

of nutmeg

Salt to taste
Instructions
Slice the zucchini into thin rounds using a mandoline, Sprinkle with kosher salt and allow to sit for 15 minutes. Rinse and then transfer to paper towels to dry.

While the salt is drawing excess moisture out of the zucchini, slice the carrots into thin rounds with the mandoline.

Place the carrots in a medium bowl with the rinsed and dried zucchini.

Top the vegetables with the fennel fronds and the parsley.

Prepare the lemon marinade by whisking together the lemon juice, extra-virgin olive oil. garlic, cayenne and nutmeg. Taste and add salt, if necessary.

Pour the lemon bath over the herbs and vegetables and toss thoroughly.

Cover and refrigerate for at least 2 hours, preferably 4 or more.

Serve topped with extra fennel fronds.
Notes
The prep time includes the refrigerator time necessary for the ingredients to become properly introduced to one another.
The taste of this salad is very light and perfect for a hot day. Use green, fruity olive oil to enhance its vegetal flavors.
It will keep in the refrigerator for about 3 days.
Nutrition
Serving:
1
g
Calories:
80
kcal
Carbohydrates:
4
g
Protein:
1
g
Fat:
7
g
Saturated Fat:
1
g
Sodium:
13
mg
Potassium:
218
mg
Fiber:
1
g
Sugar:
2
g
Vitamin A:
1941
IU
Vitamin C:
17
mg
Calcium:
16
mg
Iron:
1
mg
*🐍 When Cleopatra spoke of her salad days, she may have been fanning the flames of Antony's ardor while owning up to her youthful romance with Julius Caesar.
Copyright © 2020 Jani H. Leuschel