Before singing the praises of the Mediterranean Diet, which has once again climbed to the top of the heap in the U.S. News & World Report's ranking of healthful eating plans, I want to focus on the word, "diet."
"Diet" is a word often dropped at the beginning of a new year. The conversation goes something like this: "I can't have any [pizza, bread, potatoes, cookies, alcohol, cheese – to name a few often-vilified foods] because I've started a new diet."
We equate the word "diet" with restriction. It has come to mean a food plan that overhauls "normal," everyday eating. While the word certainly can have this meaning, the strictest sense of diet is what you put in your mouth that reaches your GI tract on a daily basis.
According to Lexico.com, a collaboration between the Oxford University Press and Dictionary.com, diet refers to, "The kinds of food that a person, animal, or community habitually eats."
Diet is simply what you eat – good or gunky, healthful or harmful.
It is not necessarily, a special way of eating. Over the years, "diet" has come to be associated with goal-oriented eating for:
Weight loss

Heart health

Diabetes (blood sugar) control

Muscle mass hypertrophy
The beauty of the Mediterranean Diet is that it does not require huge outlays of willpower to accomplish these goals. (It is possible to increase muscle while losing weight). The criteria used by U.S. News & World Report for ranking are that the diet needs to be "easy to follow, nutritious, safe, effective for weight loss and protective against diabetes and heart disease."
Unlike the Keto or Atkins Diets, which, for all practical purposes, do away with carbohydrates, the Mediterranean Diet serves up a bounty of food choices without getting rid of any macronutrients. It rises above other eating plans, or "diets" by allowing intake from all the macros: protein, carbs, and fat. It is user-friendly.
The main foods that are reduced (not completely removed) are sweets and red meat, which can be eaten for special occasions – think birthdays and other celebrations.
It is loaded with healthy fats and complex carbohydrates. These, along with a bit of animal protein, keep a body satisfied.
Weight Loss?
That said, the diet did not score high as a weight loss plan; it ranked 27 out of 35 diets. Eating in this plant-based approach may or may not lower calorie intake. To make it a slimming plan, it should be combined with a cut in calories.   
People who are long-term losers (of weight) share two habits: physical activity and food journaling. They tend to record what they eat, either on paper or via one of the many apps that are now available for that purpose. 
You could also download this form, Food Diary- Lemons, that has space for your meals. medicine, supplements, and activities. Write your snackage on the back of the form. Start with seven copies, hole-punched and placed in a binder, and you are on your way to a week's worth of recorded meals. Don't worry if you miss a day or (two or three). If you keep a journal for a just few days each week, you'll stay on track.
Mediterranean Diet Details
The Mediterranean Diet Pyramid from the Oldways Trust and Exchange, a non-profit that strives to preserve "heritage" cultural traditions from around the world in the interest of public health, gives an excellent visual explanation of the Diet. I've included highlights of this style of eating. For more details and recipes, visit https://oldwayspt.org/traditional-diets/mediterranean-diet
Click here for the MedDietPyramid_flyer[1]_0
Because this way of eating is rich in mono- and polyunsaturated fats from olive oil, nuts, and seeds, it lowers LDL cholesterol (the bad kind) and helps keep blood vessels clog-free.
The ample fiber from beans, legumes, whole grains, and fruits and vegetables makes for a happy GI tract by increasing the good bacteria in your gut and easing elimination. Additionally, high-fiber diets quell the hunger that can strike with reduced calorie intake.
Blood pressure is lowered by strictly following the Mediterranean Diet. The fruit and veggie requirement combined with using less salt bring the mercury down. Herbs and spices replace some or all of the salt. Think Italian parsley, basil, oregano. (Bonus: these herbs have antibacterial and health properties that make your food safer and healthier.)
By recommending seafood twice a week, it also jives with advice from the American Heart Association and the latest version of The Dietary Guidelines for Americans. Seafood adds omega-3 fats into the weekly fare; these fats are especially noted for enhancing brain health.
Proteins from chicken, other birds, and their eggs can also be part of the week's meals although they are not for daily eating. Regarding eggs, this appears to line up with the latest reviews of literature showing that including eggs every day increases the risk of stroke and heart disease.  Yogurt and cheese are also not a daily bite.
Milk is not even shown in the diet pyramid. To get enough calcium, green leafy vegetables, broccoli, and perhaps calcium-fortified beverages like orange juice are options.
The two beverages that are favorites of the Diet are water, the healthiest hydrator, and red wine, which, in moderation, improves cholesterol. (Moderation in daily terms is a single 5-ounce glass for women and two 5-ounce glasses for men.)
The aspect of the Mediterranean Diet that may be key to its success – or failure – is the behavior changes it demands.
Eating alone is frowned upon. As often as possible, take meals with family and friends. Table time with loved ones (or just, people you enjoy) improves appetite and mental health.

Physical activity is another key part of the Diet. This can translate to a structured weight-lifting or cardio plan or it can be less formal, as in hobbies like gardening, tennis, bowling (very sociable!), and walking.
Perhaps the Diet should be called The Mediterranean Lifestyle. People that live around the Mediterranean Sea, whether they are from Greece or Italy have a reputation for leading long and active lives and having lower rates of heart disease and cancer.
Easy Ways to Eat Mediterranean
What follows are examples of easy swaps that will add a Mediterranean flair to your daily eating:
Choose peanut butter or hummus as a topping for whole-grain bagels,
Instead of cream cheese and jelly.
Choose a handful of nuts and dried fruit as a snack with lemon water,
Instead of chips and soda.
Choose whole-wheat pasta, brown rice, bulgur, quinoa, or farro (Italian barley),
Instead of white rice or plain pasta.
For a filling meal, try cooking this hearty and elegant vegetable soup recipe from The Silver Spoon, a compendium of Italian recipes. It contains olive oil, legumes, whole grains, and vegetables (of course), and a good dose of herbs. If you are trying to lower your blood pressure, use little or no salt and omit the sprinkle of Parmesan cheese that graces the finished bowl.
Pair it with a Greek salad (think feta cheese, tomatoes, and olives) and bread dipped in a fruity, green olive oil for a totally Mediterranean experience!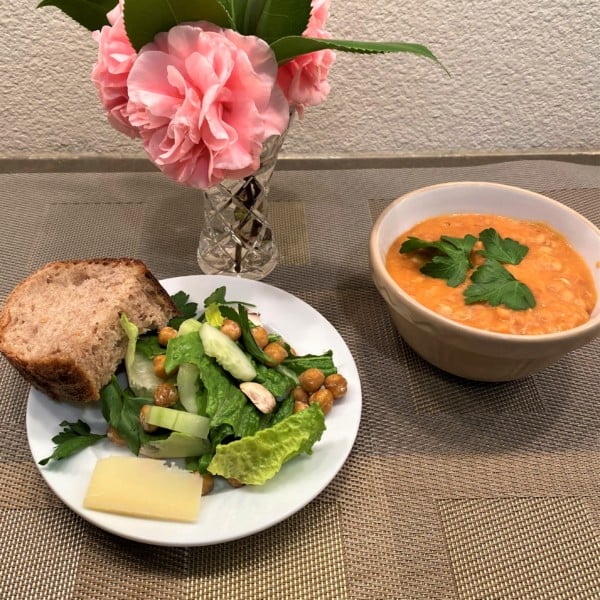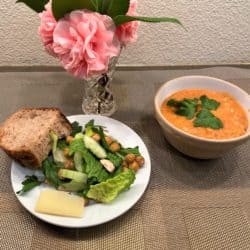 Farro and Bean Minestrone
This hearty soup is creamy and comforting. Vegans can enjoy it by omitting the optional Parmesan topping.
Ingredients
2

Tablespoons

olive oil

½

large onion

chopped

1

large carrot

chopped

1

celery stalk. chopped

2

garlic cloves

chopped

½

cup

of white wine

1

can

scant 2 cups, diced tomatoes

½

teaspoon

sage

1

cup

canned white beans

3

cups

vegetable broth

1

cup

farro

Salt and pepper to taste

Parmesan cheese

shaved or grated (optional)
Instructions
Heat olive oil in a large pot or deep casserole and add the onion. Cook on low heat until soft, about 5 minutes.

Stir in carrot and celery and cook another 5 minutes.

Add the garlic and stir briefly until fragrant, about 30 seconds.

Pour in the wine and cook until it has almost evaporated. (Turn the heat up if you want to speed the process.)

Mix in the tomatoes, sage, beans, broth, farro, and salt and pepper. Bring to a boil and then lower the heat and simmer for an hour.

Puree coarsely using an immersion blender, a regular blender, or food processor.

Ladle into bowls and top with shaved or grated Parmesan, if desired.
Notes
If you prefer not to use the wine in step 4, juice half a lemon and then, add enough water to make half a cup. Taste after pureeing; add ½ teaspoon or more sugar if it is too tart.
This recipe is adapted from Farro and Bean Minestrone in The Silver Spoon, a compendium of Italian cooking from Phaidon Press (2015).
Nutrition
Serving:
1
g
Calories:
339.68
kcal
Carbohydrates:
52.81
g
Protein:
12.35
g
Fat:
8.38
g
Saturated Fat:
1.25
g
Sodium:
988.92
mg
Fiber:
10.48
g
Sugar:
6.87
g