Hard-boiled eggs deliver a convenient protein source for vegetarians and gym rats and are rich in micronutrients like choline and biotin. Egg eaters, however, may need to cook their own orbs rather than buying them in small packages or snack boxes. Because of a Listeria outbreak, Almark Foods, an industrial hard-boiled egg producer, has issued an expanded recall of their egg products to include consumer "pillow packs" that typically contain two to six eggs and protein kits that have a hard-cooked egg inside along with fruit, nuts, and cheese.
                These recalled boiled egg products are found on the shelves of many grocery stores. Trader Joe's potato salad and egg salad are included in the recall as well as the protein snack boxes from Pro2Snax to the Max available at Target and Walmart. In an announcement, Almark said that all egg products from the firm's Gainesville, Georgia plant are recalled: "retail, pillow pack, pouch pack, frozen diced, and protein kit products, due to potential contamination with Listeria monocytogenes."
                The full list of recalled products can be viewed here. It features both organic and non-organic boiled eggs. Brands include O Organics, Lucerne, Egglands Best Cage Free, Great Day, Pete & Gerry's, Simple Truth Organics, as well as many others. These products were distributed nationwide.
               In the outbreak, there are seven illnesses, with four hospitalizations and one death, said the Food and Drug Administration (FDA) and The Centers for Disease Control and Prevention (CDC). These agencies reported the most recent case was on Nov. 12, 2019 and said that cases date back to 2017 with four reported in 2019 in the following states: South Carolina (2), Florida (1), and Texas (1), the state with the deadly case. The agencies stated that the first case was reported on April 10, 2017.
               To identify a boiled egg product that is part of the recall, look for the "Best If Used By" date coding on the package. If this code begins with a "G", it was manufactured at the Gainesville, Georgia facility and should be thrown away or returned to the place of purchase. This code may be trickier to find with protein snack boxes; Almark advises consumers to check the egg package inside the kit. If a boiled egg package has coding that starts with an "N" or "Y", it is not one of the recalled products. The "Best If Used by Dates" are through March 2, 2020. 
               In a statement, the FDA said a sample taken from the Georgia facility this December matched the outbreak strain of Listeria, and noted that it was the same strain found in the facility in February 2019, which suggests that bacteria may not have been eradicated from the plant. Almark has closed the Georgia facility. The FDA said that the outbreak investigation is ongoing.
               The larger recall of consumer boiled egg products was announced by Almark Foods on Dec. 23, 2019. The original recall was issued on Dec. 20, 2019, although the CDC notified the public of the Listeria monocytogenes outbreak on Dec. 17, 2019. The initial recall was for bulk hard-boiled eggs in pails sold to food service establishments and grocers. Three of the people who became ill reported eating deli salads purchased from grocers or eaten in restaurants, according to the FDA.
              Because Listeria can thrive in cold temperatures, the FDA advises washing the inside walls and shelves of a refrigerator as well as any other potentially contaminated surfaces, like countertops, cutting boards, and utensils. After washing, items should be sanitized with a weak bleach solution and then dried with a clean cloth or a paper towel that has not been used for any other purpose. This applies to food services, grocers, and consumer residences where the recalled boiled egg products may have been handled.
             Symptoms of Listeria illness vary in severity and can last from a few days to several weeks. It can take up to 70 days for people to develop listeriosis1 (Murano, p. 206). Milder cases are characterized by fever, muscle aches, nausea, vomiting, and diarrhea. Persons with invasive listeriosis may also experience stiff neck, confusion, poor balance, and convulsions. Listeriosis can lead to death in the elderly, children and infants, and people with weak immune systems.
             Pregnant women with illness should be extra cautious because even mild cases can lead to serious and fatal complications, such as miscarriage and stillbirth. Meningitis is often seen in newborns whose mothers are infected with Listeria. Antibiotics are the treatment for listeriosis and work best if treatment begins early.  
             Eggs have become an increasingly popular food in recent years for a couple of reasons. First, in 2015, the Dietary Guidelines for Americans removed the 300 mg/day limit on cholesterol consumption. They did this because a large body of research that suggested that dietary cholesterol did not have a tremendous impact on coronary disease.
             Prior to this relaxation of the cholesterol limit, many health-conscious people did not eat eggs on a daily basis because a single egg has about 200 mg of cholesterol. Although the most recent nutritional studies on eggs2, have suggested that they may, in fact, impact vascular health, eggs are popular as a source of protein for vegetarians and fitness enthusiasts.
             The second reason that eggs have become more popular is that they fit well into a carbohydrate-restricted diet while providing a powerhouse of micronutrients in addition to the macronutrient, protein (60% is in the white). The yolk contains fat-soluble vitamins D, E, and A, plus choline, biotin, and the antioxidants lutein and zeaxanthin, which are important for eye health. Biotin is thought to help with hair growth.
            For vegetarians, eggs add vitamin B12 to a diet that can be low in this nutrient, and for those who are trying to add protein to build or maintain muscle mass, eggs are an easy, and often, low-cost way to increase protein intake. A large egg has 75 calories, 5 grams of fat, and 6 grams of protein.
            Statistics from The American Egg Board (AEB) show that yearly per capita egg consumption has increased by about 14% since 2010, from 249 to 287 per person per year. The AEB cautions that per capita consumption is not a reflection of demand for eggs.
             Here's a quick, simple, and flavorful recipe using hard-boiled eggs that makes a great breakfast or light meal. Be sure to boil the eggs at home. (For eggstra perfect boiled eggs, see my previous post with egg-boiling advice.) 
Murano, Peter S. (2003). Understanding Food Science and Technology. Belmont, CA: Wadsworth (Thomson Learning):  p. 206.
Copyright © 2019 Jani Hall Leuschel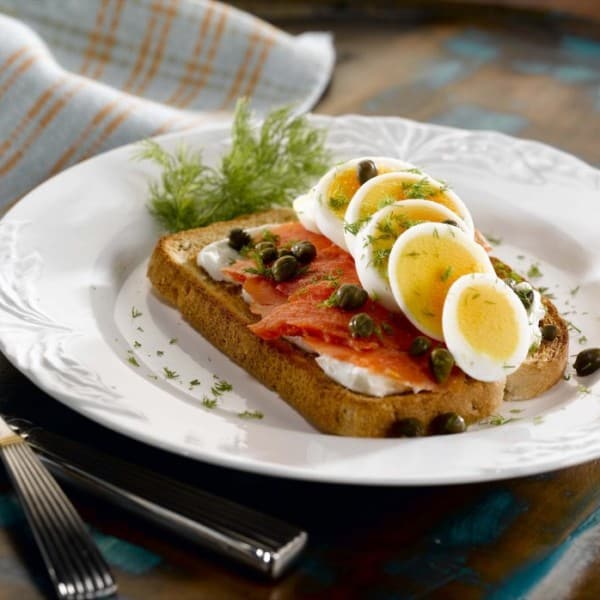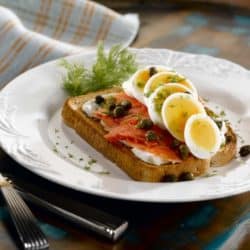 Smoked Salmon and Egg Toast
An eggscellent breakfast or light meal!
Ingredients
1

large hard-boiled egg

peeled, sliced

1

Tablespoon

cream cheese

softened

1

thin slice smoked salmon

1 oz.

1

thick slice whole-wheat bread OR

1

whole-wheat roll sliced in half

1

teaspoon

chopped fresh dill

1

teaspoon

capers

drained
Instructions
Toast bread.

Spread with cream cheese.

Place smoked salmon and hard-boiled egg slices on top of bread or roll.

Scatter the dill and capers on the salmon and egg.

Enjoy!
Notes
Very quick and easy. Make your own hard-boiled eggs for this dish so they are tender and tasty. You'll also avoid the possibility of purchasing boiled eggs that are part of the Listeria recall of late 2019!
Nutrition
Serving:
1
g
Calories:
316.12
kcal
Carbohydrates:
29.28
g
Protein:
18.83
g
Fat:
13.96
g
Saturated Fat:
5.17
g
Sodium:
664.34
mg
Fiber:
4.12
g
Sugar:
4.79
g