Across India, you'll find many varieties of chutney. Chutneys provide balance to the foods of Indian cuisine. Some are cooked and others are fresh; often, they are quickly blended in a food processor. Hot chutneys are a counterpoint to creamy curries and stews, while sweeter, fruit-based chutneys are companions to spicier dishes like vindaloo.
Any Indian meal is a chutney occasion. Coconut, tomato, and tamarind chutneys complement the breakfast idli, which are cakes made from rice and lentil batter. Other common varieties are onion, mint, and coriander. Examples of dishes to pair with chutneys include:
Pakora, chickpea fritters
Aloo tikki, potato patties
Paneer tikka, kebobs featuring slabs of paneer cheese sandwiched between vegetables and cooked in a tandoor oven
Actually, chutneys can accompany nearly any dish in the Indian food spectrum, from the simplest to the most complex. They enliven rice and/or breads like roti, naan, chapati, paratha, puri, and others, and act as a foil to the riot of flavors in multi-course meals.
Western varieties of chutney
As chutney made its way to Europe and North America, perhaps because of the close and loving relationship developed between the British and Indian cuisine during colonial rule, it took on a jammy facade. Major Grey's chutney, made with mangoes, raisins, brown sugar, and chili, is typical of this style. It has more of the sweet than the sour.
Western varieties of chutney are almost always cooked, low and slow for sour jams, or quickly for a piquant confiture that resembles traditional cranberry-orange relish served at Thanksgiving. However, the tartness of chutney is what makes it such a tongue-teaser and pleaser. It's also what makes it distinct and different from jam and jelly.
In that traditional cooking lexicon Joy of Cooking (Rombauer, Becker, and Becker, 2006*), chutneys are lumped in with relishes and pickles. They also appear subsequent to relishes in How to Cook Everything (Bittman, 1998) and are generally regarded as a pleasing side to meats, sandwiches, and even cheese.
The afore-mentioned cookbooks have recipes detailing how to make chutneys from fresh and dried fruit. The latter is my favorite way to make chutney. You'll find a good vegetable chutney recipe included in How to Cook Everything.
I participate in the Amazon Associates affiliate program. At no increased cost to you, I may earn a referral commission if you purchase a cookbook or another product through links on this site.
Types of chutney: The categories
As Indian techniques and flavors have become more mainstream in American kitchens (think last year's blockbuster cookbook, Indian-ish: Recipes and Antics from a Modern American Family (Krishna and Kelley, 2019)), it may make more sense to organize chutneys into three categories: Fruit, vegetable, and herb.
Typical fruit chutneys are the aforementioned mango (Major Grey's with raisins) and dried apricot. Vegetable standards are onion and tomato, while mint and coriander (cilantro) are classic herbaceous varieties.
Holiday chutney
Every year, I enjoy making an easy, edible homemade gift for friends that is not cookies. Don't get me wrong, I do bake holiday treats, but many of my friends and loved ones already have an ample supply of holiday cookies!
(Another preserve made from pears that would make a perfect holiday gift, is my East Asian Pear Butter. You can find the recipe here, but just so you know, it does take longer to prepare than chutney.)
Chutney has several points in its favor for holiday gifting.
The spicy sourness of chutney offers a bracing contrast to the holiday goodies in our pantries and out on the countertops.

As a bonus to chutney's delicious flavor, nutrition upsides include vitamins, fiber, and antioxidants. When made from dried fruit, it has a gram of iron per tablespoon. This may not sound like much, but it's more than 10% of the Recommended Daily Allowance (RDA) for an adult man.

Best of all, the condiment can take a ho-hum chicken breast or pork roast from dull to dazzling.

Don't want to cook? Serve your chutney with a platter of cheeses. Fruit chutney is an ambrosial addition to a cracker loaded with Irish cheddar. Dried fig chutney is scrumptious with soft cheeses like Brie or Camembert. Tomato chutney is great with cheeses, too!

Try it on grilled cheese sandwiches!

You don't have to finish it during the holiday season. It keeps well for a couple of months in the refrigerator without any special treatment other than clean jars. (You could sterilize them in the instant pot. It only takes one minute.)

If you go to the trouble of canning, the chutney should keep unopened in the pantry for 18-24 months.
(To use the instant pot for sterilizing jars, place the trivet in the bottom of the pot. Pour in a cup of water. Place your clean jars — up to seven 8-oz jars — in the 6-qt pot. Put the lid on, and close/seal the vent. Set the pressure for 1 minute. Keep the jars in the instant pot until you are ready to fill them.
If you are preserving the chutney by canning, the jars (and the chutney) will need to be hot. Use the steam setting on your instant pot for canning. Read this post from Friedalovesbread.com for an explanation of instant pot canning.)
Fruit chutney varieties: To cook or to purchase
Here is my recipe for a pear-cranberry chutney that is heavy on dried pears. You could also use dried apples or apricots, but if you choose apricots, omit the cranberries.
If you're not sure you want to make your own chutney, you could always try Stonewall Kitchens' Apple Cranberry Chutney, which has a flavor somewhat similar to the recipe below. You can order it, or find it in a specialty grocery store. I can not recommend many of the chutneys available at regular groceries because they tend to be very sweet and lack spice.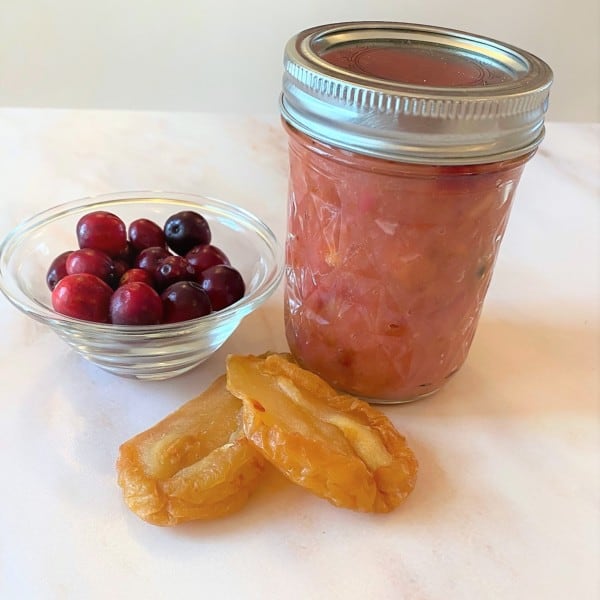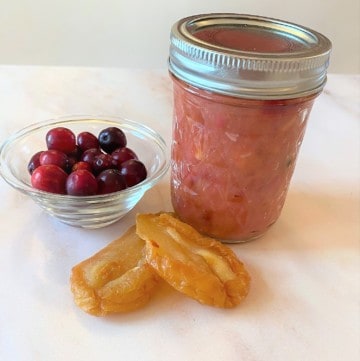 Pear Cranberry Holiday Chutney
Dried pears and fresh cranberries combine in this slightly sour and jammy accompaniment to holiday foods.
Equipment
medium saucepan

chef's knives

cutting boards
Ingredients
1

Tablespoon

canola oil

½

cup

onion

chopped finely

1

teaspoon

garlic

minced

1

cup

cranberries

fresh

2

cups

dried pears

chopped (can use a combination of dried pears and apples)

½

cup

water

more, if necessary

¼

cup

orange juice

fresh squeezed

2

Tablespoons

honey

1

Tablespoon

Truvia

granulated stevia + erythritol

⅓

cup

apple cider vinegar

3

Thai red chilies

whole

1

teaspoon

ground ginger

¼

teaspoon

salt

3

star anise

whole

6

cloves

whole

6

black peppercorns

whole

1

cinnamon stick

optional

1

teaspoon

orange zest
Instructions
Before starting, wash hands thoroughly.

Heat canola oil in a medium saucepan until shimmering. Add onion to pan and cook until translucent. Add garlic and cook 30 to 60 seconds, until fragrant.

Combine the dried fruit, cranberries, chilies, star anise, peppercorns, and ginger with the onion and garlic. Mix gently and thoroughly.

Pour liquid ingredients, honey, Truvia, and orange zest over the onion-fruit-spice mixture. Stir and bring to a boil. (Cranberries should start to pop.) Turn the heat down so that all ingredients are barely simmering. After 10 minutes, taste the chutney and add salt and more honey or Truvia if the mixture is too sour.

Continue to simmer for another 20 minutes. Watch the pot, and add additional water, ¼ cup at a time, if necessary. Cook until the fruits are softened and the mixture becomes thick and jammy.

Remove from heat. Pour into sterilized jars and proceed with canning while mixture is hot. Or, let the chutney cool and pour into refrigerator storage containers. If canned, it should keep in pantry storage for 18-24 months. In the refrigerator, it should stay fresh for about two months.

Serve as a lively foil to roasted or grilled meats. Dried fruit chutney is also very tasty on toasted breads or as a topping for rice.
Notes
This chutney recipe is very adaptable. If you like hot spices, add another chili or two, or simply remove the whole chiles and use red pepper flakes. You can also add other spices that you enjoy, like nutmeg, coriander, or garam masala. Just be careful not to add so many that they compete with one another.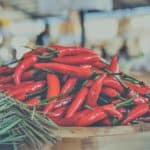 As it simmers, the liquid will evaporate. Keep tabs on the consistency of the chutney as it cooks down, and add water about a ¼ cup at a time until it reaches your desired degree of softness and holds together like a preserve.
The salt in this recipe is intended to bring out the sweetness of the fruit. However, you may need to add additional honey, sugar, or stevia because cranberries are very tart! Before you increase the amount of sweetener, mix in the salt and taste. You may find you won't need to adjust for sweetness as much as you thought.
Remember, the chutney needs to play well with meats and not turn a rice dish into dessert. It also makes a flavorful addition to sandwiches!
Nutrition
Calories:
56
kcal
Carbohydrates:
13
g
Protein:
1
g
Fat:
0.5
g
Trans Fat:
0
g
Sodium:
26
mg
Potassium:
98
mg
Fiber:
1
g
Sugar:
11
g
Vitamin A:
8
IU
Vitamin C:
3
mg
Calcium:
8
mg
Iron:
1
mg
Copyright © 2020 Jani H. Leuschel