Cajun or Creole, red or brown, jambalaya is a beloved dish native to Louisiana cuisine. With a focus on flavor and health, this hearty jambalaya recipe features smoky andouille chicken sausage, brown rice, and shrimp.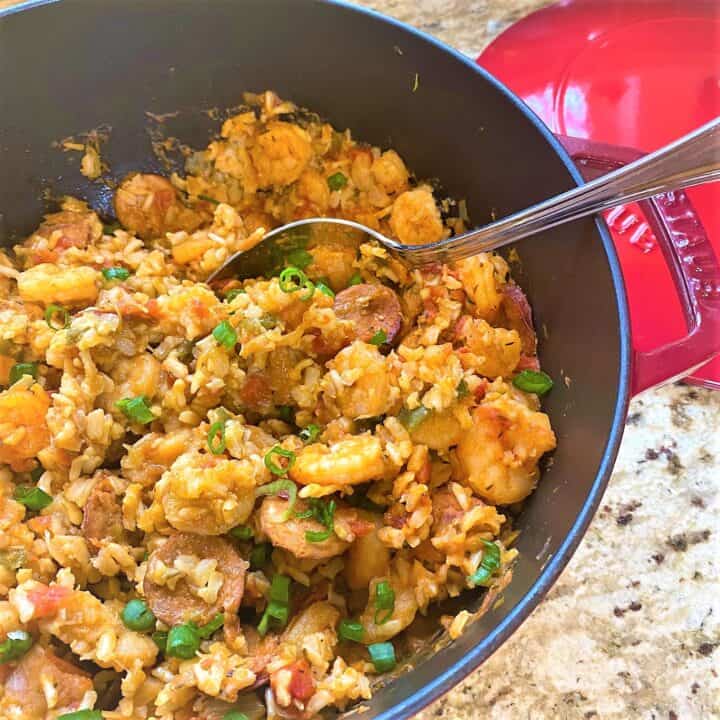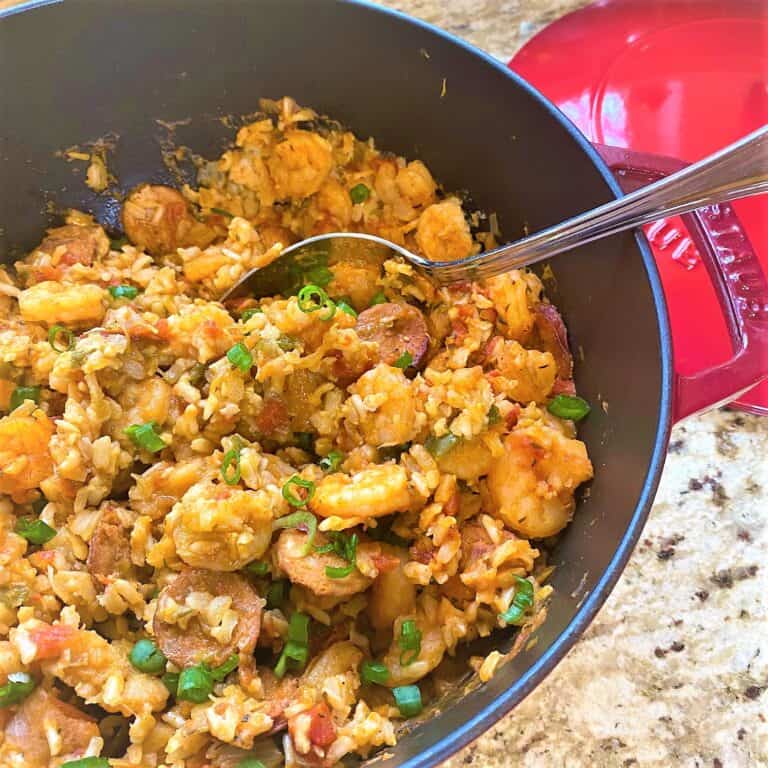 In taste and spirit, it's similar to traditional jambalaya made with andouille pork sausage and seafood.
Make it to celebrate Fat Tuesday–or any Tuesday. Jambalaya is a one-pot meal that can be enjoyed any day of the week!
As an Amazon Associate, I earn a small commission at no extra cost to you from purchases made through the links on this blog. Thank you!
What you'll need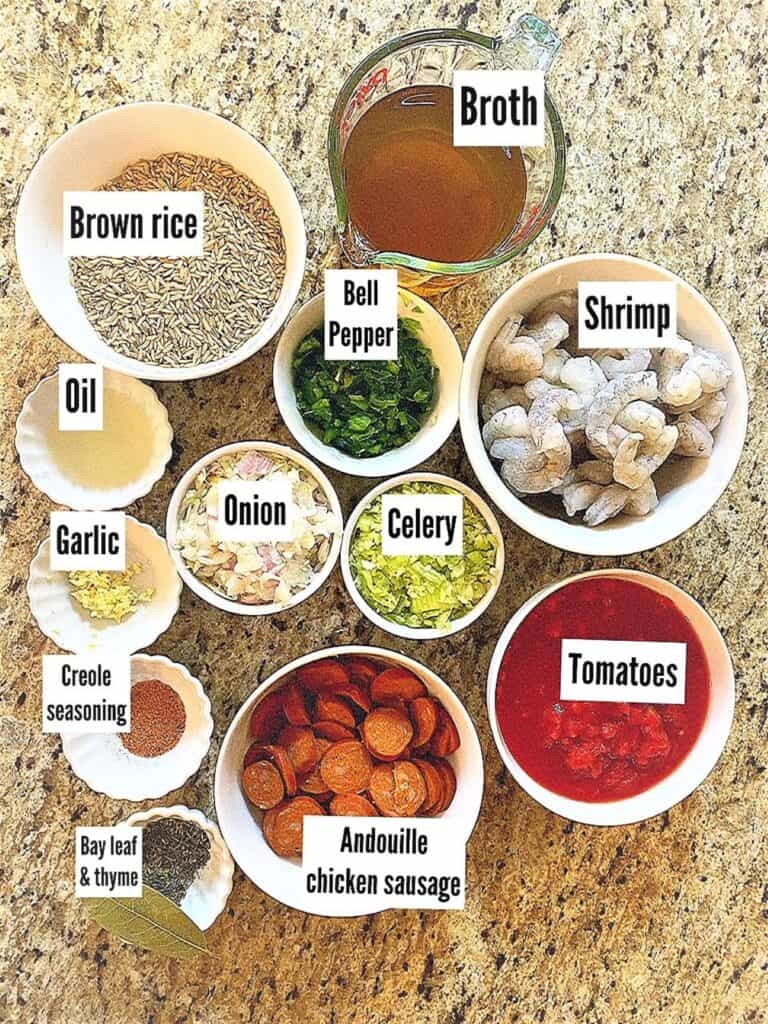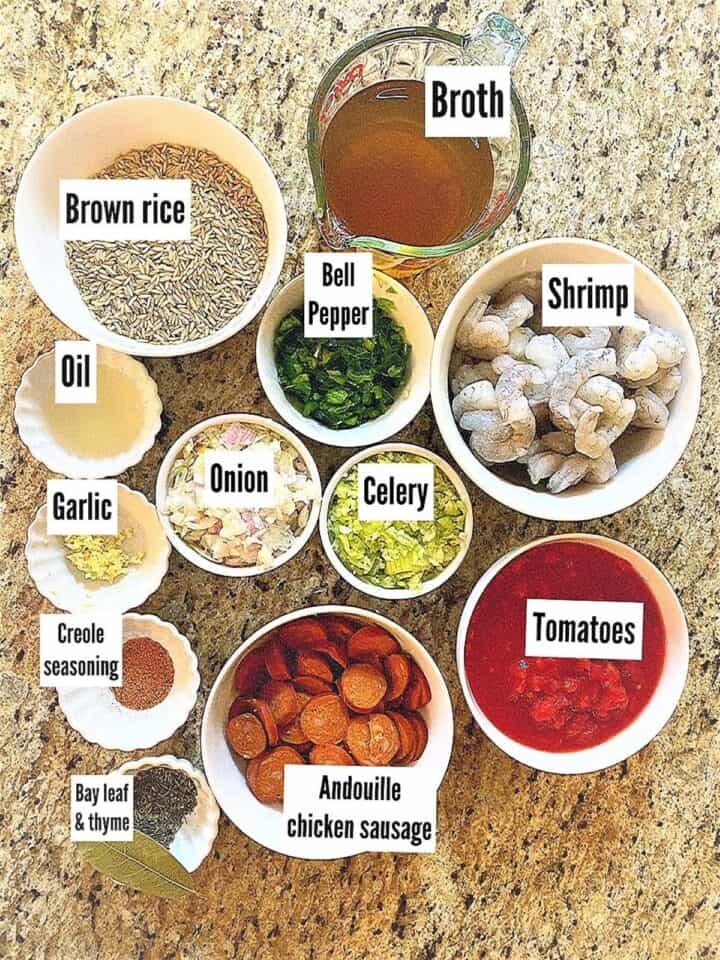 Ingredient List:
6 ounces andouille chicken sausage, cut into ½-inch thick rounds
1 Tablespoon canola or olive oil
1 cup chopped onions
1 cup chopped celery
½ cup chopped bell pepper (any color)
1 clove garlic, minced
Creole or Cajun seasoning, like Tony Chachere's (see below)
1 teaspoon dried thyme or 1 Tablespoon of fresh
1 bay leaf
1 cup brown rice
1 14 ounce can diced tomatoes
1 to 1 ¾ cups of low-sodium broth (chicken or vegetable)
1 pound medium size peeled, deveined raw shrimp
Andouille chicken sausages are not difficult to find. Brands to look for are Good and Gather from Target, the Simple Truth at Kroger, and Johnsonville at Tom Thumb/Safeway stores.
Other options include house brands from H-E-B and Sprouts grocery stores.
Cajun/Creole seasoning often contains salt along with red and black pepper, chili powder, garlic, and other spices. If your seasoning nutrition label shows zero milligrams of sodium, you may want to add half a teaspoon of kosher salt.
Homemade broth will give your jambalaya a flavor boost. But, low-sodium broth from the store is fine, too.
If you like cooking in the Instant Pot, try this recipe for veggie scraps broth--super simple!
If you use fresh thyme branches, be sure and remove the woody stems before serving.
Equipment:
To cook your jambalaya you'll need a 4- to 5-quart Dutch oven, deep oven-proof casserole dish, or Instant Pot.
The Instant Pots I cook with on regular basis are the 6-qt Instant Pot Duo and the 8-qt Instant Pot Duo.
You won't need anything unusual in the way of utensils: Measuring cups and spoons, cutting board, and chef's knife for chopping.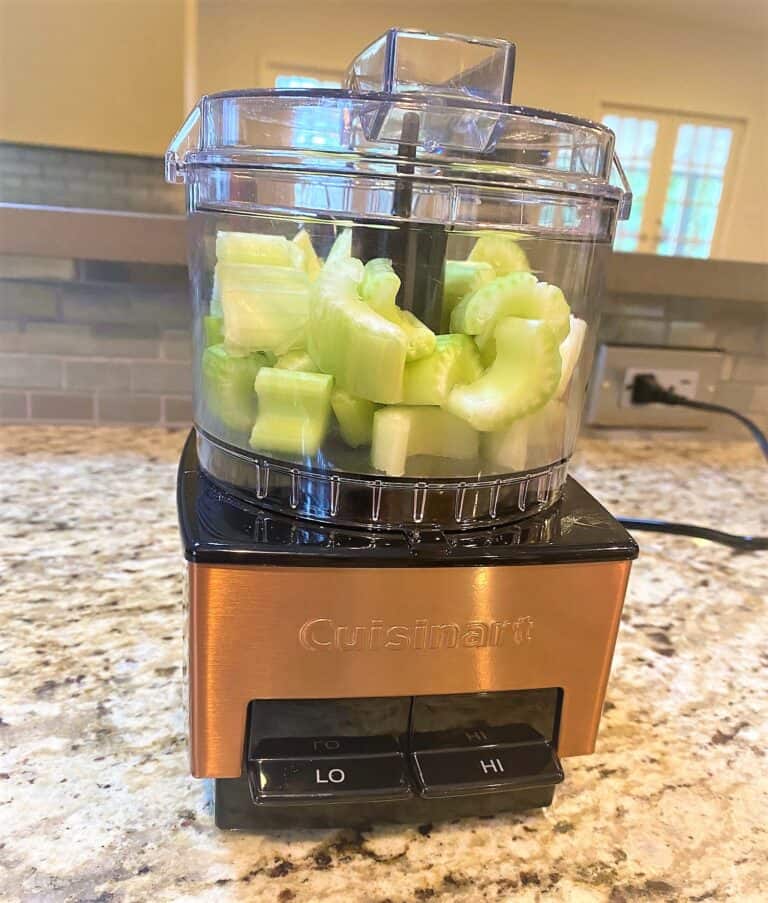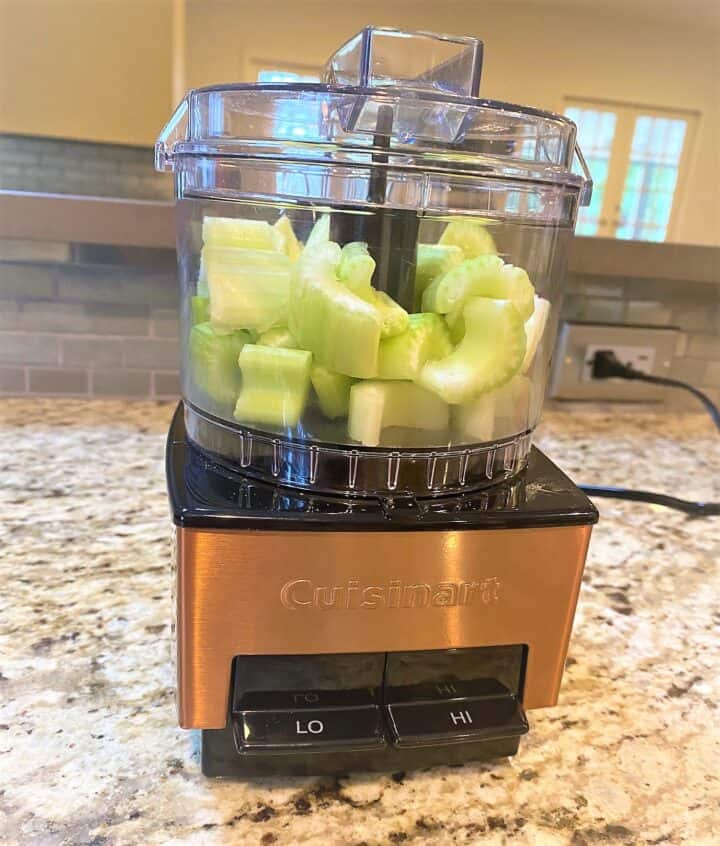 A small or regular size food processor makes quick work of the chopping. Of course, you can use frozen, chopped onion (purchased or homemade) to speed the prep.
How to Make it
One of the jambalaya's bonuses for the cook is that it's made in a single pot. This equals less clean-up!
Heat a Dutch oven over medium-high heat. If using the Instant Pot, choose the Saute setting, high heat for 5 minutes.
Cook chicken andouille sausage rounds until they begin to brown. Cut the heat and remove them to a plate.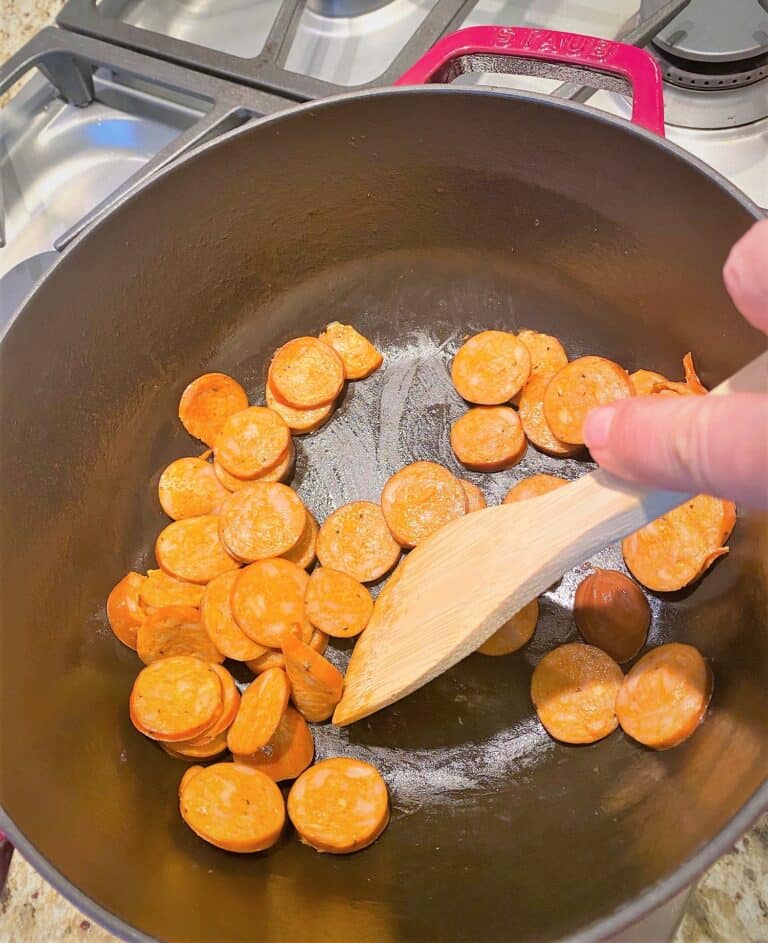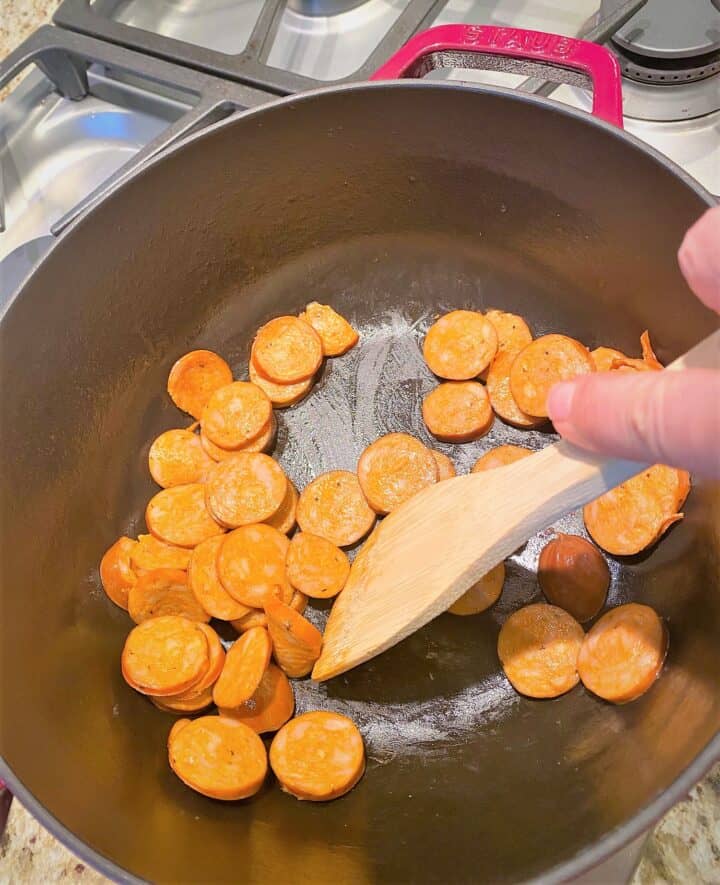 Turn the heat back on and add the oil.
Cook the Louisiana vegetable Trinity, onions-celery-bell pepper, for about 5 minutes, until softened. Toss in the minced garlic and heat until it's fragrant, 30 to 60 seconds.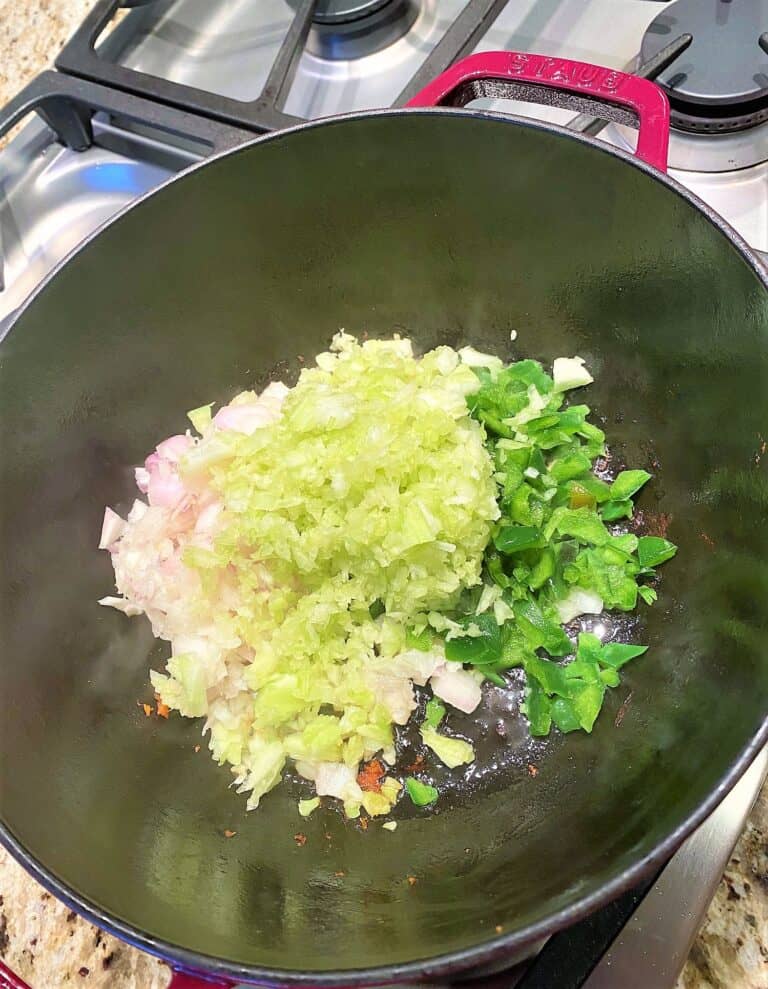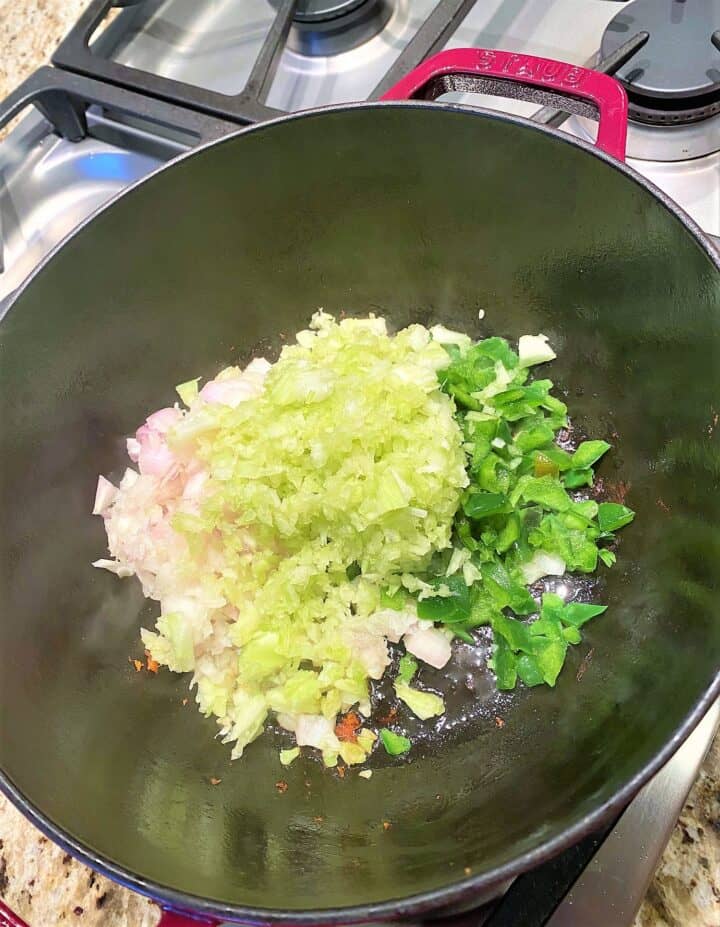 Add the cooked andouille chicken sausage to the vegetables along with the spices. Warm the spices for a minute or two and add the rice. Stir to coat rice with spices, vegetables, and sausage drippings.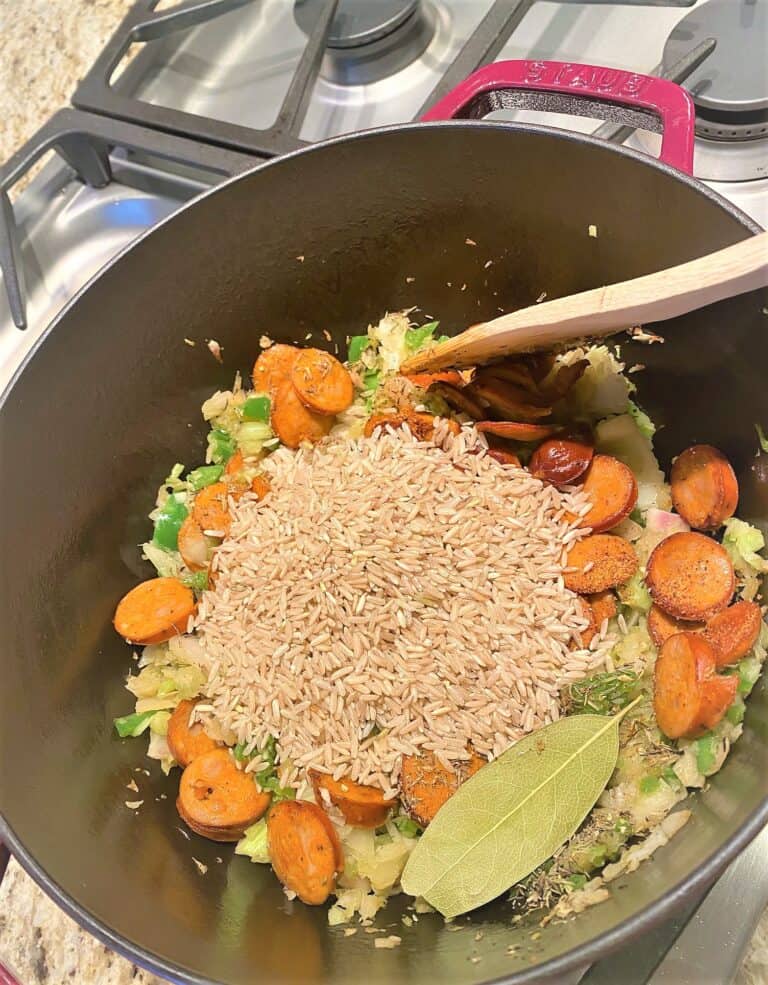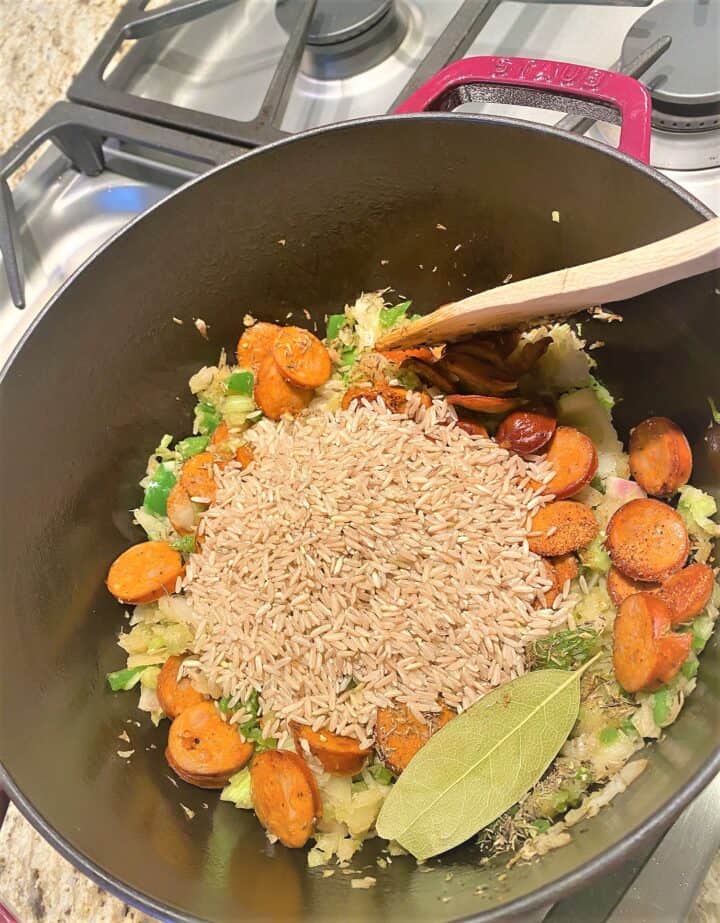 Deglaze with the chopped tomatoes and their juices, scraping up any bits stuck to the bottom. Pour in the broth and stir to combine.
(You will use less broth in the Instant Pot. See the recipe card below for complete IP instructions.)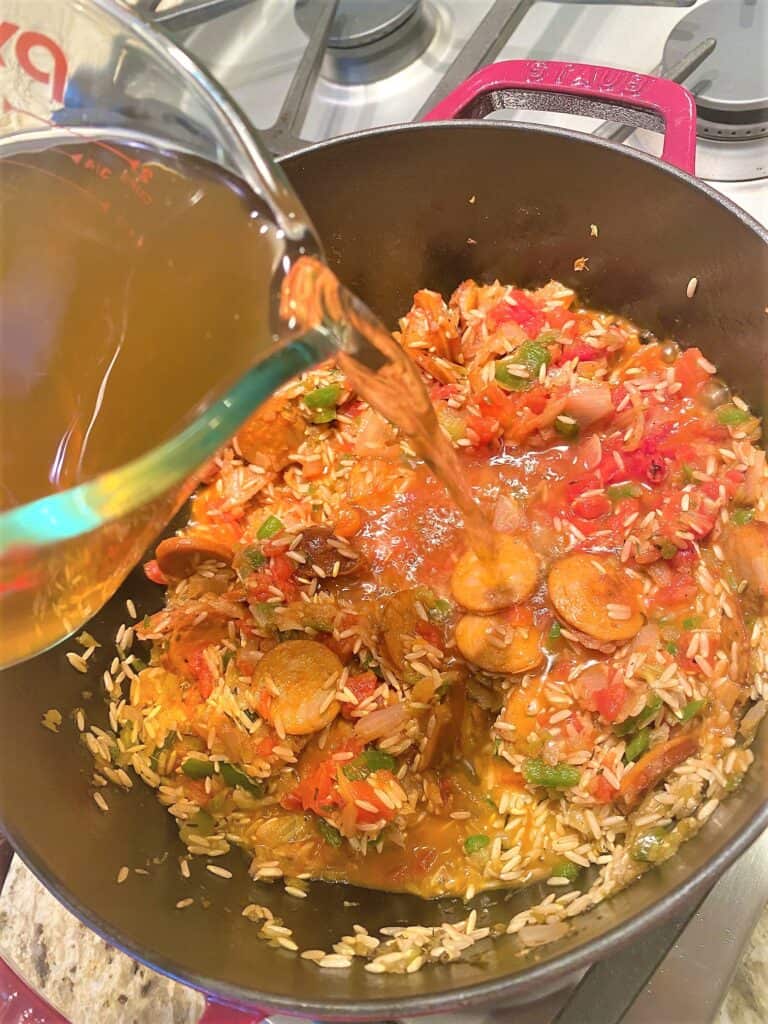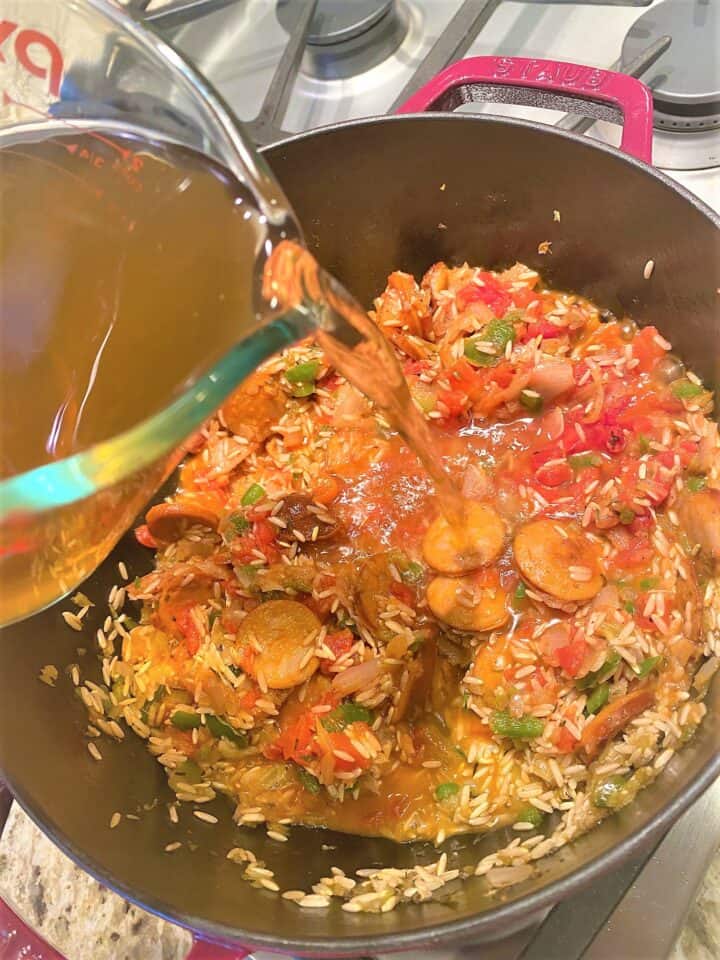 If cooking in the Dutch oven, turn the heat down to a simmer and put the lid on. Cook for about 40 minutes, until most of the liquid is absorbed and the rice is soft, not crunchy.
If using the Instant Pot, twist the lid on and seal the vent. Choose Pressure Cook for 20 minutes. When the cook time is up, open the vent, releasing the pressure so that the valve drops and you can open the pot. (Turn off the IP, if necessary.)
Add the shrimp. Stir, and replace the lid. In the Dutch oven, cook shrimp for 5 to 10 minutes, until they are pink all the way through.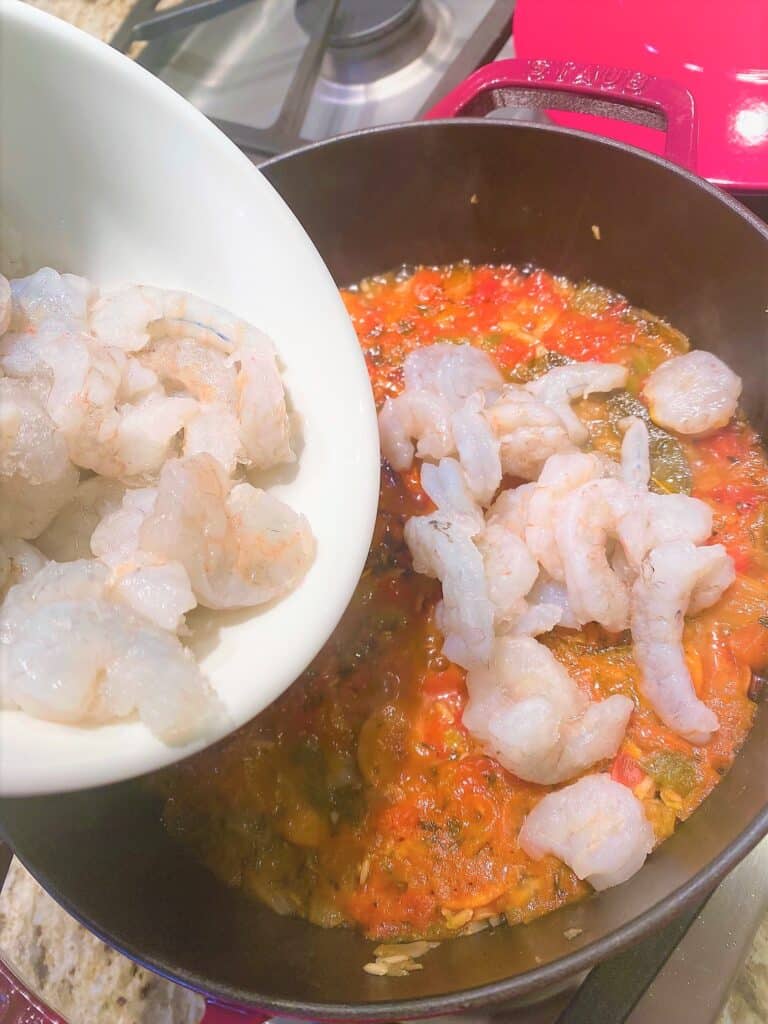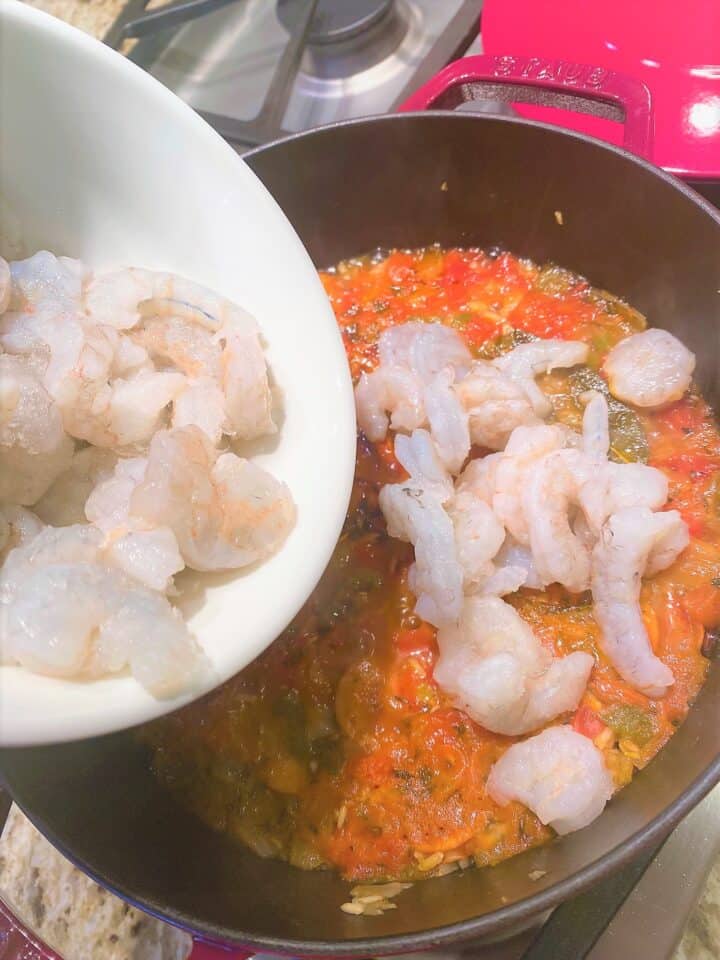 If using the IP, choose Pressure Cook and set for one minute. The shrimp will be cooked through by the time the pot reaches pressure.
Open the vent and release the steam.
Serve using a fresh utensil that has not touched the raw shrimp.
About Jambalaya
Jambalaya can be either Creole or Cajun. Creole versions include tomatoes (red jambalaya) while Cajun "brown" jambalaya does not.
The Cajun and Creole people of Louisiana share a French heritage. Their cuisine is heavy on French cooking methods.
The Cajuns came to the Louisiana Territory when cast out of Nova Scotia. They were Acadians who had recently settled in maritime Canada after crossing the ocean from France.
The Creoles share blood with Spanish settlers and African slaves and freemen. Creoles were considered more sophisticated and upper-class.
Cajuns lived along the bayous and lowlands and made meals out of what could be farmed or hunted. (Ducote)
Creole dishes usually call for butter while Cajun recipes rely on cooking oil.
Traditional jambalaya tends to hold abundant protein. In addition to andouille sausage, recipes often call for chicken plus shrimp.
The Smokin' Healthier Jambalaya recipe at the bottom has chicken andouille sausage and shrimp. It packs a generous amount of protein, without any extra chicken.
Here's a jambalaya roundup on the Cooking Light website with a diverse assortment of recipes including one for a sheet pan.
Andouille Sausage Nutrition: Chicken vs Pork
Comparing several brands of andouille chicken sausage to andouille pork sausage reveals several nutrition upgrades for sausage made from chicken.
The following information is based on an average 3-ounce sausage link:
Fewer calories: Almost all of the chicken sausages have fewer calories than pork sausages, sometimes more than 100 fewer calories. That said, Aidell's andouille pork sausage has only 160 calories, the same as the chicken version from Sprouts.
Less saturated fat: All andouille chicken links have less saturated fat than the pork links. Often, the chicken ones have half as much as the pork.
More protein: Although they are less fatty, the chicken links have more grams of protein. Often, they are higher in iron, too.
🧂 Sodium: Both types of sausage are high in sodium. Kroger's Private Selection andouille pork has 825 mg! That's more than a third of the daily allowance of 2,300 mg.
Read the nutrition label
Whether you choose chicken or pork andouille sausage, check the nutrition label for the nitty-gritty. Details, such as saturated fat, sodium, and calories, make the difference when it comes to health.
Cultural reasons to choose chicken sausages
In addition to having better nutrition, chicken sausages are a good option for Muslims, Jews, and anyone who practices a religion that bans eating pork products.
Even if pork is not prohibited, chicken sausages can fill a gap when it comes to the healthier preparation of traditional, cultural foods.
The blog's take on traditional Louisiana jambalaya is still rich and full of smokey flavor. It just has fewer calories and less saturated fat (as well as whole-grain goodness from the brown rice).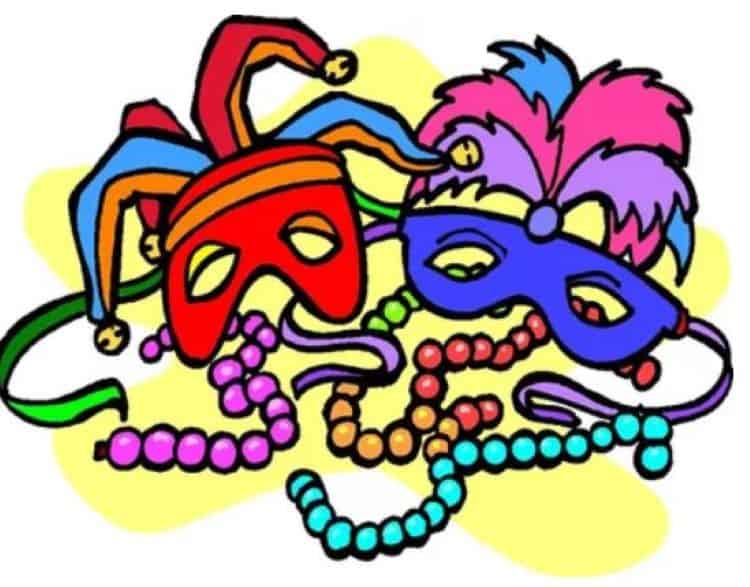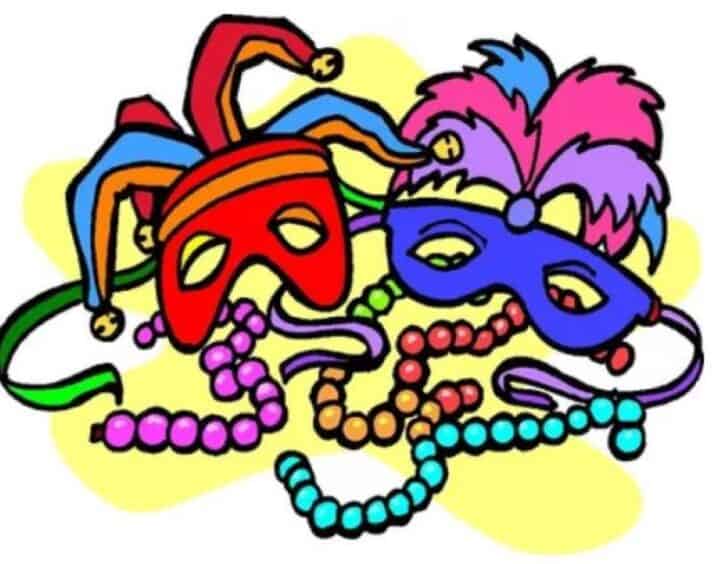 Laissez le bon temps rouler! (Let the good times roll.)
FAQ
Where can I find andouille chicken sausage? Most grocery stores carry them.
Can I substitute another chicken sausage for andouille chicken sausage? Try chicken kielbasa, another type of smoked sausage that hails from Poland.
What does "andouille" mean? Andouille is a French word for sausage. It comes from the Latin verb inducere, which is translated as "to lead in."
Is there pork in andouille chicken sausage? No. But, check the ingredient list if you avoid pork products because manufacturing practices differ from brand to brand.
Do I have to use a store-bought Creole or Cajun seasoning? You can make your own with a blend of red and black pepper, smoked paprika, garlic powder, and dried herbs like thyme, oregano, and basil. Try this recipe from the Daring Gourmet.
Storing and reheating jambalaya
❄ Refrigerator: Cooked jambalaya will keep in an airtight container for two days. It should be frozen after a couple of days if you want/need to save it for another meal.
🧊 Freezer: It stays good for three months in an airtight container. You can spoon the jambalaya into a quart-size zip bag. Remove all the air from the bag and flatten it for efficient storage.
Reheating: Heat in a glass or other microwave-safe container on high for a minute or two until the temperature reaches 165 degrees. Stir to distribute heat and use a food-safe thermometer to check the temperature.
Jambalaya can also be reheated in the oven using heavy-duty foil or an oven-safe container at 400 degrees for about 15 minutes. Again, check the temperature before serving.
You may need to add a little liquid before reheating so the jambalaya is not too dry. For faster reheating, thaw it first. Place in the microwave on 30 percent power or put it in the refrigerator overnight.
What to serve with jambalaya 🥖
Jambalaya is a one-pot meal. Pair with a vegetable side or a green salad plus cornbread or a sliced baguette. A baguette is perfect if your jambalaya is saucy!
Simple sides with a low flavor profile contrast well with the smoke (from the andouille sausage) and spice in jambalaya.
More jambalaya recipes
Here's a yummy yin and yang of jambalaya.
The D'Lish Delites blog recipe features andouille chicken sausage,
Traditional jambalaya from the late great Louisiana chef and cookbook author Paul Prudhomme has chicken and tasso ham, another type of pork often used in Cajun and Creole cooking.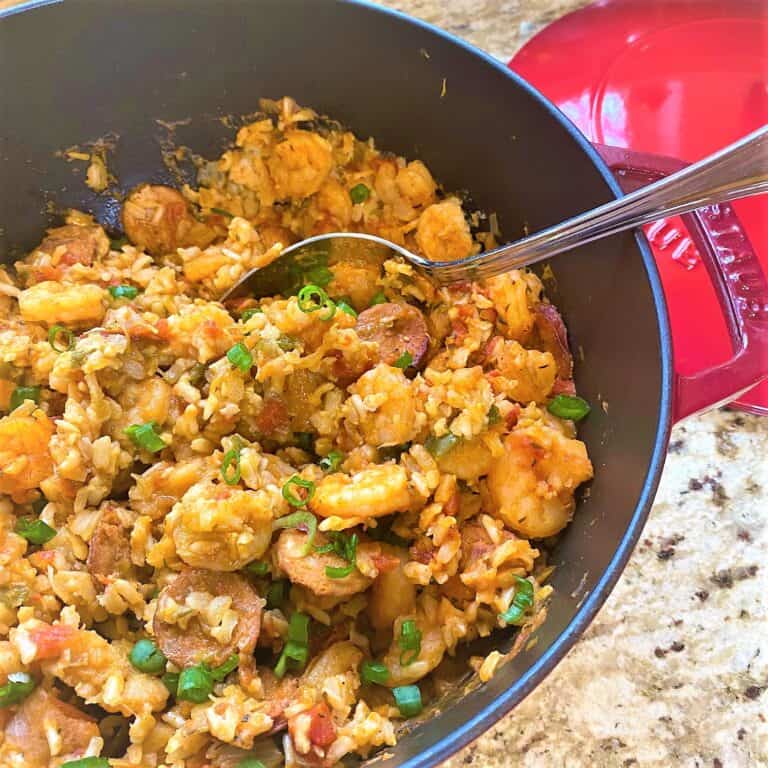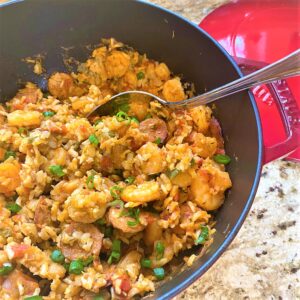 Healthy Smokin' Jambalaya
A hearty jambalaya recipe with andouille chicken sausage, shrimp, and brown rice. It's rich in protein, fiber, healthy fats, and spicy flavors!
Equipment
Dutch oven

or Instant Pot

Mini food processor

optional
Ingredients
6

ounces

andouille chicken sausage,

cut into ⅓-inch rounds

1

Tablespoon

canola oil

or mild extra virgin olive oil

1

cup

onions,

chopped

1

cup

celery,

chopped

½

cup

bell pepper,

any color, chopped

1

clove

garlic,

minced

1

teaspoon

Creole or Cajun seasoning,

such as Tony Chachere's

1

teaspoon

dried thyme,

or 1 Tablespoon fresh or a few thyme branches

1

bay leaf

1

cup

brown rice,

long grain

1

14-ounce can

chopped tomatoes

1 ¾

cups

broth,

chicken or vegetable, low-sodium -- if using Dutch oven

¾

cup

broth,

chicken or vegetable, low-sodium -- if using Instant Pot

1

pound

shrimp

medium size, thawed, peeled, and deveined
Instructions
Wash hands thoroughly. Gather ingredients, leaving the shrimp in the refrigerator until later.

Heat a Dutch oven or large deep skillet and cook sausage rounds. Turn off the heat and remove sausage from pan when lightly browned.

Turn heat to medium-high and add oil. Cook onion, celery, and bell pepper until softened. Add garlic and cook for 30 to 60 seconds.

Return sausage to Dutch oven along with spices and rice. Cook for two minutes, stirring to combine all ingredients, coating with the spice mixture.

Add tomatoes and 1 ¾ cups of broth and stir again, scraping up any browned bits from the bottom. Bring to a boil and then turn heat down to a simmer. Cover.

Cook for about 40 minutes, until most of the liquid has been absorbed. Add the thawed shrimp.

Cover and continue to cook for about 5 minutes until shrimp are pink all the way through.
Instant Pot Instructions
Set Instant Pot to Saute for 5 minutes on high heat. Coat with non-stick spray. Before pot is completely hot, add sausage rounds and cook until browned. Remove sausage to a plate.

Turn the pot back on to Saute for another 7 minutes. Add the oil and cook the onion, celery, and pepper, stirring to prevent any sticking or burning. Toss in the garlic once the vegetables are softened and a little brown.

Turn off the pot and add the cooked sausage rounds along with spices, bay leaf, and rice. Stir to coat.

Add the tomatoes and ¾ cup of broth and stir to combine. Put the lid on and set the Instant Pot to Pressure Cook on high for 20 minutes.

When the cook time is up, quick release the pressure, carefully opening the vent to release the steam. Open the pot.

Add the shrimp and stir. Twist the lid on and set to Pressure Cook for 1 minute. Once the IP has gotten up to pressure the shrimp should be pink and cooked through.

Release pressure by opening the vent. When the pressure valve drops, open the lid and check to see that shrimp are done. Stir to combine ingredients and serve, or press the Keep Warm button to hold the jambalya until ready to serve.
Notes
The Instant Pot lets you cook the jambalaya in about 40 minutes (or less).
Sometimes, shrimp will exude juices and make the jambalaya too soupy. It's not a bad idea to dry your shrimp with paper towels before adding them to the pot.
If your jambalaya has too much liquid after adding the shrimp, you can gently boil some of it away. Remove the lid from the Dutch oven or Instant Pot and simmer until the texture is saucy, not soupy.
Nutrition
Calories:
292.8
kcal
Carbohydrates:
18.7
g
Protein:
35.2
g
Fat:
8.3
g
Saturated Fat:
1.5
g
Trans Fat:
0.1
g
Cholesterol:
235.1
mg
Sodium:
934.7
mg
Fiber:
2.9
g
Sugar:
3.1
g
Iron:
2.1
mg
Copyright © 2022 Jani H. Leuschel