Powderizing oats in your food processor or blender makes it easy to use them as nutrient-packed, gluten-free flour. You can eat slices of Banana Bread with Oat Flour as a tasty breakfast, snack, or even dessert, provided you don't leave the chocolate chunks out of the recipe.
This Banana Bread with Oat Flour recipe is especially good for heart health. The oat flour helps it bake up into a tender, moist loaf even though it has less fat than many banana bread recipes.
This loaf has just the right amount of sweetness, and the toasted walnuts make it toothsome! Walnuts are renowned for their cardioprotective fats, and the canola oil in the ingredient list is full of healthy, polyunsaturated fats.
But, first, let's take a look at the many health virtues of oats because they're definitely having a moment. If this thought leads to scoffing, just do a quick search for any of the following: Overnight oats, baked oats, and oat milk/yogurt.
Oat Nutrition
The humble oat offers a well-rounded morsel of nourishment. A half-cup serving of oats has about 27 grams of carbohydrate, 5 grams of protein, and 2.6 grams of mostly poly- and monounsaturated fats (heart-healthy).
They're also a rich source of vitamins and minerals, like iron. Here are a few deets. A half-cup of oats contains:
152 calories
4 grams of fiber
1.7 mg iron
20.8 mg calcium
55.8 mg magnesium
164 mg phosphorous
145 mg potassium
1.5 mg zinc
0.1564 mg copper
0.184 mg thiamin (vitamin B1)
13 mcg folate (vitamin B9)
40.4 mg choline
Oats also contribute slightly to vitamin B6 intake. To summarize, they add a few B vitamins and a slew of minerals to your daily diet.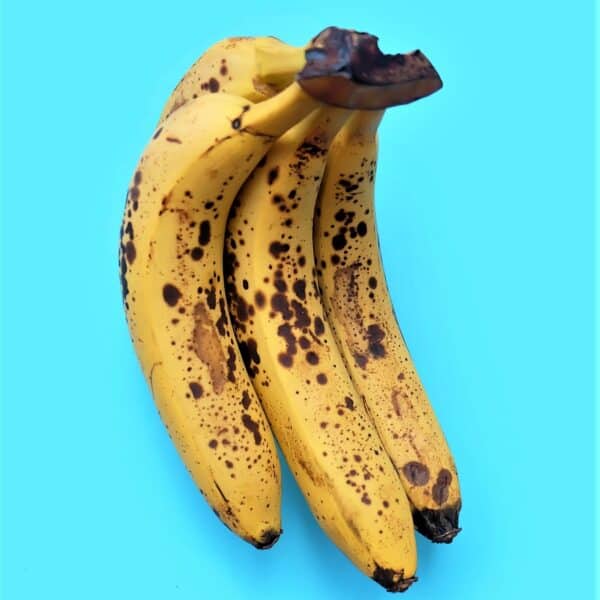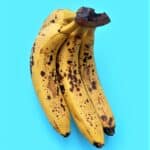 A bunch of ripe bananas ready to be mashed for Banana Bread with Oat Flour.
They can also be peeled and frozen for later use in smoothies!
Credit: Elena Koycheva on Unsplash
The many different functions of oat fiber
Even more than its vitamins and minerals, the fiber in oats may boost your health. Oats are rich in soluble, beta-glucan fiber.
Blood sugar, cholesterol reduction
The soluble fiber in oats forms gels in the digestive tract that can trap glucose in your gut. This can contribute to blood sugar management. The fiber in oats slows the breakdown of sugar.
Many studies have confirmed that daily oat intake will lower your total and LDL (low-density lipoprotein) cholesterol, often referred to as "bad" cholesterol. Oats do this without negatively impacting your "good" HDL (high-density lipoprotein) cholesterol or messing with your triglycerides.
Lowering cholesterol could improve vascular health, cutting your risk for atherosclerosis. This is a goal of oft-prescribed statin medicines. Many people now take statins to lessen their cholesterol production.
Would eating oats every day have the same effect?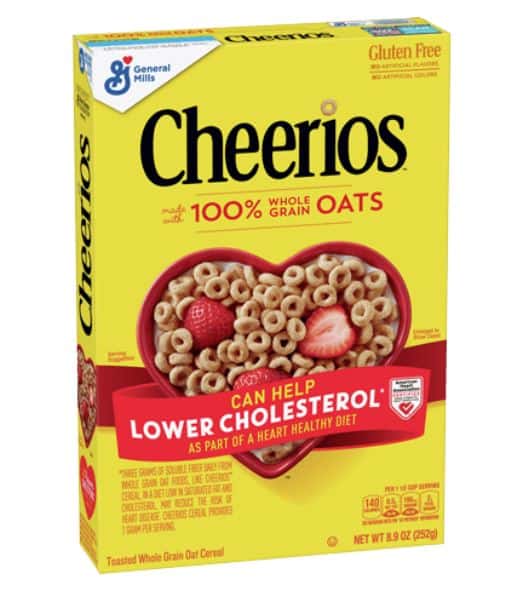 The FDA allows Cheerios, similar oat cereals, and oatmeal brands, to make a health claim on their label:
"Can help lower cholesterol as part of a heart-healthy diet. Three grams of soluble fiber daily from whole grain oat foods in a diet low in saturated fat and cholesterol may reduce the risk of heart disease."
Digestive health, immunity, and colon cancer
The fiber in oats, both soluble and insoluble, can help with constipation. This begs the question, "Could regularity improve immune health?"
You'll find about 70% of your immune system (by weight) in your gut. This is known as GALT or Gut-Associated-Lymphoid-Tissue. So, it makes sense that immunity is enhanced when your bowel is functioning optimally.
Gregory Freund, M.D., of the University of Illinois told the AARP magazine that "soluble fiber changes immune cells from being pro-inflammatory warrior cells to anti-inflammatory peacekeeper cells."
Adding 10 grams of fiber per day to your everyday food intake might reduce your risk of colorectal cancer. This was the conclusion of a review and meta-analysis on whole grains and dietary fiber published recently in the British Medical Journal.
The 2020-2025 Dietary Guidelines for Americans (DGA) advises 14 grams of fiber per 1,000 calories. The 2020-2025 DGA also recommends that adult women consume a total of 22 to 28 grams each day depending on their age.
For men, the 2020-2025 DGA puts the daily amount between 28 to 34 grams, again dependent upon age. The DGA report states that "More than 90 percent of women and 97 percent of men do not meet recommended intakes for dietary fiber."*
Blood pressure reduction
If you are willing to eat whole grains three times per day, you might be able to shelve prescription meds for high blood pressure. This was the conclusion of a randomized controlled trial published in the American Journal of Clinical Nutrition.
You should never stop taking medicine without consulting your doctor or health care provider.
Since oats are whole grains, you could choose them as one or more of your three daily grain portions, especially if you are trying to avoid gluten. This is not difficult to achieve.
Here's what three daily servings of whole grains looks like:
Breakfast: 1 bowl of oatmeal or slice of whole-grain bread (such as Banana Bread with Oat Flour (gluten-free) or a whole wheat variety)
Lunch: 1/3 to 1/2 cup of brown rice (top with stir-fried vegetables to make a meal)
Dinner: 1 cup of cooked quinoa or 2 ounces of whole-grain pasta (as a side dish to a lean protein, salad, and half cup of vegetables)
How could you manage to eat three or more servings of oats in a day?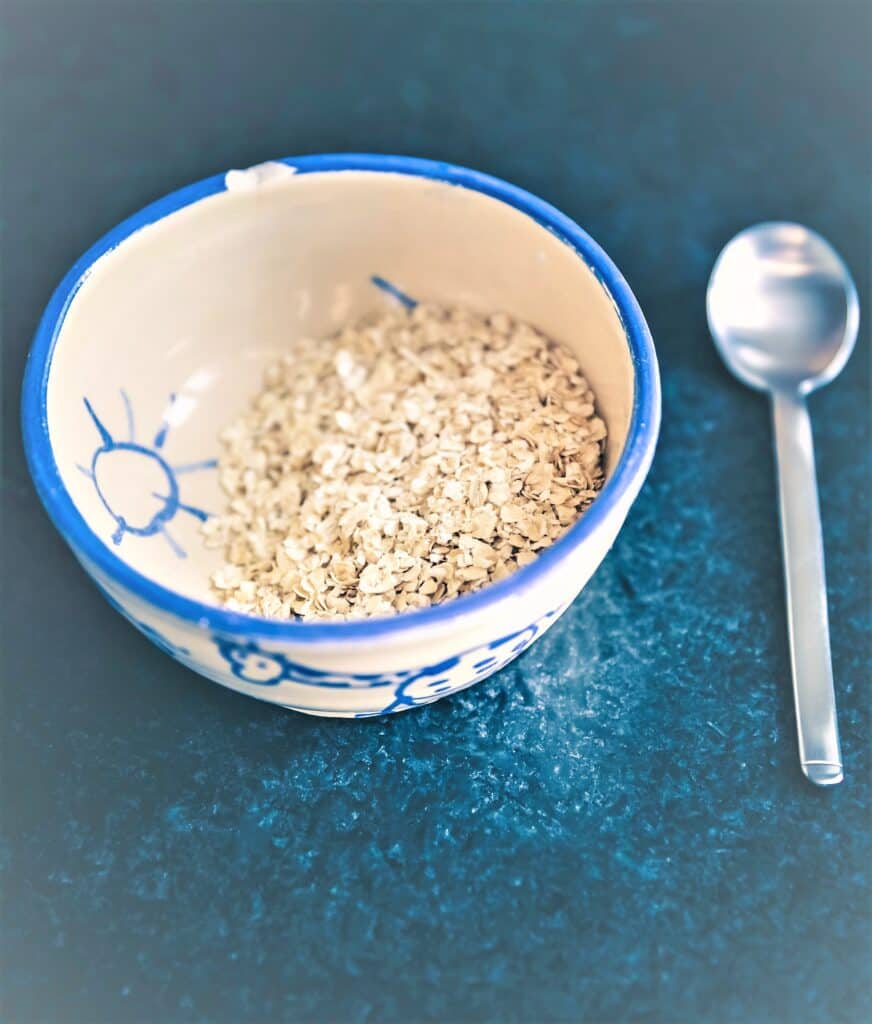 Credit: Markus Spiske on Unsplash
Oats, a recipe for heart health ♥
Given that oats boast such stellar nutritional value and can reduce your risk for so many diseases, it's not surprising that they positively impact heart health. Not only does their beta-glucan fiber benefit heart health, but it's also likely that oats boost nitric oxide production.
Nitric oxide (NO) is chemical produced in the lining of your blood vessels that improves cardiovascular health. It helps the blood vessels relax -- the opposite of what happens with hypertension -- and improves circulation, increasing blood flow.
The Banana Bread with Oat Flour recipe in this blog contains plenty of heart-healthy oats as well as polyunsaturated fats and monounsaturated fats from walnuts and canola oil.
My oatey banana bread is also lower in sugar than most banana bread. To further minimize the amount of sugar, you could leave out the chocolate chunks (and sacrifice some, but not all, of the bread's yumminess!).
Replace the chocolate chunks with raisins for Banana Oatmeal Raisin Cookie Bread. 😀
If you want to make the loaf vegan, you could use a flax egg and yogurt that is plant-based instead of Greek yogurt.
Keep in mind that the yogurt tradeoff comes at a cost of protein. Replacing the egg will also cost protein, and your loaf will be flatter. Since the oat flour does not contain gluten proteins to give it structure, the egg is important to help it achieve a nice rise.
Part of the sweetness in the recipe comes from stevia, which is a natural sweetener with minimal calories. The Truvia brand has formulated a blend of stevia/erythritol that mimics brown sugar and has a flavor that complements the bananas and chocolate chunks.
It's responsible for making the Banana Bread with Oat Flour taste like an oatmeal chocolate chip cookie. Perhaps the name of the recipe should be Banana Oatmeal Chocolate Chunk Cookie Bread!
(You can, of course, substitute regular brown sugar for Truvia's brown stevia blend, but you'll need to use double the amount of brown sugar to get the same sweetness.)
Gluten-free certainty
If the gluten-free aspect of this Banana Bread with Oat Flour recipe is a primary reason you'd like to try this bake, check the label of your oats. It should say "certified" or "verified" gluten-free.
Oats are often processed in the same mills as gluten-containing grains like wheat or barley. So, oats are not always gluten-free due to cross-contamination. They can carry gluten residues and trigger a reaction, particularly if you have celiac disease.
Glutens are the proteins found in wheat and barley. Celiac disease is an overreaction of the autoimmune system to glutens. Celiac damages the gut and can lead to many other health problems.
There are also people who with "non-celiac gluten sensitivity," who may experience GI symptoms when they eat gluten-containing grains. The good news about this condition is that while gluten foods might cause discomfort, they will not damage their guts.
Oats are a nutritious alternative to wheat and barley because they are whole grain. Many, but not all, gluten-free products, such as flour and bread, do not use the whole grain. Unlike oat products, these gluten-free offerings often don't have fiber, vitamins, and minerals.
In summary, oats and oat products:
Pack nutrition with a few B vitamins and lots of minerals.
Offer fiber, insoluble (aka "roughage") and soluble types.

Insoluble fiber helps with constipation.
Soluble fiber aids with cholesterol reduction.

Boost immunity.
Reduce blood pressure.

As part of a diet including whole grains

Improve cardiovascular health.

Partially through nitric oxide production

Offer gluten-free nutrition for those with celiac disease or non-celiac sensitivity.
Clearly, oats are not just for horses! They're also a quality grain for you and me. 🌾
---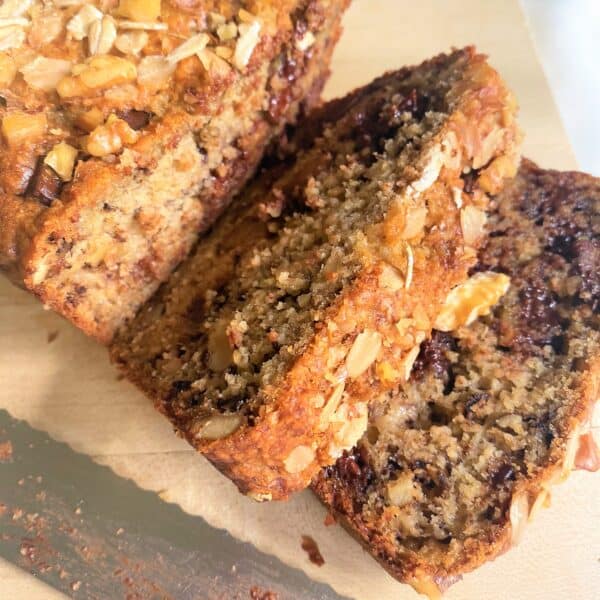 Banana Bread with Oat Flour
Tender, gluten-free banana bread that is excellent for heart health. Tastes just like an oatmeal chocolate chip cookie when you bite into pockets of melty chocolate!
Equipment
loaf pan

food processor

measuring cups

Medium bowl

Stand mixer

fork or potato masher
Ingredients
baking spray

for loaf pan

2⅛

cups

whole oats

1

teaspoon

baking soda

½

teaspoon

baking powder

½

teaspoon

salt

½

cup

2% Greek yogurt

Can use non-fat or a plant-based yogurt

¼

cup

canola oil

¼

cup

cane sugar

2

Tablespoons

Truvia brown sugar

Can use regular stevia

1

egg

Can sub flax egg

3

bananas, mashed

Use soft, ripe fruit

1

teaspoon

vanilla extract

⅓

cup

walnuts

chopped and toasted

¼

cup

dark chocolate chunks
Instructions
Wash hands thoroughly according to CDC guidelines.

Place the whole oats in a food processor and run the machine until the oats are powdery and the consistency of flour. This will take 1 to 3 minutes.

Use a spatula to transfer the oat flour into a medium bowl. You should have about a cup and a half. Add the baking soda, baking powder, and salt. Stir to thoroughly blend the dry ingredients.

In the bowl of a stand mixer, combine the oil, yogurt, sugar, brown Truvia/stevia, mashed bananas, egg, and vanilla. Mix on low speed to combine.

Add the oat flour mixture in 2 or 3 additions. After each addition, mix briefly on the lowest speed. Remove the bowl from the mixer and scape the mixing paddle to remove all the batter.

Pour the walnuts and chocolate chunks into the bowl and gently fold them in by hand.

Turn the mixture into prepared loaf pan and bake in 350 F oven. (Use 325 F for a dark, metal pan.) Check for doneness after an hour and bake an additional 10-15 minutes if necessary.

Remove from oven and let cool for about 10 minutes in the pan. Then, turn the loaf out onto a wire rack to finish cooling. Slice and serve when cool enough. Or, wrap the unsliced loaf tightly in foil to freeze or serve at a later time.
Nutrition
Calories:
295
kcal
Carbohydrates:
44
g
Protein:
6
g
Fat:
14
g
Saturated Fat:
2
g
Polyunsaturated Fat:
1
g
Monounsaturated Fat:
1
g
Trans Fat:
1
g
Cholesterol:
21
mg
Sodium:
324
mg
Potassium:
290
mg
Fiber:
4
g
Sugar:
17
g
Vitamin A:
67
IU
Vitamin C:
4
mg
Calcium:
53
mg
Iron:
1
mg
*U.S. Department of Agriculture and U.S. Department of Health and Human Services. Dietary Guidelines for Americans, 2020-2025.
9th Edition. December 2020. Available at DietaryGuidelines.gov.
COPYRIGHT © 2021 FOOD HALL BY JANI