Whether you or someone in your household has been affected by coronavirus or another illness, a bowl of chicken soup has healing properties. Chicken soup can help your respiratory system and your gut feel better. (I'm not going to speculate on what it can do for your soul!)
This isn't just because a steaming bowl of the good stuff is so comforting. There's real science behind that Jewish penicillin.
Although the flavor will be better if made from scratch, the soup does not have to be homemade. Several years ago, researchers at the University of Nebraska conducted a study on the healing properties of homemade chicken soup.
Part of their research process was to test several commercial chicken soups to see if they were as effective as homemade soup at preventing inflammation. It turns out that Campbell's, Lipton, and others are pretty good subs for the homemade version.
That's nice to know if you have those convenient soups in your pantry. If you don't, and you might not with COVID-19 cutting down on your grocery trips, you can easily make a more delicious version for your loved one with stock and some nutrient-rich root vegetables.
SOME SCIENCE ON WHY CHICKEN SOUP IS SO GOOD WHEN YOU'RE SICK
Chicken soup dampened inflammation in the study conducted by Dr. Stephen Rennard and colleagues at the University of Nebraska. In this chestnut of a study, which was conducted in the year 2000, the researchers were looking at the ability of chicken soup to help you breathe easy.
Specifically, the study found that "chicken soup significantly inhibited neutrophil migration," which means that if your lungs are weakened by respiratory illness, eating chicken soup will help lower the inflammatory response.
Neutrophils are white blood cells that flock to sites of infection and injury. Inflammation increases when huge numbers of these cells are attracted to injury in an area of the body, i.e. the lungs. Clearly, this would make it tougher to breathe.
Dr. Rennard told WebMD that "Neutrophils are responsible for migrating to sites where the body has been invaded …. They eat germs and kill them."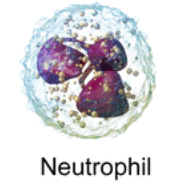 The study determined that at the concentration of ingredients equal to a typical bowl, chicken soup is effective for loosening chest secretions. Not to mention that it's also great for soothing a sore throat.
Another healing aspect of chicken soup is that it helps restore electrolytes, the fluids and minerals lost during respiratory illness or stomach upset. It contains potassium – from the vegetables – and salt, making it a go-to for electrolyte replacement.
The salt also has an important function in coronavirus: It can help with loss of taste, which many people have reported as a symptom of COVID-19.
CHICKEN: A GO-TO PROTEIN FOR HEALING?
A couple of amino acids found in poultry are beneficial when you're recuperating. Cysteine from the chicken in chicken soup is recommended by Joe Schwarcz, PhD, director of the McGill University Office for Science and Society and the Healthline website. Cysteine is a non-essential amino acid thought to improve respiratory conditions. Chicken, along with other animal proteins, is rich in cysteine.
Another amino acid found in chicken is tryptophan, a precursor the neurotransmitter serotonin, one of your brain's feel-good chemicals. It's possible that tryptophan contributes to chicken soup's comforting effect. (Many of you are aware that it's the tryptophan in turkey that contributes to that feeling of sleepiness and contentment after the Thanksgiving meal.)
🐔 Poultry is one of the more easily digested types of animal protein, especially chicken breast, making it ideal when you have digestive challenges or your body needs strength and nourishment quickly.
The other nutritional contribution chicken offers is B vitamins, which support energy production. Of course, the vegetables in the soup are rich in vitamins and phytonutrients.
VEGETABLE NUTRIENTS ADD OOMPH TO THE CURATIVE BREW

🧅 🥕🥬
Chicken soup is one of many soups that employs a simple vegetable triad of onion, carrots, and celery. Those basic root vegetables are loaded with antioxidants.
Onions are rich sources of quercetin, a flavonol antioxidant with many functional benefits that include improving eye health, reducing allergic response, preventing heart disease, and lowering high blood pressure.
Carrots are rich in beta-carotene, an antioxidant precursor of vitamin A, another well-known contributor to eye health. Beta-carotene in foods has many other functional roles like preventing cancer and reducing symptoms of lung disease.
When carrots or any other vegetables high in beta-carotene are heated, this phytonutrient becomes more available to your body.
(Note: Smokers should not take the supplement form of beta-carotene because it can increase the risk of lung disease.)
Celery, in addition to seasoning the soup, is anti-inflammatory with its many antioxidants and vitamins. Like onions, it is a good source of quercetin. It also contains luteolin, an antioxidant that fights inflammation and heart disease and may support memory and focus.
These three vegetables are present in most homemade versions of chicken soup. Some people also add parsnips or turnips. Not everyone has these more unusual root vegetables lying around, especially when grocery store trips are restricted.
The recipe that the researchers at the University of Nebraska used called for sweet potato, a vitamin A-rich tuber.
STARCH SUPPLIES ENERGY FOR HEALING

🥔
Noodles, rice, or potatoes supply the soup with carbohydrates, i.e. starch. Carbs are extremely important in providing the energy a body needs to mend. With stomach upset, it's best to opt for simpler carbs in the soup like white rice, skinned potatoes, or egg noodles – the classic choice.
If your digestion is intact, you can always up the nutrition by adding wholegrain noodles, brown rice, or unskinned potatoes.
SUMMARY OF THE HEALING PROPERTIES OF CHICKEN SOUP
Eases sore throat

Easily digested

Fights inflammation

Improves mood

Loosens chest secretions

Supplies energy

Vitamin and antioxidant benefits
CHOOSE YOUR SOUP-MAKING PROCESS
To speed the soup-making process, boxes of chicken stock or jars or powders of chickeny base are fine, but here again, your pantry supplies may be low due to coronavirus restrictions.
My favorite chicken soup employs homemade chicken bone broth as the base rather than starting with a whole chicken or chicken parts. Bone broth by itself is tremendously nourishing and has been used for centuries in Traditional Chinese Medicine (TCM). To read more about the benefits of bone broth, see my recent post on collagen. Bone broth is naturally full of collagen!
Using raw chicken suffuses the soup or stock with fat, or schmaltz, the name Jewish cooks give to chicken fat. Some people adore this taste, but I find it can be overwhelming. Plus, soup or stock started with raw birds will need to be cooled and refrigerated to let the fat rise to the top and harden so that it can easily be removed.
This delays its arrival on the table. Also, fat can challenge wobbly digestive systems.
Here is a good, basic recipe that starts with raw chicken from Julia Moskin at The New York Times. This soup takes a long time from start to finish, but I'm sure it will please those looking for a rich, flavorful, chickeny soup.
TAKE OR MAKE STOCK, PLEASE
You might be thinking that making stock from scratch is not quick. Okay; this is true, but it is easy. Using an Instant Pot, it can take almost 3 hours, but very little of this time is hands-on. A large capacity Instant Pot makes enough stock for at least two or three batches of soup, each of which easily nourishes six people.
My haphazard method is to freeze chicken bones in a large zip bag, either from birds I have cooked or from rotisserie chickens. In another zip bag, I freeze odds and ends of vegetables – onion skins, carrot tops, parsley stems, fennel fronds, celery trimmings, and most other vegetables bits that are in danger of going soft in my refrigerator. (I have even done this with whole peeled garlic cloves that are overly aged.)
When I have a large stockpile of frozen bones and veggies, I dump them all into the Instant Pot to become stock.
Sometimes, I freeze raw parts of the chicken that I won't be cooking like necks. Raw chicken, however, needs to be roasted before adding to your stockpot. Anything raw gets a quick thaw in the microwave and then goes into the oven at 450 F to roast while I gather ingredients and layer them into the Instant Pot.
An online tip I gathered from a reader comment in The New York Times is to use bones and veggies this way to make the soup itself rather than stock. You place the bones and vegetable leavings in a strainer and submerge them into the soup. This method would certainly give the soup robustness and have it come together quickly with less fat.
(BTW: Have I mentioned that making your own stock from the leavings of previous meals will save you money? Read my COVID-19 cooking post to learn more about this.)
AMPING THE FLAVOR OF STOCK
Spices and herbs add depth of flavor to the stock. I always put a Bay leaf or two and several black peppercorns into the mix. I like a tiny bit of kosher salt, about half a teaspoon.
You can always increase the salt when you use the stock for soup. (You will need somewhat salty soup to replace electrolytes.) If you have saved a couple of small chicken carcasses and several cups of vegetable odds and ends, your stock will be full-flavored and won't need much salt, which is a boon to anyone managing high blood pressure.
SIMPLE CHICKEN AND RICE SOUP IN 30 MINUTES OR LESS
Here is an easy chicken and rice soup recipe adapted from Mark Bittman's award-winning How to Cook Everything (Wiley Publishers, 1998) cookbook.
*Should you need Bittman's excellent reference cookbook, you can purchase it on Amazon by clicking here. As an Amazon Associate, I earn from qualifying purchases.
If you would like a more formal recipe for stock, here is a link to Natasha's Kitchen. This blog post details three methods for stock: Instant Pot, slow cooker, and stovetop.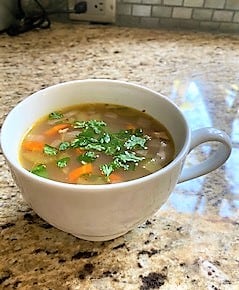 Chicken soup with rice 🍲
This can be a very gut-friendly recipe when made with white rice. It will soothe an upset stomach and is easy to digest. Credit: Jani H. Leuschel
Ingredients
2

Tablespoons

of olive oil

1

cup

chopped onions

1

cup

chopped or diced carrots

1 large or 2 small

1

cup

chopped celery

5 to 6

cups

chicken stock

preferably homemade

1

bay leaf

5

or more black peppercorns

1

cup

chopped or shredded cooked chicken

1

cup

cooked rice

pinch

of nutmeg

½

teaspoon

Kosher salt

to taste

Chopped Italian parsley

optional to float on top of the soup
Instructions
Heat olive oil in a large, deep pot or Dutch oven.

Add all vegetables and saute until the onion becomes transparent about 5 minutes.

Add chicken stock, Bay leaf, and peppercorns to the pot.

Bring to a boil, then lower heat and simmer for 15 minutes.

Add chicken and rice and simmer for another 10 minutes.

Add the nutmeg. Stir and taste for saltiness. Add salt according to taste.

Serve in soup bowls or mugs, sprinkled with chopped parsley (optional).
Notes
Noodles can easily be substituted for the rice. I like to make this into a meal by adding up to 2 cups of cooked rice or noodles.
If you want to increase the fiber and vitamin content, use brown rice or whole-grain pasta.
The parsley adds flavor and a fresh taste, but most children will object to green specks floating on their soup. (Parsley has antimicrobial activity, so you could try using this as spin to encourage them.)
While this tastes best with homemade stock or boxed stock, you can resort to powdered or liquid stock base. Keep in mind that they are high in sodium.
You don't have to use cooked chicken and rice. Add raw chicken cubes to the olive oil after step 1 and remove the cubes after sauteing for 5 to 8 minutes, cooking them through.
Proceed with step 2, cooking the vegetables until the onion loses its color. Pour the raw rice over the vegetables and give it a stir to coat with moisture.
Return cooked chicken to the pot and proceed with step 3, checking the soup after 15 minutes. It may be ready to eat.
Bear in mind that white meat chicken breast gets tough if simmered in liquid for too long, so you may want to use boneless, skinless thighs if you use raw chicken. (They have higher iron content, too.)
Also, if you plan to store the soup, add cooked chicken and rice near the end of cooking as in the original recipe. Raw rice tends to keep absorbing liquid and become gummy. I find that adding cooked parboiled rice at step 5 makes for delicious leftover soup!
( Adapted from Mark Bittman's How to Cook Everything, Wiley Publishing, 1998. )
Nutrition
l