As an Amazon affiliate, I earn when you buy from links supplied in this blog at no extra cost to you.
Earl Grey is a very British variety of black tea, and these Earl Grey Scones are similar to those found in the UK. They are tall, with a light, buttery crumb, and not too sweet.
They are more like biscuits than muffins. Thus, they make a superb landing pad for spreads–preserves, orange curd, clotted cream, and/or butter.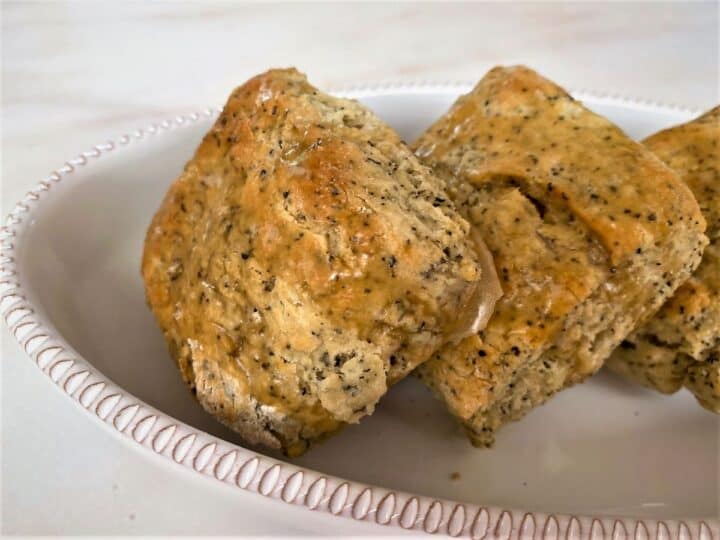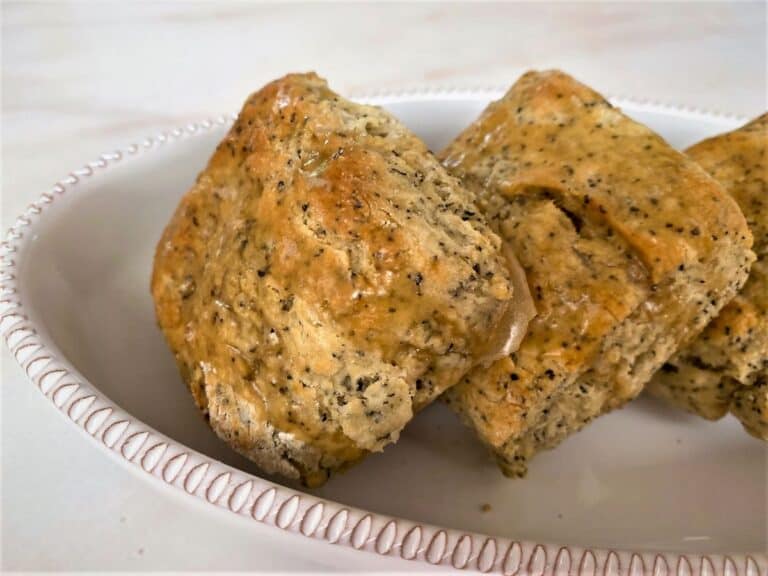 The tea-infused pastries are easy to prepare and not high in calories; plus, they have a small amount of caffeine. Although they make a nice pick-me-up in the afternoon with a cup of tea (Earl or Lady Grey), you can enjoy them at breakfast!
The ground tea leaves add nutrition and flavor, and the scones have a lovely bergamot aroma. What's a bergamot and was there an actual Earl Grey?
The answer to these questions and deets on how to make the scones coming up!
Ingredients
The list includes whole wheat pastry flour, as well as buttermilk and baking soda.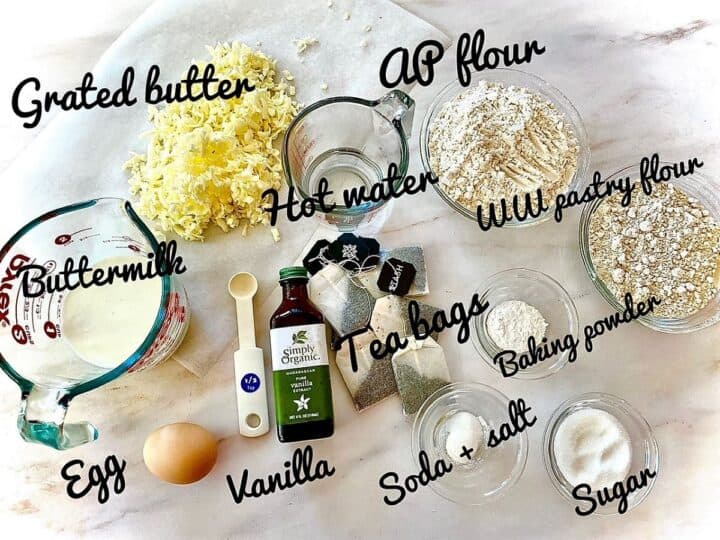 All-purpose flour
Whole-wheat pastry flour
White sugar (or coconut sugar)
Earl Grey tea bags
Baking powder
Baking soda
Salt
Butter
Buttermilk
Egg
Vanilla
Powdered sugar
Flours: Believe it or not, whole wheat flour pastry flour does not make the scones taste grainy. It just adds more nutrition in the form of vitamins, minerals, and fiber. Feel free to substitute an equal amount of all-purpose flour for the whole wheat pastry flour.
If your grocery store doesn't carry whole wheat pastry flour, you can order it online from Bob's Red Mill. It's available in various sizes.
Or, get the whole wheat pastry flour from Amazon. The large retailer sells five-pound bags in singles and four-packs.
If you avoid wheat-based products, substitute gluten-free flour for the entire two and a half cups of flour called for in the recipe.
Leaveners: I prefer to use buttermilk and baking soda in combo with the baking powder to minimize any harsh aftertaste. Although it's easier to use only baking powder, the amount needed to fluff the scones can lead to a poorer flavor.
What if you don't have buttermilk in your fridge or can't find any at the store? Simply add 2 teaspoons of vinegar to a cup of milk and let it sit for 10 minutes.
Other than buttermilk and whole wheat pastry flour, you'll probably find everything you need to make Earl Grey Scones in your fridge and pantry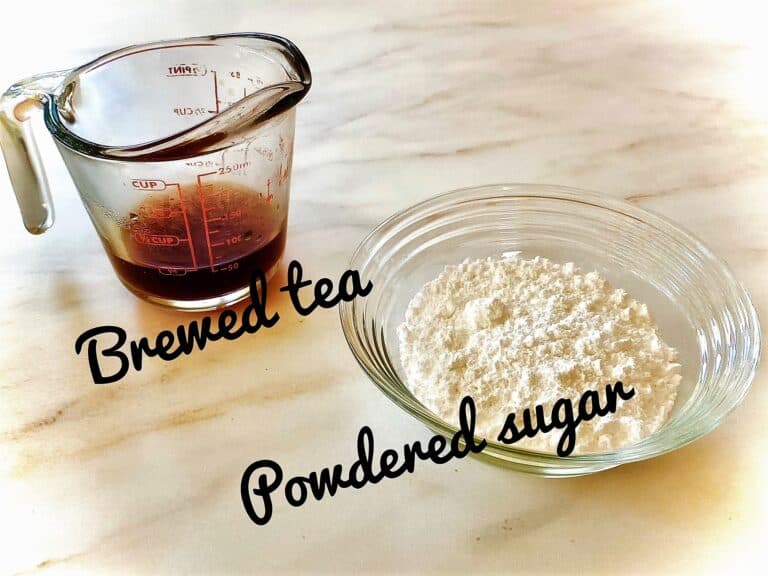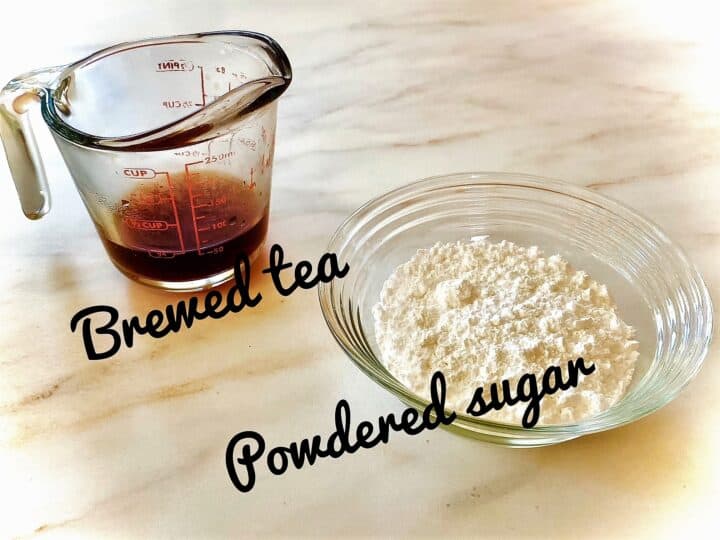 Whew! Including the powdered sugar for the glaze, that's a dozen ingredients.
It may seem like too many, but the scones will come together in less than 30 minutes.
How to make the scones
The first step in making Earl Grey scones is to place two tea bags into hot water and steep. After five minutes, remove the tea bags and set the strongly brewed tea aside to cool.
While the tea is steeping, grab a stick of butter and a box grater. Grate three-quarters of the stick onto a sheet of parchment. Put the grated butter in the freezer–you'll need it in a couple minutes.
Next, combine the dry ingredients in a bowl. Whisk thoroughly.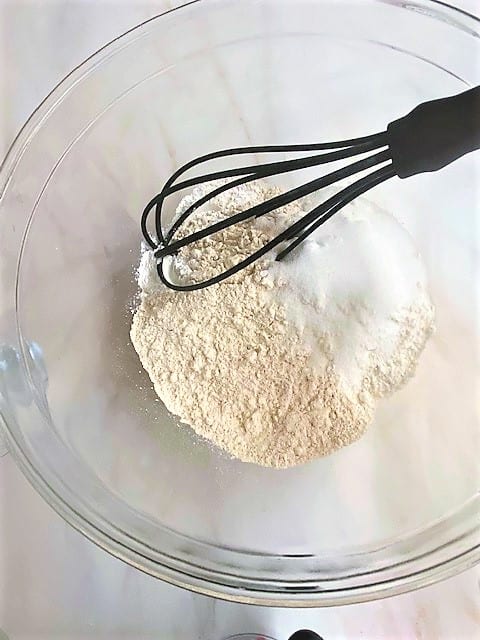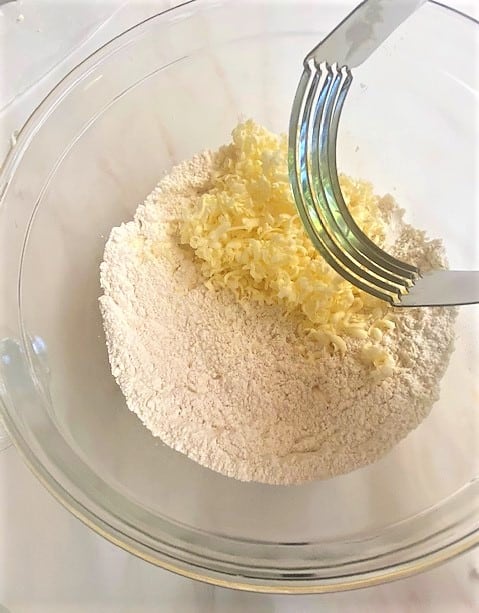 Now, mix the ice-cold grated butter into the dry ingredients with a pastry cutter. It will not be thoroughly incorporated!
You want to see tiny, pebble-like pieces of butter left in the flour mix. These will melt in the heat of the oven and release steam, making your scones light and lovely. (Yum!)
Cut open the remaining tea bags and pour the ground tea into the bowl. Stir or whisk gently to combine.
In a measuring cup, beat the egg into the buttermilk. Pour into the dry ingredients, stirring to make a messy-looking dough.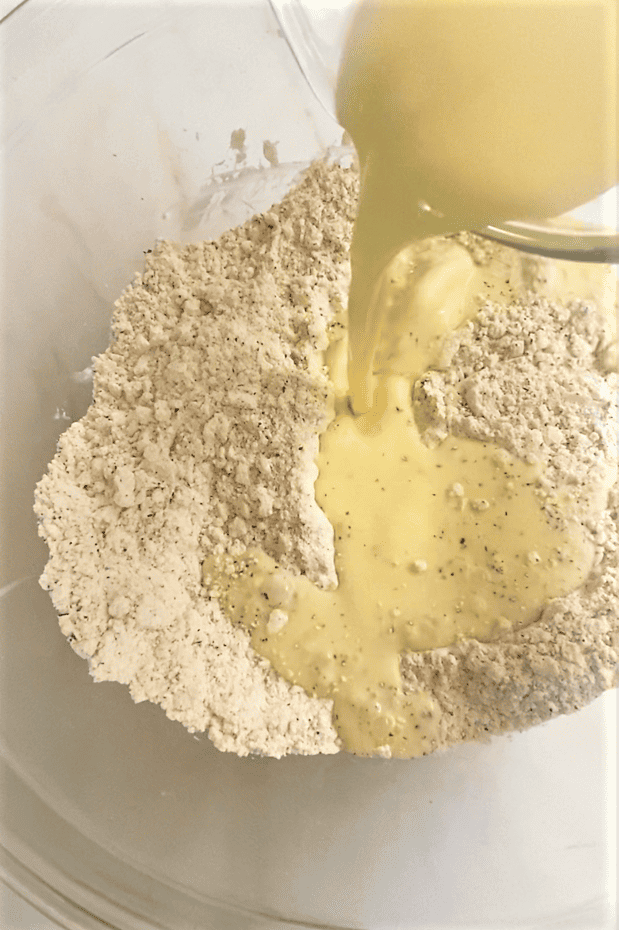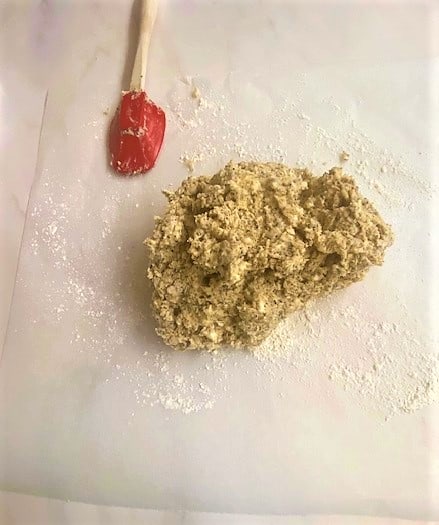 When the dough starts to come together, turn it out onto a floured surface, and knead gently just a few times.
You want to handle it as little as possible so the butter doesn't start to melt.
Shape the dough into a long rectangle and cut it into four equal strips. Cut each strip into three equal-size squares. (Cutting is easier if you flour the edge of a long, sharp knife between each cut.
You can briefly use a rolling pin for help in flattening and shaping if desired.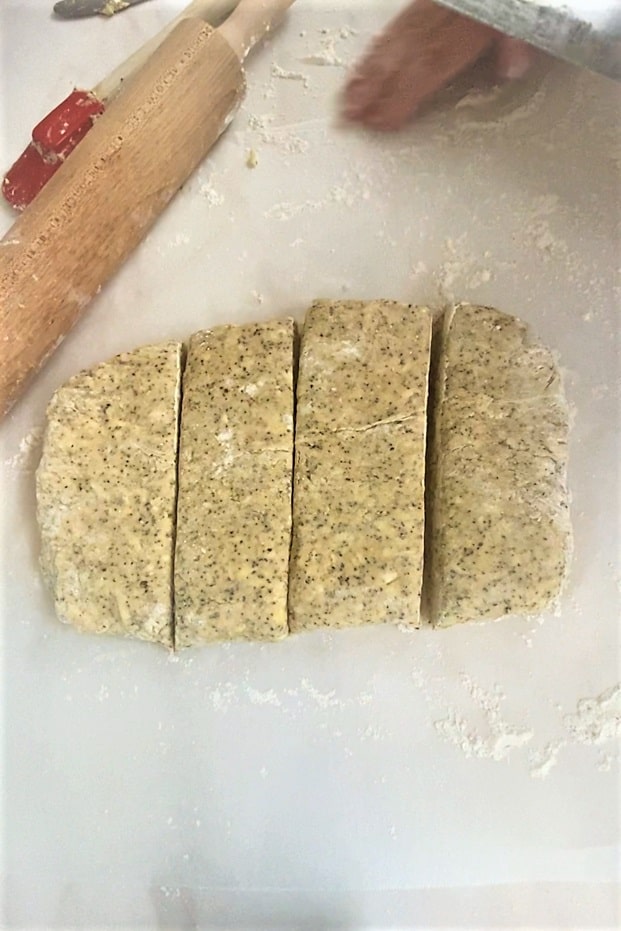 Place each square on a baking sheet. If you want to eat scones right away, put the baking sheet in the oven, or place it in the freezer to partially freeze the scones so you can bake them later.
(See the section on Freezing Scones, below.)
Make the glaze while the scones are baking. When the scones come out of the oven, let them cool for 5 minutes and then spoon as much tea glaze as you like over the top.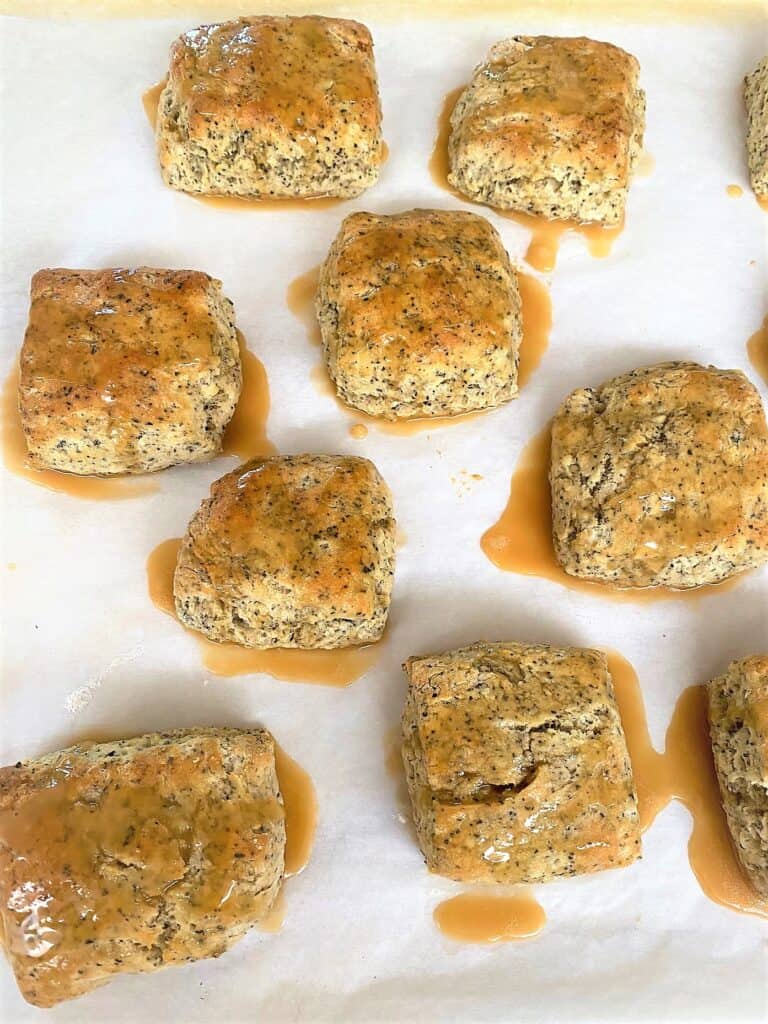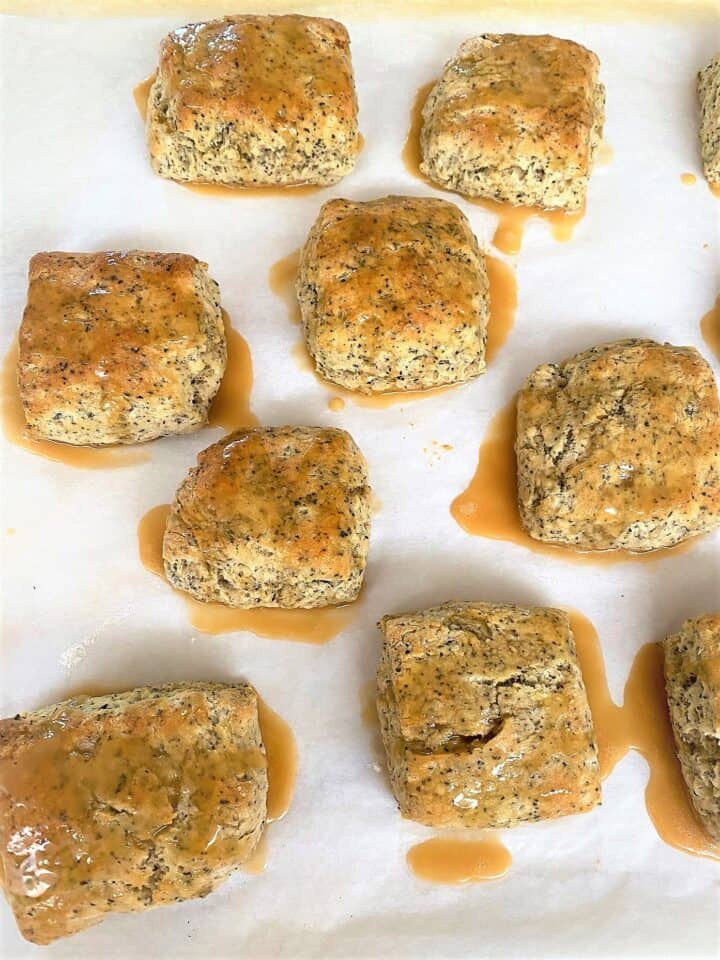 FYI: Keeping your grated butter and liquid ingredients chilled is very important. Ice-cold butter plus refrigerator-temperature buttermilk and egg give your scones a lovely, tender crumb!
.
Make-ahead tips and storage
If you aren't going to serve your scones immediately, you can make them ahead of time.
Breakfast bake
Let's say you want them fresh in the morning.
Make the scones the day before up to the point of baking.
After cutting the dough into squares and placing them on a prepared baking sheet, cover the baking sheet with plastic.
Put it in the refrigerator overnight.
Pull them out of the fridge before you preheat the oven.
Remove the plastic, and let them sit on the counter while the oven heats up. They should bake beautifully.
You could also brush them with a little egg wash and sprinkle them with coarse sugar while waiting for the oven to heat. Don't bother with the tea glaze! They'll shine and taste good with an egg wash and sugar.
Freezing scones
The best make-ahead method is to freeze the shaped scones before baking.
Put the sheet full of unbaked scones in the freezer.
After 20 minutes, remove the baking sheet and place the unbaked, semi-frozen scones in a plastic zip bag or another freezer container.
Bake one to the full dozen scones as desired.
No need to thaw before baking. But, you will need to reduce the oven temperature by 25 degrees to 400 F and add five to 10 minutes of baking time.
You can freeze them after baking, too. Wrap each scone individually in plastic wrap or foil before putting them into a large zip bag. Place the bag in the freezer.
Baked scones will be okay to eat later in the day and even the following day. Just don't expect them taste as good as they did when they were fresh from the oven!
What to serve with scones and how to eat them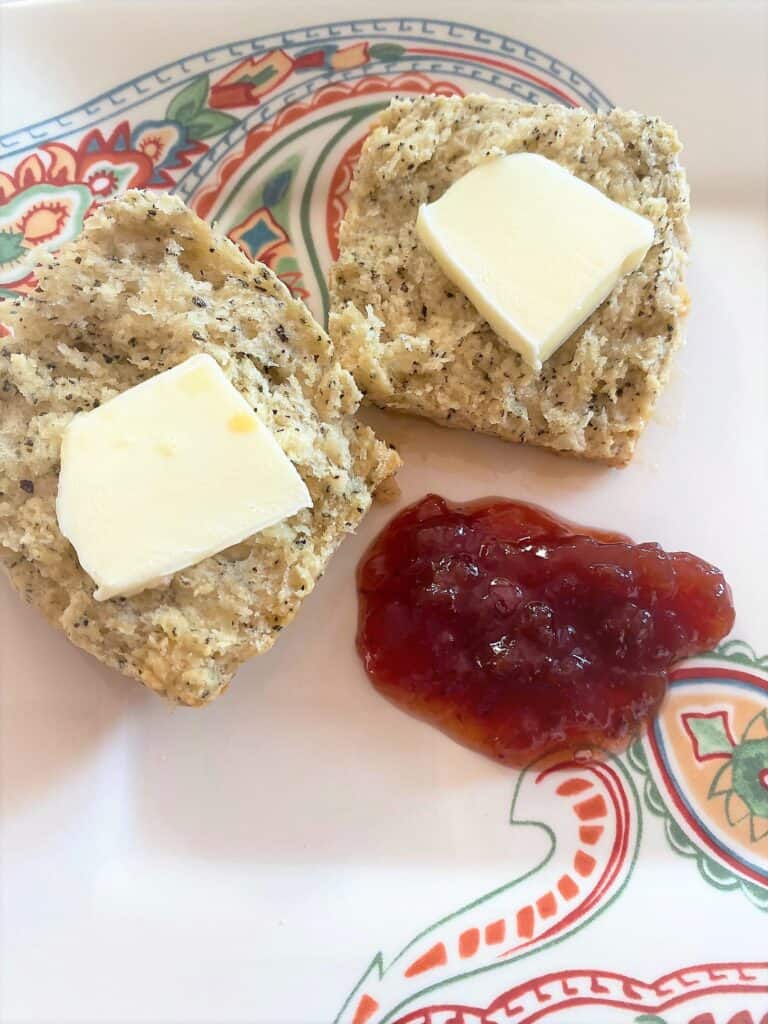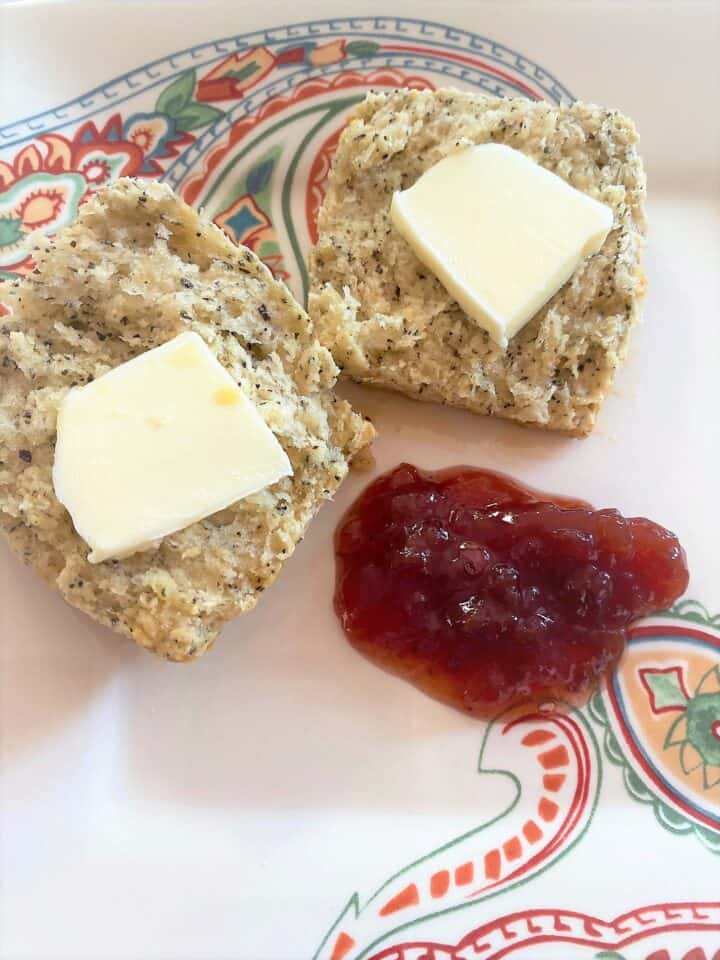 Since these are English-style scones, the best way to enjoy them is split in half. Spread each half with the toppings of your choice.
If you are serving scones as an afternoon tea snack, the classic British accompaniments are heavenly: Preserves, lemon or orange curd, and clotted cream or butter. Please don't use both the cream and the butter–that's too much of a good thing!
Earl Grey Scones taste terrific with any flavor of berry preserves. (Here, you can enjoy the cream and preserves together on top of the scone.)
And they are especially yummy with orange curd. The mellow citrus flavor complements the bergamot in the tea.
Mrs. Darlington's orange curd is a personal favorite and can be ordered from World Market. You can also find Traditional English Orange Curd from Harrowgate on Amazon. Both are very British, indeed!
Maybe orange curd tastes so good on Earl Grey Scones because bergamot is a citrus fruit. It hails from Calabria, a city in southern Italy, and has a sourish flavor between a lemon and grapefruit.
Bergamot oil is prized for its scent and is what gives Earl Grey tea its distinctive and alluring fragrance.
You can find jars of clotted cream online, too. The Devon Cream Company offers English Luxury Clotted Cream on Amazon. World Market also carries small jars of clotted cream in their stores.
If you prefer your scones at breakfast, add a side of yogurt. Orange or pear slices would be tasty and nutritious, too.
Since it packs protein, yogurt gives your breakfast staying power, and it has some probiotics for your gut. Fruit adds more fiber, vitamins, and minerals and ups your antioxidant intake
Scone nutrition bonuses
The scones boast a smidge of caffeine in addition to antioxidants and phenolics courtesy of the healthy dose of tea leaves.
Caffeine content ⚡
With the tea-infused glaze, each pastry has about 20 mg of caffeine. Not too buzzy, but you could pair them with a cup of black tea or coffee to get your morning off to a roaring start.
Antioxidants, polyphenols?
Because the recipe calls for a good amount of ground tea, four bags, you may reap some of the health benefits of black tea. ☕
Regular tea drinking has been linked to fewer chronic diseases like cancer and vascular/heart disease. Tea comes from the leaves of the Camellia sinensis plant. Black tea is fermented longer after harvest than oolong or green teas.
Compounds linked to better health in black tea are theaflavins, thearubigins, and some catechins. Theaflavins are polyphenols formed during the fermentation of black tea. They may be especially good for bone health. 🦴
In recent research, theaflavins appeared to help with bone strength and prevent formation of osteoclasts, which are the cells that break down your bones.
The polyphenols in tea have antioxidant properties that may help your body to maintain steady blood glucose, and process fats. Research has also shown that substances in tea may slow down or stop enzymes that cause oxidative damage.
Antioxidants are health helpers.
They round up cellular byproducts that float around in your system causing mayhem. These damaging chemicals are free radicals and come from oxidative reactions in your body that lead to chronic diseases, often linked to processes of aging.
Earl Grey history
Maybe the most popular origin story concerns a British prime minister from the 1830s, Charles Grey. He was gifted with a bergamot oil flavored tea after he ended the monopoly on tea trade between China and Britain held by the East India Company.
That's only one story, however. The origins of the tea are murky (not unlike tea that's steeped too long)!
Another story is that a Chinese mandarin presented the tea to Earl Grey after one of the Earl's men rescued his son. Earl Grey, however, was never in China!
Wherever it came from, whatever its past, the tea is still darn tasty, and healthy, too. Why not use the tea to make what's often considered the ultimate in teatime treats: a scone.
If you love scones, check out these Blackberry Scones. They are wedge-shaped scones—very American and very easy!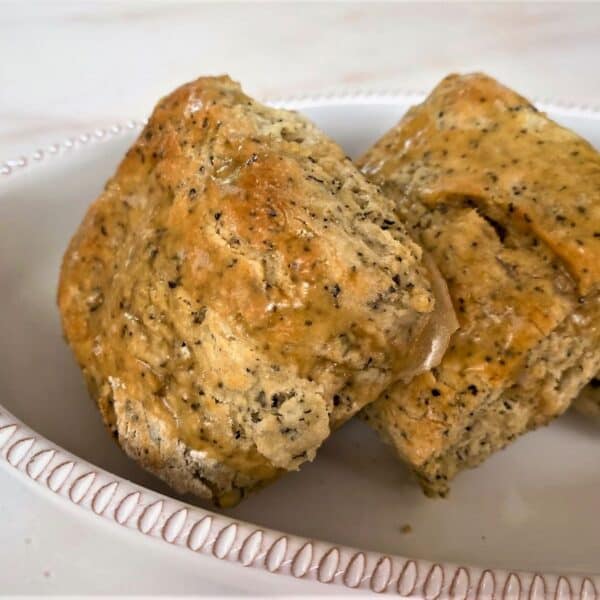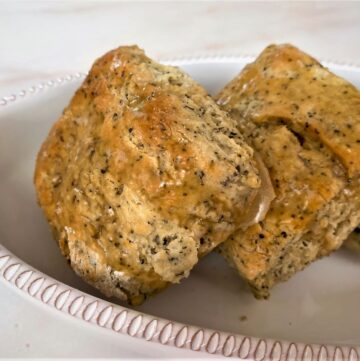 Earl Grey Scones
These bergamot-scented British scones are very tea-forward! Enjoy them in morning for breakfast or in the afternoon as tea-time treat.
Ingredients
6

bags

Earl Grey tea,

divided use

¼

cup

hot water

1½

cups

all-purpose flour

1

cup

whole wheat pastry flour

2

Tablespoons

granulated sugar

2

teaspoons

baking powder

½

teaspoon

baking soda

¼

teaspoon

salt

1

cup

buttermilk

1

egg

½

teaspoon

vanilla

⅓

cup

butter,

grated
Earl Grey glaze
1

cup

powdered sugar,

put through a strainer

¼

cup

strong brewed Earl Grey tea,

from 2 tea bags, above
Instructions
Place two bags of the tea in the hot water. Let the tea steep. After 4 to 5 minutes, remove and discard the tea bags. Set the brewed tea aside to cool completely.

Combine the flours, granulated sugar, baking powder, baking soda, and salt in a medium bowl. Whisk thoroughly.

Using a pastry cutter, blend the grated butter into the dry ingredients. Do not use the cutter too vigorously. Bits of butter should still be visible. The mixture should look it has tiny pebbles or large grains of sand.

Cut open the remaining four tea bags. Add the ground tea leaves to the butter-flour mixture and stir gently to combine.

In a 2-cup liquid measure, combine the buttermilk, egg,*(see notes) and vanilla. Beat lightly, then pour the liquid ingredients into the butter-flour-tea mixture. Combine with a spatula until a soft, ragged dough forms.

Turn the dough out onto a floured sheet of parchment or wax paper. Knead gently a few times until the dough can be shaped into a rectangle about 1½ inches thick.

Using a large, floured knife, cut the dough rectangle into thirds. Cut each third into 4 squares, so you end up with 12 squarish scones. With a small spatula, place each scone on the prepared baking sheet.

Bake for 12 to 15 minutes.

Remove from oven when the tops are golden and the scones are baked through.

Make the glaze while the scones are cooling.
Earl Grey glaze
Place the powdered sugar in a small bowl.

Add a Tablespoon of the cooled, reserved tea. Begin to mix into the sugar and tea with a whisk, making a glaze. Add another Tablespoon of tea if the glaze is too thick.

Use more or less tea depending on how thick or thin you want the glaze. I like it very runny, so it soaks into the tops of the scones

Spoon the glaze over the top of warm scones.

Enjoy warm, glazed scone immediately! Break in half and serve with butter, preserves, and a cup of tea!

(Clotted cream and orange curd, optional.)
Notes
*Any time you crack an egg, be sure and use a disinfectant wipe or soapy water to clean the area. Thoroughly clean measuring cups or containers that have held raw eggs in the sink or dishwasher.
For more information on how to cook food safely, visit The Partnership for Food Safety Education.
To reduce the sugars in the recipe, feel free to substitute Truvia powdered sugar or another type of stevia-blend powdered sugar
Nutrition
Calories:
201.2
kcal
Carbohydrates:
32.3
g
Protein:
4.1
g
Fat:
6.5
g
Saturated Fat:
3.8
g
Polyunsaturated Fat:
0.5
g
Monounsaturated Fat:
1.7
g
Trans Fat:
0.2
g
Cholesterol:
29.4
mg
Sodium:
236.7
mg
Potassium:
87.2
mg
Fiber:
1.5
g
Sugar:
12.9
g
Vitamin A:
211.3
IU
Calcium:
71.7
mg
Iron:
1.2
mg
COPYRIGHT © 2021 FOOD HALL BY JANI