Maybe it was a coping mechanism, but I couldn't stop comfort baking during the height of the Covid pandemic.
Cake, biscuits, potpie, and especially, cinnamon rolls – sugary, gooey buns that could momentarily relieve the sadness of not being able to enjoy the company of friends, face-to-face.

While some turned to cocktails to numb the isolation, I would eat tempting home-baked foods that required flour and sugar.
And, I was not alone. FoodNavigator-USA, reported in April of 2020 that sales of baking staples like flour and sugar were surging!
SPICY LOVE AFFAIR WITH CINNAMON
We adore cinnamon rolls in the U.S., which explains the contribution of Cinnabons and Honey Buns to our food culture and waistlines.

Honeybuns are the type of cinnamon roll favored by people in the Southeast. While in the Northeast, actually in Philadelphia, sticky buns are preferred and were often eaten at coffee counters back before the rise of Starbucks.
It is part of our national food lore that Philadelphians have been enjoying cinnamon rolls since the 18th century.

The first Americans to make cinnamon rolls may have been the Pennsylvania Dutch who brought with them a recipe that probably originated in Germany. Some food historians believe that cinnamon rolls were invented in Northern Europe.

In addition to sticky buns and honeybuns, cinnamon rolls go by various names – cinnamon snails (or schnecken), cinnamon swirls, cinnamon Danish.

In the U.K., the traditional Chelsea bun often, but not always, contains cinnamon to complement its currant filling.
In Sweden, a lighter version, kannesbulle, is eaten with coffee during the FIKA, which is their afternoon coffee break. Swedes rival Americans in enthusiasm for the sweet treat; they celebrate National Cinnamon Roll Day on Oct. 4 every year.
CINNAMON HISTORY
Some food historians trace the use of cinnamon back to the Egyptians and the Greeks although they did not bake the spice into comforting pastries.
In Egypt, cinnamon was rubbed into mummies to help them dry out while the Romans and Greeks used cinnamon as medicine and perfume.
In her book, "On Spice" (2019, p.49), Caitlin Penzey-Moog writes that 5th Century Greek historian Herodotus of Halicarnassus claimed that cinnamon was grown in the homeland of Dionysus, the hedonistic Greek god of a good party.
Penzey-Moog is the granddaughter of Bill Penzey, the founder of The Spice House in Milwaukee, which eventually became Penzey's Spices. She writes that in ancient times, cinnamon was an aid to sexual performance (p. 49).
Cinnamon was a major player in the Spice Wars between the 15th and 17th centuries that fueled colonization.
The Dutch, Portuguese, English, and Spanish were wanted control of the valuable spice trade that included cinnamon in the Indonesian Spice Islands.
TRUE CINNAMON AND ITS COUSIN CASSIA
There are two major types of cinnamon: true cinnamon from Sri Lanka (Ceylon) and cassia, from Indonesia, Viet Nam and China. Both true cinnamon and cassia come from the bark of trees in the Cinnamomum genus.
Cassia and cinnamon are considered practically interchangeable. The production of true cinnamon is much lower than the production of cassia. According to some estimates, about 90% of cinnamon used today is cassia.
Cassia has a stronger flavor because it is higher in volatile oils. It also contains coumarin, a chemical component that can cause liver damage.
Because a small to moderate amount can affect the liver, cinnamon supplements and large daily use of cinnamon in cooking could be a problem because they are made from cassia.
The smallamount in cinnamon rolls should not affect the liver. Also, true cinnamon from Sri Lanka does not contain this chemical.
(In addition to lung damage, coumarin content is a reason not to try the "Cinnamon Challenge," a YouTube sensation among teens several years ago.
Several people who attempted to swallow a tablespoon of cinnamon in a minute without drinking any liquid had to be hospitalized due to lung damage. The spice is meant to go into the stomach, not your airways!)
Cassia is less costly than cinnamon. According to Penzey-Moog (p. 54), some of the least expensive cassia is from Korintje in Indonesia and is often used in large-scale food industry baking.
CINNAMON FOR HEALTH
Cinnamon supplements have been in the news for their potential to lower blood sugar, but the results of studies are conflicting.
The National Center for Complementary and Integrative Health (NCCIH), which is part of the National Institutes of Health (NIH), concluded that "studies done in people don't support using cinnamon for any health condition."
Even so, the NCCIH is looking into the possible use of cinnamon to help people with Multiple Sclerosis.
Traditionally, cinnamon has had many different health applications. In "The Complete Book of Herbs and Spices" (2004), author Sarah Garland mentions that the spice is a stimulant, digestive, and antiseptic and that cassia may increase milk flow in nursing mothers (p. 48).
Garland and the NCCIH website note that use in bronchitis has a long history.
Cinnamon's antimicrobial effects are due to the fungi- and bacteria-fighting chemicals in the spice: cinnamaldehyde and eugenol.
Other beneficial effects may come from the antioxidants and polyphenols found in the spice, which help to lower inflammation in the body.
Because it quells microbes, preservative effects have been observed since antiquity and are another reason for its popularity in foods.
Medieval cooks prized this spice, according to foodtimeline.org. The fact that it adds a distinctive and delicious flavor is almost a bonus.
In her book, Garland mentions several non-food ways to make medicinal use of cinnamon (p. 48):
• As mouthwash; a teaspoon in warm water
• For diarrhea, GI upset: ½ teaspoon to tea
• To help with colds and flu: 1 tsp with brandy or hot milk
Given that cinnamon has such a long and storied place in human history, as a commodity, food, and medicine, it's not surprising that the only more popular spice is black pepper.
MY CINNAMON ROLL DURING COVID TIMES
We love and crave cinnamon rolls partly because cinnamon seems like it has always been a part of our lives.
Unlike hot spices like cayenne, cinnamon promises to warm us without biting. And when it's wrapped in buttery, sugary dough, it becomes a comforting indulgencE. A well-baked cinnamon roll offers culinary happiness in every bite.
It may not lower your cholesterol or triglycerides, or even your blood sugar (despite the recent hype about its moderating effects on insulin), but it makes a fine isolation treat so long as you don't enjoy it every day!
With time, flour, and sugar on my hands, I attempted to make a slightly healthier, but very traditional cinnamon roll.
To slightly reduce the carbohydrates and increase the nutrition, I substituted some brown sugar stevia and whole wheat pastry flour (this flour performs much like all-purpose flour in pastry).
What resulted is a mouthwatering bun that is still sticky and caramelized with melted cinnamon sugar and a satisfying hint of butter. My rolls do not reach the decadence of a Cinnabon but will calm cravings for them.
These cinnamon rolls will not help you to become ripped and lean even though they do have slightly less fat and sugar and a few more vitamins and minerals. If you have a healthy recipe for cinnamon rolls that tastes and looks the part, please send it my way!
You'll need to plan on about two and a half hours for rising, shaping, and baking, but most of that time is hands-off. Kids enjoy helping to bake and eat them but may object to the inclusion of raisins or nuts.
(Please don't eat raw dough for the sake of food safety!)
In case you are particular about your cinnamon and would rather bake with "true" cinnamon as opposed to cassia, here are a couple of places to find Sri Lankan cinnamon:
• Penzey's Spices
• Savory Spice Shop
Both websites offer several varieties of cinnamon as well as sticks. It's fun to browse their recipes and read the DIY ideas and blogs/stories offered. Both websites warn that orders may be slow to ship due to the pandemic.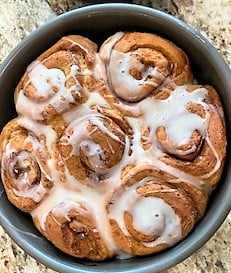 Old-fashioned Cinnamon Rolls
These are basic, tasty cinnamon rolls that will fill your house with mouthwatering aromas. They will taste better if they sit a little while after baking, but good luck with that!
Ingredients
For the dough:
1

cup

2% milk

2

Tablespoons

butter

2

Tablespoons

canola oil

2

Tablespoons

sugar

½

teaspoon

salt

1 ½

cups

whole wheat pastry flour

2 ½

cups

unbleached all-purpose flour

¼

teaspoon

baking soda

½

cup

warm water

1

package of active dry yeast

½

teaspoon

sugar

1

egg

beaten

2

Tablespoons

butter

cut into small bits
For the filling:
1

cup

of golden raisins

optional

¼

cup

brown sugar stevia

like Truvia

2

teaspoons

cinnamon

½

teaspoon

allspice

½

teaspoon

cloves

pinch

of cardamom
Instructions
Pour the milk into a 16-ounce measuring cup and heat on high for about 2 minutes in the microwave. It should be hot, but not quite boiling.

Add butter, oil, sugar, and salt. Stir to melt butter and sugar. Set aside to cool.

Place the pastry flour, 1 cup of the unbleached all-purpose flour, and baking soda in a food processor fitted with the dough blade. Pulse to combine.

Soften yeast by combining the packet with the warm water and ½ teaspoon sugar. It should start to foam.

When the milk is cool, add the yeast mixture to it along with the beaten egg.

Turn on the motor of the food processor and gradually pour the liquid ingredients into the flour mixture.

After a few seconds, the dough will begin to pull away from the sides and blade slightly. Stop the motor and gradually pour in another cup of all-purpose flour, pulsing to combine.

When you have a soft dough, turn it out onto a floured surface and knead until smooth with floured hands. You may have to add another ½ to 1 cup of flour as you knead.

When the dough is smooth and elastic, place it in a bowl that has been coated with canola oil or butter. Cover the bowl and let it rise until double in bulk, 45 minutes to 1 hour.

While it rises, butter two 8- or 9-inch round cake pans.

When it has risen enough, punch down the dough and roll it out on a floured surface to a 10- by 18-inch rectangle.

Cut the butter into tiny, thin pieces and arrange all over the dough.

Dot the dough with golden raisins.

Combine stevia brown sugar, regular brown sugar, and spices in a bowl.

Spread the spice-and-sugar mixture over the dough.

Roll up the dough, starting from the long side to make a well-packed log.

Cut the log in half. Cut each half into 7 equal pieces.

Place the end piece in the center of each pan, and put the 6 other pieces around it, as if making a flower shape.

Cover the pans and let rise for at least 30 minutes and up to an hour.

While the rolls are proofing, set the oven to 350 F.

When they have risen enough, put the rolls in the center of the oven and bake until golden on top and cooked through the middle, about 30 minutes.

While rolls are baking, sieve powdered sugar into a bowl and beat with vanilla and milk to make a glaze.

When rolls have cooled slightly, drizzle with glaze.
Notes
If you want to bake these in the morning, make the dough the day before and punch it down. Put it back in the greased bowl and cover the bowl; refrigerate until the next morning. Punch it down again before rolling out to make your cinnamon log.
Adapted from The Wooden Spoon Bread Book by Marilyn Moore, 1987, a classic for the library of gluten lovers!
Nutrition
Serving:
1
g
Calories:
267.43
kcal
Carbohydrates:
51.29
g
Protein:
6.01
g
Fat:
6.73
g
Saturated Fat:
2.72
g
Sodium:
123.69
mg
Fiber:
3.62
g
Sugar:
17.69
g
Non-online references:
Garland, S. (2004). The Complete Book of Herbs and Spices (revised paperback edition). London: Frances Lincoln Limited.
Penzey-Moog, C. (2019). On Spice. Advice, Wisdom, and History with a Grain of Saltiness. New York: Skyhorse Publishing.
Copyright © 2020 Jani Hall Leuschel