You may be thinking that collagen for vegans and vegetarians is a myth -- that it doesn't exist.
Untrue!
Researchers are currently trying to figure out how to optimize the production of collagen that comes from plants, bacteria, and yeast.
That said, this vegan-friendly "recombinant collagen" is not yet available in the marketplace. There are, however, many products that promise collagen benefits to vegans and vegetarians with nary an animal hide or hair included.
WHAT DOES COLLAGEN DO?
Collagen is a structural protein that makes up about 30% of the protein in our bodies. It's found in every tissue, from a fingernail to a blood vessel, and it literally, cements all our parts.
Its very name, "collagen," comes from the Greek word kolla, which means "glue." As we age, our bodies produce less collagen.
Collagen proteins -- and there are many types, with the most common being I, II, and III -- build a triple helix structure with amino acids such as glycine, proline, and lysine.
In collagen supplements, these building blocks are taken from the skin, cartilage, and tendons of cows, pigs, chicken, fish, and eggs.
WHY VEGAN "COLLAGEN"?
Animal-free vegan "collagen" finds fans among the environmentally conscious and those who have allergies to animal bits.
It's also perfect for anyone with religious taboos that prohibit meat-eating or for anyone with worries about diseases like mad cow, aka bovine spongiform encephalopathy (BSE).
COLLAGEN BENEFITS
Taking a collagen supplement or eating foods that contain collagen may help our bodies function better in several ways:
Beauty: smoother skin, stronger hair, and nails
Joints: faster healing after injury, reduced pain and increased function in osteoarthritis
Bones: collagen fibrils, which have greater tensile strength than steel, are the substrate upon which bone mineralization happens
Muscles: helps to build and retain mass
Gut happiness: may enhance digestion and soothe leaky gut syndrome, especially when paired with glutamine
Immune system: strengthens the response of the immune system
Wound healing: assists in tissue repair, particularly in combination with arginine
Lacto-ovo-vegetarians can reap these benefits from a dairy source, like eggs and cheese, but how can strict vegans obtain collagen benefits?
NATURAL COLLAGEN BOOSTERS: VITAMINS, MINERALS, AND BOTANICALS
Foods that contain collagen are usually things like stews, soups, and braises that include skin and/or bones in the cooking process. Obviously, anything animal will not be part of a vegan stew or roast.
A vegan can eat or cook plant foods with the amino acids found in collagen along with micronutrients, aka vitamins and minerals, that are key in the formation of the protein. Certain botanicals also help prime the pathway to collagen formation.
Here is a list of collagen-assisting micronutrients:
Anthocyanins: Phenolic compounds found in dark-colored berries, they provide antioxidant protection to collagen and put a lid on inflammatory compounds.
Arginine: An amino acid thought to act on insulin-like growth factor 1 (IGF-1), it stimulates bones to mineralize and boosts nitric oxide synthesis, keeping blood vessels clear and clean.
Carotenoids/Vitamin A: Because Vitamin A in its active form of retinol comes from animals, vegans can chomp down on veggies like squash, carrots, and tomatoes for a dose of carotenoids, vitamin A precursors.
Copper: This mineral upregulates collagen, increasing production and utilization.
Lysine: An amino acid that helps with collagen stability.
Glycine: Key amino acid that is almost always part of the triumvirate of aminos in the protein.
Manganese: Mineral that activates the enzyme necessary for proline formation.
Proline: Another key amino acid in the triple helix structure.
Vitamin C: Nondispensible to collagen formation, vitamin C pairs with enzymes for the creation of strong collagen fibrils.
Zinc: This mineral supports collagen production, especially during wound healing.
From this list, vitamin C is the most important player when it comes to collagen synthesis.
Without it, the amino acids form a weak structure that will not hold together. The muscular and vascular weakness seen in scurvy, the deficiency of vitamin C, illustrates how collagen does not form properly when vitamin C is absent.
Vegan diets for collagen synthesis
The takeaway is that a diet rich in fruit, vegetables, nuts, seeds, and whole grains is ideal for forming strong collagen fibrils if you are getting vitamin B12 and eating sources of protein with glycine, proline, and lysine.
Here is a table to help you find foods with these nutrients.
Nutrient
Food sources
Arginine

Tofu




Kidney Beans




Black Beans




Tempeh




Quinoa

Carotenoids

Dried Apricots




Cooked Carrots




Cooked Kale




Butternut Squash, Cooked Sweet Potatoes

Copper

Raw Kale




Mushrooms, Shiitake




Sesame Seeds




Cashews




Apricots

Glycine

Tofu




Dairy




Legumes




Spinach




Eggs

Lysine

Tofu




Kidney Beans




Black Beans




Dairy




Brewer's Yeast

Manganese

Lima Beans




Hazelnuts




Pumpkin Seeds




Tofu




Whole Grain Bread

Proline

Swiss cheese




Mustard seed




Asparagus




Tempeh

Vitamin C

Broccoli




Papaya




Kiwi Fruit




Kale




Red Peppers

Zinc

Wheat Germ




Pumpkin Seeds




Cashews




Cocoa Powder




Cooked Chickpeas
Researchers have also discovered that certain botanicals assist in collagen formation.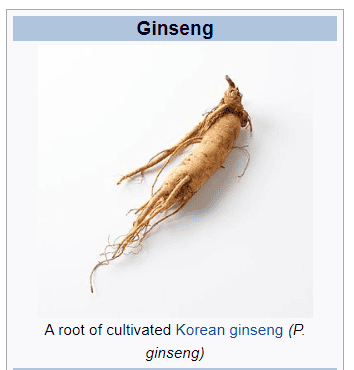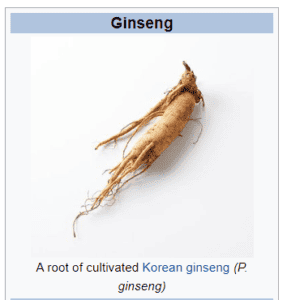 They are:
Amla, Emblica officinalis
Burdock, Arctium lappa
Camellia, Camellia japonica
Cinnamon, Cinnamomum zeylanicum
Ginseng, Panax ginseng
Gotu Kola, Centella asiatica
Although it doesn't help with collagen, astragalus root, Radix astragali, may assist with the creation of hyaluronic acid, which is closely related to collagen.
Hyaluronic acid can make skin appear plump and assist with hydration in bodily tissues.
Many of the "vegan" collagen supplements are formulations that have some of these ingredients intended to goose the chemical pathway the amino acids travel on their way to assembling the collagen fibril.
In addition, most contain B vitamins and silica. For vegans, vitamin B12, which comes from animals and is a necessity for collagen crosslinking, is of particular importance.
Silica may activate important enzymes in the collagen pathway.
VEGAN BUYER, BEWARE!
Vegans should be cautious of supplements that look appear plant-based, with images of berries and veggies on their label.
They might contain animal residues (usually bovine). The words "vegan certified" are some assurance that animals were not used.
Read the label and its ingredients carefully!
The following supplements appear to contain synergistic combinations that will prime the collagen pathway.
(Some have a few extra ingredients known to exert a happy digestive effect, like bromelain, an enzyme for breaking down proteins, and/or turmeric, an anti-inflammatory plant.)
This powder contains pea isolate protein, as well as branched-chain amino acids for building muscle and glutamine for gut health. The formula includes amla extract, hyaluronic acid, proline, glycine, 390 mg sodium, ceramides, and bromelain.
A 324 g container is $43.99 for 12 servings of 2 scoops. Each serving is 100 calories.
This capsule holds proline, lysine, hyaluronic acid, vitamin C (90 mg, RDA), vitamin E (30 IU), manganese, zinc, biotin, copper, MSM (methylsulfonylmethane). MSM is not a collagen booster but may help with joints and arthritis pain.
A 90-capsule container holds a 45-day supply (2 capsules/day) for $23.99.
Just for variety in supplementation, here is a tablet that is certified vegan. It has silica, vitamin A (must be from carotenoids?), vitamins C and E, B vitamins, biotin, zinc, manganese, amla fruit, anti-inflammatory ingredients consisting of turmeric and pomegranate and green tea extracts.
A 60-tablet bottle should last a month (30 days) at 2 tablets/day and is $19.89
TOFU STEAKS WITH SHIITAKE MUSHROOM SAUCE, CARROTS, AND RED BELL PEPPERS
The following vegan recipe for tofu steaks is a family favorite! I found the original version in Cooking Light Magazine and knew it was a keeper.
It is rich in the amino acids for collagen production: Glycine, proline, and lysine. It also contains nutrients that facilitate collagen formation: Vitamins C and E, carotenoids, copper, manganese, and zinc.
But don't let that stop you from trying this recipe – it comes together easily and tastes delicious!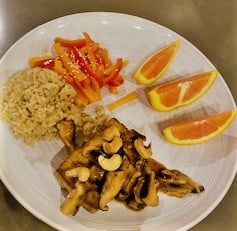 Tofu Steaks with Shiitake Mushrooms, Peppers, and Carrots
This Asian-influenced tofu dish is packed with flavor and the building blocks for collagen! It makes a great vegan family meal.
Ingredients
1

package of extra-firm tofu

14 ounces

3

tablespoons

toasted or dark sesame oil

3

tablespoons

reduced-sodium soy sauce

1

cup

julienned red bell pepper

1

cup

julienned carrot

do not grate

Dash of salt

3

large garlic cloves

thinly sliced

6

ounces

shiitake mushrooms

sliced

½

cup

vegetable broth

1

tablespoon

honey

2

teaspoons

sherry or rice wine vinegar

¼

teaspoon

crushed red pepper

1

teaspoon

of cornstarch

½

tablespoon

of water

2

tablespoons

toasted raw cashews

1

tablespoon

toasted sesame seeds
Instructions
Cut tofu into 4 same size pieces and gently pierce each piece in several places with a fork.

In a very small bowl, beat together 1 tablespoon of sesame oil with 1 tablespoon of soy sauce. Place tofu in a quart-size plastic bag and pour the soy-sesame oil mixture over. Be sure the tofu slices are not stacked on top of each other. Seal the bag and let sit at room temperature. In 10 minutes, flip the bag over so the marinade has equal opportunity to infuse each side.

Heat a large skillet (preferably non-stick) over medium-high heat. Spray with cooking spray if necessary and add 1 tablespoon of oil, swirling to coat bottom of the pan. Saute bell pepper and carrots with salt for 3 minutes. Remove from pan.

Preheat a broiler to medium-high heat.

Place marinated tofu slabs on a baking pan lined with foil. brush with any remaining marinade and place under broiler for 5 minutes.

While tofu is broiling, add the remaining tablespoon of oil to the pan; swirl to coat the bottom and add mushrooms. After 2 minutes, add garlic and cook for another 2 minutes.

Mix together the remaining 2 tablespoons of soy sauce, vegetable broth, honey, vinegar, and red pepper. Set aside 1 tablespoon of the liquid mixture and add the rest to the pan. Simmer for 3 minutes, until liquid is slightly reduced.

Meanwhile, turn the tofu and brush with the reserved tablespoon of liquid ingredients. Broil for another 5 minutes.

Combine cornstarch with water and whisk it into the mushrooms to thicken the sauce.

Remove tofu from broiler and plate immediately. Top with mushroom-garlic sauce and top with a few toasted cashews. Place red peppers and carrots on the side and sprinkle with seasame seeds.
Notes
The ingredient list is long for this delicious meal. Don't let that keep you from trying it! It cooks quickly. With rice and orange slices, you've got a complete meal in well under an hour.
You could use a grill-pan for the tofu steaks, or you could even try an outdoor gas grill. If you do fire up the outdoor grill, line the grate with heavy duty foil and spray with high temperature cooking spray (avocado) before cooking the tofu.
It is important to choose extra-firm tofu for this recipe. Softer forms of tofu will fall apart when pierced with a fork before marinating and will not hold together as well when broiled or grilled.
Nutrition
Serving:
1
g
Calories:
266.46
kcal
Carbohydrates:
18.46
g
Protein:
12.17
g
Fat:
17.85
g
Saturated Fat:
2.84
g
Sodium:
466.54
mg
Fiber:
4.21
g
Sugar:
9.31
g