Not all mousses are chocolate! This recipe for a lemon mousse is a great one to keep on hand. Lemon is one of the most essential and basic of all flavors.
This lemon mousse recipe is especially good to have now that we are almost in-between seasons. Lemon knows no season.
During the summer, I made apricot and peach mousses from the abundance of stone fruit. Soon, we will be treated to the fall crop of apples and pears. While we wait, decent lemons are always available in grocery stores.
EVERYONE LIKES LEMONS
You may occasionally find someone who dislikes chocolate, but almost everyone will tolerate and appreciate the tang of lemons.
Bright and tart, we rely on the taste of lemons every day – to float in iced tea or sparkling water, to spritz on fish or fowl, to liven up a vinaigrette. When married with sweetness, lemon delights and makes an admirable ending to a fine meal.
The result of their citric tartness joined with eggs, cream, and a touch of sugar -- as in the lemon mousse recipe below -- is sure to please almost everyone.
FLUFFING THE PUDDING
Cheffing the lemon pudding into a mousse, of course, takes dessert and the entire dinner experience up a notch. Mousse suggests elegance thanks to its airiness. (Mousse is the French word that means frothy.)
Because it has any number of aerators folded in, mousse boasts a light, delicate mouthfeel that makes it fancier than pudding.
With any type of fruit mousse, however, you'll need gelatin to help it set and become firm. This lemon mousse recipe is not a good choice for plant-based eaters since it contains eggs and dairy in addition to the gelatin.
(I love using gelatin! It has nourishing qualities for your connective tissue. Read my post on nutrition to accelerate joint healing by clicking on this sentence.)
ANIMAL, VEGETABLE RECIPES FOR LEMON MOUSSE
Here is a vegan recipe for lemon mousse that uses coconut milk and coconut whipped topping from the fit cookie website.
The lemon mousse recipe I am sharing comes from Mark Bittman's How to Cook Everything (p.661). Although it contains whole eggs and cream, it clocks in at less than 200 calories per portion, which is good for a dessert!
Admittedly, I cut some of the sugar and added a small amount of stevia. You'll never notice this, however, since the eggs and cream make it an absolutely luscious indulgence. 😋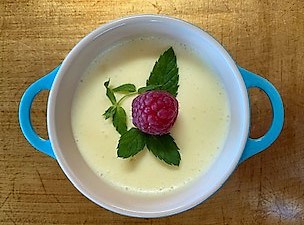 Mark Bittman's Lemon Mousse
A rich, creamy dessert with an intense lemon flavor! 🍋
Ingredients
1

package of unflavored gelatin

like Knox

⅓

cup

fresh lemon juice

3

eggs

2

teaspoons

lemon zest

¼

cup

sugar

1

Tablespoon

Truvia

stevia-erythritol blend

¾

cup

of heavy cream
Instructions
Sprinkle gelatin over the lemon juice to soften.

In a large bowl, combine eggs, lemon zest, sugar, and Truvia. Beat with an electric mixer or whisk until lemon-colored and slightly thickened. To pasteurize eggs, see the link to an instructional video in the note below.

Microwave lemon juice-gelatin mixture on 50 percent power for 30 seconds. Stir briskly with a small fork until gelatin is dissolved and there are no lumps.

Stir lemon gelatin into the egg mixture.

Working quickly, beat cream until soft peaks form. Fold into egg-lemon base, mixing thoroughly and gently.

Spoon or pour into 6 serving dishes or ramekins. (To make this easier, you could transfer the mousse into a pastry bag or large measuring cup.)

Chill for at least an hour, preferably two.

Garnish with berries, mint leaves, a dollop of whipped cream, toasted sliced or slivered almonds, cookie crumbs -- use your imagination!
Notes
The total time for the recipe includes chilling time.
It will keep in the refrigerator for three days.
Truwhip makes a nice sub for the heavy cream in this recipe if you are lactose intolerant.
For food safety, you can use pasteurized eggs that are often available at grocery stores. Or, you could pasteurize your own eggs with the method shown in this video.
I adapted this recipe from one in Mark Bittman's How to Cook Everything, a great reference cookbook to keep in your kitchen. You can find it on Amazon and other online sellers.
*As an Amazon Associate, I earn from qualifying purchases should you decide you need this cookbook.
Nutrition
Serving:
1
g
Calories:
184.56
kcal
Carbohydrates:
12.44
g
Protein:
7.36
g
Fat:
13.09
g
Saturated Fat:
7.53
g
Sodium:
51.24
mg
Fiber:
0.11
g
Sugar:
9.6
g
Copyright © 2020 Jani H. Leuschel