Plain Greek yogurt is one of the best sauce-making weapons you can keep in your fridge. Thick and tarty, plain Greek yogurt becomes a piquant topping for lean, grilled proteins when combined with garlic, lemon zest, olive oil, and spices.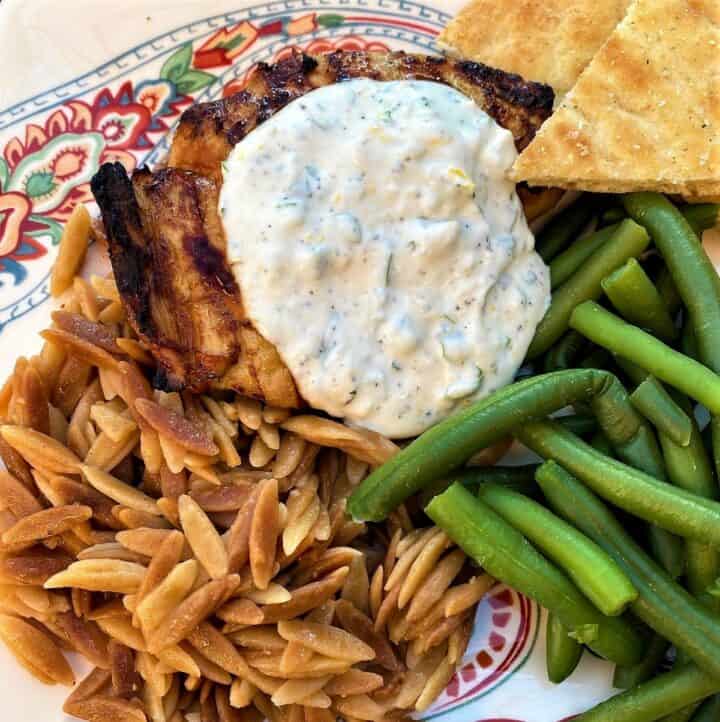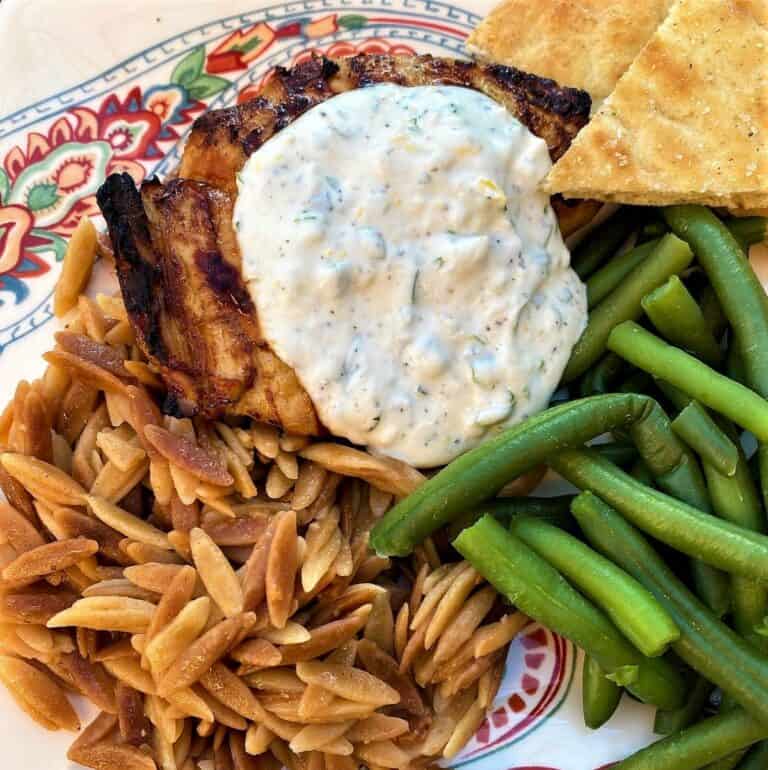 The Basic Savory Greek yogurt Sauce recipe below is a theme with variations. I've given you a couple of riffs. The first one with tahini veers toward the Middle East, and the second fish-friendly version gets a burst of flavor from fresh dill.
I encourage you to improvise on the basic yogurty theme. Love Italian cuisine? Stir in some pesto. Like it hot and spicy? Add chopped jalapeno or other chilies.
Or maybe you like the cool flavor of a raita or tzatziki, the Indian and Greek yogurt sauces that feature cucumber and (sometimes) mint? Here's a link to an article on the Masterclass website with an excellent raita recipe. 🌿
(The article explains that tzatziki is more of a sauce and raita is a side dish served to offset curries and other hearty Indian dishes.)
Creating healthy dips for guilt-free snacking is another hack to try with plain Greek yogurt. Blend a packet of ranch mix or some salsa into a cup or two of unflavored yogurt. Serve whole-grain chips, pretzels, or cut vegetables alongside for dipping.
Choose whole milk or low-fat plain Greek yogurt for the best tasting sauce or dip.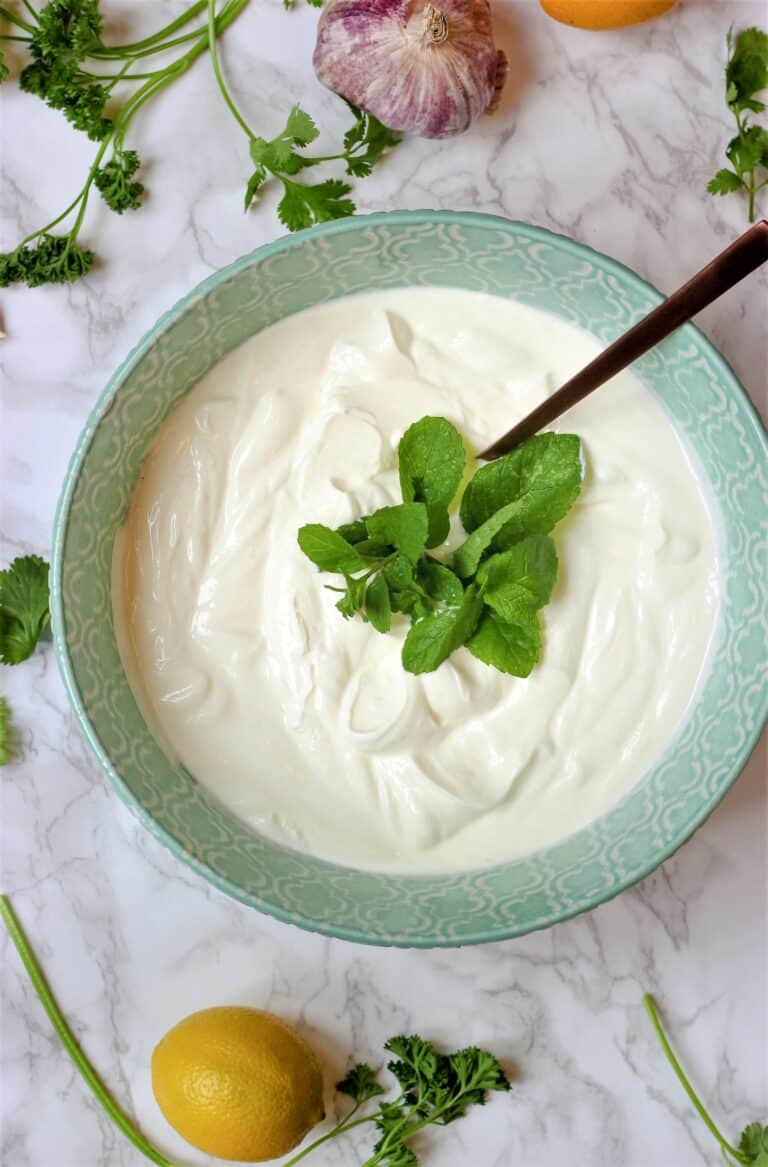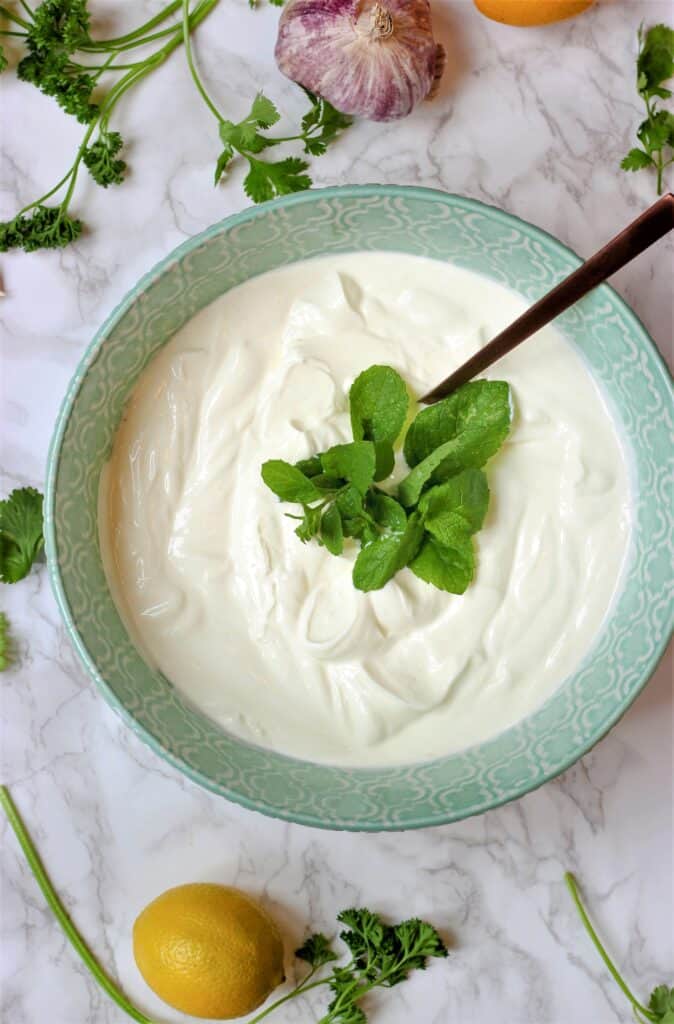 Credit: Micheile Henderson on Unsplash
Why is plain Greek yogurt healthy?
Plain Greek yogurt contains three nutrients that give it a nutritional shine and boost your health.
Protein
Calcium
Probiotics
The skinny on protein in Greek yogurt
Plain whole-milk Greek yogurt has more than twice as much protein as plain regular whole milk yogurt. Although the two types of yogurt can be similar in terms of calcium content, regular yogurt usually contains more calcium and probiotics than Greek yogurt.
Because Greek yogurt is so high in protein, it's very sustaining. This has earned it a reputation as a weight-loss food. The higher amount of fat in whole milk Greek yogurt also helps stave off hunger.
| 1 cup | Greek yogurt, plain, whole milk | Regular yogurt, plain, whole milk |
| --- | --- | --- |
| calories | 222 kcal | 140 kcal |
| protein | 21 grams | 8 grams |
| fat | 11.5 grams | 7 grams |
| carbs | 9 grams | 11 grams |
| calcium | 229 mg | 277 mg |
Data obtained from USDA, FoodData Central website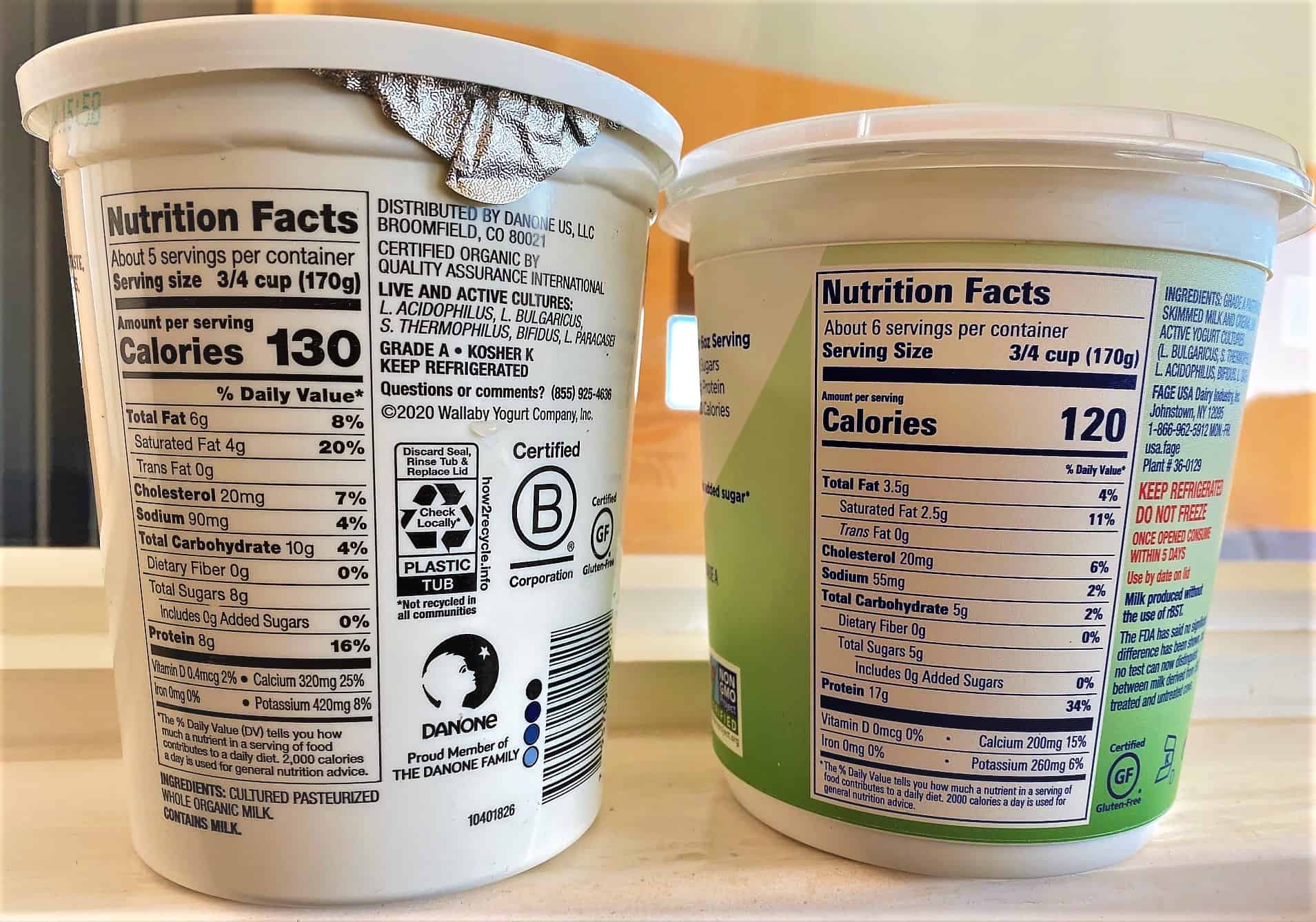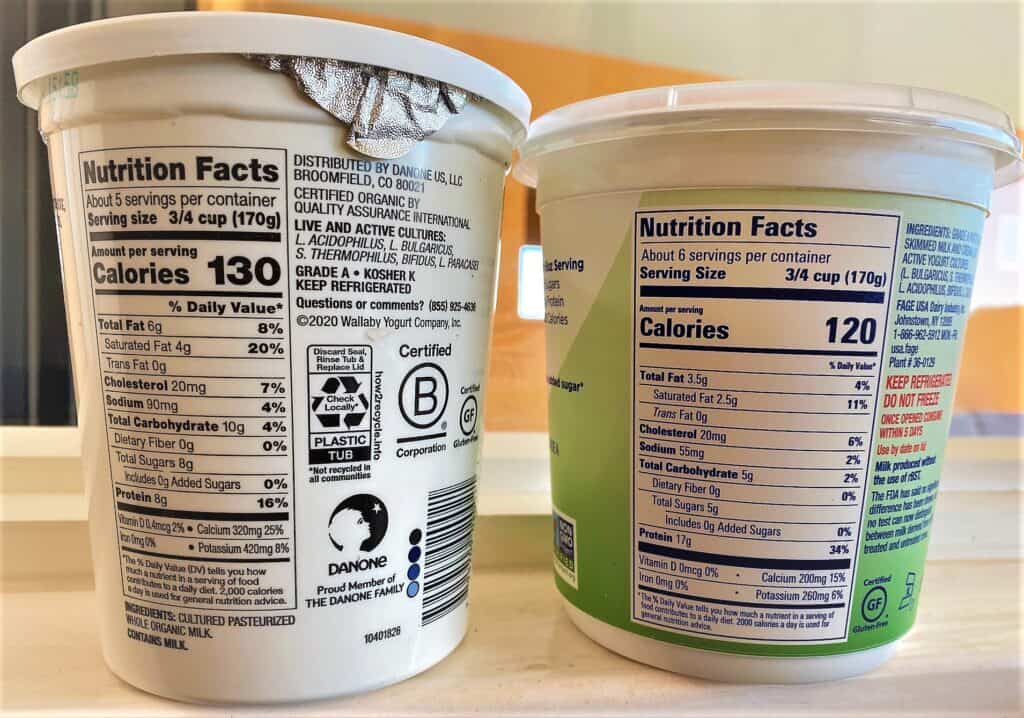 Calcium confusion?
Some sources, like the National Institutes of Health (NIH), put the amount of calcium in a cup of regular yogurt at 400 mg, more than the amount in the USDA database. By brand, the amount of calcium (and protein) in a cup of any type of yogurt is variable although regular yogurt has the calcium edge when compared to the thick, strained Greek style.
For example:
Fage 2% plain Greek yogurt: 267 mg of calcium, 23 g protein per cup
Wallaby plain whole milk yogurt: 377 mg of calcium,11 grams of protein per cup
(The serving size listed on the yogurt nutrition labels is ¾ cup, which is considered a breakfast or a snack portion.)
Even a small amount of any yogurt can help you reach the Recommended Dietary Allowance (RDA) for calcium, which 1,000 mg/day for most adults. Currently, many doctors prefer that you get at least 600 mg of this amount from real food rather than supplements.
One reason is that calcium is not well absorbed when taken in amounts greater than 500 mg. Small amounts ingested throughout the day are easier for a body to utilize.
Calcium is important for strong bones, of course, but it also supports muscle and nerve function and your heart's regular beating.
Can probiotics help with lactose intolerance?
The probiotics in regular and Greek yogurt, primarily Lactobacillus strains, are beneficial for gut health and nourish a healthy microbiome. Many people, even those who are lactose intolerant, find that they can digest yogurt, even though they experience discomfort with other dairy products.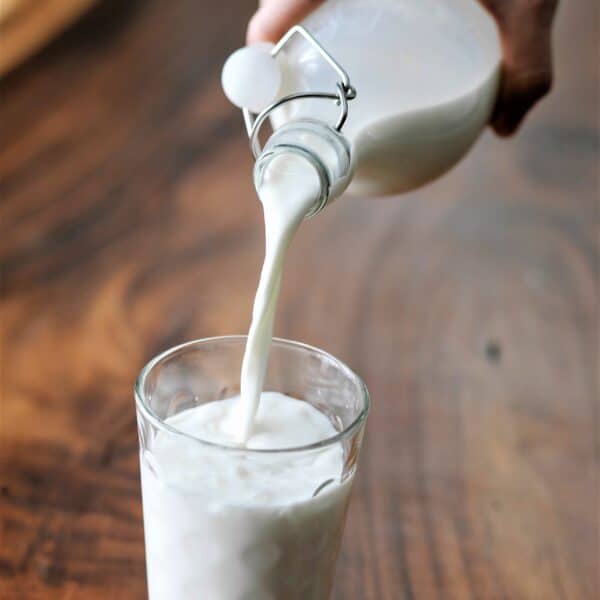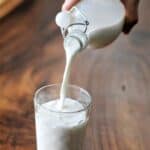 Lactose is the milk sugar that causes bloating and digestive distress in more than 60% of the world's population. Our ability to break down this sugar decreases after infancy. This is particularly true if you are Asian; 70% to 100% of East Asian persons are lactose intolerant.
As milk ferments, it develops nutritious probiotic bacteria that give yogurt its characteristic tanginess. Fruit flavors of yogurt often have large amounts of sugar added to cancel out this sour flavor.
Is whole milk yogurt healthier than non-fat?
Whole milk Greek yogurt has a creaminess that tempers this acidic edge. Although whole milk yogurts have more saturated fat, questions exist as to whether whole milk dairy is worse for your health than non-fat.
The results of a recent epidemiological study with thousands of subjects suggest that some fat may better than none. Subjects who consumed two or more servings of full- or low-fat dairy had better health outcomes than the subjects who consumed non-fat dairy products.
(For more information on the PURE (Prospective Urban Rural Epidemiology) study, read my blog post, Dairy Do!)
Uber-healthy, ultra-tasty: Easy yogurt dips
Pair a Greek yogurt-based dip with cut veggies, whole-wheat pita chips, or tortilla chips. Here you have a satisfying snack that offers protein and fiber — great for your gut and for your cravings.
A 2-tablespoon serving of a Greek yogurt dip supplies approximately 2.5 grams of protein, about the same as you'd find in an equal serving of hummus.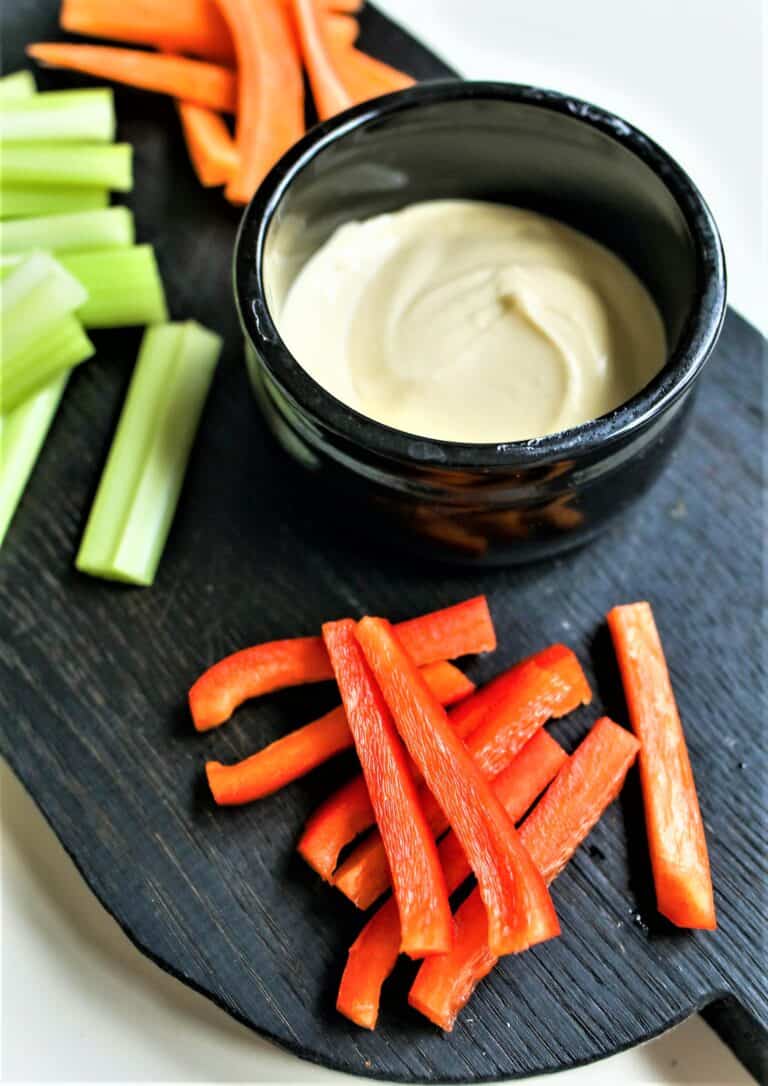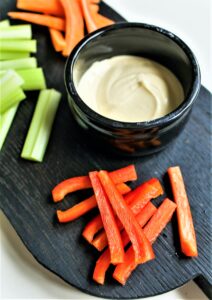 Credit: Polina Tankilevitch on Pexels
Combine a packet of ranch mix (like Hidden Valley) with 2 cups of plain Greek yogurt and blend thoroughly. Kids love this dip with carrot and celery sticks, strips of red pepper, and cucumber rounds. It's also great with (baked) chicken tenders!
Combine 1 cup of your favorite salsa, 1 cup of plain Greek yogurt, and 1 tablespoon of taco seasoning. Garnish with fresh cilantro and enjoy with tortilla chips and jicama sticks.
Stuffed Bakers: Use these dips to add nutrition and protein to a baked potato. Split a baked potato down the middle. Fluff the inside of the potato with a fork (and knife, if necessary) and spoon about a ¼ cup of yogurt dip into the potato. Sprinkle with 2 tablespoons of grated Cheddar-jack cheese, Melt the cheese using a toaster oven, the microwave, or the oven broiler.
Add a green salad to turn a stuffed potato into a meal!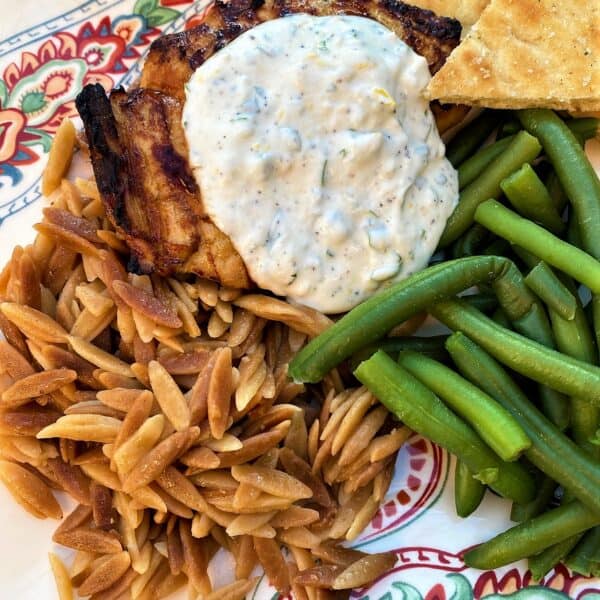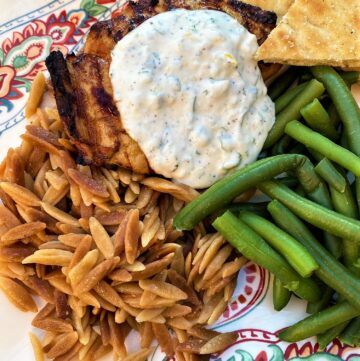 Basic Savory Greek Yogurt Sauce
A savory, protein-packed accompaniment to simple grilled meats or falafel
Equipment
Medium bowl, reamer or citrus squeezer, zesting tool, garlic press, knife, measuring spoons, cutting board
Ingredients
1

cup

plain Greek yogurt

whole milk or 2% for best taste

2

Tablespoons

lemon juice

2

Tablespoons

Italian parsley, chopped

3

cloves

garlic

pressed

1

Tablespoon

olive oil

extra virgin, good quality

1

teaspoon

grated lemon zest

½

teaspoon

kosher salt

½

teaspoon

freshly ground black pepper
Instructions
Place all ingredients in a medium bowl.

Blend ingredients thoroughly and completely using a whisk or wooden spoon.

Cover. Let the sauce stand at room temperature for 30 minutes if you plan on using the sauce right away. Otherwise, refrigerate for up to 5 days.

Serve sauce with simply prepared proteins. It can also be used as a marinade with chicken and lamb, a dip, or a dressing for salads.

Tip: The flavor of the garlic gets stronger as the sauce sits. Cut the garlic back to a single, large clove if you plan to store the sauce for longer than a day.Note: You may have to pour off or stir in any accumulated liquid (whey) when you pull it out of the fridge.
Notes
I like the smooth and creamy taste of whole milk Greek yogurt in this recipe. If you choose to make it with non-fat yogurt, you might want to add a little sweetener to offset the sourness of the yogurt. Stevia, agave, honey, and good ol' cane sugar are all fine.
Tahini-yogurt sauce: If you like the taste of hummus and sesame seeds, try this variation. Before blending the ingredients, add:
3 Tablespoons of tahini, i.e., sesame seed paste
Scant teaspoon of ground cumin
¼ teaspoon coriander
Sprinkle dukkah over the top.
Dill-infused Greek yogurt sauce: This sauce is lovely on grilled fish. Omit the olive oil and black pepper. Before blending the ingredients, add:
2 Tablespoons chopped dill (or 1 Tablespoon of dried)
1 teaspoon dried oregano
1 Tablespoon of mayonnaise
This sauce offers so many possibilities. Make it your own with your favorite spices!
Nutrition
Calories:
33
kcal
Carbohydrates:
2
g
Protein:
3
g
Fat:
2
g
Saturated Fat:
1
g
Trans Fat:
1
g
Cholesterol:
1
mg
Sodium:
155
mg
Potassium:
44
mg
Fiber:
1
g
Sugar:
1
g
Vitamin A:
1
IU
Vitamin C:
2
mg
Calcium:
30
mg
Iron:
1
mg
Copyright © 2021 Jani H. Leuschel