Comparing sunflower seed butter to peanut butter is like pitting apples against oranges. Apples and oranges are both fruits that are sort of roundish, but otherwise, they are nothing alike. Sunflower seed butter and peanut butter are both protein-rich plant-based spreads with healthy fats, but their nutrition profiles are very different.
     For starters, sunflower seed butter is made from seeds, i.e. sunflower seeds, while peanut butter is made from a legume. Yep, that's right. Peanuts spring from the same family as peas and beans; they grow from a bush and are not a tree nut, like almonds or pecans.
     Seeds are having a nutritional moment as people are adding chia, flax, pepitas and hemp – to name a few – to salads, baked goods (for recipe see SUNFLOWER SEED BUTTER MUFFINS: THEY'RE A LITTLE GREEN), yogurt, smoothies and more.
     But wait a minute, legumes are an excellent source of nutrition, too. So, is sunflower seed butter a healthier choice than peanut butter and is it equally tasty with jelly?
SUNFLOWER SEED BUTTER NUTRITION 
     If you are allergic to peanuts or tree nuts, the answer to both questions is a resounding, "Yes"! Sunflower seed butter is a delicious choice, and it pairs well with jelly. The sunflower seeds are roasted and toasted before being pummeled into a creamy mixture.
     Be sure and scan the container label for cautionary phrases like "Manufactured on equipment that processes products containing peanuts" or "Manufactured in a facility that processes tree nuts, but not on the same equipment" or the dreaded "May contain traces of nuts."
VITAMIN E FOR DAYS
     Not only is sunflower seed butter a go-to protein paste for the allergic, but it is loaded with vitamin E. It contains about four times more vitamin E than peanut butter. Vitamin E is a powerful anti-aging antioxidant, preserving cell membranes. (In fact, manufacturers often add this vitamin to foods to extend their shelf-life.)
     It is better, however, to get vitamin E from food since oral doses greater than 400 IU/day are possibly unsafe, particularly if you have health conditions like diabetes or heart disease. Supplementation with vitamin E has also been linked with an increased risk of prostate cancer.
     Sunflower seed butter also supplies a good amount of niacin (vitamin B3), but peanut butter is a superior source of this vitamin, supplying nearly twice as much. Niacin plays an important role in enzymatic reactions that supply the body with energy.
MAXIMIZE YOUR MINERALS WITH SUNFLOWER SEED BUTTER
     Mineral content is where sunflower seed butter truly shines, with more iron, magnesium, manganese, selenium, phosphorous, copper and zinc than peanut butter.
     Sunflower seed butter has four times the iron found in peanut butter; more than twice as much copper and selenium and nearly twice as much magnesium, phosphorous and zinc!
     Both butters are good sources of potassium.
     Although the butters have similar amounts of protein and calories, peanut butter has a little more protein, 7 g per serving vs the 5.5-6 g of sunflower seed butter, and peanut butter has 10-20 fewer calories per serving. Specifically, peanut butters usually have 180-190 calories per 2-tablespoon serving while sunflower seed butters have 200-220 calories for the same size serving.
FAT FACTS ON PEANUT AND SUNFLOWER SEED BUTTERS
     The fat profile of the two butters differs substantially. Peanut butter contains more saturated fat due to the presence of palm oil, which is 50% saturated, and sunflower seed butter is brimming with monounsaturated fats.
     Most sunflower seed butters have more than 30% less saturated fat than peanut butters. Natural peanut butters, however, sometimes shun added palm oil and contain the same 2 grams of saturated fat per serving as sunflower seed butters.
READ THE LABELS FOR NUTRITION DETAILS ON FATS, SUGAR AND SALT
     To be certain, you need to read the labels for specifics. Even within the same brand, butters can vary considerably.
     Butters that have an even consistency and do not experience oil separation usually contain mono- and diglycerides — refined vegetable oils – as emulsifiers. Peanut butters often contain fully hydrogenated oil for product stability.
     Sherry Coleman Collins, MS, RDN, LD, explains that fully hydrogenated oils are not the same as partially hydrogenated oils, which manufacturers are required to remove from products due to 2015 Food and Drug Administration (FDA) stipulations.
     In an article written for the National Peanut Board, Collins writes that "Partially hydrogenated oil contains trans fat. Fully hydrogenated oil and palm oils do not contain trans fat."
     She said that using fully hydrogenated oils gives manufacturers some of the same functional benefits as partially hydrogenated oils minus the trans fat.
     "Fully hydrogenated fats help reduce rancidity, resulting in longer-lasting shelf stability. Without the trans fats associated with partially hydrogenated oils, fully hydrogenated oils provide an additional option for addressing the challenge of oils separating in peanut butter when stored in the jar, which many consumers prefer, without trans fats."
     The FDA declared that trans fats have harmful effects and are not "generally recognized as safe (GRAS)." Per this regulation, manufacturers have removed them from products to protect people from increased risk of heart disease, stroke and type 2 diabetes.
     In addition to emulsifiers, other ingredients to scan labels for are sugar and salt. Per serving, many butters contain 2 to 3 grams of added sugar, which is less than a teaspoon. Added salt is minimal, usually adding up to about 100 mg per serving, so the butters are still considered low sodium.
     You can find sunflower seed and peanut butters that do not contain added salt or sugar, particularly in groceries with large selections of natural and organic foods. In fact, you can even grind your own peanut butter in some stores.
SUMMARY
🌻 SUNFLOWER SEED BUTTER:
Go-to butter for people with allergies and sensitivities to peanuts and tree nuts

Rich source of vitamin E

Rich source of iron, magnesium, manganese, selenium, phosphorous, copper and zinc

High in monounsaturated fat

20 to 40 more calories than peanut butter
🥜 PEANUT BUTTER:
Rich source of niacin (vitamin B3)

More saturated fat

Slightly more protein

10 to 40 fewer calories than sunflower seed butter
HOMEMADE SUNFLOWER SEED BUTTER
     Making your own seed and nut butters is not difficult with the help of a food processor or blender, and D-I-Y offers more control over ingredients. For example, all commercial sunflower seed butters are made using roasted kernels for best flavor, but if you prefer raw, unprocessed seeds, you can make it more to your liking.
     You can prepare a totally custom butter, adding in some chia or a functional ingredient, like maca or matcha powder for energy, or warm spices like cinnamon, cloves, and/or a pinch of cardamom for yum factor.
     Here is a video showing how to make a basic sunflower seed butter. It's a quick, short video, but I like that it shows you how to roast your seeds before processing. It has you add honey and coconut oil, which would make the butter delicious, even without any salt.
     You can, however, leave out the honey and coconut oil, or substitute your favorite sweetener and neutral vegetable oil. If you do choose not to use the sweetener and oil, it will be important to roast the seeds and add ¼ to ½ teaspoon of salt for best taste.
(Note: When processing, do not add water as it will cause the butter to seize.)
SUNFLOWER SEED BUTTER MUFFINS: THEY'RE A LITTLE GREEN
     I used Sunbutter™ to make these yummy banana muffins for breakfast this week. Don't be surprised if the muffins take on a green tint after baking. The green color is caused by chlorogenic acid, an antioxidant in sunflower seed butter that turns green when exposed to heat. It does not hurt the flavor and may help with blood sugar and hypertension although I can't promise there is enough chlorogenic acid in the recipe to have beneficial effects.
     (Enjoy the muffins with a cup of coffee or tea to maximize the effect, since those morning beverages are great sources of this phenolic compound.)
     If you don't like the color, you could cover the tops with a little berry jam and enjoy a faux pb&j for breakfast!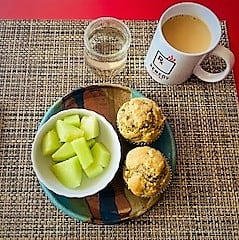 Banana Sunflower Seed Butter Muffins
Ingredients
¾

cup

milk

dairy or plant-based

2

teaspoons

white vinegar

2 ¼

cups

AP flour or 1 ¼ cup AP flour & 1 cup whole wheat flour

2

teaspoons

baking powder

½

teaspoon

baking soda

½

teaspoon

salt

2

Tablespoons

granulated cane sugar

¼

cup

canola oil

2

bananas

mashed

⅓

cup

sun butter

sunflower seed butter

1

egg

beaten, or sub 1 Tablespoon of flax mixed with 2½ Tablespoons of water

2

Tablespoons

honey

1

teaspoon

vanilla

⅓

cup

broken walnut halves

optional
Instructions
Pour milk, plant-based or dairy, into a 1 cup measure and add vinegar. Set aside to let milk sour while you proceed with the recipe.

Preheat oven to 400 F. Line a muffin tin with paper baking cups (parchment cups work best) or spray with non-stick baking spray.

In a large bowl whisk together flour(s), baking powder, baking soda, sugar and salt.

In a medium bowl or 2-cup measure, combine canola oil, mashed bananas, sun butter, egg (or flaxseed egg), honey, and vanilla.

Make a well in the center of the dry ingredients and pour in the banana mixture and the soured milk. Stir with a large wooden spoon or spatula only until dry ingredients are moistened.

Add walnuts to batter and stir lightly. (Be sure that you have taken your spoon to the bottom of the bowl in order to mix in any dry ingredients lurking underneath your batter.)

Using an ice cream scoop, place a scoop of batter in each cup.

Bake for about 15 minutes, reversing the pan front to back once to ensure muffins are evenly baked.

Remove from oven and cool for 3 to 5 minutes. Remove the muffins from the tin to prevent soggy, steamed muffins.
Notes
Leftover muffins (if there are any) can be stored in a plastic bag at room temperature for a day or two or frozen for up to two months. (They will keep a few days in the refrigerator but will not be as flavorful as they are at room temperature.)
Variations: Feel free to sub ½ cup of chocolate chips in place of the walnuts (or just add chocolate chips along with the walnuts). Slivered almonds could also be used in place of the walnuts.
Other add-ins to consider are craisins, dried cherries or any other dried fruit you like. Just be sure to cut the dried fruit into small pieces if it is large. Dried pears are usually sold in halves. They would taste great in these muffins, especially if you also add 1 teaspoon of cinnamon, but they will need to be cut into bits before you fold them in.
You can modify the recipe to make bread by substituting whole milk or 2% plain yogurt for the milk. It's better to use regular yogurt because the batter will be too thick with Greek yogurt. (Alternatively, you can add a couple tablespoons of water with the Greek yogurt.)
As you're scanning through the nutrition information, notice the generous helping of iron in these muffins!
Nutrition
Serving:
1
g
Calories:
214.43
kcal
Carbohydrates:
26.57
g
Protein:
4.19
g
Fat:
11.19
g
Saturated Fat:
4.1
g
Sodium:
184.41
mg
Fiber:
2.92
g
Sugar:
8.24
g
Copyright © 2020 Jani H. Leuschel