Tired of cauliflower? It may be time to move broccoli up in the vegetable rotation. Admittedly, the green stalky vegetable isn't truly riceable and makes a terrible pizza crust, but I'll give you 10 good reasons you should eat it regularly. (One is that it helps with regularity – but more on that later!) Although broccoli is ultra-healthy, I'm also going to mention three reasons to avoid adding it to your diet.
    If you don't give a fig about why you should or shouldn't eat broccoli, you can click here to jump to the end of this post and view my quick recipe for Couscous Salad with Broccoli Pesto and Cherry Tomatoes.
A LITTLE BACKGROUND ON BROCCOLI 
     Before we get into the 10 reasons to eat broccoli, here's some of the back story on broccoli. The average American eats four pounds of broccoli in a year, according to statistics from the USDA. (In our house, we can do this in a month.) Most of the broccoli grown in the U.S. is from California.
     The vegetable was not well-known in this country until the 1920s although Thomas Jefferson imported broccoli seeds from Italy to plant at Monticello in the late 18th century. The origin of broccoli's name is from the Latin word brachium, meaning branch or arm, which makes sense when you think of its tree-like appearance. (At least, regular broccoli stalks, not broccoli crowns, have a tree-like appearance.)
     Jefferson, the nation's third president, was shrewd about things agricultural as well as political. He could not have known in the 18th century about the nutritional benefits of eating broccoli, but he surely was aware of its stand-out flavor. (Although President George H. W. Bush was not a fan, President Obama reportedly said that broccoli is his favorite vegetable.)
A LOT OF BROCCOLI NUTRITION
     This table of nutrition facts taken from the USDA's Food Data Central highlights broccoli's strong nutritional assets. It is especially rich in vitamin C, vitamin K, beta-carotene and folate. It's also full of lutein and zeaxanthin, carotenoids that are especially good for eye health. It also boasts high potassium content, which can benefit blood pressure. It even contains a decent amount of calcium.
| | |
| --- | --- |
| Broccoli Nutrition | 3.5 oz (100g) |
| Energy | 31 calories |
| Protein | 2.6 g |
| Carbohydrates | 6.3 g |
| Fats | 0.3 g |
| Fiber | 2.4 g (insoluble) |
| Vitamin C | 91.3 mg |
| Folate | 65 mcg |
| Beta-carotene | 93 mcg |
| Lutein & zeaxanthin | 745 mcg |
| Vitamin K | 102 mcg |
| Calcium | 46 mg |
| Potassium | 303 mg |
NUMBER ONE REASON TO EAT BROCCOLI: IT'S YUMMY!
     As the table shows, broccoli packs a nutritional wallop, but I think the taste is the best reason to eat broccoli. Hear me out: Apply heat and it turns sweet. It does have more nutrients when eaten raw and is tasty when eaten this way with hummus or dressing, but some people (yes, Bush comes to mind) can't tolerate the raw vegetable.
     Here's a recipe for a delicious raw broccoli salad from cookbook author Jeanine Donofrio, whose blog is Love & Lemons. 
     The key to safeguarding the flavor and texture as well as the many nutritious compounds in broccoli is to cook it briefly. Dr. Andrew Weil, the founder of the Andrew Weil Center for Integrative Medicine, recommends cooking it for less than 4 minutes so that you don't inactivate the enzyme responsible for sulforaphane, a chemical compound that may be thought of as broccoli's most active ingredient. (Sulforaphane is one of many!)
NUMBER TWO: BROCCOLI PHYTOCHEMICALS MAY FIGHT CANCER
     Broccoli is a rich source of phytochemicals known as glucosinolates, which eventually form sulforaphane and may inhibit tumor formation. In general, cruciferous vegetables like Brussels sprouts, cabbage, cauliflower, kale and watercress are good sources of glucosinolates/isothiocyanates that break down to become sulforaphane when they are eaten.
     These compounds help the plants protect themselves from insects, disease and environmental stressors like heat, drought and poor soil. It seems logical that they may protect a body from cancer.
     Broccoli, in particular, has gotten attention recently, and there are at least 50 studies at ClinicalTrials.gov exploring the benefits of broccoli or broccoli sprouts, either as a whole food or supplement. Many trials are for prostate cancer. Others are for cancers of the bladder, breast, lungs and gastrointestinal tract; there is even one for pancreatic cancer.
     Note: Broccoli sprouts have gotten attention for their high levels of glucoraphanin, which is the chemical precursor to sulforaphane. You can find videos on YouTube demonstrating how to grow your own broccoli sprouts underneath your kitchen sink.
     DON'T DO THIS! Sprouts are a notorious source of food poisoning. On their website, the Centers for Disease Control (CDC) warns, "The warm, humid conditions needed to grow sprouts are also ideal for germs to grow. Eating raw or lightly cooked sprouts, such as alfalfa, bean, or any other sprout may lead to food poisoning from Salmonella, E. coli or Listeria.
     "Thoroughly cooking sprouts kills the harmful germs and reduces the chance of food poisoning," the agency advises. So, if you do decide to grow broccoli sprouts, you'll want to cook them before eating, which will decrease their potency.
     You're better off just eating broccoli, according to New York Times best-selling author Dr. Michael Greger. On his website, nutritionfacts.org he says, "bioavailability of broccoli phytonutrients is dramatically lower when subjects consume broccoli supplements compared to the whole food."
NUMBER THREE: BROCCOLI IMPROVES GUT HEALTH
     The third reason for including broccoli in your meals is that it's good for your gut. Several studies have found that broccoli can help prevent ulcers. It makes your stomach lining slippery for H. pylori, the bacteria responsible for ulcers and keeps it from getting a toehold and wreaking digestive havoc.
     Broccoli also contains abundant amounts of fiber. Fiber keeps your gut happy and healthy by encouraging beneficial microflora and promoting regularity. In addition, the type of insoluble fiber found in broccoli can help lower your cholesterol, which brings us to the fourth reason to eat broccoli.
NUMBER FOUR: LOWER LIPIDS AND BLOOD SUGAR LEVELS
     Broccoli may lower LDL-cholesterol and support healthy blood sugar levels. It may reduce fasting blood glucose and glycated hemoglobin, so it can be useful (and tasty) in diets for diabetes. (For people with diabetes, glycated hemoglobin is usually measured with the HbA1c test; it reflects blood sugar levels over a three-month period.)
    This potential to reduce blood fats and sugar could help with related problems, like obesity, particularly since broccoli is high in fiber and low in calories.
NUMBER FIVE: GOOD FOR ANTI-INFLAMMATORY DIETS
     Since it is bursting with antioxidant phytochemicals, it's no surprise that broccoli is anti-inflammatory. Antioxidants fight disease by protecting your cells from damage by free radicals. They help to safeguard your DNA, prevent aging and keep environmental stressors, like air pollution or other toxins from harming you.
     This antioxidant, anti-inflammatory action is another reason broccoli could lower blood sugar -- by keeping the linings of blood vessels damage-free. The green vegetable may prevent joint damage in osteoarthritis by blocking the destructive molecules.
     Research shows that the phytochemical kaempferol in broccoli can keep gut inflammation tamped down because it makes you less sensitive to allergens in the intestinal tract.
NUMBER SIX: SKIN SOOTHING
     Broccoli can calm your skin. Topical preparations containing broccoli extracts have been shown to calm redness and irritation from the sun. In other words, its ability to quell inflammation makes it perfect for after-sunburn gels or creams.
NUMBERS SEVEN & EIGHT: ANTIVIRAL ACTIVITY, INSPIRES SOCIABILITY IN AUTISM
     Broccoli inhibits HIV and hepatitis C (HCV). Sulforaphane was found to have antiviral activity against HIV in a study that appeared in 2016, and in the same year, a different study found it was synergistic with antiviral drugs against HCV.
     And now for something completely different: Broccoli may be good for autism. Sulforaphane extract from broccoli sprouts encouraged social behavior in autistic young men. The finding from a 2014 study, which researchers speculate may arise from the broccoli supplement's demonstrated antioxidant, anti-inflammatory action, has spawned many more studies in this area.
     (Using the sulforaphane supplement in the study was probably wise given that autistic individuals often have very distinct dietary preferences. It could be tough going to get them to eat enough broccoli!)
NUMBER NINE: LOW PESTICIDE RESIDUES IN BROCCOLI
      Broccoli is number 11 on the Environmental Working Group's "Clean 15" list for 2020. What this means is that after washing, it was found to have low levels of pesticide residues. This is comforting, however, it is important to know that not eating fruits and vegetables is more likely to have a negative impact on your health than eating pesticide residues.
     Pesticide residues are minute, even on produce that is not labeled organic. A normal, healthy person would have to eat an impossible amount to become ill. (This is a particularly good thing to know right now when coronavirus can make spending on pricey organics a non-issue.)
NUMBER 10: THE WONDER OF FROZEN BROCCOLI
     Frozen broccoli, organic or not, is the bomb. Right now, it may the number one frozen vegetable to keep in your freezer. To go along with its tremendous nutrition and good taste, it has numerous cooking virtues. 
     It's versatile. Obviously, when you apply a little garlic salt and butter, it makes a quick microwave side for your main dish. There are, however, a multitude of uses for those frozen florets. They can add crunch, vitamins and minerals to your noodles – Asian or Italian. They can be mixed into casseroles or baked egg dishes. They make a quick, filling vegan or vegetarian soup. You can even make frozen broccoli into a pesto-like sauce (I use this pesto in the couscous salad recipe below) to toss with pasta or dollop onto a simple grilled protein – think chicken breast, white fish or tofu.
PROBLEMS WITH BROCCOLI 😫
     I have to confess that the elder Bush, George H. W., wasn't completely off-base in his assessment of broccoli. And although I have listed 10 reasons to give it a whirl, I can think of at least three concerns with the crunchy crucifer.
PROBLEM NUMBER ONE: GI DISTRESS
     It may be tops for gut health, but broccoli can cause gas and bloating. This is mostly because of its high fiber content and raffinose, which is a FODMAP sugar. FODMAPs (or Fermentable Oligosaccharides Disaccharides Monosaccharides and Polyols) are short and medium-chain sugars, aka carbohydrates, that pass through the gut with difficulty.
     For many people, the solution to this is to avoid foods that are high in FODMAPs, but you may have success by limiting and then gradually increasing the amounts of these foods, which include beans, milk and some sweeteners.
PROBLEM NUMBER TWO: BROCCOLI CAN BE BAD FOR THE THYROID
     Broccoli is what is known as a goitrogen. It can interfere with iodine uptake particularly if you have low thyroid. People with low thyroid levels are advised not to eat more than a typical size serving of broccoli, which is half a cup.
Luis O. Rustveld, Ph.D., RD, a dietitian and assistant professor at the Baylor College of Medicine in Houston advises people with low thyroid to avoid juicing and to limit cruciferous veggies to half a cup or less each day. He notes that cooking and steaming reduces the goitrogen effect (probably because it reduces the available nutrients somewhat).
PROBLEM NUMBER THREE: IT ENCOURAGES THE GROWTH OF CHLAMYDIA
     In an unexpected turn of research, it has been found that sulforaphane in broccoli and cruciferous vegetables may promote the growth of chlamydia, the nation's number one sexually transmitted disease (STD). Researchers studying this phenomenon expected the opposite -- that antiviral/antibacterial properties and many antioxidant phytochemicals in broccoli and broccoli sprouts would protect against chlamydia.
     In their study, researchers write that "despite the inhibitory effects of SFN [sulforaphane] on certain bacteria and viruses, SFN has the opposite impact on Ct [Chlamydia trachomatis] infection." They recommend that you avoid eating broccoli and other crucifers during antibiotic treatment for the STD.

AN EASY SUMMER SALAD RECIPE THAT MAKES THE MOST OF BROCCOLI NUTRITION
     My recipe for Couscous Salad with Broccoli Pesto and Cherry Tomatoes requires almost no heat. Frozen broccoli florets are slightly thawed and then processed with walnuts and garlic to make a healthy sauce that dresses and flavors tiny couscous pasta. 
     I used regular fine-grained couscous, but the larger pearls might be even better. Other alternatives that add whole grain goodness and more nutrition are whole-wheat couscous or bulgur cracked wheat. They're equally fast. (It's important to carefully follow the cooking directions for your starch so you don't end up with too much liquid. Soggy couscous will turn into mush.)
     I mentioned that I love frozen broccoli as an ingredient. That's because it's frozen at the peak of freshness after being briefly cooked. It saves you a lot of prep time with little or no loss of nutrition.
     To make the pesto for this salad, you won't need to fully thaw the florets. Just make sure you don't throw them into the processor while they're still rock hard. It comes together in about 15 minutes.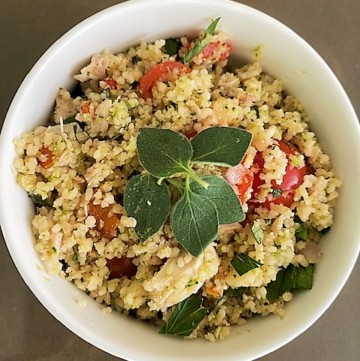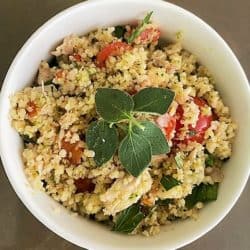 Couscous Salad with Broccoli Pesto 🥦 and Cherry Tomatoes 🍅
This yummy summer salad is filling! The cherry tomatoes provide a sweet pop of flavor as they burst in your mouth. Serve it with hearty crackers and a side of cut-up fruit. Cubed melon pieces are especially nice. 🍉
Equipment
medium saucepan

knives

measuring cups
Ingredients
1

cup

couscous, dry

prepared according to package directions

1

cup

red pepper

finely diced (or 1 cup diced jarred roasted red pepper)

1

shallot

small, finely chopped

1 ½

cups

rotisserie chicken

finely chopped

2

Tablespoons

oregano

chopped

1

cup

broccoli-walnut pesto

click here for recipe

1

Tablespoon

olive oil

extra virgin

1

Tablespoon

white balsamic vinegar

½

teaspoon

red pepper flakes

1

cup

cherry tomatoes

halved

Salt and pepper to taste

2

Tablespoons

Italian parsley

chopped
Instructions
Using a fork, scrape the prepped couscous into a large bowl, fluffing it and breaking up any clumps as you add it to the bowl.

Add roasted red pepper, shallot, chicken and oregano and mix well.

Using a spatula, stir in the broccoli pesto, olive oil, balsamic vinegar and red pepper flakes.

Lightly mix in the cherry tomato halves.

Taste and adjust seasonings. (Add more red pepper flake if you like it spicy!)

Sprinkle with chopped parsley.
Notes
This salad is perfect for keeping the kitchen cool in the summer. The only part that requires heat is the couscous, which cooks in five minutes.
The prep time includes making the broccoli pesto. Making this recipe will take around 20 minutes (or less) if you have the pesto on hand.
I feel obligated to warn you about the strong aroma of the broccoli pesto. It may knock you over as you add it to the couscous, especially if you've been generous with the garlic in it. Don't worry, it won't taste like it smells; in fact, more garlic helps the flavor and reduces the amount of salt needed.
This salad would be equally delicious -- and more nutritious -- with whole wheat couscous or cracked wheat (bulgur). 🌾
Nutrition
Serving:
1
g
Calories:
327
kcal
Carbohydrates:
36
g
Protein:
23
g
Fat:
10
g
Saturated Fat:
2
g
Trans Fat:
0
g
Cholesterol:
57
mg
Sodium:
231
mg
Potassium:
241
mg
Fiber:
4
g
Sugar:
3
g
Vitamin A:
1139
IU
Vitamin C:
46
mg
Calcium:
54
mg
Iron:
2
mg