In our daily activities, we often take our ability to maintain balance for granted. As we age, however, we start to notice that what was once simple requires more effort.
Getting up from a deeply seated position or sinking into a seat can tax your muscles and brain.
So, balance becomes increasingly important with each passing year. Adding a few simple balance exercises and/or activities to your weekly routine can keep you on your feet and help you stay vibrant in your later years.
This article is not intended as a substitute for medical advice. Check with a doctor before making any fitness or nutrition changes. The author and blog disclaim liability for any damage, mishap, or injury that may occur from engaging in any activities or ideas from this site.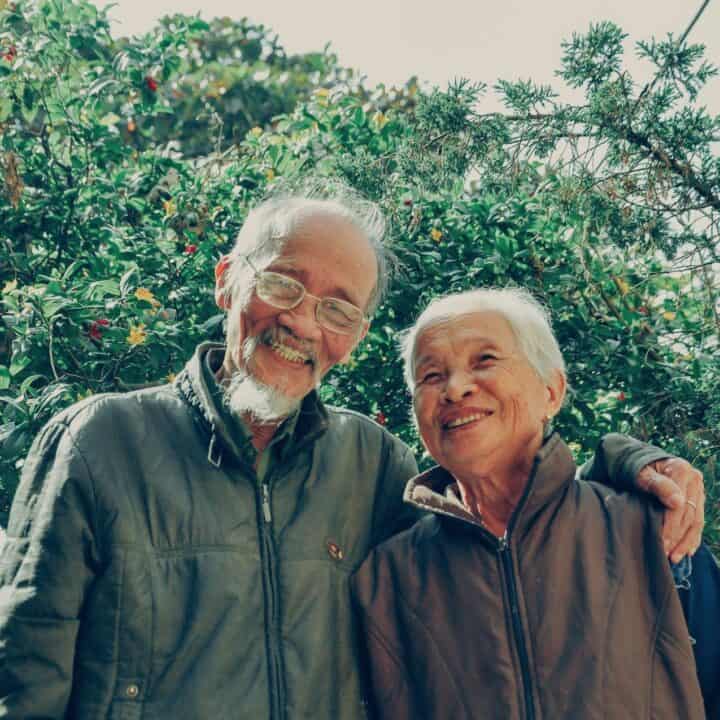 Why balance is important after age 50
Maintaining stability is increasingly crucial during the latter stages of your life. Poor balance can lead to injuries that negatively impact your health and quality of life.
You can lose your ability to live by yourself and accomplish your daily activities. Or, you may require the support of a walker or scooter to get from place to place.
Maybe you've noticed a slowing, shuffling gait in older friends and relatives that signals loss of lower body strength. When the muscles in your legs and hips decline in strength, you become vulnerable to falls.
This is especially true if other conditions that crop up with aging are causing you to feel wobbly. The Centers for Disease Control and Prevention (CDC) says one out of five falls can lead to a broken bone or serious injury.
Broken hips are an unfortunately common and terrible injury caused by a fall due to poor balance. This fracture usually requires surgery followed by a lengthy stint in rehab.
Reportedly, up to 50% of those older than 50 suffering a hip fracture die within six months of the injury occurring.
Why does aging affect balance?
Loss of muscle mass and strength
Our muscles decline in strength rapidly between the ages of 65 and 80. This loss of muscle mass is known as sarcopenia, and although younger people can have sarcopenia, aging is a primary factor.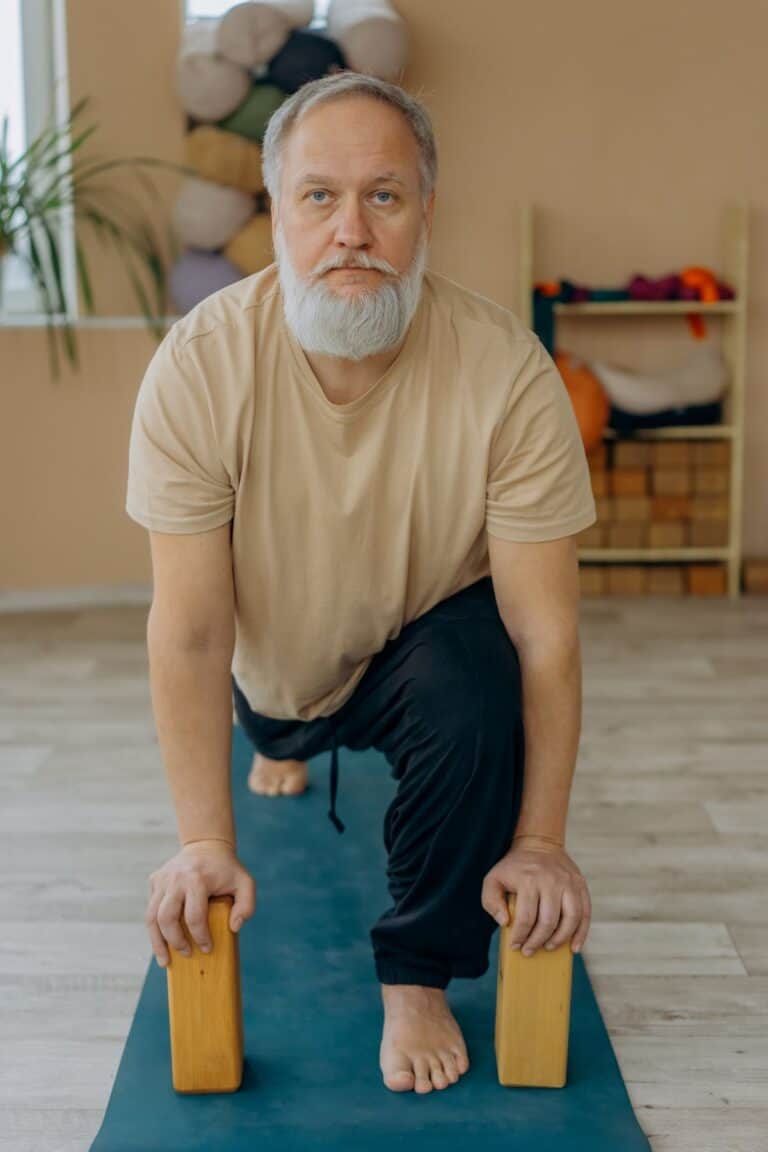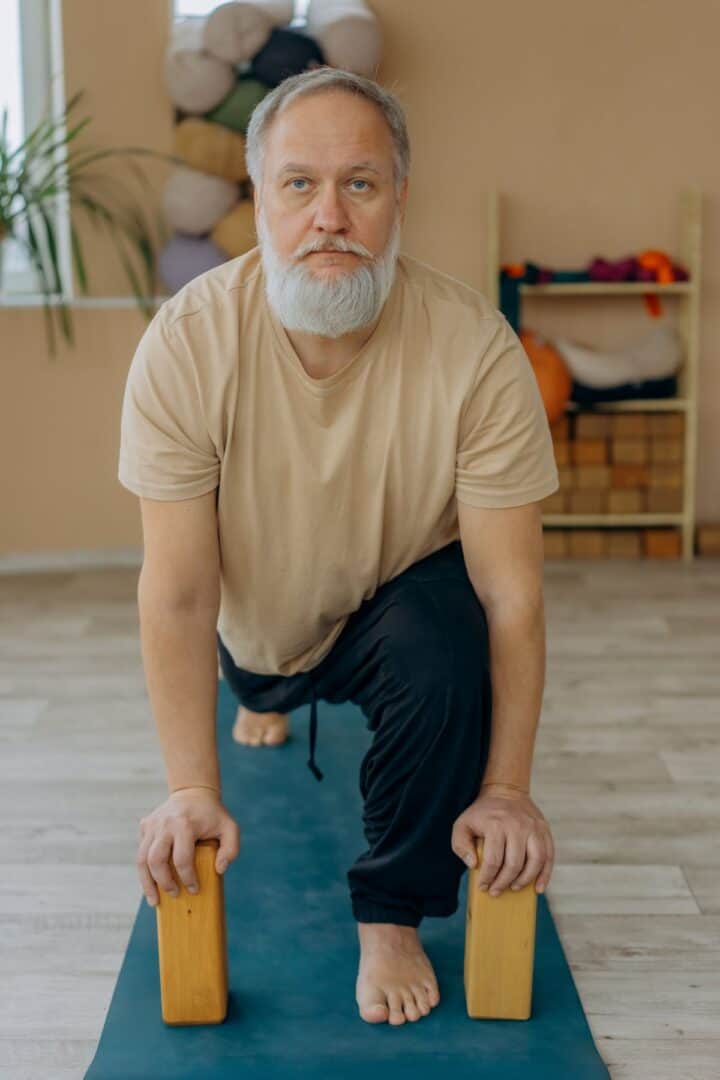 Eating enough protein to support muscle growth is key to living a healthful lifestyle in old age.
Check out my post on how to avoid losing muscle mass for more information on how to figure out how much protein you need, The article has nutrition ideas for adding more of this strength-building macronutrient to your meals.
👁‍🗨Sensory and neural losses
As we age, our senses become less acute. Vision and hearing can decline. Touch perception often decreases, and arthritis afflicts many, if not most, seniors.
Other factors
👂Inner ear problems that cause dizziness are more common, as are brain and nerve issues due to stroke and dementia.
🤒Chronic diseases, like obesity, can worsen movement and balance.
💦Dehydration is another reason for poor balance since awareness of thirst is not as keen as we age. This can contribute to blood pressure problems like postural hypotension, making a person feel dizzy after standing up suddenly.
💊Medications, of course, can be another contributor to balance issues. Common culprits include sedatives and tranquilizers, beta-blockers, blood pressure medications, narcotics/opioids (pain drugs), sleep medications, and even supplements and herbal medicines such as St. John's wort.
🍸Alcohol use, alone or in combination with any of these medications, can also impair balance.
The Benefits of Balance Exercises
These exercises increase your confidence, stability, and even mobility! They enhance coordination, reducing the risk of falls and injuries–something we all want to avoid.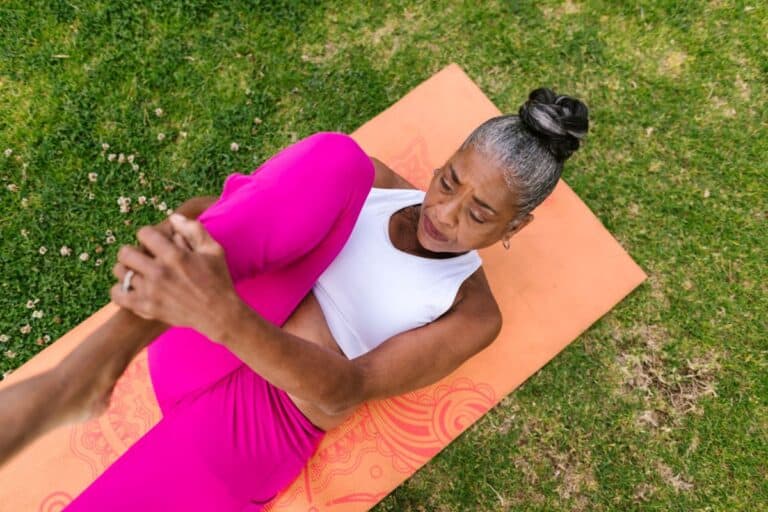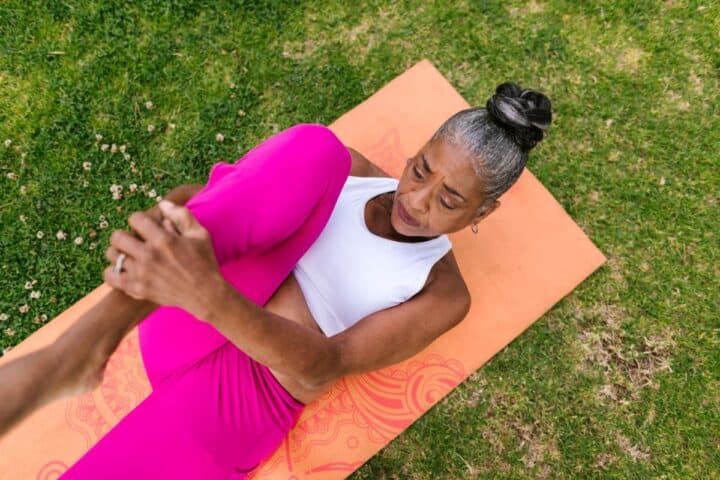 They also improve posture, strengthen core muscles, and boost flexibility. So, you stay steadier on your feet and move more freely with greater awareness of where your body is in space.
Plus, you can choose from all sorts of these exercises, ranging from simple one-legged stands to more complex, structured programs like yoga or tai chi.
Studies show that various types of exercise programs are effective at improving balance.
A 2022 study employed a circuit-type program in which participants progressed to performing movements with their eyes closed. Participants performed the circuit for three months, but the benefits were long-lasting.
Another recent study compared resistance training to exercise consisting of functional tasks. Those who participated in the functional task group had greater improvements on balance tests. Both groups, however, saw improvements.
Types of Balance Training
Static and dynamic exercises are necessary because balance involves coordination and body awareness.
Static Exercises: These are performed from a stationary position with little movement. Emphasis is on concentration and control. The idea is to control your body while staying still. This helps your stabilizer muscles function more effectively.
The single-leg stance is the classic static balance exercise.
To try this, have a chair or other support within reach.
Stand tall, rib cage lifted, feet about shoulder-width apart, arms extending straight out from shoulders. Carefully lift your heel off the floor, bending it toward your buttock. Hold for 10 to 30 seconds.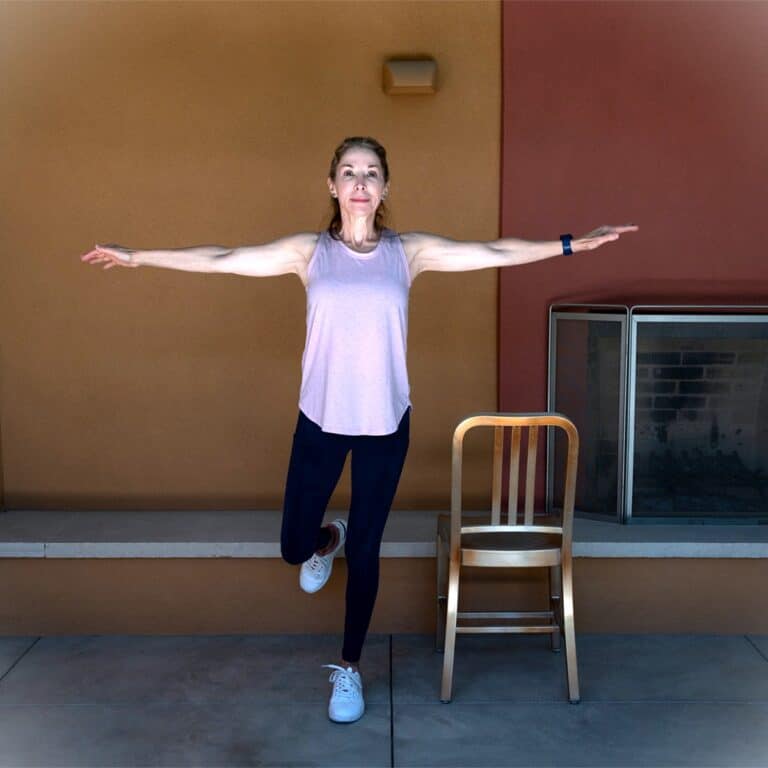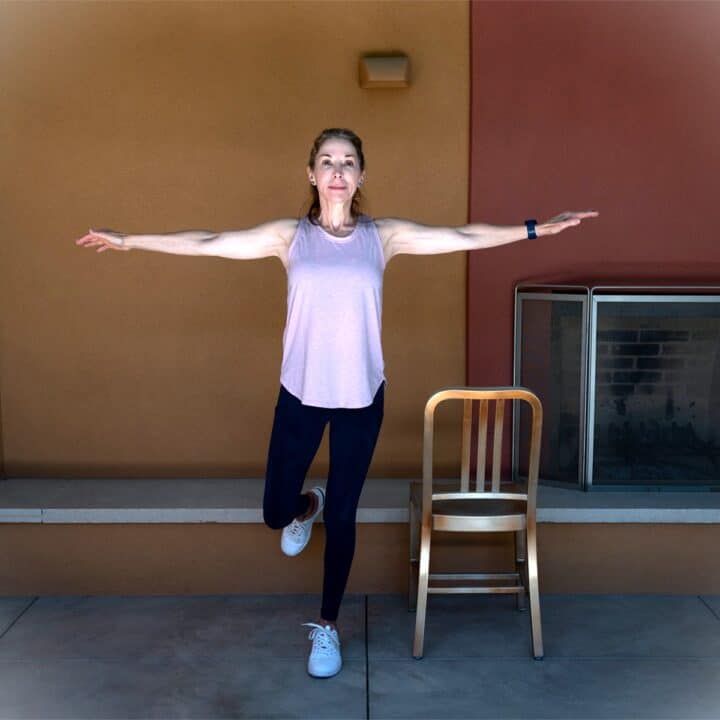 Perform five to 10 sets on each leg. Use the chair as needed to maintain your balance and posture.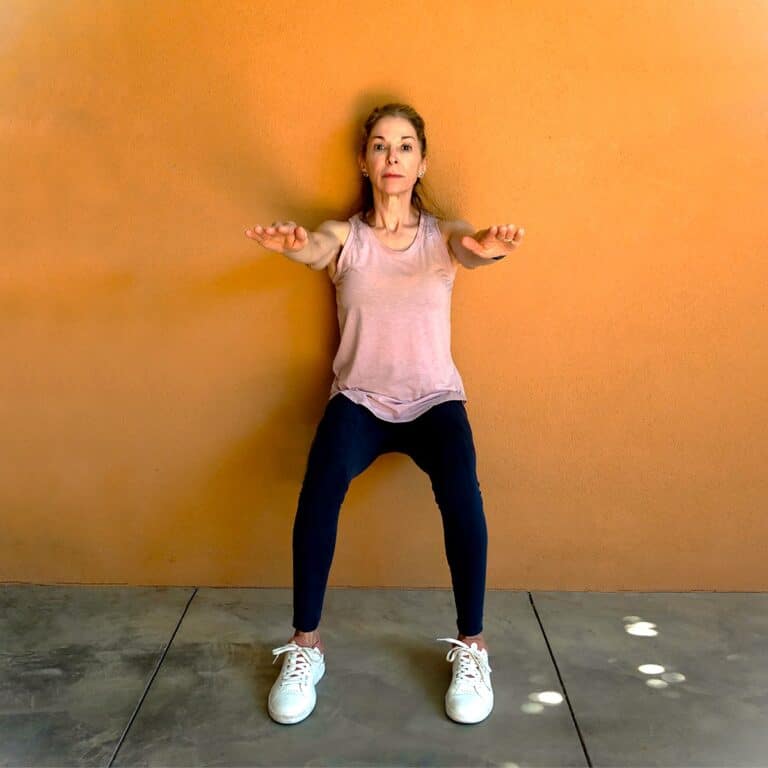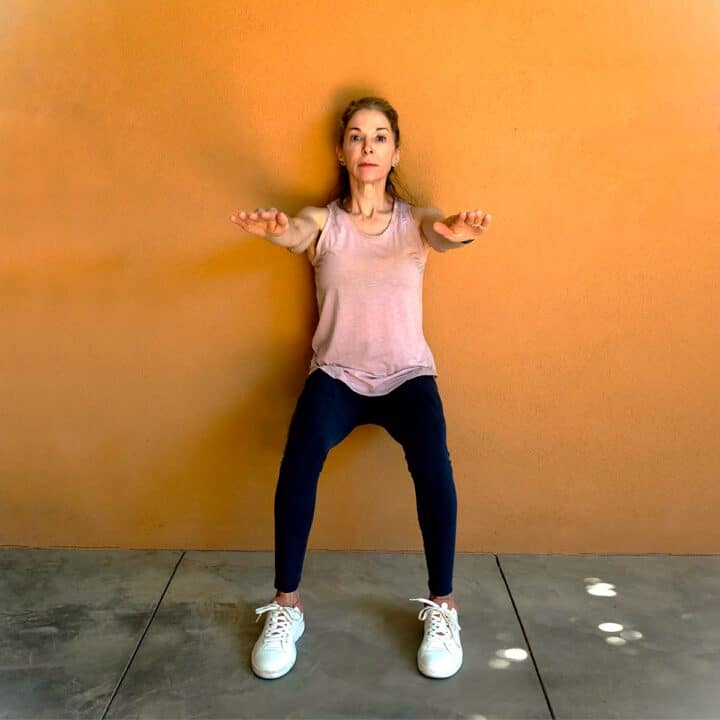 Other static movements to try are balancing on a Bosu Ball, standing on your tiptoes with eyes closed, and the wall sit (at left), which may also benefit blood pressure.
Photo credit: Celeste
Dynamic Exercises: Maintaining stability while your body moves is challenging. These movements are helpful for real-life situations. They are excellent for coordination and agility, improving your ability to react to your environment without losing balance.
The classic dynamic balance exercise is the heel-to-toe walk. Perform this exercise near a wall to steady yourself by touching the wall if needed.
Stand tall with arms held straight out from shoulders. Place the right heel in front of the toe of the left foot. Place the left heel in front of the toe of the right foot as smoothly as possible. Repeat 10 to 20 times.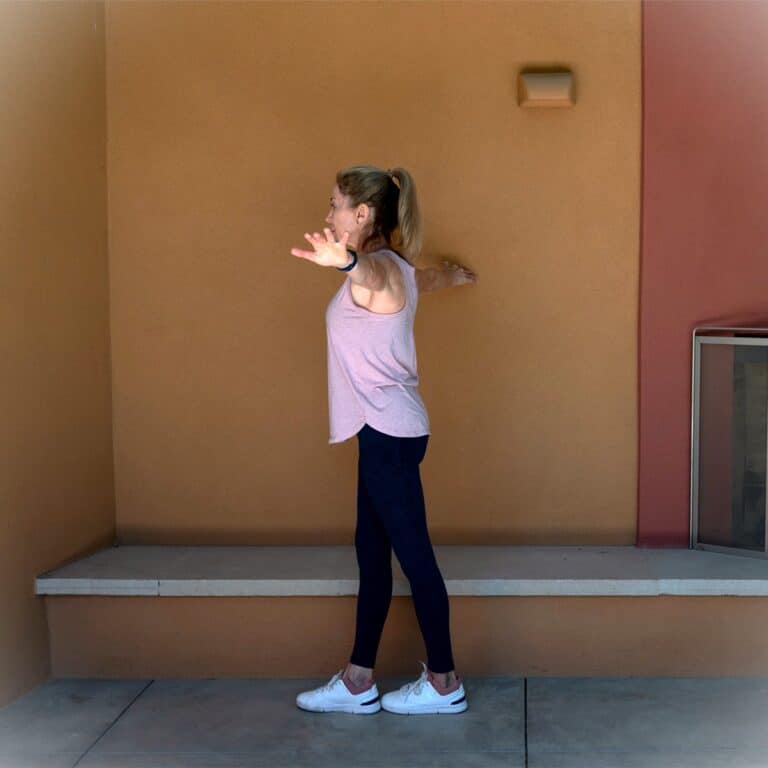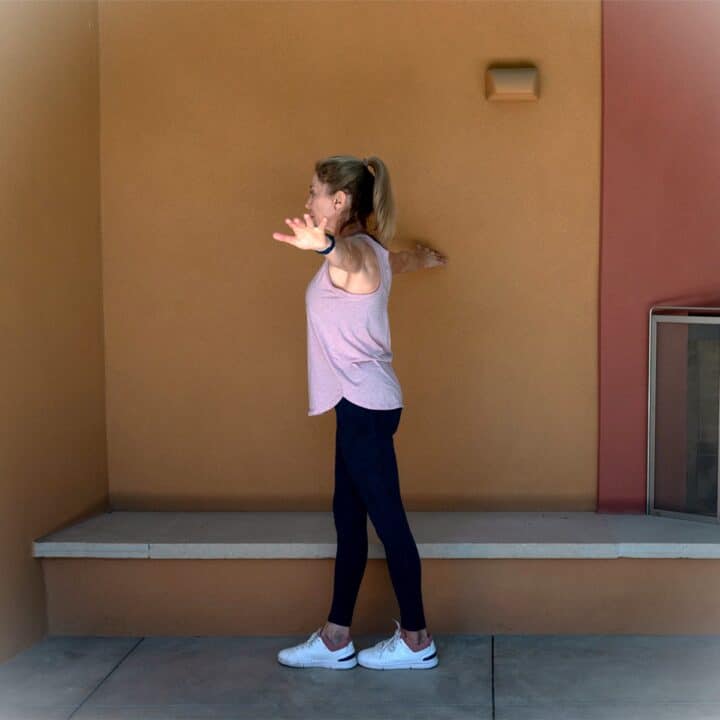 Other exercises and drills you might like are obstacle courses, lunges (small, large, backward, and sideways), and the classic grapevine step used in many aerobics classes.
Studies show that yoga and tai chi, which incorporate both static and dynamic movements, improve balance and strength. Many of the postures in yoga, such as tree pose, involve balancing on one leg.
Yoga and tai chi also load and strengthen the core muscles in the trunk, which are often thought of as the center of stability.
How to Get Started with Balance Exercises
Before starting any exercise program, be sure to talk with your healthcare provider. They will know if it's a good idea for you or not.
Safety first! Have a chair or other support nearby that you can reach for if you feel wobbly. Nonslip shoes are a good idea as well.
At Home Exercise
Scroll through some videos or images and find a few exercises that look doable and have appeal. Choose five or six exercises, including both static and dynamic movements. Every day, include at least three of these in your daily routine.
Here are a couple of places to look for balance exercises:
Check out 5 Balance Exercises from Step2Health, a manufacturer of products that help older folks age in place. Another offering of Five Balance-Boosting Exercises is from Mater Health.
Variety: Alternate your chosen exercises, so that you are not performing the same ones every day. This will help to alleviate boredom and keep your balance training fresh.
Consistency: Remember that spending time most days with balance exercises will help you achieve more stability and mobility. Plan on performing these exercises regularly for at least six weeks to see noticeable gains in your balance.
Work them into your daily activities: Try holding a single-leg stance while cleaning dishes or prepping foods in the kitchen. The counter is nearby if you need support.
Any standing still activity (brushing teeth) can be modified to help your balance!
Partner up! Make a pact with a buddy who may also need to increase their stability. Having a friend can help you stick with your routine.
Progress carefully: Take it slowly. You can increase the difficulty by holding the static poses for longer or try closing your eyes. Just remember to be careful and have a support nearby.
(Having a pole to hold onto can help with stability during your static movements.)
Classes
If you enjoy the camaraderie of a group and the structured environment of a class, look around for yoga, tai chi, or balance classes. Senior centers, recreation centers, and free-standing yoga studios in your community may offer them.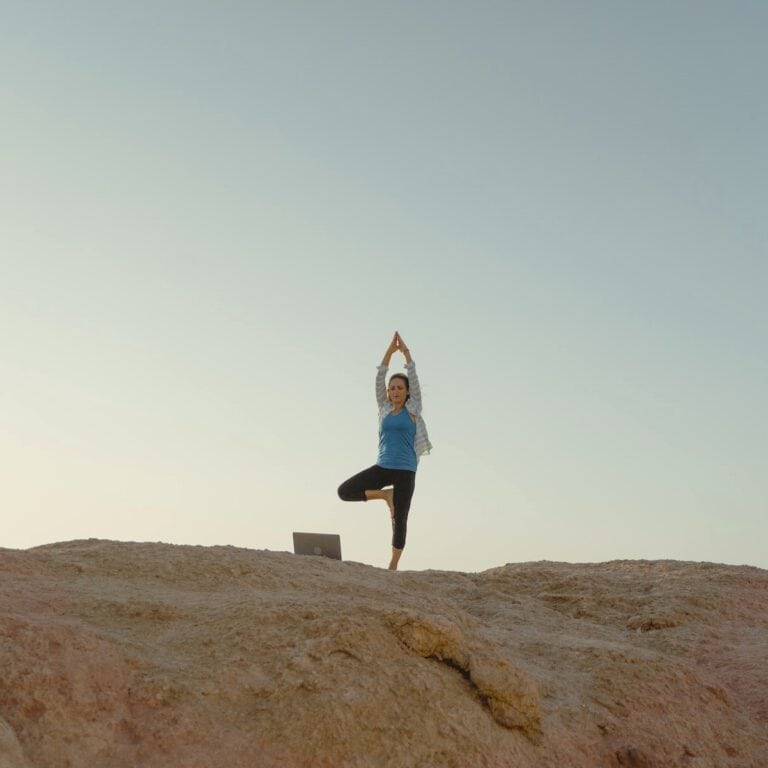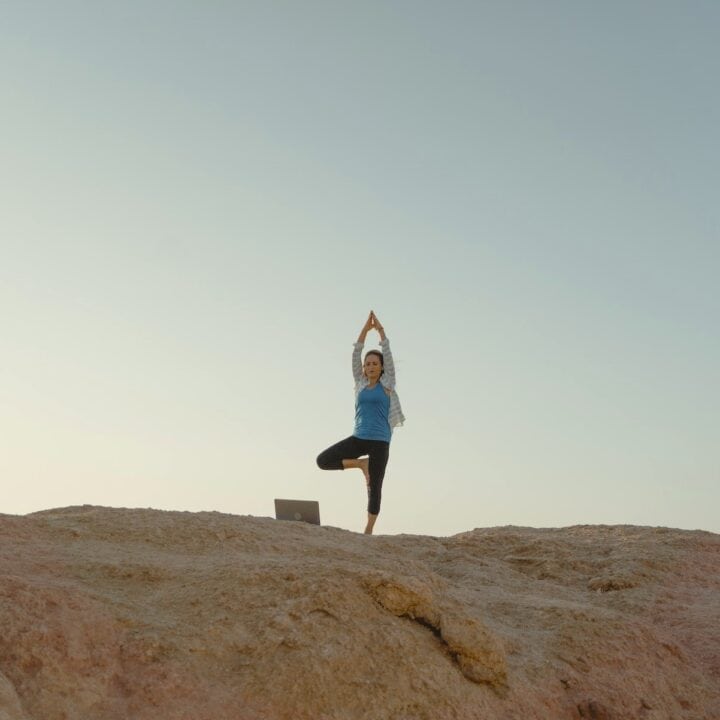 The National Institute on Aging offers several YouTube videos on balance exercises. Pinterest is another great resource. You can type "balance exercises for seniors" in the search bar on either Pinterest or Google.
However you choose to pursue a balance routine, remember that this type of exercise is not about racing and moving quickly. It's almost the opposite!
Listen to your body. That's part of the point–to make you more aware of how your body feels, especially in the space around you. Take care not to overdo your workout.
If you are feeling pain, that is not normal, and you should talk with your healthcare provider.
Conclusion
It's never too late or too early to start working on balance.
Regular, consistent balance work may help prevent falls, fractures, and injuries caused by declining coordination and/or awareness when navigating your environment. Having good strength and balance is important for independent living.
These exercises can improve your stability, increase mobility and flexibility, and enable you to move into your golden years more confidently.
More related articles...
Be sure to take a look at Losing Muscle Mass: Look to Food and Fitness if you want more information about staying strong as you age.
You also may enjoy Muscle and Joint Injuries: 5 Dietary Hacks.
Learn more about adding collagen protein to your eating plan with Collagen: 3 or 4 Ways It Keeps a Body Together.
Copyright © 2023 Jani H. Leuschel