Vibrant spinach is a fresh, green base for this main-dish winter salad starring roasted root veggies and a salmon filet. Creamy turmeric-ginger dressing sauces the roots and greens, while a scoop of farro adds whole grain goodness and ups the magnesium and fiber.
It makes a hearty lunch or a satisfying dinner. The sweet flavors of the slightly soft, roasty pieces of butternut squash, carrots, and parsnips stand out against mild, fresh spinach.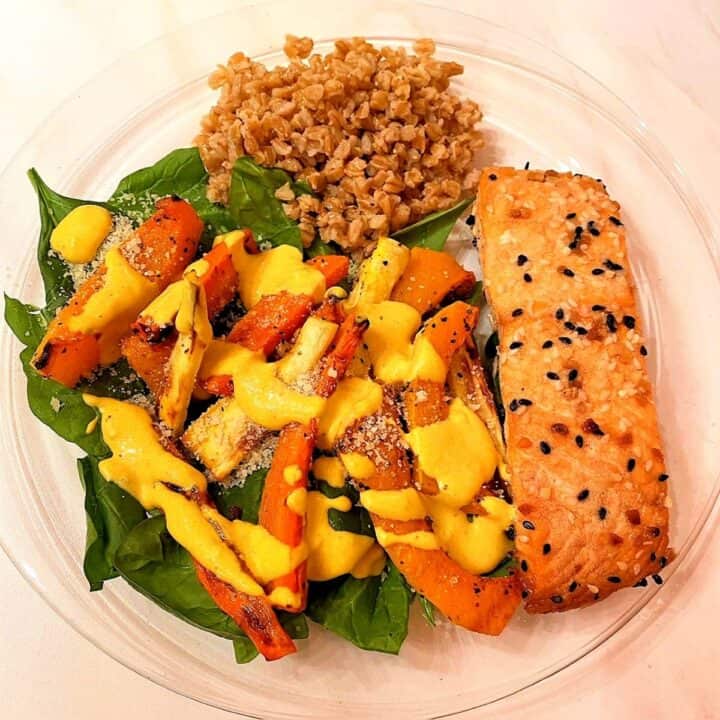 Storing root vegetables
Root vegetables are thought of as winter vegetables because they can be stored and eaten throughout the winter in regions with cold, seasonal weather. Traditionally, root cellars, cool underground storage areas that often have high humidity, housed veggies like carrots, turnips, potatoes for weeks to months.
Due to modern refrigeration, the use of a root cellar -- in a basement area, for example -- is no longer necessary. But, if you are a gardener who enjoys growing carrots, cabbage, potatoes, and other hardy vegetables, you may still employ a root cellar for storing a bountiful harvest.
Healthy root vegetables
Root vegetables grow underneath the ground and are full of vitamins, minerals, and antioxidants. But, their nutritional profile varies.
Those that are tubers, tuberous roots, or taproots are hearty carbohydrate storage organs. They are starchy like a grain, pasta, or bread product. Their rich supply of carbs makes them palate-pleasing. Examples of starchy roots include sweet and white potatoes, golden and red beets, turnips, rutabagas, cassava or manioc, and parsnips.
Some of these veggies can be relatively high in calories due to their ample carbohydrate content. Others, like carrots and radishes, are not carb-rich and have a low amount of starch.
Root veggies in the bulb family, such as onions and fennel, are very low in calories and carbohydrates. But, they are high in nutrition and make excellent flavor companions in cooking.
Some root veggies, such as turnips and celeriac, are excellent for bone health. Turnips contain calcium, and celeriac is an excellent source of vitamin K. People often think of vitamin K for its role in blood clotting but, higher blood levels often coincide with stronger bones because vitamin K promotes denser bone tissue.
A cup of mashed turnips has 76 mg of calcium, and a cup of raw celeriac has 64 mcg of vitamin K.
Both celeriac and russet potatoes contain vitamin C and potassium. Potatoes are a powerhouse source of potassium.
When you eat a medium baked potato with its skin, you take in more potassium than you would if you ate a banana, and you're making a big dent in the Recommended Daily Allowance (RDA) of 4,700 mg.
Less than 2% of people meet the RDA for potassium, a nutrient that helps with blood pressure control by balancing salt intake.
Of course, carrots and sweet potatoes are excellent sources of vitamin A, which is important for growth, skin, and eye health. The orange color of these roots is a tell for their high beta-carotene content. Carotenoids are nourishing antioxidant pigments.
Beets are beloved by many for their intense sweetness. Eating them, however, offers health and flavor bonuses. They are high in nitrates, which enhances blood vessel health and may improve exercise performance.
This is a greatest hits discussion of the nutrition found in root vegetables. Most are superb sources of fiber, and because root veggies grow underground, they absorb many micronutrients from the soil.
For a more detailed look at root vegetable nutrition, you can read The 13 Healthiest Root Vegetables.
Roasting root vegetables for salads and other dishes
Roasting the root vegetables that top the spinach salad brings out their sweetness. Keep checking as they roast in the oven so they don't get mushy, and take them out once they have reached your preferred degree of doneness.
The recipe calls for butternut squash, carrots, and parsnips, but you don't have to use this trio. A quick note on the squash, which is not a root veggie. It's actually a fruit. This makes sense, given the sweetness of its flesh.
Here are some other ideas for roasted root combos. Unless you are steaming, the vegetables should be tossed in oil before seasoning.
Golden beets and fennel: Slice and season with minced garlic, salt, and pepper. Top this duo with a sprinkle of goat cheese.
Sweet potato/yams, rutabagas, and onion: Chunk the sweet potatoes and rutabagas, and thickly slice the onions. Coat with a bit of molasses, freshly ground black pepper, allspice, and salt.
Acorn squash with tiny baby potatoes: Slice the acorn squash into rings and cut the potatoes in half. (Leave them whole if they are tiny.) Season with lemon, sumac, nutmeg, and/or thyme as well as salt and pepper.
Celeriac with russet potatoes: Instead of roasting, steam these root veggies together until soft. Mash them with milk, a bit of butter, salt, and pepper. Serve sprinkled with Parmesan and parsley.
Anti-inflammatory spinach salad with salmon
This winter salad comes together quickly if you prep the root veggies. I use the neck of the butternut squash, peeled and cut into slices along with thickly sliced planks of carrot and parsnip Try to cut all three vegetables to a similar size and shape.
Although I love the chewy bite of farro (Italian barley), you don't have to add a side of grains. Whole-grain crackers, breadsticks, or rolls may be enough to take this spinach salad with salmon from sufficient to satiating.
The turmeric-ginger dressing of this salad adds another layer of anti-inflammatory goodness. For centuries, turmeric and ginger have been used in Eastern medicine to fight pain and inflammation.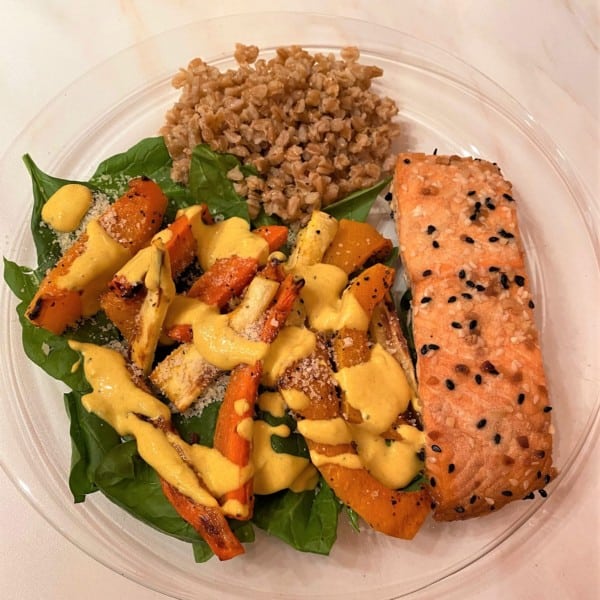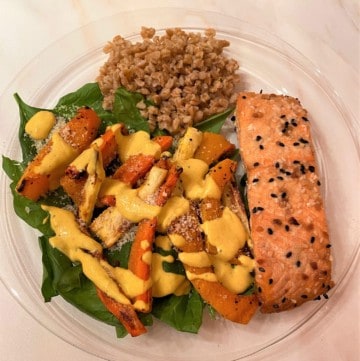 Spinach Salad with Salmon, Roasted Root Veggies, and Turmeric Dressing
A satisfying main dish salad for the cold season -- loaded with anti-inflammatory ingredients.
Equipment
roasting pan

heavy-duty foil

measuring cup

vegetable peeler
Ingredients
1½

cups

butternut squash

slices, use the neck

2

carrots

medium, sliced into planks

1

parsnip

medium, sliced into planks

2

Tablespoons

olive oil

extra virgin

1

teaspoon

garlic

minced

½

teaspoon

dry mustard

½

teaspoon

salt

¼

teaspoon

black pepper

freshly ground

¼

teaspoon

red pepper flakes

4

4-ounce

salmon filets

4

teaspoons

everything bagel seasoning

3

Tablespoons

Greek yogurt

whole milk

2

Tablespoons

orange juice

fresh-squeezed

1

Tablespoon

mayonnaise

1

Tablespoon

olive oil

extra virgin

2

teaspoons

soy sauce

reduced-sodium

1

clove

garlic

large, pressed

1½

teaspoons

ginger paste

1½

teaspoons

honey

1

teaspoon

turmeric

¼

teaspoon

coriander

¼

teaspoon

black pepper

freshly ground

salt

to taste
Instructions
Preheat oven to 375 F. Line a roasting pan with foil.

Place the cut squash, carrots and parsnip in a medium bowl or zip bag.

Season veggies with olive oil, garlic, dry mustard, salt, and black and red pepper. Pour onto prepared pan and distribute evenly. Begin roasting root veggies in the oven as you prep the salmon.

Place the salmon on a foil-lined baking sheet. Sprinkle with the everything bagel seasoning. Put the salmon into the oven and roast for 12 minutes.

After the vegetables have roasted for 15 minutes, remove them from the oven. They should be slightly soft and a little caramelized.

Meanwhile, divide the spinach leaves among 4 plates.

Make the dressing by combining all remaining ingredients in a small measuring cup and whisking.

When the salmon comes out of the oven, top the spinach with the slightly cooled vegetables, and drizzle with dressing.

Place a salmon fillet alongside the spinach. Enjoy!
Notes
This winter salad is full of ingredients that fight pain and inflammation. It also enhances heart and cognitive health with vitamin K (spinach) and omega-3 fats (salmon). When you eat it, however, you'll focus more on its yummy taste than the health benefits!
The root vegetables can be peeled and cut in advance and stored in the refrigerator. You don't have to peel the carrots and parsnips if you scrub them with a vegetable brush.
Butternut squash can be a difficult prep because your hands get coated with its juices and that squash sap is hard to scrub off. The solution: Wear gloves while you peel and cut up your gourd.
Nutrition
Calories:
444
kcal
Carbohydrates:
21
g
Protein:
28
g
Fat:
28
g
Saturated Fat:
5
g
Trans Fat:
0
g
Cholesterol:
73
mg
Sodium:
844
mg
Potassium:
473
mg
Fiber:
4
g
Sugar:
8
g
Vitamin A:
10922
IU
Vitamin C:
26
mg
Calcium:
113
mg
Iron:
2
mg