Chocolate protein pancakes combine two favorite eating opportunities: fluffy pancakes and chocolate.
Many of us love pancakes but hate that sluggish feeling that takes over after eating a syrup-soaked stack.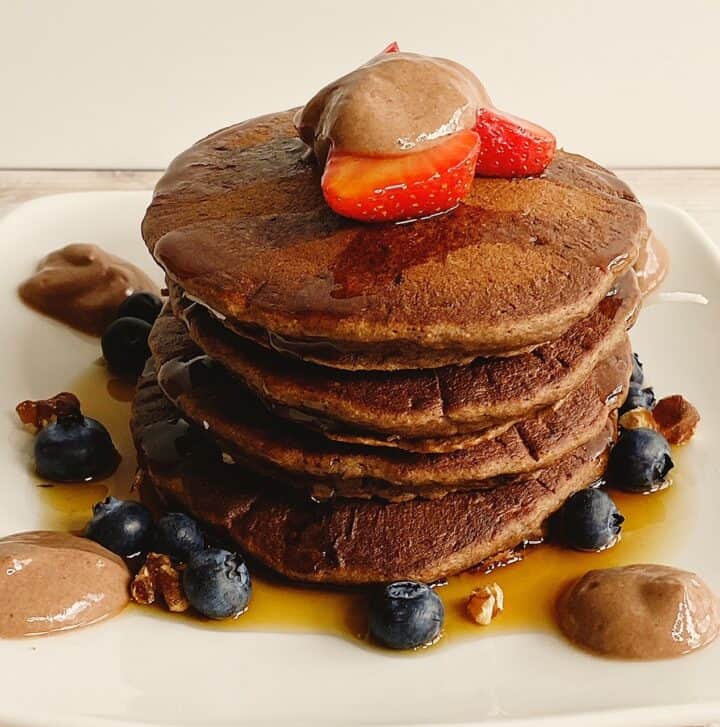 Plus, sometimes, pancakes don't keep hunger away for long because they're loaded with carbohydrates, which are digested quickly.
Add protein and they will keep you full for ages and fuel your muscles. Plus, you won't be so droopy afterward! A single serving of these pancakes offers 18 grams of protein when topped with chocolate yogurt sauce (recipe included).
As an Amazon Associate, I earn a small commission at no cost to you when you make a purchase from links on this blog. Thank you!
Ingredients: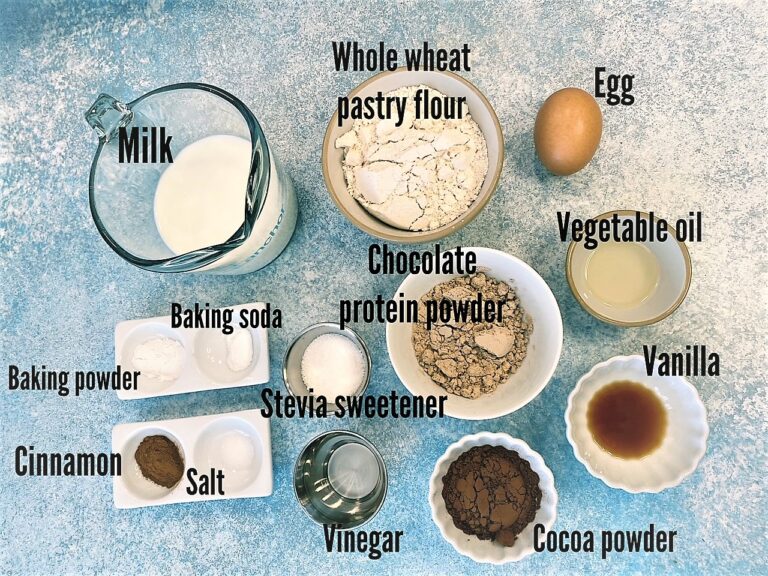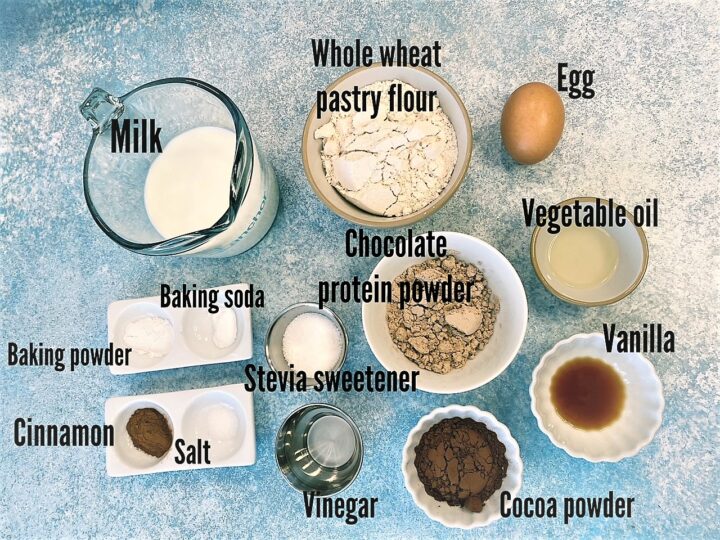 1 cup milk of choice (dairy or plant-based)
1 Tablespoon vinegar (any kind)
1 cup whole wheat pastry flour (can sub gluten-free or oat flour)
¼ cup chocolate protein powder (your choice)
2 Tablespoons cocoa powder
2 Tablespoons stevia-blend sweetener (Truvia sweet complete, Pyure, or sub cane or coconut sugar)
1 teaspoon of cinnamon (optional)
1 teaspoon baking powder
½ teaspoon baking soda
¼ teaspoon salt
1 egg
1 Tablespoon vegetable oil (canola, coconut, corn)
1 teaspoon vanilla
Milk deets: Any type of dairy or plant milk works in chocolate protein pancakes. Use vinegar to sour the milk before mixing it with the dry ingredients. White or apple cider vinegar is a good choice, but lemon juice will also cause the milk to curdle.
(Curdled milk will make your pancakes fluffier and tastier!)
Flour facts: If you prefer gluten-free flour, choose traditional gluten-free flour rather than almond flour. Whole-wheat pastry flour or regular all-purpose flour, however, may yield a loftier pancake.
Protein powder: The chocolatey flavor of chocolate protein powder boosts the taste, but it's okay to sub a collagen powder. Any kind of protein powder, such as pea or whey, is fine.
Cocoa powder: For cocoa powder, I prefer the intense taste of Scharffenn Berger natural cocoa powder. But, it has a stronger flavor than Hershey's, which has been Dutched, a process that adds alkali to give it a smoother flavor.
More on how Dutching affects nutrition is below.
Because the recipe contains both baking powder and baking soda, you can use any type of cocoa powder you like.
Sweetener: To decrease the amount of added sugars, I often use a stevia-based sweetener. Feel free to replace this with regular sugar or another sweetener.
When using a stevia baking blend, check the label to see if it measures exactly the same as sugar. Sometimes, you only use half as much stevia sweetener as sugar.
Note: These pancakes have many ingredients. When developing the recipe, I tried fewer ingredients, but the result was not as tasty!
Chocolate yogurt sauce ingredients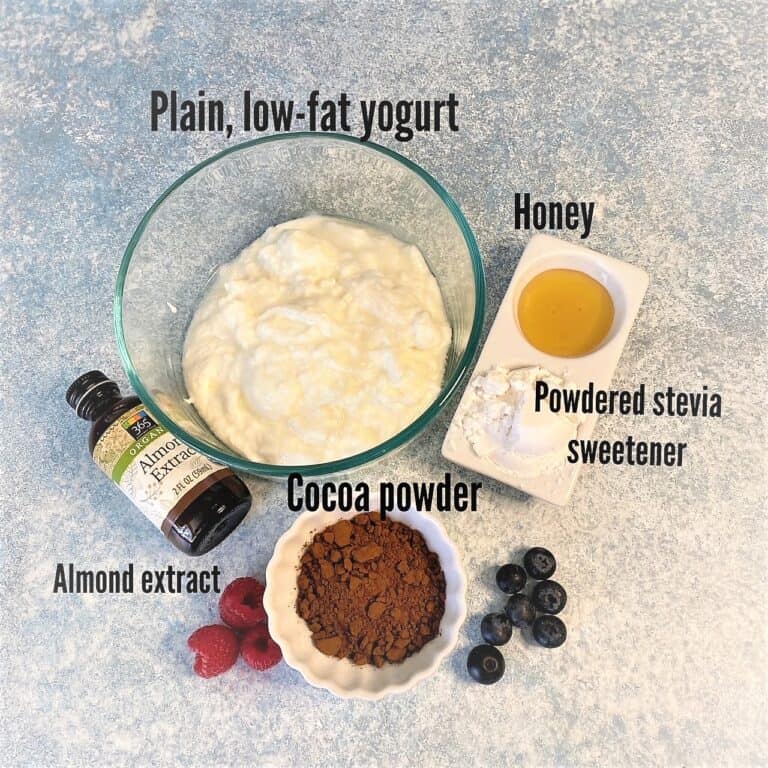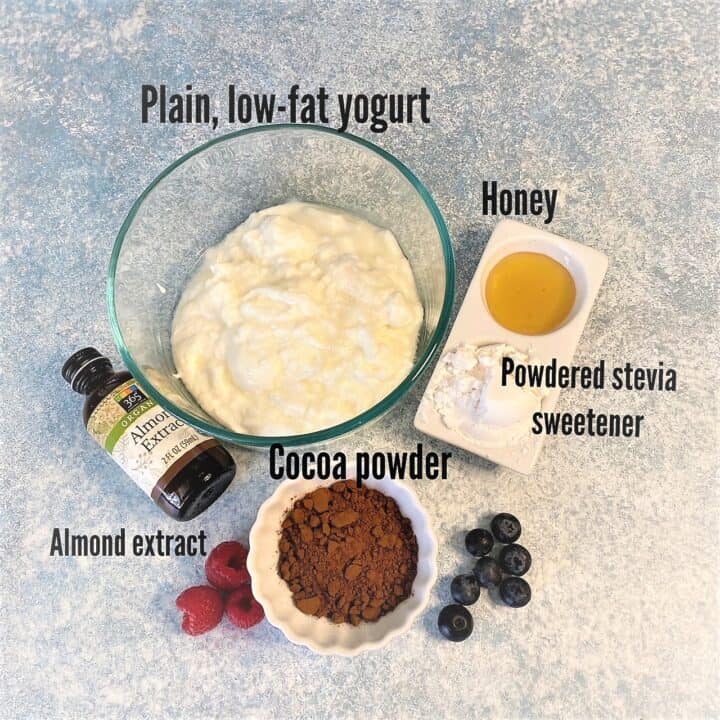 1 cup low-fat yogurt
2 Tablespoons cocoa powder
2 Tablespoons stevia- or erythritol-blend powdered sugar (like Swerve or Truvia)
1 Tablespoon honey
½ teaspoon almond extract
⧫ Yogurt choice: To top the pancakes, plain yogurt gives a saucier result than Greek yogurt, but feel free to substitute Greek yogurt or use a plant-based yogurt.
⧫ Sweetener: The powdered sugar substitutes made with a stevia or erythritol blend tend to melt into the yogurt. Combined with the honey, they give the chocolate sauce a nice smooth flavor.
Swerve, Truvia, and Pyure are three brands of powdered sugar substitutes that I have tried. They are available in large grocery stores, or you can order them.
For more info on stevia sweeteners, read my blog on erythritol.
⧫ Other pancake toppings: Regular syrup and maple syrup, of course, are yummy on pancakes. Sugar-free pancake syrups are good, too. A drizzle of chocolate sauce is especially festive!
Optional add-ins: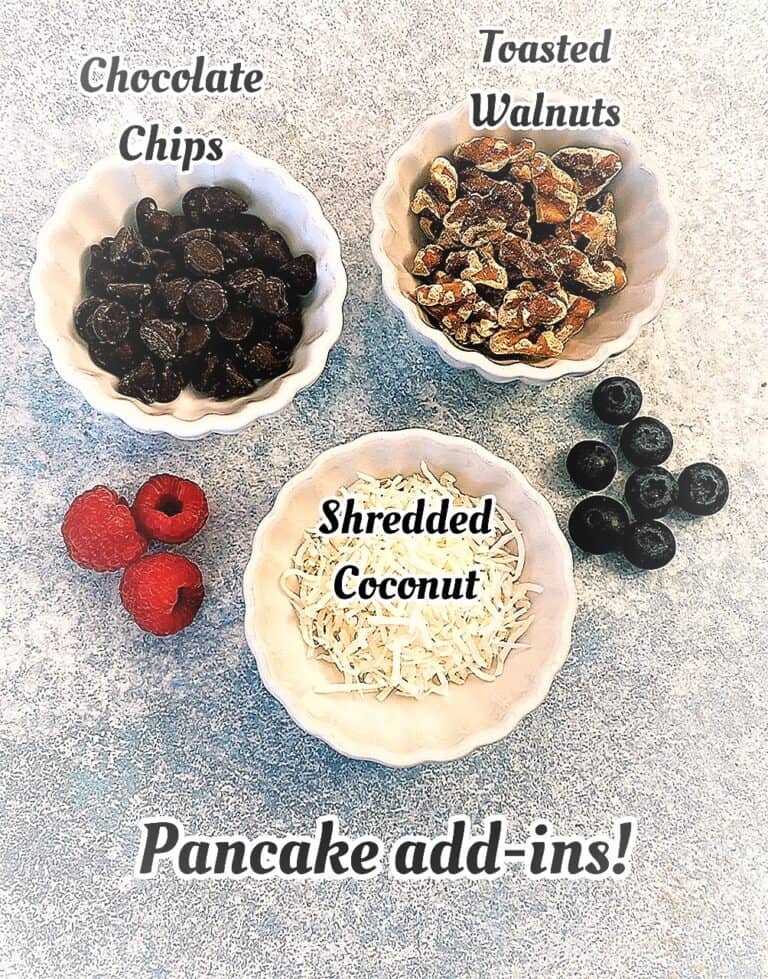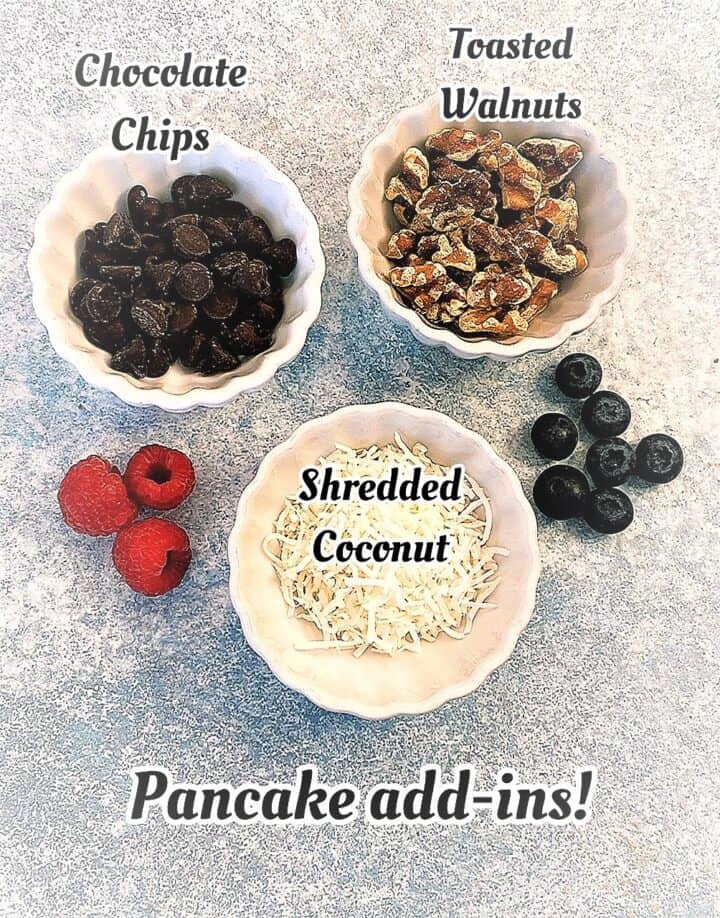 Sprinkle these into the pancake batter before flipping the pancakes on the griddle.
How to make chocolate protein pancakes
Sour the milk by adding a teaspoon of vinegar. Put the milk and vinegar aside while getting the dry ingredients. The combo needs a few minutes to curdle.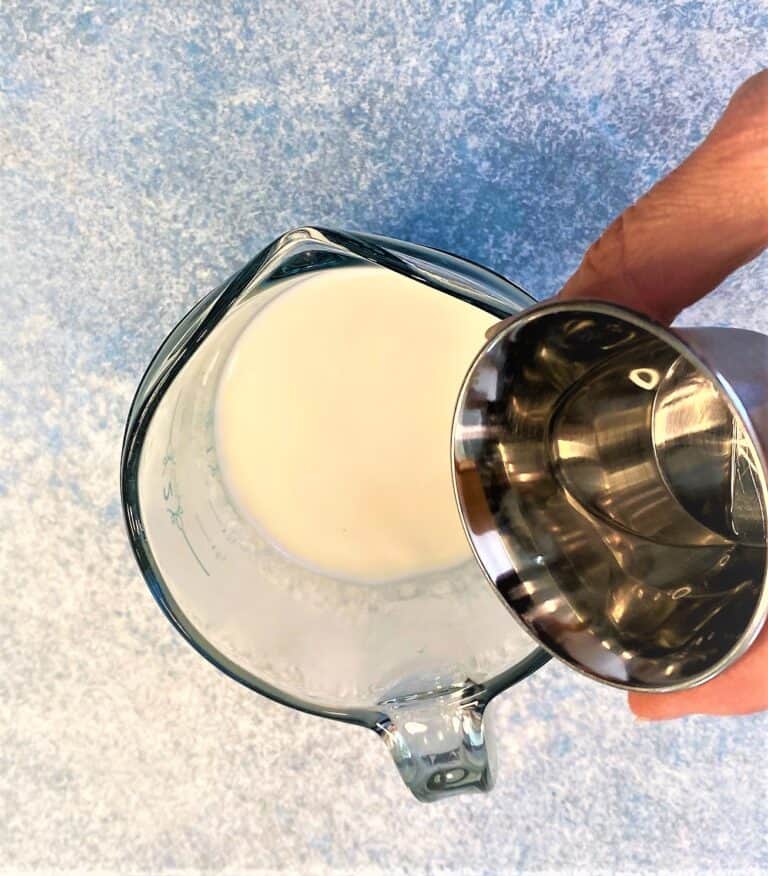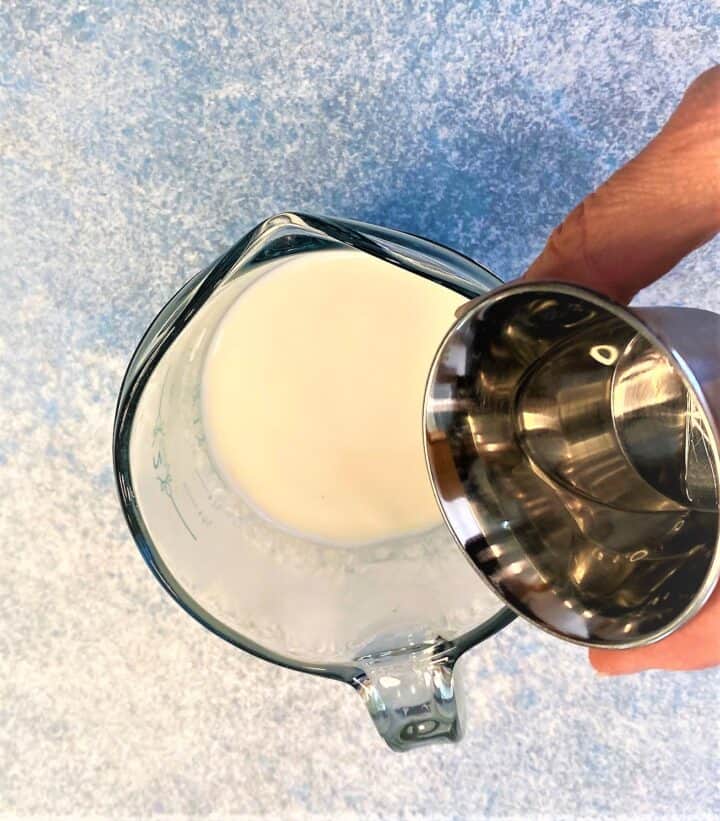 In a medium bowl, combine all the dry ingredients and blend with a whisk.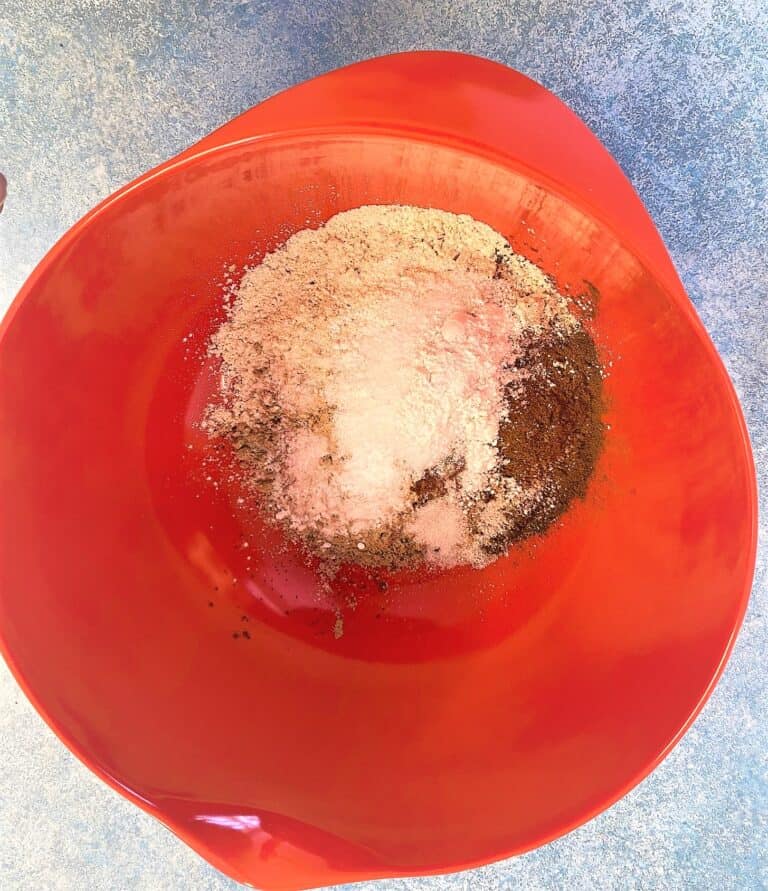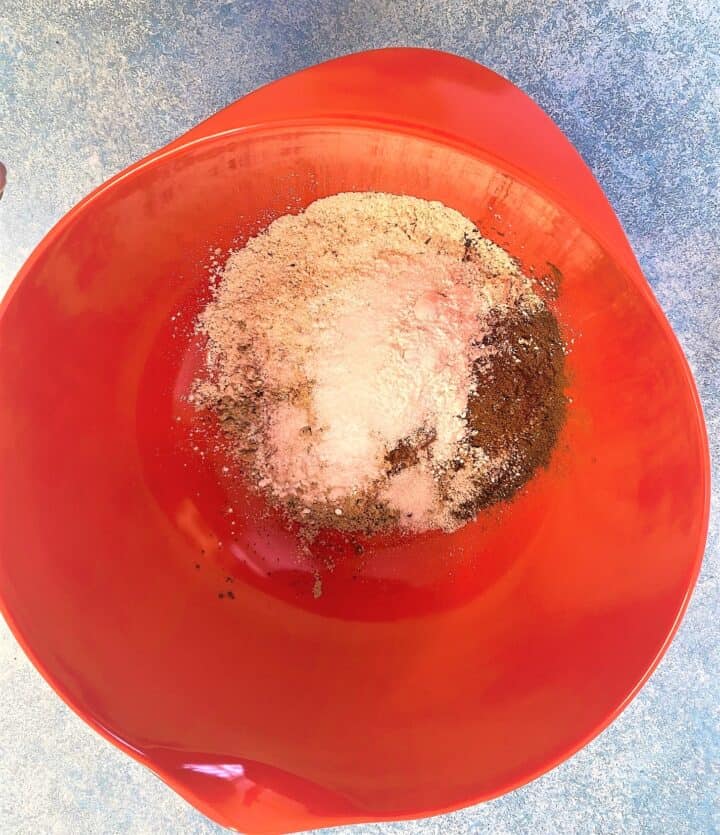 Add the remaining wet ingredients to the soured milk and beat with a whisk until the color is uniform.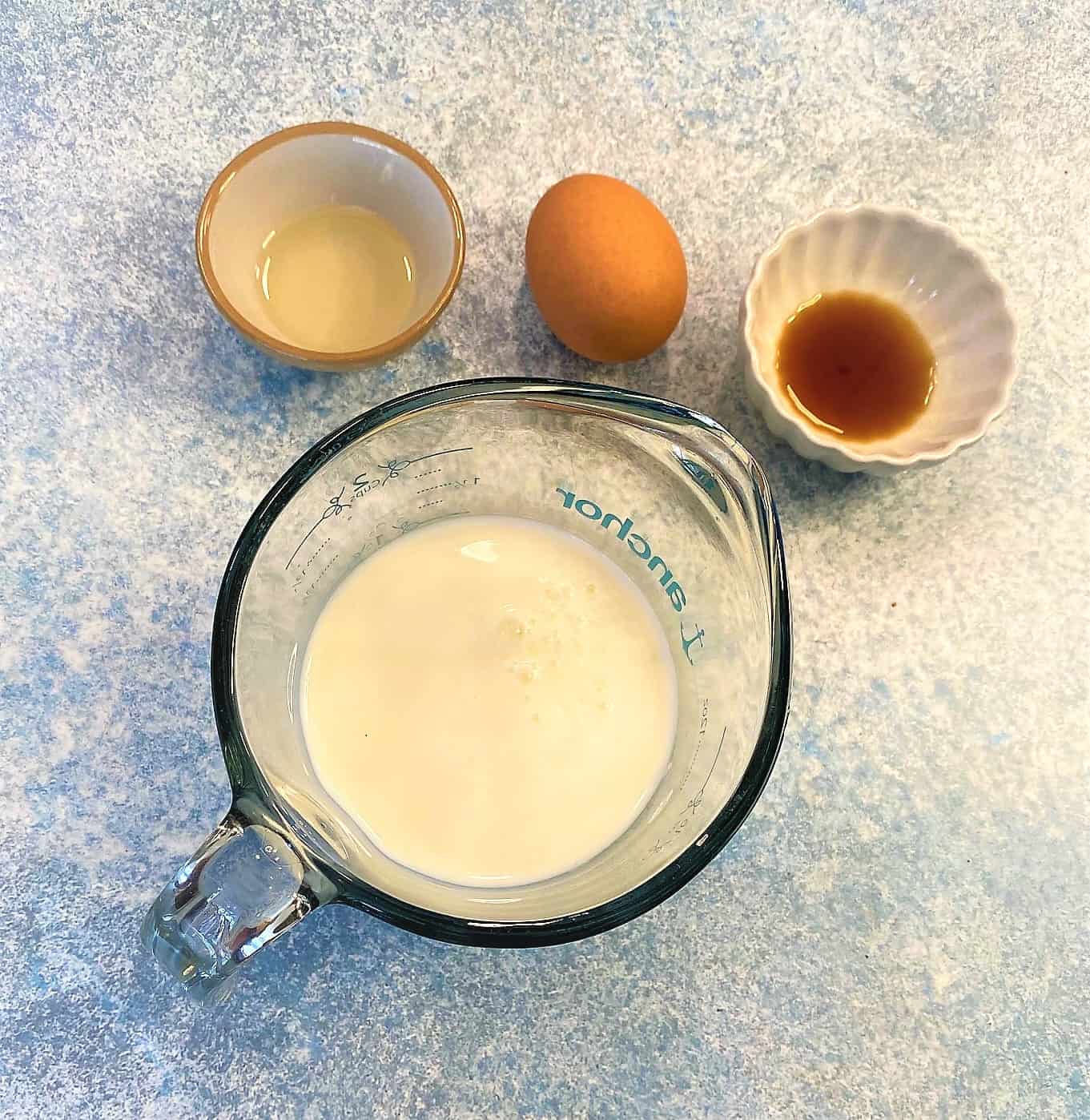 Make a well in the center of the dry ingredients and pour in the wet ingredients.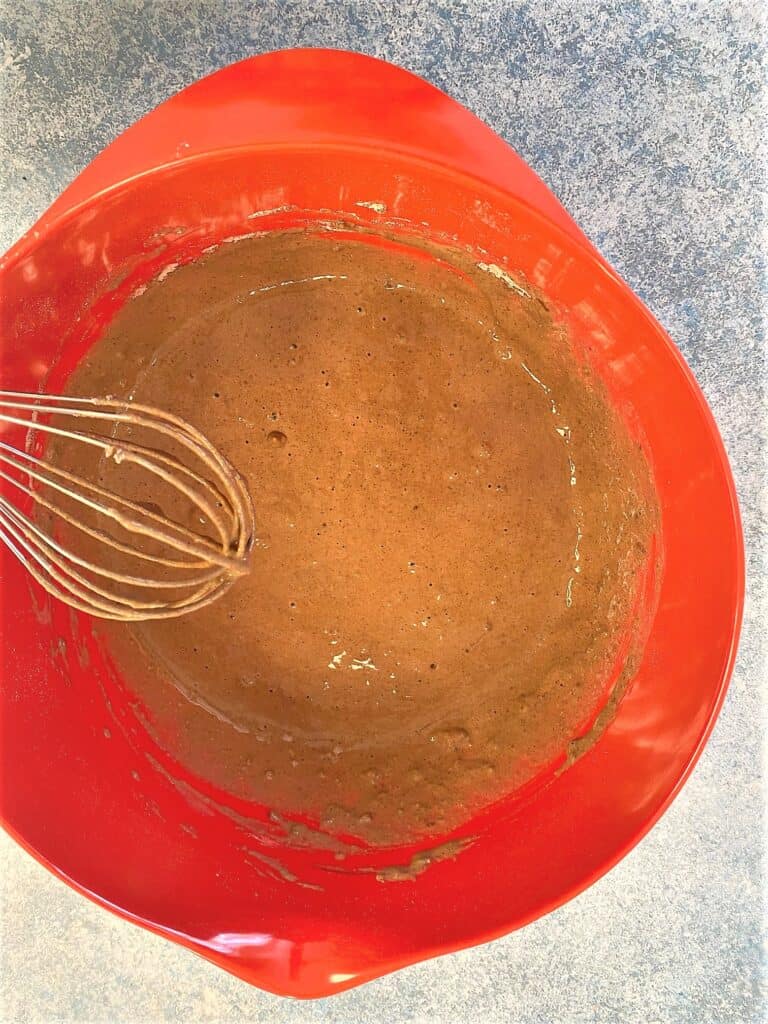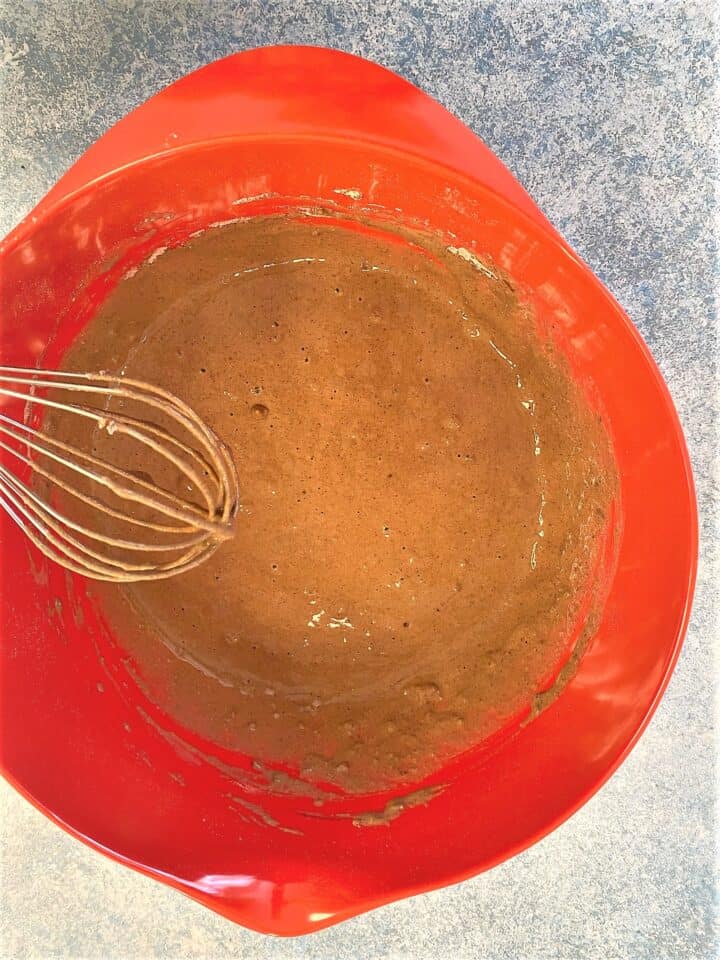 Mix until there are no more dry spots in the batter, leaving it slightly lumpy.
Set the chocolate protein pancake batter aside for three to five minutes while heating a non-stick griddle or heavy skillet.
When it comes to a non-stick griddle, it doesn't get much better than the large stovetop model from Cuisinart. It covers two burners, so it has plenty of room!
For the pancakes, pour a one-fourth to one-third cup of batter onto the griddle. Let cook until the edges begin to look dry and a few bubbles form on the surface of the pancake.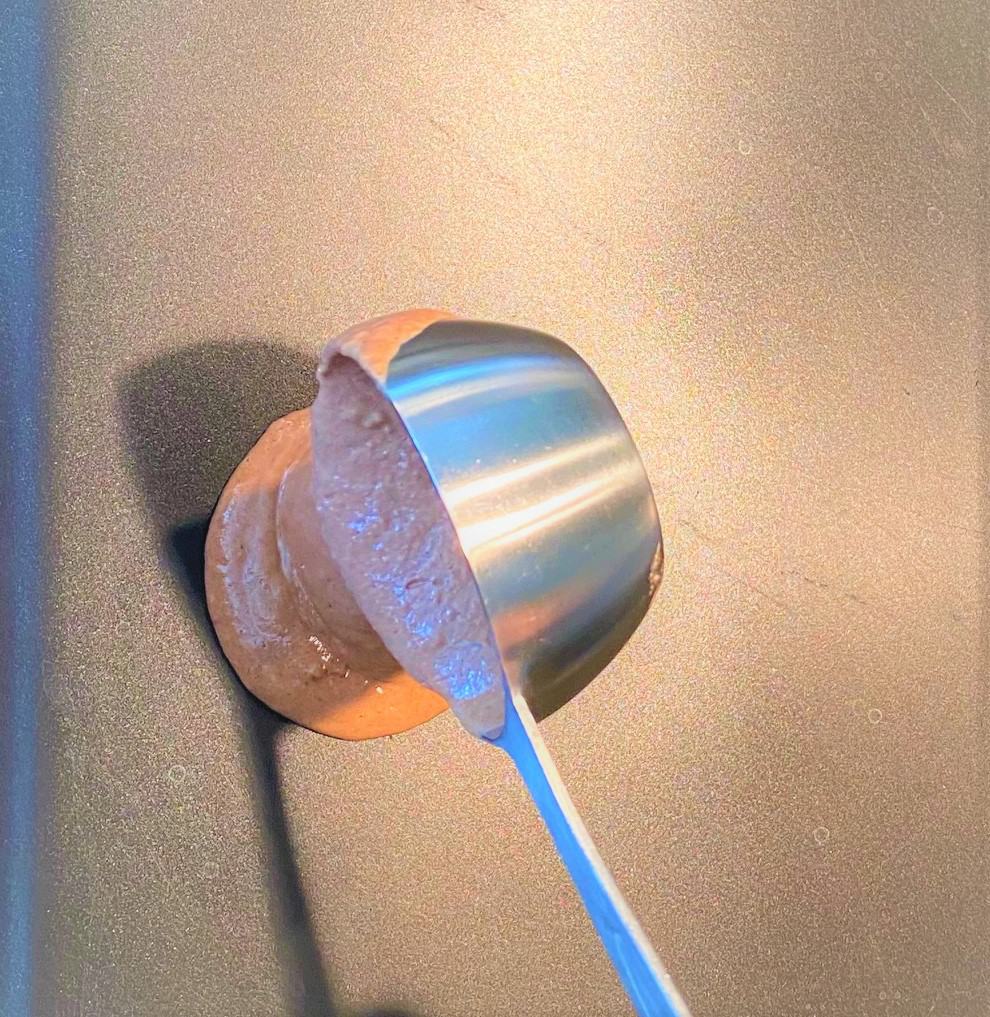 Flip pancakes and cook for a minute or two more. Remove to plate and cover with foil. Continue cooking pancakes in this way, stacking them on a plate and covering with foil until all the batter is used.
Serve topped with chocolate yogurt sauce, and/or syrup, and a side of fruit.
To make the yogurt sauce, simply combine all ingredients in a bowl and whisk until smooth and blended.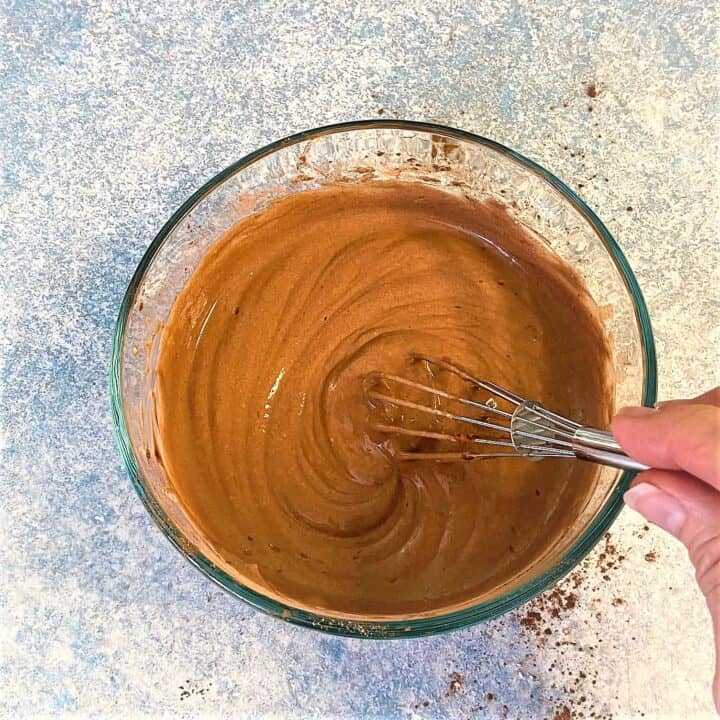 Storing and reheating
Place pancakes between parchment or wax paper and put them into a silicone or plastic storage bag.
They will keep in the refrigerator for only a couple of days. Freeze them for up to three months.
Toaster and microwave ♨
Leftover pancakes can be quickly warmed for a fast, winning breakfast!
Microwave: A single, frozen pancake for a minute on high, and a refrigerated pancake for 20 seconds.
Toaster: Put pancakes in bread slots to reheat. Use a lower setting.

Toast twice if the pancake is not warm and thawed.
High toaster settings may cause too much browning.
Nutrition bonuses of chocolate protein pancakes 💪🏽
A single serving of pancakes with chocolate yogurt sauce has 18 grams of protein, about the same amount as two eggs and toast.
Why eat protein?
It can help with weight control because it keeps you feeling full for longer. Less hunger often translates into fewer snacks.
It fuels your muscles. Research has shown that keeping a steady supply of amino acids, the building blocks of protein, available in your bloodstream throughout the day helps to maintain your lean mass and build new muscle.
How much protein should I eat?
The daily amount (DRI) for adults recommended by the Institute of Medicine is about 0.4 grams per pound of body weight, which would be about 55 to 60 grams for a 150-lb person.
This may not be enough depending on your age and activity level.
Older age: If you are past the age of 50, you may require 0.5 to 1.2 grams per pound of body weight each day to maintain your muscles and slow any loss of lean mass. Aging makes our bodies less efficient at building and hanging onto muscle tissue.
To learn more about keeping your muscles into old age, check out my article on using food and fitness to stay strong.
Physical activity: Athletes and highly active individuals also need to eat more protein to prevent losing muscle mass and bank lean tissue. This translates into 0.6 to 1.0 grams per pound of body weight daily.
In addition, to maintain muscle mass, recent research recommends eating protein throughout the day in the amount of 0.65 to 1.1 grams per pound of body weight daily.
Chocolate nutrition power 🧨
Cocoa is well-known for its healthy plant compounds, aka flavanols. A recent report from Consumer Lab* noted the following benefits of regular flavanol use:
reducing the risk of cardiovascular disease
helping with blood sugar management
improving brain function
making your skin smoother and tauter
*Consumer Lab may require a subscription to view this content.
What type of cocoa has the most flavanols, natural or Dutched?
Natural cocoa contains more flavanols than Dutched cocoas, which have alkali added so they taste smoother and have a darker (thought to be more chocolatey-looking) color.
Sometimes using Dutched cocoa powder creates a problem in recipes because it is more neutral in pH than natural cocoa powder. But, you can use either type of cocoa in chocolate protein pancakes and get a delicious, fluffy result.
The minimum amount of flavanols required for health benefits is 200 mg, and you'll get that in each serving of chocolate protein pancakes with chocolate yogurt sauce.
For reference, one to one and one-fourth tablespoons of cocoa powder offer about 200 mg of flavanols.
When to eat chocolate protein pancakes
Enjoy them at a festive brunch, with all the bells and whistles--syrups, sauces, berries, whipped cream, and delicious beverages!
They're a good choice for Mother's Day, Easter, or a family occasion. Add a side of ripe fruit, such as berries. mango chunks, or orange slices, for extra vitamins and fiber.
Serve them on the weekend to get ready for an active day. When you add a cup of coffee or tea, they can add oomph to a workout or any athletic activity!
Chocolate protein pancakes are also a great recovery meal after your gym session or physical activity.
Other recipes you might like
If breakfast is your jam, here's a recipe for cinnamon rolls. It's a healthy-ish riff on the traditional pastry that contains whole grains.
When you need chocolate and dessert in hurry, try this No-bake Chocolate Pie recipe. It comes together in about 15 minutes if you've got a graham cracker or cookie crust on hand!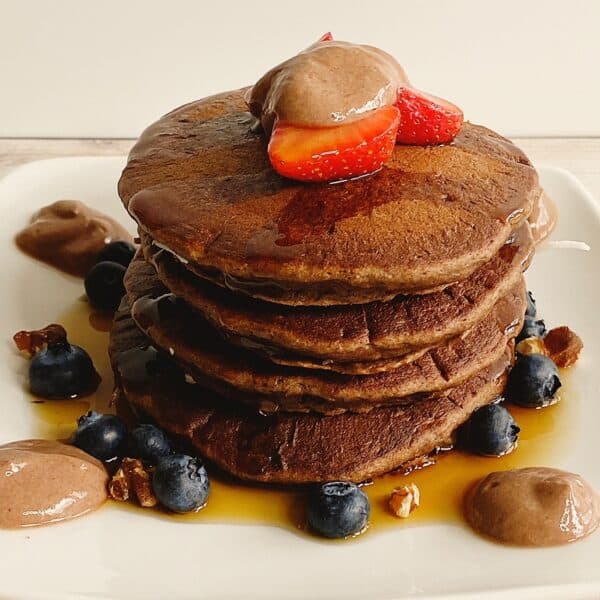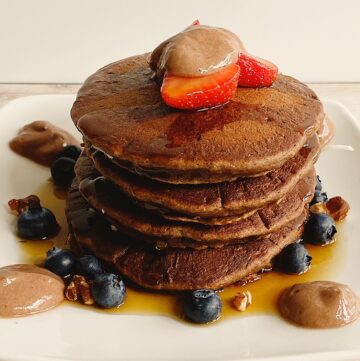 Chocolate Protein Pancakes with Chocolate Yogurt Sauce
Fluffy, brunch-worthy cakes with taste and health benefits
Equipment
non-stick griddle

or large, heavy skillet

Medium bowl

whisks, spatulas
Ingredients
1

cup

milk

any type except non-fat

1

Tablesoon

white vinegar

or lemon juice

1

cup

whole-wheat pastry flour

¼

cup

chocolate protein powder

2

Tablespoons

cocoa powder

2

Tablespoons

stevia-blend sweetener

check label to be sure it measures spoon for spoon like sugar (can substitute sugar)

1

teaspoon

cinnamon

optional

1

teaspoon

baking powder

½

teaspoon

baking soda

¼

teaspoon

salt

1

egg

1

Tablespoon

vegetable oil

canola, coconut, or corn

1

teaspoon

vanilla
Chocolate Yogurt Sauce
1

cup

plain low-fat yogurt

2

Tablespoons

cocoa powder

2

Tablespoons

stevia-blend confectioner's sugar

or regular powdered sugar

1

Tablespoon

honey

½

teaspoon

almond extract
Instructions
Wash hands with soap and water for 20 seconds.

Pour milk into a liquid measuring cup that will hold at least 2 cups. Add vinegar or lemon juice and put aside until needed.

Heat a non-stick griddle to medium-low.

In a medium bowl, combine flour, protein powder, cocoa powder, stevia-blend sweetener, cinnamon, baking powder, baking soda, and salt. Whisk thoroughly to combine, breaking up any lumps in the protein or cocoa powder.

Retrieve the measuring cup with the milk-vinegar mixture. Add the egg, vegetable oil, and vanilla. Beat with a whisk until smooth.

Make a well in the center of the dry ingredients. Pour in the wet ingredients. Whisk lightly until combined, being careful not to overbeat. The batter should not be perfectly smooth.

Let the batter sit for 3 to 5 minutes, and then pour about ⅕ cup of batter on the hot griddle to make a pancake about 4 inches in diameter.

Cook on griddle until the pancake is lightly set, with slightly dry edges and a few bubbles forming on top.

(At this point, you can add extras like shredded coconut, mini chocolate chips, and/or toasted nuts to the cakes.)

Flip, and allow to cook for a minute or two before removing to a warm plate.

Continue cooking pancakes until all the batter is used. Serve with syrup, chocolate yogurt sauce, and/or berries.
Chocolate Yogurt Sauce
In a small bowl, combine plain yogurt with cocoa powder, stevia-erythritol confectioner's sugar, honey, and almond extract.

Beat with a whisk until all ingredients are smooth and blended.

Serve with pancakes, waffles, or as a dip for strawberries.
Notes
Stevia baking sweeteners, such as Truvia, are often blended with erythritol, but they don't always measure spoon for spoon just like sugar. Sometimes, you will only use half as much stevia sweetener as you would sugar.
Please read your label! 👀😊
Nutrition
Calories:
282.7
kcal
Carbohydrates:
36.5
g
Protein:
18
g
Fat:
9.4
g
Saturated Fat:
3.4
g
Polyunsaturated Fat:
2.6
g
Monounsaturated Fat:
1.9
g
Trans Fat:
0.1
g
Cholesterol:
59.5
mg
Sodium:
480
mg
Potassium:
350.5
mg
Fiber:
6.3
g
Sugar:
10.2
g
Vitamin A:
195.2
IU
Vitamin C:
0.1
mg
Calcium:
273.9
mg
Iron:
2.1
mg
Copyright © 2022 Jani H. Leuschel