This chocolate cream pie wins hearts on Valentine's Day–or any day. Your family will love its rich taste. You'll love the quick prep and slightly healthy vibe.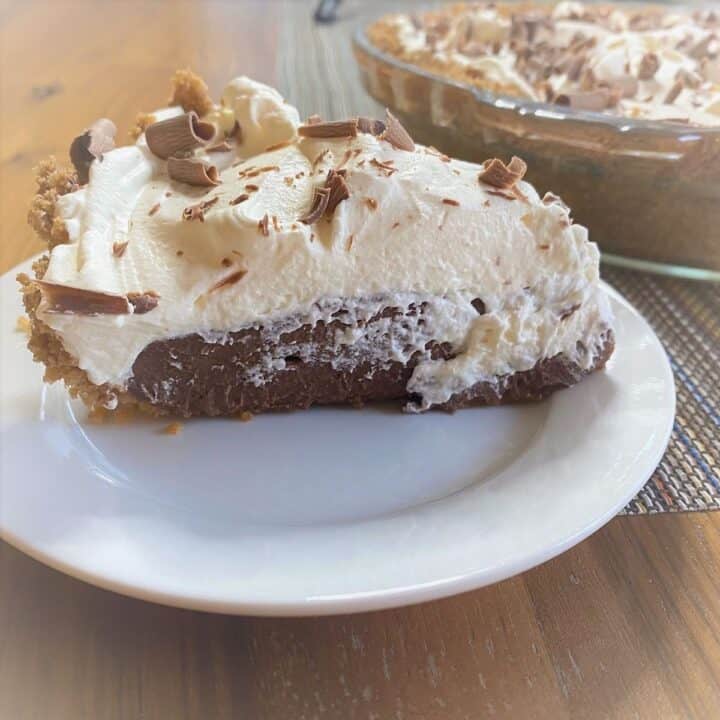 The filling has a lovely dark chocolate flavor from a combo of cocoa powder and bittersweet chocolate chips.
Plus, you cook it in the microwave, so it takes only 15 minutes from start to finish. Add another 10 minutes for a scratch-made graham cracker or oreo cookie crust! Or, simply pour it into storebought crust.
February is heart month, and while this pie is not necessarily low in fat or full of fruits and vegetables, it does have less saturated fat than many similar pies.
That said, your cardiologist probably won't put this pie on a list of recommended foods! It does, however, serve up some good nutrition in every creamy, dreamy bite!
What ingredients do you need?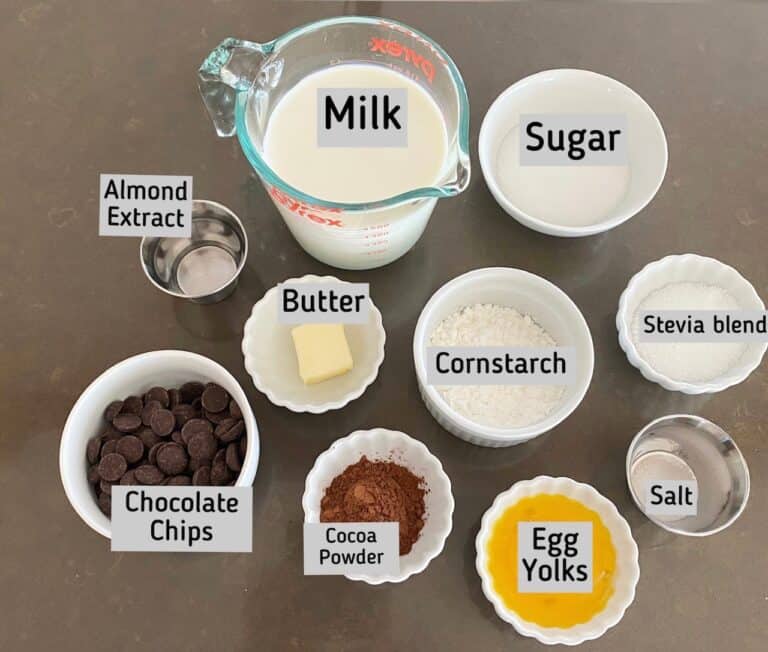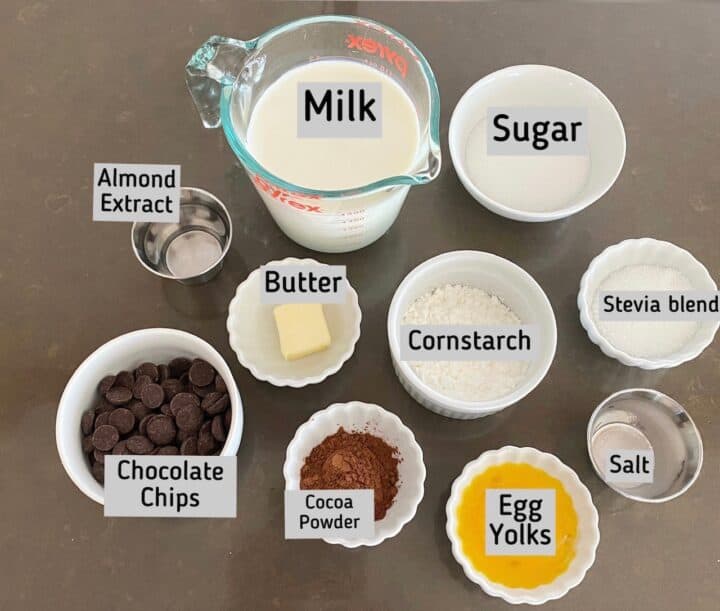 Sugar
Cornstarch
Truvia Sweet Complete or other granulated stevia blend sweetener (optional)
Cocoa powder
Salt
Milk
Egg yolks
Chocolate chips or chopped chocolate
Almond extract
Pie crust – storebought or homemade
Sugar/Stevia: Feel free to simply use more sugar and leave out the granulate stevia sweetener entirely. I like to sub it for some of the sugar to shave a few added sugars off the final count.
Cocoa powder: I Iike Hershey's Dark cocoa powder or Scharfenn Berger cocoa powder to give the pie a darker flavor, but any sort will be fine.
Milk: Here is an opportunity to add nutrition in the form of extra protein and calcium by using ultra-filtered milk. The fact that it's lactose-free is another point in its favor.
Do not use 2 percent or other low-fat milk. The fat in the whole milk helps the filling set and gives it a richer taste.
(Half and half works beautifully in this pie, but it will increase the calories and saturated fat.)
Chocolate chips: Regular semi-sweet chips are okay, but bittersweet chips from Ghiradelli or Guittard are the bee's knees. The deep chocolate morsels enhance the dark deliciousness of the pie. Look for 60 percent cacao.
Pie crust: You can go ahead and use a regular pre-baked pastry crust, but I prefer a graham cracker or cookie-crumb crust. They're really easy to make from scratch.
Of course, you can buy a graham cracker or Oreo crust at the store in a foil pie tin. You can also find nut crusts and gluten-free gingersnap crusts at the store.
Using the gingersnap crust (from Mi-Del) makes the pie entirely gluten-free. So, you can serve it to anyone who avoids wheat, such as friends or family with celiac disease or non-celiac sensitivity.
As an Amazon Associate, I earn a small commission at no extra cost to you from purchases made through the links on this blog. Thank you!
Putting your pie together
Start by selecting a large Pyrex measuring cup or glass/ceramic bowl that fits in your microwave. Whisk together all the dry ingredients: sugar, cornstarch, stevia blend (if using), cocoa powder, and salt.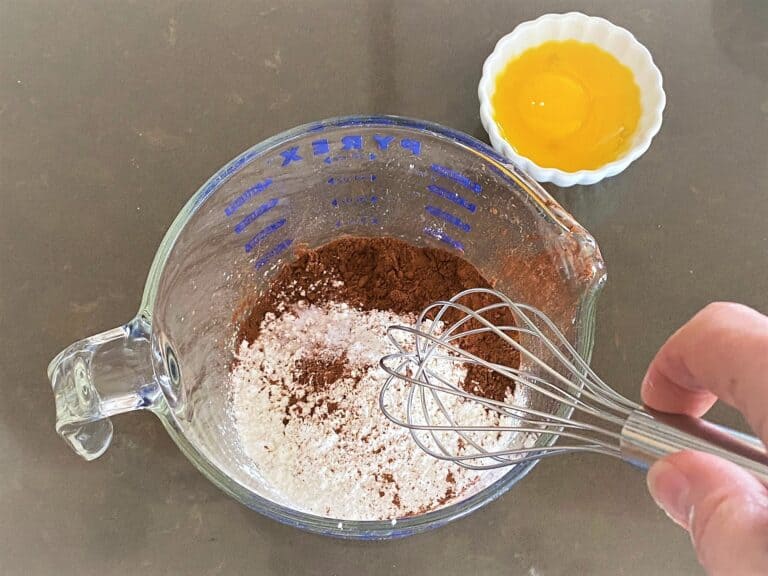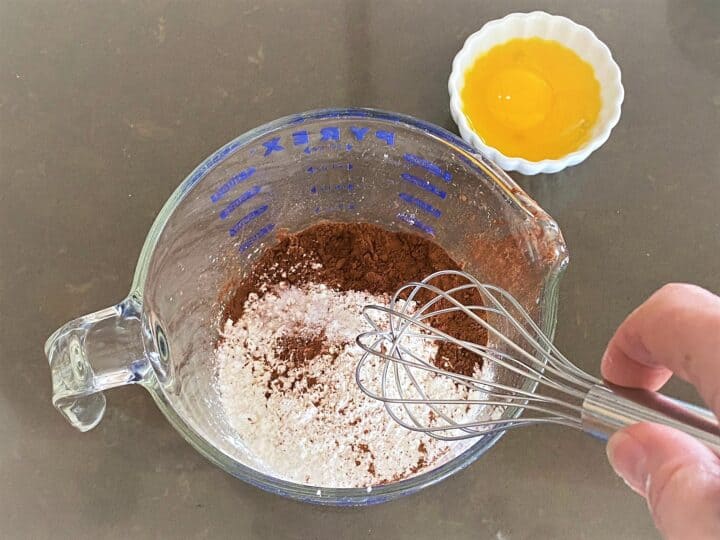 Add ½ cup of milk and make a smooth, loose paste. Add the egg yolks and whisk well. Blend in the remaining milk.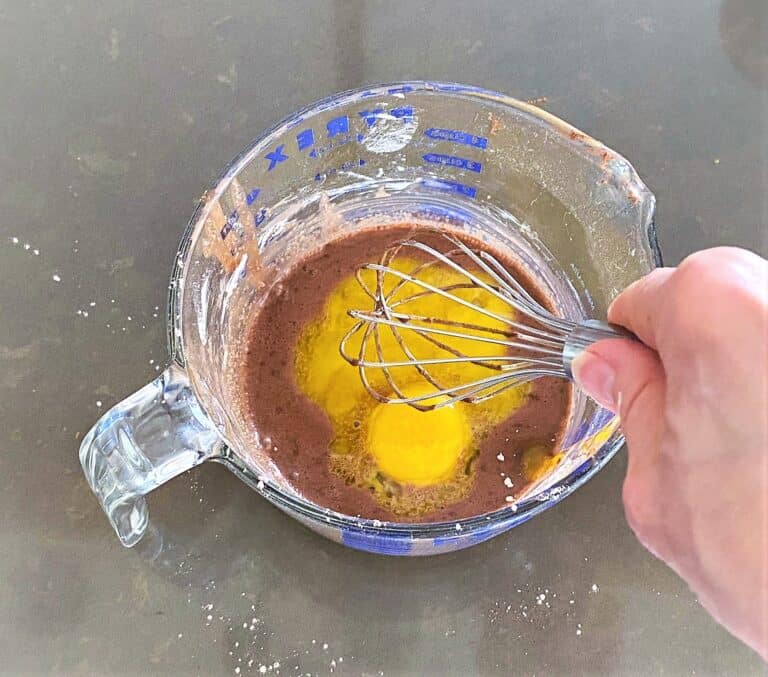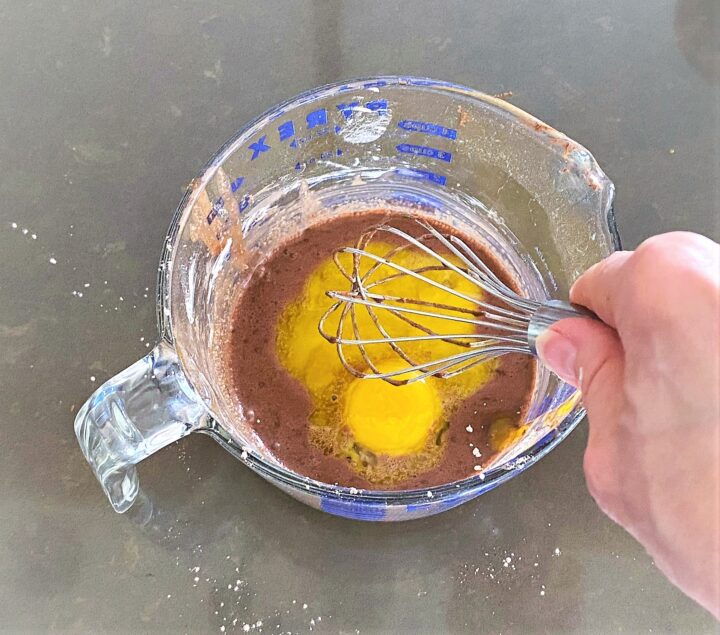 Cover bowl or glass measuring cup loosely with plastic, leaving an opening for steam to escape, and cook for 3 minutes on high. Remove and stir to move the heat around.
Put the loosely covered mixture back into the microwave and cook on high for 1 more minute. Remove and stir. The pudding-like filling should be thick.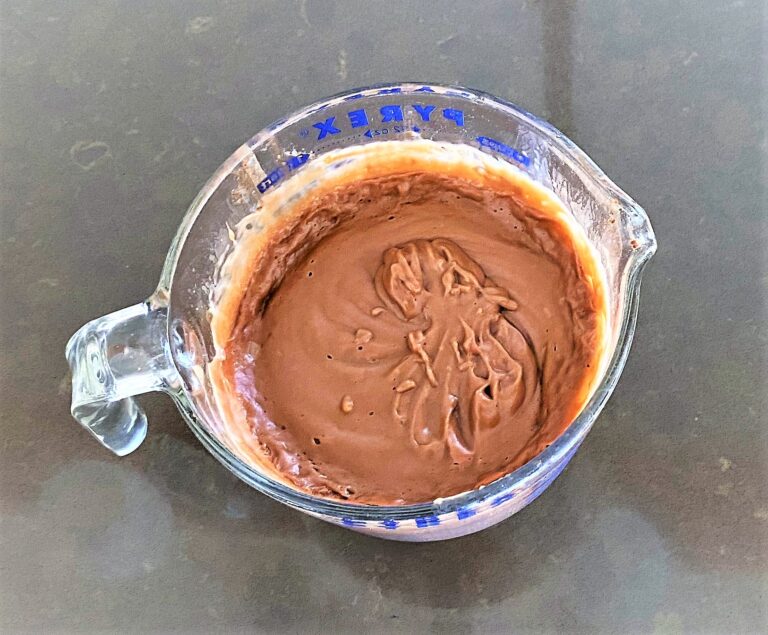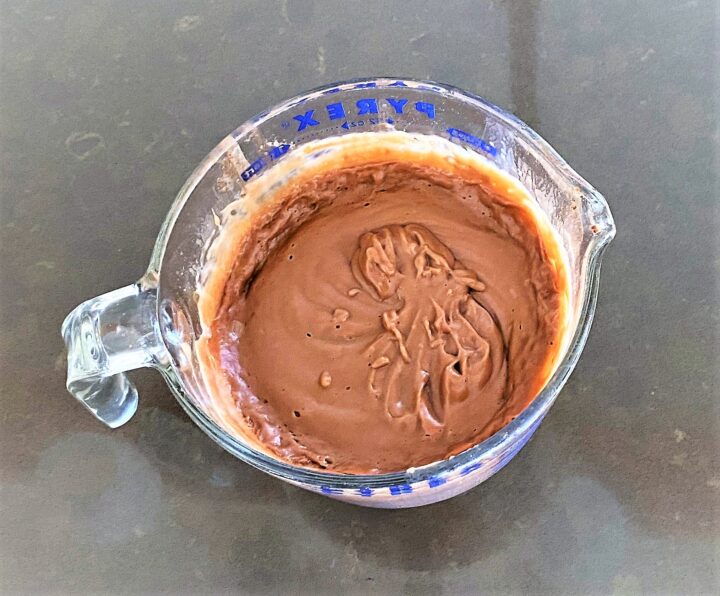 Cook for another 30 seconds if you want it thicker. Remove and stir. It should now be almost stiff. Do not cook for more than 7 minutes! (The filling will continue to thicken as it cools.)
You'll know it's done when the edges look wrinkly and your spatula or whisk leaves deep marks on the surface.
Stir in the chocolate chips, butter, and almond extract.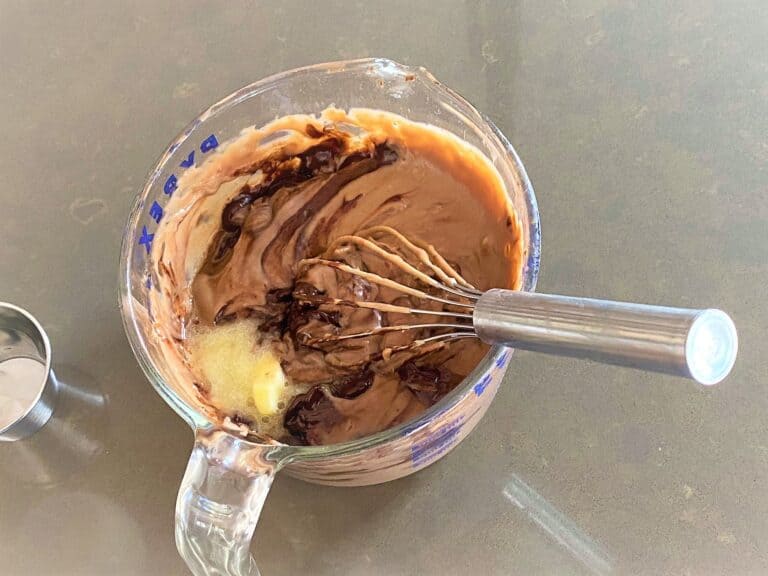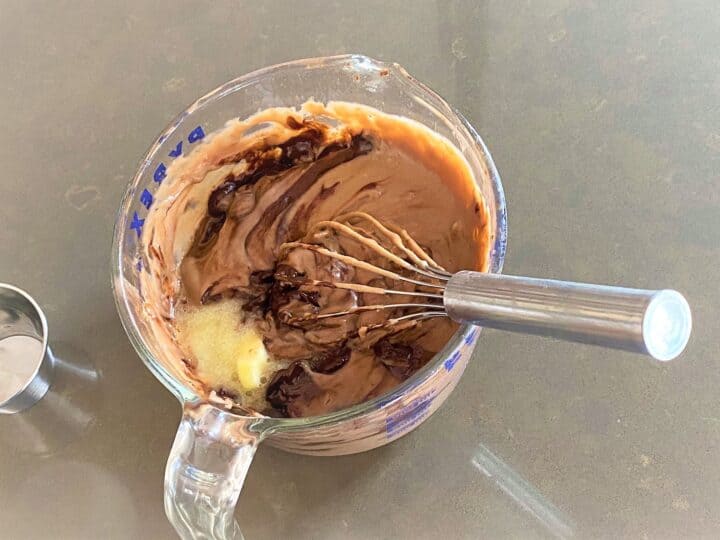 Pour it into the pie crust of your choice.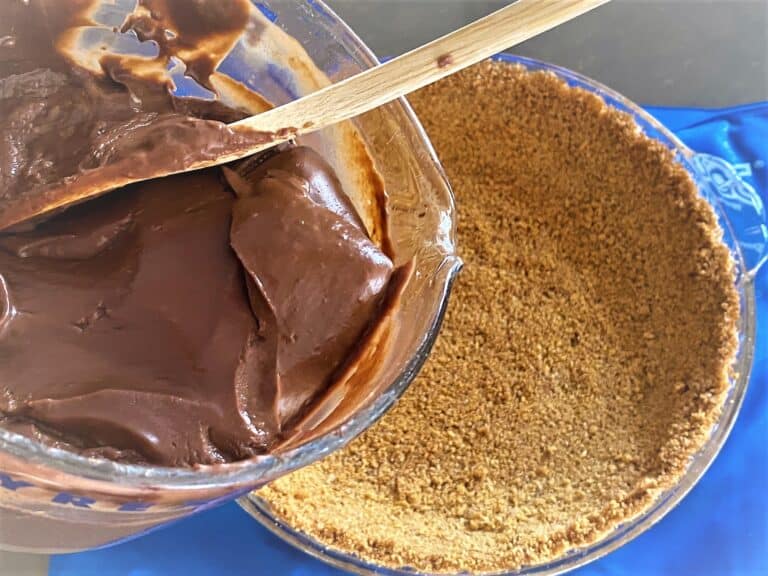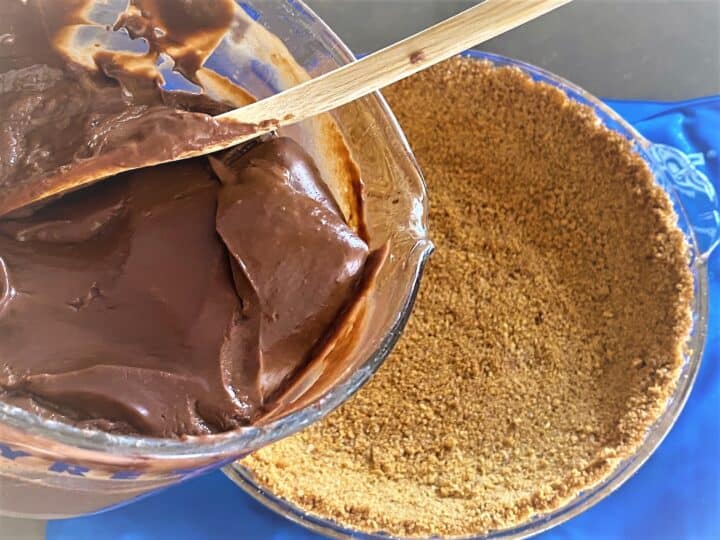 Let it stand on the counter for 30 min, then cover loosely with plastic wrap or foil and place in the refrigerator for at least 4 hours. It may need up to six hours to completely firm up.
Serve simply, with a drizzle of chocolate sauce. Or dollop with whipped cream and chocolate shavings for a special Valentine's Day treat!
Nutrition bonuses: no bake chocolate pie
♥ Chocolate and vascular health: Dark chocolate is full of flavonoids, plant nutrients that stave off disease. Flavonoids in cocoa powder are especially good for heart health. They may enhance circulation, lower blood pressure, raise your good (HDL) cholesterol, and decrease your risk of coronary heart disease and stroke.
Although many studies have shown health advantages from dark chocolate, some research is not conclusive. Particularly when large amounts of chocolate are eaten, the excess sugar may cancel out any health benefits.
February is heart month! 💙💚💛💜❤
Chocolate and emotional health: Chocolate's ability to improve your mood has been widely reported. It may boost the brain's feel-good chemicals, serotonin and dopamine.
Depression is associated with low levels of these neurotransmitters. They also play a role in regulating metabolism, sleep, focus, body temperature, and more.
🥛 Milk: A creamy, delicious nutritional package, milk offers protein and minerals like calcium, phosphorous, and zinc, and vitamins A and D.
For even more protein and calcium, choose ultrafiltered milk like Fairlife, HEB Mootopia, or Lactaid's ultra-filtered options, which are newer to the grocery stores. To find out more about ultrafiltered milk, read my post.
Egg yolks: Although experts continue to weigh the pros and cons of eggs, they all agree that the choline found in yolks promotes healthy metabolism. This nutrient has benefits for your liver, heart, and blood vessels, and may be particularly important for fetal health.
Storing your pie
Refrigerator: Covered with plastic wrap, your pie will keep in the refrigerator for up to 5 days. If you plan to refrigerate it for more than a day, it's a good idea to delay adding toppings until you serve it.
Freezer: You can also freeze it for 2 to 3 months, wrapped in foil, and then placed inside a freezer bag. If you don't have a large enough freezer bag, wrap it in plastic and then in foil.
Thaw a frozen pie overnight in the refrigerator.
Serving tips
You can cover the pie with whipped cream or another whipped topping if you plan to eat most of the pie the day that you make it.
But, if you are going to be eating it over 2 or more days, don't add toppings until right before you serve it.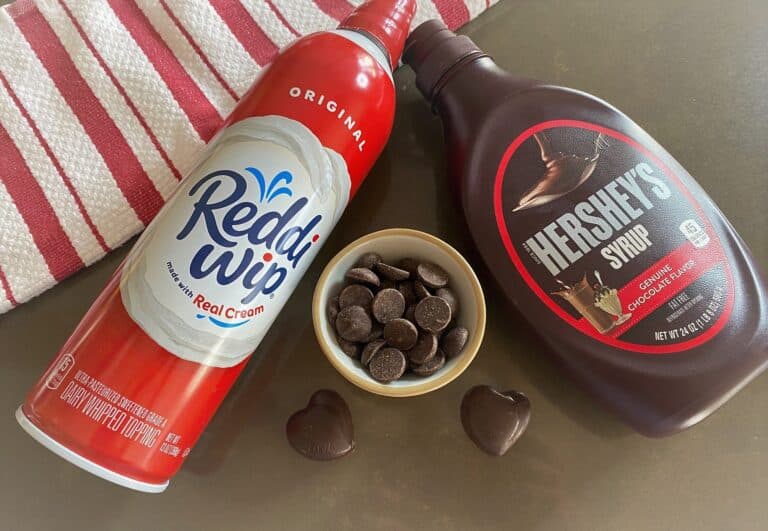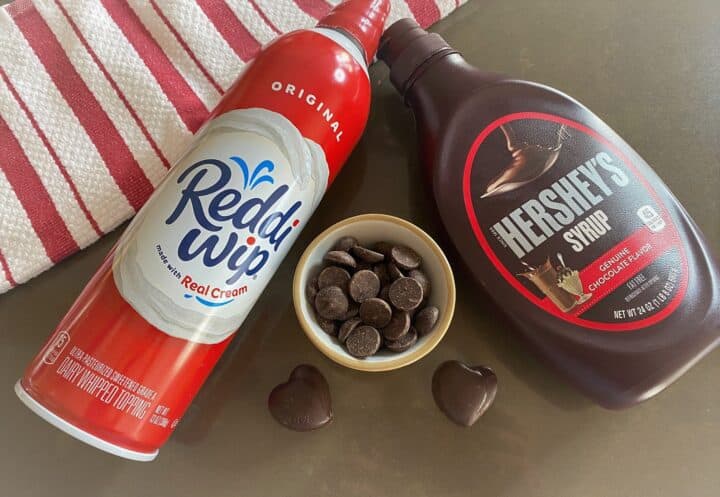 Any whipped topping, firm or saucy, is delicious spread or poured over a slice. You can also shave bits of chocolate onto the whip.
A drizzle of chocolate sauce is luscious with or without whipped cream. Caramel sauce is another classic choice.
Other ideas to consider are cookie crumbs, mini candies, chopped and toasted nuts, and all types of sprinkles!
Have fun with your toppings!
(Do keep in mind that too many toppings could cancel out some of the nutritional benefits of the pie due to increased sugar and saturated fat.)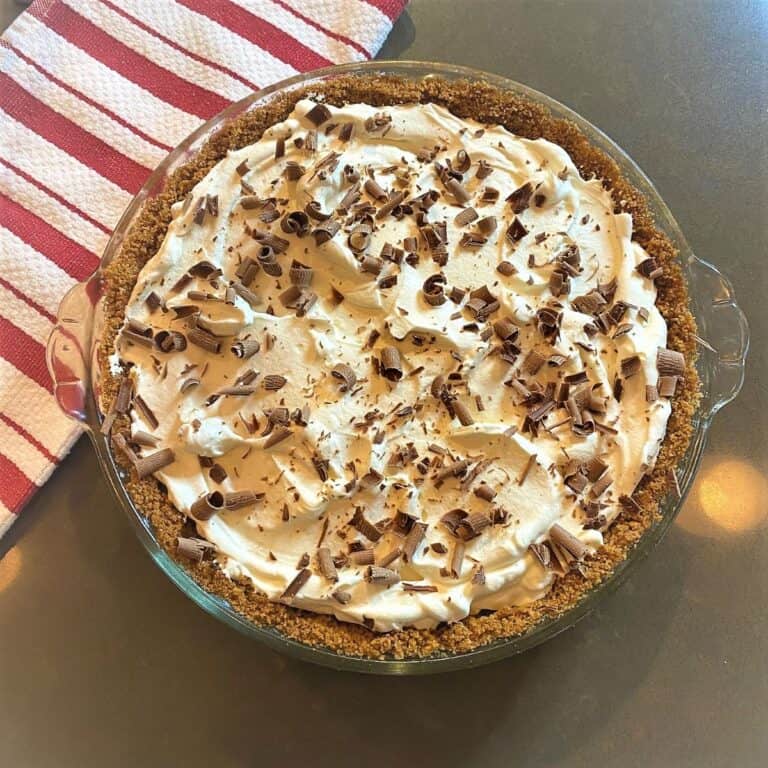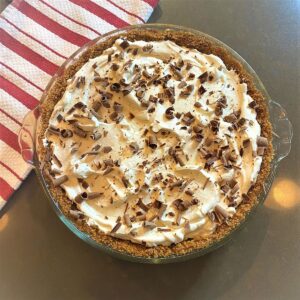 No Bake Chocolate Pie
A simple and delicious chocolate pie that doesn't require any oven lovin' or stovetop tending. Make it in the morning and let it chill until after dinner. Great for Valentine's Day, but also wonderful any day at all!
Equipment
Large glass bowl or measuring cup

whisk

Spatulas, measuring cups and spoons
Ingredients
¼

cup

sugar

¼

cup

cornstarch

2

Tablespoons

granulated stevia blend sweetener

such as Truvia Sweet Complete

1½

Tablespoons

cocoa powder

⅛

teaspoon

salt

2

cups

whole milk

2

egg yolks

from large eggs

3

ounces

chocolate chips

use dark chocolate chips or good quality chocolate like Ghiradelli or Lindt

1

Tablespoon

butter

1

teaspoon

almond extract

1

prepared graham cracker pie crust

or cookie crumb
Instructions
In a large glass bowl or measuring cup, combine sugar, cornstarch, granulated stevia blend, cocoa powder, and salt. Whisk to blend.

Add ½ cup of milk to the dry ingredients, blending until the mixture is smooth. Whisk egg yolks into the chocolate mixture and then, add remaining 1½ cups of milk, stirring to combine.

Cover loosely with plastic wrap, leaving an opening for steam to escape. Cook on high in the microwave for 3 minutes. Remove; lift the cover and whisk hard to move heat throughout the chocolate pudding.

Replace loose cover and microwave for 1 more minute. Remove and whisk again. It should be very thick. If necessary, microwave for another 30 seconds but know that it will thicken more as it cools.

When the mixture is thick enough that a spatula or whisk leaves a deep mark in the pudding, stop cooking. Add butter, chocolate chips, and almond extract and beat to evenly combine all ingredients. Pour into a prepared crust.

Let cool on the countertop for 30 minutes. This helps to keep the crust from getting soggy.

Place the pie in the fridge, loosely covered with foil or plastic wrap for at least four hours.

Serve with a dollop of whipped topping, chocolate sauce, and/or chocolate shavings
Notes
The nutrition information is for the filling only. A store-bought graham cracker crust adds 100 calories, 5 grams of fat (3 grams saturated), and 14 grams of carbohydrate per serving.
So, without whipped cream or chocolate drizzle, each slice weighs in at about 235 calories.
If you want to ditch the crust, just pour the filling into a large bowl or small single serving bowls. Enhance with the same kinds of toppings, such as whipped cream and chocolate shavings. You could also sprinkle each serving with cookie crumbs! 🍪
Nutrition
Serving:
1
slice
Calories:
133.5
kcal
Carbohydrates:
19.6
g
Protein:
2.8
g
Fat:
6.2
g
Saturated Fat:
3.5
g
Polyunsaturated Fat:
0.4
g
Monounsaturated Fat:
1.4
g
Trans Fat:
0.1
g
Cholesterol:
60.2
mg
Sodium:
79.8
mg
Fiber:
1.1
g
Sugar:
12.4
g
Vitamin C:
0
mg
Iron:
0.3
mg
Copyright © 2022 Jani H. Leuschel