Pumpkin seed butter is a toothsome alternative if you have a sensitivity or allergy to tree nuts and peanuts. It's also a delicious change of pace even if nut butters do not pose a health problem.
Adding chocolate makes it even tastier (and more nutritious)!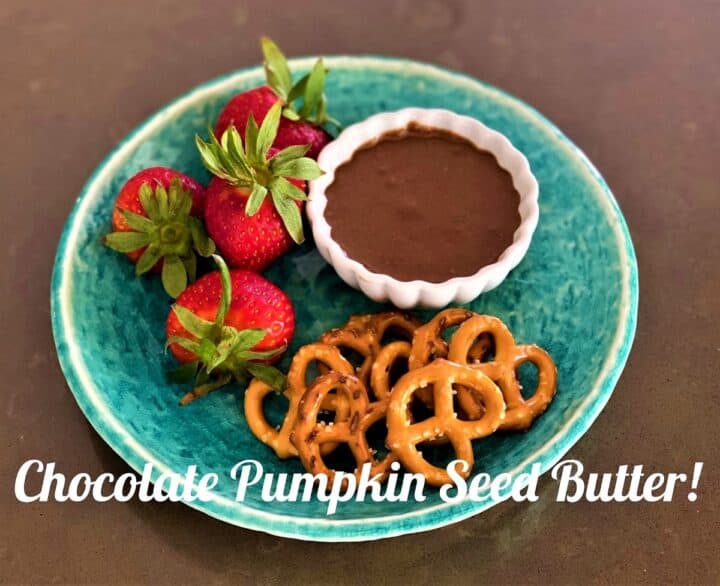 Chocolate pumpkin seed butter is a healthy alternative to Nutella, the chocolate-hazelnut spread. Because pumpkin seed butter has higher protein content than the popular spread, it can be more satisfying.
Another reason to enjoy this chocolate pumpkin seed butter rather than Nutella is that it has less sugar. You'll find that a serving of my recipe contains a fraction of the 21 grams (more than 5 teaspoons) found in the same size serving of Nutella.
Cost of pumpkin seed butter
Making your own pumpkin seed butter can cost you less than buying it at the grocery store although the primary ingredient, raw pumpkin seeds (pepitas), are not cheap!
My quick survey of the price of pepitas found that the least expensive ones were available online at Nutstop for $4.59/lb.
Here's a listing of my research on the per pound cost of raw, unsalted pepitas from lowest to highest:
FYI: The recipe for chocolate pumpkin seed butter (below) uses 2 cups of raw pepitas at a weight of slightly more than 10 ounces.
So, what does a jar of plain pumpkin seed butter cost? (You may not easily find chocolate pumpkin seed butter available for purchase.)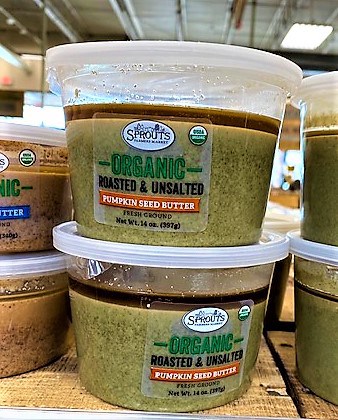 Sprouts offered the least expensive option at $5.59 for a 14-ounce plastic container of roasted organic, unsalted pumpkin seed butter. I give it high marks for affordability — it's a great option if you are always battling your allergies.
Other brands cost much more. The price of a 14-ounce jar of 88 Acres Pumpkin Seed butter is $19.99 at Amazon and $12.99 at Sprouts. An 8-ounce jar of Dastony's Sprouted Pumpkin Seed butter cost $9.23 online at iHerb.
Here's a link to a variety of pumpkin seed butters at Amazon. None of them can beat Sprouts in terms of price. (If you want delivery from Sprouts, try Instacart.)
It's worth mentioning that pumpkin seed butter is not as available as sunflower seed butter, which is another great choice if you have allergies to tree nuts or peanuts.
For more information on sunflower seed butter, read my post on Sunflower Seed Butter vs. Peanut Butter. It has a recipe for sunflower seed butter muffins. You could easily use pumpkin seed butter in place of the sunflower seed butter!
Pumpkin Seeds = powerful nutrition
Pumpkin seed butter is great way to take advantage of an amazing health package found in pepitas. Pepitas are a significant source of minerals, healthy fats, vitamins, fiber, and phenolic compounds. They also contain arginine, an amino acid that helps with wound healing and cardiovascular health.
Nutrition: Mineral madness
Pepitas are a treasure trove of minerals. From highest to lowest, here are values of many of the minerals in 100 grams (about 3.5 ounces) of these little green seeds. The Daily Recommended Intakes for healthy adult males are also noted.
Manganese: 4.54 mg = 197% DRI
Phosphorous: 1174 mg = 168% DRI
Copper: 1275 mcg = 142% DRI
Magnesium: 550 mg = 130% DRI
Iron: 8.1 mg = 100% DRI
Zinc: 7.64 mg = 69% DRI
Potassium: 788 mg = 23% DRI
Selenium: 9.4 mcg = 17% DRI
Calcium: 52 mg = 5.2% DRI
Sources: Food Data Central and The National Academies of Science, Medicine, and Engineering (Institute of Medicine)
Manganese is a co-factor for an important antioxidant enzyme, superoxide dismutase (SOD). Antioxidants protect the integrity of our cells and their functions by mopping up damaging free radicals that result from the infinite number of metabolic processes that happen every day in our bodies. Some of the main harmful events in our body, like aging and cancer, are linked to free radical damage.
Vegetarians often eat more than four times the DRI (2.3 mg) for manganese on a daily basis. (This is just one of the many reasons that plant-based diets are health promoting!)
Selenium is another mineral that has powerful antioxidant action. Copper and zinc have antioxidant functions, as well. Zinc, in particular, is associated with more than 50 different of enzymes that regulate cellular metabolism.
Pumpkin seeds are often lauded for their generous magnesium content. This mineral is important for the nervous system and for muscular contraction. Magnesium also assists with bone health and is central to many cellular reactions.
Many people do not consume enough magnesium every day. It's a nutrient of concern because deficiency often occurs. Here again, following a plant-based diet can help with getting enough magnesium.
Vitamins in pumpkin seeds
In addition to antioxidant minerals, pumpkin seeds contain the antioxidant vitamin E. According to the World's Healthiest Foods website, they contain three different tocopherols and two other forms of vitamin E.
Vitamin E is a known as a natural preservative due to its antioxidant free radical scavenging functions. In fact, you'll often see vitamin E as "tocopherols" in ingredient lists of different packaged foods because the food industry likes to employ them as natural preservatives.
Pumpkin seeds also contain healthy amounts of folate (vitamin B9) and niacin (vitamin B3). A 3.5-ounce serving has 27% of the DRI for niacin and about 14% of the DRI for folate.
⚡ B vitamins are known as the energy vitamins because they help our cells with reactions that fuel our bodies. Folate is especially important for cellular repair and growth.
Healthy, tasty fats
Pepitas are excellent sources of several healthy fats. The majority in pumpkin seeds is polyunsaturated. They also offer a good amount of monounsaturated fat in the form of oleic acid. This is the primary type of fatty acid found in olive oil.
Overall, 100 grams (3.5 ounces) of pumpkin seeds contain the following healthy fats:
Saturated: 8.5 grams (more than 5 grams from palmitic acid)
Polyunsaturated: 19.9 grams (almost 100% from linoleic acid)
Monounsaturated: 15.7 grams (almost 100% from oleic acid)
They are loaded with linoleic acid, a healthy omega-6 fatty acid often found in nuts. (Think walnuts, here.) Linoleic acid is a beneficial plant fat correlated with better cardiovascular health. In particular, it lowers LDL cholesterol.
Substituting unsaturated fats for saturated fats can improve insulin sensitivity and lipid profiles, e.g. cholesterol numbers. Plant fats can help with glucose control for type 2 diabetes and with heart disease.
There are two types of saturated fatty acids in pumpkin seeds, palmitic and stearic acids. More than half the saturated fat that Americans eat is likely to be in the form of palmitic acid.
Palmitic acid will raise cholesterol levels, but according to an article on the Healthline website, eating linoleic acid (plant fat) at the same time reduces that risk.
Stearic acid, the second most common saturated fatty acid, either lowers or has no effect on cholesterol. It's unlikely that stearic acid consumption will increase your risk of heart disease, even though it is fully saturated.
Polyphenols and other nutrients
In terms of protein, pumpkin seeds provide 30 grams of plant protein in a 3.5-ounce (100 grams) serving as well as 6.5 grams of fiber.
As with the array of minerals that pumpkin seeds supply, their diversity of polyphenols is outstanding. You'll get lignans, flavonoids, and a huge array of phenolic acids.
These polyphenols protect health. In plants, they defend against microbes and pests. In humans, they have similar antimicrobial and antifungal actions.
In synergy with many of the other nutrients in pepitas, lignans are associated with better cardiovascular health.
Pepitas + chocolate
Combining pepitas with cocoa powder is marriage of two good seeds – pumpkin and cacao. Putting the two together could be an excellent recipe for cardio health since they both boast high phenolic content.
Cocoa powder contains a good amount of flavanols, which are known to reduce blood pressure, cholesterol, and help with control of blood glucose. These are health benefits that pepitas and chocolate have in common.
The flavanols in chocolate, which are found in good amounts in cocoa powder, bring another perk to the table. They may boost your brain power. 🧠
Flavanols are correlated with better memory, recall, and problem-solving. However, the dose required for brain benefits is higher than that required for cardiovascular benefits.
Daily intake of flavanols for cardioprotection is only 200 mg of flavanols, according to Consumer Lab, while 500 mg/day are associated with better cognitive function.
Cardiovascular benefits = 200 mg flavanols
Cognitive benefits = 500 mg flavanols
For reference, a Tablespoon of cocoa powder has a flavanol content that ranges from 37 to 130 mg. So this ingredient in chocolate pumpkin seed butter contributes to overall daily flavanol intake.
Easy ways to eat chocolate pumpkin seed butter
Here are a few ideas for getting your snack on with chocolate pumpkin seed butter:
Fruit: Scoop the butter with apple slices, stone fruit slices, or whole strawberries 🍓
Dip: Plunge whole-grain pretzels or crisp crackers/pita chips into the butter
Sandwich spread: Sub for peanut butter (with or without jelly)
Spread: Toast, English muffins, and rice cakes (caramel rice cakes + chocolate pumpkin seed butter 😋)
Ingredient: In muffins, pancakes, quick breads, and smoothies
Stir in: For oatmeal and hot cereals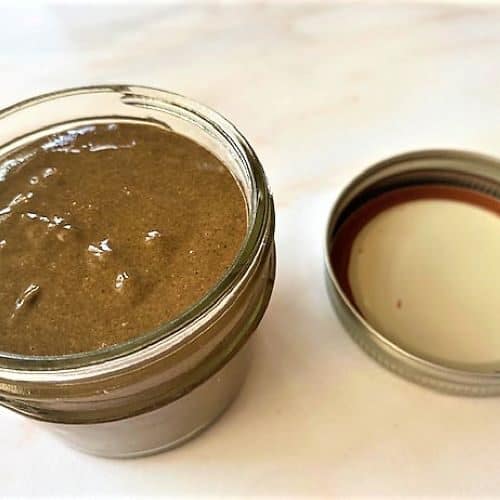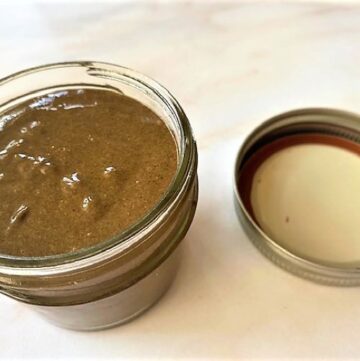 Chocolate pumpkin seed butter
Delicious spread or dip! A healthy alternative to Nutella.
Equipment
Baking sheet, food processor, measuring cups and spoons
Ingredients
2

cups

pepitas (10.7 ounces)

raw, unsalted

¼

cup

cocoa powder

good quality

¼

cup

monk fruit

can sub stevia

¼

cup

powdered sugar

¼

cup

sunflower oil

can use another neutral oil or coconut oil

1

Tablespoon

molasses

optional

½

teaspoon

Kosher salt

½

teaspoon

vanilla
Instructions
Heat oven to 350 F. Spread pepitas on parchment-lined baking sheet. Place in the oven and roast for about 10 minutes, until lightly golden and fragrant.

Remove pepitas from oven and let cool for 5 minutes. (Carefully remove parchment and seeds from the baking sheet, and put aside to hasten cooling while you ready the food processor.)

Pour the roasted pepitas into the food processor bowl and process on high for 3 to 5 minutes. Pause and scrape down the bowl, knocking the pepita meal that is developing into the center of bowl. Continue processing in this fashion until the seed meal begins to gather into a ball. This could take up to 10 minutes depending on your machine.

Remove lid and add the monkfruit sweetener or stevia, powdered sugar, cocoa powder, molasses (if using), and salt. Replace the lid and begin to process on low, adding the oil and vanilla through the feed tube. Increase the speed to the highest setting. The mixture should start to become smooth.

If you want a creamier spread, add 2 to 4 more tablespoons of oil until it reaches a consistency that you enjoy.

Scrape the chocolate pumpkin seed butter into containers for storage. It will taste best if you can wait a day before eating.

Enjoy on toast and English muffins as a dip for apples and other fruits or add a couple of tablespoons to your favorite smoothie!
Notes
The pumpkin seeds may take longer to process than you think they should. Your food processor could become very warm, depending the size of its bowl and the power of its motor. If your machine gets hot, give it a break for a minute or two and then resume grinding the seeds until they start give up their oils and become clumpy.
I tried this recipe in two different food processors, and I got a faster, creamier result in the larger, more powerful machine.
A Vitamix would probably work well! 👍
In case you are looking for a food processor, here are a couple of options available through Amazon. (I recently had to purchase a new food processor. 🙃😪)
This 12-cup machine from Breville has a powerful motor and a large bowl. It will see you though any processing need.
If your space is tight, I like this handy Cuisinart. It's smaller and not as powerful, but it does a fine job and is quite a bit less expensive!
Nutrition
Serving:
1
oz
Calories:
203
kcal
Carbohydrates:
8
g
Protein:
8
g
Fat:
16
g
Saturated Fat:
3
g
Polyunsaturated Fat:
5
g
Monounsaturated Fat:
4
g
Trans Fat:
1
g
Cholesterol:
1
mg
Sodium:
102
mg
Potassium:
249
mg
Fiber:
2
g
Sugar:
4
g
Vitamin A:
1
IU
Vitamin C:
1
mg
Calcium:
19
mg
Iron:
2
mg
© 2021 Jani H. Leuschel