Umami-ish Grilled Boneless Chicken Thighs are a juicy bite hot off the grates of your grill. If you plan on firing it up for a fast dinner win, try this Asian-inspired marinade.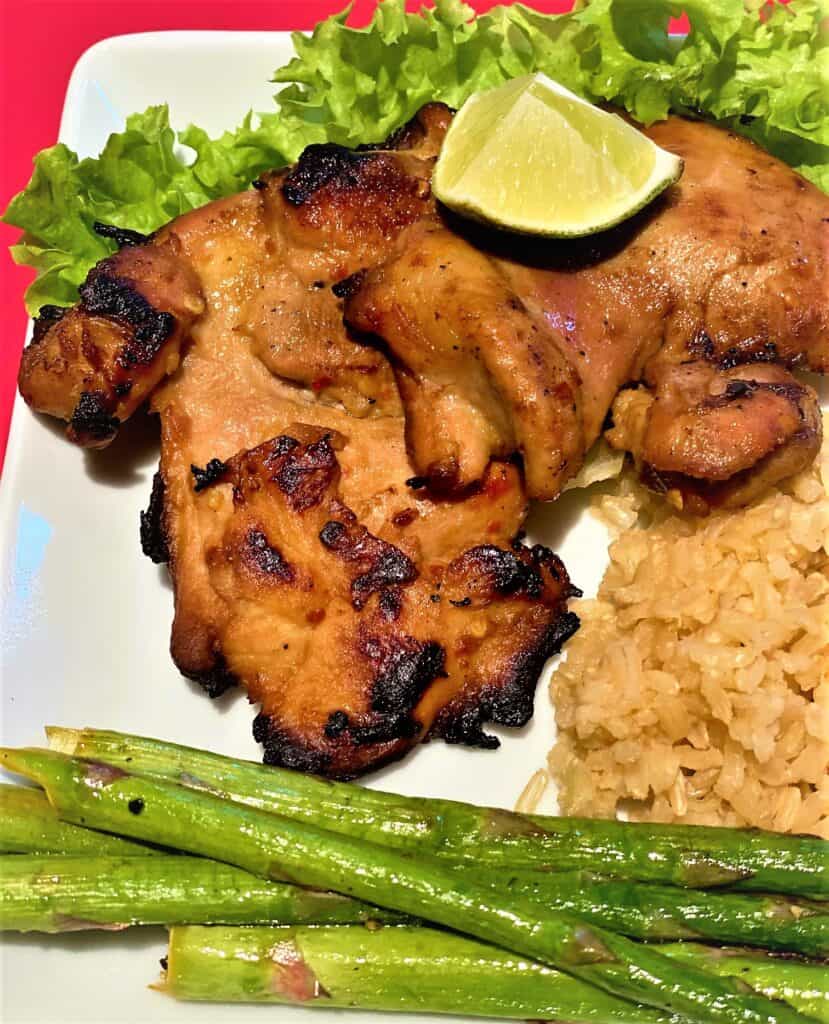 The marinade infuses the dark, delicious thigh meat with the satisfying flavors of soy sauce and peanuts. Lime juice adds brightness. (Serve extra lime wedges on the side, for squeezing over the warm, grilled pieces!)
I earn from qualifying purchases at no extra cost to you as part of the Amazon Affiliate program.
Umami-ish Grilled Boneless Chicken Thighs appeal to all ages. But, you may want to moderate how much red pepper flake you put in the marinade depending on who is coming to dinner.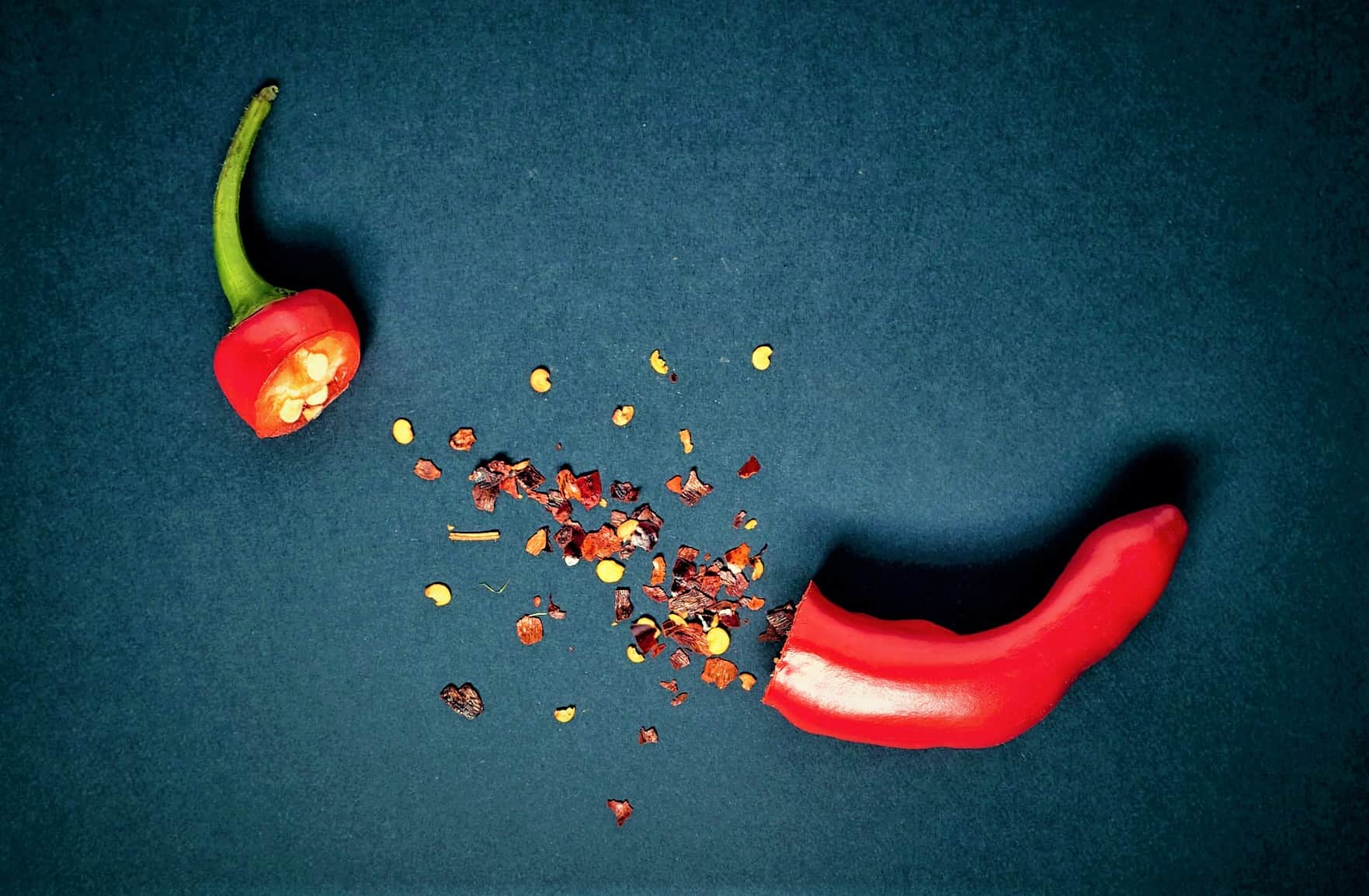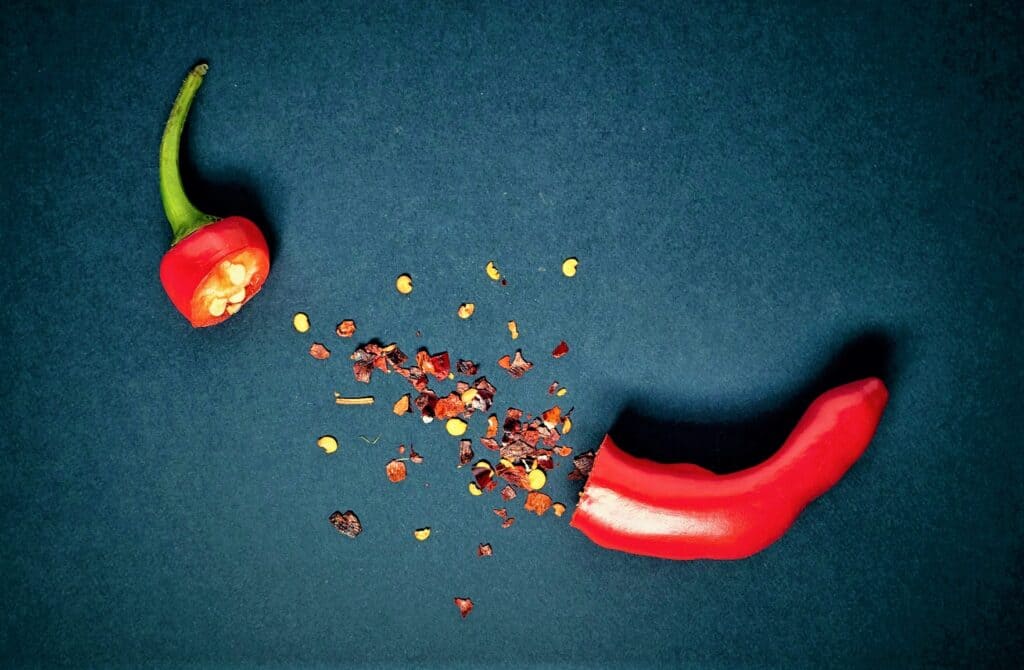 You can add or subtract red pepper from the marinade for Umami-ish Grilled Boneless Chicken Thighs according to your desired level of heat!
Credit: Jarek Jordan on Unsplash
The virtues of and grill tips for thighs
Have you noticed that chicken thighs are making food news? Recently, Wingstop and Golden Chicken are offering them as a tasty alternative to wings and nuggets. KFC, of course, has always had them on the menu.
The fast-food chains are selling them as finger-lickin', fried morsels. But thighs don't have to be battered up and tossed into the deep-fryer to be fabulous.
Because thigh muscles contain more marbling, kind of like a good beef steak, they remain moist and flavorful no matter how you cook them.
Lean boneless chicken breasts require extra attention from the pitmaster to ensure they don't become dry. An extra minute too long on the grill and their white meat will go from tender to tough, chewy.
Grilled boneless chicken thighs do not need this kind of babysitting. It's difficult to overcook them, but it is possible since they only require 7 to 10 minutes on a hot grill. (A point in their favor when it comes to making dinner!)
A good idea is to keep a spray bottle filled with water at hand while they're cooking on the grill. You may need to put out grill fires as the fat drips off the thighs and hits the flames. (Perfect for the 4th of July -- fireworks! Seriously, keep an eye out for flare-ups.)
Of course, you can also prepare them indoors on a grill pan or under the broiler.
The best and safest way to check your chicken for doneness is an instant-read (food-safe) thermometer. Take the largest thigh off the heat when it looks like it has finished cooking and insert the thermometer into the thickest part.
Click this link to view a chart that outlines safe minimum internal temperatures for various proteins.
The thermometer should register 165 F. (Some experts recommend cooking white meat to 160 F.) Note that chicken pieces that have reached 160 F will often continue to cook when covered with foil after you take them off the heat.
Insert a digital instant-read thermometer in the thickest part of the thigh immediately after removing it from the grill.
Credit: Jani H. Leuschel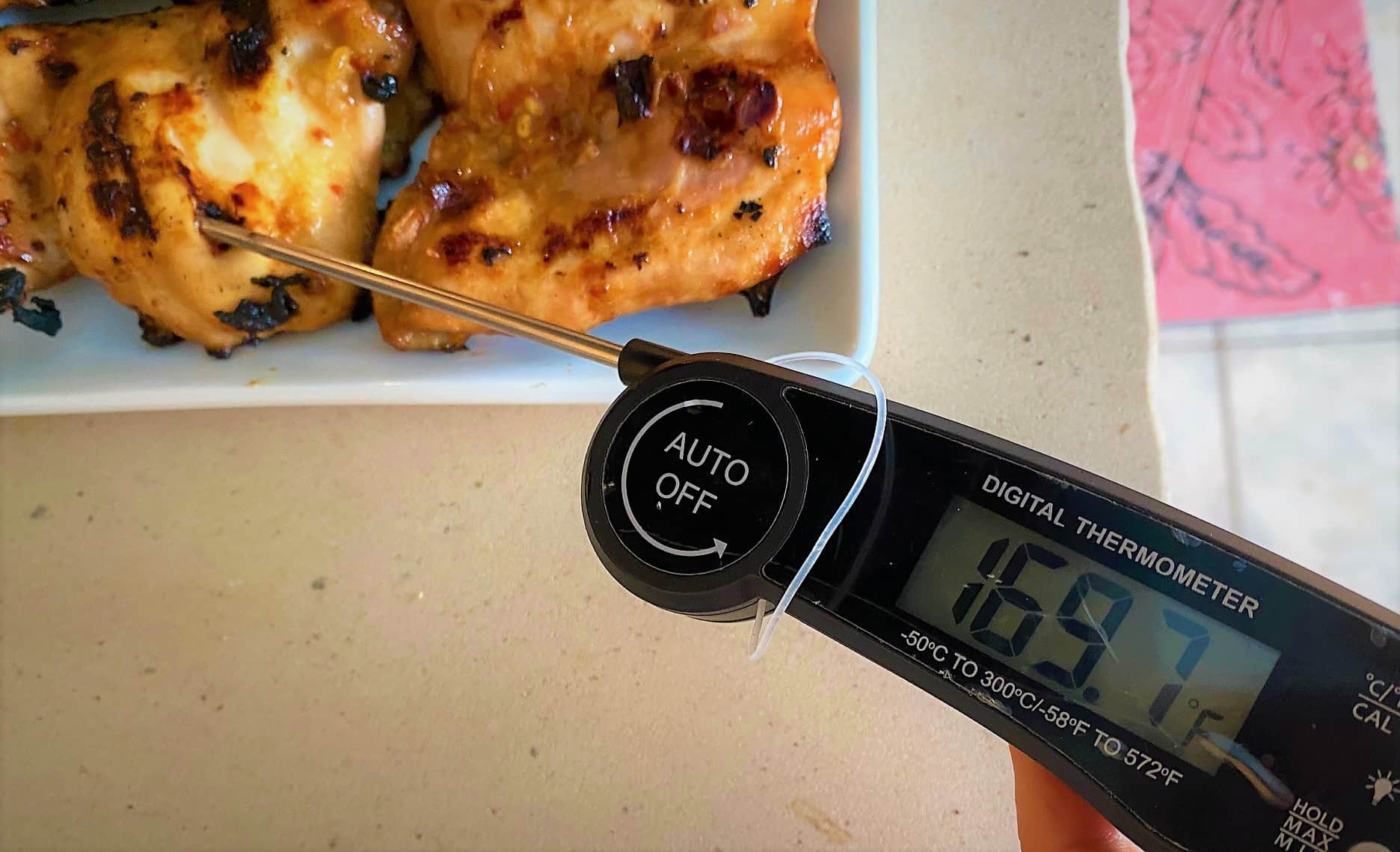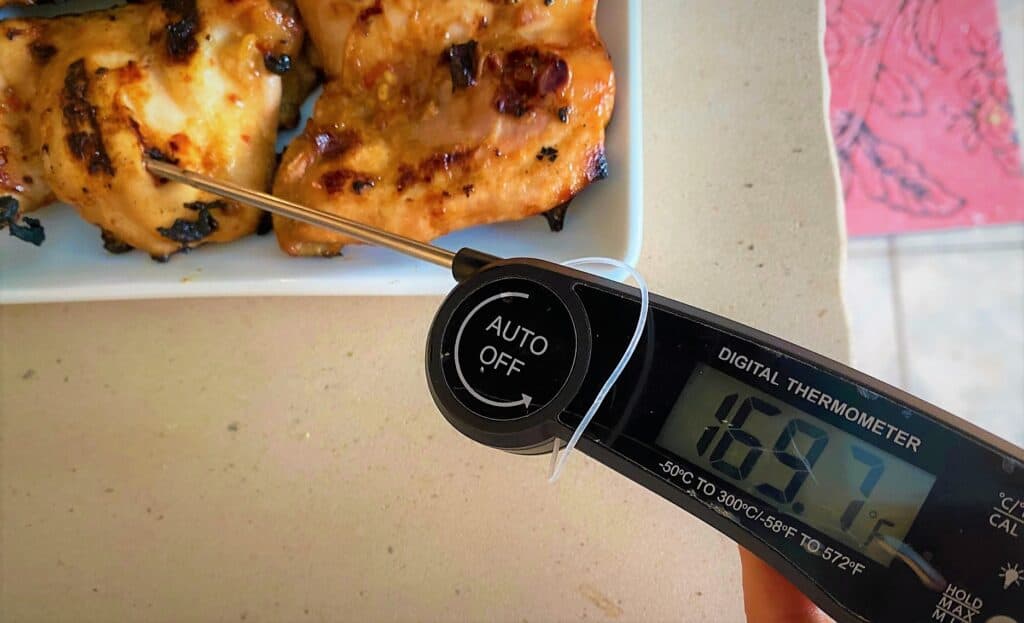 To avoid food-borne illness, please clean your thermometer with hot, soapy water after use and in between testing. This is especially important if a tested chicken piece has not come up to temperature, and you want to check other pieces.
If you tend to shun a thermometer because it takes too long to register, here is one that reads the temperature really quickly. You can find fancier ones that are similar and cost more, but I find that this inexpensive version gets the job done!
Fowl nutrition: Are boneless, skinless chicken thighs healthy?
Since darker thigh meat is richer than white breast meat, you may be wondering if they are a healthy, nutritious choice. The answer is a resounding, "YES"!
3.5 oz serving
(100 grams) 🐔
Chicken Thigh,
skinless, boneless
Chicken Breast,
skinless, boneless
Calories
180
150
Protein
25 g
31 g
Fat
8 g
3 g
Iron
1.1 mg
0.48 mg
Zinc
1.9 mg
0.9 mg
Niacin (vitamin B3)
6.21 mg
12.1 mg
Data obtained from Food Data Central, a website of the USDA.
Despite their marbling, thighs are not overly fatty, especially the skinless, boneless type. If they have extra fat that is not snug to the muscle, you can trim it as shown in the photo.
The dark meat of the thigh packs a bit more iron and zinc, and it still provides a nice amount of protein without too much fat. I think of the extra fat as a flavor bonus!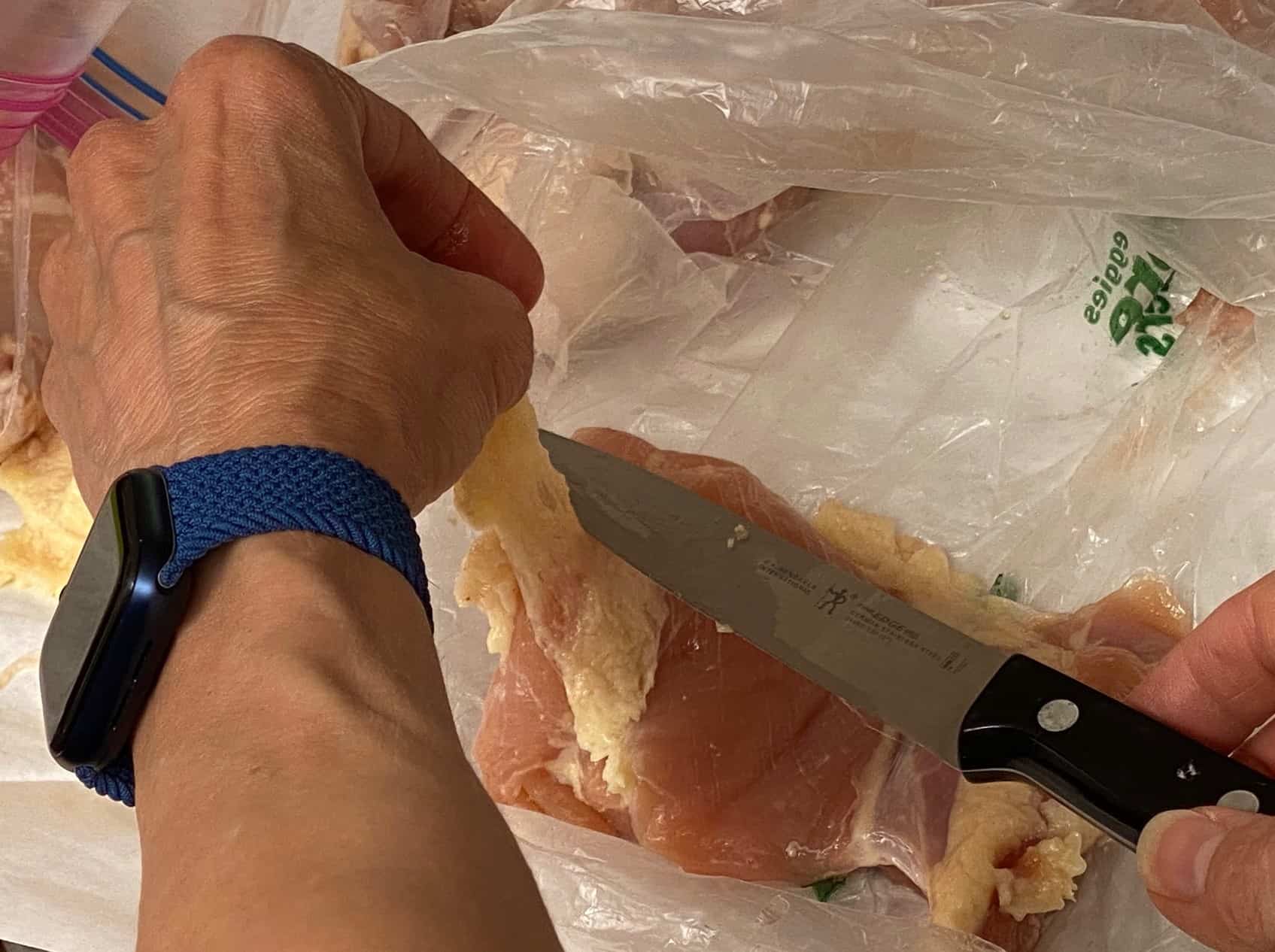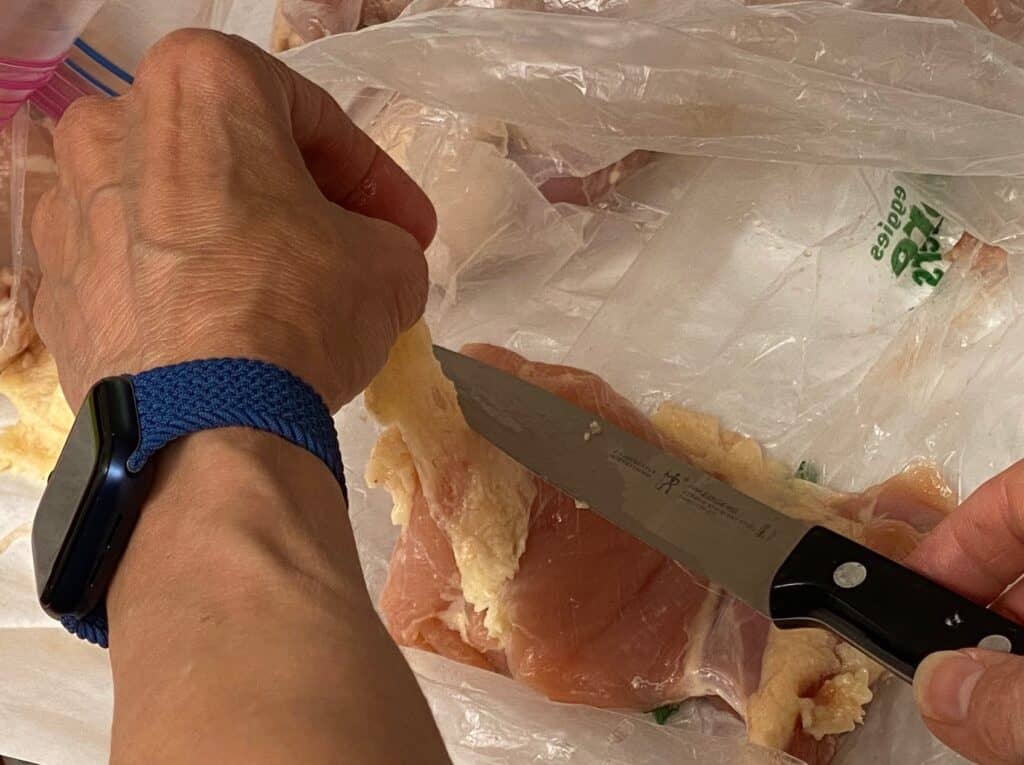 From either piece of chicken, you'll get plenty of nutrition and good taste. The white meat of the breast won't cost you as many calories and supplies slightly more protein and niacin (vitamin B3) with each bite.
Chicken thighs and breasts are comparable when it comes to most other vitamins and minerals, except for sodium/salt. Before the addition of seasonings, thighs have about twice as much sodium as breasts, which may be another reason they taste slightly choicer.
What to have with your chicken thighs
Planning the holiday meal should be a no-stress event. You could serve the Umami-ish Grilled Boneless Chicken Thighs on a bun as a sandwich. Pile Asian slaw on top or have it on the side.
They are the perfect protein to pair with an Asian salad, such as a bowl of greens enhanced with edamame, shredded carrot, and chow mein noodles. Toss with a sesame vinaigrette. Here's a good recipe for Asian slaw; the dressing would be yummy on a salad, too.
Or, serve the thighs as a center-of-the-plate protein with brown rice or ramen noodles. If you're cooking indoors and using a grill pan for the thighs, Oven-Baked Turmeric Rice pilaf would make a nice side dish.
On the grill outside, add a green vegetable, such as asparagus or zucchini, to the grates at the same time as the chicken. You'll have a quick, satisfying meal full of vitamins, minerals, fiber, and deliciousness.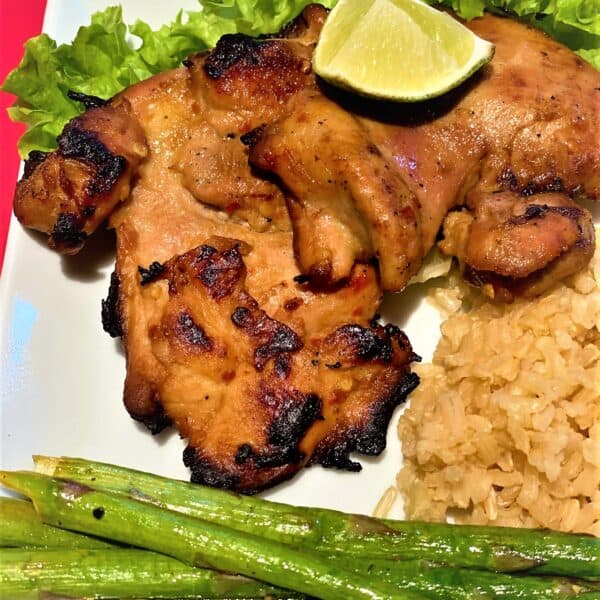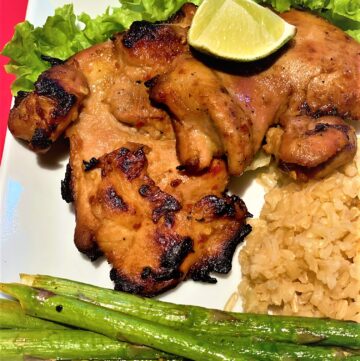 Umami-ish Grilled Boneless Chicken Thighs
Boneless, skinless chicken thighs are bathed in an Asian-influenced marinade. Soy, peanut, and lime infuse the dark meat with irresistible flavors!
Equipment
measuring spoons, liquid measuring cup, knife, citrus press or reamer
Ingredients
2

Tablespoons

peanut powder

PB2 or Peanut Butter & Co

4

teaspoons

peanut oil

4

teaspoons

soy sauce

low sodium, can sub coconut aminos or tamari

4

teaspoons

lime juice

2

teaspoons

sesame oil

toasted

2

teaspoons

fish sauce

2

teaspoons

rice wine vinegar

2

teaspoons

honey

1

teaspoon

red pepper flakes

1

garlic clove

large, crushed

2

pounds

boneless, skinless chicken thighs

trimmed, if necessary
Instructions
Assemble all ingredients.

Combine all ingredients in a liquid measuring cup. Whisk to combine marinade.

Place chicken thighs in a large zip bag. Pour marinade into the bag with the chicken. Close the bag and carefully remove air through a small, unzipped corner. Seal tightly and place in the refrigerator. After 2 hours, turn the bag over and continue to marinate for another 2 hours.

Approximately 30 minutes before your grill will be hot, remove the bag with the chicken and let it sit at room temperature, while the grill heats up.

When the grill is clean and ready, oil the grates. Place the chicken thighs on the grill and cook for about 5 minutes on medium to medium-high heat. Lower the heat and turn the pieces, cooking for another 3 to 5 minutes.

(When thighs look golden and a little crusty, remove the largest piece from the heat and test it with a thermometer. It should read 160 to 165 F. If it doesn't return to the heat to cook for a couple more minutes.)

Place cooked chicken thighs on a plate and tent with foil to keep warm.

Serve immediately with lime wedges on the side.
Notes
This recipe generously serves 4 adults. You could easily feed a family of 5.
The optimal marinating time is 4 hours, but 1 to 2 hours is also fine. Marinating overnight may cause the meat to become mushy.
When the thighs are on the grill, be sure and watch for flare-ups. Have a spray bottle full of water nearby to quench any small fires!
I love these citrus squeezers.
The torque applied by the handles helps get every drop out of your lemons and limes. (They're nice for tangerines, too.)
Nutrition
Calories:
354
kcal
Carbohydrates:
5
g
Protein:
46
g
Fat:
16
g
Saturated Fat:
3
g
Polyunsaturated Fat:
4
g
Monounsaturated Fat:
6
g
Trans Fat:
1
g
Cholesterol:
215
mg
Sodium:
805
mg
Potassium:
597
mg
Fiber:
1
g
Sugar:
3
g
Vitamin A:
218
IU
Vitamin C:
2
mg
Calcium:
29
mg
Iron:
2
mg
COPYRIGHT © 2021 FOOD HALL BY JANI