One of the first dishes that I learned to cook was turmeric rice, courtesy of a cookbook by Pierre Franey, also known as the 60-minute Gourmet.
If you aren't familiar with Franey, he was French, and one of the early television chefs. Along with Julia Child and others, Franey introduced America to fine cuisine made in your own kitchen.
Arguably, Franey can also be credited with bringing cooking and recipes -- with his colleague, Craig Claiborne -- into the pages of The New York Times. Unlike many of Childs' recipes, Franey's were meant to be created with a minimum of time and fuss.
What their food shared in common was an elegant, enticing dining experience.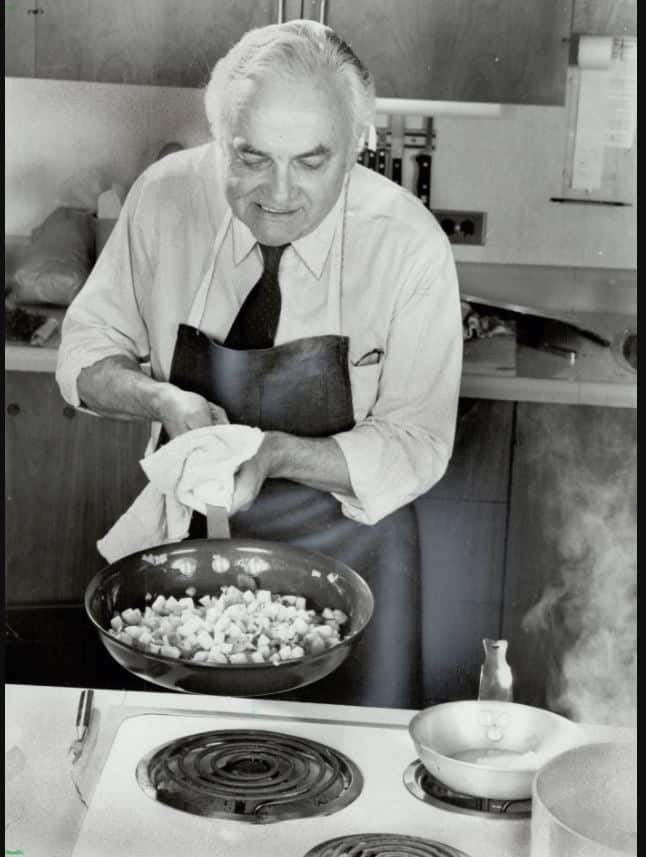 Now that we're all cooking at home every day, I remembered Franey's turmeric rice. My recipe for an oven-baked, whole grain riff was inspired by his version and the pandemic need for easy, tasty recipes.
The popularity of turmeric as an everyday ingredient and a functional health supplement also influenced the creation of this dish.
Turmeric as an ingredient
Known as Indian saffron, the flavor of turmeric has nothing in common with the complex, delicate saffron spice. (In fact, some cooks have labeled it the poor man's saffron because you can buy ground turmeric for pennies compared to the dollars you'll spend on saffron.)
What saffron and turmeric share is a characteristic golden hue. Turmeric tastes harsh and bitter and for this reason, is usually combined with other spices when used for curry. There is no standard recipe for curry powder, a mix of Indian spices the English learned to enjoy during their colonial rule.
(Here's a video demonstrating a recipe and method for making your own curry powder at home from The Spruce Eats.)
The bitter astringency of turmeric becomes a virtue in combination with other spices like cumin, coriander, and cardamom. It lends depth to dishes. Think how we enjoy the bite of Worcestershire sauce and mustards thanks, in part, to turmeric.
Another important cooking aspect of turmeric is that it gets stronger the longer it cooks. So, if you want a more potent flavor, add it early in the cooking process. For a milder punch, add it nearer the finishing time.
Turmeric roots
Ground turmeric comes from the root or rhizome named Curcuma longa, and is in the Zingiberaceae family, related to ginger.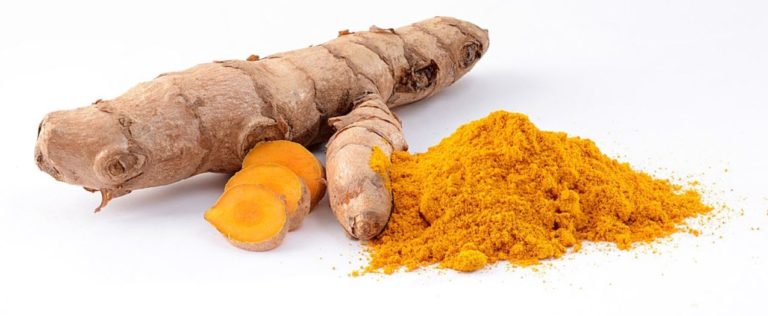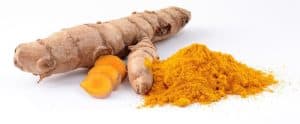 Fresh turmeric root is a little sweeter than dried and ground. To use fresh in recipes, substitute 1 tablespoon of grated root for 1 teaspoon of dried spice.
When sliced, turmeric root makes a good cup of tea or can be added to your favorite warm brew. Fresh root brightens up smoothies and can add depth and bitter balance to a stir-fry.
As one of the oldest cultivated plants in South Asia, turmeric has a hallowed place in the cuisine and medicinal practices of the region. In Ayurveda, turmeric is considered a balancing herb.
Black pepper (piperine) and fats (cooking oils) improve the absorption of curcuminoids, turmeric's active compounds.
Functional benefits of turmeric
Many herbal and functional medicine practitioners regard turmeric as an adaptogen. That's because it addresses a multitude of health concerns and can positively affect the hypothalamic-pituitary axis (HPA), modulating our bodies' stress response.
When we feel stress, the HPA kicks into high gear and the hormone cortisol is released into the bloodstream by the adrenal glands. This raises blood sugar levels, helps the brain with attention and memory, and improves tissue repair.
It also downregulates bodily functions not essential to tackle danger -- functions like digestion, growth, and reproduction.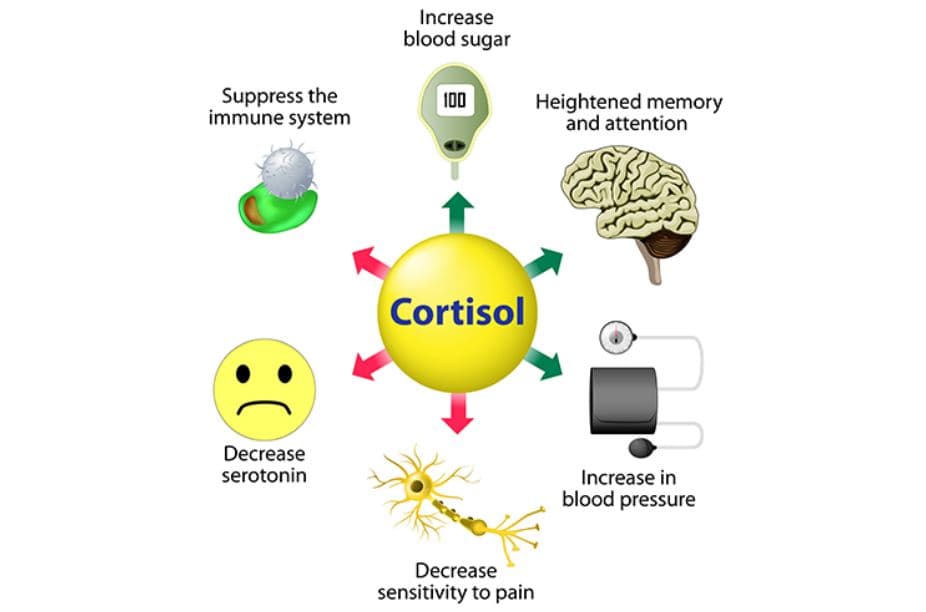 Chronic stress causing constantly elevated cortisol levels has deleterious effects on the body like poor mood, impaired immune function, gut woes, and even, eventually, heart disease, diabetes, and cancer.
The immune system also suffers when the adrenal glands are continually secreting cortisol, leaving you open to constant low-grade infections and colds, making your body more reactive.
Due to its balancing effect on the HPA axis, turmeric bolsters immunity.
Turmeric for inflammation
Will turmeric and its bioactive curcuminoids completely alleviate health problems arising from chronic stress? Probably not, but they may aid in stress recovery. A number of studies have affirmed the anti-inflammatory properties of the spice.
A study published in 2009 concluded that taking 500 mg of turmeric twice a day for knee arthritis was just as effective as taking ibuprofen.
Other studies have shown that turmeric is helpful for chronic diseases associated with inflammation like diabetes, obesity, metabolic syndrome, and heart disease.
Turmeric may be helpful for heart disease because it promotes the removal of cholesterol (blood fats) from circulation. It can lower low-density lipoproteins (LDL, bad cholesterol) and increase high-density lipoproteins (HDL, good cholesterol).
Applied to skin, turmeric heals and soothes. Irritation from breast cancer treatment responded to topical turmeric cream, and wounds heal faster.
Turmeric fights cancer, age-related concerns
Because turmeric boasts a high antioxidant component, it fights free-radical damage, making it useful as a cancer-preventative and for healthy aging.
It is known to boost glutathione, a powerful substance that fights oxidative injury. Glutathione reduces cellular damage and helps with conditions like psoriasis, Parkinson's and Alzheimer's diseases, insulin resistance, immunity, and liver disease.
Liver detoxification is one of turmeric's primary uses in herbal medicine (Rozelle, 2020).*
Turmeric for brain and gut health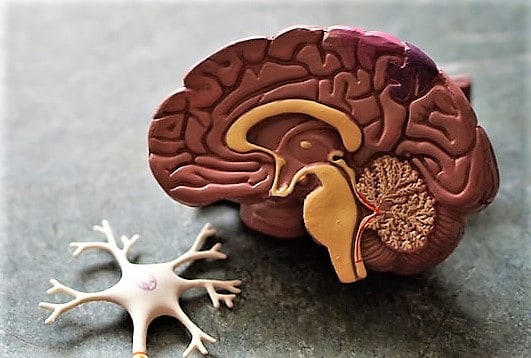 In the brain, turmeric may increase brain-derived neurotrophic factor (BDNF). BDNF encourages connectivity in the brain, the repair of damaged brain cells, and protects neurons.
In terms of digestion, turmeric is considered a carminative. These are substances that help relieve gas and bloating.
It also encourages the release of bile from the gall bladder to break down fats and help with their absorption.
Turmeric dosage and safety
You may be thinking that turmeric sounds great, but how much should you take? The World Health Organization (WHO) calculates that a safe dosage of curcuminoids, the active in turmeric, is 1.4 mg/lb per day. This corresponds to around 210 mg for a 150 lb person.
In India, the average person gets about 60 to 100 mg each day simply by eating foods with turmeric.
This is far less than the dose recommended for arthritis of 1,000 mg split into two doses or the amount needed to lower blood cholesterol. (Note: Cardiologists do not necessarily recommend turmeric as therapy for heart disease.)
When shopping for turmeric, you'll find that many preparations contain 90 to 95% curcuminoids. Be sure and read the label if you are buying capsules or tinctures, or liquid extracts.
As with any nutritional intervention, it can take 2 to 3 months for turmeric to have an effect although some people have reported that it has helped them more quickly.
The powdered spice contains only about 3% curcumin. That's about 200 mg of curcumin in a teaspoon of turmeric. That small amount doesn't equate to a lack of effect. Our bodies often absorb nutrition from food better than from supplements.
Always consult your doctor or healthcare provider before adding any supplement to your health regimen.
Who should not use turmeric?
Anyone who is pregnant or breastfeeding should not take turmeric supplements. If you are prone to kidney stones, avoid turmeric as it has oxalates that can bind with calcium and create the stones.
Gallbladder disease is a contraindication for turmeric supplements. Anemia is, too, as turmeric can decrease iron absorption by 20% to 90%.
If you have diabetes, turmeric may be helpful, but you want to be aware of monitoring for low blood sugar since the supplement/spice is known to lower blood glucose.
A main concern with turmeric is blood thinning. Anyone taking a medication like Coumadin (warfarin) or any other supplements known to thin the blood like fish oil or ginseng should be wary of turmeric supplements.
If you want to explore turmeric usage, be sure and purchase from a reputable supplier of herbal products. Examples of reputable suppliers are Gaia Herbs, Nature's Way, New Chapter, and Source Naturals. There are many others.
I tend to employ this supplement for joint pain and arthritis. Here is a link to my favorite capsule from Gaia Herbs, and here is a link to turmeric products on the Gaia Herbs website. (I counted 23 different herbal formulations.)
Easy golden milk + turmeric rice
If you enjoy a cup of turmeric tea or soothing golden milk during the day and eat curry or some of my turmeric rice, you can easily get close to 300 mg of curcumin into your day without supplementing.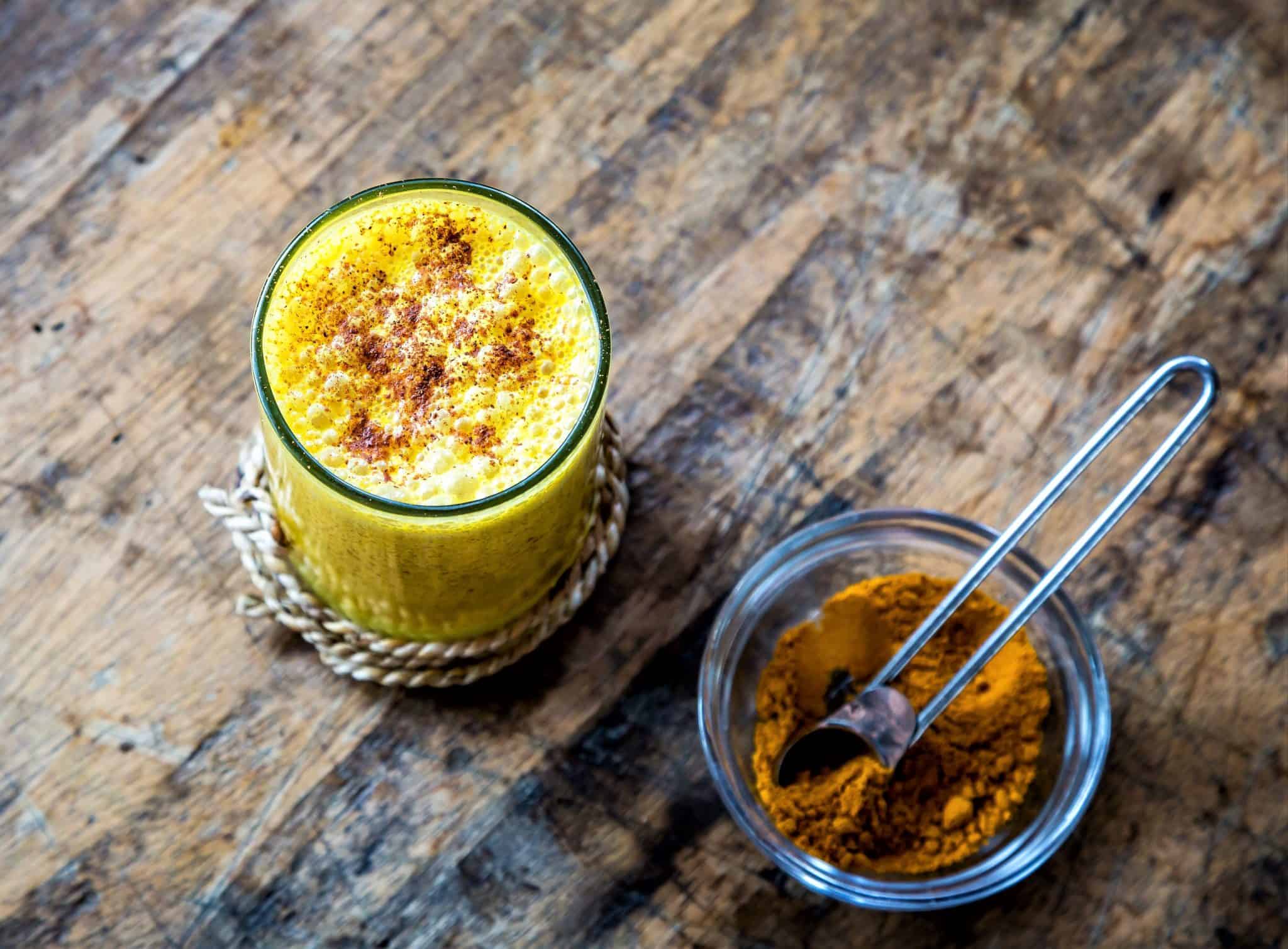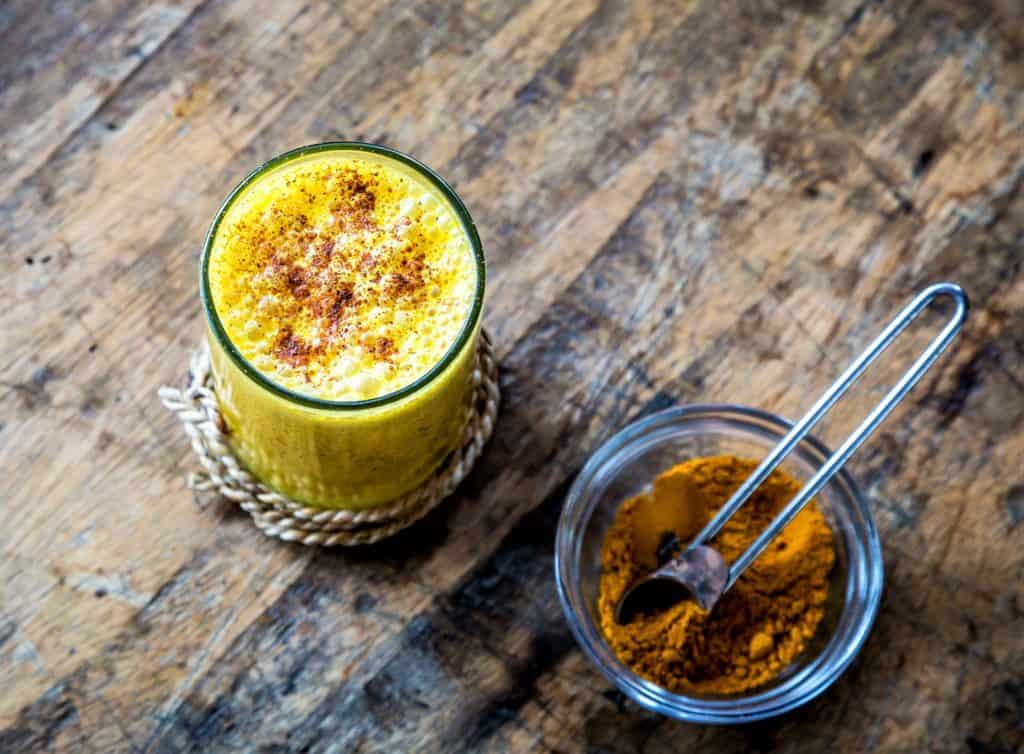 A single serving of golden milk comes together in a flash. Here's an easy method for making it:
Ingredients:
8 ounces milk of choice (I use lactose-free ultrafiltered milk. If you want to know more about ultrafiltered milk, read my popular post, Is Ultrafiltered Milk Good For You? )
1 teaspoon turmeric
½ teaspoon cinnamon
1 ½ teaspoons freshly grated ginger or ½ teaspoon ground ginger
A few grinds of black pepper
2 teaspoons sweetener, such as stevia, honey, sugar or other
Directions:
Using a whisk combine all ingredients in a measuring cup and then pour into a small saucepan and heat gently for 10 minutes.
Alternatively, cover with a wet paper towel and microwave on high for 1 minute. Remove and stir. Return to microwave and heat for another minute at 50% power.
Pour into a mug and top with a pinch of cinnamon and nutmeg. Enjoy!
---
I created the following baked rice recipe using one and a half teaspoons of ground turmeric to serve four people, which comes to about 75 mg of curcumin per person.
This dish is a fantastic side for a vindaloo or grilled meat served with a fresh vegetable and chutney. For some chutney ideas, read my recent post on varieties of chutney.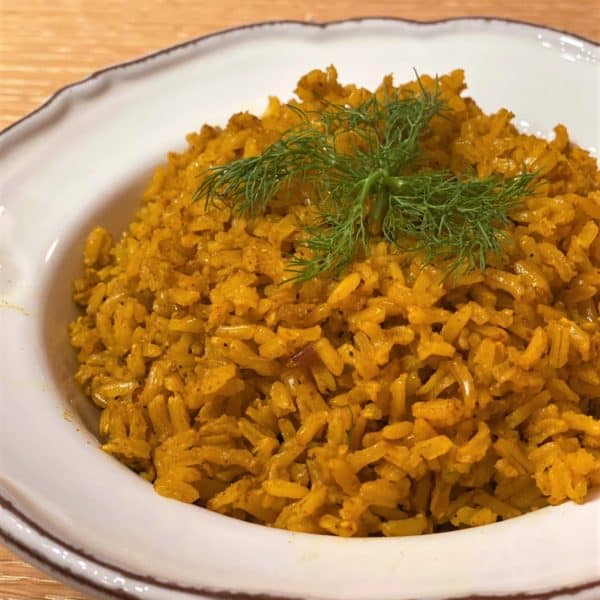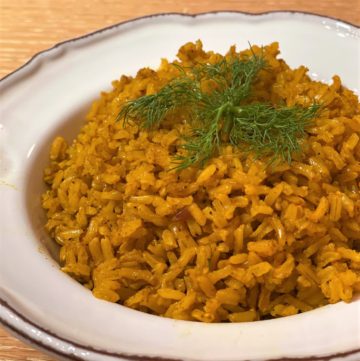 Oven-baked turmeric rice
Quick and easy pilaf method for an oven-baked healthy rice with fragrant, curry-like spicing
Equipment
saucepan with lid

fine-mesh strainer

large spatula or wooden spoon
Ingredients
¼

cup

onion

chopped

2

cloves

garlic

minced

1

cup

brown rice

jasmine or basmati

2¼

cups

broth

chicken or vegetable

1½

teaspoons

turmeric

1

teaspoon

ground cumin

½

teaspoon

coriander

½

teaspoon

black pepper

fresh ground

½

bay leaf

to taste

salt
Instructions
Wash your hands thoroughly and preheat oven to 400 degrees.

Put the rice in a fine-mesh strainer and rinse with water. Set it aside.

Heat olive oil in a medium saucepan (or medium, high-sided skillet); add onion and saute over medium heat until translucent. Add garlic to pan and cook for up to a minute, until aromatic.

Add rice and stir until all the grains are coated with oil and vegetable juices. Keep cooking until the grains are starting to color and smell slightly toasty. Add the spices and thoroughly mix, stirring.

Gradually pour in the broth, stirring, scraping up any bits of vegetable or rice stuck to the pan. Bring the mixture to a boil, then turn off the heat and place a tight fitting lid on the pan.

Place the rice pan in the oven. Bake for 40 minutes, until all liquid is absorbed. Be careful when removing the pan from the oven; it will be hot!

When ready to serve, fluff with a fork before portioning.
Notes
The idea behind this recipe is to free up stovetop space. It's also nice to know another way to cook rice. During the COVID-19 pandemic, cooking polenta and pasta in the oven has become popular. Why not rice, too?
The turmeric-rich rice has a bright yellow hue. The taste is warm, but not mellow. If you like hot spices, add ¼ teaspoon of red pepper flake, but don't leave out the black pepper. The black pepper helps your body absorb the bioactive curcumins in the turmeric.
Just how much curcumin is in a teaspoon of turmeric spice? Although a teaspoon of the yellow spice is about 200 mg of curcumin, according to the Times of India.
Nutrition
Calories:
193
kcal
Carbohydrates:
40
g
Protein:
4
g
Fat:
2
g
Saturated Fat:
1
g
Sodium:
534
mg
Potassium:
183
mg
Fiber:
2
g
Sugar:
2
g
Vitamin A:
297
IU
Vitamin C:
1
mg
Calcium:
30
mg
Iron:
2
mg
*Rozelle, R. (2020). The Essential Guide to Adaptogens: 15 Super Herbs to Relieve Common Ailments. Rockridge Press
COPYRIGHT © 2021 FOOD HALL BY JANI