This herb-based dressing is full of flavor from freshly squeezed lemons and fresh basil leaves. Versatile and healthy, Lemon Basil Vinaigrette elevates an ordinary green salad.
Plus, it's an easy upgrade for saucing a plain white fish or basic chicken breast. Drizzling it on a grain bowl will take it up to the next level.
I earn from qualifying purchases at no extra cost to you as part of the Amazon Affiliate program.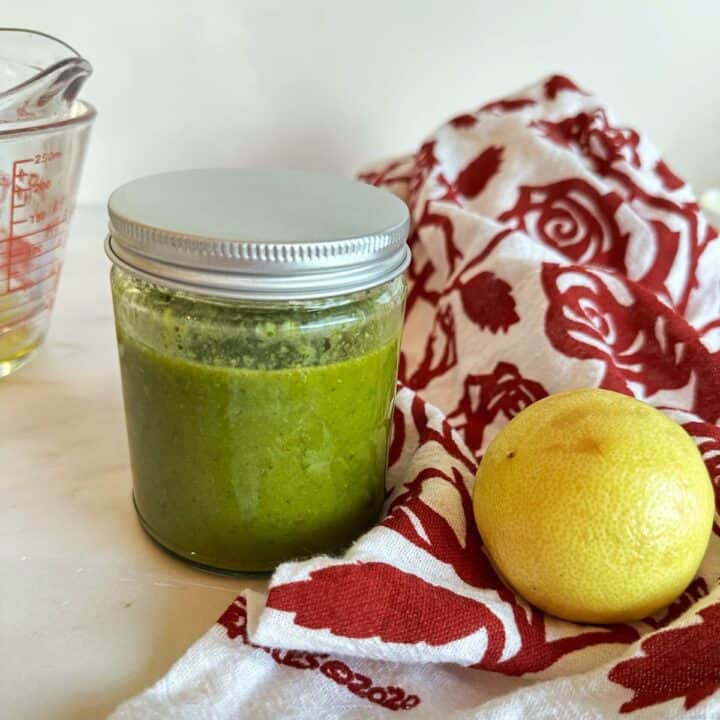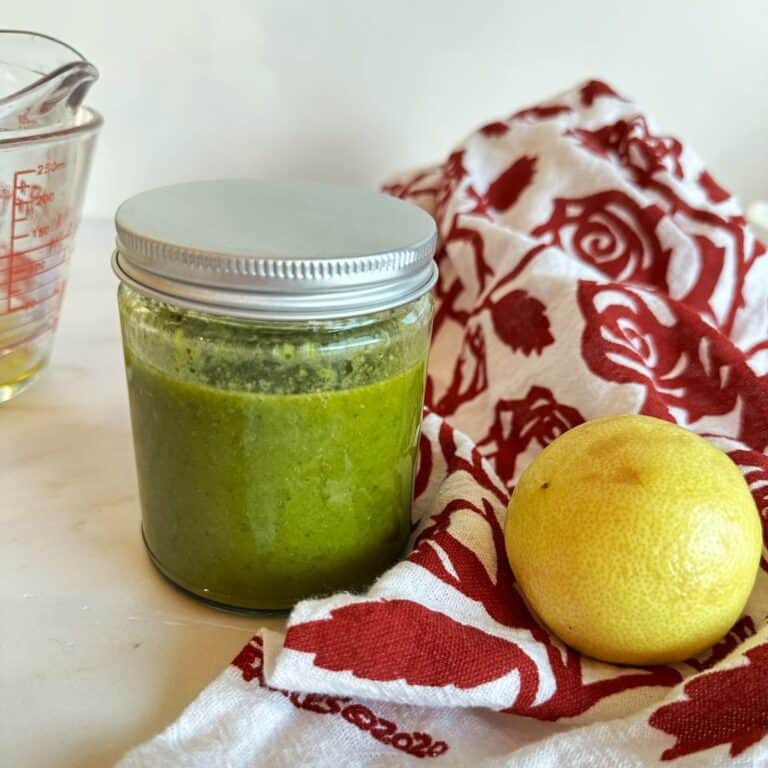 Ingredients
Extra virgin olive oil
Fresh lemon juice
Fresh basil leaves
Dijon mustard
Honey
Garlic
Red pepper flakes
Salt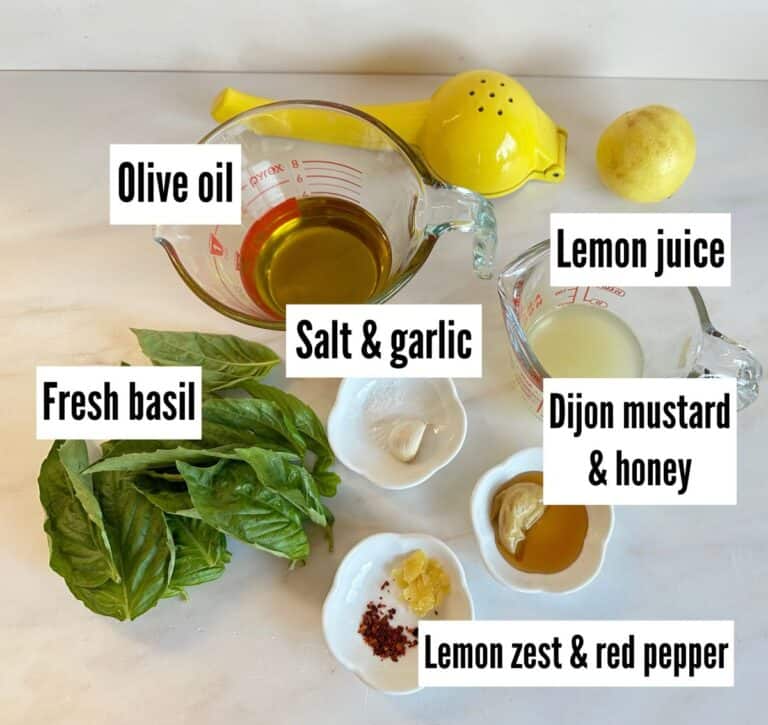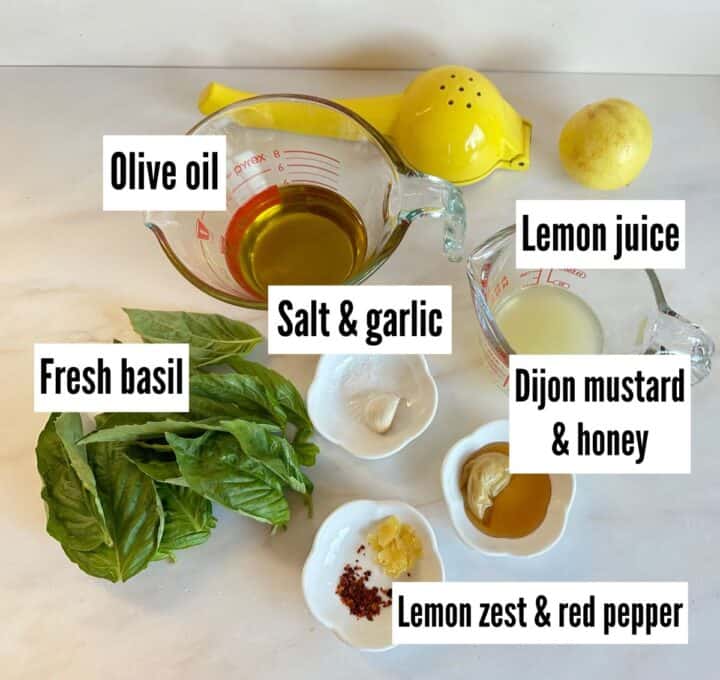 Olive oil: Choose a good quality olive oil. I use extra virgin but be cautious here since some extra virgin oils have a high acidity that does not play well with the lemon juice. A smoother oil will taste best.
Other choices would be sunflower oil, canola oil, or avocado oil--any neutral oil you like should work fine.
Fresh lemon juice: The juice from one to two small lemons should be enough. If you're rushed you can use storebought lemon juice, but the taste will not be quite as bright.
A citrus press makes quick work of juicing!
Fresh basil leaves: This vinaigrette is a great use for any basil you have grown at home. You could also use fresh flat-leaf parsley or cilantro or a combination. Basil and parsley taste lovely together.
🌿 Fresh herbs have the best taste and color.
Dijon mustard: If you don't have Dijon mustard, substitute a half teaspoon of dried mustard powder. Do not use yellow mustard!
🐝 Honey: A bit of sweetness takes the edge off the acidic lemon juice. Plus, it's an emulsifier that helps keep the vinaigrette from separating.
You could also try maple syrup in place of the honey. Maple is a lovely flavor paired with sweet basil and lemon.
🍋 Lemon zest: Use a finely serrated zester if you have one or cut a few wider strips from the peel with a paring knife. Just be careful not to cut down to the white pith, which will make the vinaigrette taste bitter!
🧄 Garlic: If you love garlic, add an extra clove. Fresh is best, but powder is okay if you don't have any on hand.
🌶 Red pepper flakes: These give the dressing a gutsier taste. Add more or less according to your palate and the heat of your spice.
🧂 Salt: Add more or less according to preference. Bear in mind that Dijon mustard is very salty, so if you add more mustard, you may not need as much salt.
How to Make
Once the basil is washed and the lemons are squeezed and zested, it doesn't get much easier.
If you like using an immersion blender, pile all the ingredients into a wide, deep container. You need to fit the blender head through the opening. Or put everything into a regular blender or food processor bowl.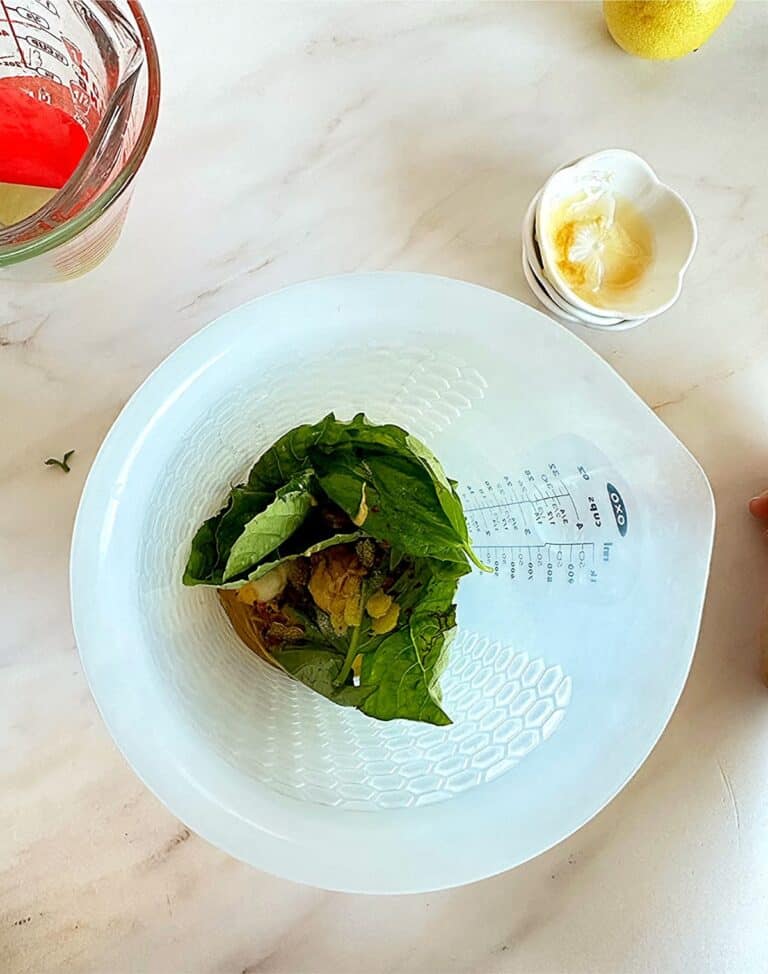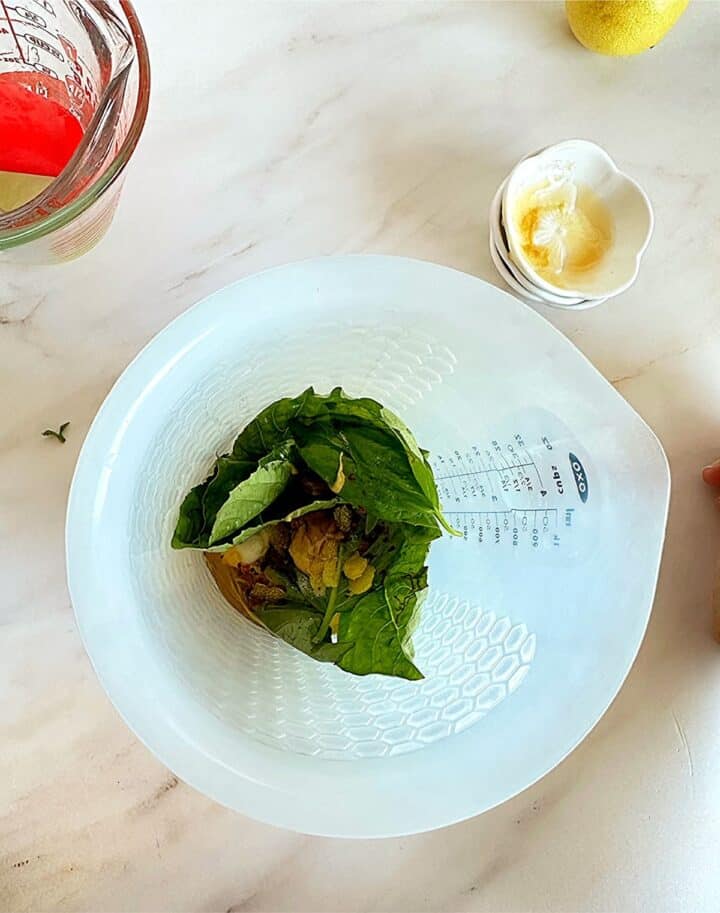 Pulverize for a minute or two. Pour into a storage container. You're done!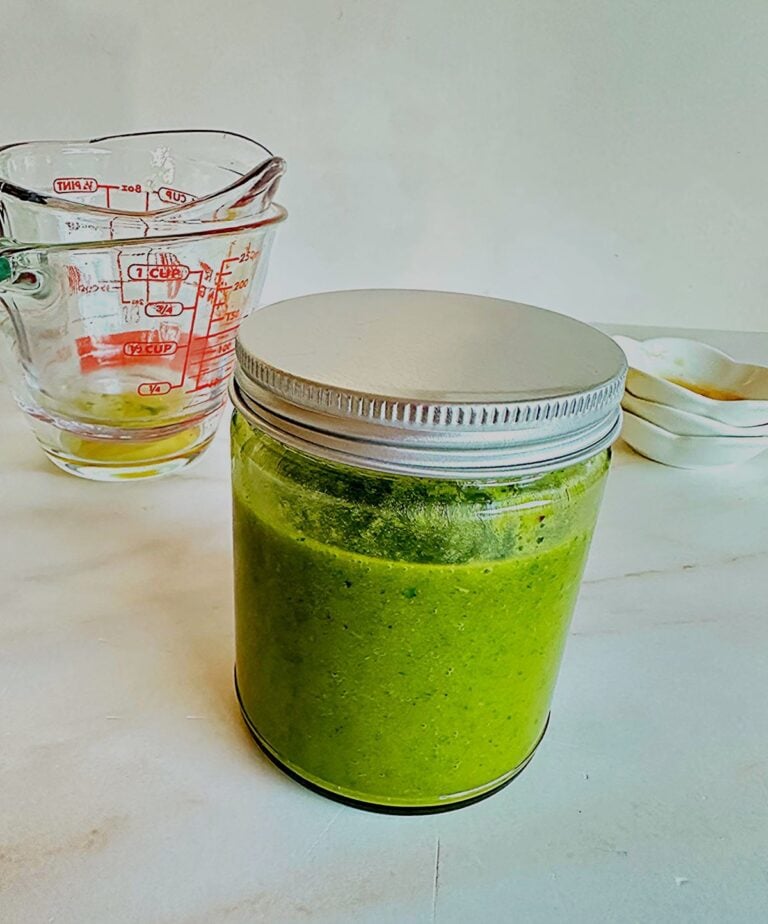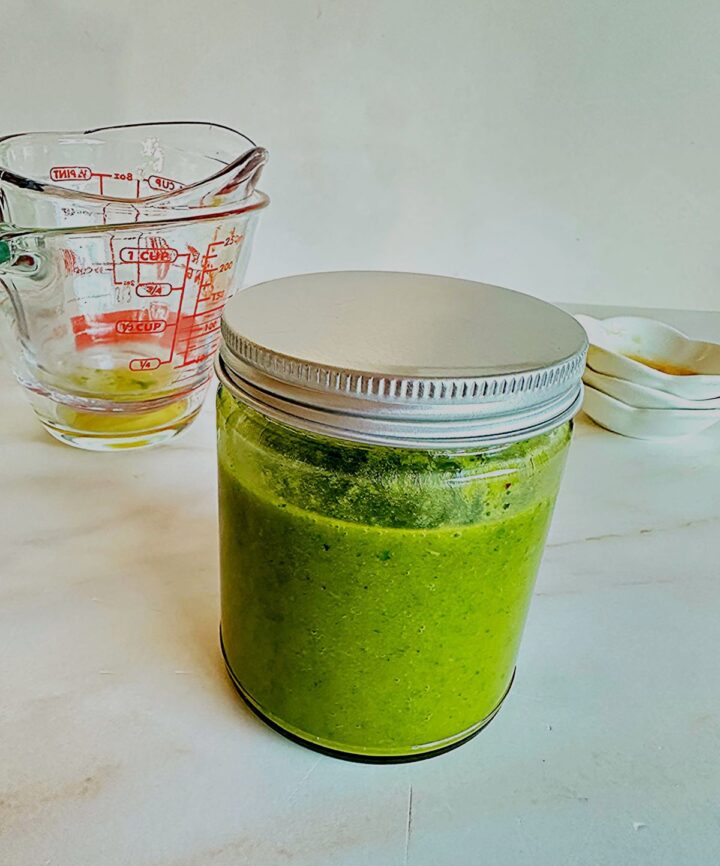 What is a vinaigrette?
A vinaigrette is a salad dressing made from oil, acid (like vinegar or citrus juice), and various seasonings and flavorings. It enhances the flavor of salads, vegetables, and sometimes, other dishes.
A basic vinaigrette consists of three parts oil to one part acid, although this ratio can be adjusted to taste. In the Lemon Basil Vinaigrette recipe, the ratio is two parts oil to one part lemon juice.
Because they are mixtures of oil and acid, which are chemically very different, most vinaigrettes contain some kind of flavorful emulsifier, an ingredient that will help marry the oil and acid into a smooth mixture.
Lemon Basil Vinaigrette uses mustard, a classic emulsifier, and honey, to help maintain a silky texture and keep it from separating. Using a high-force mixing tool like the immersion blender or food processor is excellent for emulsification.
Storage Tips
The vinaigrette won't last more than three or four days in the refrigerator before the flavors start to turn strange. Don't make more than you can use in the next few meals.
Store your vinaigrette in a jar or other container that's easy to pour from. If you put it in a small pitcher, be sure and cover it with plastic or foil.
You may find some storage success by freezing it in ice cube trays. Pop out a cube and thaw for an individual serving.
If the vinaigrette separates into layers while it's in the fridge, use a small whisk or fork to blend them again. Or, tighten the lid and shake the jar vigorously!
Prep tips
From start to finish, this recipe should take no more than 15 minutes. That includes gathering ingredients, washing and drying basil leaves, peeling a garlic clove, lemon juicing and zesting.
You can squeeze and zest the lemons up to a day ahead of time.
Don't worry about chopping the garlic. Smashing the clove before adding will encourage the release of heart-healthy allicin compounds, but it's not necessary. You can add the whole clove with the other ingredients.
Health benefits and bonuses
Olive oil and basil leaves are both anti-inflammatory and good for your heart.🤍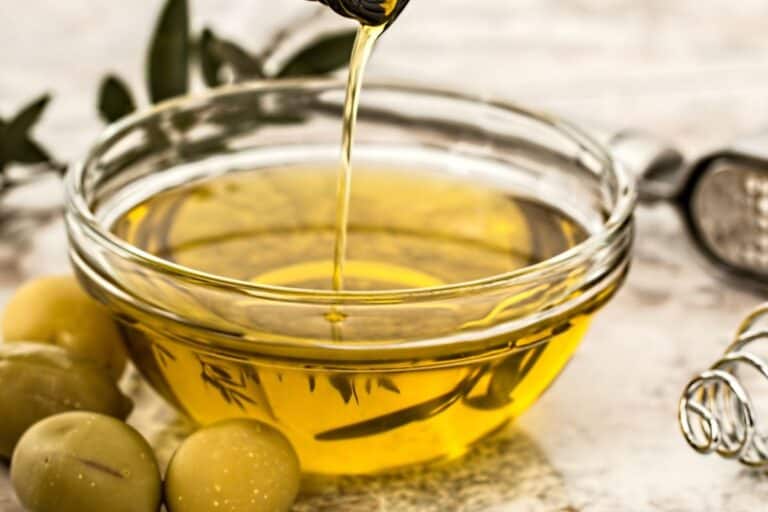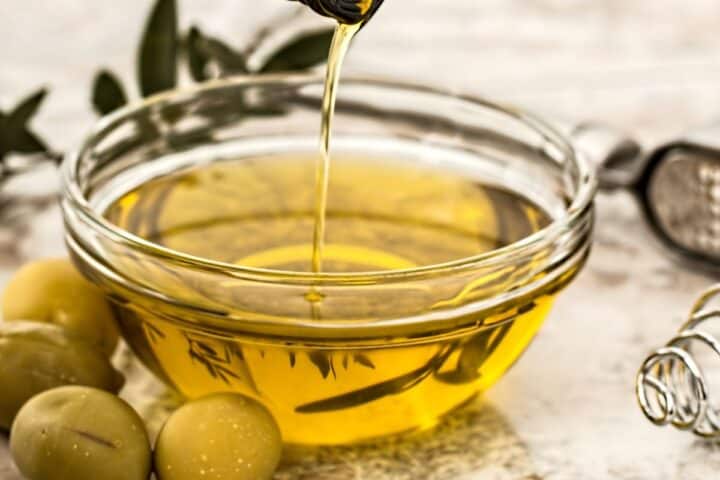 Olive oil:
Rich in monounsaturated fats, particularly oleic acid, which makes it less likely to clog arteries and may help prevent strokes.
Anti-inflammatory effects stem from ingredients that include oleic acid and oleocanthanthol, an antioxidant that helps with pain similar to ibuprofen.
It's a primary Mediterranean Diet ingredient, proven to lower cholesterol and reduce risks of several chronic ailments including heart disease and arthritis.
It also offers a smattering of vitamins, such as vitamins E and K.
Basil Leaves
These are also a source of vitamin K, which benefits bone health and blood clotting.
Eugenol, an oil and phenolic compound in basil, enhances heart health by lowering cholesterol and improving blood pressure.
Blood sugar management is another boon that may come from the herb.
Spices like basil are renowned for their anti-bacterial and anti-inflammatory properties. They can be helpful with arthritis pain, immunity, heart disease, and other conditions.
Lemon juice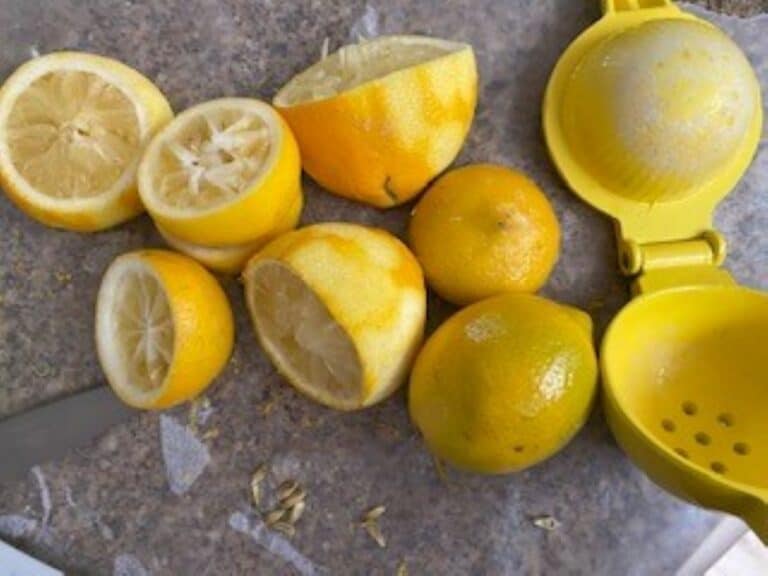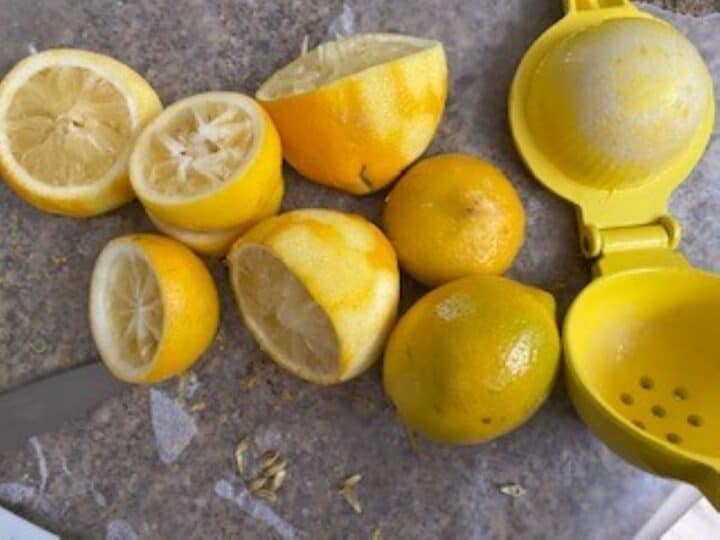 It's rich in antioxidant vitamin C. This, along with the citric acid in lemons, may increase your absorption of iron from plant foods.
So, Lemon Basil Vinaigrette will enhance your enjoyment of green salad while increasing your uptake of iron from the greens!
Homemade dressings and sauces have less sodium than store-bought ones!
Allergies, diet considerations
Some people are sensitive to eugenol in the basil leaves. Anyone with an allergy to clove oil should avoid this dressing.
The citric acid in the lemon juice can irritate the bladder and cause frequent trips to the bathroom.
Lemon Basil Vinaigrette, however, is dairy and gluten-free, suitable for the majority of diets. The recipe is especially good for the Mediterranean and Mind Diets.
FAQs
Is this vinaigrette vegan?
Technically, no. It contains honey, but you can substitute maple syrup for the small amount of sweetener that takes the edge off of the lemon juice. It would be delicious as a sauce for grilled or baked tofu!
Vegetarians may enjoy it drizzled over eggs or on top of a Margherita pizza.
Do I have to use olive oil?
No. Feel free to substitute another neutral oil like avocado, grapeseed, sunflower, or canola.
Can I use the vinaigrette if it separates in the refrigerator?
Yes. Just shake or whisk the dressing to re-combine the ingredients.
Will the vinaigrette taste okay if it turns darker green when stored in the refrigerator?
Yes. But it does not have a long shelf life. It only keeps about four days in the refrigerator.
Can I substitute dried herbs for fresh ones?
Dried herbs are a good choice if you want the dressing to keep longer in the fridge. The character of the vinaigrette will be less saucy with dried herbs.
Substitute a generous tablespoon of dried basil for the fresh. For a more robust dressing, use two teaspoons of dried basil plus two teaspoons of dried oregano.
With dried herbs, you won't need a food processor or blender. Simply whisk the ingredients or shake vigorously in a jar. Read more about the herbs and their nutrition in Mediterranean Spices and Herbs for Better Health.
Many uses for this simple vinaigrette
This sauce resembles a pesto but does not contain any Parmesan. You can almost think of it as a vegan pesto. With the bright flavor of lemon, it is more refreshing than pesto.
Nonetheless, it would be a delicious addition to a cheese or chicken pizza. Or try it drizzled over this Spaghetti Napoli!
Of course, it's a lively dressing for salads, both green and grain. It's perfect tossed with couscous or orzo.
On a Caprese Salad, try it in place of a balsamic vinegar dressing. It's also a divine treatment for sliced raw tomatoes!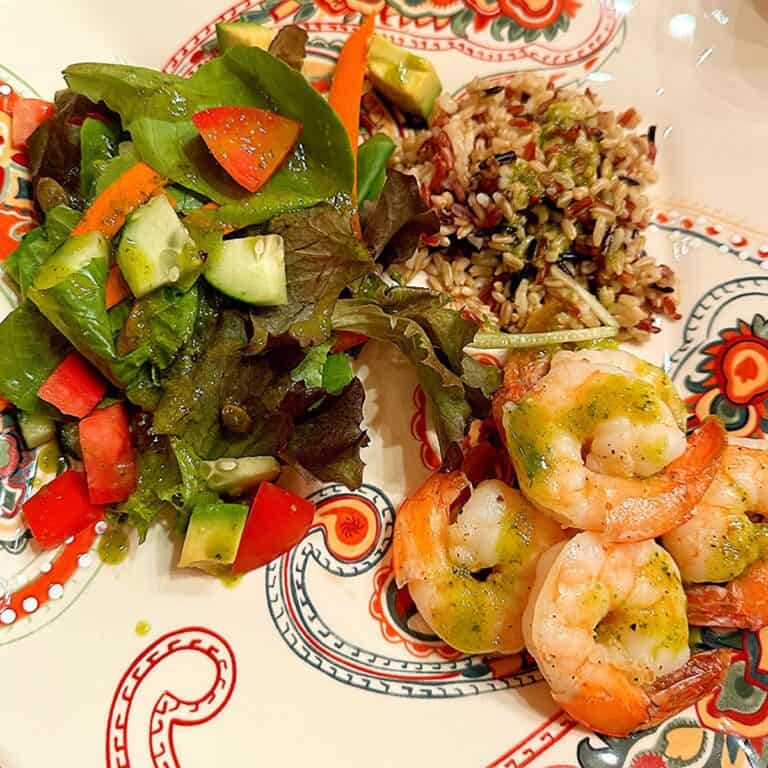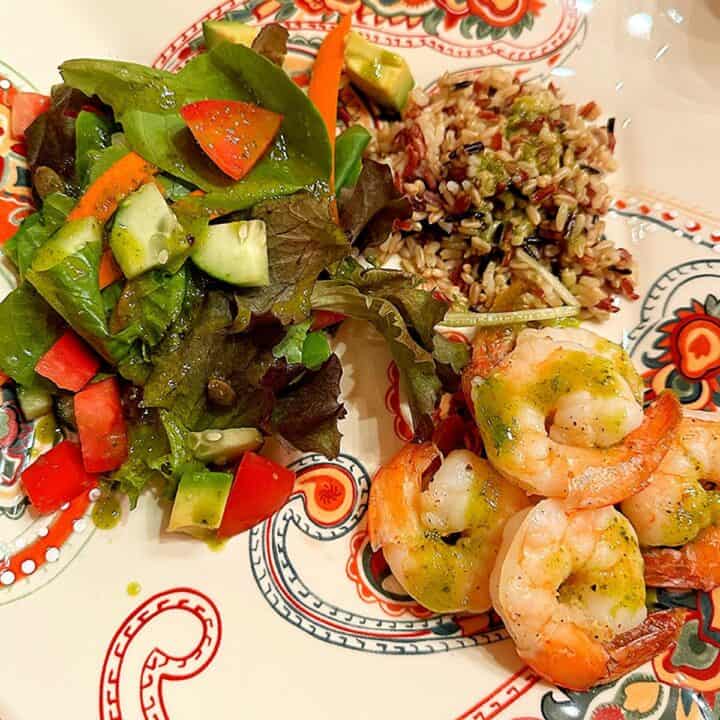 As a sauce, it plays well with shrimp, fish, chicken, and eggs. It also makes a nice marinade for shrimp or chicken.
It's incredibly versatile!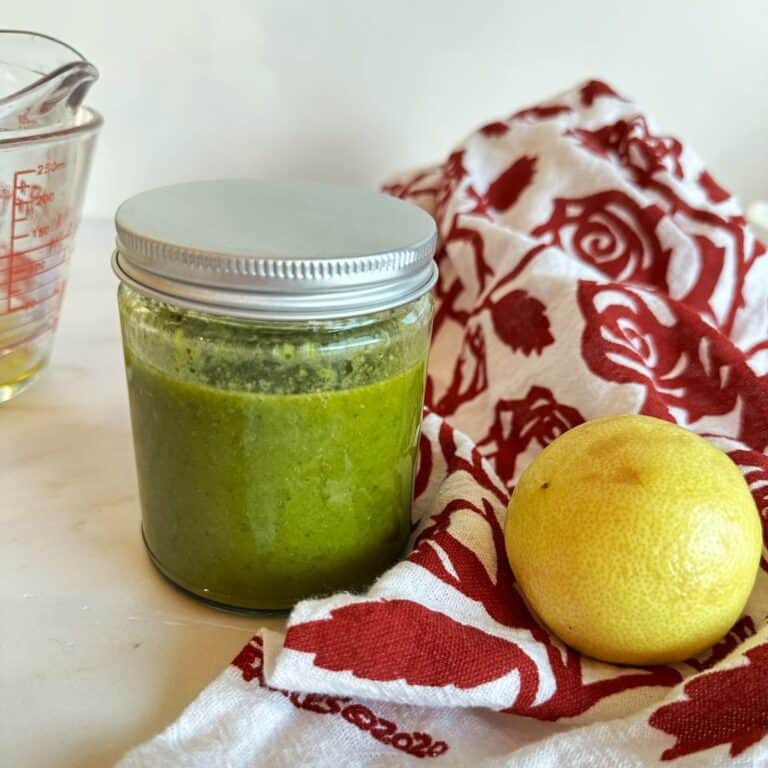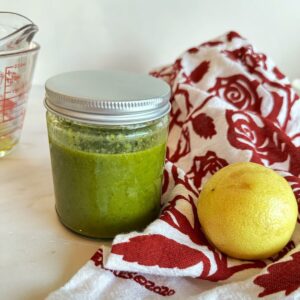 Lemon Basil Vinaigrette
A zippy lemon dressing with a slightly sweet flavor that does double and triple duty. Terrific as a dressing on cold salads, it tenderizes and flavors proteins as a marinade. Or, use it as a delicious sauce for grains and pasta.
Equipment
Immersion blender or food processor

1 citrus press or reamer

fine grater

spatula
Ingredients
½

cup

olive oil,

extra virgin, good quality

¼

cup

lemon juice,

from one or two small lemons

¼

cup

fresh basil leaves,

packed

½

teaspoon

lemon zest,

from one lemon rind, optional

2

teaspoons

Dijon mustard

1

clove

garlic,

or ½ teaspoon garlic powder

1

teaspoon

honey,

or sugar

¼

teaspoon

salt,

or more to taste

¼

teaspoon

red pepper flakes,

or more to taste
Instructions
Wash hands under running water with soap for 20 seconds before starting.

Place all ingredients in the bowl of a food processor or a deep container large enough for an immersion blender. (You could also use a regular blender.)

Process or blend ingredients until well-mixed, about a minute.

Place in an airtight container and refrigerate for 3 to 4 days. Use to dress salads, as a sauce for shellfish, fish, or chicken, or drizzle onto grains or small pasta shapes.
Notes
Serving size and calorie count are approximate and not exact.
Nutrition
Serving:
2
T
Calories:
125
kcal
Carbohydrates:
2
g
Protein:
0.1
g
Fat:
14
g
Saturated Fat:
2
g
Polyunsaturated Fat:
1
g
Monounsaturated Fat:
10
g
Sodium:
88
mg
Potassium:
15
mg
Fiber:
0.1
g
Sugar:
1
g
Vitamin A:
60
IU
Vitamin C:
3
mg
Calcium:
4
mg
Iron:
0.1
mg
Copyright © 2023 Jani H. Leuschel