Known as a superfood and an adaptogen, maca powder is energizing, so recipes with maca are especially good at breakfast.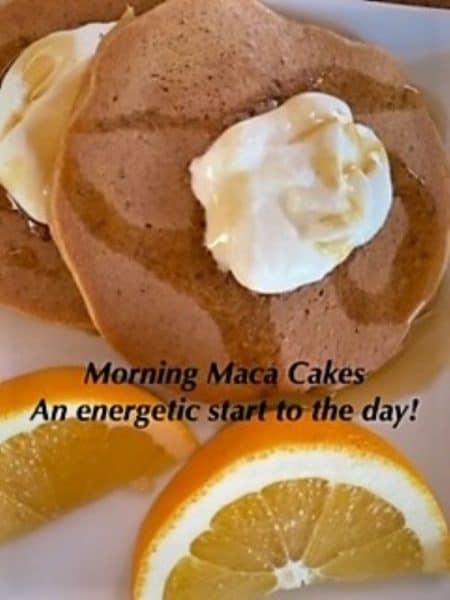 Smoothies, lattes, oatmeal, and breakfast grain bowls are all good candidates for a dose of maca powder.
Nutty and darkly sweet, it tastes especially nice in breakfast breads like muffins and pancakes.
Maca powder is actually considered flour in Peru, where the average person eats about half a pound of maca every day. The powder is made from maca root, a cruciferous vegetable that grows at high altitude, in the harsh conditions of the Andes mountains.
Maca's scientific name is Lepidium meyenii, and it's related to root veggies like radishes and turnips.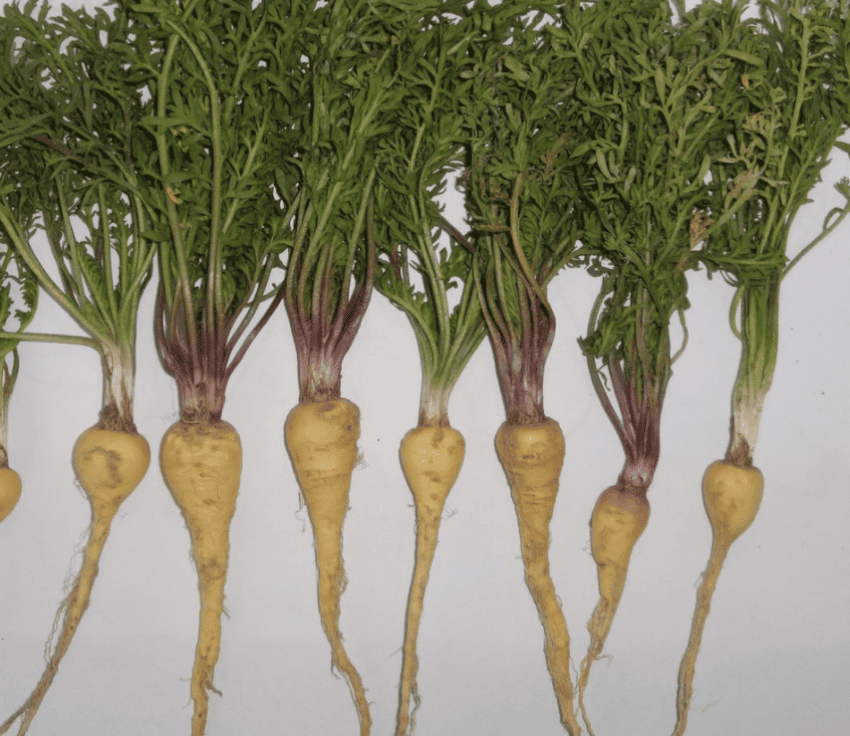 High in natural sugars, it also contains glucosinolates, which are found in broccoli, cabbage, and Brussels sprouts. These compounds may protect against cancer and heart disease. (For a complete discussion of glucosinolates found in cruciferous vegetables, read my post on broccoli.)
Dried maca root is commercially available online and in mainstream and specialty grocery stores. Usually, it's sold in powder form although extracts and capsules are also available.
If the package label says gelatinized, it means the maca powder has been heat-treated and may be easier to digest. In Peru, the bulbous or rectangular maca root is always cooked before it is eaten.
The powder form is my favorite because it's easy to add to different recipes. You can find many different maca products at The Maca Team.
The Maca Team's website also offers recipes and information, such as which type of maca is best for your needs.
(There are three colors of maca: black, red, and yellow. The yellow type is typically what is made into flour.)
I participate in the Amazon Associates affiliate program and The Maca Team's Partner Program. At no increased cost to you, I may earn a commission if you purchase a product through links on this site.
If you live at an altitude above 13,000 feet (4,000 meters), perhaps maca helps you thrive and survive. Known as Peruvian ginseng, maca is reputed to have adaptogenic qualities that help you manage stress.
Maca for physical performance, energy ⚡
Legend has it that the Incans would eat maca before going into battle to give them strength and energy.
Most studies on the benefits of the root are with animal subjects, but a 2020 review of maca studies noted that members of a Cusco soccer team experienced gains after taking 1500 mg/day of maca after 60 days.
The team averaged a 10.3% increase in physical performance with a maximal increase in oxygen consumption (VO2max) of 33.6%. Some of the increased performance could simply be a result of training.
Standard endurance training programs with untrained individuals often increase oxygen capacity by 15 to 20%. Up to 40% increases have been noted in people who are genetically predisposed to a high VO2max.
Maca doubles down to boost athletic performance
Fights off fatigue:
Higher rates or levels of enzymatic activity help with creating power and energy within muscles.
Specifically, it increases the activity of the enzymes glutathione peroxidase and creatine kinase. It also increases the production of ATP, your cell's energy currency.
It assists recovery:
Using maca may lower the liver's output of waste products from protein breakdown. It also helps muscles replenish the glycogen stores needed for quick energy.
It's not surprising that athletes turn to maca to boost training and game-day exploits. Unlike other performance-enhancing supplements, maca is legal, and it doesn't cause a crash or jitters--downsides to caffeine and other stimulants.
Maca for chronic disease 💛
People with diabetes and/or heart disease may reap health benefits from maca.
In a study of mice with diabetes, maca decreased their inflammation. Since inflammation is a hallmark of type 2 diabetes, maca's capacity to increase antioxidant activity may punch down inflammatory processes.
Rodents with high triglycerides ate a high-sugar diet and maca in research published in Plant Foods for Human Nutrition. Maca supplements reduced the rise in cholesterol and triglycerides and appeared to decrease blood sugar levels.
Maca may boost glycemic control in diabetes, and it may decrease the buildup of fatty plaques that contribute to heart disease.
These are rodent studies, however, not experiments with human subjects. Do not rely on maca to counter the effects of a high saturated fat/high sugar diet!
Maca for your brain 🧠
Maca supplementation may improve brain function. When differing doses of maca were given to rats after a stroke, the rats taking the lowest dose showed improvement. Higher doses increased the amount of brain damage.
In rodent experiments, black maca in particular improved learning and memory. Researchers believe the improvements were due to the abundant flavonoids in black maca.
Hormonal effects of maca
One of the adaptogenic effects of maca is that it assists with stress management, helping with anxiety, depression, and sexual dysfunction.
Some practitioners of traditional medicine turn to maca for balancing your hormones.
It is used for fertility and menopausal symptoms. Regular maca intake may reduce hot flashes in some women in the time period immediately before and after menopause.
For men, maca may increase sexual desire and performance, and it may improve semen quality. It may enhance libido in women, as well as men.
Should you use maca?
Safety
Most rigorous research on maca has been with animals. Human studies are scarce. But, the history of maca for medicinal purposes stretches back to Incan culture in Peru where it has been cultivated for more than 2,000 years, so it is safe to ingest.
Side effects
Anyone with a thyroid problem should eat maca sparingly, if at all. It contains goitrogens, which are found in cruciferous vegetables and can interfere with iodine uptake by the thyroid gland.
Nausea is a problem, especially from large doses and raw maca, which is difficult to digest.
Many maca powders are from raw, dried maca. Because it has been heated, gelatinized maca powder is easier on the GI tract. In Peru, maca is always cooked before it is eaten.
How nutritious is maca?
Maca's amazing nutrition profile earns it a superfood label.
| | |
| --- | --- |
| Maca powder | 1 teaspoon (5 g) |
| Calories | 20 |
| Total Fat | trace |
| Cholesterol | 0 g |
| Sodium | trace |
| Total Carbohydrate | 4 g |
| Fiber | 0.4 g |
| Total Sugars | 2 g |
| Added Sugars | 0g |
| Protein | 0.7 g |
| Vitamin C | 14.25 mg |
| Niacin (B3) | 0.285 mg |
| Vitamin B6 | 0.06 mg |
| Calcium | 13 mg |
| Copper | 300 mcg |
| Iron | 0.74 mg |
| Potassium | 82 mg |
The values in this table are for a standard serving of maca root powder, which is a teaspoon. This small amount has about 15% of the Recommended Daily Allowance (RDA) for vitamin C, and it contains vitamins B3 (niacin) and B6.
Maca is a mineral powerhouse with almost 10% of the RDA for iron an adult man and half your daily needs for copper in a single teaspoon. It offers more than 40% of the RDA for manganese, important for strong bones and cartilage and for energy.
Clearly, it's a good source of potassium and calcium, containing more calcium per teaspoon (5 g) than milk.
Potassium balances dietary sodium and helps keep blood pressure in check.

Calcium is important for strong bones and for a healthy heartbeat. The standard American diet is often lacking in these minerals.
Maca also boasts fiber and protein. (There aren't many foods that offer nearly a gram of protein per teaspoon.)
Maca summary
Here's a snapshot of maca's health benefits:
Adaptogen: Helps with stress management. Improves anxiety and depression.
Chronic disease: Antioxidant activity lowers inflammation. Possibly helps with glycemic control in diabetes. Better heart health from reductions in cholesterol and triglycerides.
Cognition: Antioxidant and anti-inflammatory activity enhances brain function. It may help with learning and memory.
Hormonal balance: May reduce hot flashes in peri- and post-menopausal women.
Sexual health: May increase desire in both men and women. Possibly increases fertility and ability for men.
Stimulant: Supplies energy and may improve athletic performance.
Although not mentioned in this list, maca may also improve skin health. Applied topically, it promotes wound healing at high altitudes and can act as a sunscreen, according to results from two studies.
In yet another experiment, maca extract was employed as an insecticide to kill mosquitoes.
The possible applications of maca are not infinite, but they are copious!
Food + maca
Best of all, naturally sweet maca can be used as a health-boosting ingredient in recipes. Some people describe the flavor as malty or molasses-like. Here are some ideas for how to use maca powder.
Put a teaspoon into a smoothie with a cup of plain yogurt, half a frozen banana, 2 tablespoons of peanut butter, and a teaspoon of honey.

Add it to a shake made with chocolate or vanilla whey powder so it can help with post-workout recovery!

Sprinkle half a teaspoon on top of your morning oatmeal along with cinnamon, nuts, and berries.

Boost your latte with a half teaspoon.

Swap out a couple of tablespoons of flour for maca powder in your favorite muffin or quick bread.

(As in the recipe below!)
If you are feeling adventurous, put a tablespoon in your favorite chili or sub it for chocolate in a mole sauce and serve it atop enchiladas! (Macamole?)
Quicker than enchiladas, these morning maca cakes are an energizing weekend breakfast or "brinner," especially if you exercise in the latter part of the day.
Pair the maca cakes with some chicken maple sausage or scrambled eggs if you want more protein. A side of fruit adds even more tasty nutrition!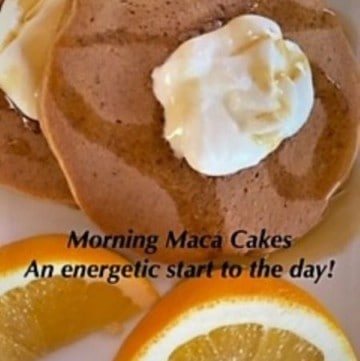 Maca Morning Cakes
Breakfast treats with energy benefits! Maca root has adaptogenic qualities. This pancake recipe offers a delicious way to boost your day.
Equipment
griddle

Medium bowl

8-cup liquid measure

optional, but convenient

measuring cups (dry) and spoons
Ingredients
½

cup

all-purpose flour

½

cup

whole wheat flour

⅜

cup

almond flour

2

Tablespoons

maca root powder

1 ½

teaspoons

granulated stevia

or use a Tablespoon of sugar or honey

1

teaspoon

baking powder

½

teaspoon

baking soda

½

teaspoon

salt

1 ½

cups

milk

Use dairy or choose plant milk if you are vegan. The flavor of maple oat milk is especially nice.

1

whole egg

Vegans can substitute with 1 Tablespoon ground flax meal + 3 Tablespoons water. Be sure to let the mixture rest for 10-15 minutes.

1

egg white

For vegan recipe, omit.

1

Tablespoon

maple syrup

1 ½

teaspoons

vanilla
Instructions
In a medium bowl, combine the flours, maca root powder, and remaining dry ingredients. Stir well.

Pour the dairy or plant-based milk into a 4- or 8-cup liquid measure. Add the egg or flax egg and egg white (if using) and maple syrup. Whisk or use a fork to briskly combine the wet ingredients.

Add dry ingredients to wet and stir just until all are moistened.

Let the mixture sit for a few minutes as you heat a griddle or large skillet.

Pour a generous half cup of pancake batter onto griddle and cook until small bubbles form on the wet side. Flip pancake and cook for a few more seconds.

Transfer to plate and cover with foil to stay warm (or hand off to be eaten immediately). Continue cooking pancakes until all the batter is used up.

Serve topped with plant-based yogurt or Greek yogurt and/or syrup.
Notes
If you have extra pancakes, freeze them for another morning. 🥶
Place parchment or wax paper in between each. Wrap 2 to 3 pancakes tightly in foil. For optimal freshness, place the foil-wrapped bundle of cakes into a zip bag before freezing.
To reheat, microwave each frozen pancake for about 60 seconds.
Nutrition
Calories:
116
kcal
Carbohydrates:
16
g
Protein:
5
g
Fat:
4
g
Saturated Fat:
1
g
Polyunsaturated Fat:
1
g
Monounsaturated Fat:
1
g
Trans Fat:
1
g
Cholesterol:
20
mg
Sodium:
241
mg
Potassium:
141
mg
Fiber:
2
g
Sugar:
5
g
Vitamin A:
83
IU
Vitamin C:
1
mg
Calcium:
88
mg
Iron:
1
mg
For more recipes with maca, click here to check out the collection on the Navitas site. Also, don't forget to check out the recipe round-up at The Maca Team. It features seasonal dishes like pumpkin-lentil soup and pumpkin pie -- both with maca, of course!
Copyright © 2022, Jani H. Leuschel