As summer simmers to an end, you may find yourself with a freezer (or kitchen counter) full of tomatoes. Although you could make marinara, why not try Roasted Tomato Chutney?
This cooked chutney is full of jammy, melty tomatoes. Thick and chunky, sweet and spicy–this condiment makes you understand how a tomato can be a fruit.
It makes a flavorful sidekick for a wide variety of dishes and cleanup is a breeze! (Not even a pot to wash!)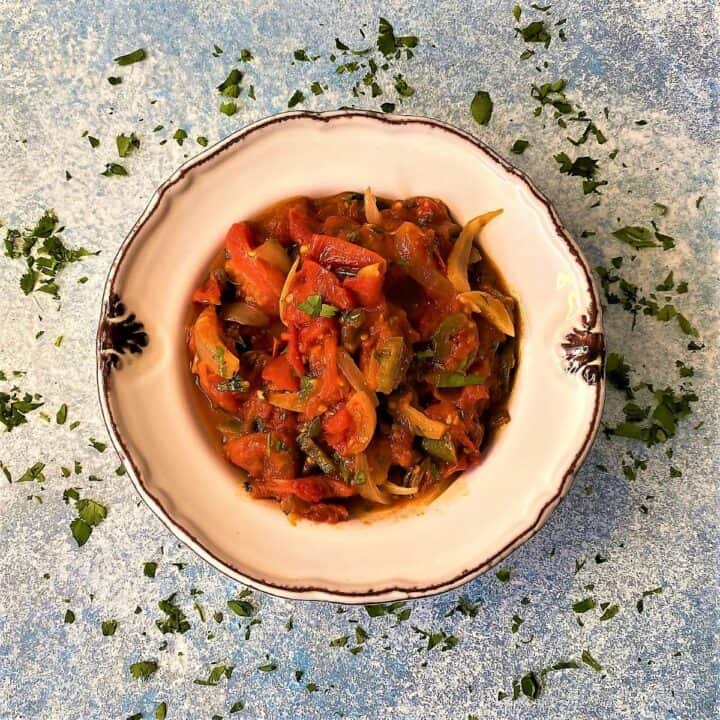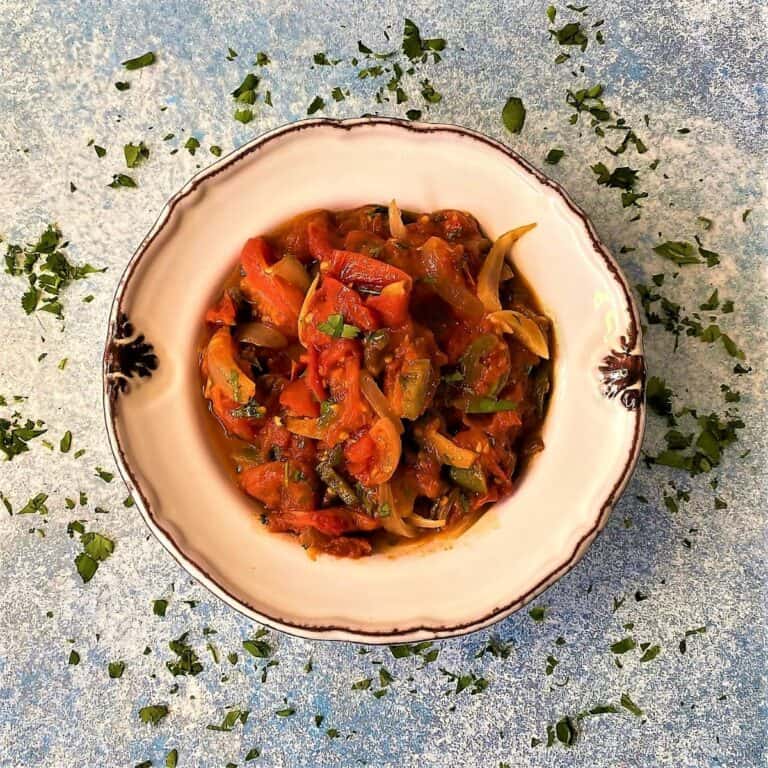 As an Amazon affiliate, I earn when you buy from links supplied in this blog at no extra cost to you.
Ingredients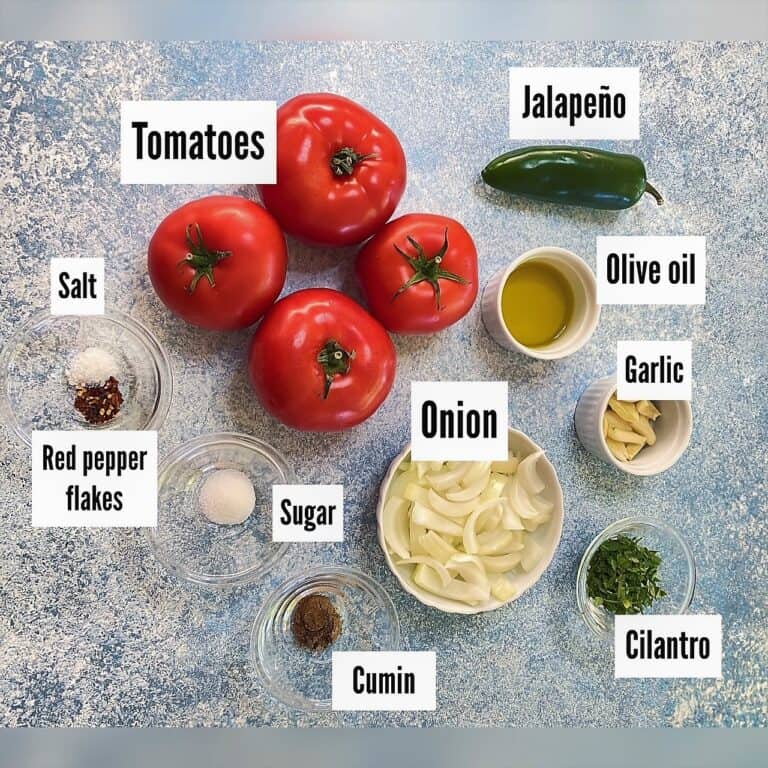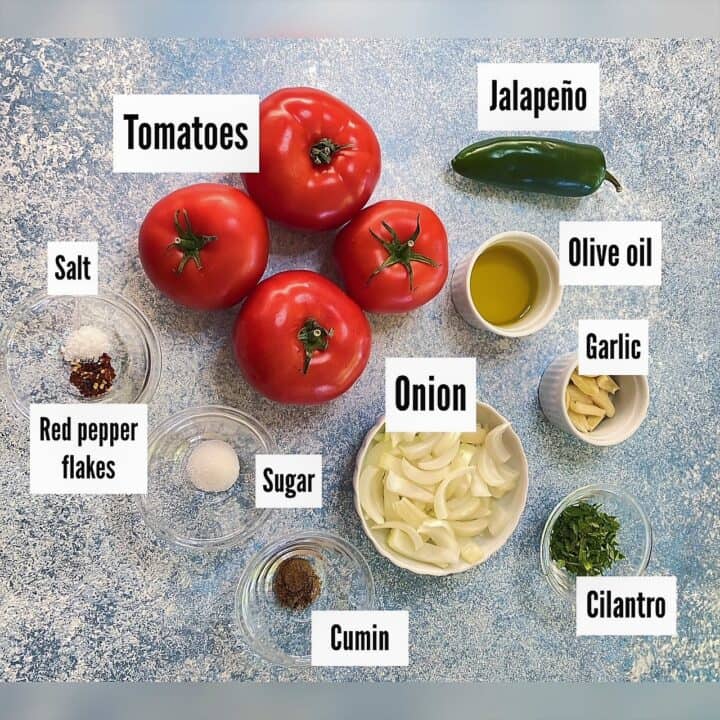 Tomatoes
Jalapeno or green bell pepper
Onion
Garlic
Sugar
Cumin
Red pepper flake or coarse ground black pepper
Salt
Olive oil
Cilantro or Flat-leaf parsley
Tomatoes: Chutney is a great use for an abundance of home-grown and/or overripe tomatoes. You can also use any variety of tomatoes from the store.
Make a double batch and give some away as a gift or freeze. You could also make it shelf-stable by canning if you have time.
Onion: Use your favorite color, sliced instead of chopped. I prefer the sweeter taste of yellow onions.
Garlic: To get the most nutrition from your garlic, smash or rough chop and let it sit while you prep the other ingredients, so it develops heatlhy allicins. These chemical compounds have many health benefits.
Remove the garlic sprout if it's large and green so your chutney won't be bitter.
Peppers: Use a mild green bell pepper, a jalapeno, or maybe another likely suspect from your garden. Bear in mind that jalapenos, serranos, and chipotles will give the chutney a salsa-ish character.
When combined with cumin, this is especially true.
How to make Roasted Tomato Chutney
Preheat the oven and line a low-sided sheet pan with extra-wide foil.
Cut tomatoes into wedges using a serrated knife. (If using cherry tomatoes, no prep other than washing is required.)
Place the tomatoes on a foil-lined pan and scatter chopped pepper, onion slices, and smashed garlic over the top.
Sprinkle with sugar, kosher salt, and cumin.
Pour olive oil over all the ingredients.
Remove from the oven after roasting for 15 minutes. Crush the tomatoes and stir to mix with vegetables and spices. Return to oven and roast another 15 minutes.
After removing the pan from the oven, let the chutney cool slightly. Then, stir in fresh chopped cilantro or flat-leaf parsley.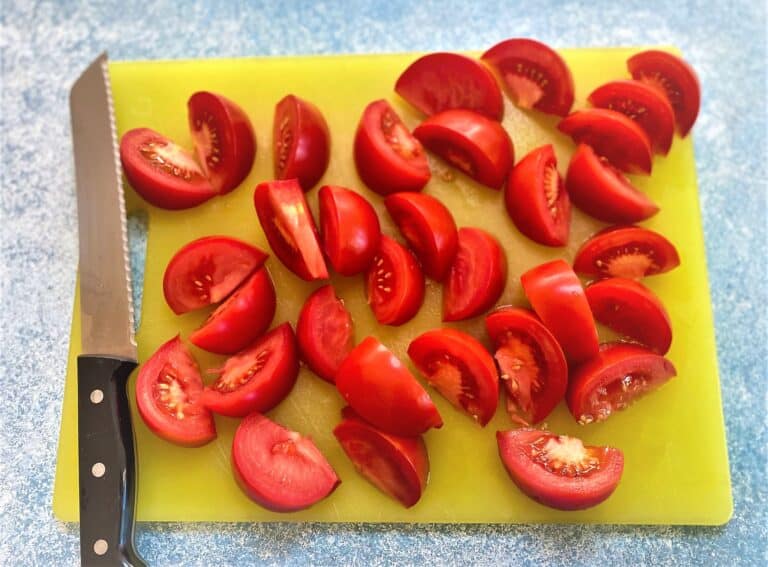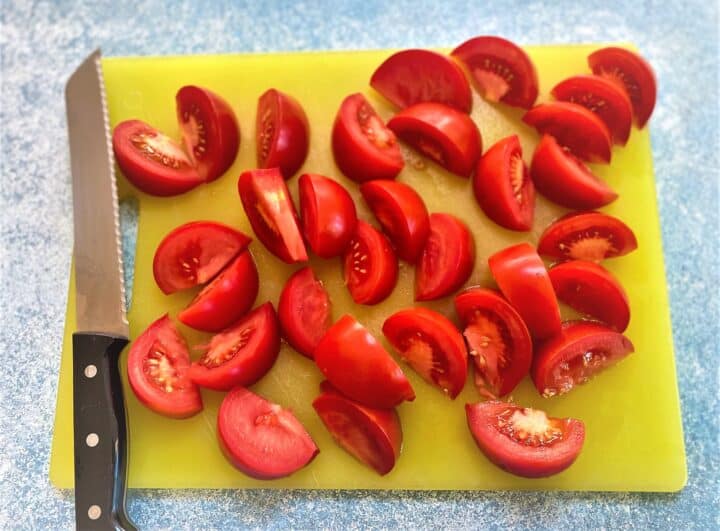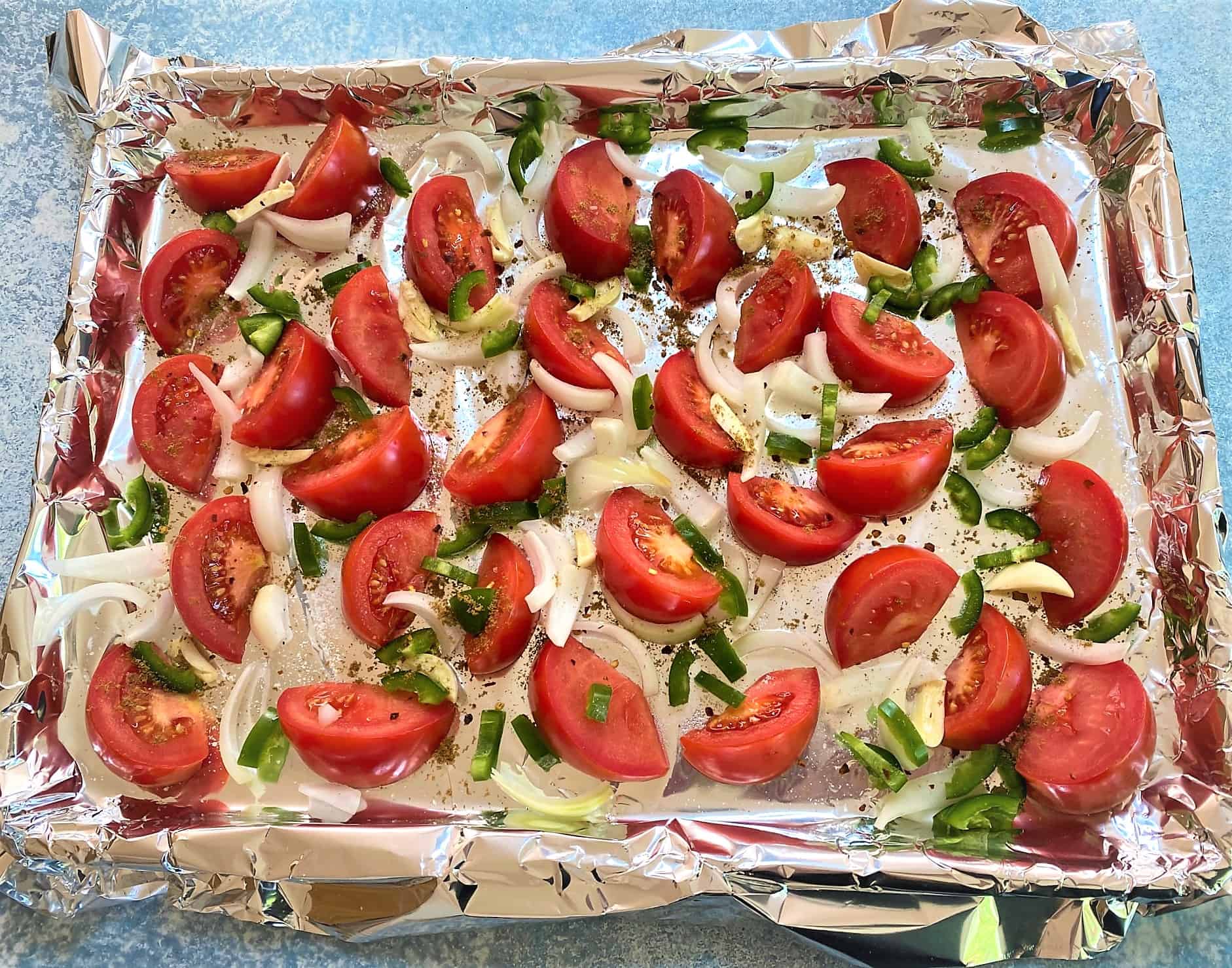 Do not allow the tomatoes, onions, or garlic to darken too much. Turn the heat down to 400 F if the vegetables start to burn.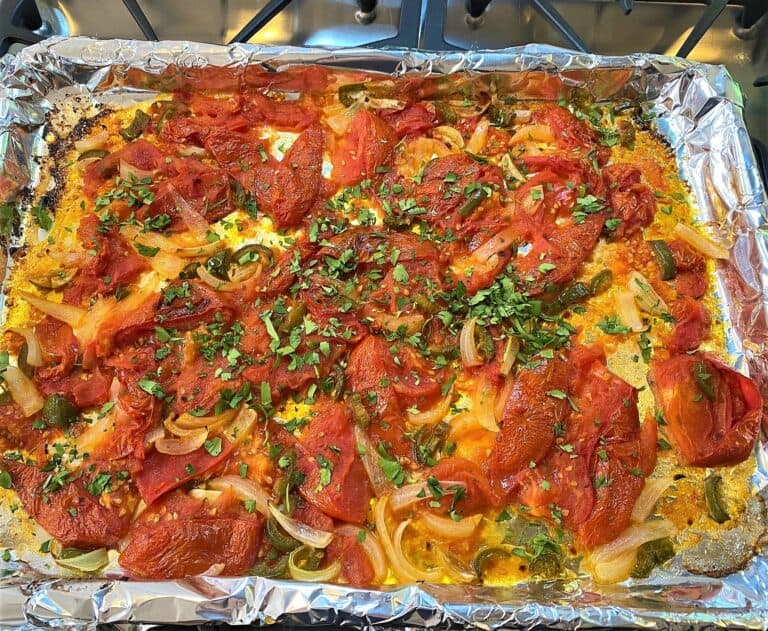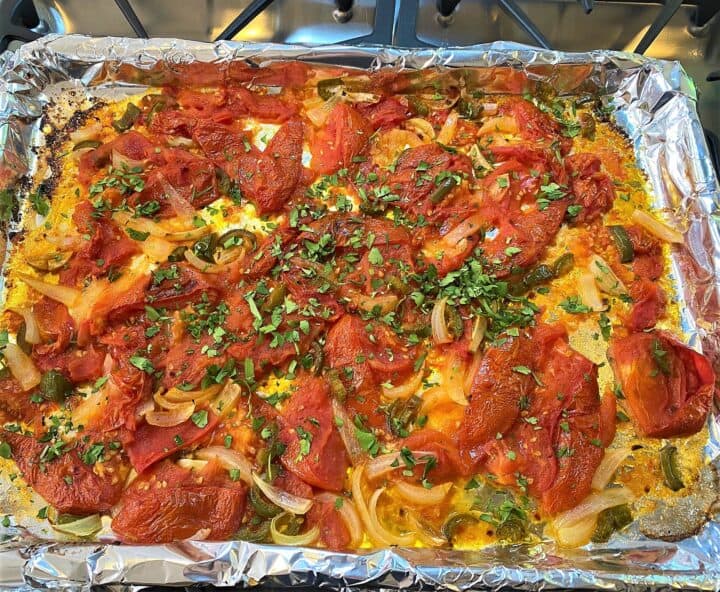 Serve by lifting the edges of the foil and making a bowl with it. Pour chutney atop rice, pasta, grilled fish, or grilled chicken.
You can also pour it into a bowl to serve family-style alongside a meal.
FAQs
How long can I store tomato chutney in the refrigerator?
It will last up to a month or maybe longer in the refrigerator depending on the acidity of your tomatoes. As it sits, it does get slightly watery, so you may need to drain it.
Yes. It will be fine in the freezer for six months to a year. Store it in a container with all the air removed. You can use a quart-size zip bag for convenience or any two-cup container.
The silicone Souper Cube or ice cube trays are other options for freezing. Once frozen, chutney cubes can be popped out and stored in quart or gallon freezer bags.
Is chutney an Indian condiment or sauce?
In India, chutneys are very diverse and served to complement every meal, from breakfast to dinner.
In Western countries, they are often simmered creations of fruits and vegetables that are spicy and jammy. Major Grey's mango chutney is a well-known and much-loved prototype.
Is there a difference between chutney, relish, and salsa?
It depends on who you ask! All three condiments are highly flavored.
Relishes often have a pickled element and more vinegar. Salsas are usually associated with Southwestern cuisine and feature spices like chile powders, cumin, and cilantro.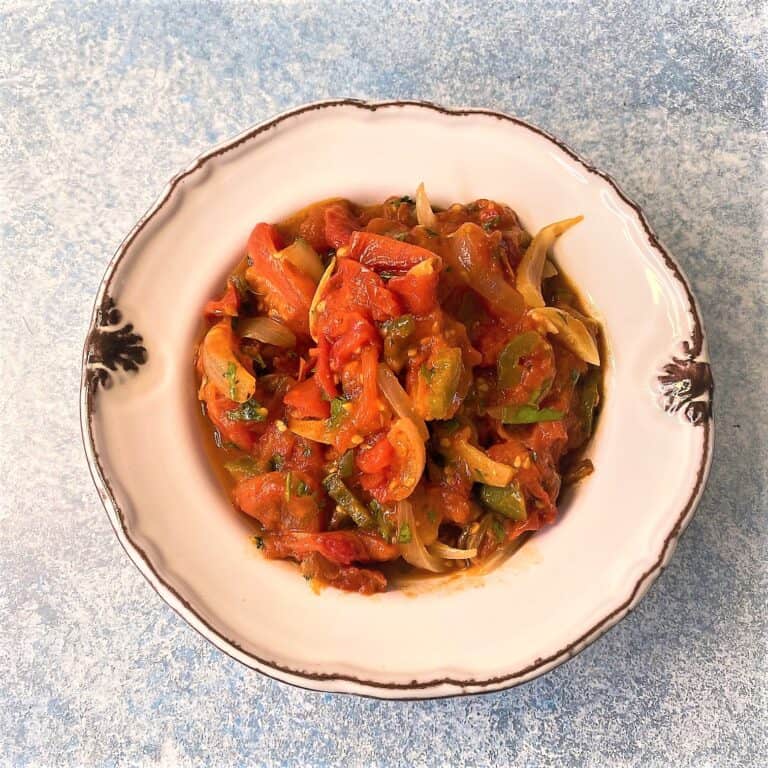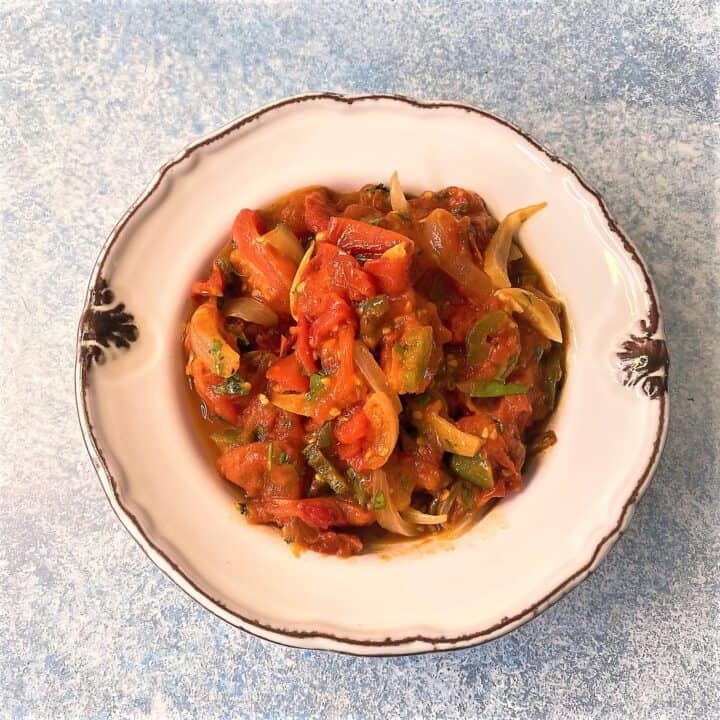 Chutneys tend to have a broader spice palate, and some are a bit sweet, particularly if they are more Western.
Mint is popular in Indian chutneys along with cumin, turmeric, garam masala, and many other herbs and spices! These healthy spices can add nutrition and flavor to your main dish.
To explore more chutneys, check out Bella Bean's inexpensive cookbook, 200 Chutney Recipes: Not Just a Chutney Cookbook!
Nutrition Bonuses of Roasted Tomato Chutney
Vitamins C and A: Tomatoes are rich in vitamin C and when cooked, they form the antioxidant lycopene, a beta-carotene form of vitamin A. Research on lycopene shows that it may have preventive benefits for cancers of the prostate, lungs, and stomach.
Low-fat, vegan, dairy- and gluten-free: Compared with many sauces, Roasted Tomato Chutney has less fat. It's a much healthier option for topping eggs than a buttery Benedict or a creamy roux-based sauce.
In addition, it's made entirely from plant-based ingredients. This chutney is an easy, tasty way to add a plant to your plate and get your Five a Day, which lowers the risk for chronic diseases–diabetes, heart disease, cancer, and others.
Immunity boosting: Onions, garlic, and peppers, the other vegetable ingredients in the chutney recipe, are known to enhance immunity.
Increases iron and calcium absorption and stimulates the creation of collagen: Vitamin C in tomatoes acts as a nutrition booster for these nutrients.
Eating the chutney with foods that contain iron, especially plant-based iron, helps your body absorb that iron. Also, enjoying a food rich in vitamin C can help offset the inhibitory effect of black tea on iron absorption from plant-based foods.
In addition, it boosts calcium uptake and prompts your body to make collagen, a boon for your bones, joints, nails, and skin.
What to pair with the chutney?
Roasted Tomato Chutney is marvelous with a huge number of foods. It plays well with roasted or grilled fish, such as halibut or mahi-mahi, and adds spark to a simply prepared chicken breast.
It jazzes up plain pasta or rice and is a delight with egg dishes like strata, frittata, and scrambles.
Want more?
Here's another quick vitamin C-rich recipe, Broccoli Cheddar Potato Bake. Plus, this post contains extra useful info on how vitamin C may improve your health.
If you're looking for foods that boost your immunity, check out my article on quercetin. It features a healthy salad, Colorful Leaves with Citrus.
Got bushels of tomatoes? Use them to make the quick and simple sugo in this Spaghetti Napoli, a great recipe for the whole family!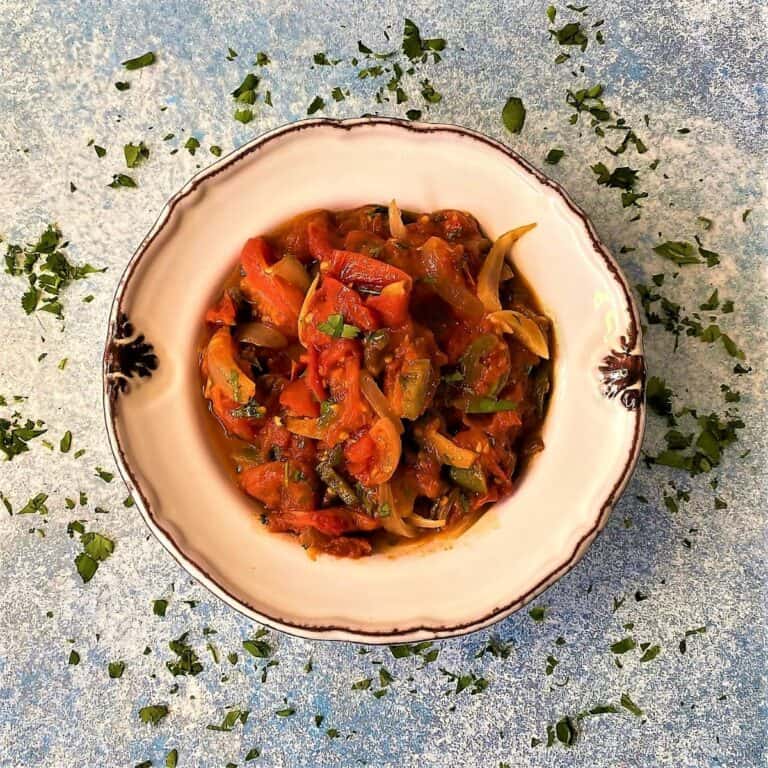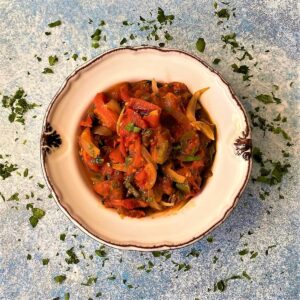 Roasted Tomato Chutney
Chunky, melty tomatoes do double-duty as a condiment or sauce. Spoon on top of pasta, white fish, or chicken breasts. Bonus: Almost no cleanup!
Ingredients
4

large tomatoes,

each cut into 6 to 8 wedges, depending on size, or a pint of cherry tomatoes

½

large onion,

sliced

1

jalapeno,

medium, chopped

4

cloves

garlic,

roughly chopped or smashed

¾

teaspoon

cumin

½

teaspoon

sugar

½

teaspoon

salt,

kosher

½

teaspoon

pepper,

or ¼ teaspoon red pepper flakes for a warmer taste

2

Tablespoons

olive oil,

extra virgin, roughly. Use more or less as desired.

2

Tablespoons

cilantro,

chopped or use flat-leaf parsley
Instructions
Wash hands for 20 seconds before starting.

Heat oven to 425 F. Line a sheet pan with extra-wide heavy-duty foil.

Using a large serrated knife, cut tomatoes in half after washing. Remove the core and place the flat side down on the cutting board. Cut each half into three or four wedges, depending on the size. Arrange them on the sheet pan.

Scatter the chopped jalapeno, onion slices, and garlic pieces over the tomatoes.

Sprinkle with cumin, salt, and red pepper flakes (or black pepper if you want a milder spice). Drizzle olive oil over all the ingredients on the sheet pan.

Roast in the oven. After 15 minutes, remove the pan and press on the tomatoes to crush. Stir to mix the pulpy tomatoes with vegetables and spices.

Return to oven and roast another 15 minutes.

Remove from oven and let cool for a few minutes.

Sprinkle with the chopped cilantro (or flat-leaf parsley).

To serve, lift the edges of the foil and make a bowl with the foil liner. Pour directly onto your main dish, or pour the chutney into a bowl and serve family-style with a meal.
Notes
🌶 With the jalapeno and cumin, this chutney becomes very salsa-ish. If you prefer less south-of-the-border flavor, use fresh flat-leaf parsley instead of cilantro to finish the chutney.
This recipe freezes well for at least three months. If you are lucky enough to have overflowing tomato plants, you could also use canning techniques to make the chutney shelf-stable.
If canning, it's a good idea to add a tablespoon of balsamic or red-wine vinegar to the recipe. To offset the additional acid, increase the sugar from ½ to a full teaspoon.
For the fresh sauce, no additional acid is needed since tomatoes usually have a good robust acidity.
Nutrition
Calories:
92
kcal
Carbohydrates:
11
g
Protein:
2.3
g
Fat:
5.2
g
Saturated Fat:
0.7
g
Polyunsaturated Fat:
0.7
g
Monounsaturated Fat:
3.5
g
Sodium:
206.5
mg
Potassium:
571.5
mg
Fiber:
3.1
g
Sugar:
6.8
g
Vitamin A:
1922.2
IU
Vitamin C:
35.2
mg
Calcium:
32
mg
Iron:
0.9
mg
Copyright © 2022 Jani H. Leuschel