Holiday baking? Mix up a batch of Banana Dog Treats With Peanut Butter to show your furbabies some love.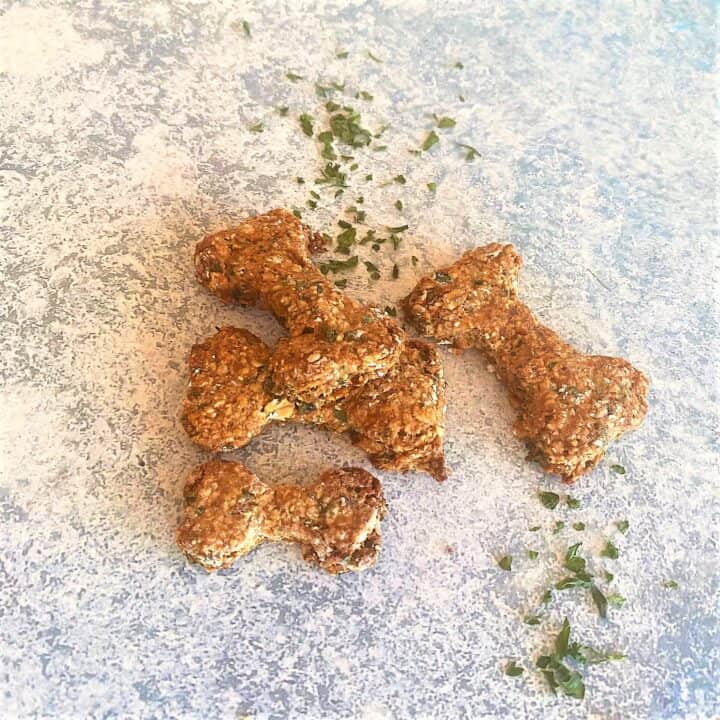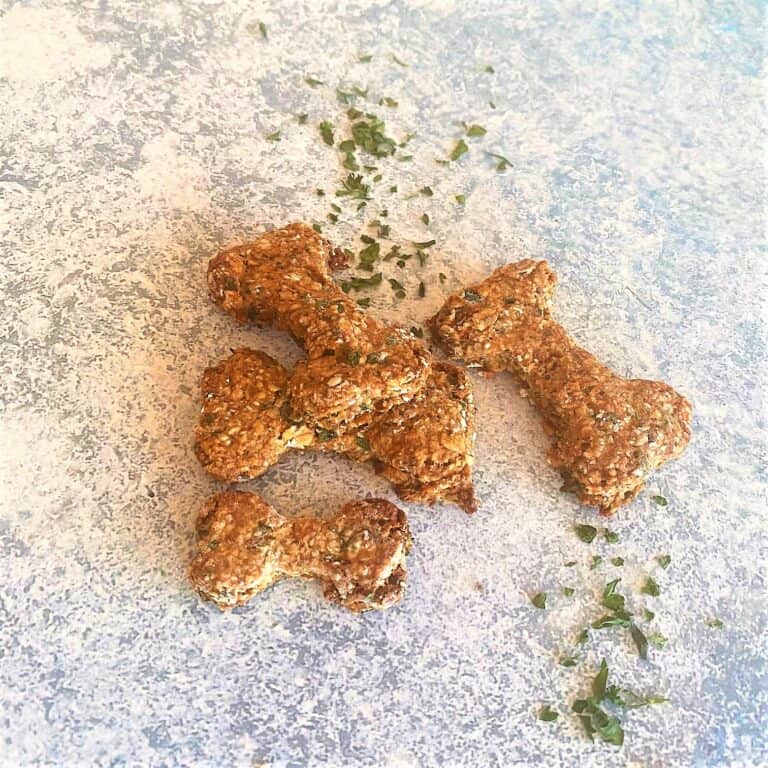 Holidays are a wonderful time to treat all the loved ones in your life, including pets. Spread cheer to your animal-loving friends and family by gifting them with tasty dog snacks.
In addition to banana and peanut butter, these gluten-free canine cookies are packed with tongue-smacking ingredients that are healthy for dogs.
What do I need to make Banana Dog Treats?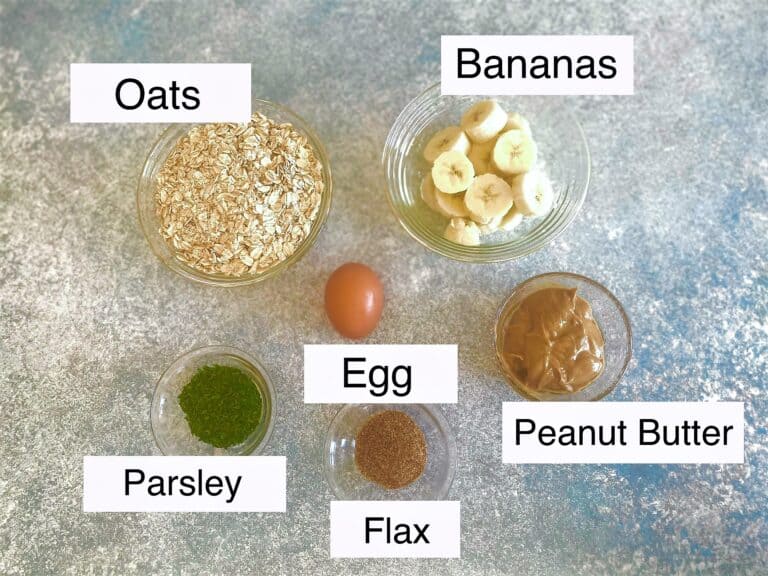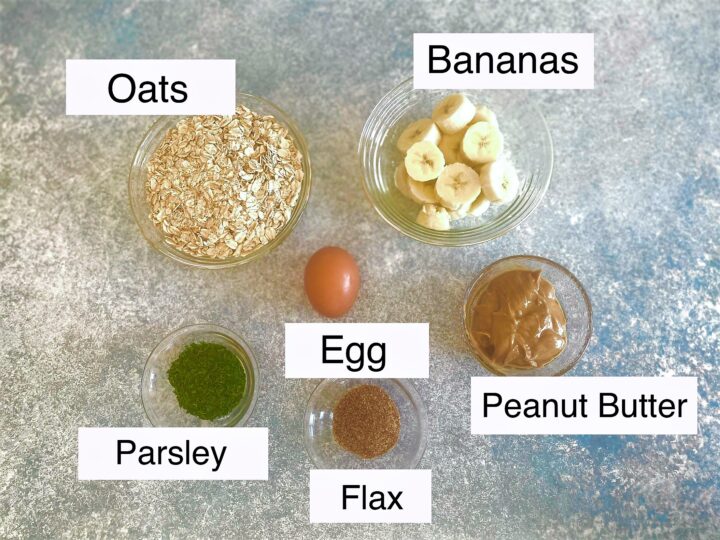 Oats
Banana
Peanut Butter
Ground flaxseed
Dried parsley
Egg
Of these, the only must-have ingredients are oats, bananas, and peanut butter.
The flax, parsley, and egg add nutrition and flavor, but you can make an acceptable dough with only the first three ingredients.
It's not necessary to make an extra shopping trip to make Banana Dog Treats With Peanut Butter!
Special equipment
If you hate the mess of rolling out dough, don't bother with cookie cutters.
Make ball shapes instead. Flatten the balls to make a round cookie. Press the top with a fork, so they look exactly like human peanut butter cookies!
(Warning: They'll look edible and you can eat them, but your people friends won't enjoy the taste as much as your dog friends. 😝)
A food processor is nice for powderizing the oats into flour. But, you could also use a blender for the task.
For easy cleanup, it's great to line the baking sheets with parchment paper or silicone baking mats. They'll keep the dog treats from sticking.
The other kitchen tools you'll need are pretty ho-hum: Bowls, spatulas or spoons for mixing, measuring cups and spoons, and of course, a rolling pin if you want to cut out shapes.
How to make Banana Dog Treats
First, make oat flour by grinding a little more than half the whole oats in the food processor. Leave some of the oats whole to give the treats a chunky texture.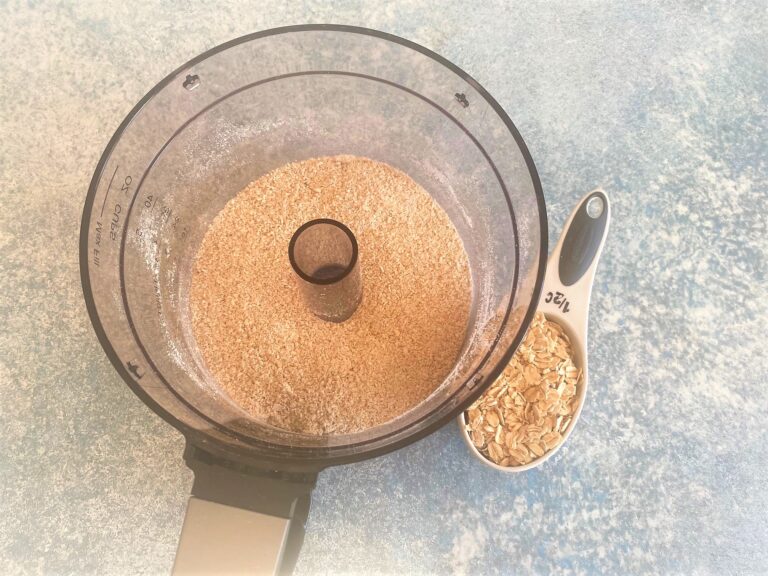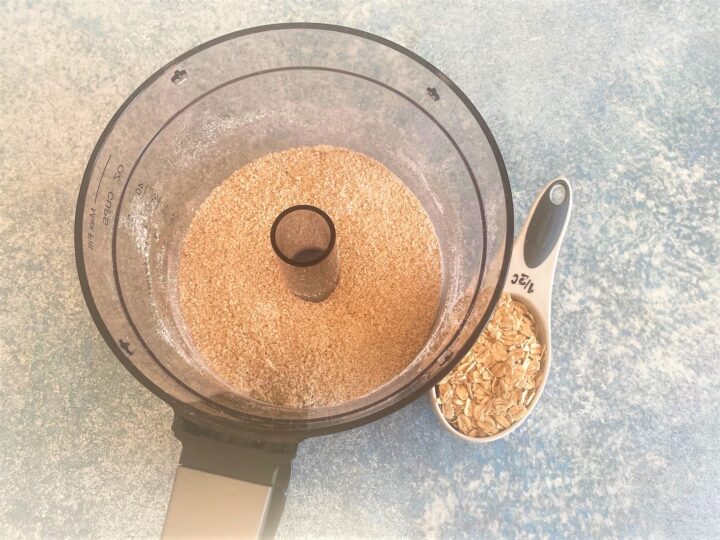 If you plan to roll out the dough, set aside a little of the oat flour for dusting your countertop and rolling pin. Or, use some gluten-free or regular wheat flour to keep the dough from sticking when you roll it out for cutting.
Next, mash a soft, ripe banana in a medium bowl. I like to use a potato masher for this job.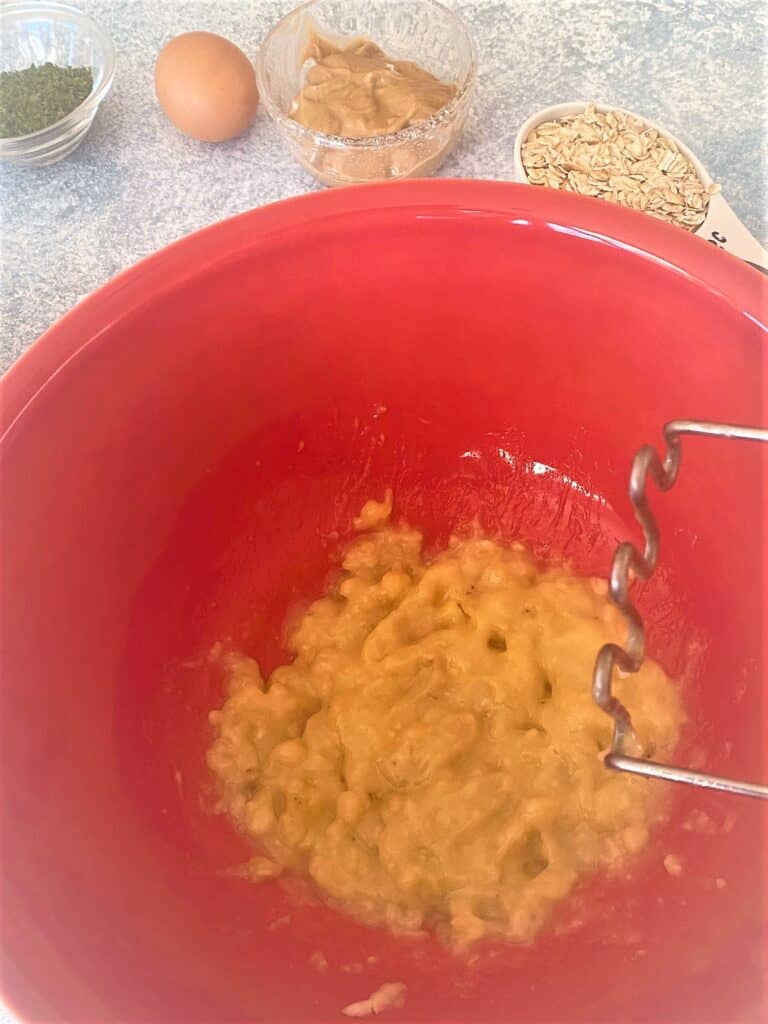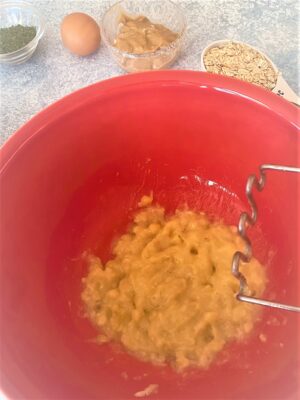 Next, mash a soft, ripe banana in a medium bowl. I like to use a potato masher for this job.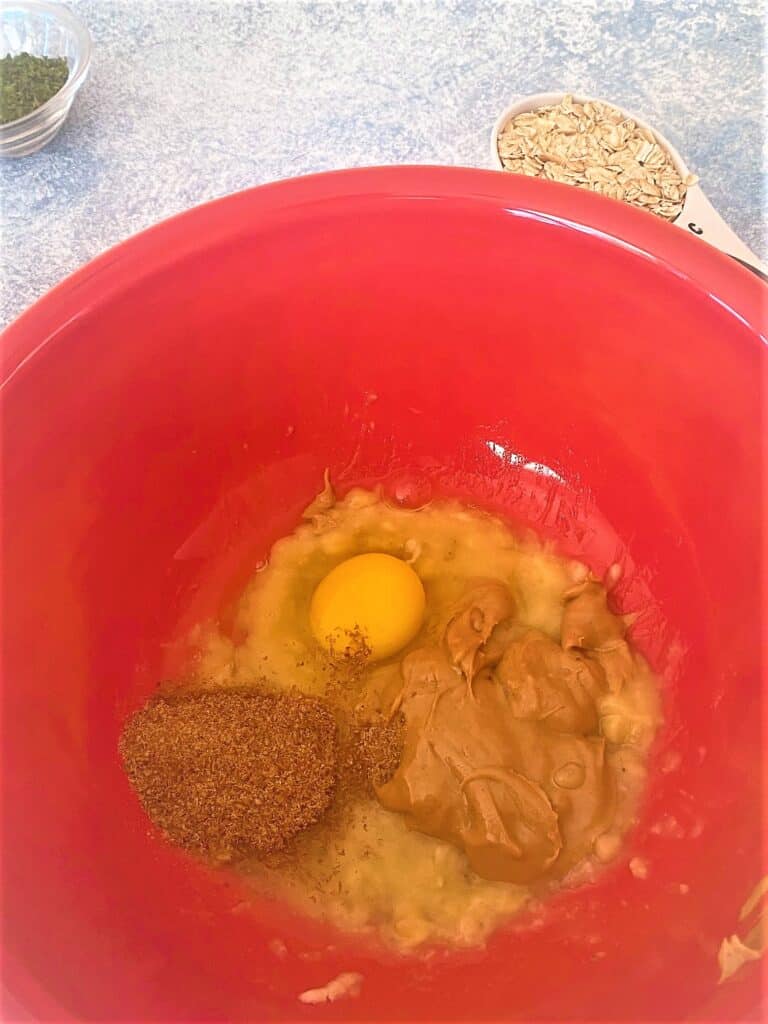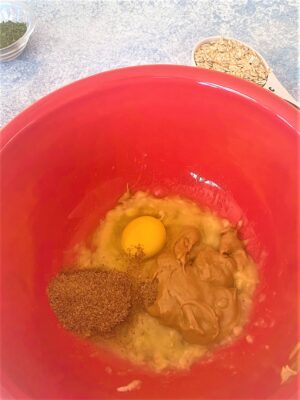 Mix the peanut butter, egg, and flax into the banana.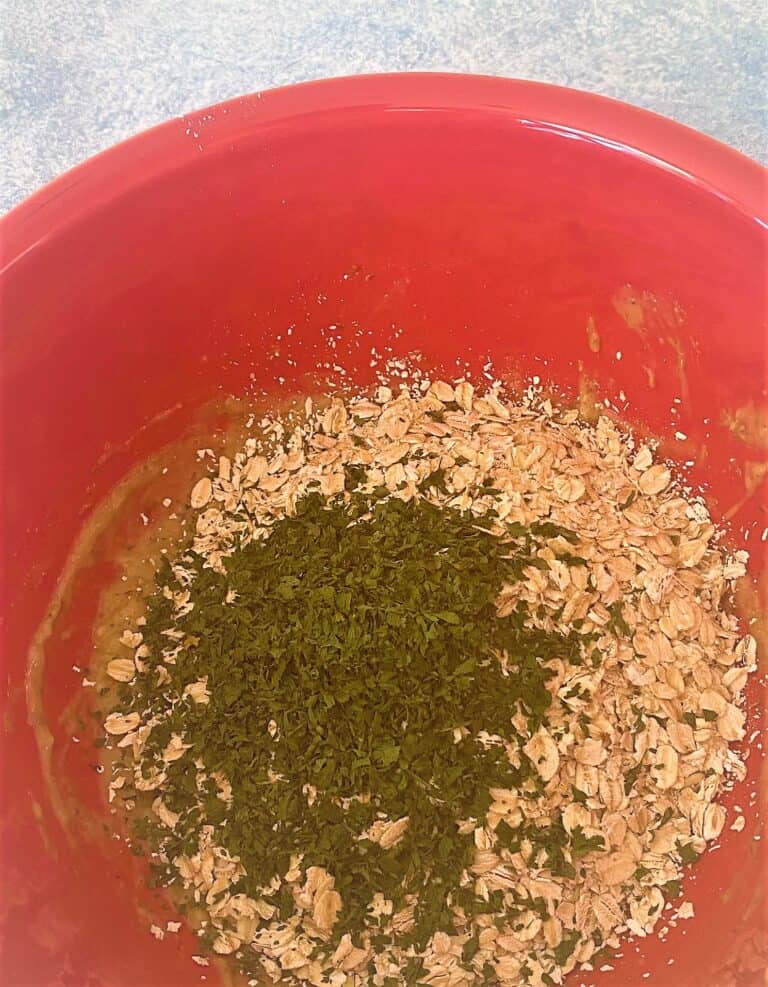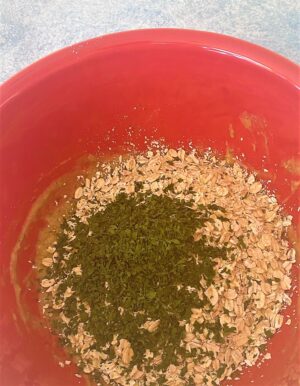 Blend in the oat flour, whole oats, and parsley to make a dough.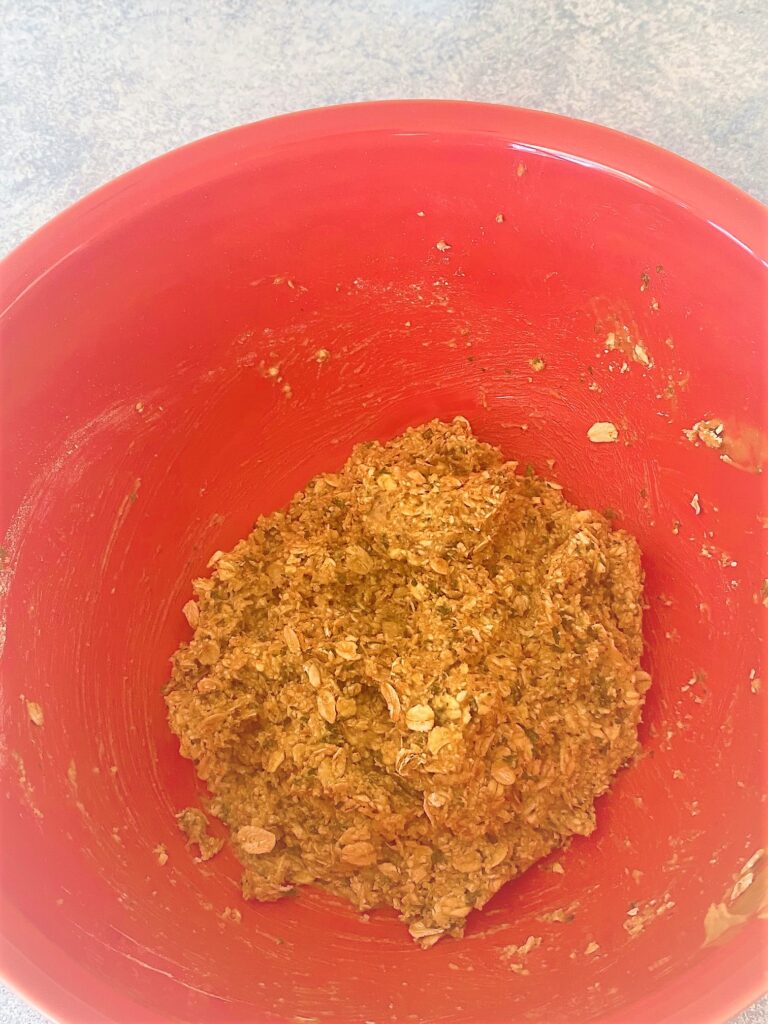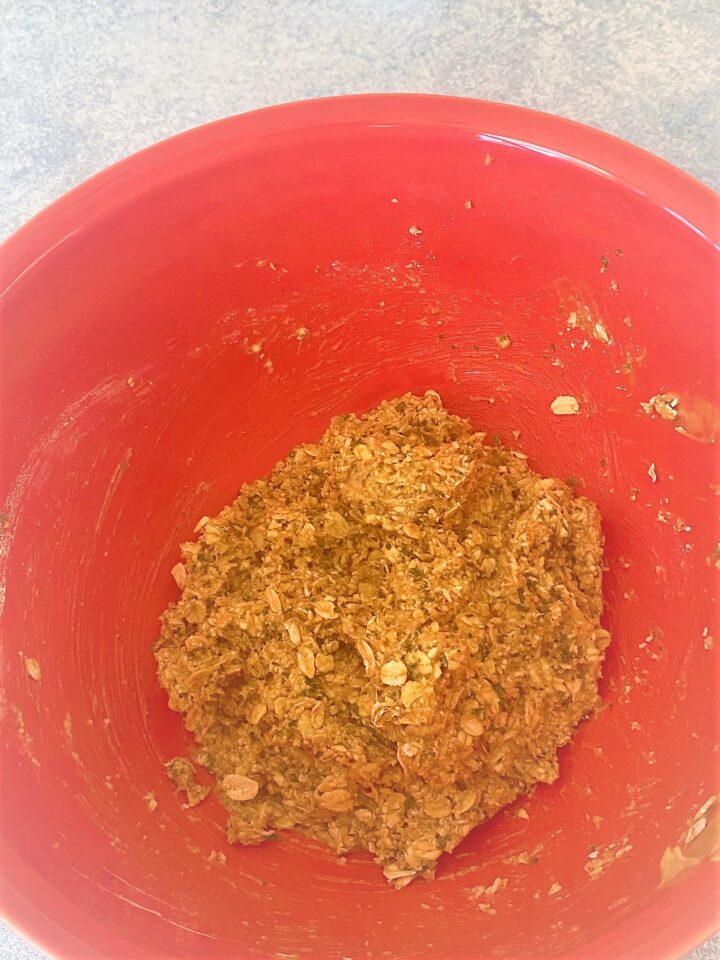 Add more whole oats if the dough is too sticky.
Roll out and cut with a bone shaped cookie cutter. (I used plastic cutters that can go in the dishwasher. 😊)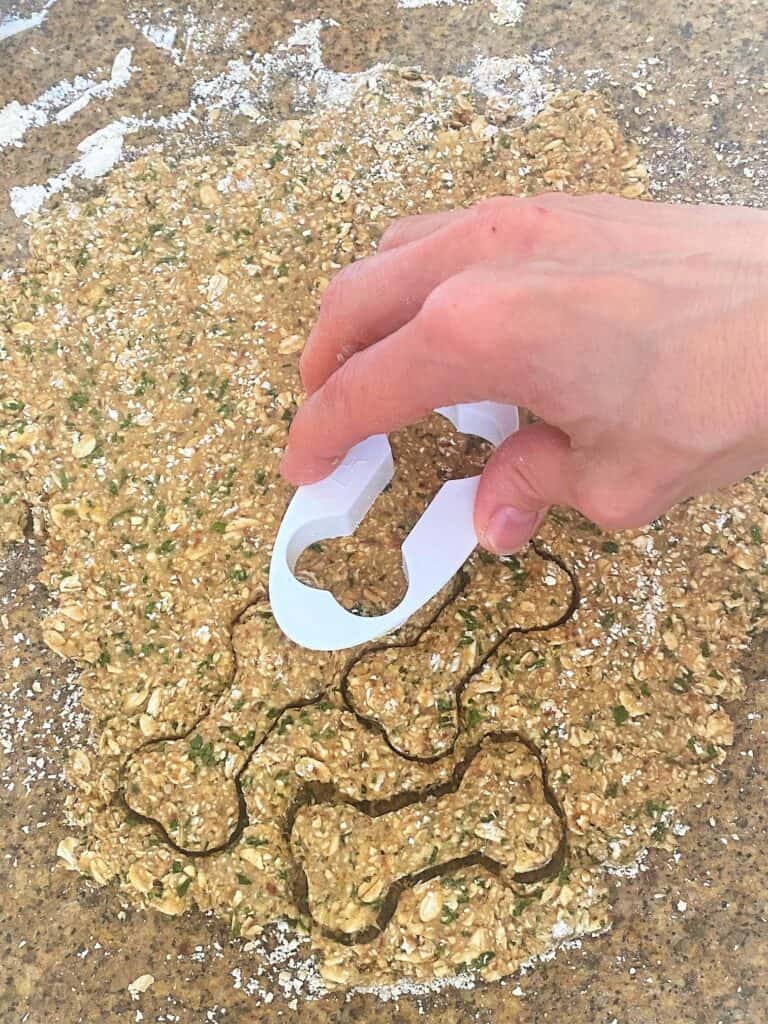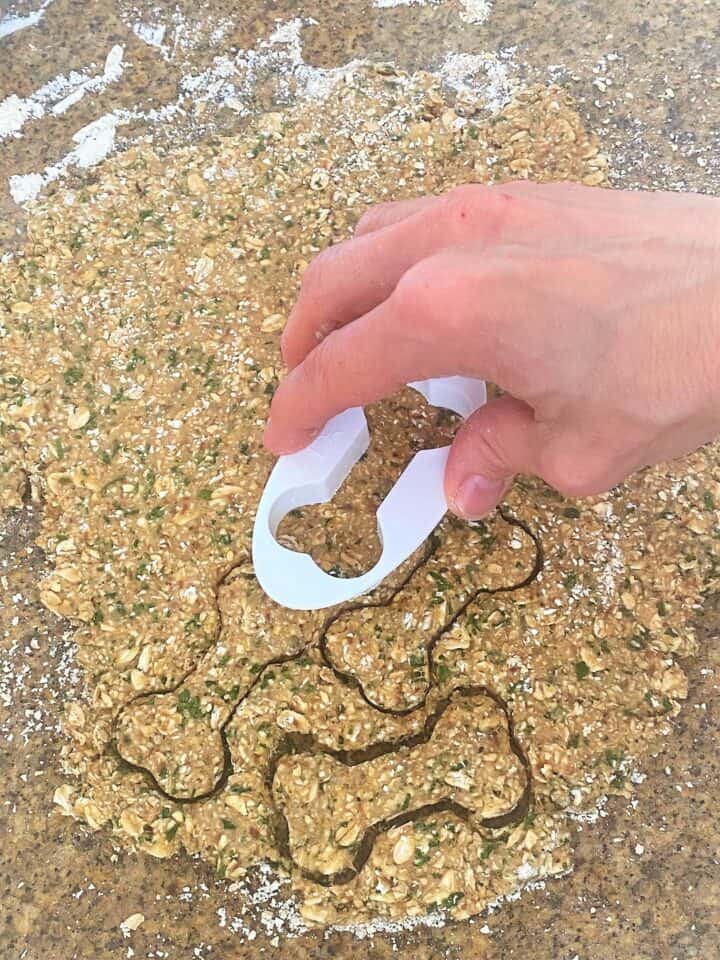 Or, shape the dough into balls, flatten with your hand, and press with a fork. They will look just like a human peanut butter cookies! (What dog doesn't love cookies!)
Then, bake them in a slow oven, say 325 F, for 25 to 30 minutes.
You can remove them from the oven at this point for a slightly chewy treat, If you want crunchy dog cookies, leave them in the oven for another 30 min to dry.
Crunchy treats are best for youngish dogs and will help clean their teeth. An older dog might prefer a slightly chewy or soft treat.
Let them cool completely before your furry friend samples them.
Why they are healthy for dogs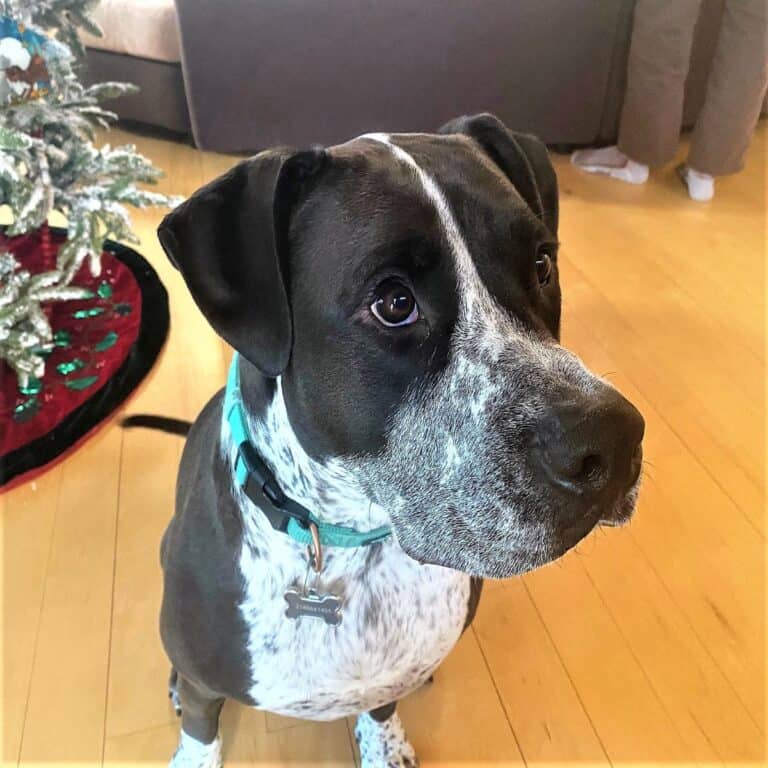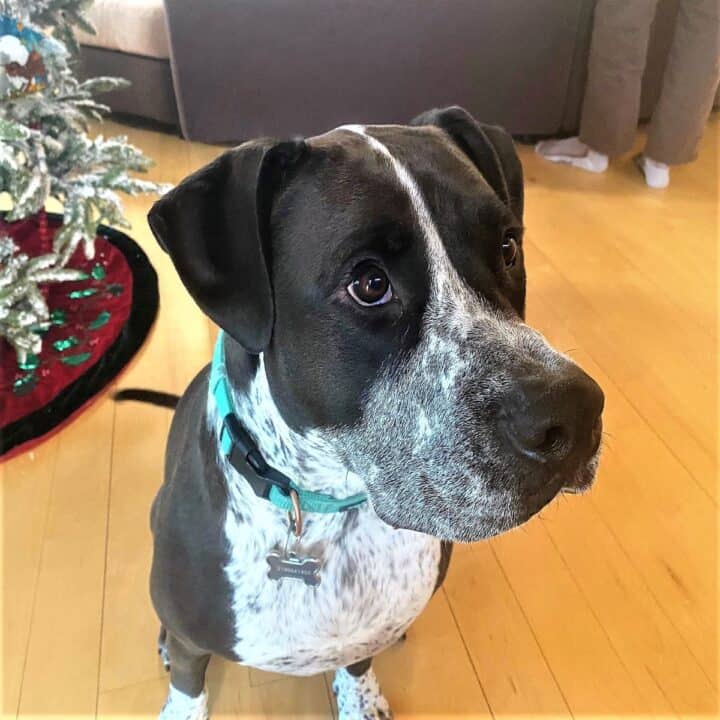 The ingredients in Banana Dog Treats With Peanut Butter offer several health bonuses, but the main take-aways are anti-inflammatory nutrients and fiber.
Fiber from flax and oats
Fiber comes from the flax and oats in the treats. Oats are rich with insoluble fiber in the form of beta-glucans.
Flax has Insoluble fiber in the form of lignans. Be sure and use processed ground flaxseed because raw, whole flaxseed or whole flax plant can be toxic for dogs, according to an article on the Great Pet Care website.
You don't want to give your dog too much fiber, though.
The American Kennel Club recommends no more than one tablespoon of oats per 20 lbs of body weight. Each treat contains slightly more than a tablespoon of oatmeal, so don't get crazy with the cookies!
Anti-inflammatory ingredients
Here again, flax is the star. Rich in omega fatty acids, it helps with arthritis, skin and coat health, eyes, and much more.
Parsley is well-known for fighting bad doggy breath, but it has many other healthful qualities. It's chockful of antioxidants and vitamins, like C, A, K, and folate. So, it offers benefits for your dog's immune health.
In small amounts, the herb also benefits the urinary tract and fights urinary tract infections. Parsley has diuretic properties, and in large amounts, it could be harmful for your dog's kidneys.
Also, it's better for dogs to eat curly-leaf varieties of parsley. Wild, spring parsley is especially bad.
Adding some parsley to the treats helps them stay fresh longer because of the herb's antimicrobial behavior.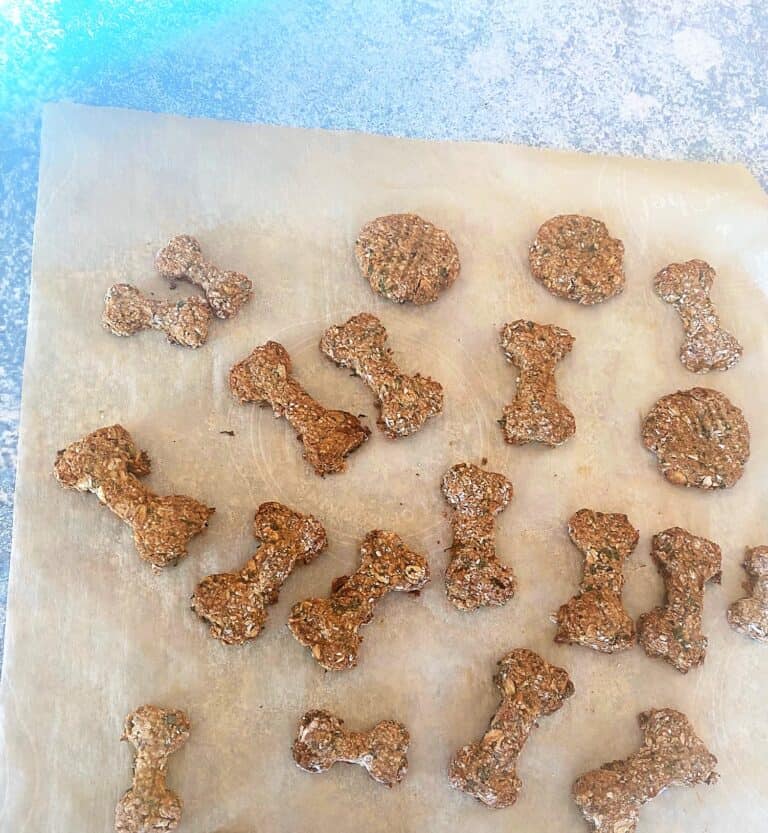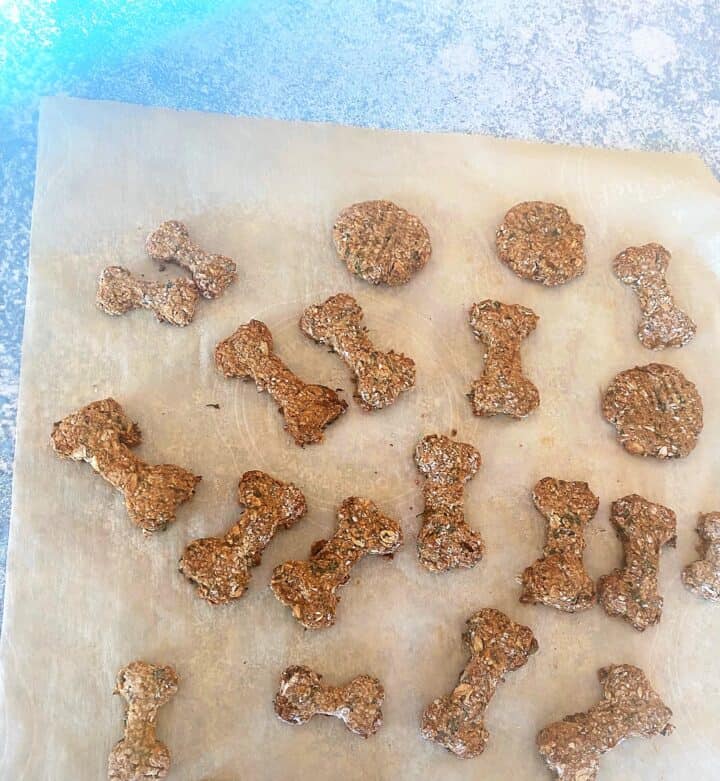 Protein and other nutrients
The treats have a good amount of healthy plant proteins thanks to the oats and flax. Mixing in an egg boosts protein quality with an animal-based source.
Plus, eggs are nice nutritional package for dogs (and humans) with a complete array of vitamins and some minerals.
Eggs are excellent source of selenium, an antioxidant mineral studied for its ability to fight cancer. They may provide the most highly absorbable form of choline with more than 140 mg per egg.
Why should you care about choline? It assists with growth, metabolism and is important for a well-functioning nervous system.
If you are vegan, however, feel free to omit the egg from the recipe. It helps the dough bind together but is not absolutely necessary.
How to store banana dog treats
You'll want to keep these cookies in an airtight container once they cool. How long they stay fresh depends on the crunch factor.
The harder, crunchier dog treats can be stored at room temperature for two to three weeks. Drier treats are less attractive to fungus and bacteria.
Softer treats should not stay out for more than three days. After that, put them in the refrigerator for no more than another week and a half.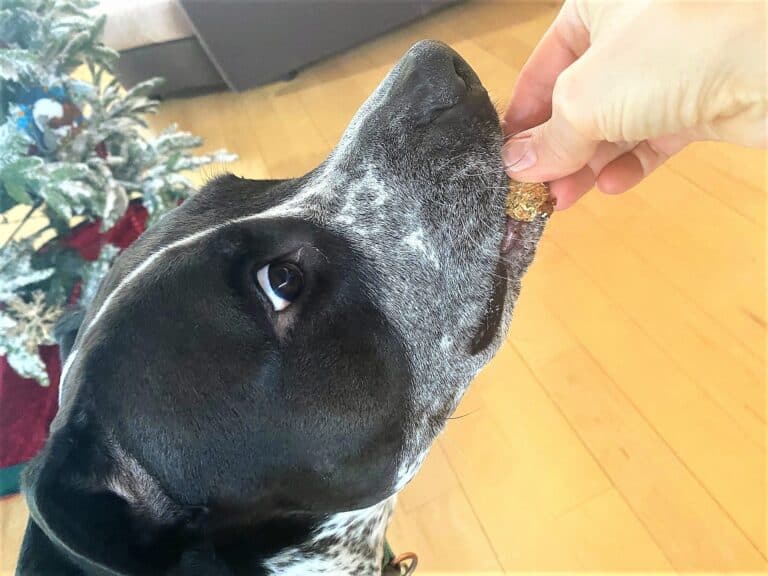 Both soft and hard treats can be frozen for three to six months. They may keep even longer in a chest freezer that is not opened as frequently as the kitchen freezer compartment.
---
If you are gluten-free and want a delicious people treat with with oats and bananas, try my recipe for Banana Bread with Oat Flour. It tastes like an oatmeal chocolate chunk cookie!
Bananas are also featured in my Banana Sunflower Seed Muffins, but they are not gluten-free.
Ho-ho-hope your dog(s) love the treats! 🤶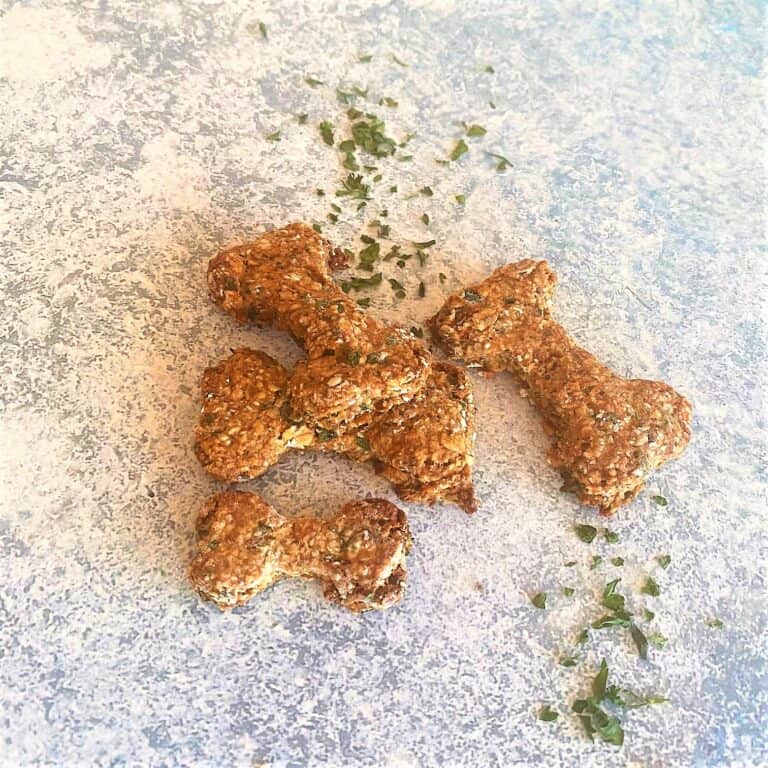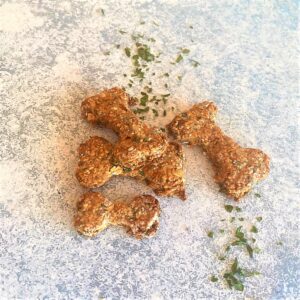 Banana Dog Treats with Peanut Butter
Tasty cookies dogs love to eat that help their skin and breath.
Equipment
food processor or blender

Rolling pin (optional)

Cookie cutters, bone-shaped or round (optional)
Ingredients
2

cups

rolled oats

divided use

1

banana

ripe and soft

¼

cup

peanut butter

1

egg

optional

1

Tablespoon

ground flaxseed

2

Tablespoons

dried parsley
Instructions
Use a food processor to grind one and one-fourth cups of the oats into oat flour. Set aside the remaining three-quarter cups of the whole oats.

In a medium bowl, mash the banana. Add the peanut butter, egg, and flaxseed. Mix thoroughly.

Reserve a couple tablespoons of the oat flour. Combine the remaining ingredients with the wet mixture, forming a dough.

Sprinkle a tablespoon of the oat flour onto a countertop or pastry board. Place the dough on top of the flour and flatten. Sprinkle the dough with more oat flour and coat a rolling pin with oat flour. Roll to ¼" thickness.

(For easier rolling, you could also use some gluten-free or regular wheat flour to coat the rolling pin and countertop.)

Cut treats with a cookie cutter and place on a parchment- or silpat-lined baking sheet.

(You can also simply dip a spoon into the dough and shape small round balls. Use about 1½ Tablespoons per ball. Flatten with your hands or the back of a fork--just like regular peanut butter cookies!)

Bake for 30 minutes. Then, turn the oven off and leave the cookies in the oven for 30 minutes to harden.

If you want softer treats, say for an older dog, remove from the oven immediately and let cool on the baking sheet.

Be sure to let them cool completely before treating your dog!
Notes
These dog cookies are very flexible. You can leave out any or all of the following: egg, ground flaxseed, dried parsley.
How to make dog treats with fewer ingredients:
Make the oat flour by grinding a cup of whole oats (food processor or blender). Set the remaining oats aside.
Mash the banana.
Blend peanut butter into the mashed banana. If you want to include flax and/or egg, add with the peanut butter.
Add oat flour and whole oats to make a dough. If want to include parsley, add it with the oats.
Roll out the dough on a floured surface or shape into balls and flatten the tops with the tines of a fork.
Bake in a 325 F oven for 30 minutes (see above).
That's it! Super fast and easy. 🦴
Please be aware: If you make smaller treats, they will not need to bake as long. Start checking them for firmness at 20 minutes.
Nutrition
Calories:
50.4
kcal
Carbohydrates:
6.4
g
Protein:
1.9
g
Fat:
2.1
g
Saturated Fat:
0.4
g
Polyunsaturated Fat:
0.7
g
Monounsaturated Fat:
0.9
g
Trans Fat:
0.1
g
Cholesterol:
6.8
mg
Sodium:
16.2
mg
Potassium:
68.9
mg
Fiber:
1.1
g
Sugar:
0.9
g
Vitamin A:
16.3
IU
Vitamin C:
0.6
mg
Calcium:
8.6
mg
Iron:
0.4
mg