Warning: This creamy coconut chicken curry is so filling that you won't have any thoughts about dessert! Not even one thin mint will make its way past your lips after eating this allergy-friendly dinner.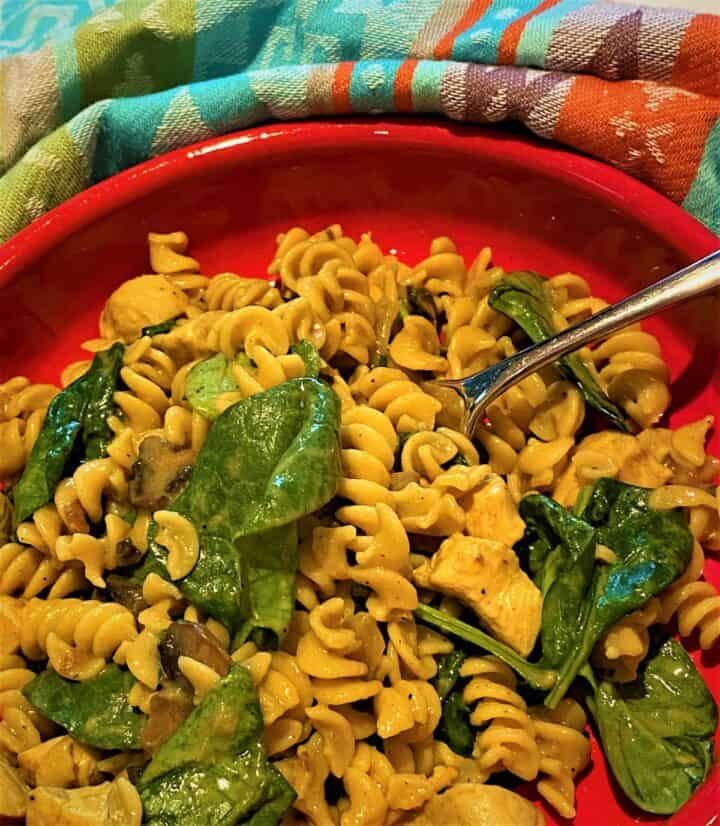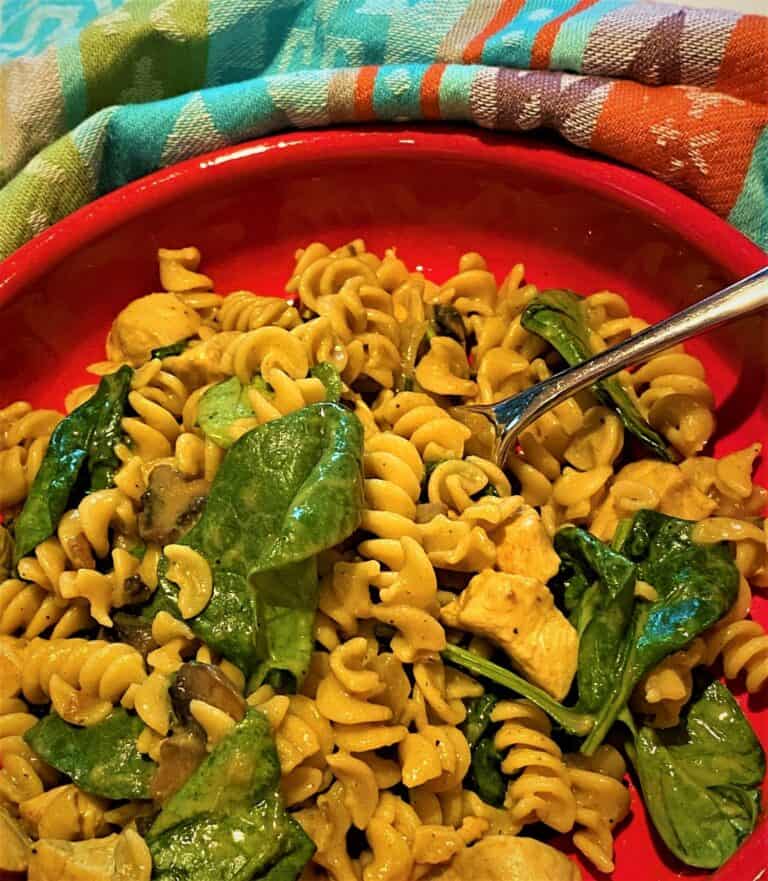 Bolstered by chickpea pasta, this creamy chicken curry enriched with coconut milk packs a huge helping of protein. There's also plenty of fiber, vitamins, and phytonutrients from the mushrooms and spinach as well as the pasta.
I came up with this combination for my daughter who has food allergies. She wanted a pasta dinner and likes Asian flavors. So, this Creamy Coconut Chicken Curry caters to allergies, but almost anyone will enjoy the flavor. Plus, it's so hearty and tasty, no one will mention how good it is for you!
Who can/should eat Creamy Coconut Chicken Curry?
People with allergies
Creamy Coconut Chicken Curry (with mushrooms and spinach) is an excellent dinner for families with allergenic members. My daughter, who loves pasta, has Eosinophilic Esophagitis (EoE).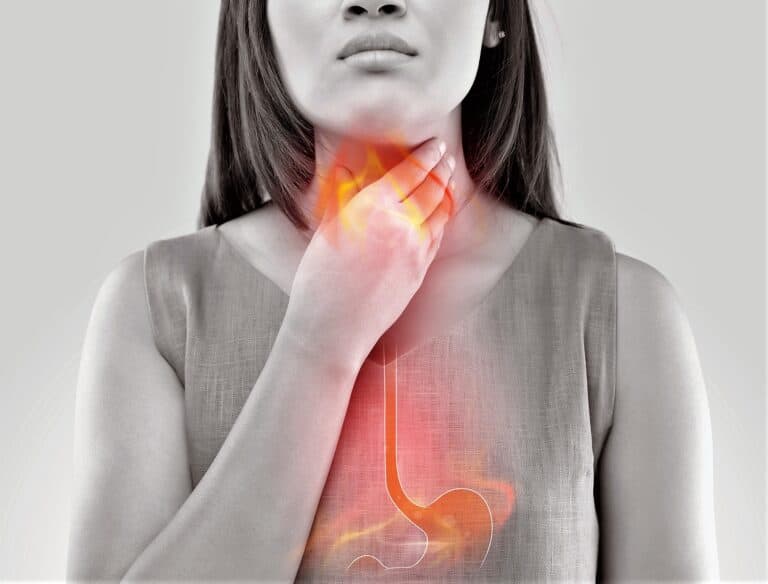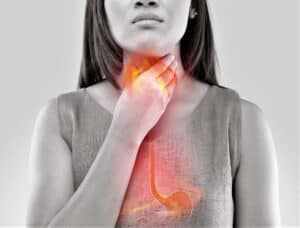 Wheat and dairy are some of the drivers of EoE, which is characterized by swallowing difficulties and, in more severe cases, food getting stuck or impacted in the esophagus. The release of histamines, a reaction to the offending foods, causes this buildup of eosinophils in the esophagus.
This yummy curry is gluten- and dairy-free — perfect if you or those you know can't tolerate wheat or milk.
It's also free of tree nuts, soy, and eggs.
Protein junkies 💪
Although Creamy Coconut Chicken Curry is not for paleo-diet followers since it contains legume pasta, it does boast a generous amount of protein.
Combining the chickpea pasta with lean chicken breast supplies a whopping 43 grams of protein in a serving. If you're on the small side, that's almost a day's worth of protein.
The Daily Recommended Intake (DRI) is a mere 0.8 g/kg/day or 0.36 g/lb/day of body weight.
If you weigh 150 pounds, that's about 54-55 grams of protein per day. If your weight is only 120 pounds, your requirement would be closer to 44 grams (just a gram more than a serving of this curry).
Many experts, however, agree that older adults and highly active individuals need more protein, roughly between 1.2 and 2 g/kg/day. (Note: A kilogram = 2.2 pounds.) Protein intake supports building and maintaining lean muscle tissue.
As you get older, preserving your muscle mass helps maintain mobility and function and has other health-enhancing benefits. Aging slows the muscle-building process. You require more protein for muscle synthesis in old age.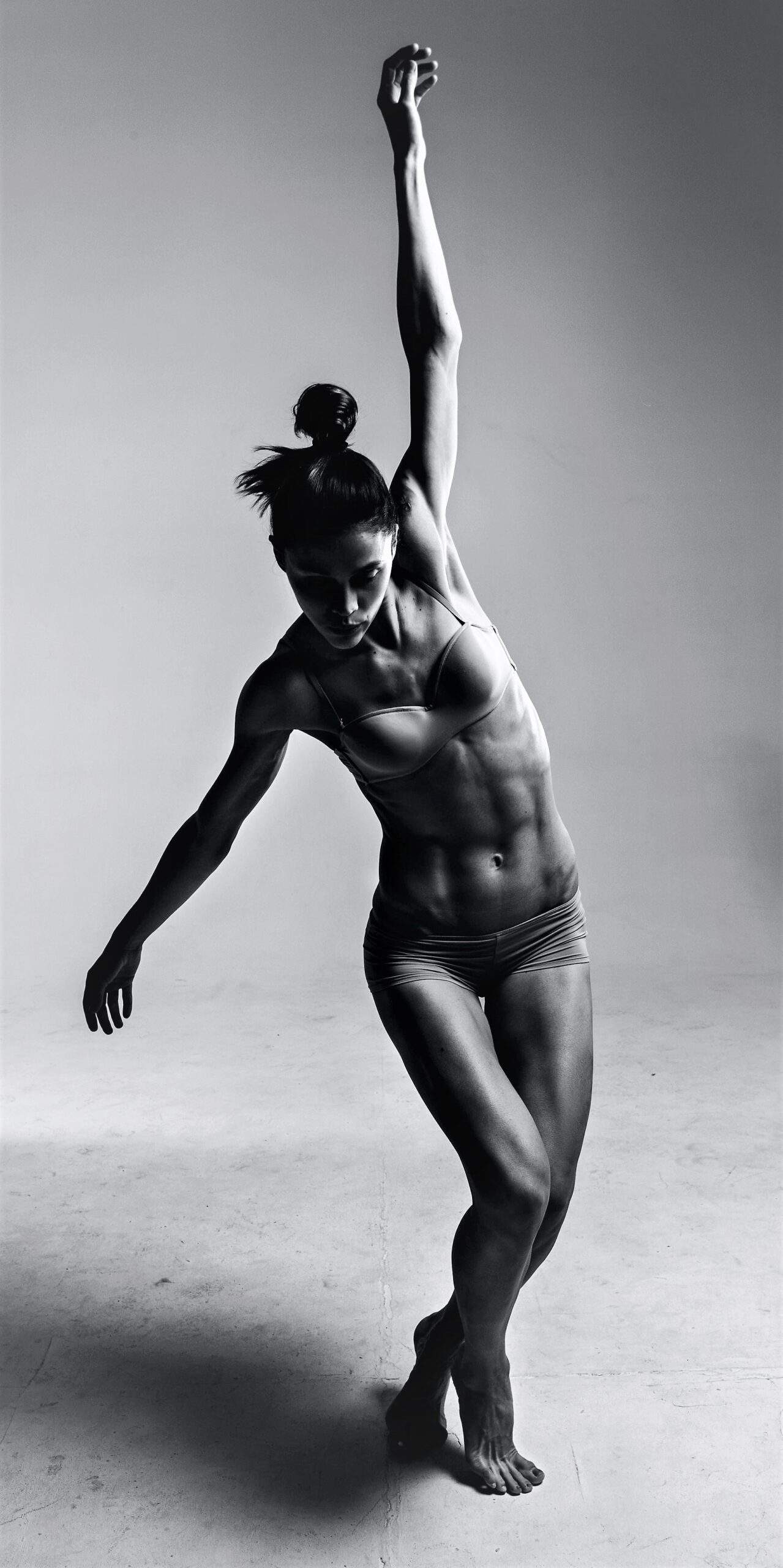 Those who exercise frequently or have a job or hobby that demands a high level of activity need to feed their muscle tissue with extra protein.
Credit: Olenka Kotyk on Unsplash
Protein is also your friend if you're trying to lose weight. Eating higher-protein meals and snacks helps to keep you from feeling hungry.
This creamy coconut chicken curry is diabetic-friendly because it is well-balanced. It serves up carbohydrates and fats to go with the protein, as well as fiber and an array of micronutrients.
The Creamy Coconut Chicken Curry recipe makes a great meal for:
those with allergies and sensitivities
bodybuilders
endurance and other athletes
active lifestyles
overweight and obese people
people with diabetes
Who shouldn't eat Coconut Chicken Curry (with mushrooms and spinach)
If you are allergic or sensitive to legumes, don't mess around with chickpea pasta. Chickpeas are a legume and even though they are further processed and made into flour for the pasta, the flour will trigger a response if you are sensitive to legumes.
This is not a good dish if your kidneys don't function well. Most people with poor kidney function have lower protein requirements unless they undergo regular dialysis. You may want to omit the chicken in the recipe to reduce the amount of protein if you have compromised kidneys.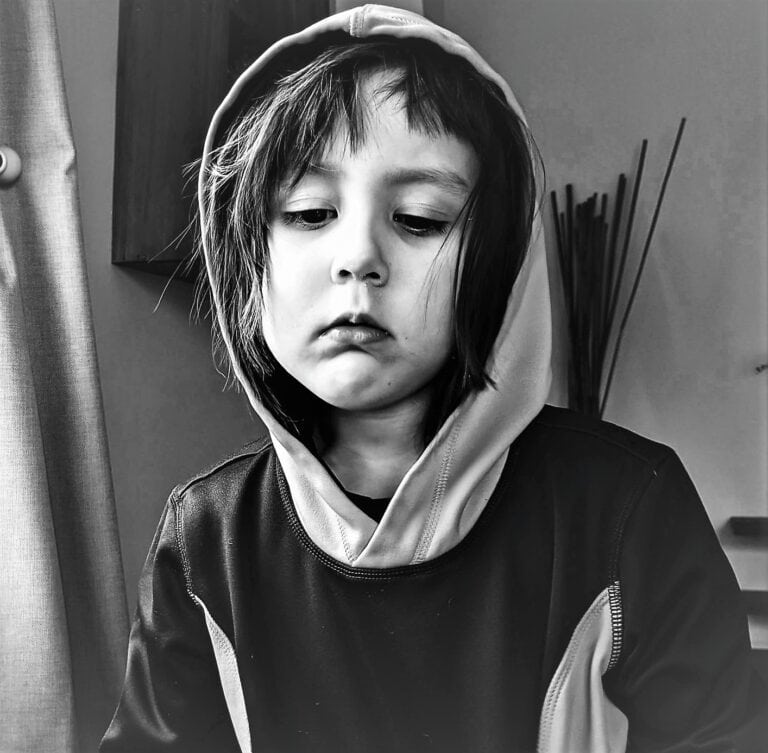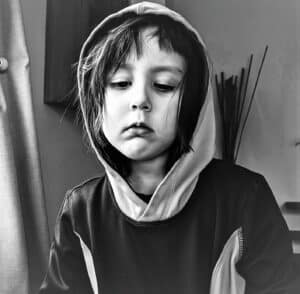 Young children may turn their noses up at this curry recipe. Although a few kids under the age of 8 may be adventurous, most prefer their pasta a little plainer. Try the Allergy Awesomeness website, which has some great recipes for children with allergies!
Anyone limiting carbs may want to avoid Creamy Coconut Chicken Curry. Although chickpea pasta doesn't contain as many grams of carbs as wheat pasta, it is still has a large number. If you are a keto devotee, this is not the meal for you.
If your gut is sensitive to FODMAP (Fermentable Oligosaccharides Disaccharides Monosaccharides And Polyols) foods, this recipe could make you uncomfortable. The chickpea pasta does contain fiber/oligosaccharides that feed the microbiome but may bother sensitive guts.
To help your belly digest chickpea pasta, try drinking extra water with your meal. To read more about FODMAPS, peruse my recent blog post, Erythritol et al. What the Heck is a Polyol?
The other thing to consider is the cost. Chickpea pasta is more expensive than regular pasta. And, it is often sold in smaller boxes. (For a small household, a trimmer box can be a plus.)
To summarize concerns with eating chickpea pasta and Creamy Coconut Chicken Curry:
allergies to legumes
can worsen poor kidney function (especially the complete recipe below)
challenging flavors for young palates
high in carbohydrates
not for FODMOP/digestive sensitivities
more expensive than wheat pasta
Chickpea pasta nutrition
The exact nutrition numbers differ depending on the type and brand of chickpea pasta.
Some manufacturers, such as Barilla, make the pasta from a single ingredient, chickpea flour. Others, like Banzaa, add tapioca, pea protein, and xanthan gum.
Protein: A 2-ounce serving of chickpea pasta has between 11 and 13 grams. This averages out to about 40% more protein than the same size serving of wheat pasta, which has 7 grams.
Minerals: This is where chickpea pasta really shines. It offers 3 to 4 mg of iron, 510 to 622 mg of potassium, at least 60 mg of magnesium and about 2 mg of zinc. It also has some calcium and phosphorous.
To put this in perspective, a serving of chickpea pasta is an excellent source of iron, supplying almost half of an adult man's daily needs (DRI). Regular durum semolina wheat pasta is fortified with iron so that it has nearly 2 mg per serving, but it still cannot match the amount in chickpea pasta.
Chickpea pasta is also a good to excellent source of zinc, potassium, and magnesium. Magnesium is a nutrient of concern in the United States. It's a mineral we don't get enough of on a daily basis.
You will find these nutrients in regular pasta as well, but the quantity is lower. For example, a serving of regular wheat pasta contains about 30 mg of magnesium, half the amount in chickpea pasta.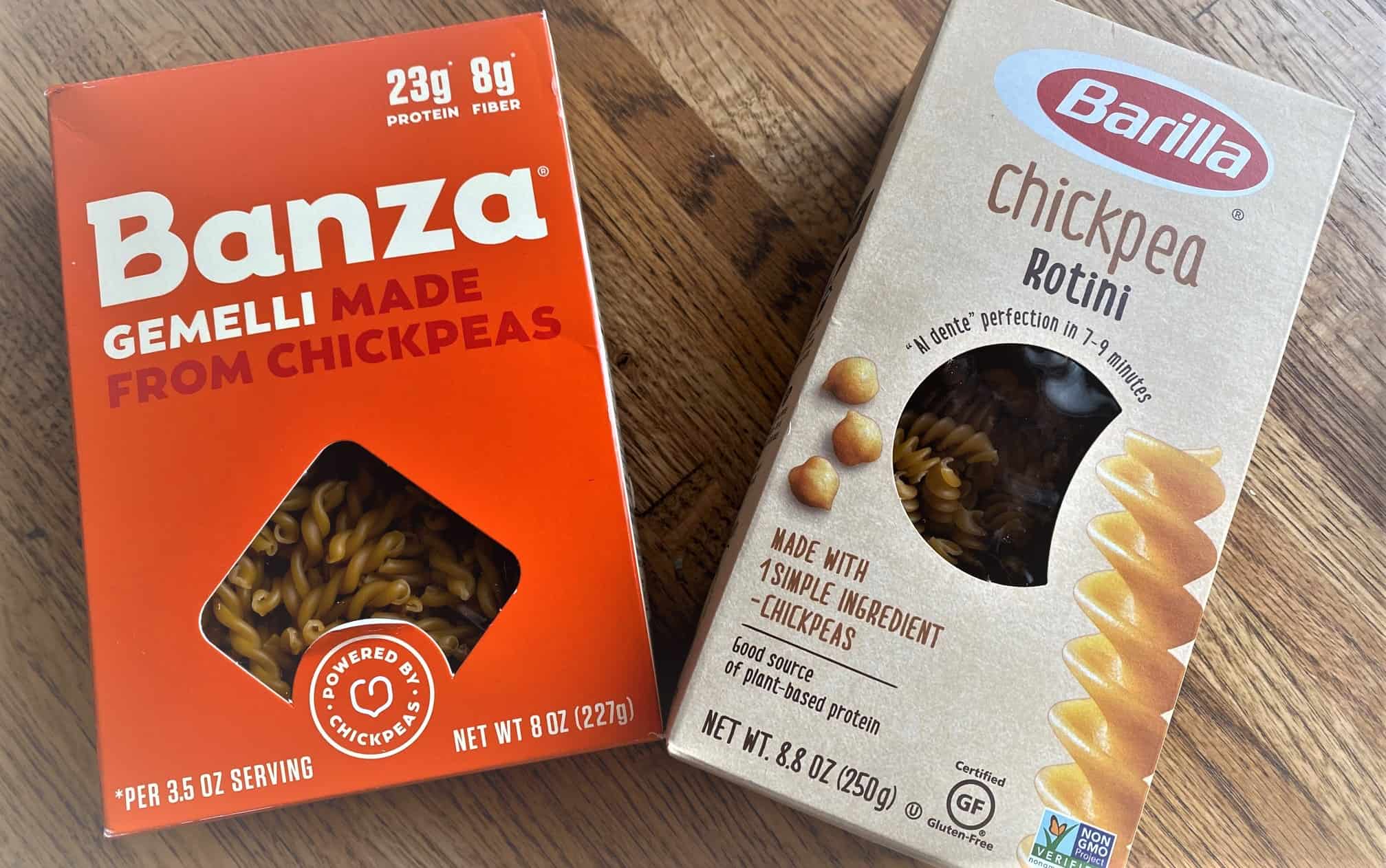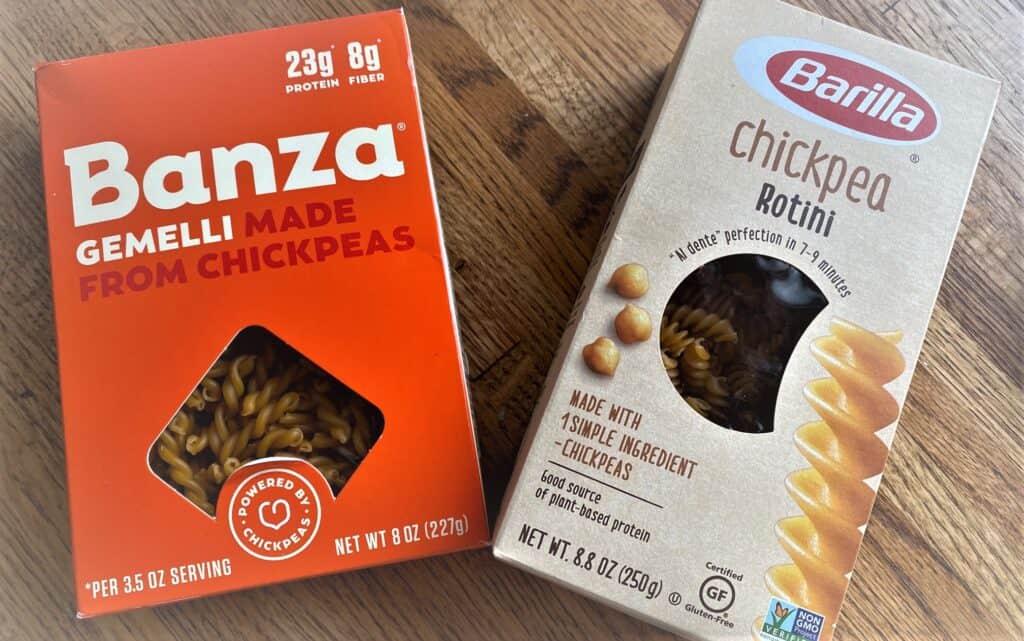 Fiber: There are 5 to 8 grams in a 2-ounce serving, which makes chickpea pasta a good to an excellent source of this gut health nutrient. It contains nearly equal amounts of soluble and insoluble fiber (roughage).
Soluble fiber is a prebiotic fiber that forms gels with water and is particularly helpful with gut health and blood sugar management. Insoluble fiber can't be broken down by gut microbes. It attracts water to the colon and speeds the transit of foods.
Vitamins: Chickpea pasta has a bevy of B vitamins, in particular thiamin (B1), folate (B9), and B6. It's especially rich in folate, which is important for a healthy pregnancy and a healthy heart.
Regular wheat pasta is fortified with B vitamins and contains plenty of folate, too. In chickpeas, these are vitamins come from the legume and don't need to be added.
Fats: Chickpea pasta contains more fat than wheat pasta. It has 3.5 grams per 2-ounce serving so it is still a low-fat food.
Carbohydrates: With 32-34 grams per 2 ounces, it has fewer carbs than wheat pasta which weighs in at 42 grams for the same size serving. That said, chickpea pasta is not a low-carb food. If you have diabetes and count carbohydrates, a serving will count as 2 carbs.
Preparation and taste 👨‍🍳
You may not truly delight in chickpea pasta's nutty flavor unless you add a little salt. This is especially true if you do not follow a low-sodium eating plan since the pasta is low- to no-sodium.
(If you do adhere to a low-sodium diet, this is a plus!)
Follow the cooking directions on the package since, just like wheat pasta, the time to al dente will vary depending on the shape. The chickpea rotini used in the recipe takes 7 minutes to cook according to package directions.
When overcooked, chickpea pasta tends not to hold its shape. This fall-apart quality can vary depending on the brand.
Other sources of taste and nutrition in Creamy Coconut Chicken Curry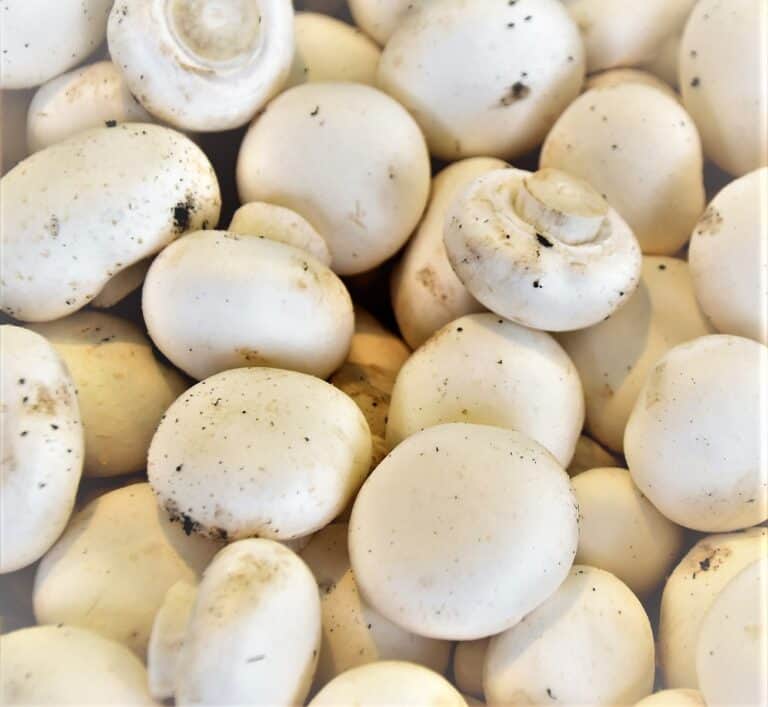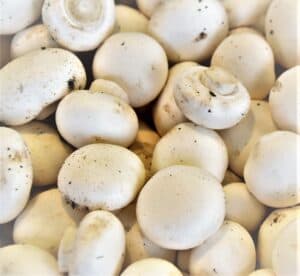 Mushrooms: They impart an umami flavor and supply beta-glucans, a soluble fiber with multiple health perks that include boosting immunity. They also have a bit of vitamin D, which can be hard to find in foods.
Spinach: This mild-tasting green leafy is especially rich in vitamin K, which can help with calcium absorption. It also contributes to the amount of iron, but even more important, spinach has some vitamin C to facilitate the absorption of iron.
Spinach also adds texture and gorgeous color.
Spice blend: It has a good amount of ginger for digestion and curry spices for deliciousness and immunity. It does not contain hot red pepper since I created the recipe to ease any esophageal problems, including reflux (GERD). If you can tolerate it, feel free to add cayenne or red pepper flake!
Coconut milk: For best taste, use full-fat coconut milk, which does contain a lot of saturated fat. But, plant-based saturated fat, may not drive heart disease in the same way as saturated fats from meat, according to the European Society of Cardiology (ESC). An ESC press release referred to study findings from more than 100,000 people in the UK Biobank, a large-scale database for biomedical research.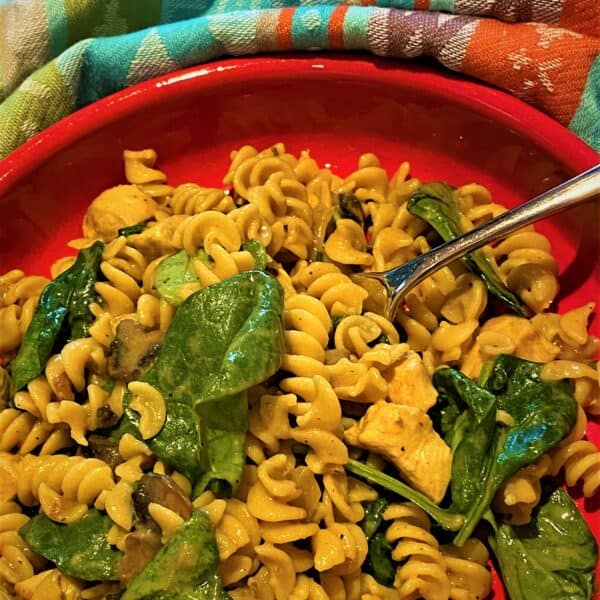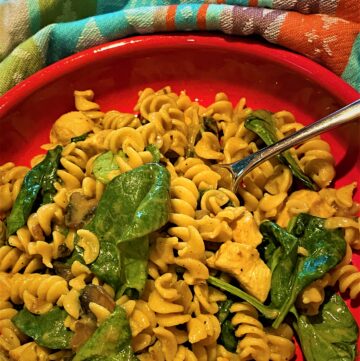 Creamy Coconut Chicken Curry (with mushrooms and spinach)
This allergen-free pasta with a creamy curry sauce makes a hearty, complete meal! No sides necessary!
Ingredients
2

Tablespoons

olive oil

1

pound

chicken breast,

diced

½

cup

fennel,

finely chopped

8

ounces

mushrooms,

sliced

1

Tablespoon

fresh ginger root,

grated

1

teaspoon

garlic powder

1

teaspoon

curry powder

½

teaspoon

turmeric

½

teaspoon

cumin

¼

teaspoon

coriander

¼

teaspoon

garam masala

¾

cup

chicken broth

8

ounces

chickpea rotini pasta

1

14-ounce can

coconut milk,

use full-fat for best taste

3

ounces

fresh spinach,

about ⅔ of a 5-ounce carton

Kosher salt,

as desired (I use about ¾ teaspoon)

black pepper,

as desired (I like ½ teaspoon freshly ground)
Instructions
Heat olive oil in large skillet. Over medium-high heat, saute the chopped fennel for 3 minutes. Add raw chicken cubes and cook until no longer pink.

Wipe down any surfaces touched by the raw chicken with disinfectant spray, wipes, or hot, soapy water. Wash hands if they came in contact with the raw poultry.

Reach for a clean spatula before preparing the rest of the recipe.

Add mushrooms to the chicken-fennel mixture. Saute until the mushrooms begin to look slightly moist and soft.

Add grated ginger and all spices including salt and pepper to the pan. Stir to coat the contents of the skillet and let spices bloom in the heat of the pan.

Pour in the chicken broth and deglaze the pan, scraping up any brown bits. Cook for about 5 minutes, evaporating some of the liquid so that just a few centimeters of liquid are left in the pan.

Turn the heat to low and stir in the coconut milk. Simmer for 10-15 minutes.

*Note: If the sauce seems too thin after simmering, you can thicken it with some cornstarch. Dissolve 1½ Tablespoons of cornstarch into 2 Tablespoons of water and stir into the coconut sauce.

While the sauce is simmering, bring a pot of water to boil and cook 8 to 9 ounces of chickpea rotini pasta. Drain after 7 minutes and add to the chicken-coconut curry sauce.

Stir to coat the rotini pasta.

Turn the heat off and toss the spinach into the skillet. Stir to wilt. Serve immediately.
Notes
The calories are not low for Creamy Coconut Chicken Curry because it is a hearty, complete meal (no sides necessary). It supplies almost 43 grams of protein. (Even though it is a pasta entree, it offers more protein than carbohydrate .)
With the mushrooms and spinach, this may be the most nutritionally packed and balanced recipe on the blog!
Feel free to use fresh garlic (2 cloves, minced). I use garlic powder to minimize any GI upset.
If you're searching for a jumbo-size skillet, I highly recommend this high-sided stainless offering from Cuisinart. It can hold up to 5 ½ qt, which makes it ideal for family meals — especially one-pot meals!
A large Dutch oven would also be perfect for preparing Creamy Curried Chickpea Rotini with Spinach and Mushrooms. Staub and Le Creuset make legendary vessels.
There are also nice-looking versions on Amazon that look nice and are less expensive than well-known brands. Check out this La Cuisine Dutch oven (6.34 qt).
Nutrition
Calories:
599.1
kcal
Carbohydrates:
39.6
g
Protein:
42.9
g
Fat:
34.3
g
Saturated Fat:
19.8
g
Polyunsaturated Fat:
1.6
g
Monounsaturated Fat:
6.9
g
Trans Fat:
0.1
g
Cholesterol:
72.6
mg
Sodium:
391.8
mg
Potassium:
1043.7
mg
Fiber:
9.7
g
Sugar:
6.3
g
Vitamin A:
2051.8
IU
Vitamin C:
14.1
mg
Calcium:
99.5
mg
Iron:
10.5
mg
COPYRIGHT © 2021 FOOD HALL BY JANI