This 30-minute main dish is a one-pan weeknight winner. The smoky sausage flavor and sweet bell peppers please the tastebuds; plus, it's colorful, healthy, and cleans up fast!
You'll like that the recipe is super flexible. Have some leftover zucchini, asparagus, or another tender vegetable? Toss them onto the sheet pan with everything else.
You can easily feed this sausage special to a crowd. Just pop an extra sheet pan or two into the oven.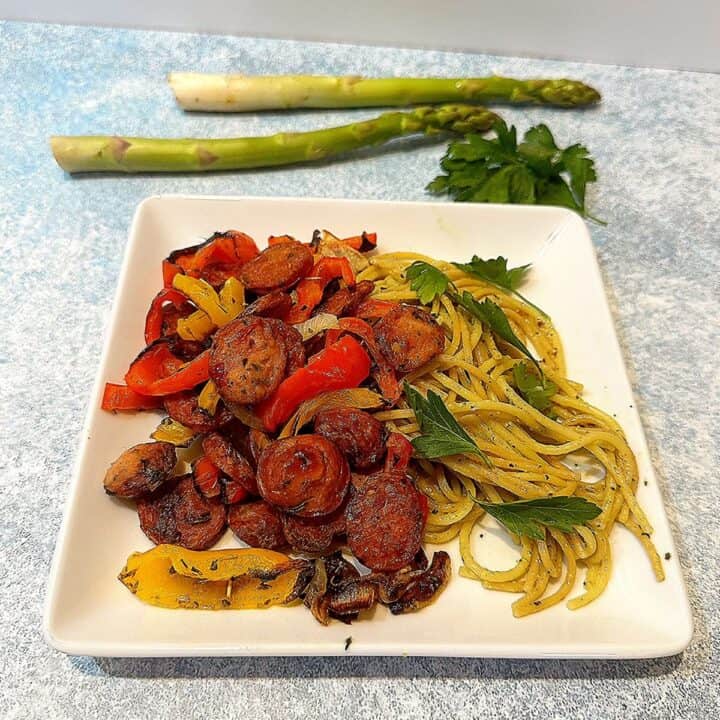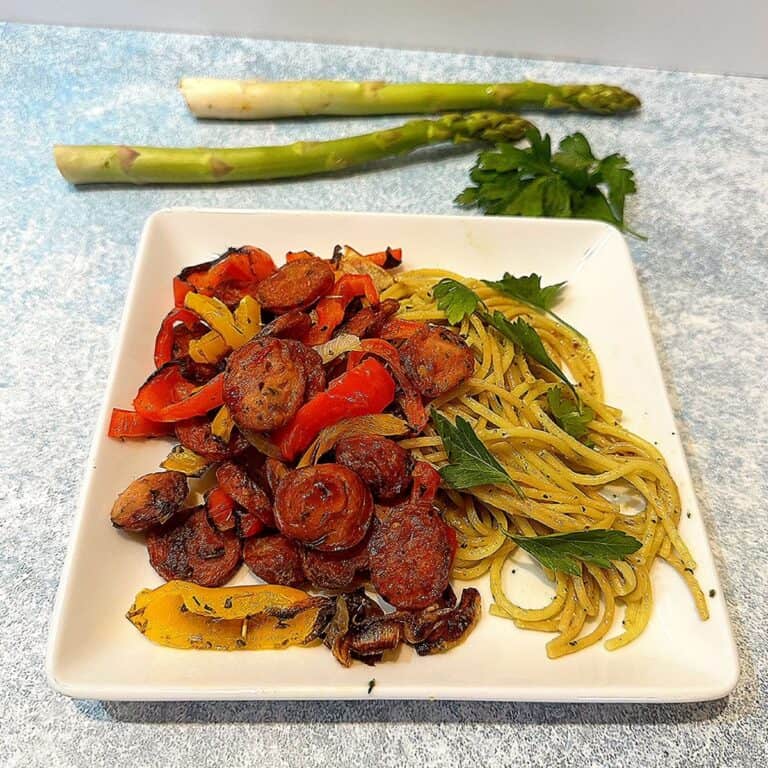 I earn from qualifying purchases at no extra cost to you as part of the Amazon Affiliate program.
Ingredients: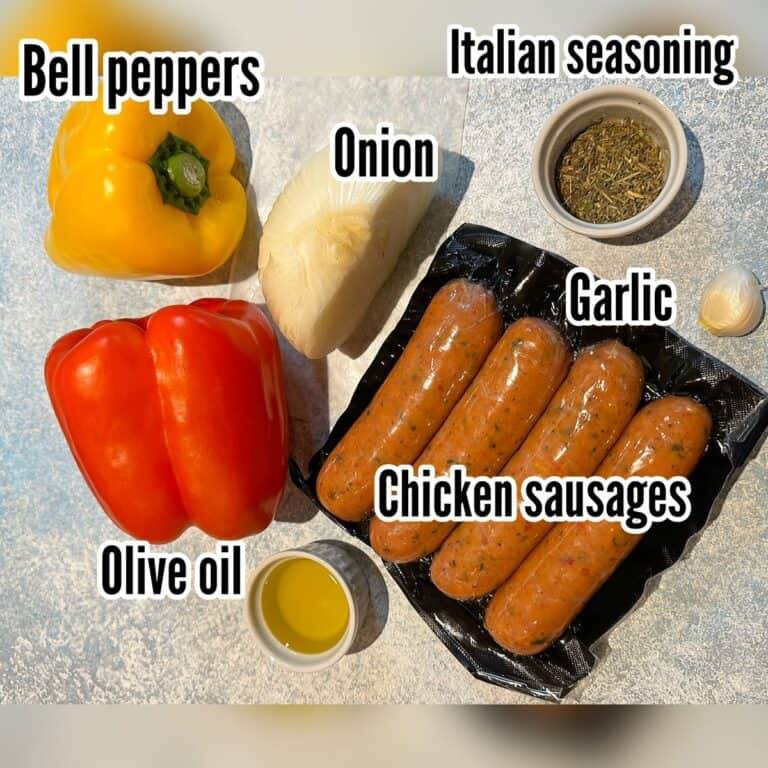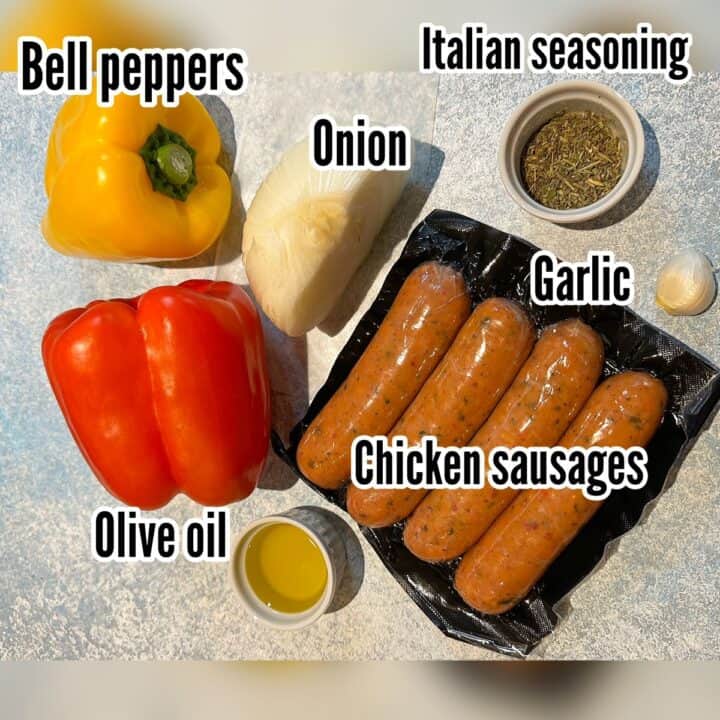 Onion
Bell Peppers
Garlic (optional)
Olive oil
Italian herb seasoning
Salt
Black or red pepper
Smoked sausages
Onion: Use your favorite. I like sweet, yellow onions, but you can use red or white.
Bell Peppers: Red, orange, or green–any color will work in this recipe. The flavor is sweeter with red and orange peppers. That said, all veggies, including the peppers taste sweeter after roasting in the oven.
Garlic: Fresh minced garlic adds a layer of flavor, or use dried powder or granules. Omit this ingredient if you're short on time or have digestive problems. If you do use fresh, after mincing the cloves, let them sit at least 10 minutes to allow healthy allicin compounds to bloom.
Italian herb seasoning: You can buy prepared dry Italian herb spice mixes, but be sure and check the label for salt (sodium). You may not need to add any extra salt if your spice mix already has it since sausages pack a sodium punch!
(Want to make your own Italian seasoning? Try this simple five-ingredient recipe.)
Salt: This is truly optional. Most sausages have plenty of sodium and the Italian spices may also contain salt. Read your package labels and then season according to taste. The recipe includes a quarter teaspoon of salt just in case.
Black or red pepper: Use red pepper flakes if you want hot heat and black for a milder flavor. Having a jar of coarse black pepper in the pantry can help when creating so many recipes! Just ask chefs and devoted home cooks.
Smoked sausages: The sky's the limit here!
Plant-based: For vegetarians and vegans.
Chicken or turkey: Lower total and saturated fat. Many flavor options!
Pork: Juicy and savory, and also many different kinds.
Choose any smoked sausage that fits your diet karma!
How to Make
1 Line a quarter-size sheet pan with extra-wide heavy-duty aluminum foil.
2 Preheat oven to 400 F. Use the roast setting if your oven has one.
3 Slice and chop the vegetables. Mince the garlic, if using, and allow it to sit and develop healthy allicin compounds that have benefits for your blood vessels, heart, and more!
4 Slice the peppers and onions into strips.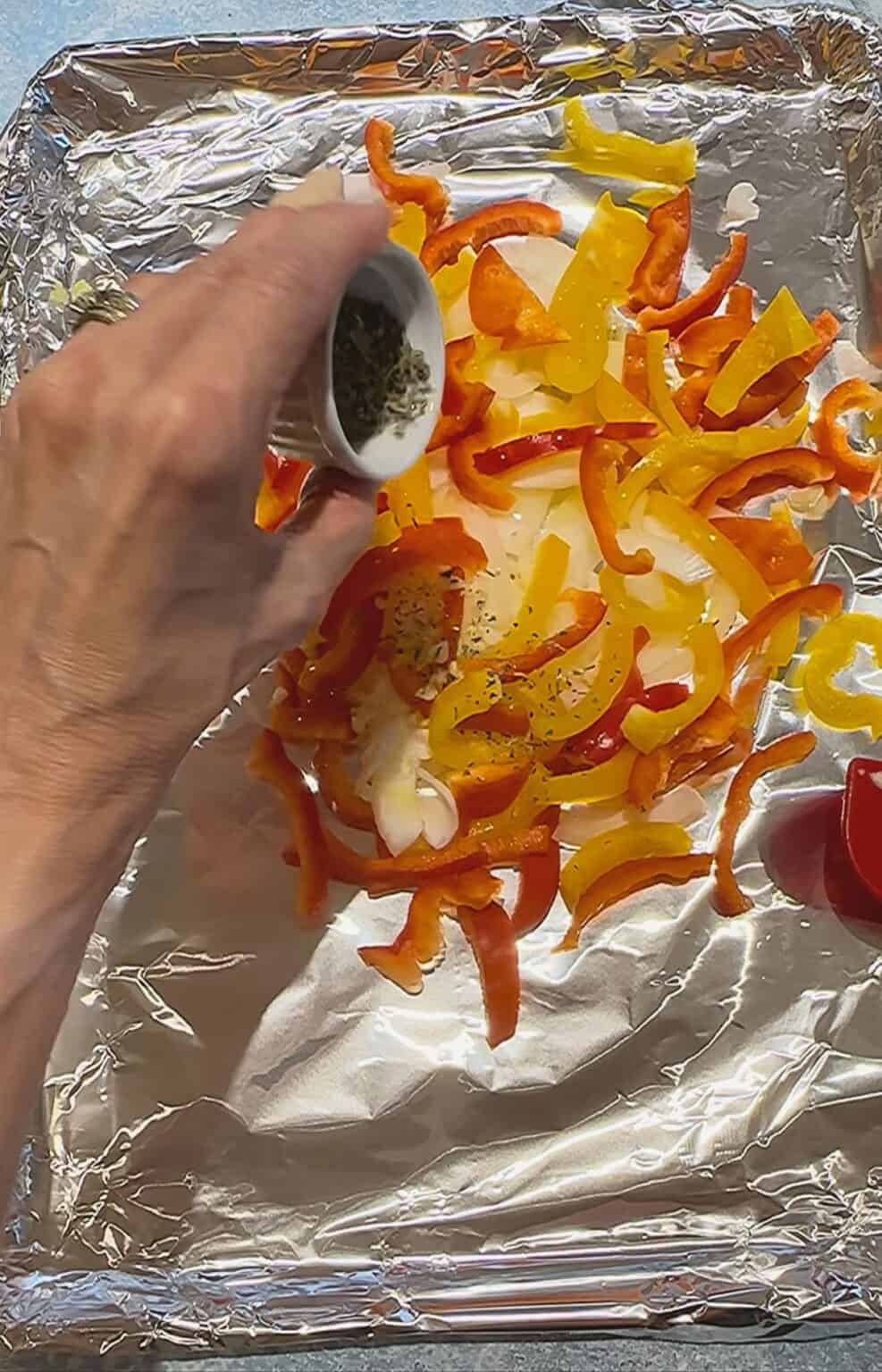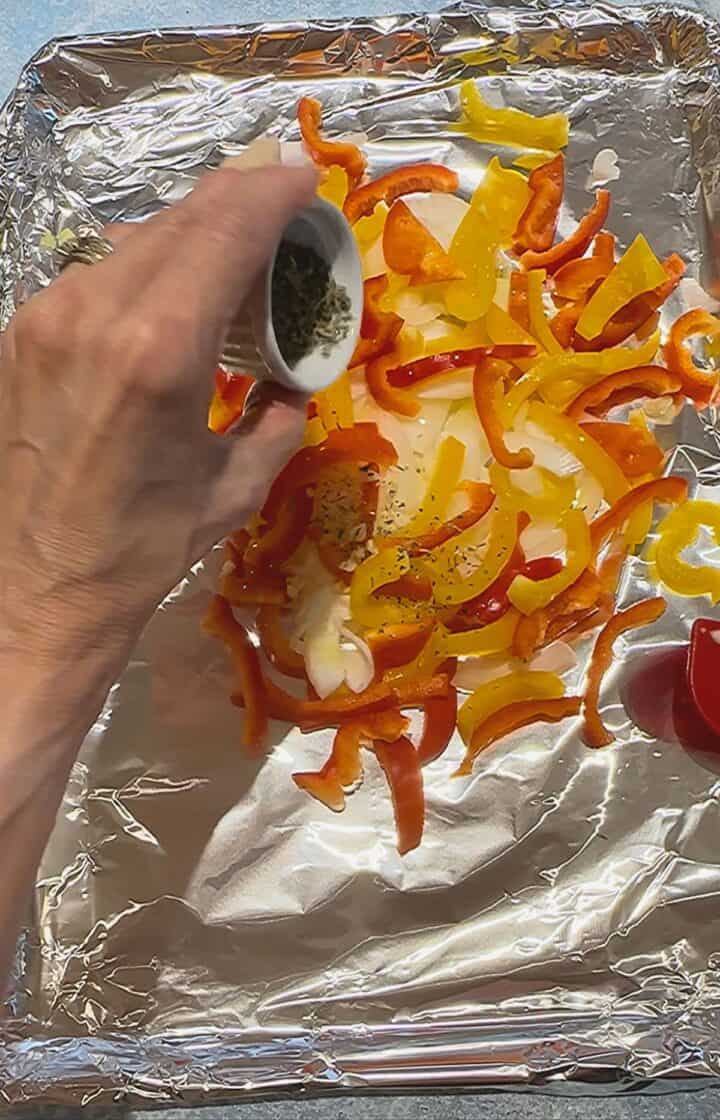 5 Dump the sliced veggies onto your sheetpan and top with garlic. Drizzle with olive oil, Italian herb mix, salt, and peppers.
6 Toss to mix all together and distribute evenly on the sheet pan.
7 Slice the sausages into coins. Thicker coins will be juicier and thinner slices will be chewy.
8 Add the sausage coins to the veggies, and move them around so they are spread evenly.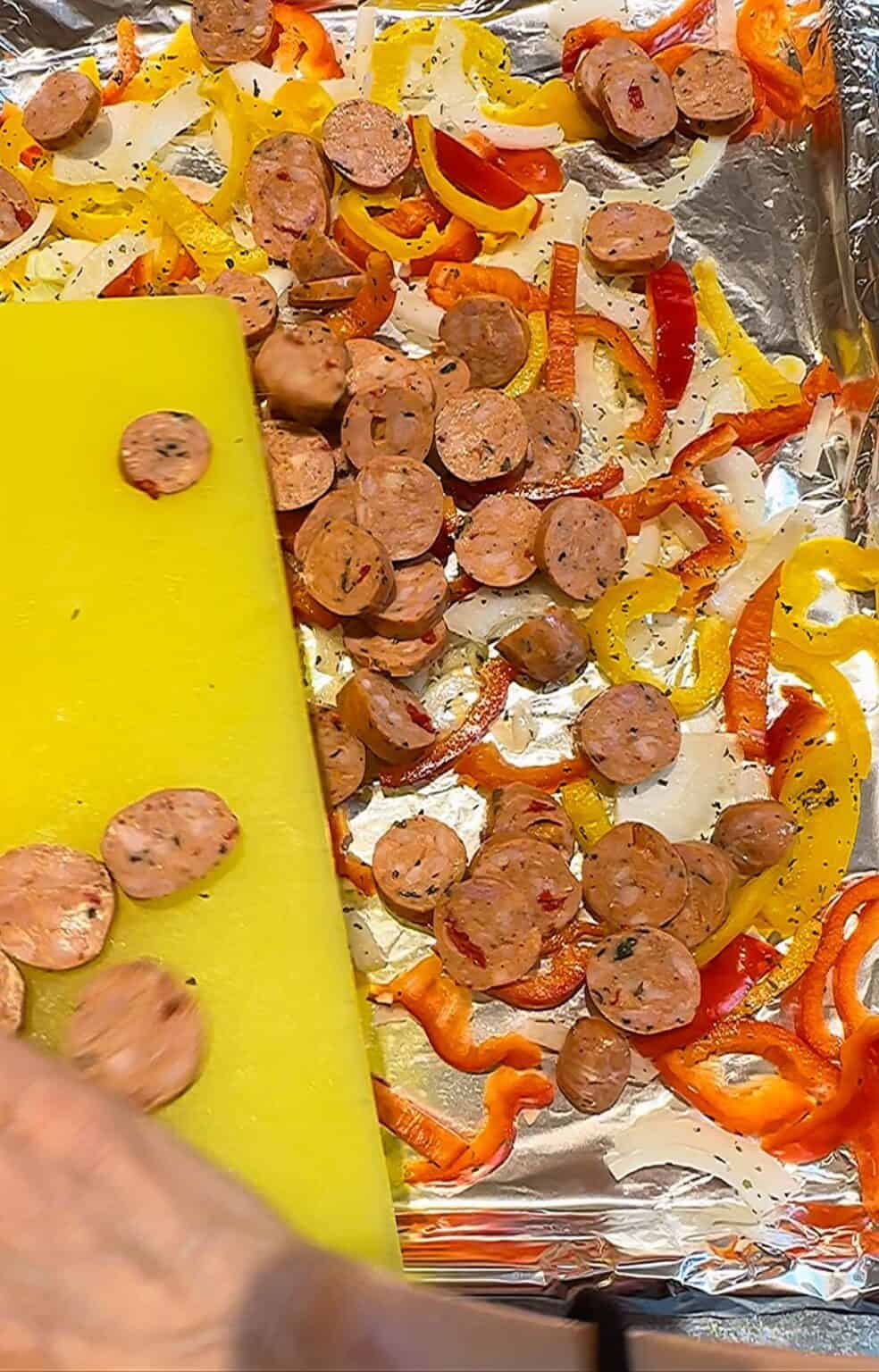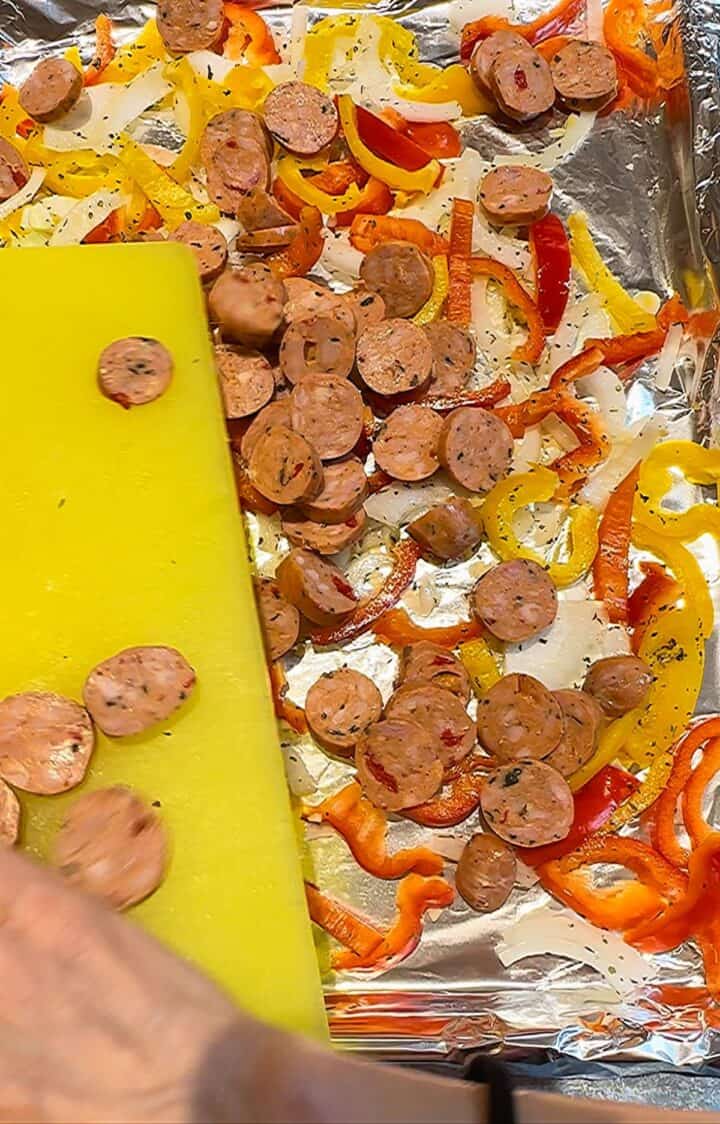 9 Roast or bake in the oven until veggies are soft and golden around the edges.
Serve with your choice of a starchy side dish, such as pasta sauced with pesto (in the picture at the top) or marinara. Make it a gluten-free dinner with rice, or polenta.
Cooking tips and variations
This recipe is very forgiving.
Do be cautious, however, with the cooking time since your sausage could get chewy and the veggies may burn! Turn down the heat if the veggies start to color too quickly.
Add tender vegetables: Zucchini and yellow squash are especially good, but asparagus and green beans are nice too. (Use up any leftover veggies that are about to go soft!)
You could also simply add another bell pepper, to increase the veggies in the recipe.
🌿More assertive herbs: Use a spice mix like za'atar, dukkah, or chermoula to give the dish a Middle-Eastern twist. Serve over lentils or chickpeas and top with feta cheese.
FAQs
Should you cover the sausage, peppers, and onions in the oven?
No. So that the edges of the vegetables turn golden and crispy leave the dish uncovered. If it will sit after coming out of the oven, then place a layer of foil over the pan to keep it warm.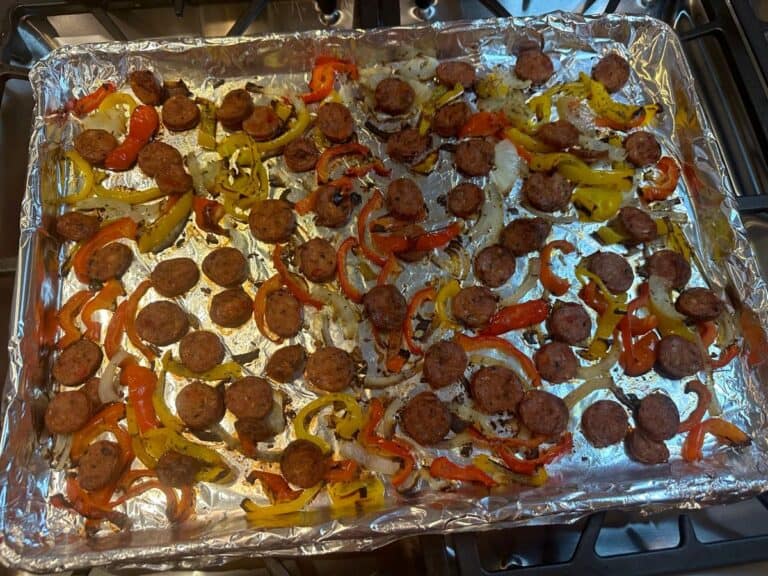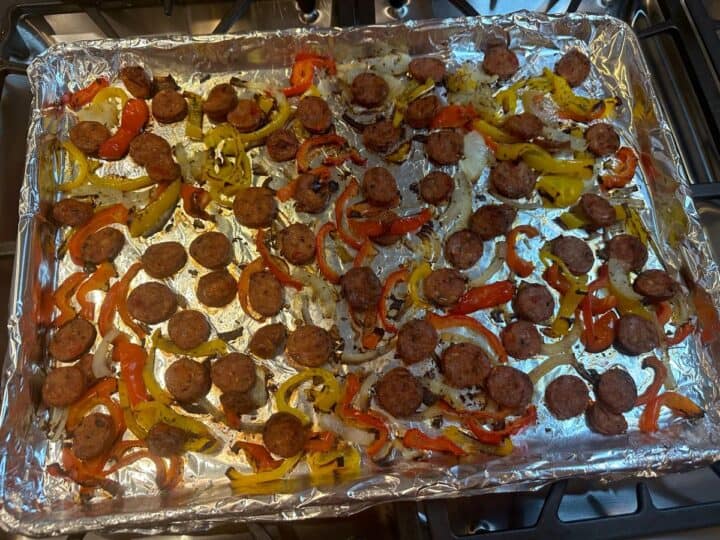 Can I freeze this dish? 🧊
Freezing is not best since the vegetables turn overly soft when re-heated. You can, however, start the recipe with a bag of frozen peppers and onions to save time.
Another way to make this recipe faster is to pre-cut the sausages and vegetables up to 24 hours in advance.
How long do Smoked Sausages, Peppers, and Onions last in the fridge?
That mostly depends on the type of sausage you choose. With chicken sausage as in the recipe below, it will keep for three days. Pork sausage versions might last a day longer. Vegetarian sausages could be okay to eat for up to a week.
Ways to Serve
There are many different and delicious dinners you can fix with this recipe!
With pasta: Most spaghetti or linguine noodles are excellent side dish choices. The veggies and sausages are perfect on top of a mound of Spaghetti Napoli, which features a silky tomato sauce.
Or, toss your noodles in some pesto (in the recipe picture) or keep it simple with olive oil and Parmesan cheese.
With rice: Choose any plain white or brown variety of rice. Frozen, packed rice makes this dinner lightning fast. It would also be good with Oven Baked Turmeric Rice.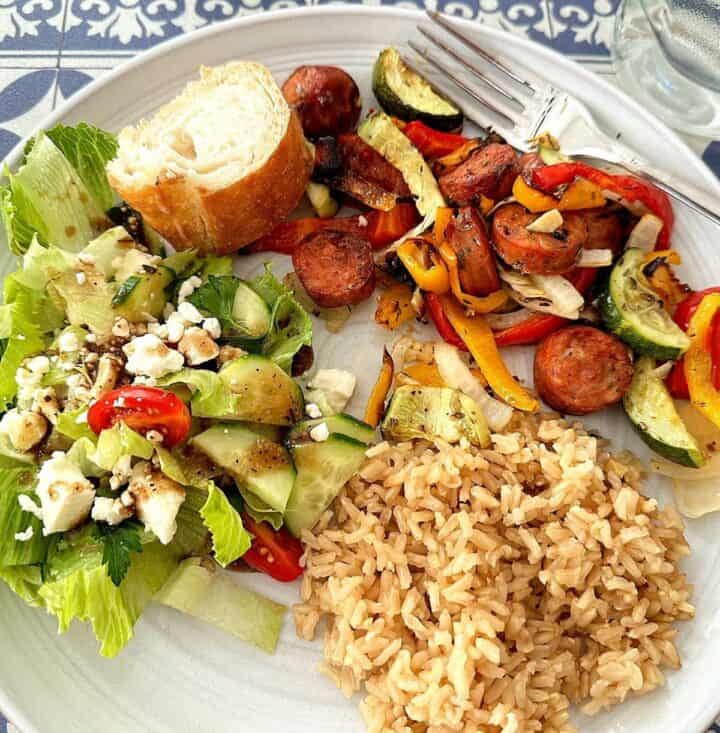 With polenta: You can use slices from a store-bought tube or make your own. Just like the turmeric rice recipe, polenta is especially easy when baked in the oven. During colder months, it's such a hearty and filling side.
*Note: Although the above-linked recipe from Food52 only asks for butter, I like the flavor of half olive oil and half butter.
With a loaf of crusty bread: The easiest serving method is to offer slices of crusty bread along with a good extra virgin olive oil and some balsamic vinegar.
Of course, you would also want a nice green salad or perhaps some wilted chard, kale, or other sturdy green as a counterpoint.
Is this recipe healthy?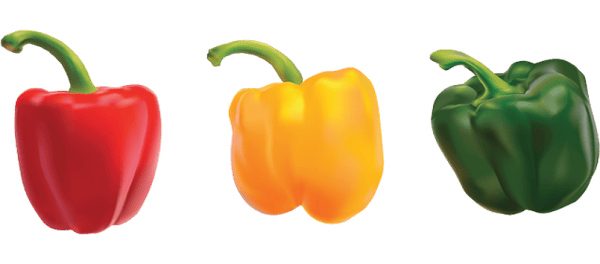 Smoked Sausages, Peppers, and Onions supply a good amount of protein along with vitamins, minerals, and antioxidants.
💪The sausages, of course, offer protein and most types also have minerals like zinc.
Sweet peppers are a rich source of vitamin C, and onions contain quercetin, an antiviral, histamine-fighting flavonoid. Onions are one of the most common sources of quercetin eaten in a normal diet.
| | | |
| --- | --- | --- |
| SWEET RED BELL PEPPER (3.5 OUNCES) NUTRITION | 🤩 | |
| Nutrient | Amount | % RDA |
| Calories | 31 | 1.5 % |
| Carbohydrates | 6.6 g | 5 % |
| Protein | 0.9 g | 1.5 % |
| Fiber | 1.2 g | 3 – 6 % |
| Potassium | 213 mg | 6 – 8 % |
| Manganese | 0.133 mg | 5.7 – 7 % |
| Vitamin C ⭐ | 142 mg | 158 – 189 % ⬅ |
| Vitamin B1 (thiamin) | 0.055 mg | 4.6 – 5 % |
| Vitamin B2 (riboflavin) | 0.142 mg | 11 – 13 % |
| Vitamin B6 | 0.303 mg | 23 % |
Information from the USDA's Food Data Central
About twice the daily requirement of vitamin C
Excellent source of vitamin B6
Good source of potassium
🧂 The nutrient to watch out for in this recipe is sodium. Sausages have plenty of it. So, it's not a great choice for those watching salt or working to keep blood pressure down.
This recipe is not high in calories or fat (depending on the type of sausages), so there is plenty of room on the plate for a yummy, healthy carbohydrate side.
Other recipes you might like…
Lemon Chicken Traybake: Another superfast sheet-pan recipe that's out of the oven in less than half an hour.
Healthy Smokin' Jambalaya with andouille chicken sausages is another one-pan dish that comes together quickly.
If you're a fan of the Instant Pot, try this Mustard-herb Pork Loin. Seasoned with garlic and thyme, it's a juicy main dish!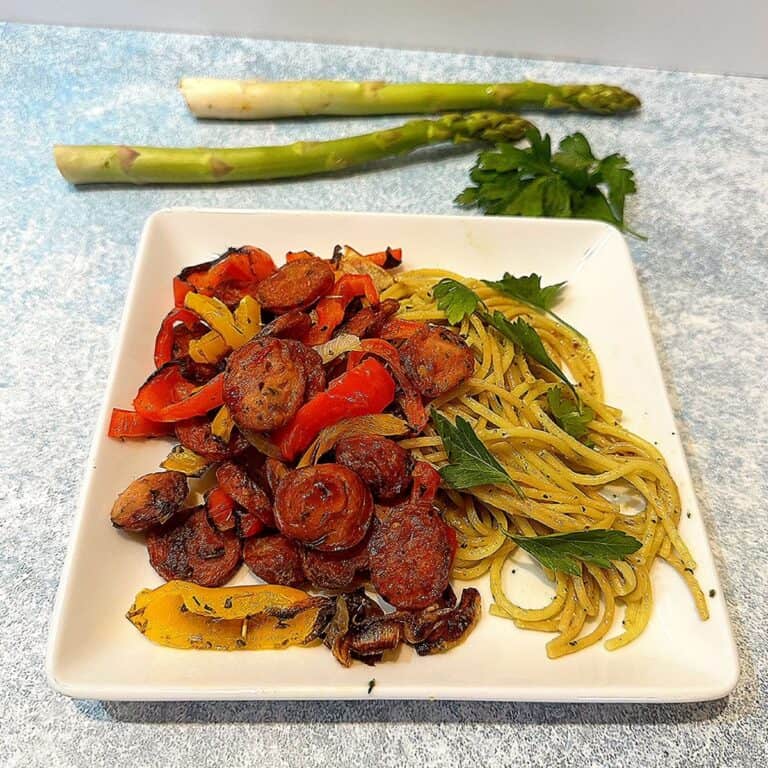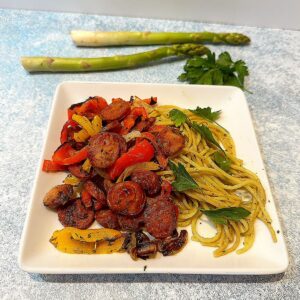 Smoked Sausages, Bell Peppers, and Onions
You'll love this Italian-inspo recipe for busy nights. All the ingredients bake together on a sheet pan, which means an easy clean-up! Serve these smoky, savory sausage and veggies on top of pasta (sauce optional). Or go gluten-free with rice or polenta!
Equipment
measuring spoons and spatulas
Ingredients
½

large onion,

halved and sliced

2

sweet bell peppers,

any color

1

clove

garlic,

minced, optional, or use ½ teaspoon of garlic powder

2

Tablespoons

olive oil,

smooth or extra virgin

1

teaspoon

Italian herb seasoning,

salt-free

¼

teaspoon

salt,

kosher, optional

1

12-ounce package

chicken sausages,

fully cooked, smoked or use your favorite type of sausage: pork, turkey, or vegan
Instructions
Wash hands thoroughly for 20 seconds before beginning to prep the dish.

Cut onion in half and slice, creating arc-shaped pieces.

Core bell peppers and slice into strips.

Line a sheet pan with foil, parchment paper, or a silicone sheet.

Place cut vegetables and garlic on sheet pan. Drizzle the olive oil and sprinkle the Italian herb seasoning over all. Toss well and then arrange evenly on the sheet pan.

Cut the sausages into thick coins or chunks.

Add the sausage pieces to the veggies, wedging them in and distributing throughout the pan.

Place in the oven and bake for 25 minutes, until the vegetables are soft and some of the edges are golden brown.

Remove from the oven and serve with rice, pasta, polenta, and/or crusty pieces of bread.
Notes
This will feed two adults and two small children. I recommend serving the sausage and veggies over polenta if you want to make this a heartier meal!
The sausages are high in sodium, so I usually omit the salt.
Nutrition
Calories:
204
kcal
Carbohydrates:
7
g
Protein:
13
g
Fat:
14
g
Saturated Fat:
2
g
Trans Fat:
0
g
Cholesterol:
65
mg
Sodium:
149
mg
Potassium:
389
mg
Fiber:
1
g
Sugar:
3
g
Calcium:
25
mg
Iron:
1
mg
Copyright © 2023 Jani H. Leuschel