Lemon Chicken Traybake is a weeknight win. It's an easy prep, one-dish dinner with a lively citrus flavor.
It's delicious and almost everyone can enjoy it. Allergies–no problem. Diabetes–ditto. It's free of gluten, dairy, soy, and corn.
It's packed with protein and cooks quickly in the oven–ready to eat in 30 minutes or less!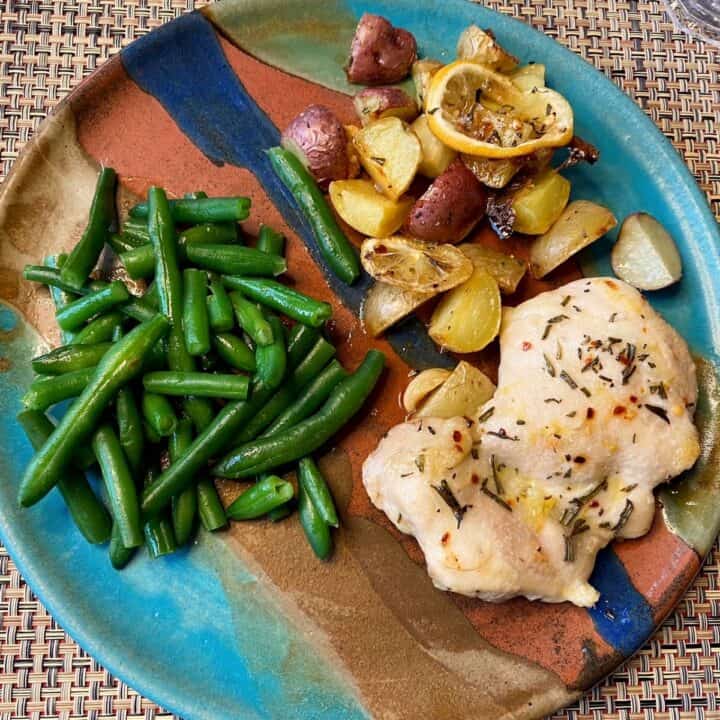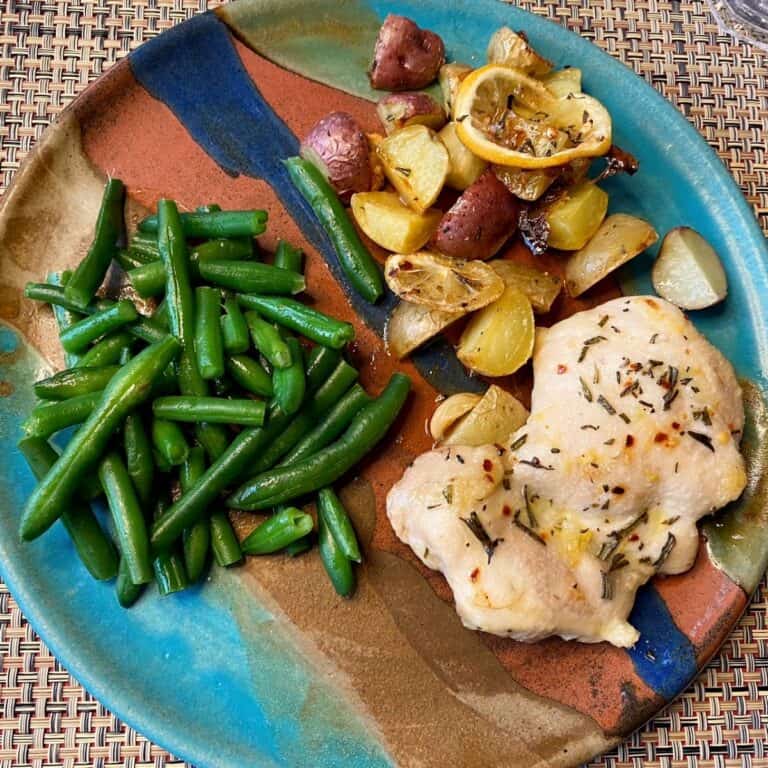 Ingredients and equipment: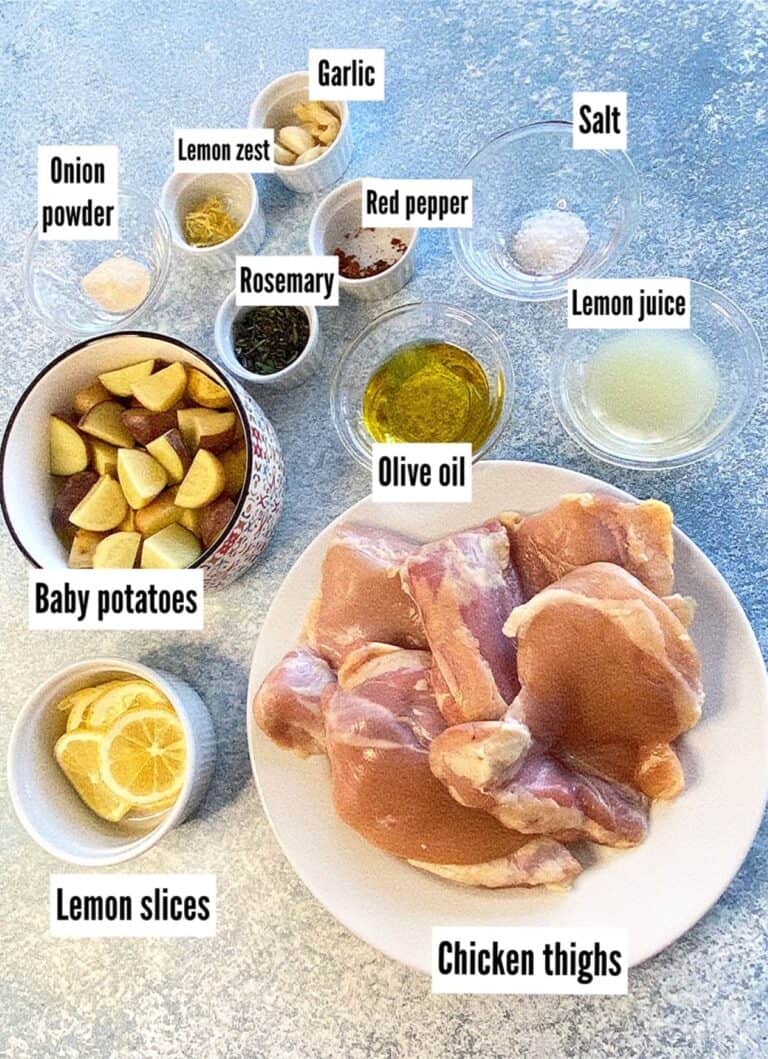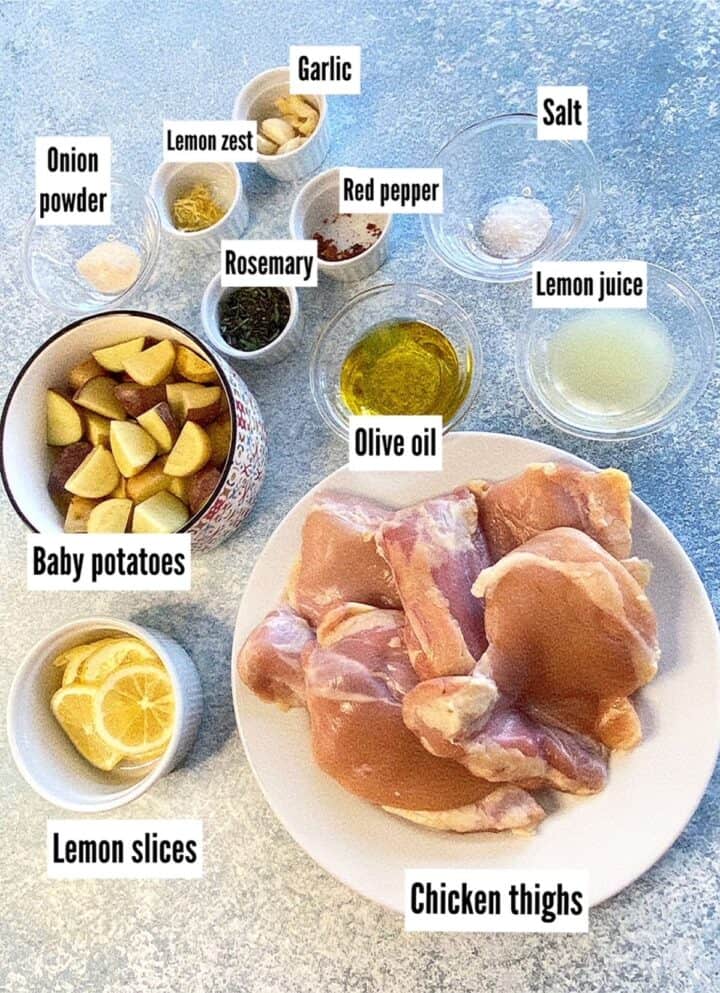 Olive oil
Lemon juice
Salt
Small, baby potatoes
Lemon slices
Garlic
Chicken thighs
Lemon zest (optional)
Onion powder
Rosemary
Red pepper flakes or black pepper
🌿🌿🌿🌿🌿🌿🌿🌿🌿🌿🌿🌿🌿🌿🌿🌿🌿🌿🌿🌿🌿🌿🌿🌿🌿🌿🌿🌿🌿🌿
Sheet pan,18" x 13", with low sides, or casserole dish
Extra-wide foil
Citrus juicer
Zest grater
Measuring spoons
Whisk
The only ingredients that require prep work are the lemon, potatoes, and rosemary (if you use the fresh herb).
Small new potatoes of any color are fine in the Lemon Chicken Traybake. Fingerlings are good, too.
Garlic can be sliced or roughly chopped. To learn more about its amazing health benefits, read my blog on Garlic Goodness.
A low-sided half-sheet pan measuring 18"x13" works best for the traybake recipe. It also leaves extra space for tossing on a few veggies. But, a 9"x13' casserole dish will also give you a good bake even if items are a little crowded.
Lining the sheet pan with extra–wide foil simplifies cleanup. But it's pricey and sometimes difficult to find, so no worries if you skip it. The foil does have a place in your pantry if you're partial to grilling. It's excellent for grilled asparagus!
Don't like to fuss with grating lemon skins for zest? Then, choose a dry citrus peel spice blend instead, or leave it out entirely.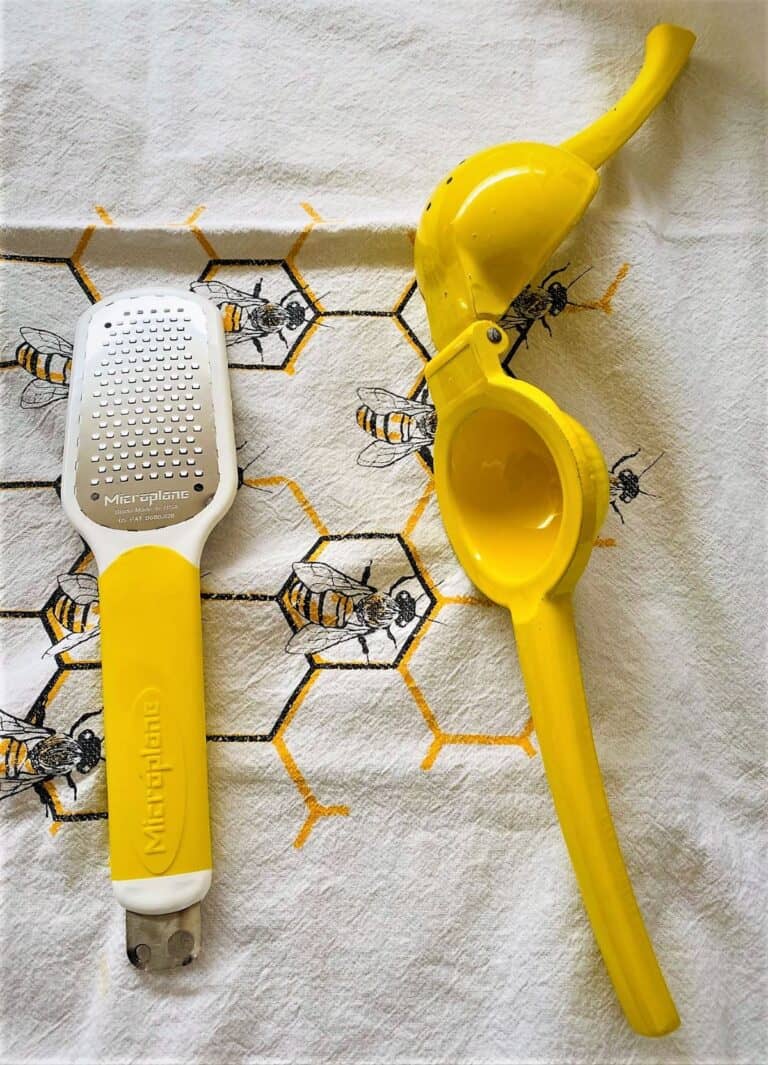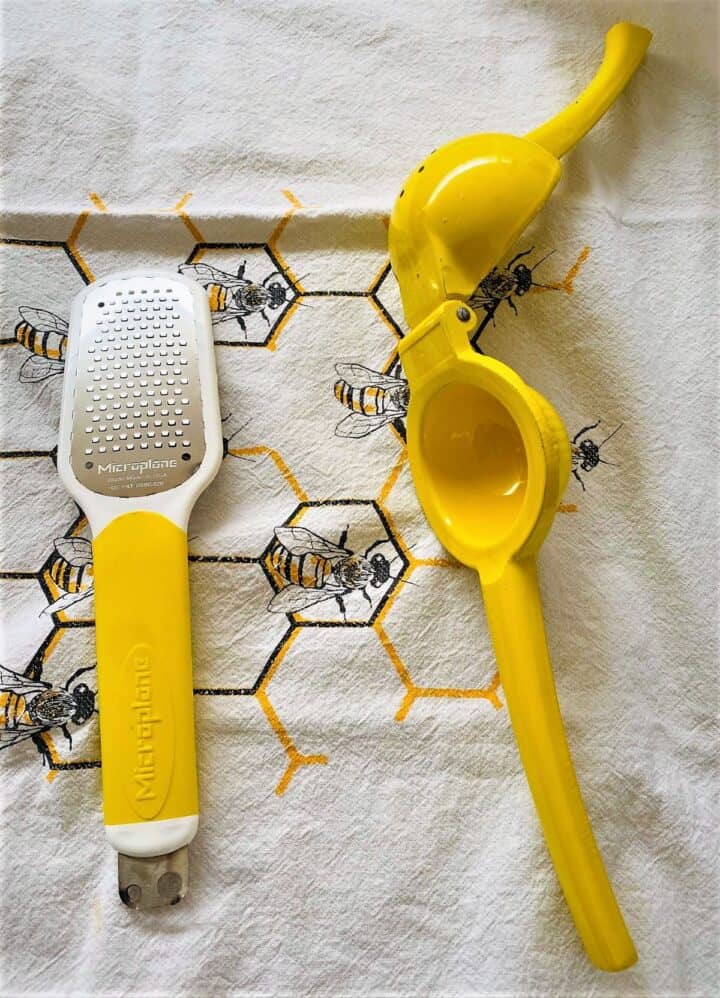 Optional ingredients in the recipe are flavor boosters. Choose and use depending on how much time you can spend cooking.
As for juicing lemons, I like the ease of a citrus lever, but a reamer will give you more juice if it's not worn out. (This comes from well-known cookbook author and food scientist J. Kenji Lopez-Alt.)
How to prepare the traybake
After washing your hands, heat the oven and line the tray with extra-wide foil, if using, or apply non-stick spray.
Chop the potatoes into small pieces and make the marinade.
Toss the potatoes with a little more than half of the marinade, setting aside enough to brush onto the chicken thighs later.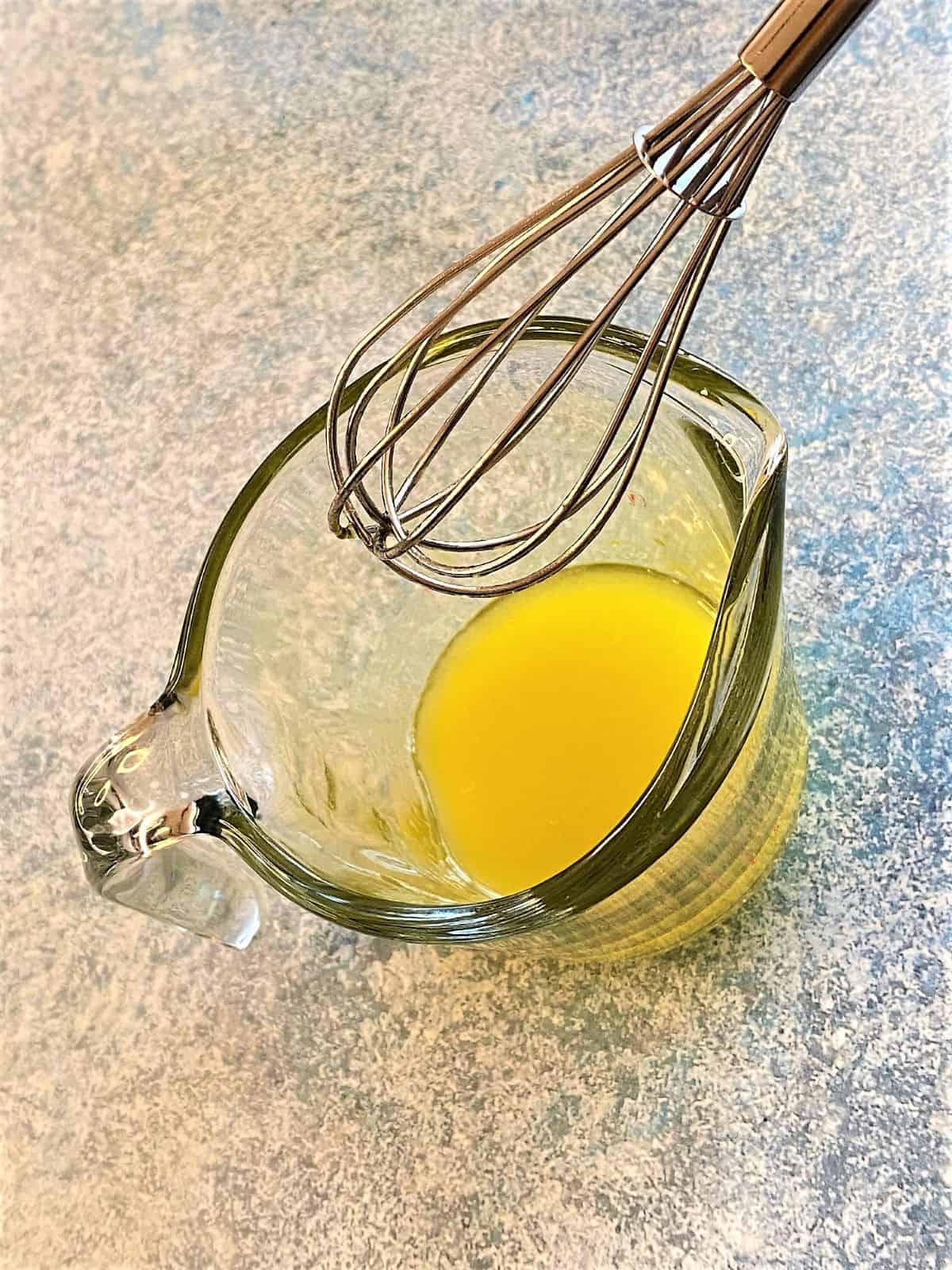 Start roasting potatoes in the hot oven.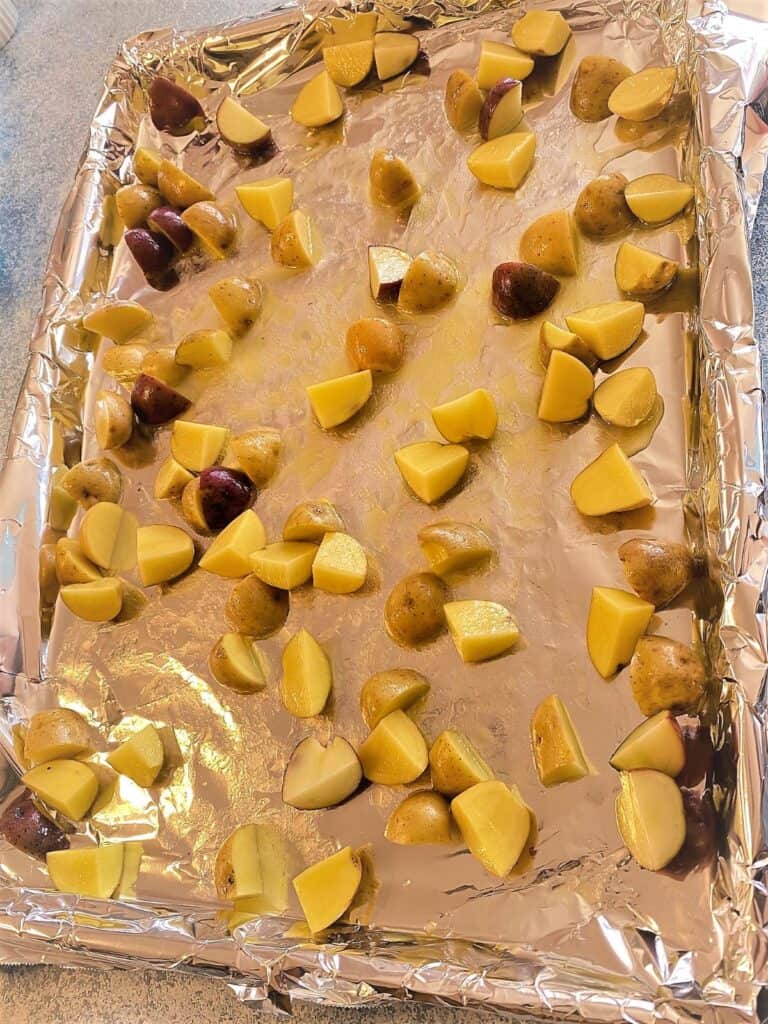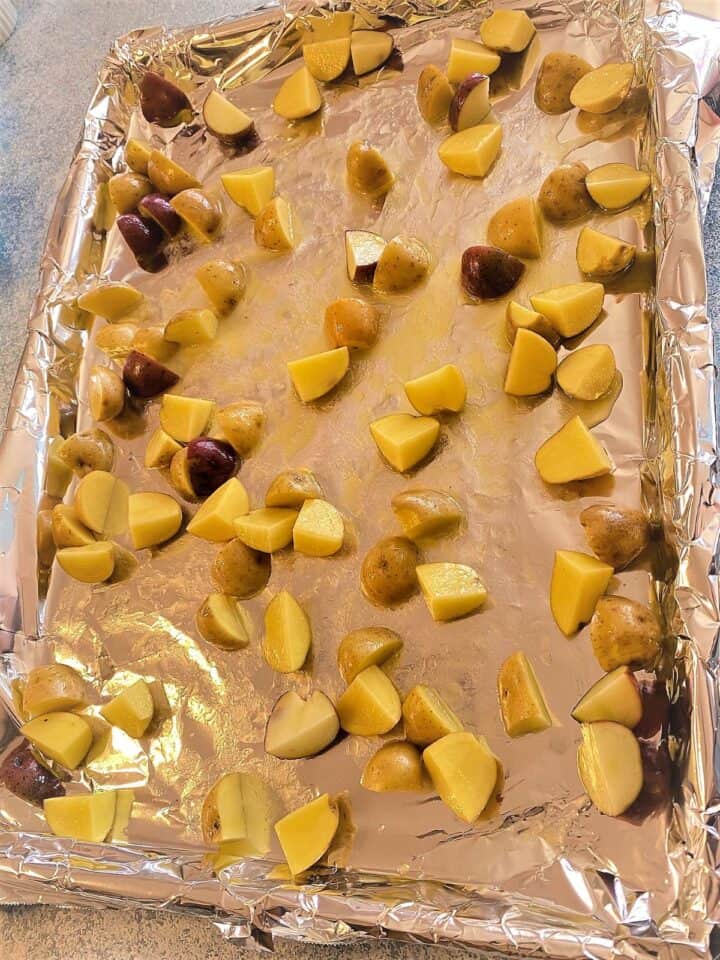 Then, chop the rosemary so it's ready to sprinkle. This is a fairly quick bake!
Remove potatoes from the oven and add lemon and garlic. Nestle in the chicken thighs.
Brush the thighs with reserved marinade and top them with lemon zest, if using.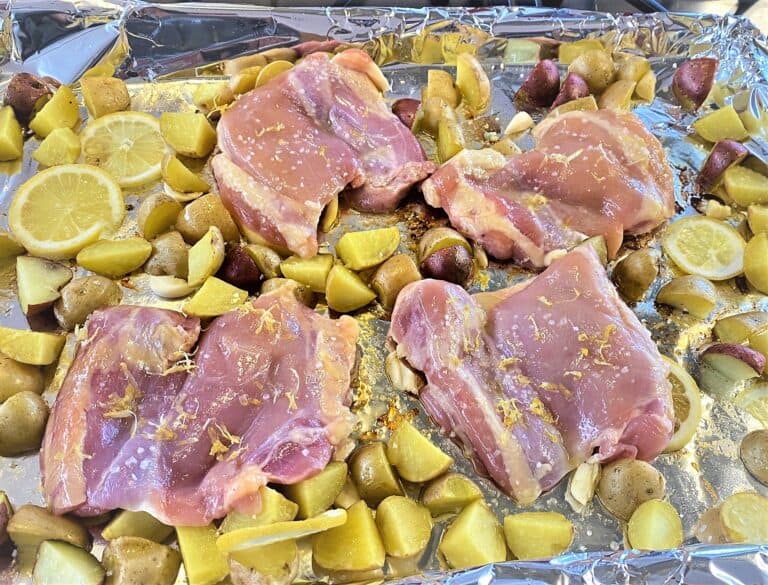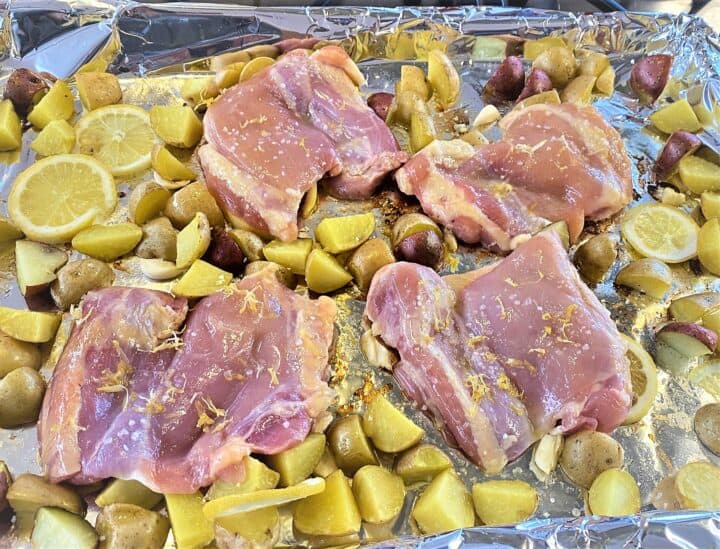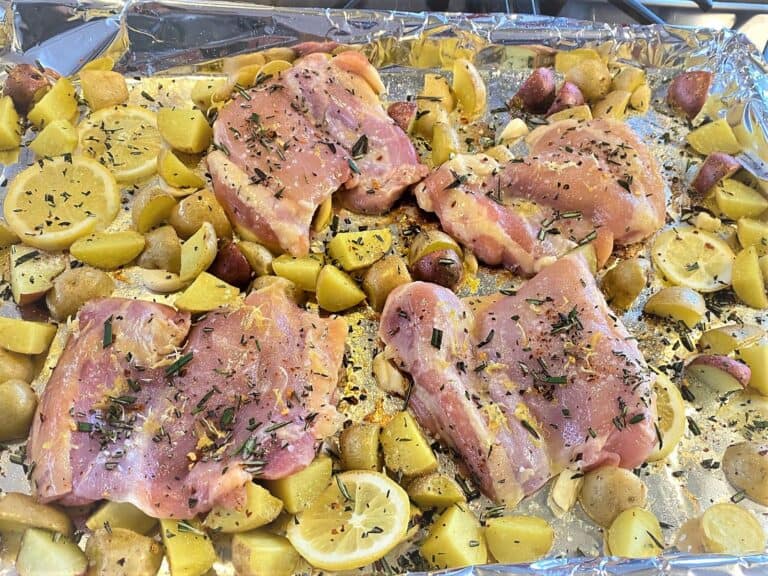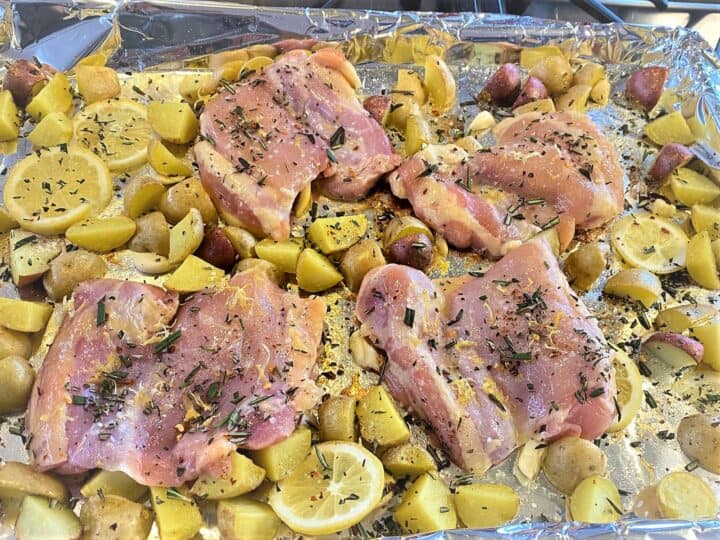 Sprinkle all with salt, onion powder, rosemary, and red pepper flake or black pepper.
Return pan to oven and finish roasting. (See the recipe card below for complete instructions.)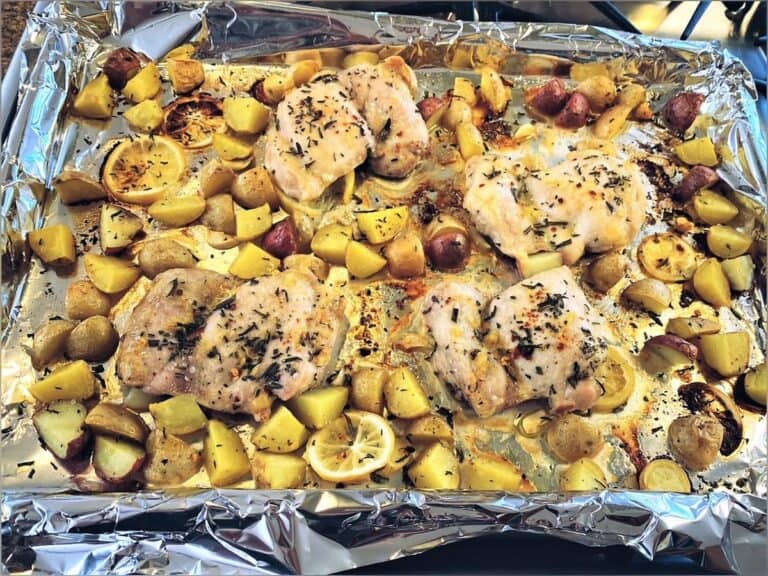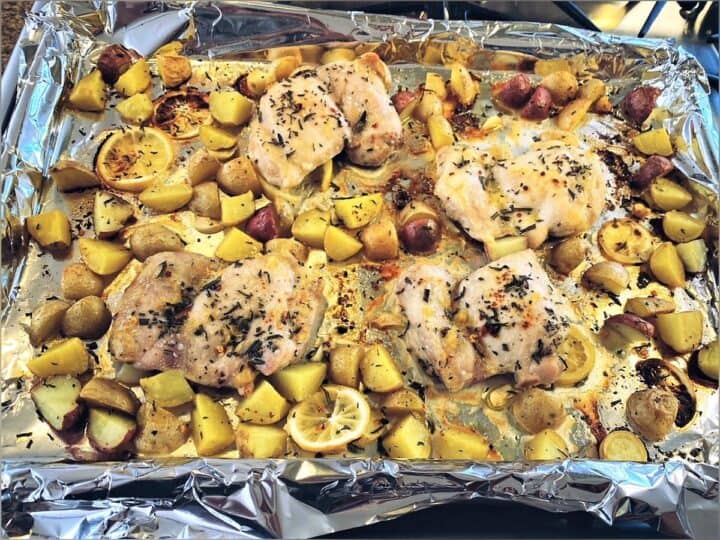 Serve with a salad and/or fresh vegetables.
Nutrition bonuses ➕➕➕
People on many different eating plans can enjoy Lemon Chicken Traybake because it's:
Allergy- and diabetes-friendly
Gluten- and dairy-free
Low calorie
Mediterranean diet-friendly
Low in fat, heart-healthy
Most of the fats in the traybake are mono- or polyunsaturated.
Chicken thighs are not as uber-skinny as breasts, but that makes them juicier, and they're still a low-calorie protein. Plus, they have more iron than chicken breasts.
Baby or new potatoes are usually roasted with their skin on. This enriches the dish with fiber and increases the potassium and magnesium, and it makes for quicker prep!
The rosemary boosts the flavor, and this Mediterranean herb from southern Spain is a well-known antimicrobial and antioxidant. Also, because herbs and spices are so flavorsome, you won't need as much salt.
🍋 Lemons have less nutrition than you might think but are such a fresh taste! That tongue-tickling acid keeps you coming back for another bite.
Storage, reheating, and make-ahead
Store leftovers in the fridge for up to three days. Before eating, reheat in a 350 F oven for 15 to 20 minutes until hot.
Lemon Chicken Traybake is not a great recipe to make ahead.
That's because before adding the chicken, it's best to give the potatoes a head start in the oven so they get soft. The prep, however, is quick, especially if you skip the optional ingredients!
🥶 Freeze the cooked chicken and potatoes for up to 3 months.
Chicken and food safety
Cook chicken to an internal temperature of 165 F to prevent foodborne illness. Check the temperature in the thickest place with an instant-read thermometer to be certain it's safe to eat.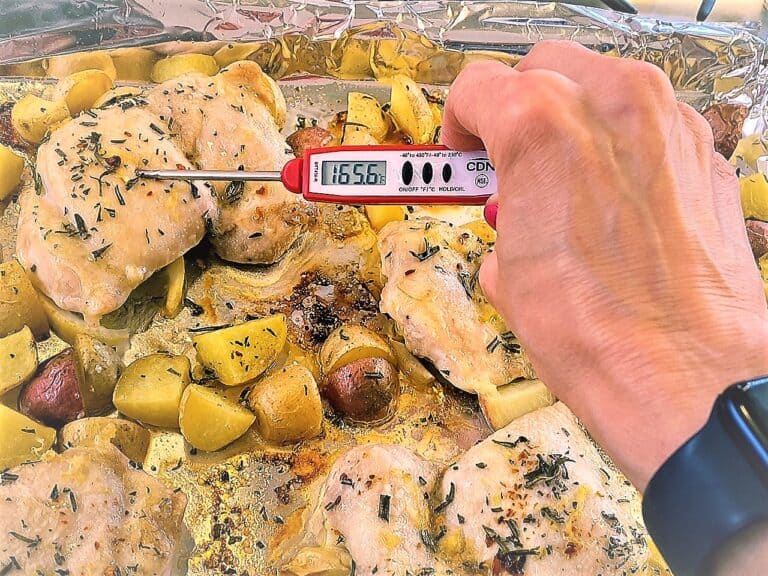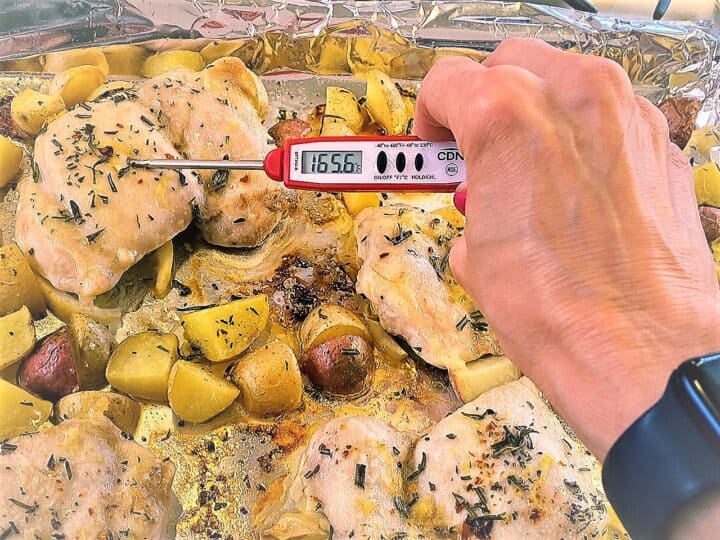 Be sure to take soap and water to any surfaces that touched raw chicken, such as knives, plates, cutting boards, countertops, and, of course, hands!
Many of you know that washing chicken is not safe. Get the deets on handling poultry safely with this printable tip sheet from the USDA.
When participants in a recent study washed chicken, they contaminated the salad prepared nearby. Researchers said the bacteria was transferred from their hands rather than from splashing water.
🧊 If your chicken is frozen, be sure and thaw it properly, so you don't risk food poisoning. Do you know how long you can let chicken sit out on the counter? This post details three methods for defrosting, fast and slow.
Other recipes you might like…
If you love a bright lemon flavor, try the healthy Eye-catching Zucchini Salad recipe or a Lemon Mousse.
Chicken thighs are one of our favorites, and the marinade for Umami Chicken Thighs makes them irresistible!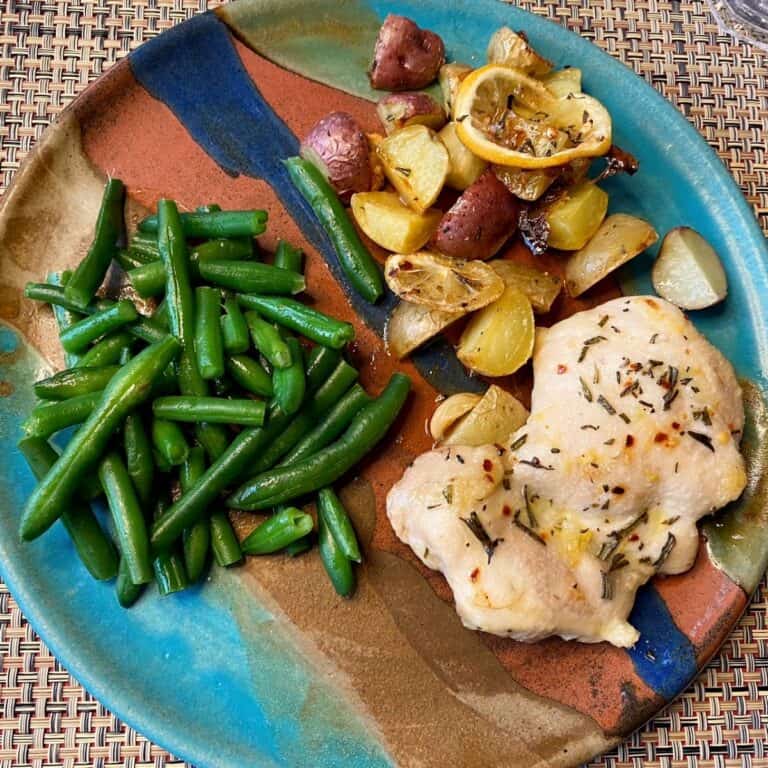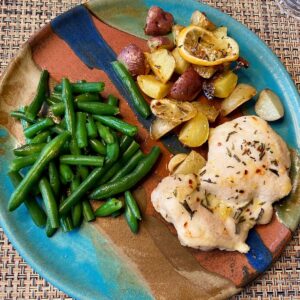 Lemon Chicken Traybake
Easy and flavorful oven-baked chicken and potato dinner
Equipment
1 large sheet pan, 13″x18″, with low sides

1 whisk

2 Bowls,

small and medium
Ingredients
2

Tablespoons

olive oil,

extra virgin

2

Tablespoon

lemon juice,

fresh squeezed

½

teaspoon

salt,

kosher, divided use

1

pound

waxy potatoes,

cut into smallish pieces; any color baby potatoes or fingerlings

½

lemon,

thinly sliced

3

cloves

garlic,

sliced or roughly chopped

1 ¼

pounds

boneless, skinless chicken thighs

½

teaspoon

lemon zest,

optional

¼

teaspoon

onion powder

¼

teaspoon

red pepper flake,

optional, can sub black pepper

2

teaspoons

fresh rosemary,

or 1 teaspoon dried, crumbled
Instructions
Wash hands with soap and water for 20 seconds.

Line a low-sided sheet pan with foil or coat with non-stick spray, or use a 9″x13″ casserole dish.

In a small bowl or glass measuring cup, combine olive oil, lemon juice, and ¼ teaspoon of salt. Whisk to combine into a marinade.

Reserve a generous Tablespoon of the marinade. In a medium bowl, toss potato chunks with the remaining marinade.

Pour the saucy potato chunks onto the prepared pan and spread evenly. Place in oven and roast for about 8 to 10 minutes.

Add the lemon slices and garlic to the potatoes, and then make room to place the chicken thighs on the pan. (It's good if some lemon slices and garlic get lodged underneath the thighs!)

Note: Now is the time to add extra veggies like asparagus or zucchini coins to the pan if you want.

Brush or drizzle the remaining marinade onto the chicken thighs. Sprinkle the thighs with lemon zest, if using.

Season the chicken and potatoes with remaining salt. Sprinkle with onion powder, red pepper flakes (or black pepper), and rosemary.

Return to oven and roast for 20 minutes, or until the chicken reaches 165 degrees in the thickest part. (Use an instant-read thermometer to be sure.)

Serve with a salad or vegetable side.
Notes
You'll end up with softer potatoes if you start roasting them before adding the chicken thighs to the sheet pan.
Throw some zucchini or broccoli on when you add the chicken to the sheet pan and you'll end up with a one-pan dinner!
---
You can cook everything at once, but you'll need to lower the oven temperature to 400 F. Roast the whole shebang for 30 minutes. Your potatoes may be firmer, but you just might like them better that way!
Nutrition
Calories:
418.8
kcal
Carbohydrates:
27.9
g
Protein:
38.3
g
Fat:
17.2
g
Saturated Fat:
3.2
g
Polyunsaturated Fat:
2.8
g
Monounsaturated Fat:
9.4
g
Trans Fat:
0.1
g
Cholesterol:
172.4
mg
Sodium:
580.6
mg
Potassium:
1191.3
mg
Fiber:
3.4
g
Sugar:
2.7
g
Vitamin A:
128
IU
Vitamin C:
28
mg
Calcium:
46.9
mg
Iron:
2.9
mg