When life gives you lemons, make … mousse?
You thought I was going to say lemonade! Well, refreshing beverages are not in my thoughts, but dessert is always on my mind.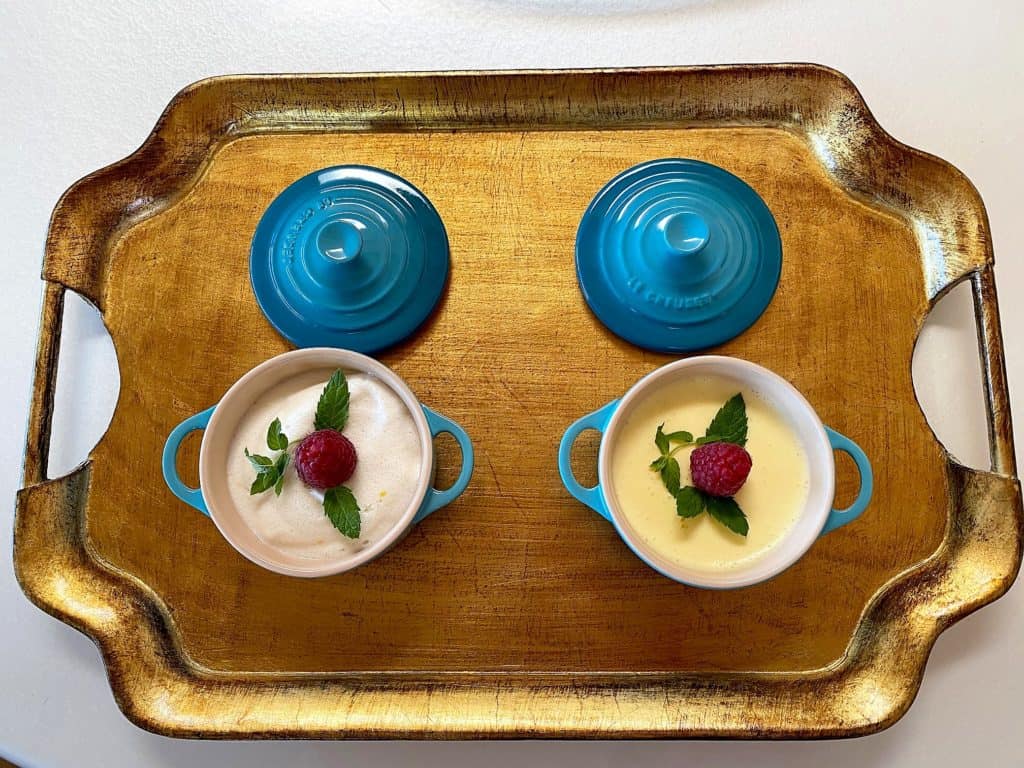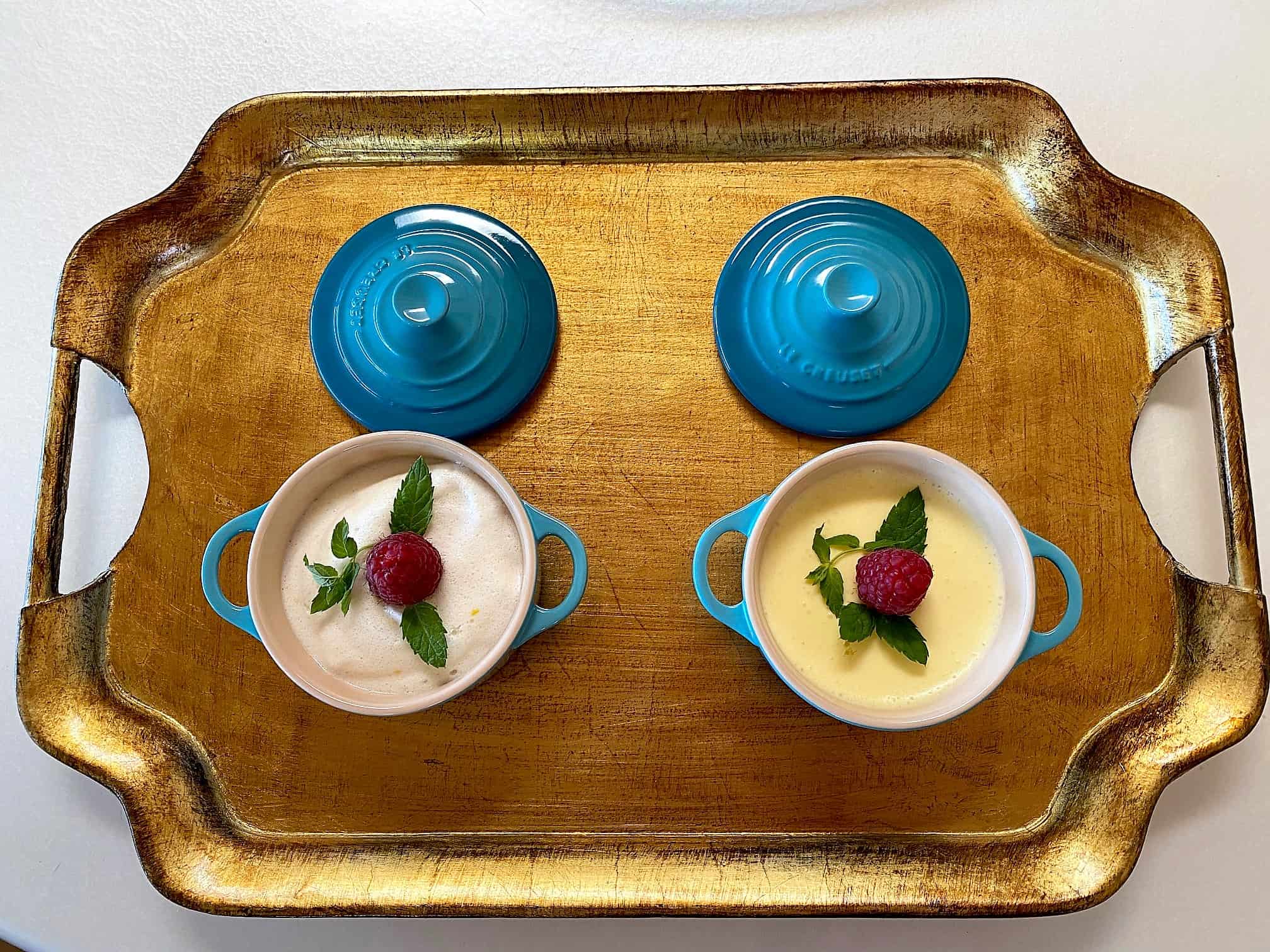 You can choose to create a light, cloudlike lemon mousse with Greek yogurt (recipe below) or rely on cream for richer mouthfeel.
You'll get no complaints on either mousse. Both are delicious!
The pros of mousse for dessert
Mousse is quicker than pie–you don't have to mess around with crust. Rolling out pastry and blind baking a crust is a bit fiddly.
Mousse is more elegant than pudding. It is airier, creamier and melts on the palate.
Mousse also lends itself to a beautiful presentation. Pour it into ramekins or martini glasses. After chilling, sprinkle with cookie crumbs, toasted almond slices, whipped cream, berries, etc.
Many different uses
You can also use mousse to make a trifle. Just layer with cubes of angel food or pound cake along with a fruit compote or syrup. (Follow this link for a formal Lemon Mousse Trifle recipe.)
Of course, mousse also makes a delicious filling for cakes or perhaps a pie with a cookie or nut crust that does not require time in the oven.
For a lemon mousse, I recommend a gingersnap crust!
🍋🍋🍋🍋🍋🍋🍋🍋🍋🍋🍋🍋🍋🍋🍋🍋🍋🍋🍋🍋🍋🍋🍋🍋🍋🍋🍋🍋🍋🍋
I whipped up two different versions of lemon mousse. Both were lip-licking, but my family cast their votes for the Greek yogurt mousse. It is like eating a sweet cloud, each bite evaporating inside your mouth.
Since they rely upon gelatin for stability, neither mousse takes long to set and can be served in individual dishes with less than two hours of refrigeration.
(If a box of gelatin is not a staple in your pantry, here's a recipe for a very, quick and easy fruit mousse that has just three ingredients.)
INDULGENT LEMON MOUSSE
Starting with the recipe from Mark Bittman's How to Cook Everything (p. 661), I made a richer, more lemony mousse with whole eggs and heavy cream. Click here to jump to the recipe.
I did reduce the sugar slightly in both recipes. Because Bittman's recipe is so satiating, it was easy to get away with less sweetness.
If you decide to prepare his mousse, which calls for raw eggs, look for pasteurized eggs in the grocery store. If you would rather, you can pasteurize your eggs at home in the microwave using the method given in this video.
Whole eggs contain many nutritional benefits, but for the sake of food safety, you might not want to use raw eggs if you are planning to serve the lemon mousse to older adults or young children.
This recipe is high in fat, especially the saturated kind, which many nutrition experts say can contribute to inflammation.
LIGHTER LEMON MOUSSE
As a contrast, I also prepared a lighter take on lemon mousse, which omits the egg yolks and subs Greek yogurt for the heavy cream. In this recipe, a plethora of egg whites is heated briefly and whipped with sugar to make a meringue.
This meringue approach yields an ethereal dessert. That said, neither mousse will weigh you down. The yogurt-based lemon mousse has half the calories of Bittman's, but they're both low in calories.
What mousse will you make?
For me, the choice of lemon mousse is based on flavor. If you enjoy an eggy pudding, choose Bittman's lemon mousse.
You can always replace the whipped cream in it with a non-dairy whipped topping if you are lactose intolerant or want to lower the amount of saturated fat. (Or, if you want to speed the prep.)
If you love a will-o'-the-wisp confection, make the meringue-y lemon mousse (recipe below).
It is difficult to say which version is more time-consuming. There are more lemons to squeeze for Bittman's mousse and more eggs to separate for the lighter mousse.
The choice could come down to what you have in your refrigerator.
Plenty of lemons and heavy cream? Make Bittman's lemon mousse.
Lots of eggs, but only a single lemon in your crisper? Go for cloudlike mousse. It only needs the zest and juice from one lemon. (Put that lemon in the microwave for a few seconds before squeezing and you'll get more juice.)
More recipes with lemons
Do you love the citrusy flavor of lemons? Try this Eye-catching Zucchini and Carrot Salad or Lemony Pasta Salad with Spinach.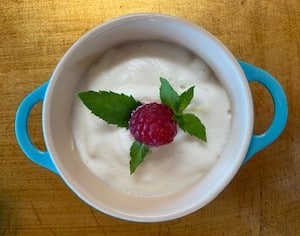 Greek Yogurt Lemon Mousse
Your family and guests will think they are eating a cloud when you serve this frothy lemon mousse. At about 100 calories, it is the perfect light finish.
Equipment
Double boiler,

can sub a heat-proof bowl set over simmering water

Stand mixer or hand-held electric mixer

6 to 8 ramekins, dessert bowls, or wine/martini glasses to use for serving
Ingredients
1

cup

plain whole milk Greek yogurt

1

teaspoon

lemon zest

3

tablespoons

fresh lemon juice

1

teaspoon

vanilla extract

¼

cup

water

1

envelope

about 2 ½ teaspoons unflavored gelatin

⅔⅔

cup

egg whites

from 4 or 5 large eggs

1

Tablespoon

of Truvia

stevia+erythritol

½

cup

sugar
Instructions
In a small bowl, whisk together yogurt, lemon zest, lemon juice and vanilla extract. Set aside.

In a small liquid measuring cup, add ¼ cup of water and sprinkle the gelatin over the top. Let it soften and then microwave for 30 seconds. Stir to dissolve.

In the top of a double boiler over simmering water, whisk the egg whites, Truvia, and sugar until the sugar has dissolved and the liquid is nearly scalding.

Quickly remove from heat and pour the egg-white mixture into the bowl of a stand mixer or a bowl that will accommodate an electric hand mixer. Add the dissolved gelatin.

Beat the mixture with the whisk attachment of a stand mixer or with an electric mixer at high speed until egg whites form a fluffy meringue.

Add lemon-yogurt mixture and fold gently until thoroughly incorporated.

Spoon into individual serving dishes. Pour the meringue-yogurt mousse into a pastry bag or large measuring cup to make the transfer easier if you want.

Refrigerate for an hour and a half before serving.

When you are ready to serve, garnish with fresh berries and mint.
Notes
Because it contains gelatin, this mousse firms up quickly! You can make it right before dinner and plan on serving it afterwards.
The mousse will keep for two or three days in the refrigerator and can be made a day ahead of time.
Whole milk yogurt tastes best in this recipe and low-fat is good, too. Studies have linked dairy with more fat to a lower risk of several diseases. For more information, read my Dairy-Do article. 🥛
Nutrition
Serving:
1
g
Calories:
95.52
kcal
Carbohydrates:
15.9
g
Protein:
5.47
g
Fat:
1.96
g
Saturated Fat:
1.19
g
Sodium:
52.37
mg
Fiber:
0.04
g
Sugar:
14.03
g
Copyright © 2020 Jani H. Leuschel