When you bite into this savory tofu steak, you'll know it's not beef–but you won't care. This tender steak has amazing umami delectability from an East-meets-West fusion marinade.
If you crave a boatload of flavorful nutrition, you'll enjoy this easy recipe as an introduction to tofu for friends and family. This vegan recipe takes it from bland to bold!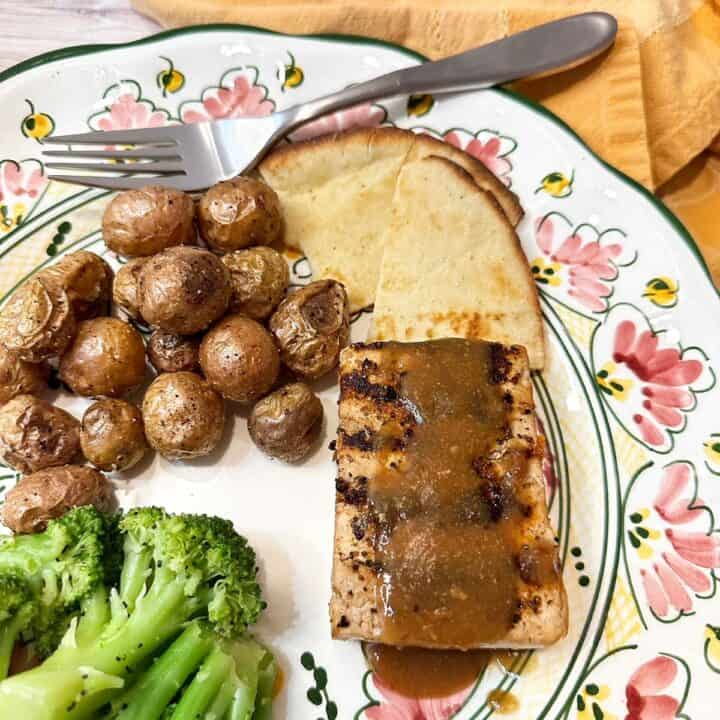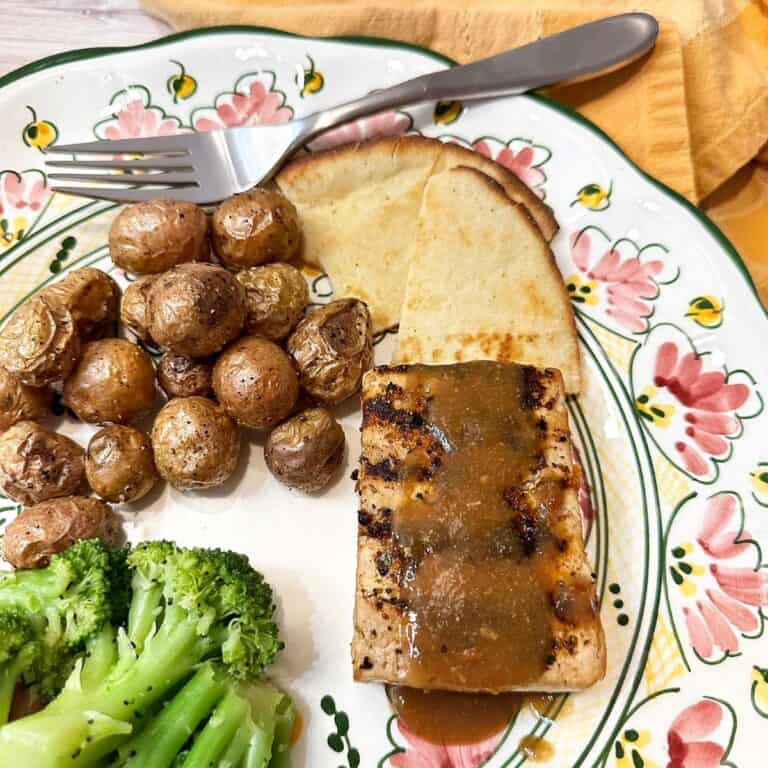 I earn from qualifying purchases at no extra cost to you as part of the Amazon Affiliate program.
Ingredients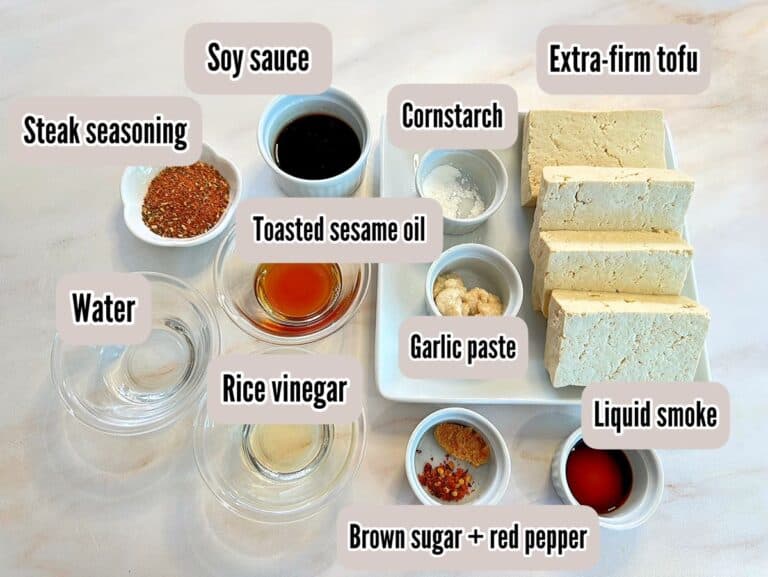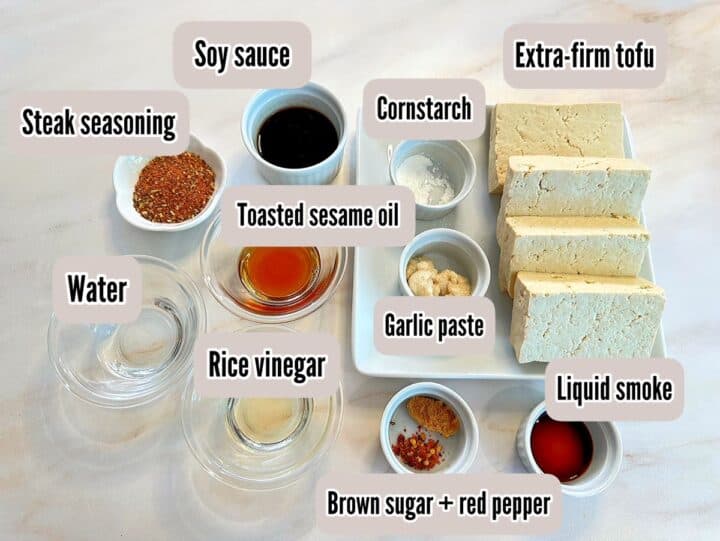 Extra-firm or firm tofu
Soy sauce
Sesame oil
Rice wine Vinegar
Water
Garlic
Brown sugar
Liquid smoke
Red pepper flake
Steak seasoning
Cornstarch
Tofu: Use an extra-firm or firm style of tofu. When grilled or baked, these contain less water and will have a meatier texture. DO NOT USE SILKEN TOFU! It is very soft and will not work in this recipe.
Soy sauce: Less sodium is my favorite, but choose gluten-free tamari if you have celiac disease or are gluten-sensitive. Watching your sodium? Try coconut aminos in place of soy sauce. FYI: they are sweeter than soy.
Sesame oil: The flavor of toasted sesame oil is nice, but you can use any oil here as long as the smoke point is not too low. Butter is a bad choice. Check out the smoke point of cooking oils in this blog post.
Rice vinegar: Seasoned is sweeter than plain. Since the amount of sugar in the recipe is not high, seasoned is a nice choice. You could also substitute apple cider vinegar.
🧄 Garlic: Any form, fresh cloves, paste, or powder, is fine. When using fresh, the cloves should be finely minced, pressed, or grated.
Brown sugar: Light or dark, it mellows the other ingredients.
Liquid smoke: This ingredient imparts a subtle steakiness to the tofu slabs. It can be difficult to find. You can order through the link or look for it at natural foods grocers and hardware stores.
🌶 Red pepper flake: Omit, or substitute black pepper if you prefer less heat. Of course, if you like hot spice, add more!
Steak seasoning: Use your favorite kind. I've included a link to Phil's Steak Seasoning, which has an assertive taste.
Cornstarch: Use this or arrowroot powder to thicken the marinade and make sauce to spoon over your tofu steaks. Consider mixing it with the steak seasoning if you bake the tofu in the oven. It will give the outside a slightly crispier texture.
How to Make
Wash your hands thoroughly for 20 seconds and dry before starting to prep the tofu and make the marinade.
Prep the tofu
Remove the tofu from the package and put it in a tofu press to remove excess water. If you don't have a tofu press, place it between two plates. Put a heavy object on the top plate. Leave the tofu for 15 minutes to an hour.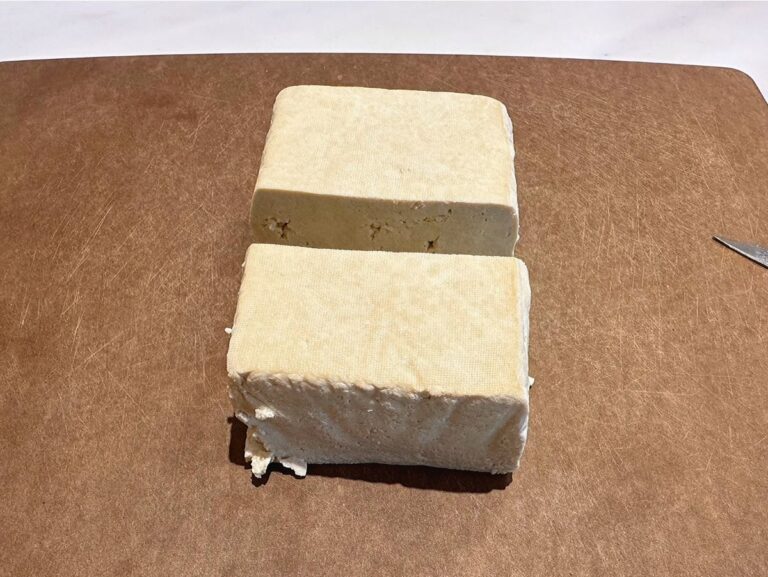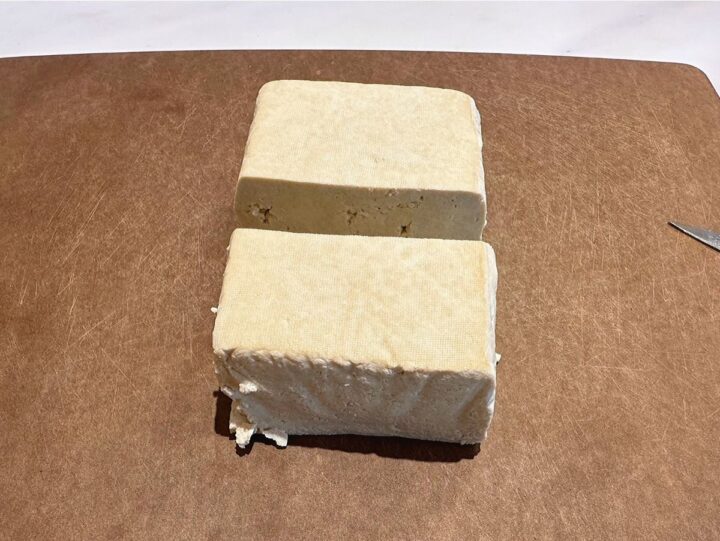 When the tofu is ready, slice it into four slabs. Cut through the middle horizontally so the brick is split in two. Then, cut each half lengthwise into two equal slabs about an inch thick.
Make the marinade
While the tofu is drying out, whisk together soy sauce, sesame oil, rice wine vinegar, warm water, garlic, brown sugar, liquid smoke, and red pepper flake.
Place the tofu slabs into a square baking dish and pour over the marinade. Flip to coat on all sides.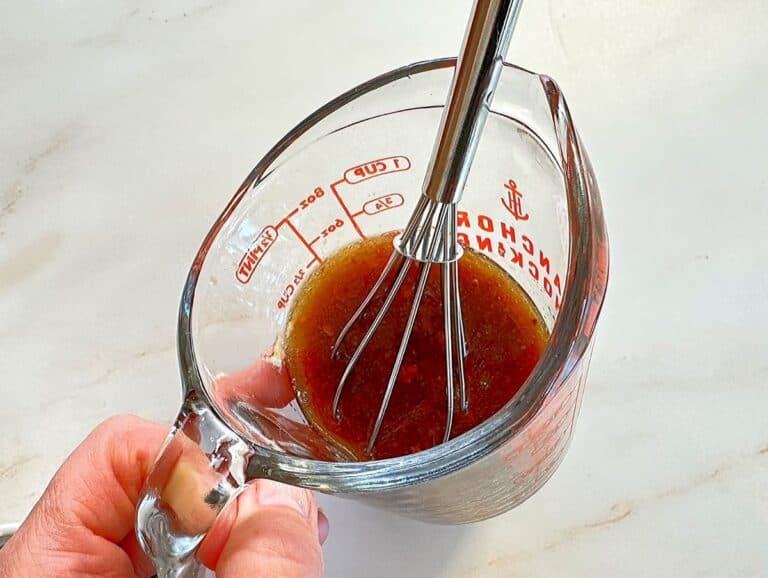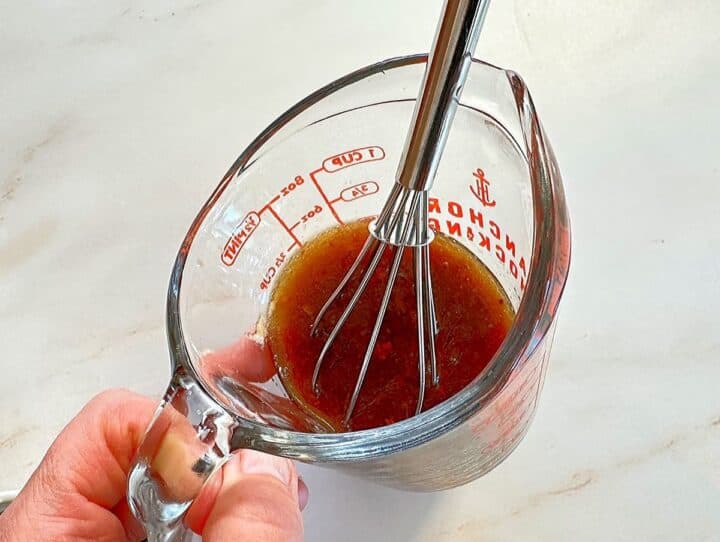 Let them soak for at least 20 minutes or overnight, turning the slabs over at least once. (Yes, you can prep it the night before so it's ready to cook when you are.)
Grill (or bake) the tofu
When you're ready to eat, remove the tofu from the marinade. Pour it into a small pot and add cornstarch. Set the pan aside.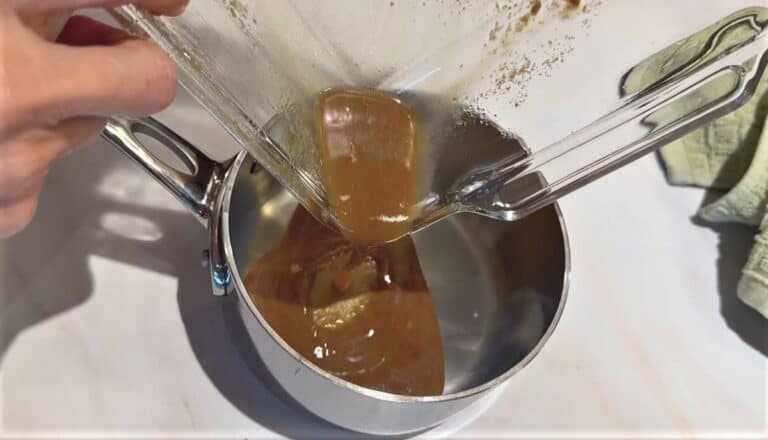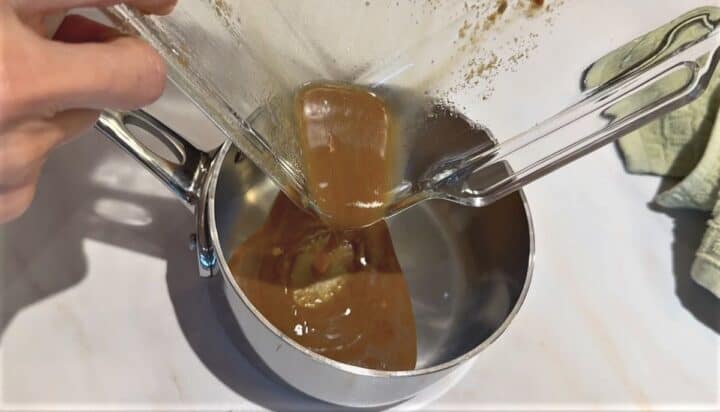 Coat the tofu slabs with steak seasoning on all sides.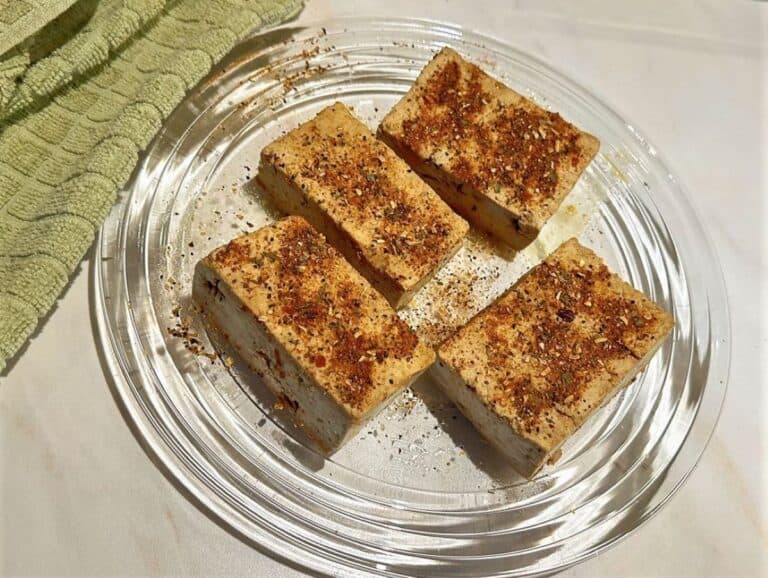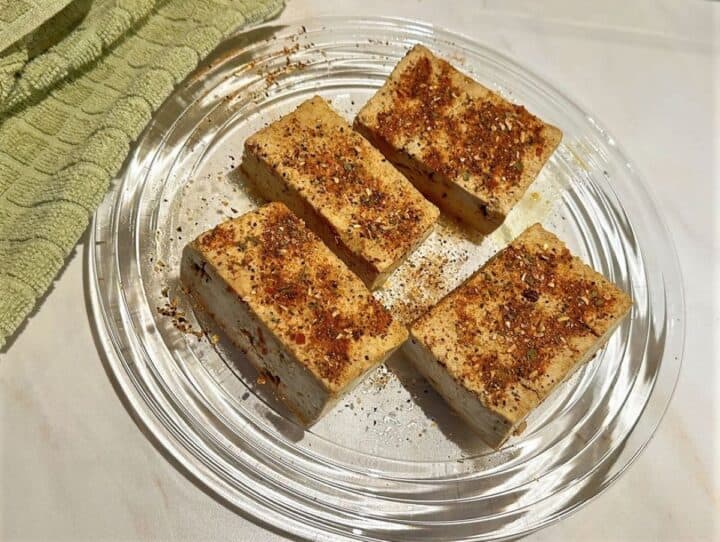 Heat a grill pan to medium-high. Brush it with sesame or another high-smoke point oil when it's hot. Add the steaks–as many as you can without crowding. You may need to cook two at a time.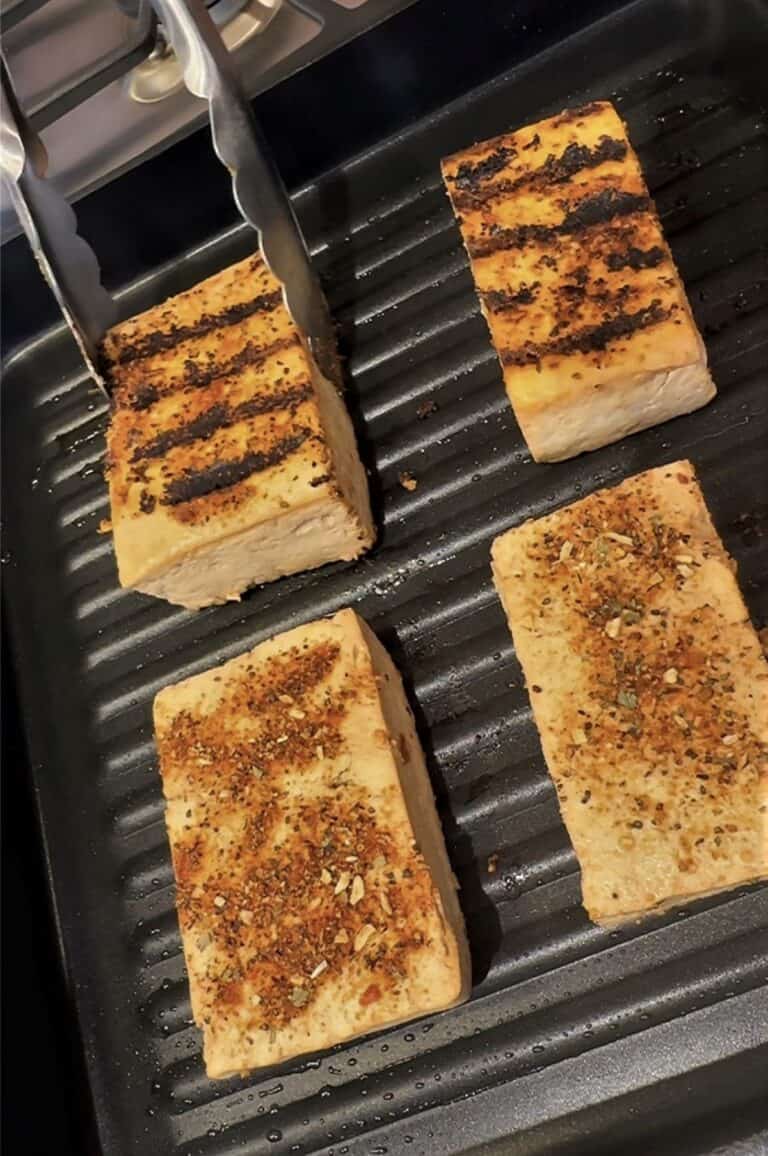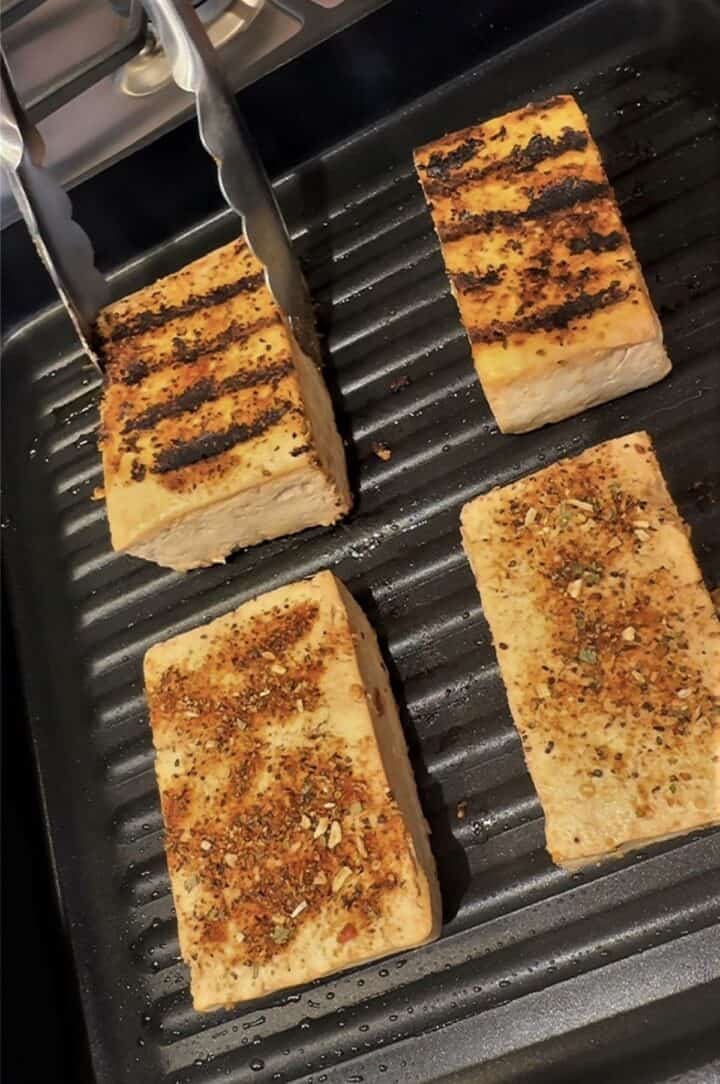 Grill for three to four minutes and flip to cook the other side. You should have appetizing grill marks across your tofu steak!
Line a baking sheet with heavy-duty foil if you'd rather cook your steaks in the oven. Apply non-stick spray before placing the tofu on the foil. Bake in a 425 F oven for 10 minutes, flipping halfway through.
While the steaks cook, stir the marinade and heat to boiling. When it boils and thickens, making a sauce, cut the heat. Stir in a couple of Tablespoons of water if it's too thick.
Serve steaks with dollop of sauce over the top!
Why you'll love this recipe
It takes tofu from bland to bold!
If you want healthy food, tofu is stellar. It's high-protein with healthy fats plus vitamins, minerals, and phytonutrients.
Unlike most animal proteins, food safety is less of a problem. (You can eat tofu raw, but who would want to!)
It's easy and can be on the table in less than an hour from start to finish, even quicker if you prep the tofu the day before cooking.
Tofu steaks also work for meal prep, especially for grain bowls. Or, pack any leftovers for lunch as a topper for greens or a sandwich filler.
It's very budget-friendly!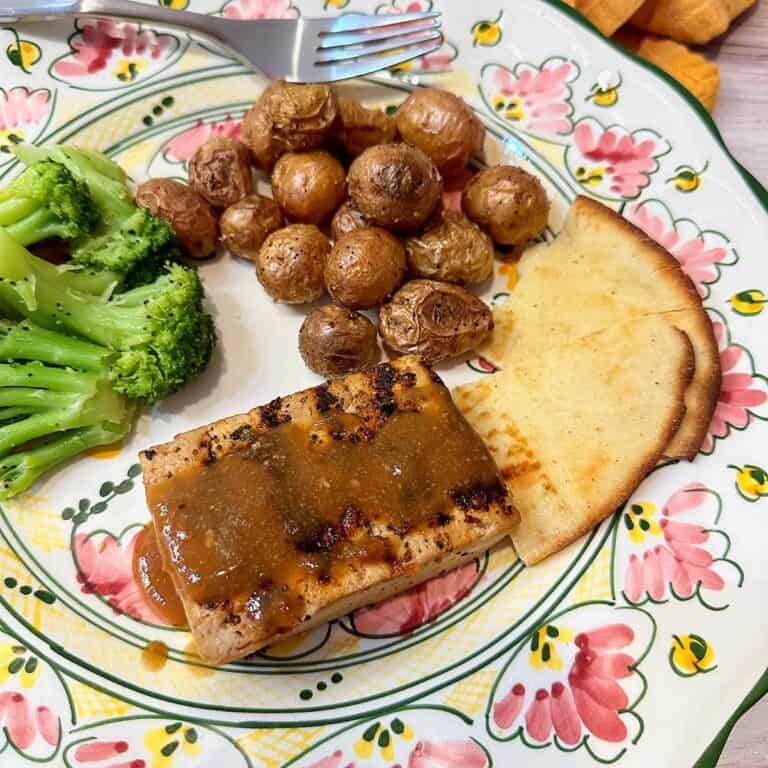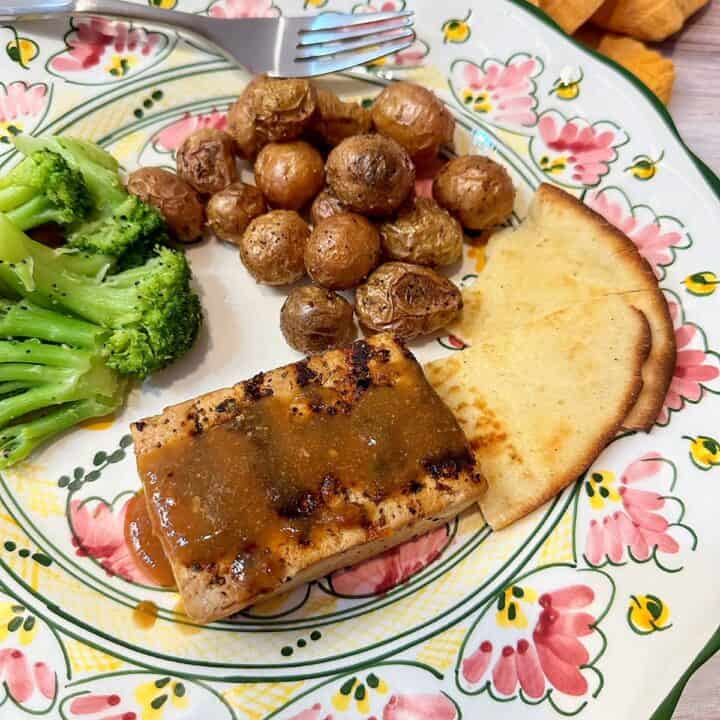 FAQs
What is tofu steak made of?
A thick, meaty piece of tofu, which is soy protein. The shape and texture resemble a tender, boneless filet or cutlet.
Here's a video that shows how to make tofu at home from soybeans.
Yes, the recipe is vegan.
What happens if you don't press the tofu?
The tofu will not be as firm and "steaklike." Pressing removes water, resulting in a denser piece of tofu. With extra-firm tofu, the pressing is less important because the water content is lower.
If your tofu has a ton of water, it might fall apart when you cook it. You could end up with scrambled tofu instead of a steak!
You can bake it in a 425 F oven for about 10 minutes, flipping halfway through.
Tip: Combine the steak seasoning with a little cornstarch before coating the steak. It will help crisp the outside of the steak.
How can I speed up the recipe?
Press and marinate the tofu the night before you plan to serve it. All you have to do at mealtime is heat and oil the pan. Ten minutes later, it's ready and so is the sauce!
How long will cooked steaks last in the fridge?
Wrap them or place in a container for up to three days. After that, they can be frozen and should be eaten in two to three months.
Is tofu healthy?
Tofu offers amazing nutrition benefits and bonuses.
Protein, healthy fats, and more : Since it contains all nine essential amino acids, it contains complete protein and is low in calories. It is not low-fat but has very little saturated fat.
It has no cholesterol and is low in sodium.
Mineral rich: Tofu is an excellent source of calcium, which many people don't get enough of in their diets. It's particularly supportive of bone health.
💪 It's also an excellent source of iron for an adult man and a good source for an adult woman under 50.
Other minerals tofu supplies include zinc, potassium, copper, manganese, and a generous amount of selenium.
Basic Bs: It also provides a few B vitamins, except for B12, which is naturally found in animal products.
Can I eat tofu if I've had breast cancer?
Some of the recent research on soy products and breast cancer points to a reduced risk of breast cancer recurring when more soy products are eaten.
Tofu and other soy foods contain isoflavones, an estrogen-like substance made by plants. Isoflavones may attach to estrogen receptors but do not necessarily have the same effects in the body as human estrogen.
Tofu and soy foods may reduce the risks of heart disease, diabetes, cancer, and other diseases.
What to serve with Grilled Tofu Steaks
Because the steaks fuse American and Asian flavors, accompaniments can range from stir-fried vegetables and rice to potatoes and green salad.
Note: As a salad or cooked, spinach is NOT the best side for tofu steak. It contains anti-nutrients that prevent proper absorption of the calcium in tofu.
Oven-Baked Turmeric Rice is a flavorful side that cooks in the oven while you prepare the steaks and any vegetable dish.
Pop some Asparagus in Foil Packets into the oven to go with the tofu.
Zucchini Carrot Salad with Lemony Dressing is another excellent warm-weather side dish.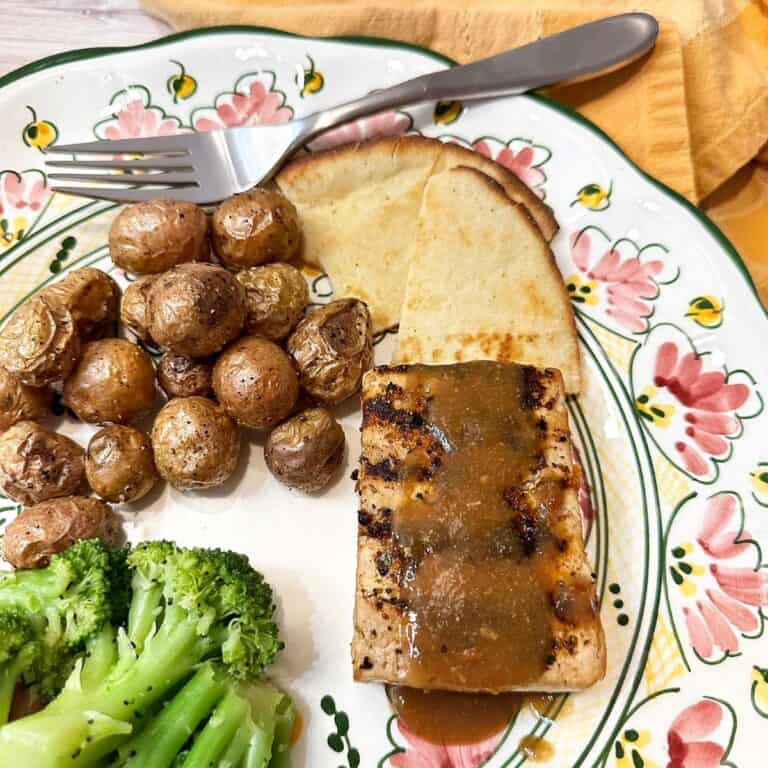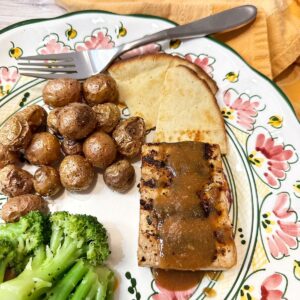 Grilled Tofu Steak Recipe
A smoky Asian marinade plus steak seasoning take this hunk of tofu from bland to bold!
Ingredients
1

16-ounce package

tofu

extra-firm or firm

1

Tablespoon

steak seasoning
Marinade and sauce
2

Tablespoons

soy sauce

1

Tablespoon

rice wine vinegar

or apple cider vinegar

1

Tablespoon

warm water

1

Tablespoon

toasted sesame oil

or use another oil with a high smoke point like grapeseed or avocado

2

cloves

garlic,

minced, or use 1 teaspoon garlic paste or ½ teaspoon garlic powder

½

teaspoon

brown sugar

½

teaspoon

liquid smoke

optional

½

teaspoon

cornstarch
Instructions
Before starting to prep the tofu steaks, wash hands with soap and water for 20 seconds.

Press tofu using a tofu press or place it between two plates. Put a heavy book or object on the top plate to add weight. Press water out of the tofu brick for at least 30 minutes. If possible, press it for an hour.

While tofu is pressing, make the marinade. Whisk together soy sauce, rice vinegar, water, toasted sesame oil, garlic, brown sugar, liquid smoke, and red pepper flakes.

*Can be made up to 48 hours in advance.

Remove the tofu from the press or the plates when enough water has seeped out. Cut it in half horizontally and then lengthwise so that you have 4 slabs, each about an inch thick.

Place the tofu slabs in a square glass baking dish, and pour the marinade over the slabs. turn the slabs to coat all sides in the marinade.

Marinate for at least 20 minutes or overnight, occasionally turning so that each side is evenly flavored.

When you are ready to cook the tofu, remove it from the marinade. Place the marinade in a small pan and set it aside.

Coat each tofu slab on both sides with steak seasoning. Heat up a grill pan so it is very hot, and brush it with sesame oil.

(Or, use another oil with a high smoke point like grapeseed or avocado. You can use one of these oils in spray form if you can find it.)

Place tofu slabs on the grill pan and cook for 3 to 4 minutes per side.

While tofu is grilling, place the pan with marinade on a burner on medium-low heat. Add cornstarch and bring to a boil to thicken slightly.

You may need to add a couple of Tablespoons of warm water to thin it slightly.

Serve tofu slabs hot with a dollop of sauce over the top or on the side.
Notes
Mix the steak seasoning with a teaspoon of cornstarch when baking the steaks instead of grilling. The cornstarch makes the exterior a little crispier!
Nutrition
Serving:
4
ounces
Calories:
170
kcal
Carbohydrates:
4
g
Protein:
14
g
Fat:
11
g
Saturated Fat:
2
g
Polyunsaturated Fat:
6
g
Monounsaturated Fat:
3
g
Trans Fat:
0
g
Cholesterol:
0
mg
Sodium:
524
mg
Potassium:
195
mg
Fiber:
1
g
Sugar:
1
g
Vitamin A:
26
IU
Vitamin C:
1
mg
Calcium:
140
mg
Iron:
3
mg
Copyright © 2023 Jani H. Leuschel