Grilled Asparagus in Foil might be the perfect grill season side dish. Ready to eat in 20 minutes, five ingredients, almost no clean-up–what more could you want?
A great make-ahead side that's delicious and healthy? You got it!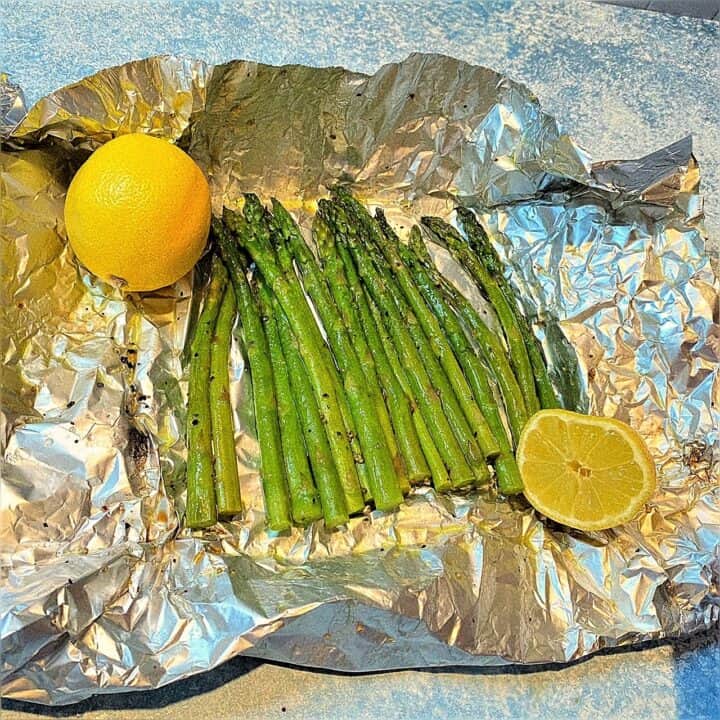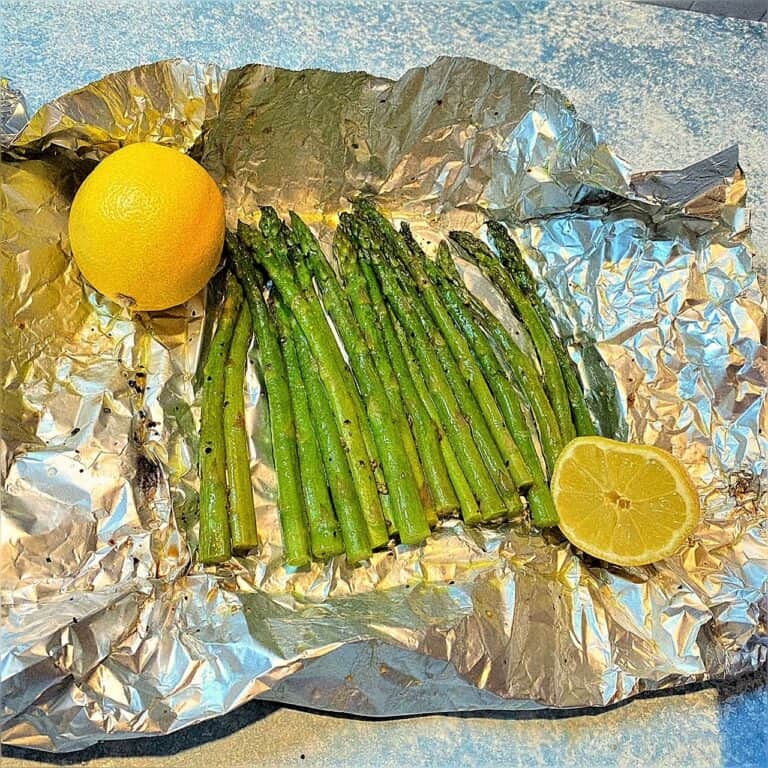 Ingredients
1 pound bunch of asparagus
Olive oil
Kosher salt
Coarse ground black pepper
Lemon juice from a half a lemon
Seasoning of choice: optional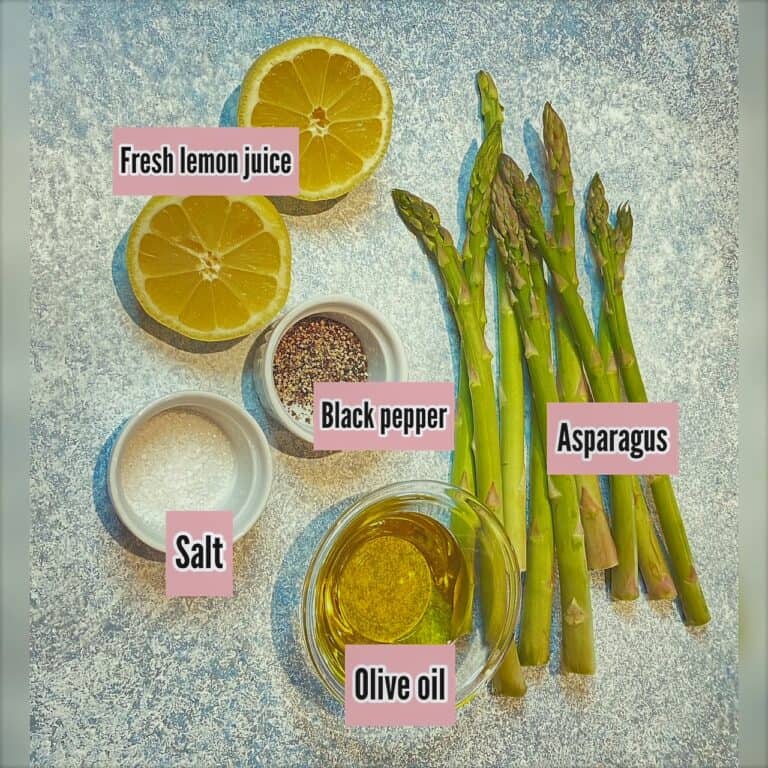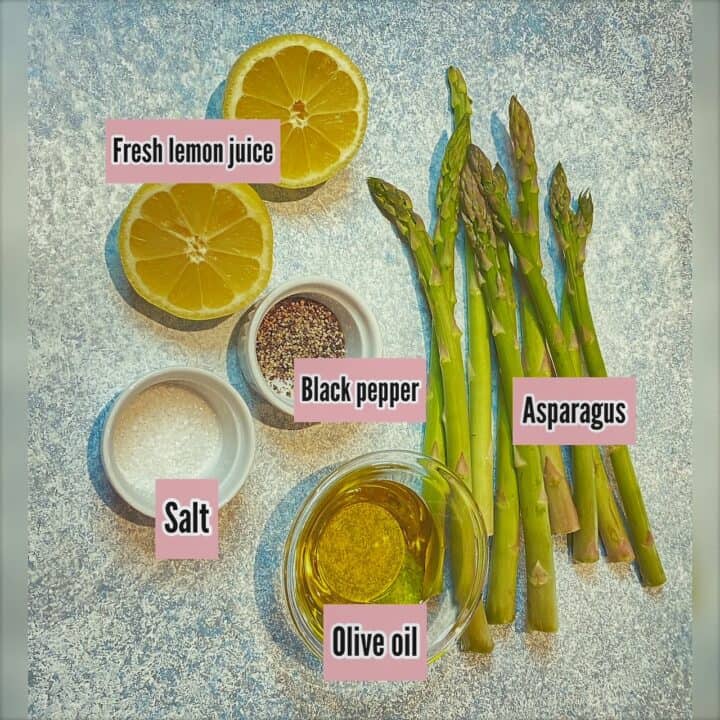 Asparagus: Any type of asparagus works in this recipe as long as it's fresh, not canned or frozen. Thick or thin, white or green, whatever kind you find in the store, farmer's market, or garden will be fine.
Often, green asparagus, which is easy to source, has purplish tips. This is normal and a sign of quality produce.
Olive oil: Grilled asparagus will taste nice with extra-virgin olive oil. If butter is your go-to choice of fat, try replacing half of the olive oil with butter. You'll enjoy the flavor as well as some of the healthy monounsaturated fats in olive oil.
Another healthy fat to consider for this recipe is avocado oil.
Lemon and seasoning: You probably won't need more than half a lemon for this recipe. Along with the fresh citrus squeeze, salt, and pepper, you could amp the spears with your favorite seasonings.

Popular flavor choices are grated Parmesan cheese, Italian seasoning, lemon pepper, red pepper flakes, and fresh chopped dill or flat-leaf parsley.
You could also experiment with pre-made blends like Everything Bagel, Green Goddess, Cajun seasoning, or Herbes de Provence.
How to prep
Before you begin prepping, wash your hands thoroughly.
Wash and dry: Rinse the asparagus under running water. Hold the spears with the tips down and gently use your fingers to remove any dirt from the stalks and tips.
Dry them using an absorbent kitchen towel or paper towels.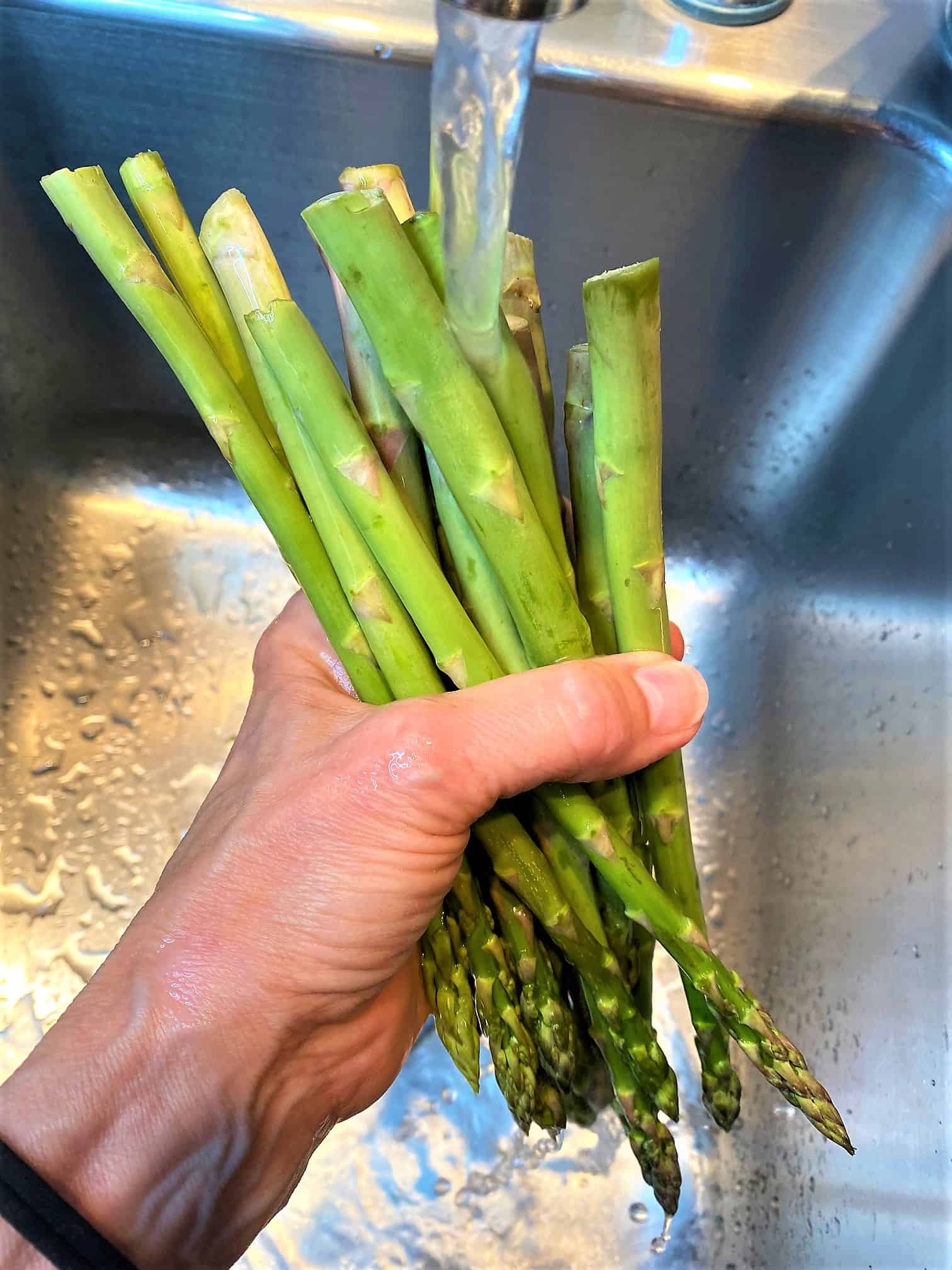 Trim: Remove the undigestible woody ends from the stalks by snapping or trimming. Some prefer snapping off the ends because the asparagus seems to break at just the right spot.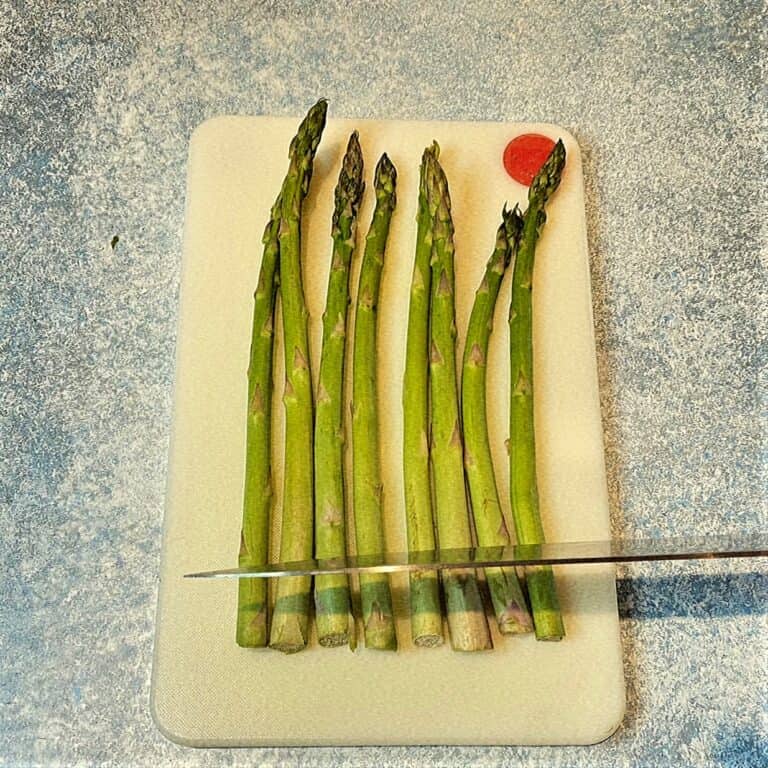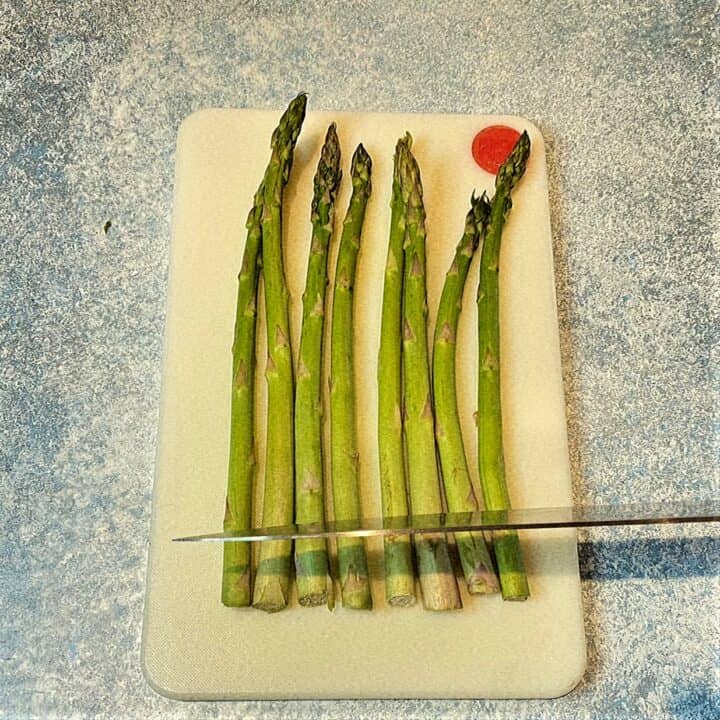 🔪 Applying a knife to trim the spears gives a neater appearance and is quicker if you line up the bottoms of several stalks.
Make the foil packets: Tear off a large rectangular piece of extra-wide foil and place it on the counter shiny side up. Line up half of your clean and trimmed asparagus stalks.
Drizzle stalks with a Tablespoon of olive oil, salt, pepper, and any dried seasoning. Using tongs or your hands, coat the asparagus with the oil and flavor elements.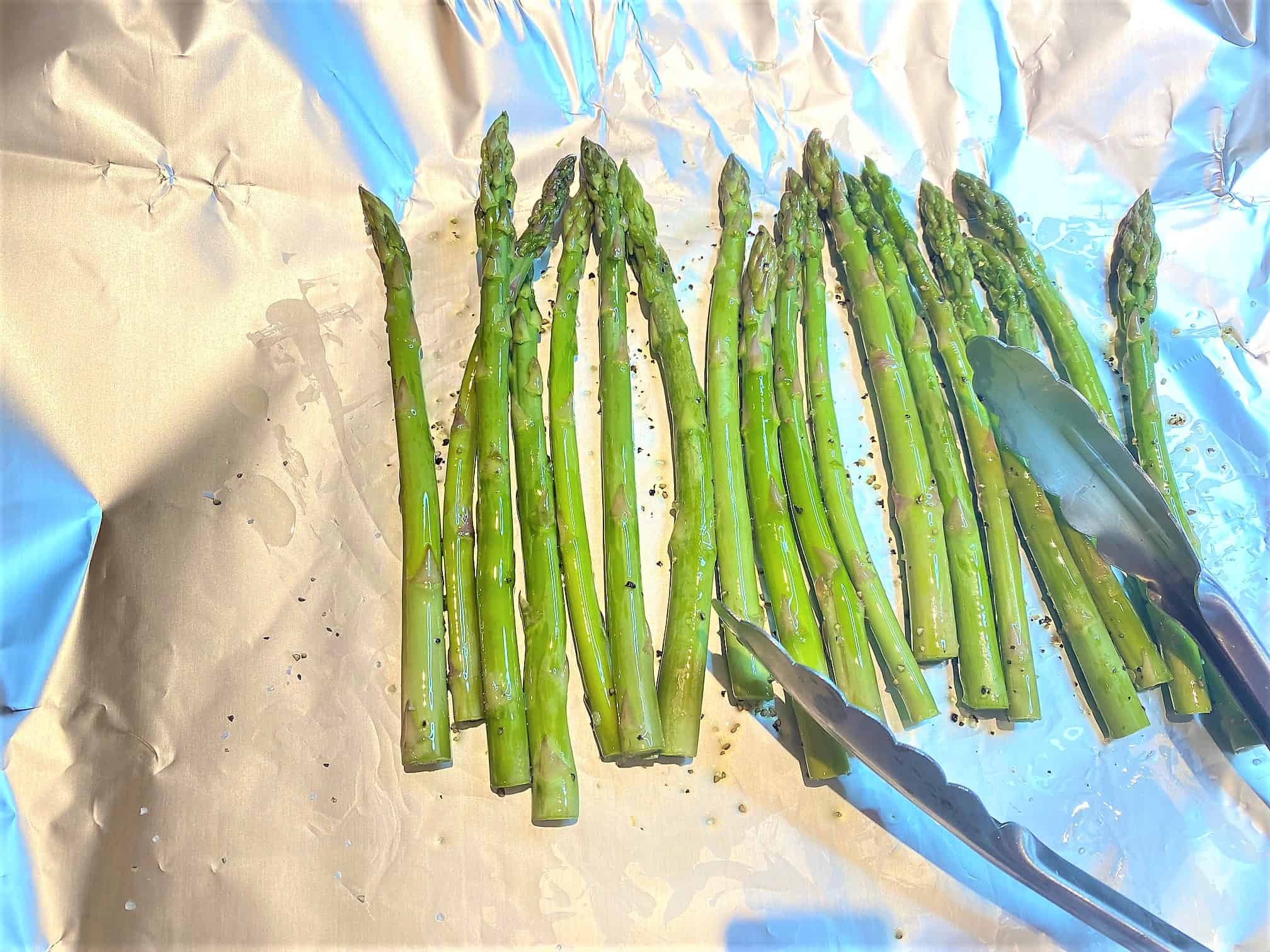 Fold the long sides of the foil in over the spears and then the short ends, making a packet for the grill or oven. You can make these early in the day or the night before if you want.
With a one-pound bunch asparagus, make two packets, so that it's not necessary to stack them on top of each other. They will grill fast and evenly in a single layer.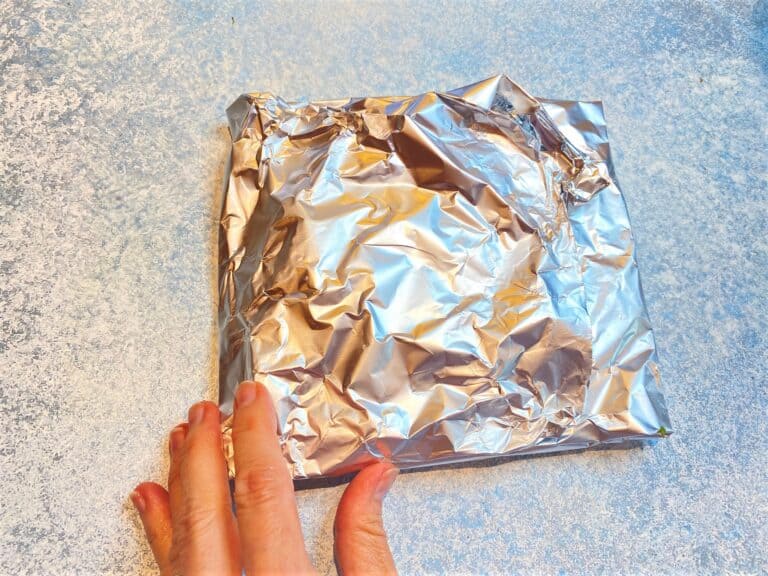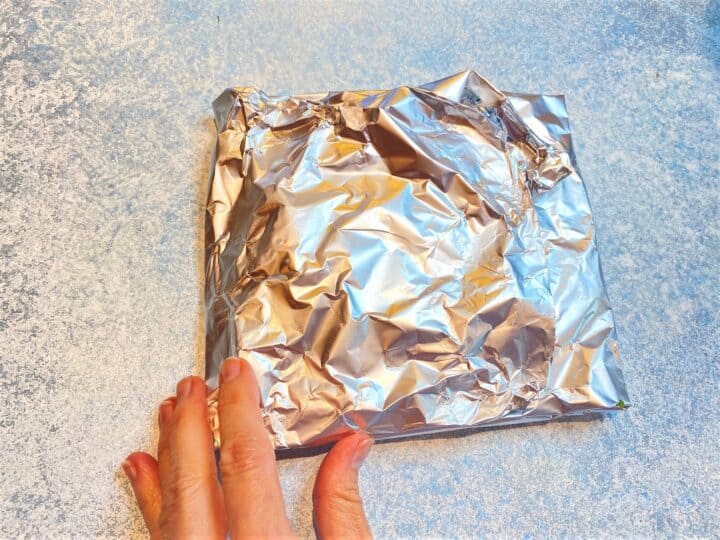 How to grill
Preheat the gas grill. After cleaning, place the foil packets on it perpendicular to the grates. If your grill has a temperature gauge, it should register between 350 and 450 F.
Time on the grill: To avoid overcooking and ending up with mushy asparagus, it's best to aim for slightly undercooking. They will continue to steam in the packets after you take them off the grill.
The amount of time needed depends on the thickness of your asparagus. Skinny, pencil stalks cook faster than fat stalks. Thin spears may be ready as soon as seven minutes. Fat stalks could take up to 20 minutes on a 350 F grill.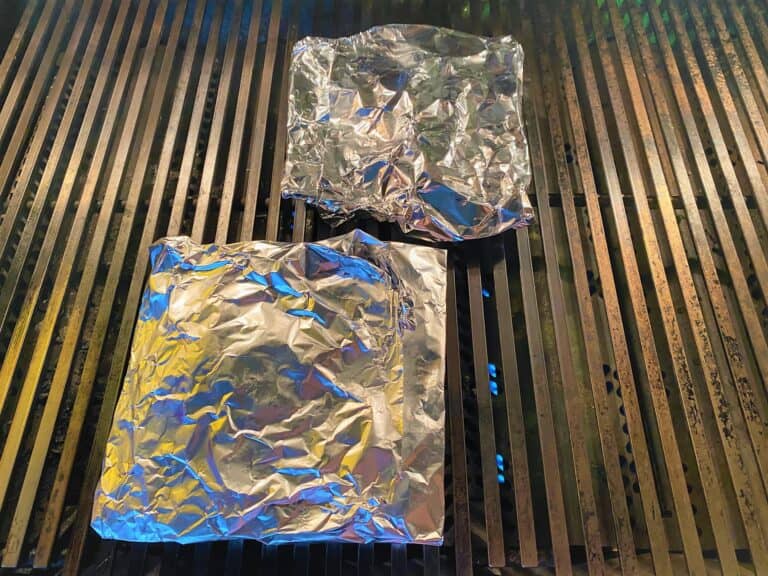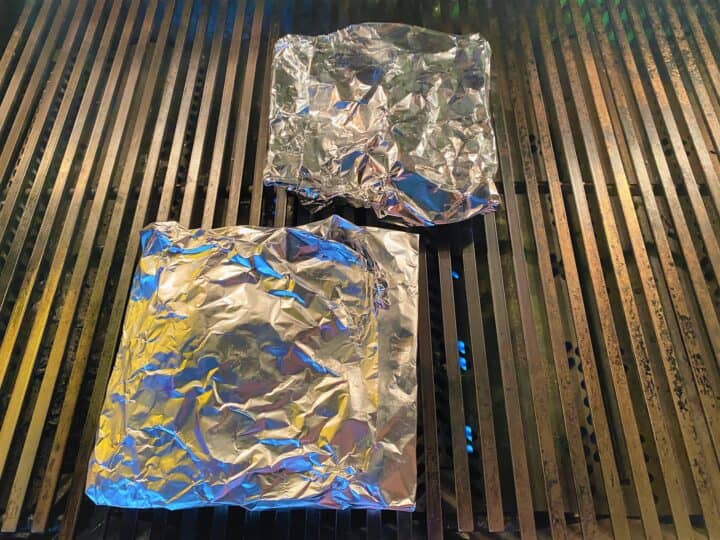 In general, grill pencil asparagus for seven to eight minutes, turning the packet halfway through. Thicker spears will need an average of 12 to 14 minutes, again turning the packet halfway through.
Benefits of grilling in foil: The packets help seal in the flavor and keep the spears from drying out because you steam and grill at the same time. Also, they keep slim stalks from falling through the grates!
When the asparagus has finished grilling, open the packets and squeeze lemon juice over the spears. Close the packet to keep them warm until ready to serve.
Be sure and pour those tasty, lemony juices over the spears before eating!
Seasonings:
In addition to amping the flavor, dried herbs and spices have health benefits. They are a concentrated source of antioxidants and polyphenols. To learn more about them, read Mediterranean Spices and Herbs for Better Health.
My posts on garlic and how to make a bold Chermoula Spice Blend explain how dried and fresh spices do a body good.
Lower sodium hack: Use a hot spice like red pepper flakes or Cajun seasoning if you're adding less salt. Spicy heat helps keep your tongue from tasting low or no salt in a dish. Hot spice also benefits metabolism and digestion!
FAQs
Should I snap off the woody end or trim the asparagus to get rid of it?
Asparagus will often bend and break right where the woody end of the stalk meets the tender part. For a neater appearance, however, line the bottoms up on a cutting board and chop them off, several stalks at a time.
Chopping can be faster and result in less waste than breaking off the ends.
How can I tell when the asparagus is done?
Look for a bright green spear that has softened slightly so the interior is tender and the exterior is firm to the bite (sort of like al dente pasta).
Thin spears often go slightly limp, and that's okay. You just don't want them to turn mushy.
Can I prep the packets ahead of time?
Yes! This is a perfect make-ahead recipe.
You can make the packets with any seasonings you like early in the day or the night before. However, it's best to add lemon juice at the last minute so the asparagus don't lose their bright green color.
When are asparagus available?
The season for asparagus runs from February to June, peaking in April. But, many grocery stores sell asparagus year-round.
Can you cook asparagus in foil in the oven or on the stovetop?
To use the oven for this recipe, prepare the foil packets and place them in a preheated 400 F oven. They may take slightly longer to cook.
If you want to use a stovetop grill pan, there is no need to make foil packets. Simply oil and season the asparagus and place them on a hot pan. Cover with a sheet of foil while grilling so the juices don't evaporate.
Nutrition Bonuses
Asparagus is a tasty green vegetable with a high health quotient! An excellent source of folate and vitamin K, asparagus are also high in iron! 💪🏽
Here are the nutritional highlights for a four-ounce serving:
Fiber - 2.5 g
Folate - 55 mcg
Iron - 2.5 mg per serving
Potassium - 205 mg
Vitamins galore - C, B1, K, B6
Vitamin A - 750 IU
715 mcg lutein - zeaxanthin*
450 mcg beta carotene*
Vitamin K - 42 mcg
Nutrition information from USDA.
*Lutein, zeaxanthin, and beta carotene are precursors to vitamin A that may benefit eye health.
Leftovers
Unfortunately, freezing is not a good option. The texture goes very soft. Frozen leftovers, however, could be of service in pureed soups. Use within three months of freezing.
Store in refrigerator for two to three days and throw them into salads or add them to grain bowls. Pair with a dab of soft goat cheese. Chop and stir into risotto near the end of cooking.
Recipes to accompany grilled asparagus in foil
Umami-ish Grilled Boneless Chicken Thighs
Try this fast and easy Spaghetti Napoli for an easy vegetarian main. Plus, it's very easy to prepare as a vegan entree!
Mustard Herb Instant Pot Pork Loin Roast
Any fish, chicken, or lamb rubbed with Chermoula Spice Blend would be perfect to enjoy with the asparagus!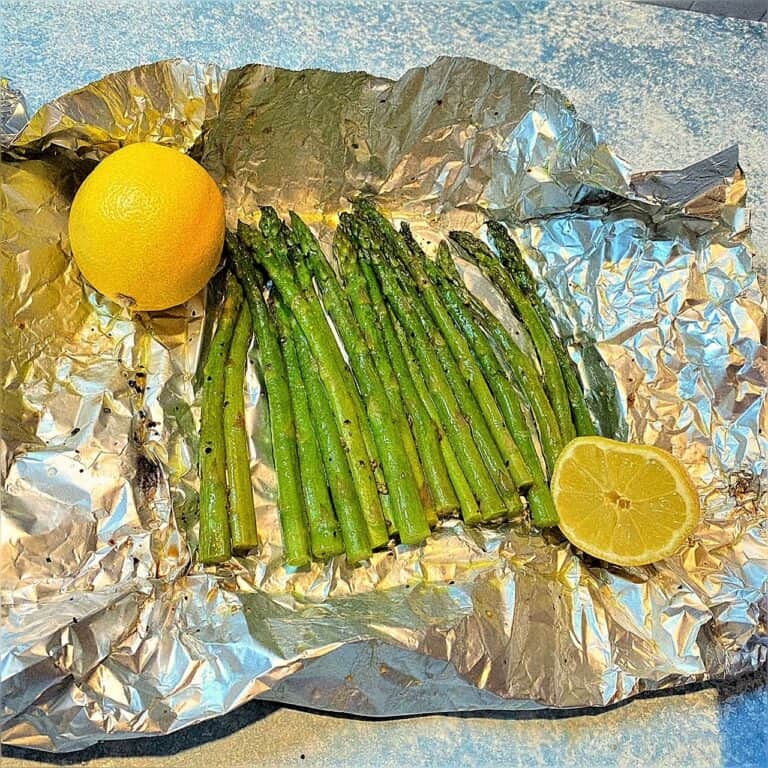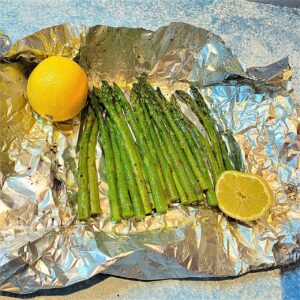 Grilled Asparagus in Foil
Quick, easy vegetable side for your favorite grilled entree. Healthy and delicious, asparagus load your plate with flavor and nutrition!
Ingredients
Optional seasonings: Choose your favorite(s)
Instructions
Wash hands for 20 seconds before starting to cook.

Rinse asparagus under running water with tips facing down. Gently use your hands to remove any soil clinging to the tips or stalks.

Dry the spears using a kitchen towel or paper towel.

Cut or snap off the tough ends of the stalks. If desired, you can do this in two or three batches by placing an even row of spears on a cutting board and chopping off the bottoms.

Line half the trimmed spears up on the shiny side of a large rectangle of extra-wide foil. Drizzle with a Tablespoon of olive oil. Season with ¼ teaspoon each of salt and black pepper.

Optional: To each packet, add any of your favorite dry spices, such as ¼ teaspoon garlic or onion powder/granules, ¼ teaspoon oregano or Italian seasoning, or ⅛ teaspoon of crushed red pepper flakes.

👀See list above.

Note: This is not the time to add fresh herbs. Wait until after grilling.

Using tongs or your fingers, evenly coat the asparagus in the olive oil and seasonings.

Fold the long sides of the foil over the line of spears and then seal the packet by folding in and crimping the short ends.

Repeat the process with the remaining half pound of asparagus spears.

Place the envelope on preheated gas grill perpendicular to the grates. Cook for a total of 7 to 8 minutes for thin, pencil asparagus and 9 to 12 minutes for fat asparagus, turning halfway though the cooking time.

It's okay to open a packet after the minimum cooking time and check for doneness. Thin asparagus can go from slightly limp to mushy very quickly.

When grilling time is finished, open the packets and squeeze the juice from a quarter of a lemon over each packet of spears. Add any fresh herbs and toss.

Close the packets to seal in the flavors and keep the asparagus warm until ready to serve.

Pour the lemony, seasoned juices over, and eat them hot with grilled fish, portobello mushrooms, flank steak, or boneless chicken thighs or breasts.
Notes
🌡 Grill temperatures can be highly variable. In general, temperatures for the asparagus should be between 350 and 450 F. Don't worry if your grill doesn't have a temperature gauge, the packets of asparagus will still be okay. Just be sure and check them after the minimum cooking times.
Thickness of the asparagus will dictate how long to grill. Thin spears need only seven to eight minutes total, while thick spears could take up to 12 or 14 minutes.
Keep in mind that after you remove them from the hot grill, they will continue to steam in the packets. If you don't eat them soon, they may become mushy!
Nutrition
Calories:
96
kcal
Carbohydrates:
8
g
Protein:
3
g
Fat:
7
g
Saturated Fat:
1
g
Polyunsaturated Fat:
1
g
Monounsaturated Fat:
5
g
Sodium:
151
mg
Potassium:
283
mg
Fiber:
3
g
Sugar:
3
g
Vitamin A:
914
IU
Vitamin C:
21
mg
Calcium:
41
mg
Iron:
3
mg
Copyright © 2022 Jani H. Leuschel