Here's a date scone recipe in honor of the UK's Queen Elizabeth II, whose state funeral is Sept. 19. This easy bake with British roots is a delicious pick-me-up with a cup of tea in the afternoon. It also makes a filling breakfast.
As nature's candy, dates are sweet and healthy; qualities of the late queen, who lived to be 96.
A good scone will include butter and sugar on the ingredient list. However, this Date Scone has a moderate amount of butter and a smidge of sugar. Most of the sweetness comes from the dates.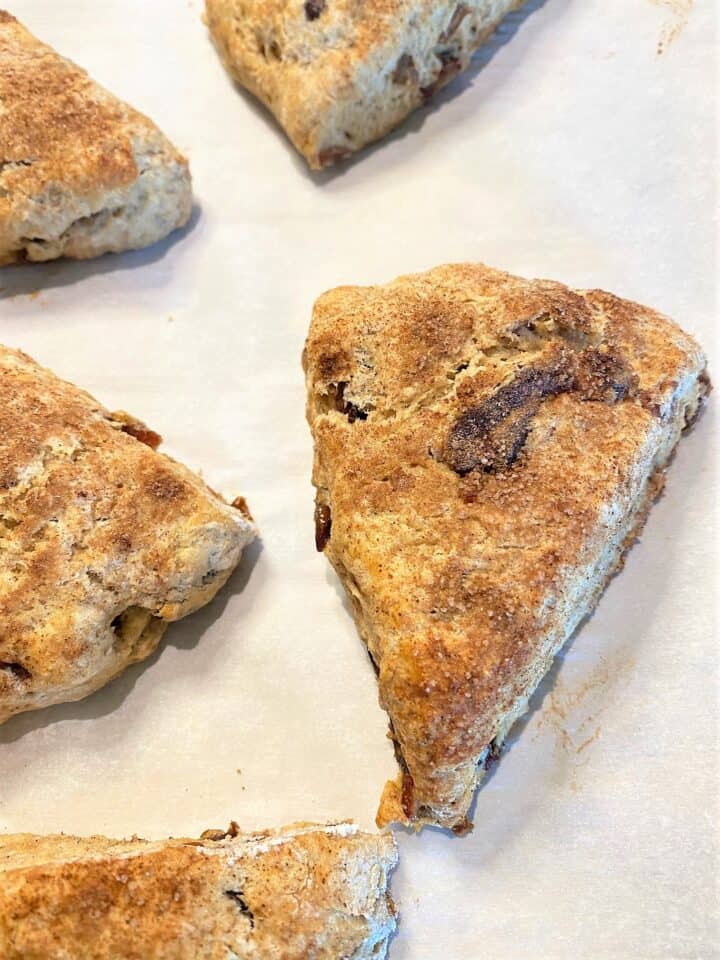 Read on to find out more and get the deets on date nutrition.
Ingredients: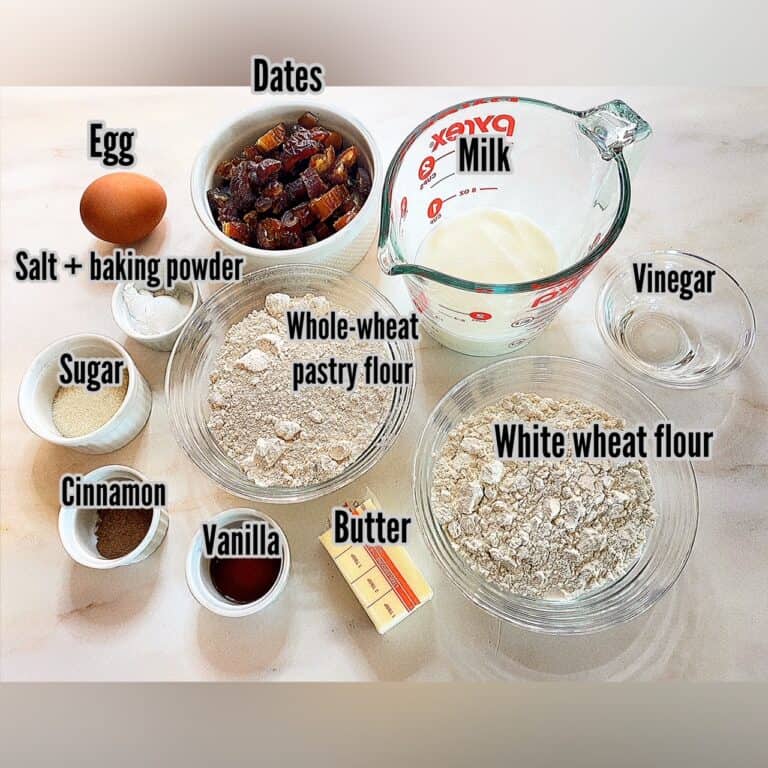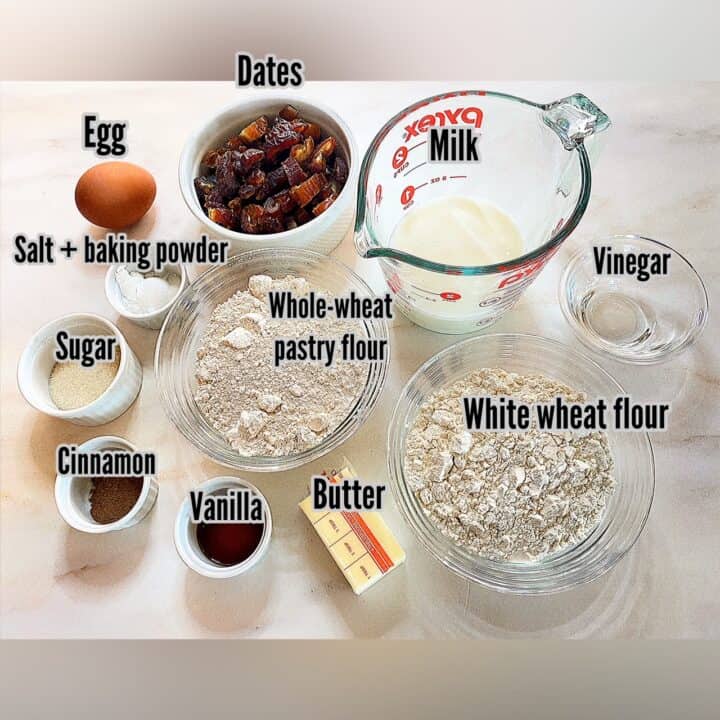 ¾ cup milk
1 t vinegar
1 cup whole wheat pastry flour
1 cup white flour
1 ½ T sugar
1 ½ t baking powder
¼ t salt
¾ t cinnamon
1 egg
1 t vanilla
1 cup chopped dates
4 T butter, frozen
Milk: Use your favorite dairy or plant-based milk. Bear in mind that fat-free milk will not contribute much to the flavor or texture of the pastry, while heavy cream will add more saturated fat.
Vinegar: Feel free to sub lemon juice.
Flours: Whole-wheat pastry flour is not heavy and has beneficial minerals and fiber. To create fluffy pastry, it's best not to substitute regular whole wheat flour.
If you want to use up to half a cup of almond flour, that's fine. The scones will also bake up deliciously with standard gluten-free flour.
Sugar: There's not much in the recipe, but you can use a sugar-free granular sweetener made from erythritol and/or stevia instead of sugar. If you prefer honey or maple syrup, measure in the same ratio and add it to the wet ingredients.
Read more about erythritol sweeteners!
Dates: In the grocery stores, you'll find Medjool and Deglet Noor. Either is fine. Deglets tend to have slightly less fruit meat.
Butter: If you want to minimize saturated fat in the scones, replace half the fat with butter-flavor shortening. Your dough will be easier to handle.
How to make 👩🏽‍🍳
Sour the milk by adding vinegar (or lemon juice) and place it in the refrigerator.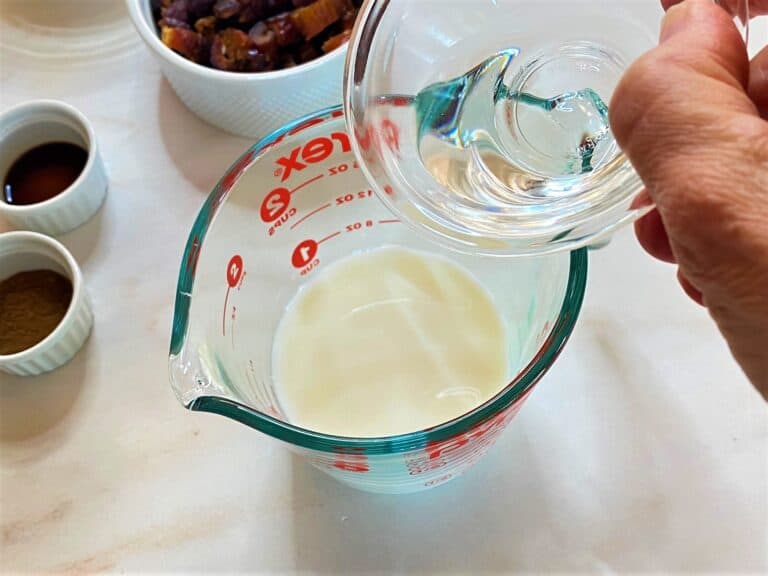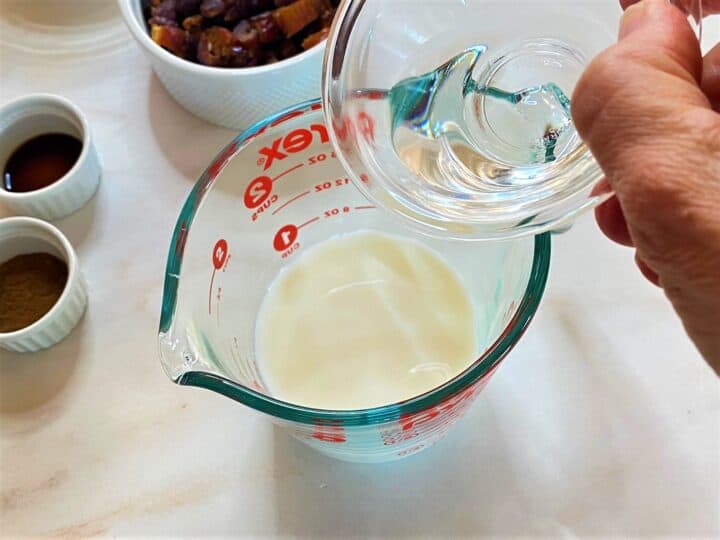 Combine the dry ingredients in a large bowl, and stir with a whisk.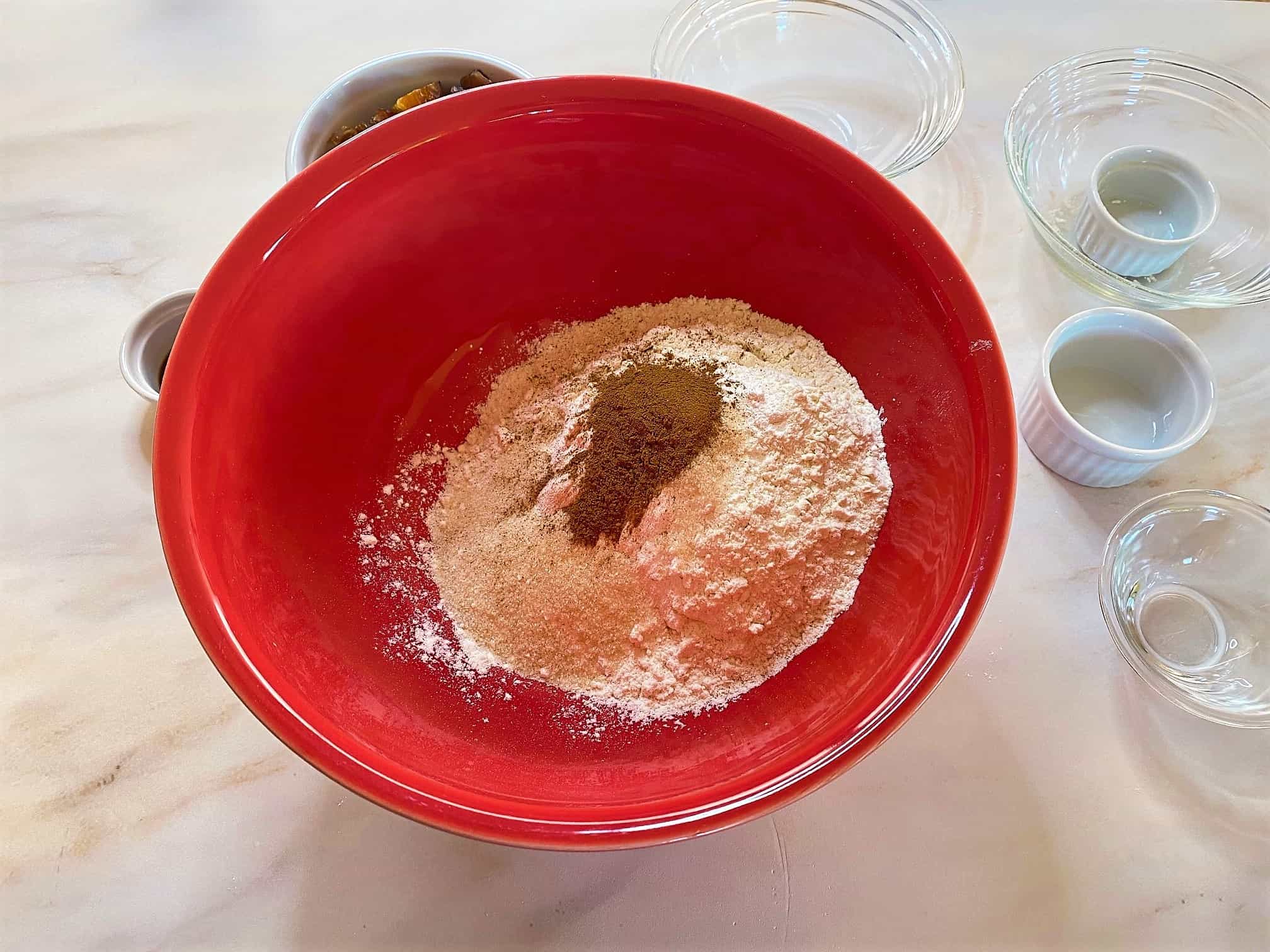 Add egg and vanilla to sour milk, and beat lightly with a fork to break up the egg. Stir in and separate the date pieces with a fork. Return the wet ingredients to the fridge.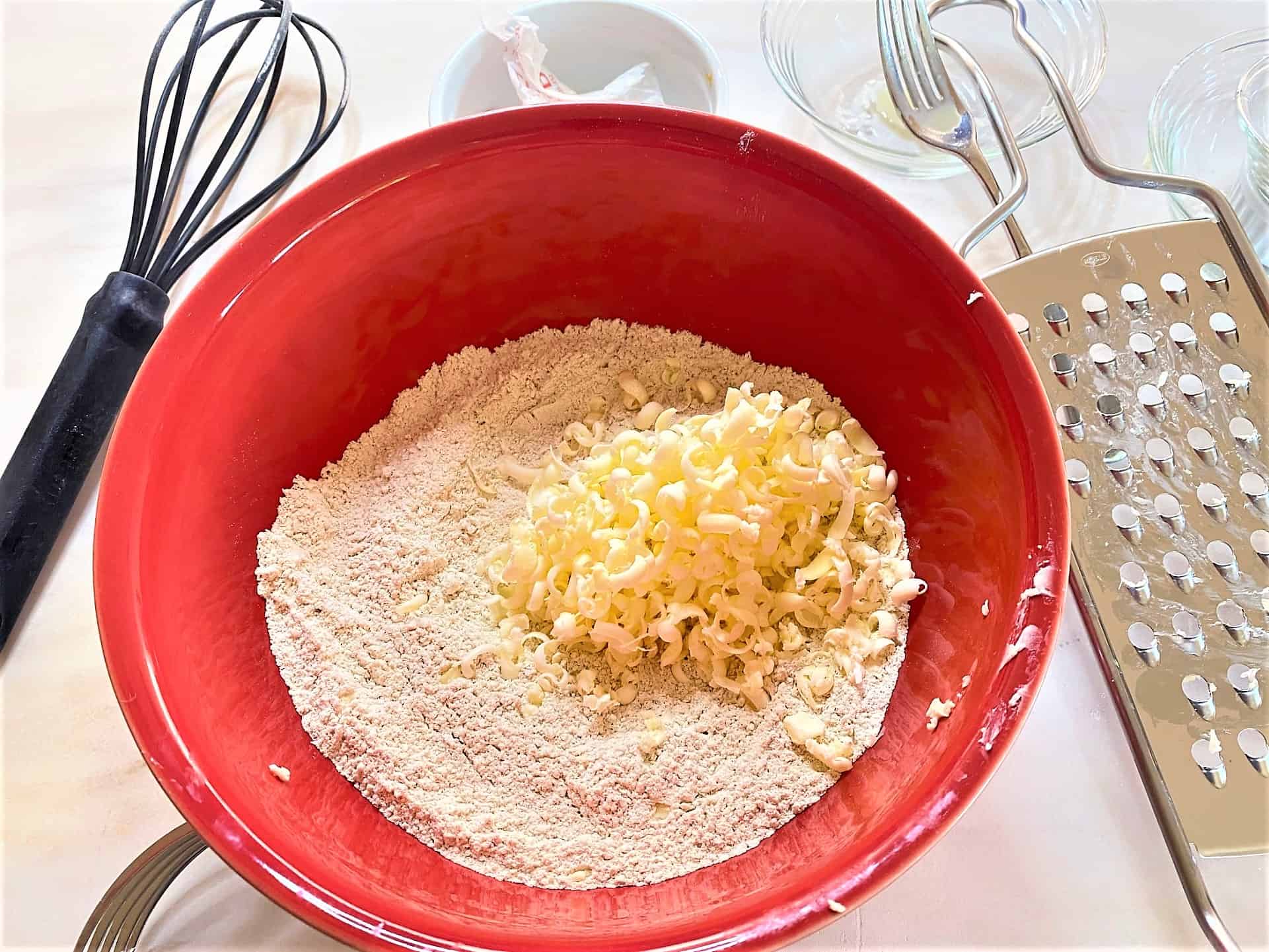 Grate the frozen butter into the dry ingredients. Blend into the flour with a pastry cutter. You will not get a fine, sandy mixture. It will be rather dry with pebble-like pieces here and there.
Make a well in the center of the butter-flour mixture and pour in the wet ingredients. Stir to make a rough dough.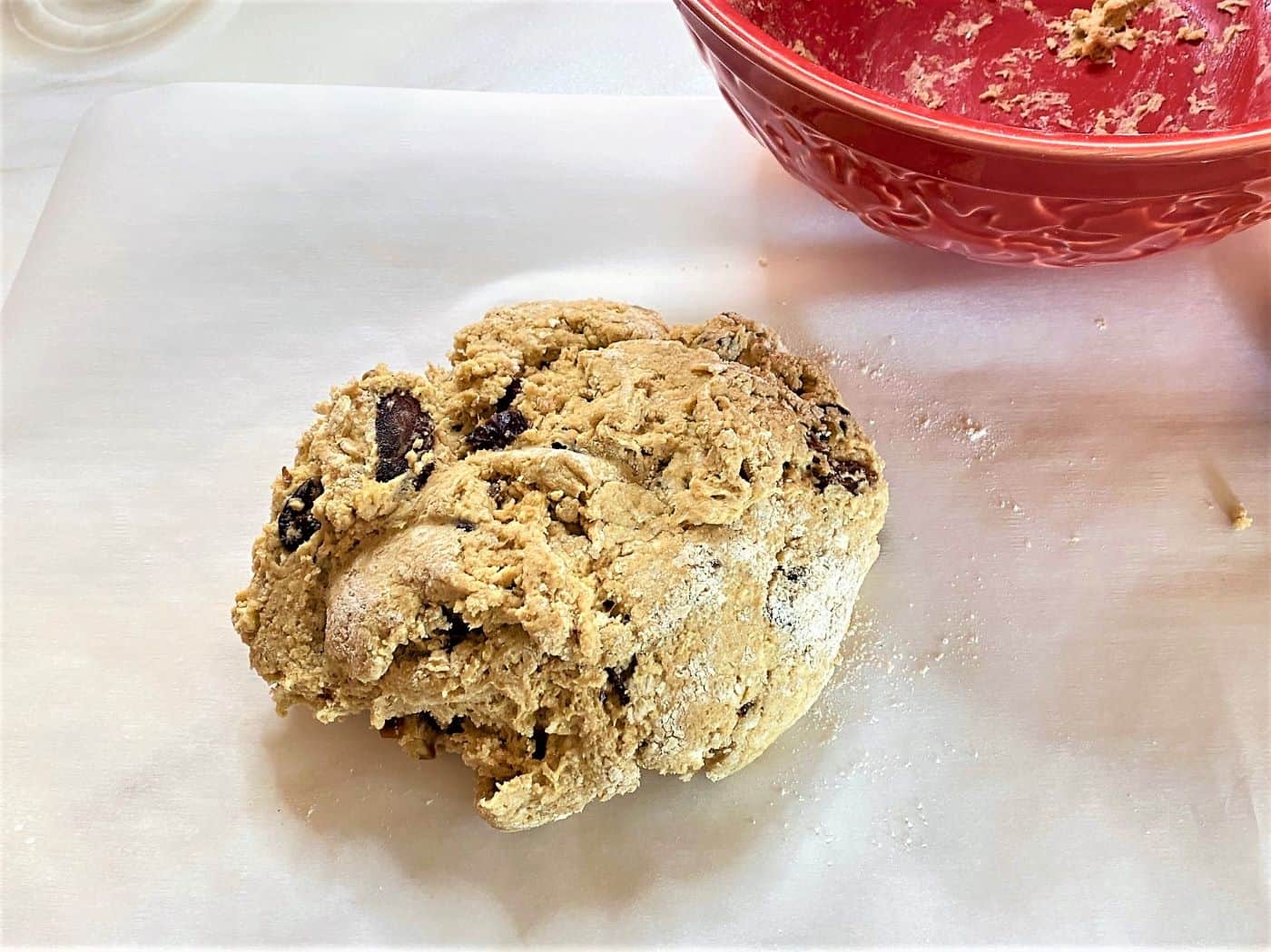 Turn dough out onto a floured surface and knead just a few times. The dough should hold together and not look ragged.
Shape into a circle about 1½ inches thick. Use a floured knife, dough scraper, or pizza cutter to cut like a pizza or pie into eight wedges.
Using your dough scraper or a pie server transfer wedges to a parchment-lined baking sheet.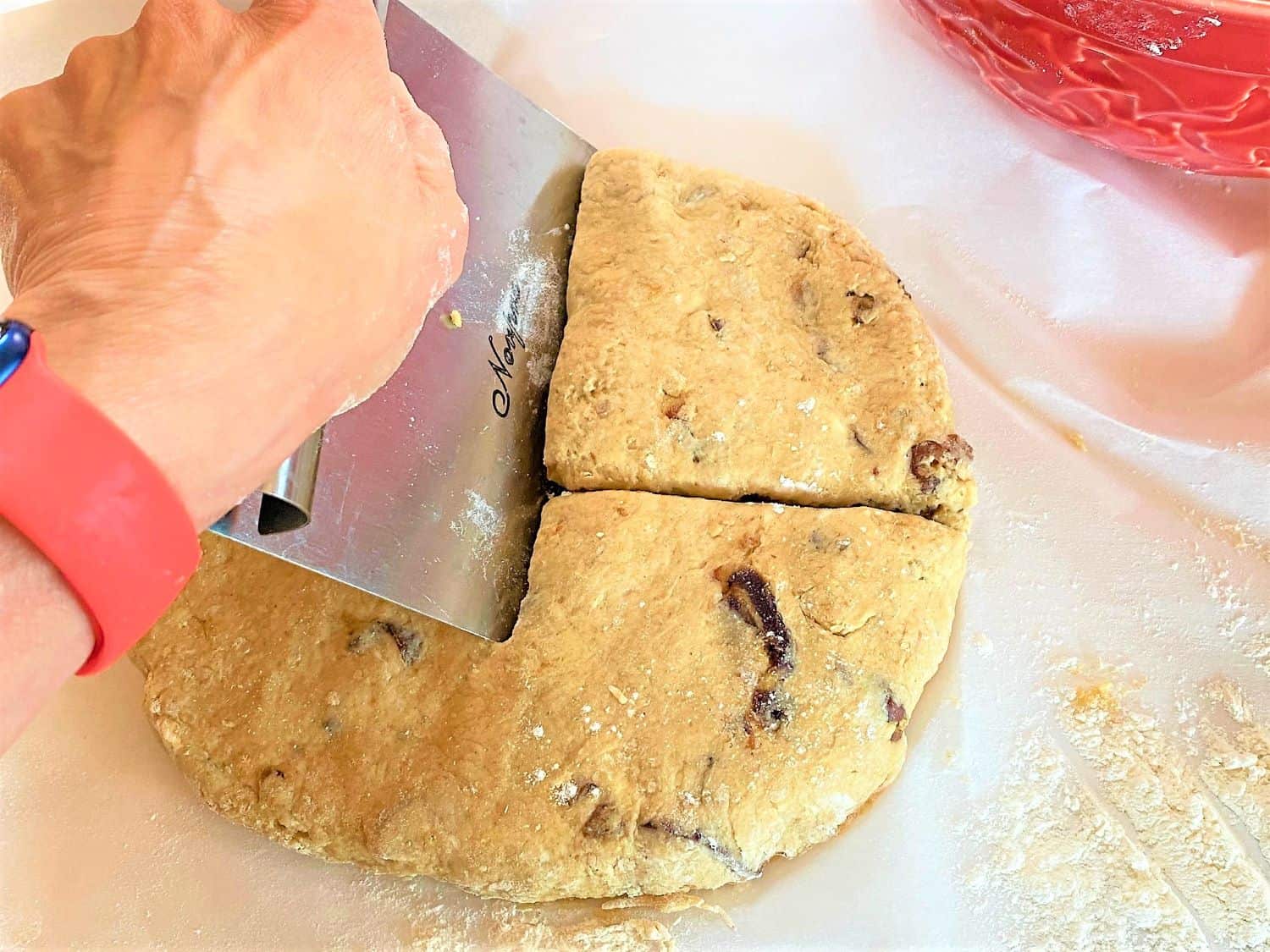 Place the baking sheet in a 400 F convection oven (425 F regular oven). Start checking the scones for doneness at about 13 minutes. Tops should be light- to medium-golden brown. Bake no more than 15 minutes.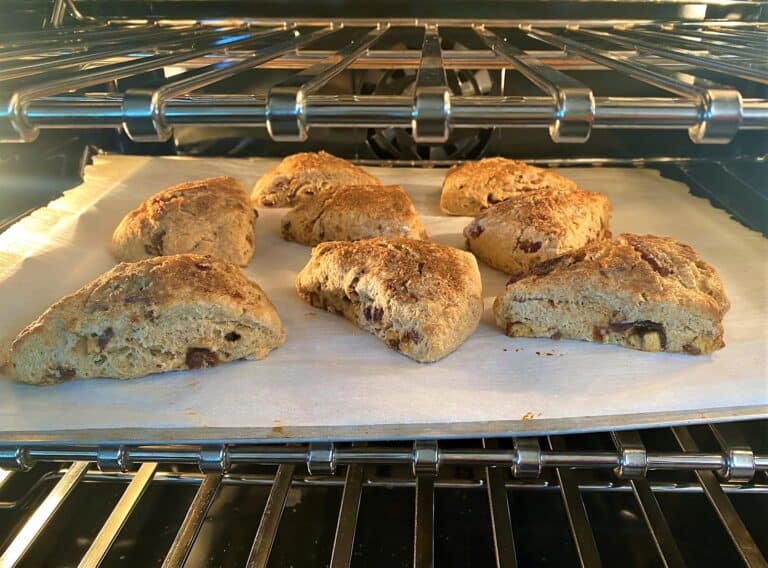 Remove. Let cool for 5 minutes, then place on a rack to finish cooling. Eat soon or freeze for another day.
✱Food Safety note: Flour and eggs can contain bacteria like Salmonella, E. coli, and other toxins. After handling raw flour or eggs, be sure and wash hands and contact surfaces with hot, soapy water. Never eat raw dough!
What to serve with scones
A cozy, hot beverage like tea is lovely with scones as an afternoon pick-me-up. Black caffeinated teas like Earl Grey and English Breakfast are energizing. Soften their tannic bite with a drop of milk or cream. Lemon is nice, too.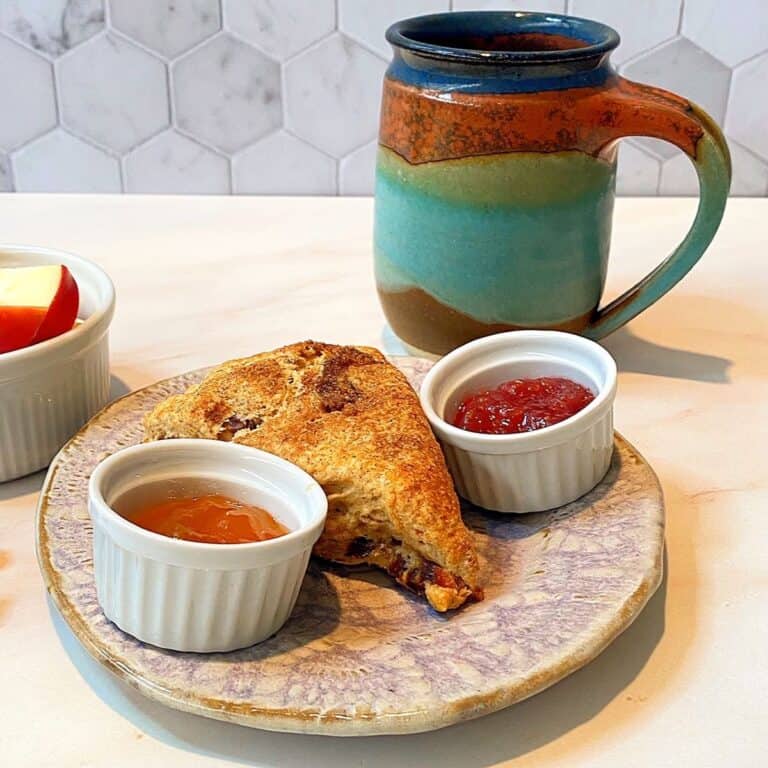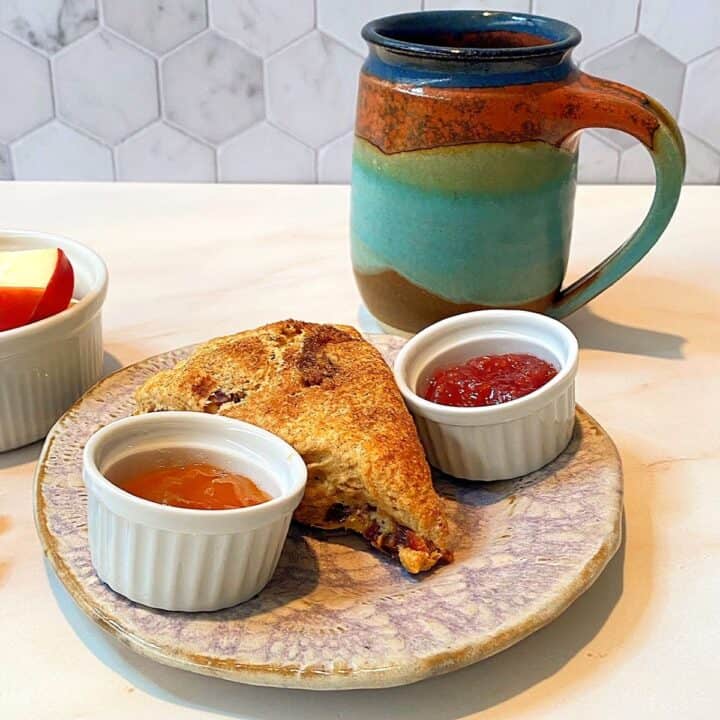 Green teas tend to be milder, as are oolong, and rooibos. Peppermint and other herbal teas are mellow and healthy.
Coffee is great, too. (Scones are practically required snacks in coffee shops!)
Eat your scone plain or dress it up with butter, preserves, or honey. Clotted cream and lemon or orange curd are excellent additions for special occasions.
Troubleshooting
🥶 Ingredients should be very cold (but not frozen except for the butter) so your scones will be fluffy inside and crispy outside.
If your dough seems too crumbly, add another tablespoon or two of milk. However, the dough should look a little dry in the bowl. It will seem wetter when you start to knead and shape it.
To keep the dough from sticking, use floured hands to knead and shape. Flour your tools as well as the work surface.
That said, try not to overwork the dough. Contact with hands should be for as little time as possible.
Too much kneading and/or working in the butter with fingers will make for rock-like scones. Yuck! 😝
Watch your scones at the end of baking time. They will continue to cook for a short time after they come out of the oven. Overbaking will make them dry and crumbly.
How to store and make ahead
❄ To make scones ahead, prepare the dough to the point of cutting wedges. Then, put the unbaked wedges in the refrigerator–perhaps the night before you want to eat them.
Bake them in the morning. Because they are very cold, they may take a couple of minutes longer in the oven. Remove them from the fridge when preheating the oven.
🧊 Or, if you want to eat them much later, freeze unbaked scones on a tray. Once they are hard, you can pile them into a freezer bag. Remove as many as desired when you want to bake and eat them.
Of course, they will take longer to bake from frozen.
How long will they keep?
Baked scones: They will be fine at room temperature for a day or two. They will taste best, however, if eaten on the day they are baked.
To warm, heat scones briefly in a 350 F oven.
Microwave at 60 to 80% power for 20 seconds.
Freeze them wrapped in foil or plastic and enclosed in a zip-top bag for up to 3 months.
Raw scones: For the best flavor, bake and eat within three months. They should keep in a deep freeze for up to six months.
Variations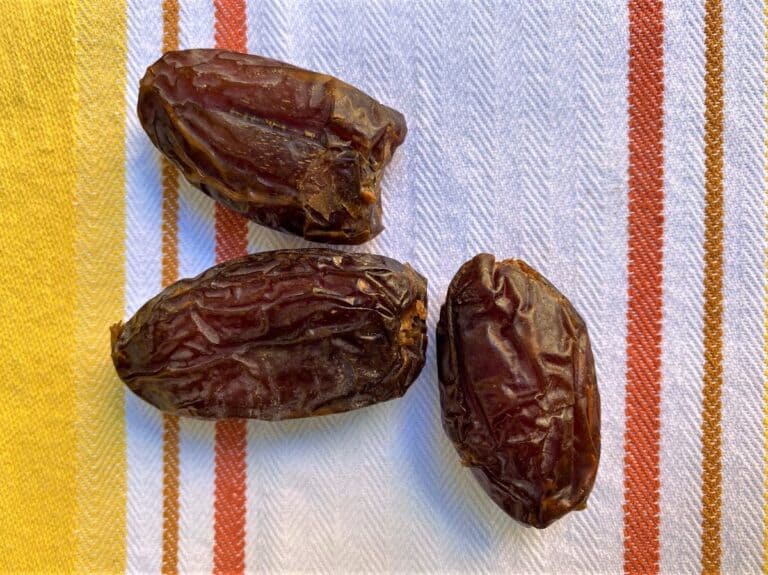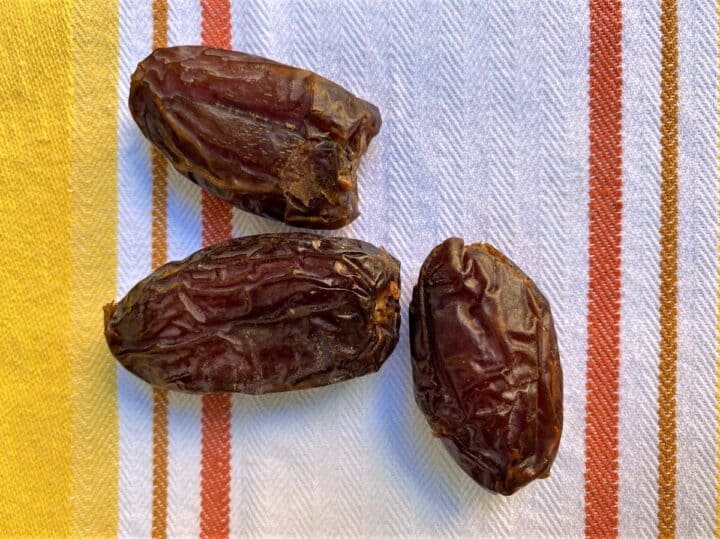 Orange and Date Scones: Add a tablespoon of orange zest to the wet ingredients.
Walnut and Date Scones: Add half a cup of toasted, chopped walnuts to the dry ingredients.
Pecan and Date Scones: Ditto with pecans instead of walnuts.
Vegan Date Scones: In place of dairy milk, use plant-based milk, and substitute with a flax egg or egg replacer.
*To make a flax egg, mix a Tablespoon of ground flaxseed with three Tablespoons of water. Let sit for five minutes before using in recipe.
Quicker scones ⚡
The recipe below is for a basic date scone. It saves time with fewer ingredients. Use one kind of flour; leave out the vinegar, egg, vanilla, and cinnamon. Increase the milk to 1 cup. Double the baking powder.
2 cups flour
2 teaspoons baking powder
¼ teaspoon salt
1 cup milk
1 cup of chopped dates
¼ cup of frozen butter
Combine dry ingredients.
Add the dates to the milk and stir with a fork to separate the sticky dates.
Grate frozen butter into dry ingredients and work in with a pastry cutter.
Make a well in the center of the flour-butter mixutre and pour in the date-milk.
Stir to make a dough and turn out onto flour surface and proceed to shape and cut.
See the full recipe below for more instructions on working with the dough!
Nutrition bonuses
Dates are sticky-sweet. (Yum!) They are high in carbohydrates and sugars, but have a low glycemic index. This means they won't quickly raise your blood sugar quickly despite their sugary taste.
Here are the facts for 100 grams or 3.5 ounces.
(Slightly less than the amount in the Date Scone recipe)
Calories: 280
Carbohydrate: 75 grams
Fiber: 7-8 grams (depends on the type of date)
Protein: 2 grams
Calcium: 40-65 mg (depends on the type of date)
Potassium: 700 mg
Dates also contain B vitamins and are a good source of minerals like copper, magnesium, and manganese.
Source: FoodData Central, USDA*
Vitamin P (phytonutrients)
Dates are full of health-giving flavonoids, carotenoids, and phenolic compounds. Sometimes called vitamin P, these are plant-based nutrients that help fight disease through antioxidant, antimicrobial, and other anti-inflammatory processes.
When eaten regularly, dates:
fight cancer
benefit eye health
improve brain health
ease labor and delivery
protect the kidneys
(Information from Healthline and PubMed.)
They may also help with managing blood sugar and cholesterol although there is less research in these areas.
Holy bonuses 😲
Dates have been cultivated for at least 6,000 years.
Islam: Dates are traditionally eaten to break the fast of Ramadan.
Judaism: Dates are one of the seven holy fruits in the celebration of Palm Sunday.
Other scone recipes to enjoy
Try these very British Earl Grey Tea Scones to ease the loss of Queen Elizabeth, one of the world's great leaders and peacemakers. They have a tea glaze and infuse the kitchen with the delightful scent of bergamot.
Or, if you have a few, juicy late-season blackberries, make these easy-peasy (and super healthy) Blackberry Scones. They come together very quickly!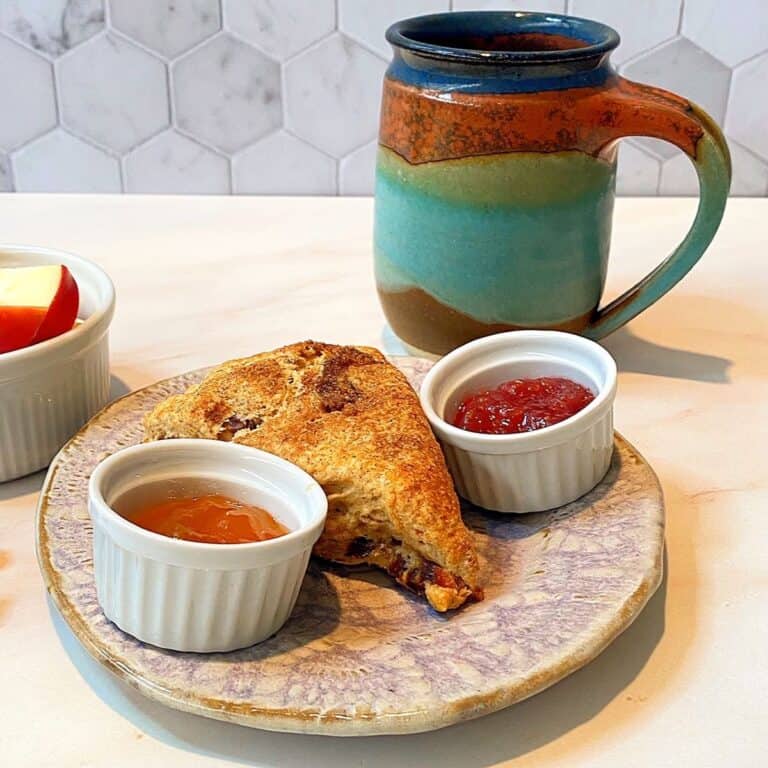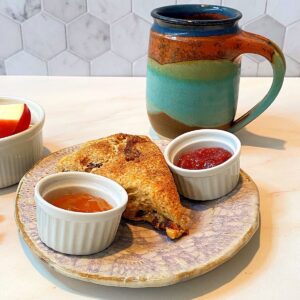 Date Scones
Tender scones filled with sweet pieces of dates–perfect with a cup of tea or coffee. A simple, tasty bake that will make everyone happy.
Equipment
1 large bowl

1 small bowl

measuring cups

dry and liquid
Ingredients
¾

cup

2% milk,

use your favorite non-dairy or dairy milk. Use another Tablespoon to brush the tops of unbaked scones.

1

teaspoon

white vinegar,

sub lemon juice, if desired

1

cup

whole-wheat pastry flour

1

cup

white wheat (AP) flour

1½

Tablespoons

sugar

1½

teaspoons

baking powder

¾

teaspoon

cinnamon

¼

teaspoon

salt

1

egg

1

teaspoon

vanilla

1

cup

chopped, pitted dates

4

Tablespoons

butter,

frozen

cinnamon sugar,

for sprinkling on top of unbaked scones
Instructions
Wash hands thoroughly before beginning the recipe.

Add vinegar (or lemon juice) to milk and place in the refrigerator.

In a large bowl, combine flours, sugar, baking powder, cinnamon, and salt. Whisk thoroughly.

Take sour milk out of the refrigerator and beat in the egg and vanilla with a fork or a whisk. Add chopped dates and mix until the date pieces are no longer sticking together.

Return the wet ingredients in the refrigerator until needed.

Grate the frozen butter into the dry ingredients with a large-holed grating sheet set over the bowl or a box grater set on parchment paper.

With a pastry cutter, combine butter and dry ingredients, cutting in the fat until it is coated. The mixture should look like tiny pebbles

Make a well in the center of the dry ingredients, and add the wet ingredients. Mix all together to make a soft, ragged dough.

Turn dough out onto a lightly floured surface, and knead up to 10 times, folding the dough in on itself until it holds together and is slightly smoother.

Be careful not to knead too much! Overkneading will cause the scones to turn into rocks!

Shape the dough into a circle that is 1½ inches thick. Slice into 8 wedges.

Brush wedges with milk and sprinkle with cinnamon sugar.

Transfer to a parchment-lined baking sheet. Place in the oven and check for doneness after 12 minutes. If scones are still too doughy, bake two to three more minutes.

Scones should be lightly golden on top and have a crisp exterior.

Remove from oven and let cool for five minutes. Transfer scones to a wire rack, and cool for up to 20 minutes before serving.

Serve with tea, coffee, or milk. Pass preserves, jam, butter, and/or clotted cream.
Notes
If you want to reduce the total amount of saturated fat without losing the buttery flavor, here are two options:
Sub two Tablespoons butter-flavored shortening for half the butter. Since the FDA banned trans fats a few years ago, reformulated shortening has less saturated fat than butter.
Freeze the shortening and grate it into the dry ingredients, just as you would the butter. This puts the saturated fat count between 2 and 3 grams per scone.
Make your scones smaller. You can cut your scone dough to serve 12 instead of eight. Each smaller scone will have three instead of four grams of saturated fat.
You can also use skim milk, but the flavor and texture will suffer. 😑
Nutrition
Calories:
239
kcal
Carbohydrates:
40
g
Protein:
5
g
Fat:
7
g
Saturated Fat:
4
g
Polyunsaturated Fat:
1
g
Monounsaturated Fat:
2
g
Trans Fat:
0.3
g
Cholesterol:
37
mg
Sodium:
216
mg
Potassium:
241
mg
Fiber:
3
g
Sugar:
16
g
Vitamin A:
256
IU
Vitamin C:
0.1
mg
Calcium:
97
mg
Iron:
2
mg
.