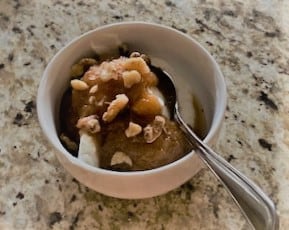 Food tastes better with butter, and when it's made from fruit, slathering it on bread and muffins is good for you — especially if it's also low in sugar!
East Asian pear and sweet potato butter are low-sugar fruit butters inspired by the letter "P."
Just foolin' about the letter "P." The actual inspiration was to make healthy holiday gifts that were out of the ordinary.
Apple butter is the norm, but the flavor of pears takes this spread to another level. Plus, you might need a recipe for leftover cans of sweet potato puree from Thanksgiving.
How to use pear and sweet potato butters
In addition to a toast and biscuit topping, these confitures are delicious with plain yogurt at breakfast and paired with ice cream for dessert – sprinkle on walnuts for a delicious dose of healthy fat!
Pear butter is an especially nice addition to a cheese or charcuterie board.
Use pear puree as a baby food for infants older than 6 months old. Simply remove most of the flavorings, sugar, and sweetener.
Also, no need to thicken the puree by simmering at the end. It will be ready for your little one to eat when it's saucy!
Lower sugar does not equal less tasty
Pumpkin and apple butter are available in many grocery and specialty stores, but lower sugar versions of fruit butter are not often found.
One of the reasons may be that sugar does more than add sweetness. It gives the fruit butter a longer shelf life by reducing the product's available water. Plus, it enhances the texture, making it a thicker and more spreadable condiment.
Although the recipe for the pear butter has less sugar, the spread is still caramelized and delicious because the fruit has natural sugars. When the natural sugars combine with a small amount of added sugar, stevia, spices and a long simmer, the result is a yummy, thick, velvety spread.
FRUIT BUTTER storage: KEEPing it FRESH
The preservative function of sugar is important for fruit butter, especially apple and pear butter. Combining sugar with fruit purees helps keep them fresh through the winter.
This stabilizing effect combined with the high natural acidity of apples theoretically yields a fruit spread that can be stored at room temperature with few worries (that is, if packed into sterile jars.)
This also holds true for pears although they are not as naturally acidic as apples. With the addition of lemon juice or apple cider vinegar, which have extremely low pH levels, the concoction keeps even longer.
Let me emphasize "theoretical"!
Since the pear and sweet potato butter recipes in this blog have reduced sugar levels, it is especially important to store all of them in the refrigerator.
Do not store any fruit butter at room temperature unless you use canning techniques. After canning, it keeps for about a year in the pantry. After opening, store in the refrigerator and eat within two weeks.
Freezing the butter is an easy way to keep it fresh without canning. It will last in the freezer for at least three months.
Tracing the origins of apple and pear butter
Although apple butter is associated with the Pennsylvania Dutch in America. However, the monks in Medieval Europe made it several hundred years earlier. The monks wanted a preserve that could be stored longer than apple sauce.
A syrupy version made with pears was popular in Belgium as sirop de Li`ege, and a similar kind made from apples in the Netherlands is called appelstroop. It's also commonly known as black butter (l'e ni`er beurre), especially in the Jersey Channel Islands where licorice is a prominent flavor in the condiment.
Making a healthier fruit butter
To replace part of the sugar in these butters and make them a good choice for people with diabetes, I used Truvia, which is a granular product that combines erythritol with the natural sweetener stevia.
The brown sugar variety of Truvia pairs well with most of these flavors. Please let me know what kinds of results you get if you experiment with other types of sweeteners!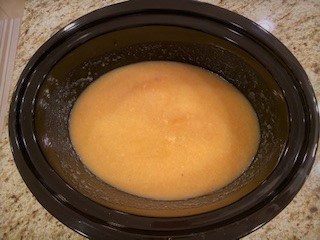 The recipe below for East Asian Pear Butter is my favorite. My sugar-reduced version was inspired by Elise Bauer's Pear Butter on her site, Simply Recipes.
It features warm winter and Indian spices whose flavors stand out against the brightness of the lemon juice and fruit.
Because the sugar is low, it does not have a very thick texture. After pureeing, it should be simmered until most of the water has evaporated so that it becomes spreadable.
I core the fruit before cooking and achieve a very smooth product using a Chinois to extract the skins. Using an emulsion blender is quicker and there's no reason to remove the pear skin!
I think the pear butter has a more intense flavor by leaving skins during the cooking step, so leave them on! Plus they make the butter more nutritious with fiber, minerals, phytonutrients, and more!
Try my recipe for low-sugar Vanilla Sweet Potato Butter, too.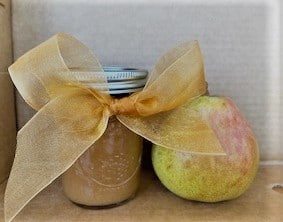 East Asian Pear Butter
Long-simmering pear butter will make your kitchen smell like the holidays! It makes a delicious holiday gift. Most of the time for this recipe is hands-off!
Equipment
slow cooker

zester

https://amzn.to/3CLj4fm

reamer or lemon squeezer

knives
Ingredients
5

pounds

pears

1

star anise pod

1 ½

Tablespoons

fresh ginger

chopped

2

Tablespoons

lemon juice

1

teaspoon

lemon zest

½

cup

brown sugar Truvia

¼

cup

sugar

depending on sweetness of pears

½

teaspoon

ground cardamom

not green cardamom

½

teaspoon

nutmeg

¼

teaspoon

salt
Instructions
Core pears and cut into quarters.

Place quartered pears and remaining ingredients in a slow cooker. Cook on high for 8 hours until pears are soft and falling apart.

Fish out the star anise pod. Use an immersion blender to puree the pears. Cook on low another 2 hours with lid partially open to thicken the puree so that it becomes spreadable.

Remove the liner from the slow cooker and let the puree cool slightly.

Pour thickened pear butter into prepared jars using a canning funnel. Screw the lids on, leaving an inch of headspace at the top.

Store in the refrigerator after cooling, or follow proper canning procedures and store at room temperature.
Optional canning instructions
Toward the end of the simmering time, sterilize 6 jars and lids in the dishwasher by running them through a short cycle.

Alternatively, jars can be sterilized in a boiling water bath on the stovetop: Place jars and lids in a large pot filled with water, which should cover them. Bring to a boil and continue to boil for 15 minutes. Turn heat off and let them cool. Remove to a clean kitchen towel with tongs that have been dipped in the boiling water.

Tip: You can also place boiled lids and rings in a warm oven until you are ready to use them.

Using a canning funnel, pour the hot pear butter into the sterilized jars. Screw on the lids and rings. Let cool and then store in your pantry.
Notes
This is a long, slow process, but it fills the house with warm, spicy scents, and the result is worth it in terms of taste! 🍐🍐🍐
Canning note: You should hear the lids pop. That's a tell that your efforts were successful!
Nutrition
Serving:
8
oz
Calories:
271.8
kcal
Carbohydrates:
74.8
g
Protein:
1.4
g
Fat:
0.6
g
Saturated Fat:
0.1
g
Polyunsaturated Fat:
0.4
g
Monounsaturated Fat:
0.3
g
Trans Fat:
0
g
Cholesterol:
0
mg
Sodium:
101.1
mg
Potassium:
454.1
mg
Fiber:
11.9
g
Sugar:
49.4
g
Vitamin A:
95.1
IU
Vitamin C:
18.7
mg
Calcium:
36.1
mg
Iron:
0.7
mg
Copyright © 2019 Jani Hall Leuschel