Food tastes better with butter, and when it's made from fruit, slathering it on bread and muffins is good for you -- especially if it has less sugar!
Apple butter is the norm, but the extraordinary flavor of pears, ginger, and warm spices take this preserve to another level.
Creating the pear butter in the slow cooker couldn't be easier--set it and forget it! No need to remove skins or do much chopping.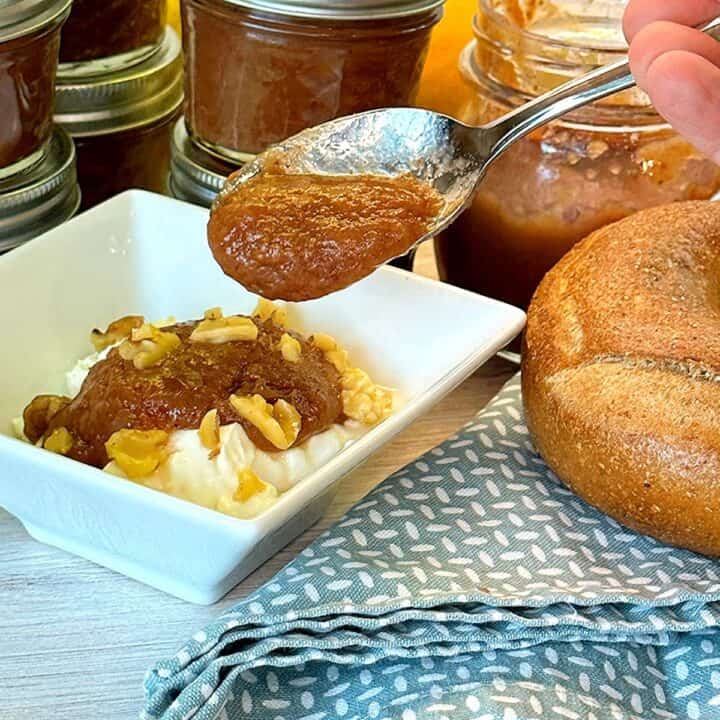 I earn from qualifying purchases at no extra cost to you as part of the Amazon Affiliate program.
Ingredients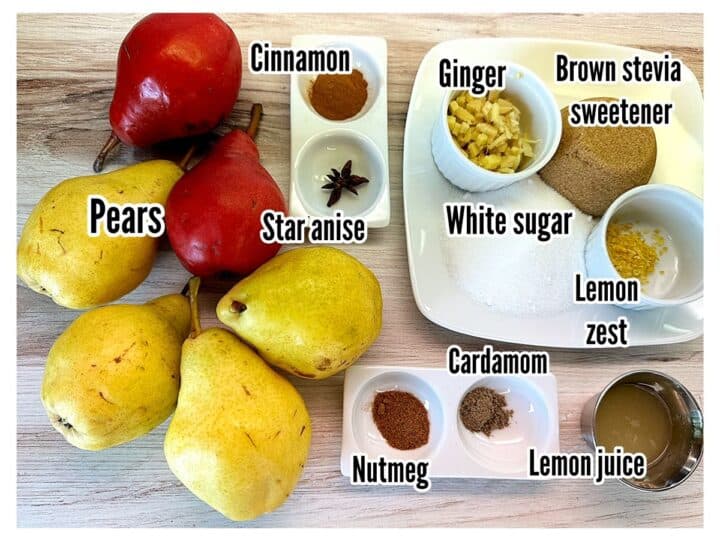 Pears (any variety)
Brown sugar stevia or monk fruit sweetener
White sugar
Fresh ginger
Lemon juice
Lemon zest
Cinnamon
Cardamom
Nutmeg
Star anise pod
🍐 Pears: You can use any sort of pear in this recipe. It's perfect for any soft and overripe ones. Thinner-skinned pears, like Bartletts, are easiest to work with. You might want to remove the peel from thicker-skinned varieties, such as Comice.
👉🏼 Brown stevia sweetener: I like Truvia Sweet Complete because it measures just like sugar. Check the package for measuring instructions. Sometimes stevia sweeteners for cooking are twice as sweet as regular sugar, so you need to use half as much in a recipe.
You could also use the brown monk fruit sweetener from Lankanto or of course, regular brown sugar!
👉🏼 White sugar: Any type of granulated sugar is fine. You can use cane sugar or sugar made from beets. You can even use coconut or turbinado sugar.
👉🏼 Ginger: I can't overstate the importance of this using this spice. Fresh chopped ginger is best, but you can use a teaspoon of dried if fresh is not available.
🍋 Lemon juice: After zesting the lemon, juice it for the recipe. Most lemons will give you a couple of Tablespoons of juice. Store-bought lemon juice is fine, too.
🍋 Lemon zest: It's not essential to the pear butter, but adds tremendous flavor! If you've got a lemon in your crisper, zest it!
👉🏼Cinnamon: Yum! Warm spice, please! It's a must-use spice.
👉🏼 Cardamom: It gives a lovely dimension to the caramelized pear butter. Just don't use too much because you don't want the butter to have any soapy notes.
👉🏼 Nutmeg: Another warm spice that unites the cinnamon with the other Eastern flavors in the recipe.
☯ Star anise: Add another pod or two if you enjoy this spice. Because of the long simmer time, whole pods are preferable to powdered spice.
How to make
1. Prep the ginger and pears: Peel and chop the ginger. Cut the tops off the pears and slice them into quarters. Remove the core. Place all the pear quarters into a slow-cooker liner.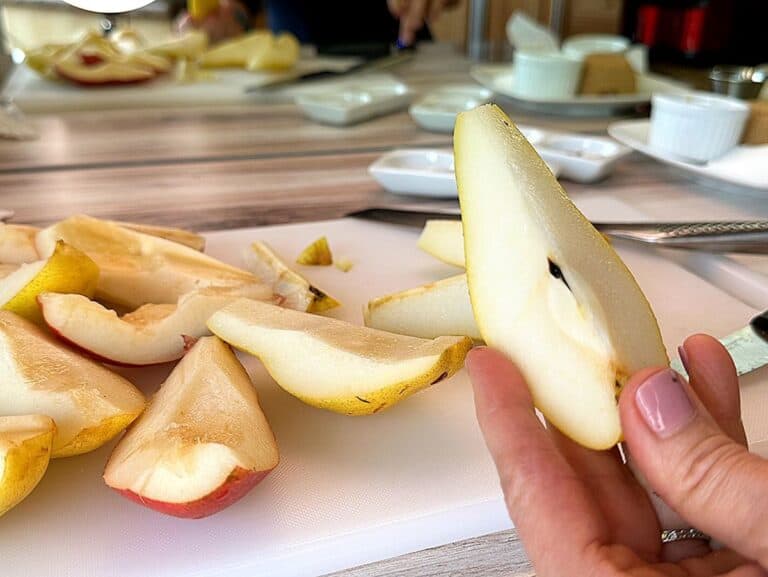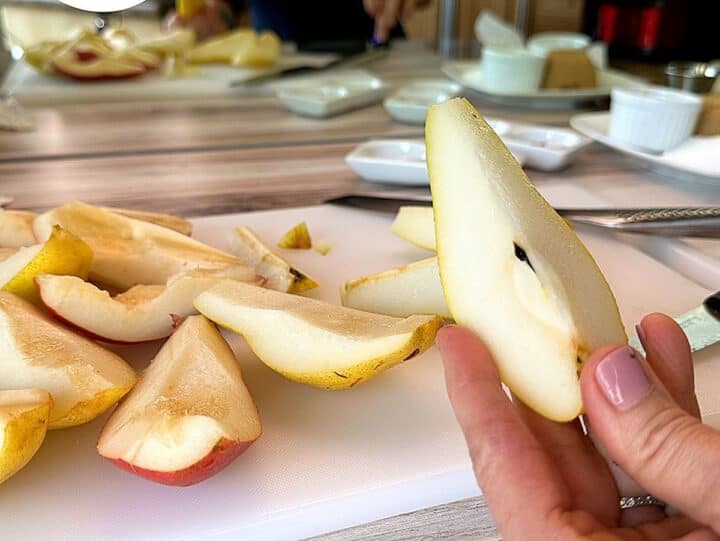 2. Sprinkle the pears with the remaining ingredients, making sure to spread them evenly across the top of the pears. Cook on high until the pears are fall-apart soft. Note: It will take several hours for the pears to reach the fall-apart softness desired.
You can start the process the night before and let the pears cook while you sleep!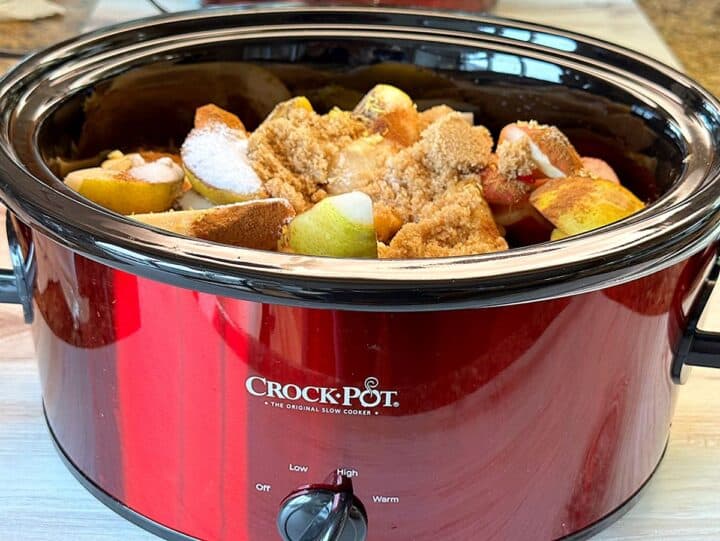 3. When the pears are falling apart, move the lid of the crockpot so it is only partially covering the liner. Cook for a couple more hours, until the liquid has reduced.
At this point, the pear mixture will be about a quarter or less of the initial volume.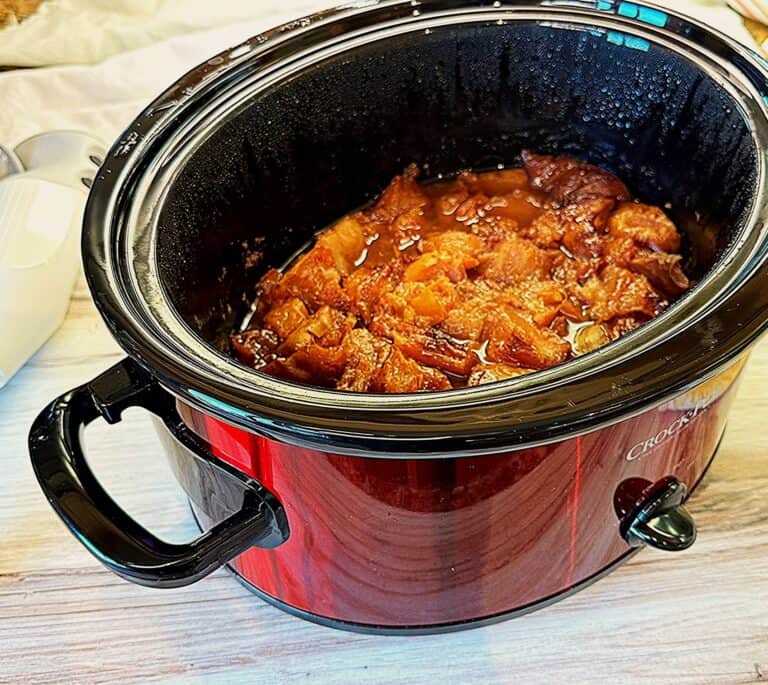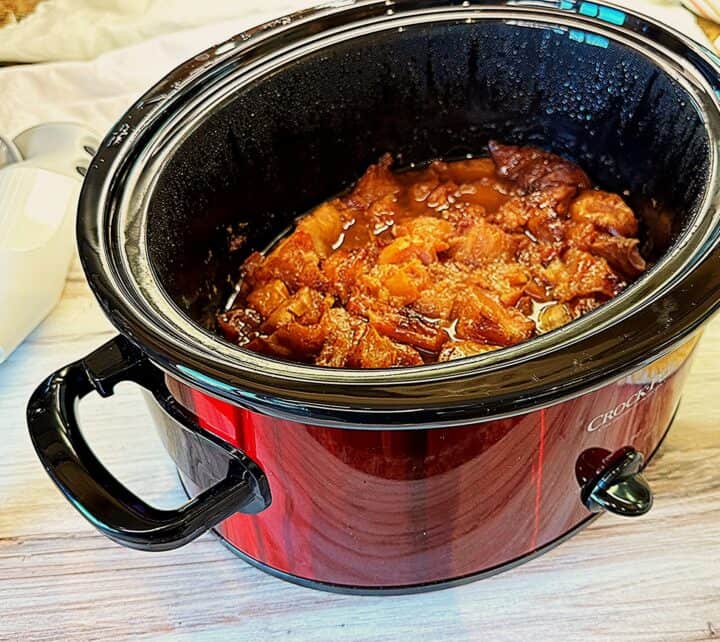 4. Use an immersion blender (stick-type) to puree the pear butter in the slow cooker (or, transfer the pears to the container of a regular blender).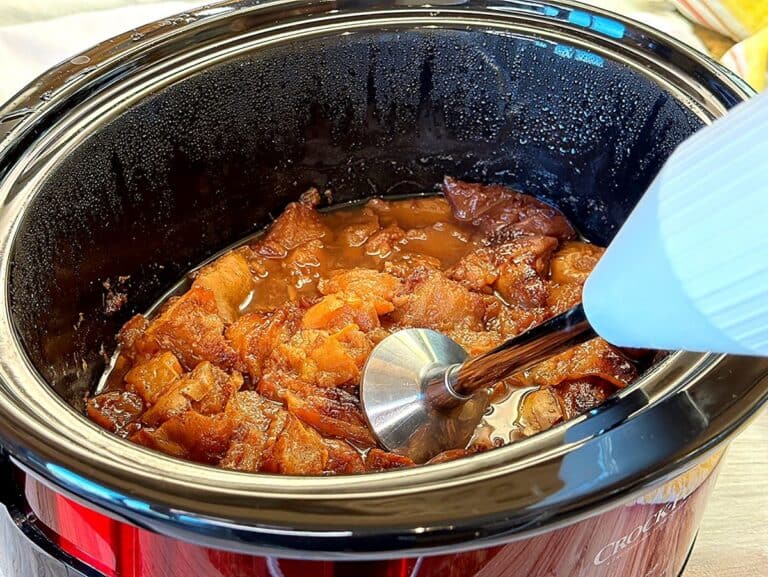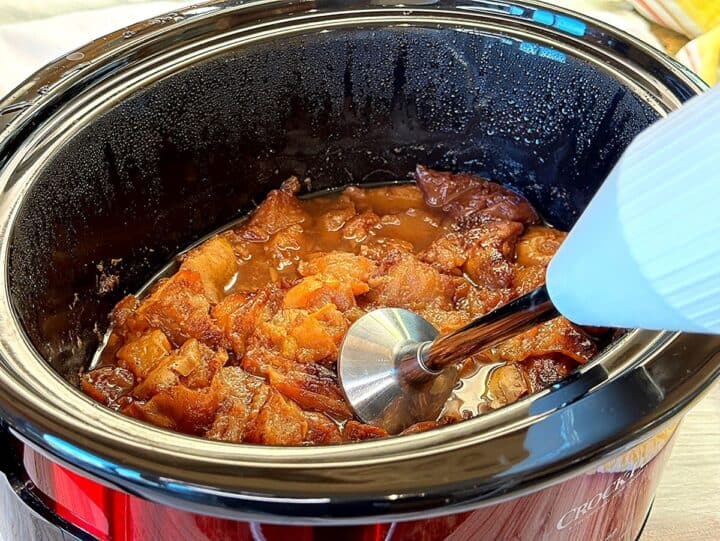 5. Ladle the thick, caramelized pear butter into jars using a canning funnel to ease the process. Screw the lids on tight and store in the refrigerator or freezer.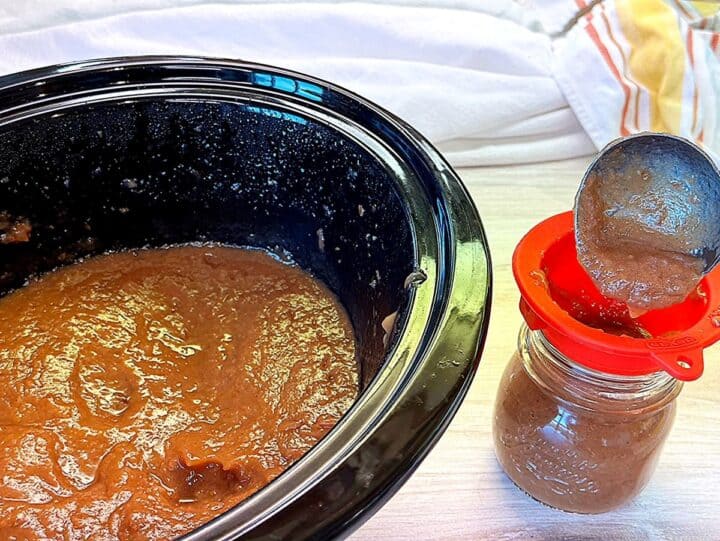 These make great gifts to friends and family!
Ways to eat and enjoy pear butter
In addition to a toast and biscuit spread, it adds a delicious caramel topper to plain yogurt at breakfast and ice cream at dessert–sprinkle on walnuts for a delicious dose of healthy fat!
Pear butter plays well with a cheese and/or charcuterie board.
Pear puree is a good baby food for infants older than 6 months old. Simply remove most of the flavorings, sugar, and sweetener. No need to thicken the puree by simmering at the end. It will be ready for your little one to eat when it's saucy!
Reduced sugar does not equal reduced taste
Pumpkin and apple butter are available in many grocery and specialty stores, but lower-sugar versions of fruit butter are not often found.
One of the reasons may be that sugar does more than add sweetness. It gives the fruit butter a longer shelf life by reducing the product's available water. Plus, it enhances the texture, making it a thicker and more spreadable condiment.
Although East Asian pear butter has less sugar, it's still caramelized and delicious because the fruit has natural sugars. When the natural sugars combine with a bit of added sugar, stevia, spices, and a long simmer, the result is a yummy, thick, velvety spread.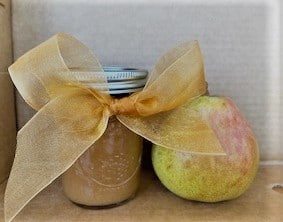 Pear butter is a lovely holiday gift.
Storage: Keeping it fresh
The preservative function of sugar is important for fruit butter, especially apple and pear butter. Combining sugar with fruit purees helps keep them fresh through the winter.
This stabilizing effect combined with the high natural acidity of apples theoretically yields a fruit spread that can be stored at room temperature with few worries (that is, if packed into sterile jars.)
This also holds true for pears although they are not as naturally acidic as apples. With the addition of lemon juice or apple cider vinegar, which have extremely low pH levels, the concoction keeps even longer.
Let me emphasize "theoretical"!
Since the pear butter recipe in this blog does have reduced sugar levels, it is especially important to store it in the refrigerator unless you use canning techniques.
Pear butter stays delicious and safe in the refrigerator for about two weeks.
Shelf-stable, canned pear butter keeps for about a year in the pantry. (The recipe card at the bottom of the post has bonus canning instructions.) Freezing is an easy way to keep it fresh without canning.
It will last in the freezer for at least three months, probably longer. After opening it, store it in the refrigerator and eat it within two weeks. (Good luck getting it to stick around that long!)
Tracing the origins of apple and pear butter
Apple butter is associated with the Pennsylvania Dutch in America. However, the monks in Medieval Europe made it several hundred years earlier. The monks wanted a preserve that could be stored longer than apple sauce.
A syrupy version made with pears was popular in Belgium as sirop de Li`ege, and a similar kind made from apples in the Netherlands is called appelstroop. It's also commonly known as black butter (l'e ni`er beurre), especially in the Jersey Channel Islands where licorice is a prominent flavor in the condiment.
Making a healthier fruit butter
To replace part of the sugar in this butter and make it a better choice for people who want or need less added sugar, I used Truvia, a granular product that combines erythritol with stevia.
To find out more about erythritol, read my blog on it.
The brown sugar variety of Truvia pairs well with most of these flavors. Please let me know what kinds of results you get if you experiment with other types of sweeteners!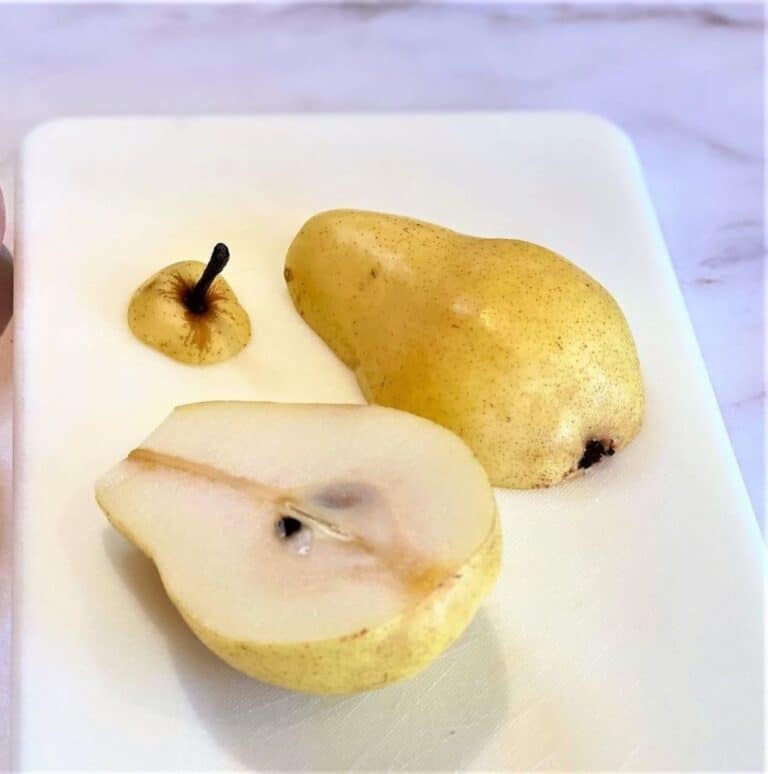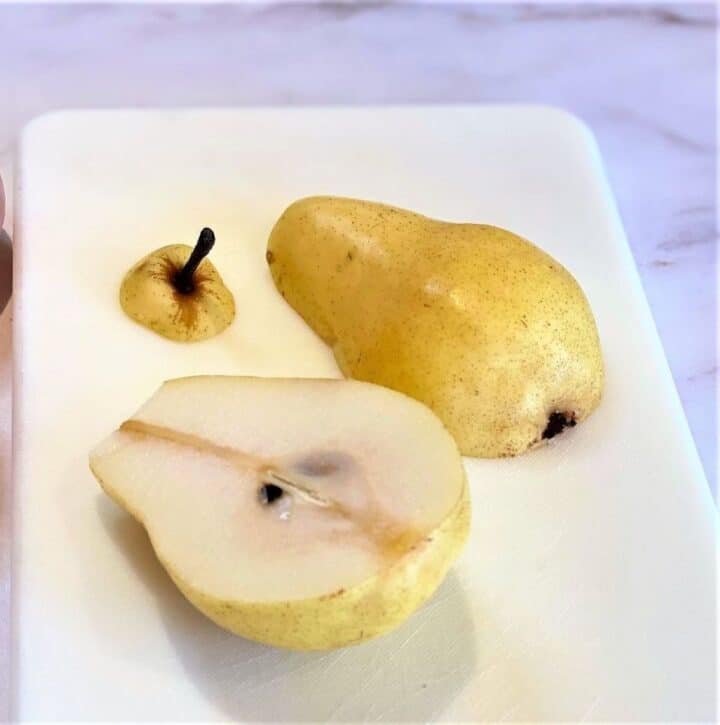 My recipe below for East Asian Pear Butter was inspired by Elise Bauer's Pear Butter on her site, Simply Recipes.
It features warm winter and Indian spices whose flavors stand out against the brightness of the lemon juice and fruit.
Cooking tips
Using a smoothie-type stick (emulsion blender) to puree the soft, cooked pear-and-spice mixture is quick. Unless the peels are thick, there's no reason to remove the pear skins. Let the blender puree it with the pear flesh. This saves you prep time!
Plus, the pear butter has a more intense flavor by leaving skins on during the cooking step, so leave them on! They make the butter more nutritious with fiber, minerals, phytonutrients, and more!
You will, however, notice that the butter is not perfectly smooth. I don't mind a small amount of texture. Taste it after you've pureed it enough to look uniform. If your tongue detects too many irregularities, blend it for a little longer.
The cooking time is long so the pears get very, very soft. You can check them after a few hours, and if they are close to dissolving, go to the next step and put the lid ajar to evaporate the liquid.
You could also let them simmer overnight.
Some pear butter nutrition benefits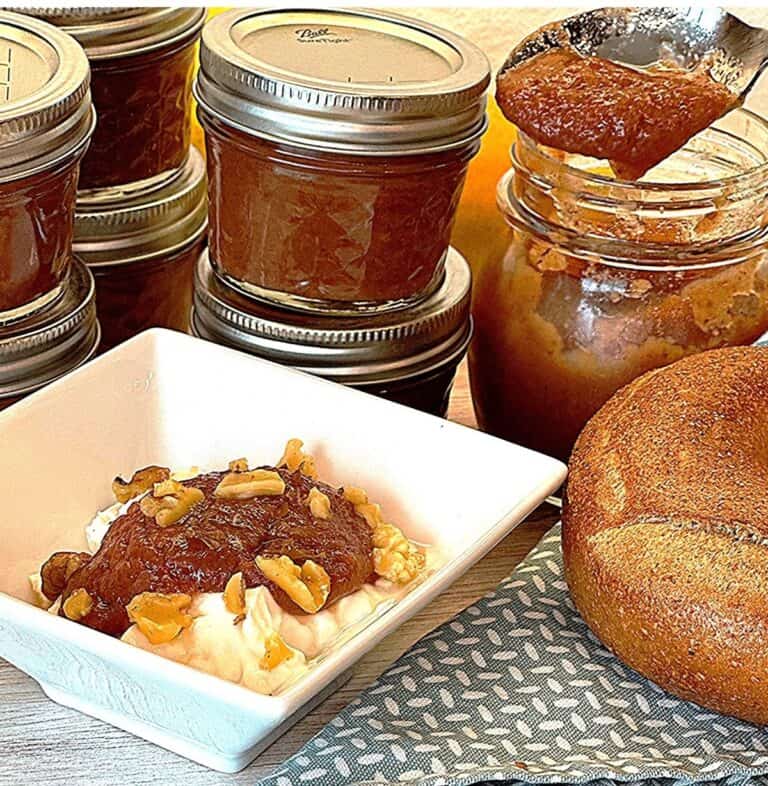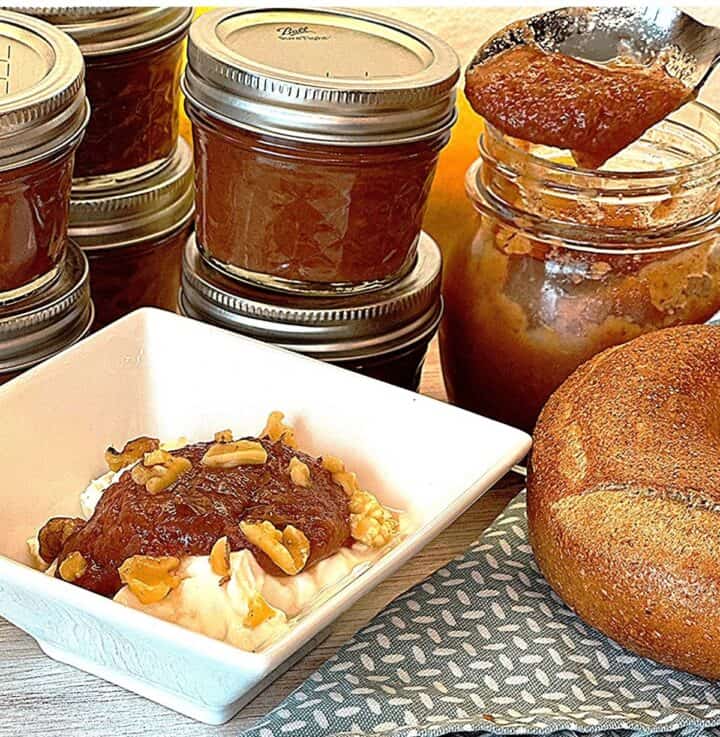 Antioxidants: Unlike, East Asian Pear Butter, commercially-made fruit butter is not likely to contain the skins of the fruit and that's where you find nutrition gold, such as antioxidants and phytochemicals like quercetin.
Fiber: The spread has 1.5 grams of fiber per two Tablespoons. Fiber is good for digestion and helps us feel more satisfied with the food we eat.
Pears are high in fiber. On average, a pear contains about 4 to 6 grams of fiber (more than a bowl of oatmeal)!
Eating pear butter on toast or yogurt instead of a commercially made jam or jelly may help cut a few of those pesky added sugars!
Potassium: A typical two-tablespoon serving has more than 57 mg of the mineral--not bad! Potassium supports healthy blood pressure.
If you want to learn more about pears and find ways to use them in all sorts of recipes, check out USA Pears. It's a wonderful resource and fun website.
Fruits and nuts: More butter recipes...
Try this easy and delicious recipe for Apple Butter. It has Instant Pot as slow cooker instructions.
This Chocolate Pumpkin Seed Butter is perfect at breakfast or for snacks. A spoonful before dinner keeps you from feeling too hungry to wait for the meal event. It's also great before or after a workout.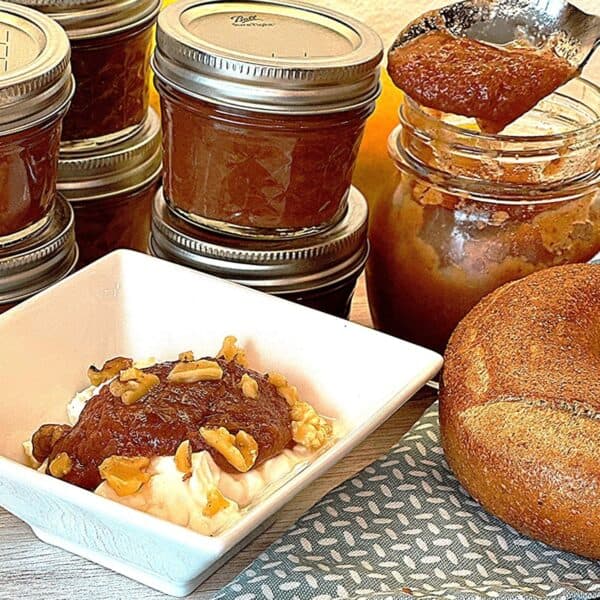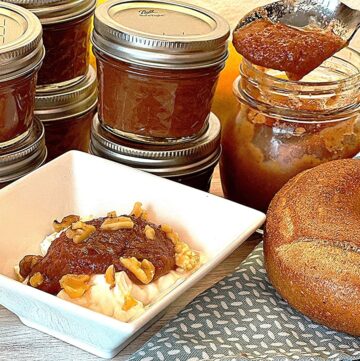 East Asian Pear Butter
Long-simmering pear butter will make your kitchen smell like the holidays! It makes a delicious holiday gift. Almost all of the time for this recipe is hands-off!
Ingredients
5

pounds

pears

1

star anise pod

1 ½

Tablespoons

fresh ginger

chopped

2

Tablespoons

lemon juice

1

teaspoon

lemon zest

½

cup

brown sugar Truvia

¼

cup

sugar

depending on sweetness of pears

½

teaspoon

ground cardamom

not green cardamom

½

teaspoon

nutmeg

¼

teaspoon

salt
Instructions
Core pears and cut into quarters.

Place quartered pears and remaining ingredients in a slow cooker. Cook on high for 8 hours until pears are soft and falling apart.

Fish out the star anise pod. Use an immersion blender to puree the pears. Cook on low another 2 hours with lid partially open to thicken the puree so that it becomes spreadable.

Remove the liner from the slow cooker and let the puree cool slightly.

Pour thickened pear butter into prepared jars using a canning funnel. Screw the lids on, leaving an inch of headspace at the top. (This is necessary if you're planning to preserve the preserve with canning.)

Store in the refrigerator or freezer after cooling, or follow proper canning procedures and store at room temperature.

The pear butter keeps about two weeks in the refrigerator and 3 months to a year in the freezer.
Optional canning instructions
Toward the end of the simmering time, sterilize 6 jars and lids in the dishwasher by running them through a short cycle.

Alternatively, jars can be sterilized in a boiling water bath on the stovetop: Place jars and lids in a large pot filled with water, which should cover them. Bring to a boil and continue to boil for 15 minutes. Turn heat off and let them cool. Remove to a clean kitchen towel with tongs that have been dipped in the boiling water.

Tip: You can also place boiled lids and rings in a warm oven until you are ready to use them.

Using a canning funnel, pour the hot pear butter into the sterilized jars. Screw on the lids and rings.

Place jars on a rack in a large deep pot of boiling water. (The rack will keep them from breaking.) The jars should be covered with 1 to 2 inches of boiling water.

Boil for 10 minutes. Then, cut the heat and let them sit in the hot water for another 10 minutes.

Remove jars from water and set them a distance from each other on a kitchen towel so air can circulate between them. Let them cool.

After 12 to 24 hours, check the seal. Press down on the center of the lid. If it doesn't push back up after you press on it, the jar is sealed.

You may also hear the tinny pop of the lids making a vacuum seal on your butter. It can take up to a day for you to hear that happy sound, but I usually hear it much sooner.
Notes
This is a long, slow process, but it fills the house with warm, spicy scents, and the result is worth it in terms of taste! 🍐🍐🍐
Canning note: You should hear the lids pop. That's a tell that your efforts were successful!
Nutrition
Serving:
1
oz
Calories:
31
kcal
Carbohydrates:
9
g
Protein:
0.2
g
Fat:
0.1
g
Saturated Fat:
0.02
g
Polyunsaturated Fat:
0.04
g
Monounsaturated Fat:
0.04
g
Trans Fat:
0
g
Sodium:
13
mg
Potassium:
57
mg
Fiber:
1
g
Sugar:
6
g
Vitamin A:
12
IU
Vitamin C:
2
mg
Calcium:
5
mg
Iron:
0.1
mg
Copyright © 2023 Jani Hall Leuschel