It's apple butter season! You can make this spread in the Instant Pot or slow cooker. Either way, it's a delicious cool-weather and holiday favorite.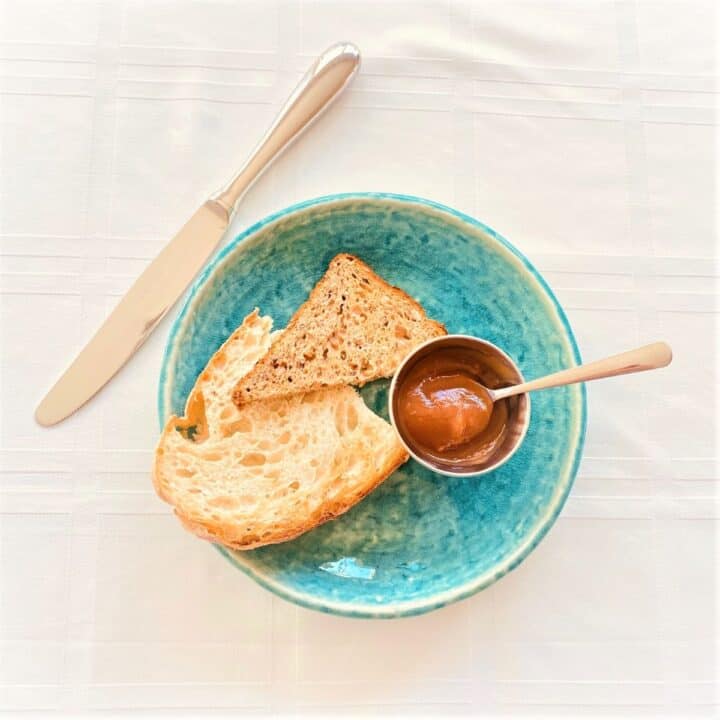 Apple butter, despite its name, is not a cream-laden food that comes in sticks. Instead, it's a dark fruity conserve, sweet and thick. It's rich with warm spices.
Actually, you could think of it as super applesauce cooked down so it's spreadable with a luscious, caramel color.
No need to remove the peels in this lower-sugar recipe. You'll save prep time by cooking the apples with the skins and you'll add nutrition to your butter.
This helps to make it a welcome and healthy holiday food gift!
Prepare it now and put it away in the freezer for later. (Or, you could preserve it by canning if you want a shelf-stable gift.)
The Instant Pot will save you hours, but if time is not a factor, you could also use the slow cooker. Either method gives you a tempting, dark brown apple butter!
Ingredients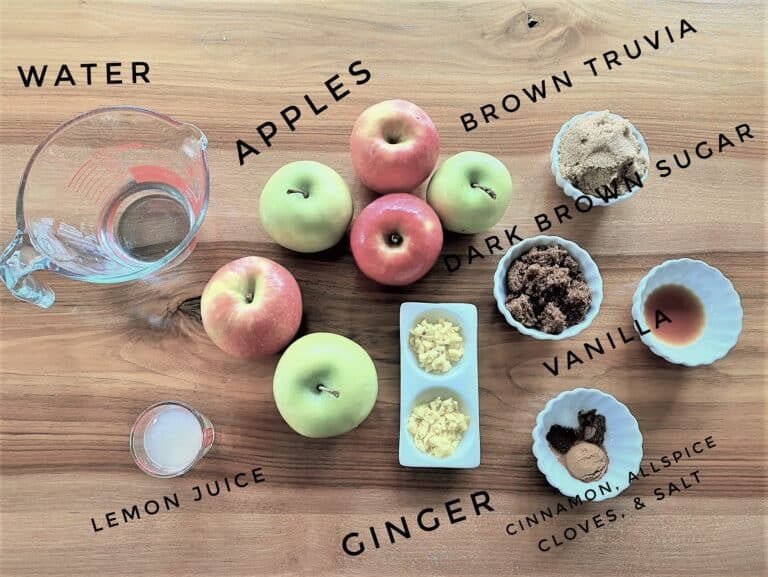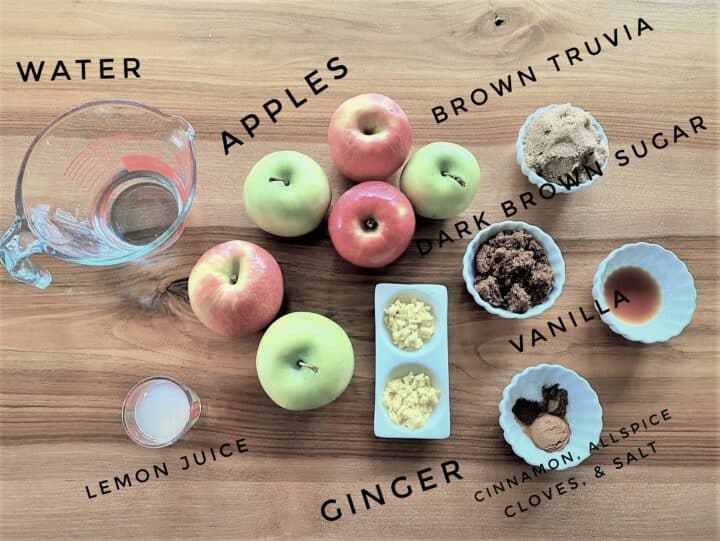 What do you need to make it?
Apples: Your choice, but read below to decide if you want to use a mix of apple varieties.
Brown Truvia + dark brown sugar: This combo of sweeteners lets you omit some of the added sugars and not lose any of the dark deliciousness.
Lemon juice: A bright note.
Vanilla: An extra layer of flavor.
Fresh ginger root: Ginger has digestive benefits and the taste plays well with the fruit.
Cinnamon, nutmeg, cloves: Warm spices for cold days say HOLIDAY in a big way.
Salt: A pinch enhances the sweetness.
Water: Add it to prevent a burn warning from the Instant Pot. Don't bother to add water if you are using a slow cooker.
Equipment & transfer tips
Preparing any type of preserve, jelly, jam, or condiment always requires an unusual cooking utensil or specialty item.
The most challenging part of the process can be getting it into a jar or container, without creating a sticky mess!
A canning funnel, giant glass measuring cup (8-cup), and glass jars are items to consider. They are not essential, and you may already have a serviceable funnel, as well as a quart-size pitcher for pouring the butter into storage containers.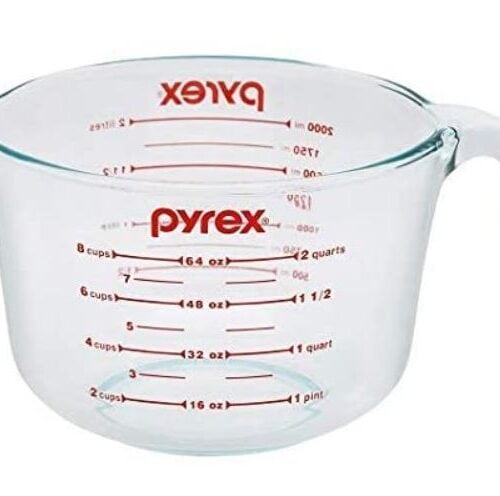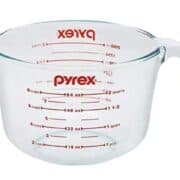 Canning funnel: This silicone funnel eases the transfer of finished butter into your container. It fits wide mouth and regular jars.
Silicone is a better choice than plastic when working with hot preserves because it's less likely to leach chemicals into your fruit butter. Unlike a metal funnel, it won't get too hot to handle. 🔥
Giant measuring cup: I use this 8-cup glass measure from Pyrex for an amazing array of kitchen tasks.
Glass jars: For gifting: These plain and sweet 8-ounce jars scream homemade treat!
How to Make
Core apples and cut into wedges using an apple corer or knife.
Place apples in the liner of an Instant Pot; add the spices and pour the liquid ingredients over the top.
Put lid on and close vent.
Press Pressure Cook and set the time for 15 minutes.
Natural release for 20 minutes and then open vent to let out any remaining steam.
Carefully, purée the soft apple mixture with an immersion blender or transfer it to the container of a blender.
If you transfer the mixture, be sure and remove the knob (handle) in the center of the blender lid to let the steam escape.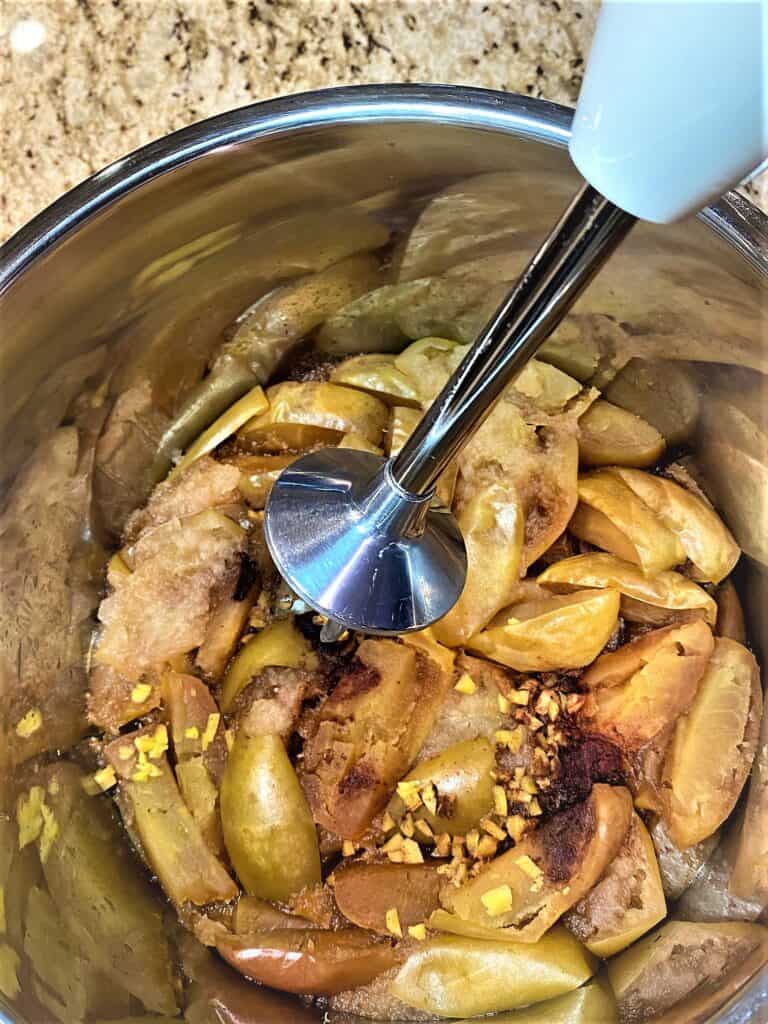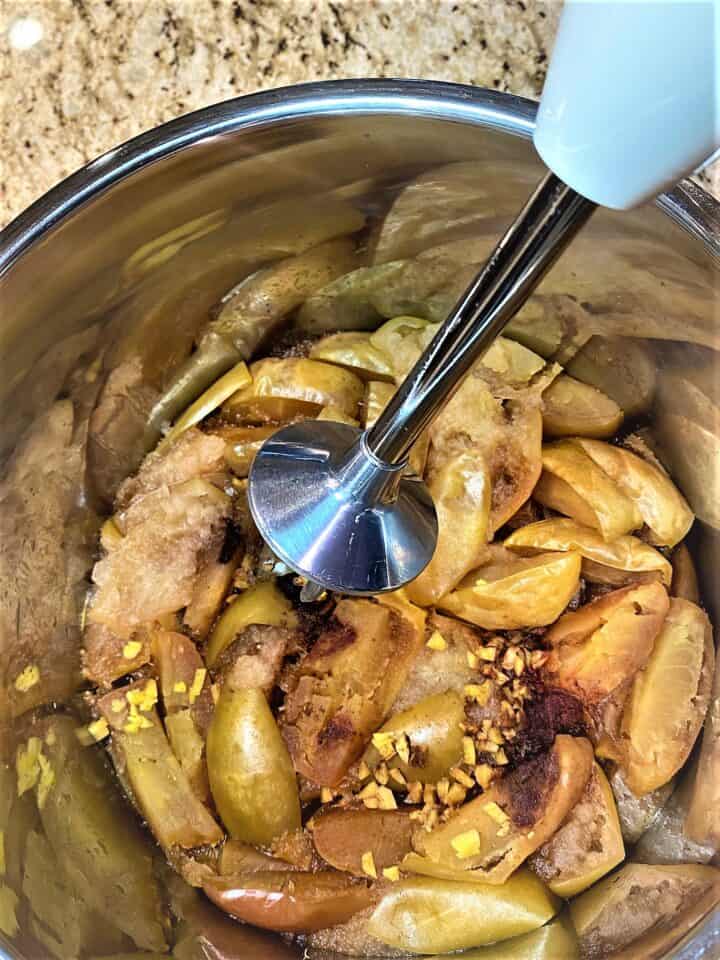 Select the Saute button and press again to set to the lowest sauté temperature. Press the + or - button to set the time for 30 minutes. Choose the lowest heat setting because the puréed apple mixture tends to pop and crackle at higher heat.
Simmer, reducing and thickening the puréed apple mixture.
Start checking the butter at 10 minutes. It should coat the back of a spoon and the spoon should leave a trail when it is thick enough.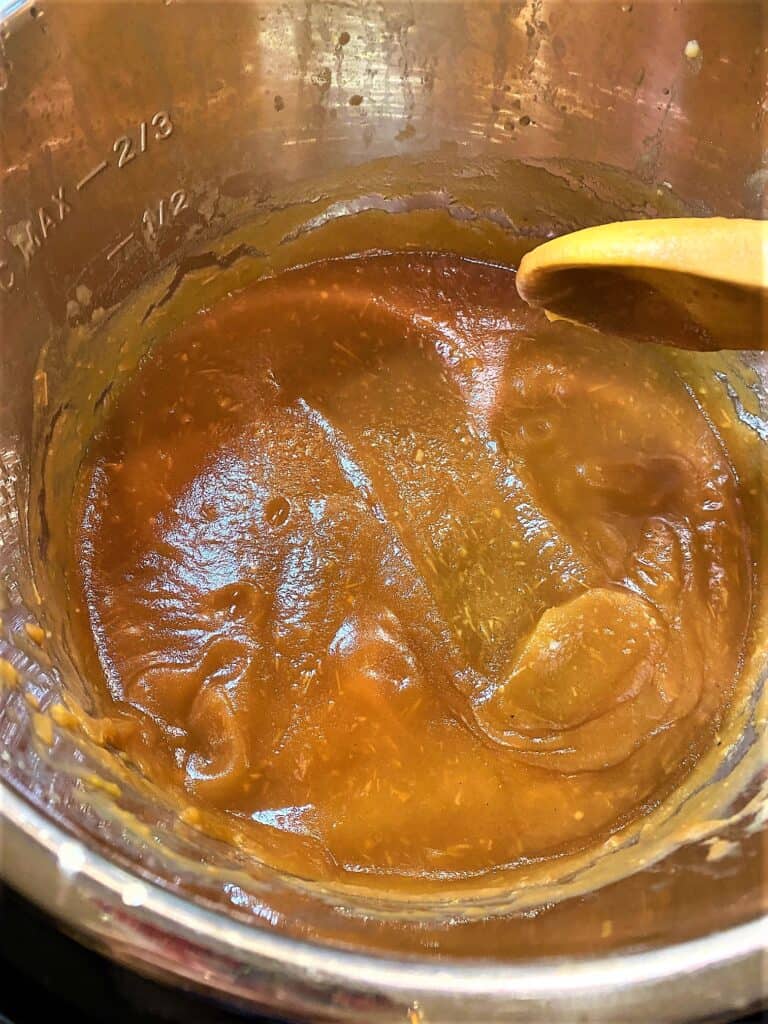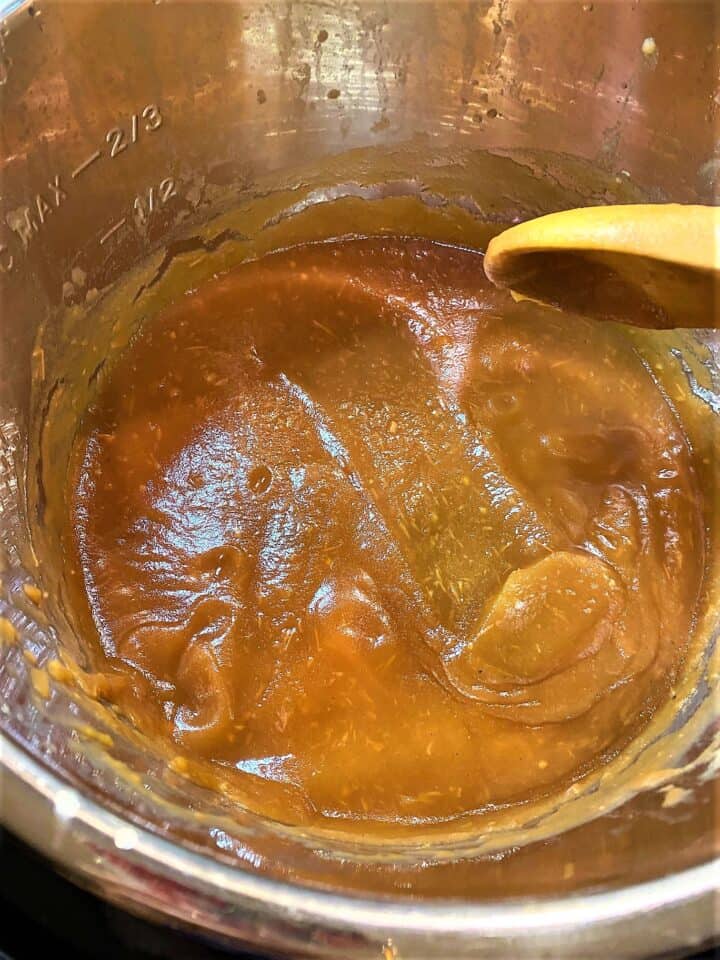 (It will thicken even more as it cools.)
Transfer into prepared jars/containers with a canning funnel. Leave at least an inch of headspace at the top of the jar. The headspace is especially important for freezing and canning.
How to store
I prefer glass or silicone storage containers. If you use glass jars, it's important to replace the lids (and rings if they have them) with new ones every time you use a canning technique to preserve food.
Refrigerated: Unopened apple butter is likely to stay fresh in the fridge for at least two weeks to a month. Due to the high acidity, it may even last three months before it starts to spoil or taste bad.
After opening, try to use it within two weeks.
Freezer: Expect apple butter to keep for at least three months and possibly up to six depending on the freezer.
Canned apple butter: Store it for up to a year in the pantry. Once opened, it should be refrigerated and used within two weeks.
Is home canning difficult?
Not really, but it can be tricky because timing is important. Your jars and lids need to be sterile and hot. And your butter needs to be hot, too.
If you don't have time to can when you make the butter, you can reheat it later when you sterilize your containers.
You can find detailed information on how to use your Instant Pot for either steam or water bath canning on the freida loves bread website.
I'll also give you some canning directions in the recipe card.
I have only used water bath canning techniques and glass jars.
Apple choices
Texture: Softer apples may cook down more quickly. These are varieties like Cortland, Jonathan or Jonagold, McIntosh.
Taste: You can certainly include the crisp varieties you enjoy eating. Consider Honeycrisp, Fuji, Pink Lady, Envy, Jazz, Red Delicious, and any others you like to eat out of hand.
It's nice to include sourish apples, such as Granny Smith and other greenies, to give the butter a little zing.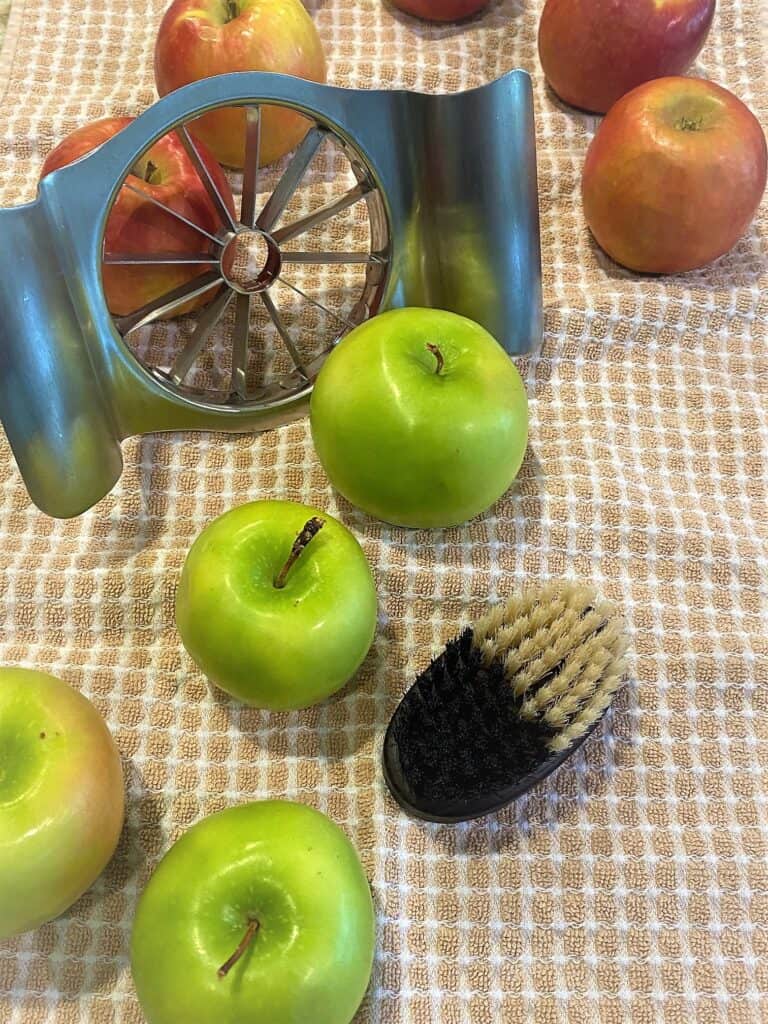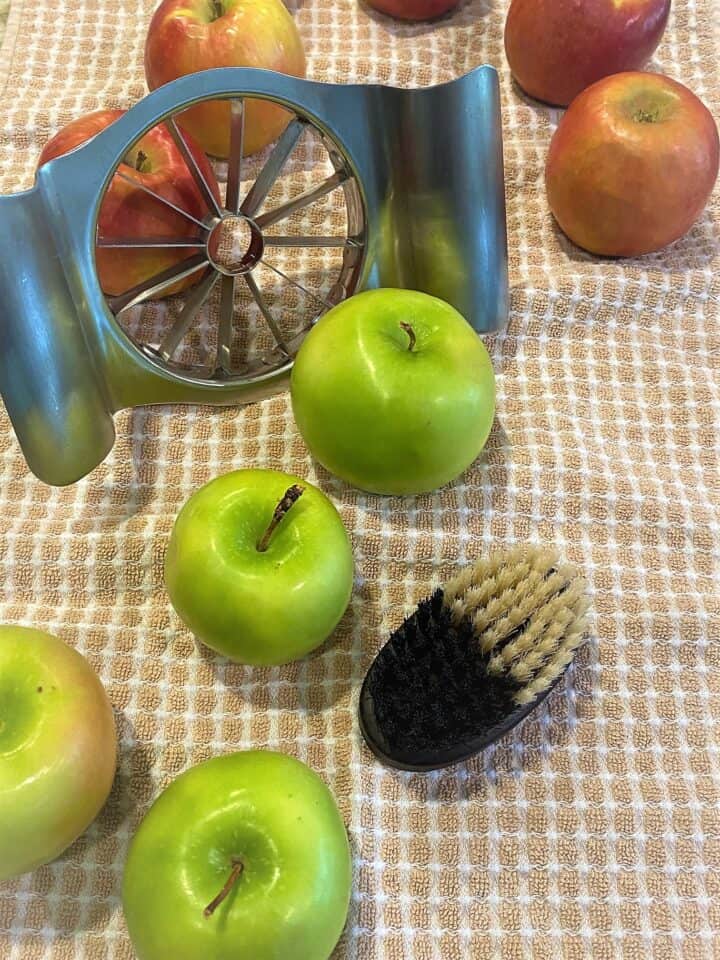 In the late fall, so many different types of apples are available in grocery stores. But, the best apples for apple butter are ones you may have gotten from friends with trees or from your own trees.
Apple butter is a great way to transform an abundance of homegrown apples into a delightful homemade conserve! Give it to friends and enjoy it through the year!
Ways to eat apple butter
Apple butter is surprisingly versatile. Serve it as a spread, topping, or saucy sidekick.
Spread: Slather it on toast, biscuits, graham crackers, and scones. Rice cakes and popcorn cakes are gluten-free bases for apple butter!
It will take your grilled cheese sandwich up a notch.
Topping: Try it with scoops of vanilla or butter pecan frozen desserts. Spoon it over plain yogurt or cottage cheese. Chopped nuts are optional!
Sauce: It makes a sweet addition to charcuterie and cheese boards. Or, serve it alongside cranberry sauce with your holiday ham or turkey.
Apple Butter Nutrition
🎁 This is a good-for-you holiday gift. Although it's "butter" and has some caramel flavors, it's also fruit. Unlike butter made from dairy or other milk, it has no fat of any kind, just lots of flavor!
It's also vegan and gluten-free, so anyone avoiding dairy or wheat can enjoy the warm-spiced spread.
It offers bountiful nutrition, particularly in the form of fiber, quercetin, and ginger.
Quercetin: A flavonoid antioxidant abundant in apple skins, it has a multitude of health perks. It boosts your immune system and fights off respiratory viruses. Quercetin also benefits vascular health.
For more info on quercetin, read how to "Anti-up your health with quercetin."
Fiber: Apple butter offers soluble fiber as pectin and insoluble fiber in the skins. Both kinds do a body good. Soluble fiber helps lower your cholesterol, and insoluble fiber helps with bowel regularity.
Ginger: The root's soothing digestive benefits are well known. Plus, ginger has many other health perks, such as boosting your brain power, lowering cholesterol, and fighting infection.
---
If you like apple butter, try my East Asian Pear Butter. Either butter would taste terrific on Earl Grey Scones!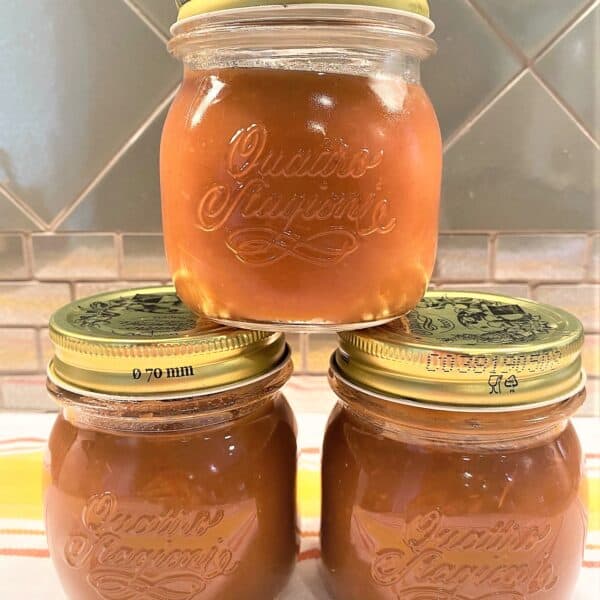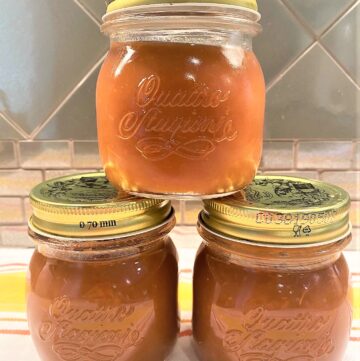 Instant Pot Apple Butter
Intense and velvety fruit spread for toast, biscuits, scones, and charcuterie. You can also serve it with roasted birds and cured meats.
Equipment
apple corer, optional

8-ounce jars with lids
Ingredients
5

pounds

apples,

mix of cooking and eating apples

6

Tablespoons

brown Truvia,

or white Truvia

3

Tablespoons

dark brown sugar,

can use coconut or other sugar

2

Tablespoons

fresh ginger,

minced or use 1½ Tablespoons grated

1

teaspoon

cinnamon

¼

teaspoon

allspice

⅛

teaspoon

cloves

3

ounces

water

2

Tablespoons

lemon juice

1

teaspoon

vanilla
Instructions
Wash apples thoroughly, scrubbing peel with a vegetable brush.

Core apples using an apple corer, leaving the peel on the apples. Check to be sure there are no seeds or fibrous pieces of the core.

(You can also use a knife to remove the core and cut the apples into 6 to 8 wedges, depending on the size of the apples.)

Place apples in the liner of an Instant Pot and add the remaining ingredients.

Seal the vent and set the Instant Pot for 15 minutes at high pressure. It will take several minutes to reach pressure.

When the cooking cycle is finished, let the pressure release naturally for 20 minutes (by keeping the vent sealed) and then open the vent to let out the remaining steam.

With an immersion blender, purée the apple mixture until smooth.

Press the Saute button twice to select the lowest temperature. Set for 30 minutes (the default time setting). Simmer 10 minutes and check the thickness of the apple butter.

If it coats the back of a spoon and the spoon leaves a trail in the butter, it is done.

If necessary, simmer for another 10 to 20 minutes, check the thickness often. Keep simmering until it reaches desired thickness.

Bear in mind that the apple butter with get slightly thicker as it cools.

With a large ladle, transfer apple butter to a pitcher or large measuring cup. Pour the butter into the jars through a canning funnel, leaving about an inch of headroom at the top. Seal jars with lids (and rings, if using).

Refrigerate or freeze when butter cools to room temperature. If canning, process hot apple butter right away.
Slow-cooker instructions
After preparing apples, combine all ingredients except water in the liner of a slow cooker. Or use the slow cook setting on the Instant Pot.

Cook on high for 6 hours or low for 8 hours.

Purée softened apple mixture with an immersion blender or transfer to a blender container and purée.

Return to slow cooker and cook on high with the lid partially open. (You can prop it open with a chopstick.)

Check the texture after an hour. If it isn't thick enough, keep cooking on high until the texture is better.

When the butter is finished, it will be thick and dark and coat the back of a spoon.

Follow above instructions for transferring to containers. Or, use the instructions below for canning the butter.
Canning instructions
Wash jars with hot, soapy water and sterilize by placing them in a boiling water bath for 10 minutes. Or run them through a short cycle on the dishwasher. They must stay warm before being filled.

Place a rack in the bottom of a large stock pot or Dutch oven with a tight fitting lid. Fill with water and bring it to a boil.

Remove hot jars and lids from the dishwasher or boiling water using tongs. Fill with hot butter. Screw lids (and rings) on tight.

Place the jars on top of the rack in the Dutch Oven/stock pot full of boiling water. (If they are placed directly on the bottom of the pot, they will break.) Put the lid on and boil 10 minutes for 8-ounce and smaller jars.

Remove from boiling water and let cool. You should hear the lids make a popping sound within 24 hours.

For more information on water bath canning, consult 10 Steps to Water Bath Canning on the Eating Well website.
Notes
Unopened apple butter that has not been canned will keep in the refrigerator for two weeks to three months. After opening, it should be eaten within a couple of weeks.
Canned apple butter can be stored in the pantry for about a year. Refrigerate after opening and use within two weeks.
If you prefer super smooth apple butter, use a fine mesh strainer after you purée the apples to remove little bits of skin or ginger. (If your blender is very powerful, you may not find this necessary.)
(Grating the ginger is best for smoother butter.)
Nutrition
Serving:
1
jar
Calories:
232
kcal
Carbohydrates:
62.8
g
Protein:
1
g
Fat:
0.7
g
Saturated Fat:
0.2
g
Polyunsaturated Fat:
0.2
g
Monounsaturated Fat:
0.1
g
Trans Fat:
0.1
g
Sodium:
54.9
mg
Fiber:
9.3
g
Sugar:
47.3
g
COPYRIGHT © 2021 FOOD HALL BY JANI