Carrots and parsnips roasted with honey are tasty, pretty, and healthy.
Simple to prepare, they make a colorful, lightly sweet accompaniment to your main course.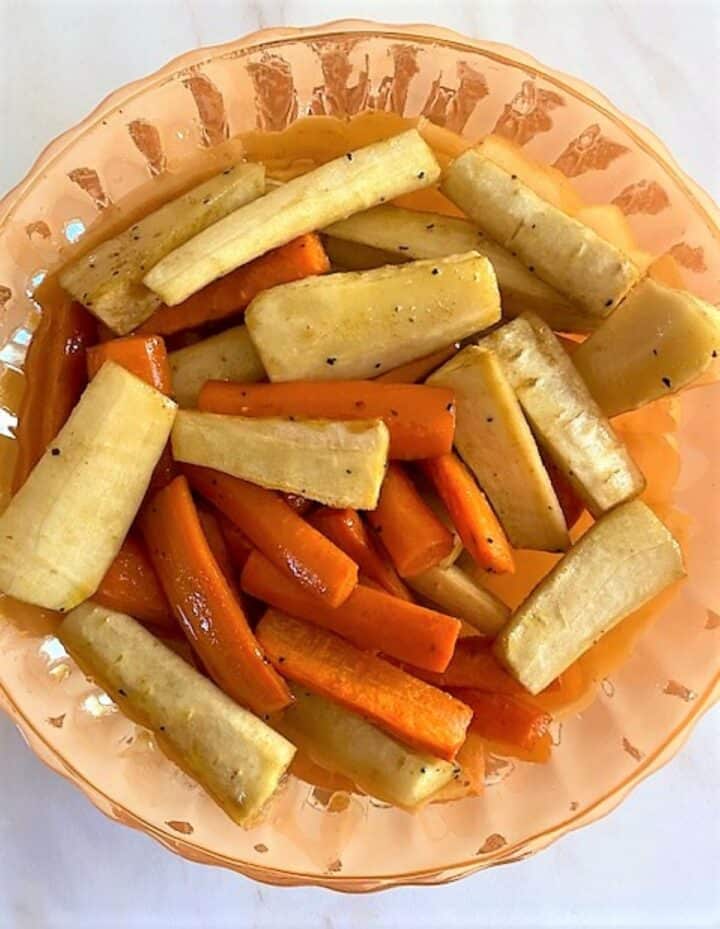 As an Amazon affiliate, I earn from purchases made through links on this blog at no additional cost to you. Thank you!
Ingredients:
Carrots
Parsnips
Extra-virgin olive oil
Honey
Sherry vinegar
Smoked paprika
Ground cumin
Kosher salt
Freshly ground black pepper
Coriander
Ginger
Cayenne pepper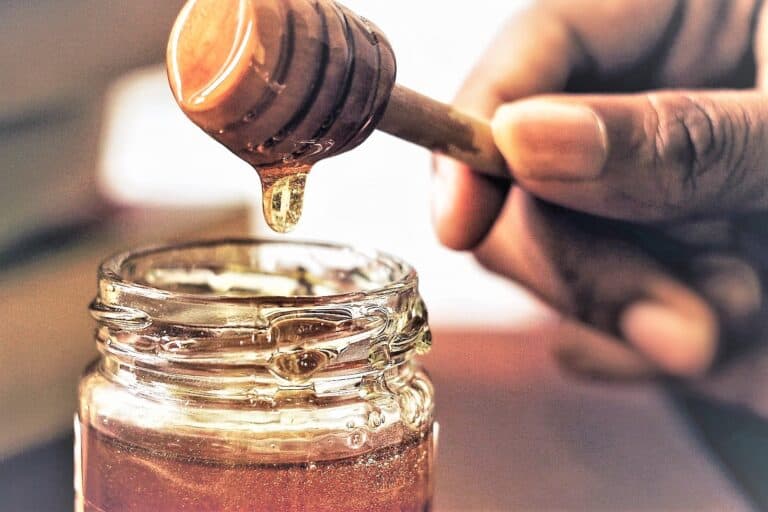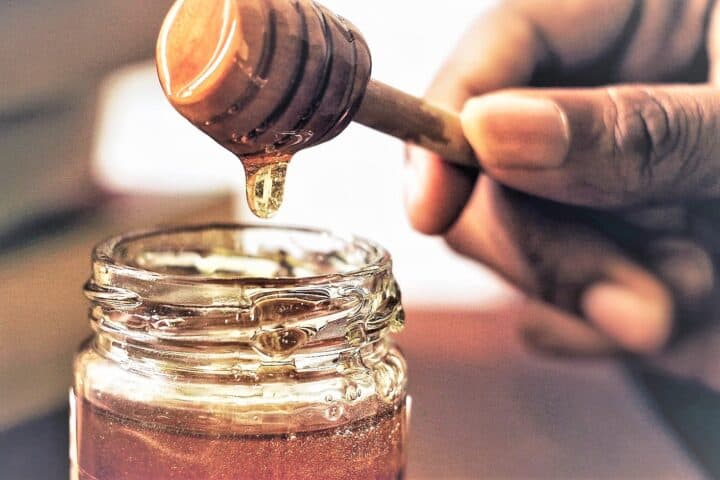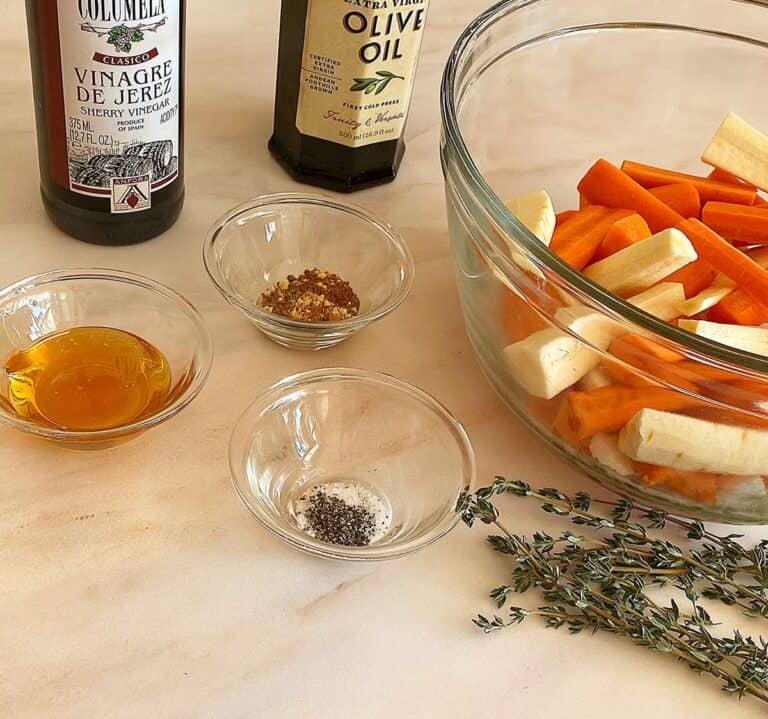 How to make
Wash your carrots and parsnips and cut them into pieces of similar size.
If your roots are large, cut them in half horizontally and then vertically. Lay the flat sides on the cutting board and halve them again to make logs.
Place the prepped pieces in a large bowl and add the rest of the ingredients. Toss the roots to coat thoroughly with spices, olive oil, honey, and vinegar.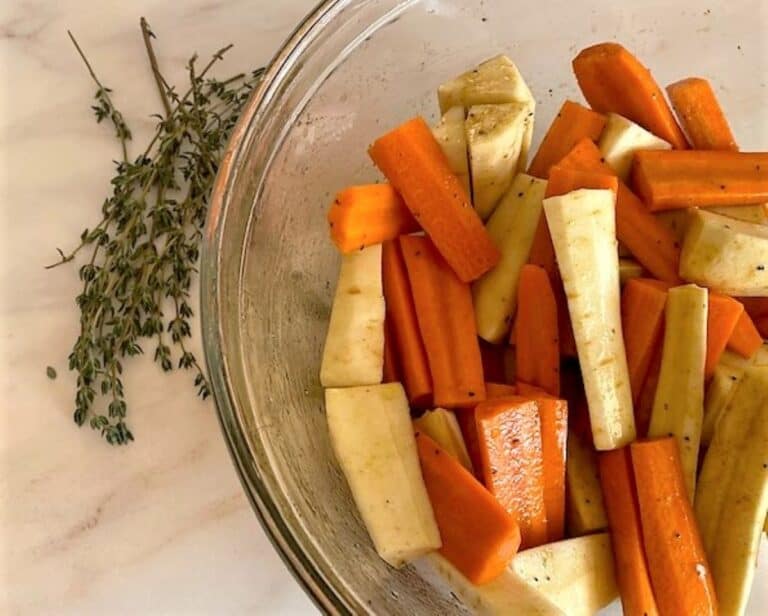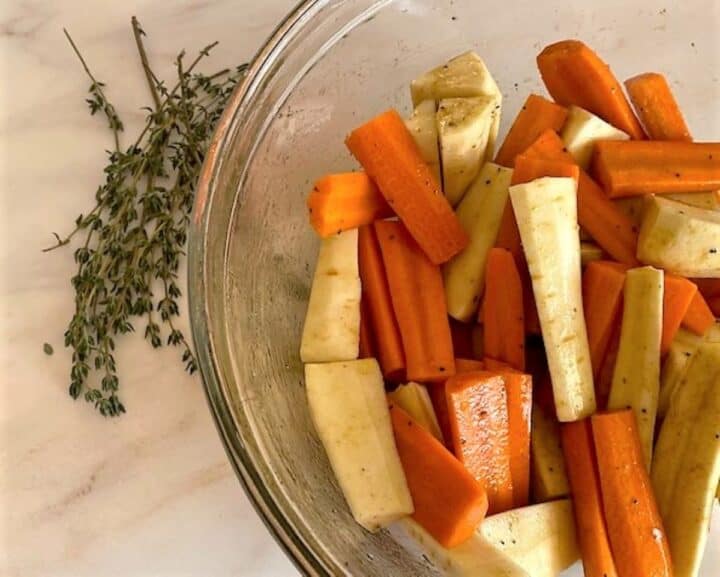 (Note: You can refrigerate the carrots and parsnips at this point to cook later in the day.)
Line a baking sheet or pan with parchment or extra-wide heavy-duty foil and pour the roots onto it. Spread evenly.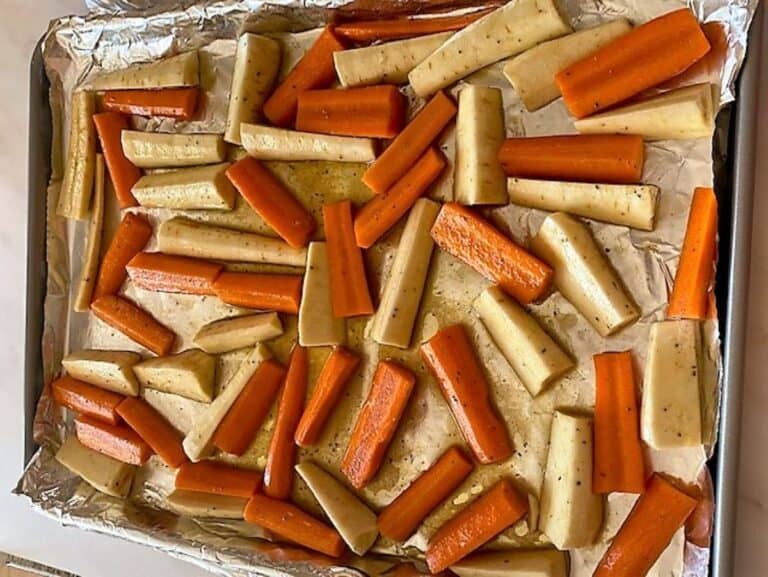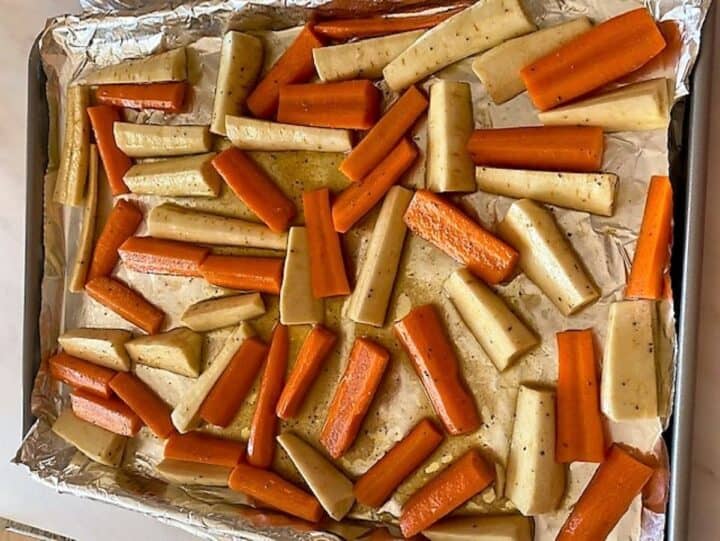 Roast for 15 minutes and remove the baking sheet from the oven. Stir the carrots and parsnips and return to the oven to bake for an additional 15 minutes.
Remove from oven and let cool slightly before pouring into a serving dish.
How to select and store carrots and parsnips
Look for firm, medium-sized parsnips with evenly colored skin and plenty of flesh. Avoid ones that have long, thin roots.
The best carrots will appear fresh, plump, and firm with a bright color. A greenish tint near the top signals exposure to sunlight and loss of flavor. If they still have leafy tops, make sure they are bright green and perky.
Also, avoid soft, flabby vegetables and any that appear knobby, scarred, or split.
The peak month for parsnips is January, while good carrots are available year-round although their peak season is in the fall.
Cut the tops off carrots before storing, so they don't lose moisture. Parsnips keep for a couple of months in the refrigerator; carrots will stay fresh for about two weeks.
Parsnip

nutrition
Although they have a ghostly appearance, parsnips are heavy on health benefits. They are rich in vitamins C, K, and folate.
Vitamin C promotes a well-functioning immune system, skin health, and connective tissue growth. It provides antioxidant protection against free radicals that damage cells and genetic material. Many studies have shown that it is anti-carcinogenic, protecting against certain cancers.
(For more information on the health benefits of vitamin C, read my post on vitamin C and college students.)
Parsnips have a wealth of minerals, with decent amounts of calcium, magnesium, and phosphorous and small amounts of iron and zinc. Eating parsnips helps you meet the Daily Recommended Intakes (DRIs) for potassium, selenium, copper, and manganese.
Potassium is a mineral that can help with blood pressure control. Many people do not manage to consume the DRI of 4700 mg.
Combining parsnips with carrots, another vegetable with ample potassium (as in the featured recipe below), will help you reach this generous DRI.
In addition, parsnips contain more manganese than carrots, a mineral that helps create superoxide dismutase (SOD), an important antioxidant enzyme that helps protect your body from damaging free radicals.
Nutritional aspects of cooked parsnips:

100 g serving (¾ cup) 🌿

Energy

74 kcal*

Fat

0.26 g

Carbohydrates

17.56 g

Sugars

5 g

Fibe

r

3.7 g

Protein

1.3 g

Retinol

10 mcg

Vitamin A

10 mcg RAE (retinoic acid equivalents)

Beta-carotene

5 ug

Vitamin B6

0.106 mg

Folate
56 mcg DFE (dietary folate equivalent)

Choline

26.4 mg

Vit C

12.6 mg

Vitamin K

3.3 mcg

Calcium

36 mg

Magnesium

28 mg

Manganese

0.56 mg

Iron

0.59 mg

Copper

0.134 mg

Selenium

1.7 mg

Potassium

356 mg
Sources: Parsnip Nutrition Facts and Health Benefits and the USDA.
*Note: Calorie Estimates for parsnips vary widely because starch and sugar content can differ depending on the age of the root.
🥕
Carrot Nutrition
The color of a bright orange carrot is a tell, a clue to its nutrition. The orange pigment comes from beta-carotene, a form of vitamin A that has health benefits against cancer and other conditions.
Due to their high vitamin A content, carrots are great for eye health (see my post on vegetables that are good for the eyes) and they may protect against skin, lung, and mouth cancers.
Since they come from the same botanical family, it makes sense that carrots are rich in many of the same nutrients as parsnips, i.e., vitamins C and K and potassium and manganese.
| | |
| --- | --- |
| Nutritional aspects of cooked carrots | 100 g serving 🌿 |
| Energy | 35 kcal |
| Fat | 0.24 g |
| Carbohydrates | 9. 6 g |
| Sugars | 3.5 g |
| Fiber | 2.8 g |
| Protein | 0.93 g |
| Vitamin C | 5.9 mg |
| Vitamin A | 16706 IU |
| Beta-carotene | 8332 mcg |
| Vitamin B6 | 0.153 mg |
| Folate | 14 mcg |
| Vitamin K | 13.7 mcg |
| Calcium | 30 mg |
| Magnesium | 10 mg |
| Manganese | 0.155 mg |
| Iron | 0.34 mg |
| Copper | 0.017 mg |
| Zinc | 0.20 mg |
| Potassium | 235 mg |
Parsnips v. carrots?
Despite the mineral and vitamin edge that parsnips have over carrots, both roots offer top-notch health benefits.
They possess phytonutrients known as poly-acetylene antioxidants, including falcarinol, a natural pesticide with anti-inflammatory, antifungal, and anticarcinogenic properties.
Parsnips and carrots are anti-inflammatory, antifungal, and anticarcinogenic and offer protection from colon cancer and acute lymphoblastic leukemia (ALL). For enhancing health, you can't go wrong with either root.
Difficulties with parsnips and carrots
Allergies: people are sensitive to the proteins found in these roots and may experience itching and swelling of the lips, mouth, and throat or even hives and skin lesions.
Severe reactions, known as Oral Allergy Syndrome (OAS), can cause difficulty breathing. Avoid carrots and parsnips if you have a birch pollen allergy triggered by foods like walnuts, figs, and parsley.
Digestion

:

If high-fiber foods pose problems for your GI tract, be careful with carrots and especially, parsnips. While the high fiber content in parsnips may help signal fullness, it may also cause bloating and gas.
(Fiber's benefits go beyond helping to fill a stomach. Read more about fiber here.)
Cooking tips
Parsnips are valued for their higher starch content and can add body to stews and soups. Sometimes, they are removed from the dish after cooking because they tend to become soft.
Fresh parsnips can be grated as an addition to slaws. In cooked dishes, they can sub for sweet or white potatoes and cauliflower.
Carrots are one of my favorite vegetables to cook or eat fresh. (My palms are actually a little orange because I eat so many carrots and vegetables that contain beta-carotene.)
Like parsnips, raw carrots are a flavorful addition to slaws, and they are crunchy snacks when sliced.
Carrot sticks are more toothsome if you soak them in water before eating. (Don't let the carrot-soaking water go to waste. It makes a refreshing beverage or a nutritious sub for water or broth in soups and braises.
The flavor of carrots is terrific in cakes, muffins, purees, custards, soufflés, soups, and more! The lexicon of carrot cooking is practically infinite! And, don't forget that the greens can be made into pesto and added to salads although they are slightly bitter.
(If you are a fan of raw, grated carrots, try my carrot cake salad!)
---
The recipe below features Moroccan-Spanish spicing, but you could make it more traditional by replacing the dry spices with fresh or dried thyme. You will still need to season with salt and freshly ground black pepper.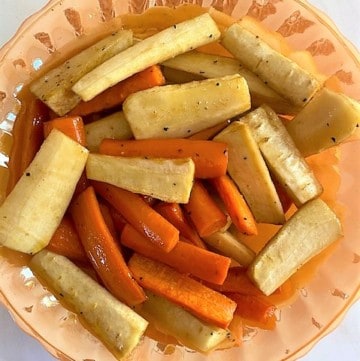 Honey-roasted carrots and parsnips
A healthy vegetable side for a small gathering.
Ingredients
1

pound

carrots

1

pound

parsnips

3

Tablespoons

olive oil

extra virgin

2

Tablespoons

honey

2

teaspoons

Sherry vinegar

½

teaspoon

smoked paprika

½

teaspoon

ground cumin

¾

teaspoon

salt

½

teaspoon

freshly ground black pepper

¼

teaspoon

coriander

¼

teaspoon

ginger

pinch

cayenne pepper
Instructions
Wash the carrots and parsnips, using a vegetable brush to scrub. Peel them if they look scarred.

Heat the oven to 375 F. Choose the roast setting if your oven has one. If not, select the bake setting.

Peel the carrots and parsnips and trim the ends. Cut crosswise into 4 pieces if they are long and large. If small and thin, cut crosswise into 2 or 3 pieces. Halve the lengths vertically forming similar size pieces.

Place the carrot and parsnip pieces in a bowl and add the seasonings. Stir the vegetables to coat evenly with olive oil, honey, vinegar, and spices.

(For more flavor, vegetables can be refrigerated and marinated at this point until you are ready to cook.)

Line a rimmed baking sheet with parchment or with extra-wide foil.

Pour seasoned vegetable mixture onto the baking sheet and spread them out so they are evenly distributed.

Roast for 15 minutes and then, remove from oven and give them a stir.

Return the pan to the oven and roast for an additional 15 minutes. They should be slightly soft, but not mushy.

If they haven't reached the desired degree of softness, return them to the oven for an additional 5-10 minutes.

Remove the foil or parchment sheet from the pan, corraling the vegetables and their cooking liquid inside.

Pour the vegetables with seasonings into a dish and serve.
Nutrition
Calories:
172
kcal
Carbohydrates:
27
g
Protein:
2
g
Fat:
7
g
Saturated Fat:
1
g
Polyunsaturated Fat:
1
g
Monounsaturated Fat:
5
g
Sodium:
351
mg
Potassium:
537
mg
Fiber:
6
g
Sugar:
13
g
Vitamin A:
12714
IU
Vitamin C:
17
mg
Calcium:
55
mg
Iron:
1
mg
Copyright © 2020 Jani H. Leuschel