This carrot raisin salad goes in a different direction. It has sweet pineapple plus toasted walnuts to go with grated raw carrots and raisins–all wrapped in a creamy dressing with cinnamon spicing.
Enjoy it on a base of crisp red leaf lettuce, or it's equally delicious without the greens.
It plays well with your favorite holiday dishes and is an excellent side for barbecues and picnics–kid-friendly, too!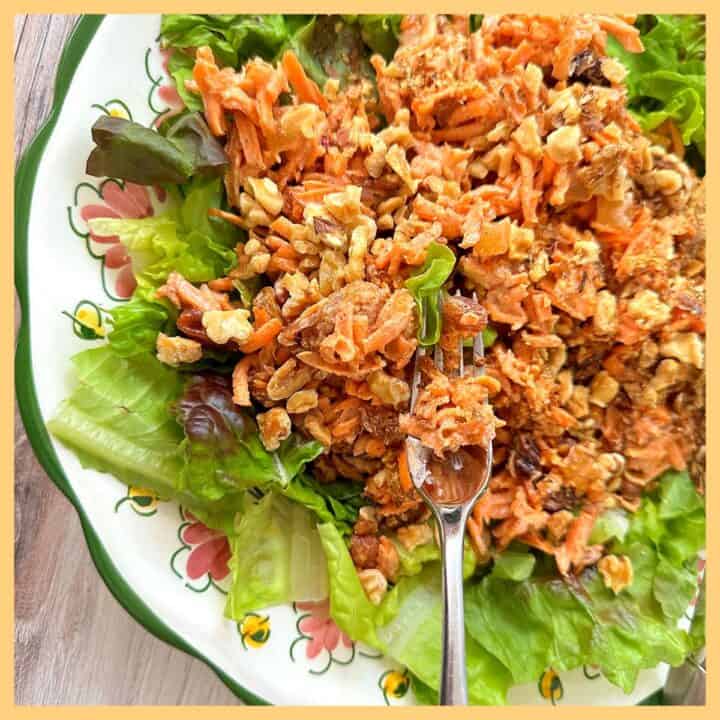 I earn from qualifying purchases at no extra cost to you as part of the Amazon Affiliate program.
Ingredients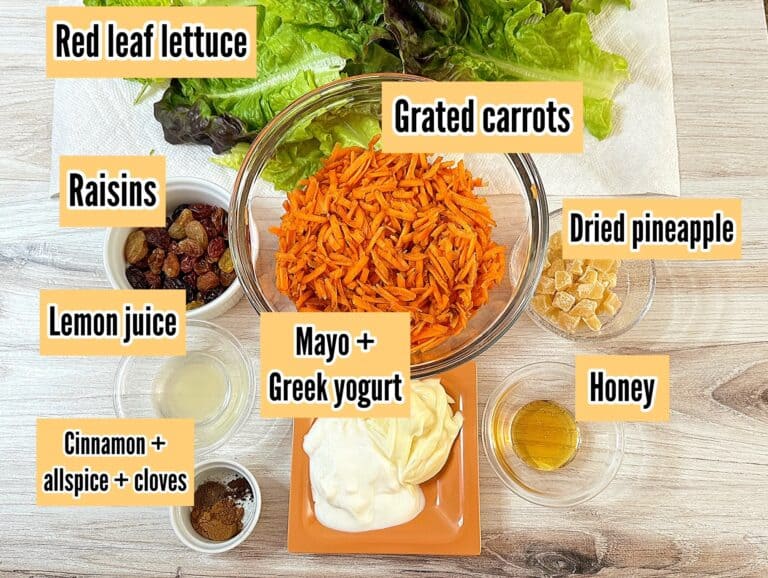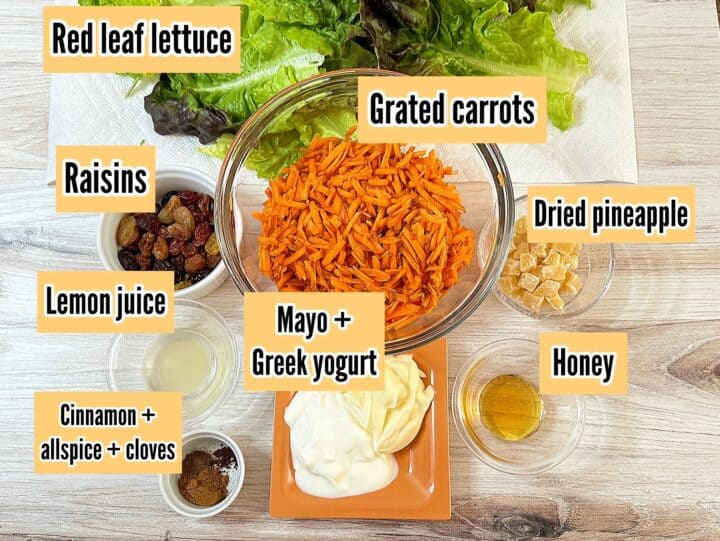 For the salad:
Grated carrots
Dried pineapple bits (freeze-dried or low-sugar)
Golden raisins
Red leaf lettuce torn into pieces (about 4 cups)
Toasted walnut pieces
For the dressing:
Greek yogurt, whole milk or low-fat
Mayonnaise
Lemon juice
Honey
Cinnamon
Allspice
Pinch cloves or star anise (optional)
Carrots: Use the large holes on a box grater to shred the carrots or a food processor if you're making a large amount.
You don't have to use a peeler if you give them a scrub with a vegetable brush when washing. The skin has more phytonutrients, concentrated vitamin C, and niacin, but the orange color will not be as vivid.
🍍 Pineapple: The recipe calls for freeze-dried or dried low-sugar pineapple to keep the dressing from turning watery. This is only important if you're going to make the salad ahead or keep it in the fridge for a couple of days.
Go ahead and use canned pineapple bits (in water) or fresh pineapple if you'd rather. Just don't wait too long to eat the salad!
Raisins: Use your favorite type. Golden is sweeter. You can find a mix of varieties and sizes in some grocery stores. Red, golden, and dark raisins are shown in this salad.
Red leaf lettuce: It looks lovely and has a nice mild taste that complements the other ingredients. Butter lettuce, little gems, or even romaine are other good choices. Avoid dark, strongly flavored greens like arugula or kale.
Greek yogurt: Whole milk or low-fat is best for consistency and flavor. It adds some protein and calcium.
Mayonnaise: You can use low-fat or reduce the amount and use more yogurt. Mayo gives a nice texture to the dressing and a rounder flavor. It's high in calories but not in saturated fat. So, feel free to use it occasionally if you like it!
🍋 Lemon juice: A bright citrus note is nice, especially if you're using mayo. Other tasty acids for this salad would be white balsamic vinegar or apple cider vinegar.
Honey: A touch of this natural sweetener mellows the salad.
Spices: Cinnamon and allspice make the salad appealing to many different age groups. Kids usually like these spices, and for adults, the spices say "holiday."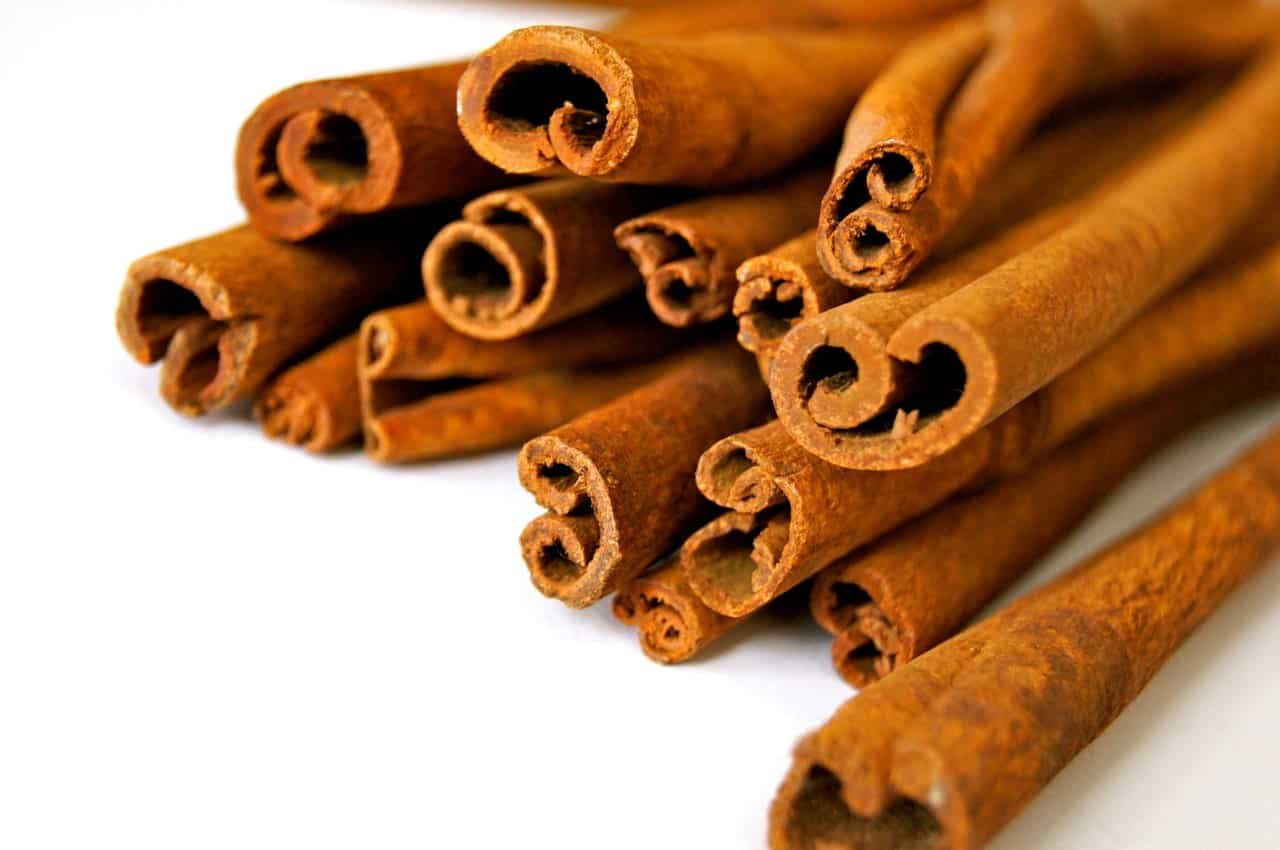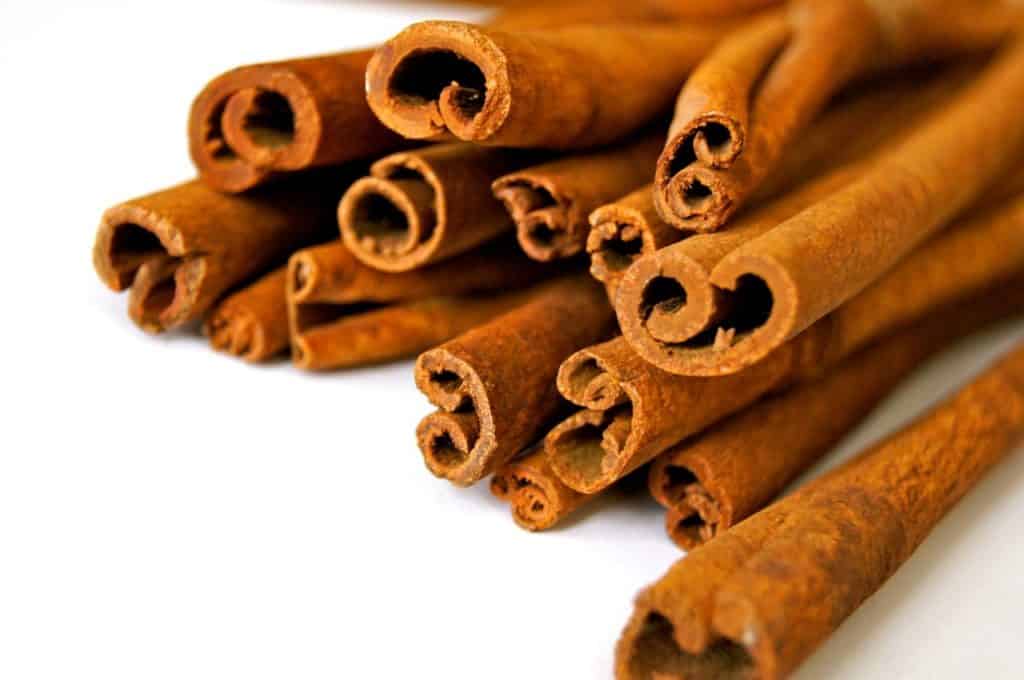 How to Make Carrot Pineapple Raisin Salad
Toss the carrots, pineapple, and raisins together in a medium-sized bowl.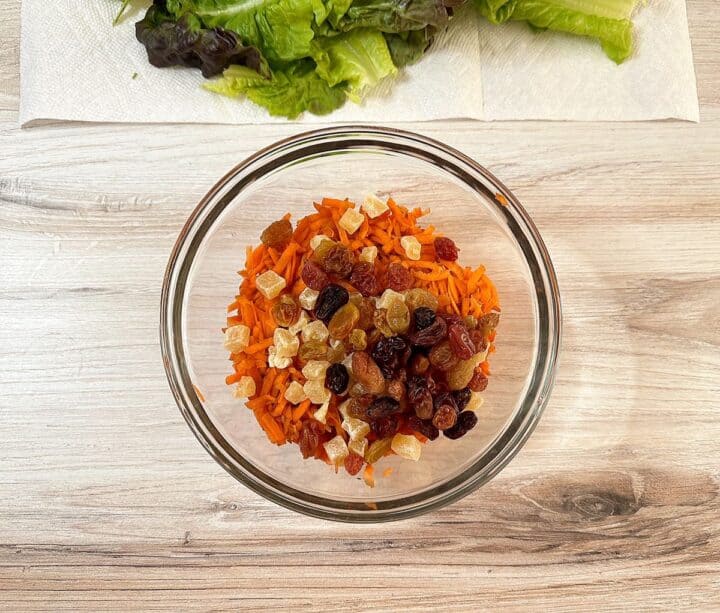 Make the dressing by whisking together the yogurt, mayonnaise, lemon juice, honey, and spices in a 1-cup glass measure. Or, combine ingredients in a jar and shake to emulsify.
(I love these jars for making small amounts of dressing!)
Pour the dressing over the carrot-pineapple mixture and stir to combine. Refrigerate for at least 30 minutes.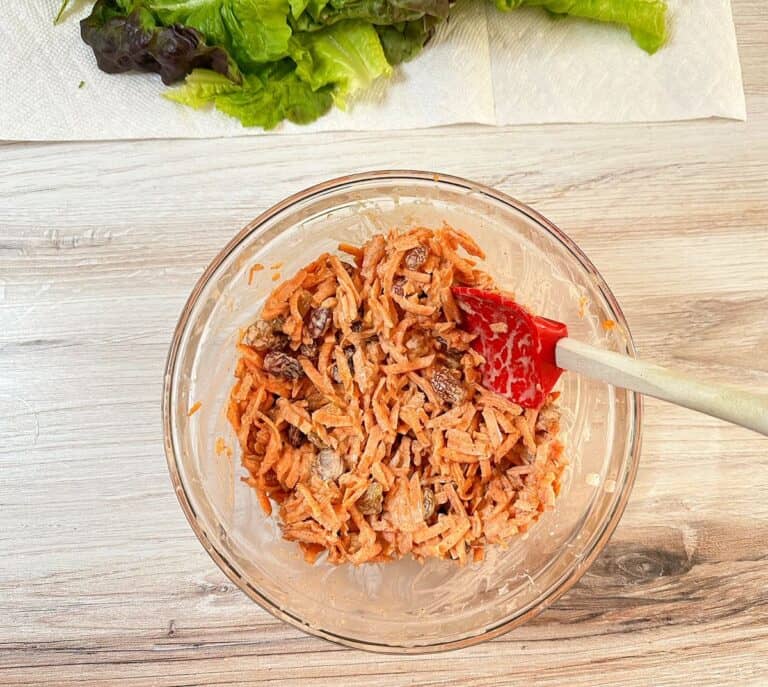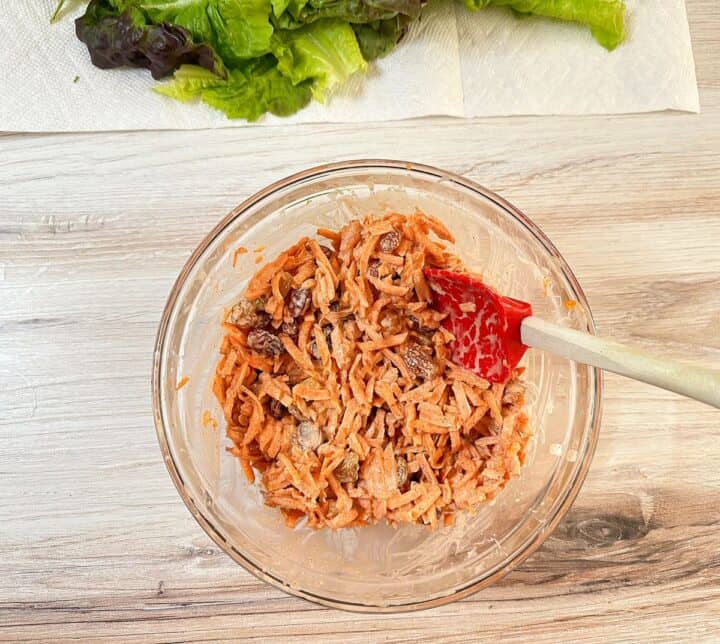 Line a platter with red leaf lettuce, and mound the carrot-pineapple-raisin salad on top of the greens. Sprinkle with toasted walnuts and serve.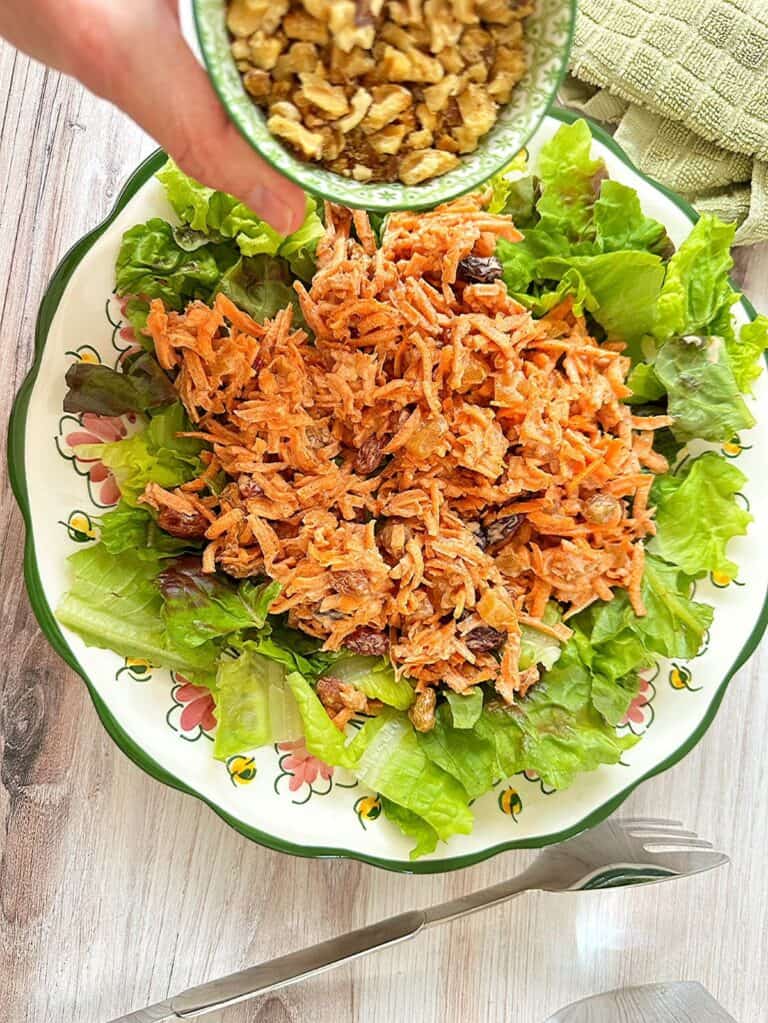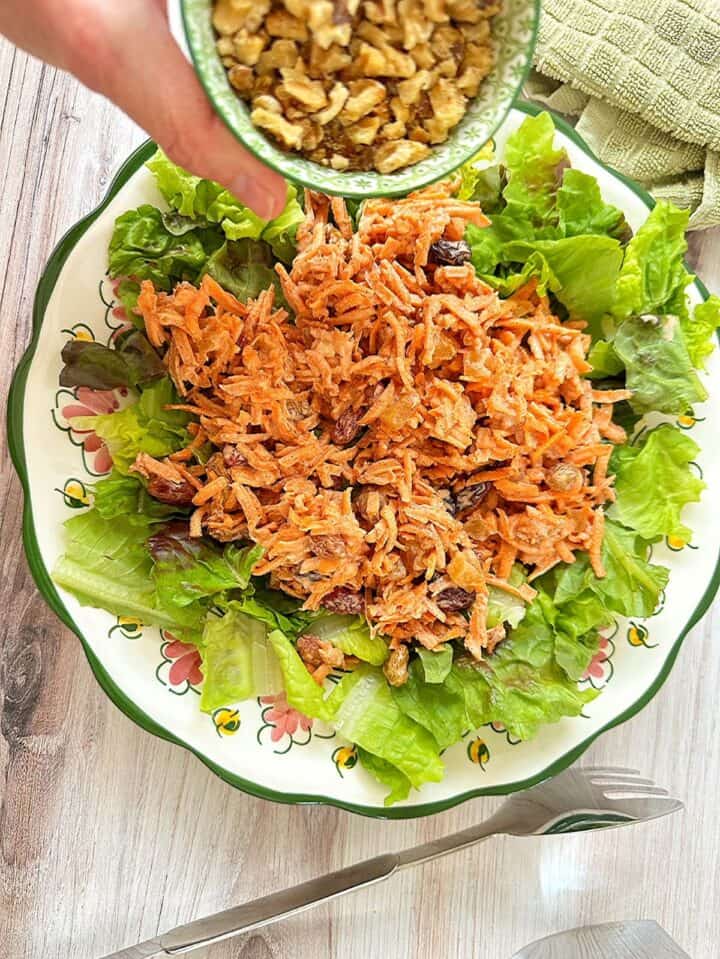 FAQs
Can I make the salad in advance?
It tastes best when made an hour or more ahead and up to a day before you plan to eat it. Before serving, stir to mix in any dressing at the bottom of the bowl. Then, place the carrot-fruit mixture on top of the lettuce (or not) and sprinkle with walnuts.
(Note: You might want to have the walnuts on the side if you're serving the salad to kids.)
How long will leftover salad keep?
The carrot-fruit mixture can be stored for up to three days. It may, however, become more watery. Just drain and toss before serving.
Can I use store-bought grated carrots?
Yes, they will speed up the prep. But beware, they are crunchier and less flavorful. They do not absorb the dressing as well as freshly grated.
I use the large-holed side of a box grater for shredding just a couple of carrots. If you're making a large amount, the grating accessory on a food processor is quicker.
Here is my favorite food processor.
Can I use craisins instead of raisins?
Craisins are yummy but usually have added sugar to make them sweet. Look for the lower-sugar variety.
Of course, you could also increase the amount of pineapple bits and leave out the raisins completely!
Variations
Apple carrot salad: Add a half cup of thinly sliced, chopped apples to the carrot mixture instead of pineapple.
Nutty favorites: If you're not a walnut fan or don't have them on hand, use chopped pecans, sunflower seeds, pine nuts, chopped almonds, or even roasted pepitas (pumpkin seeds).
Dressing substitutions: Use apple cider or white balsamic vinegar instead of lemon juice. Try sour cream in place of either the mayo or yogurt (but not both). Sub maple syrup, agave, or sugar for the honey.
Fresh or canned pineapple: You can use either, but the salad holds up longer with dried pineapple. Especially with canned, the salad becomes watery.
💪🏽 Nutrition benefits and bonuses
Vitamin A and beta-carotene: The shredded carrots provide these important nutrients! (Click here for a delicious zucchini-carrot salad recipe rich in vitamin A.)
👁 In addition to good vision, vitamin A is important for proper growth and can assist with the formation of new bone tissue. So it's a key nutrient for teens who are laying down bone stores, as well as those with osteopenia or osteoporosis.
Healthy fats: The salad boasts an abundance of heart-healthy polyunsaturated and monounsaturated fats.
Other nutrition: In addition to antioxidants, and phytonutrients, the salad also provides some protein, calcium, and iron (mostly from the raisins).
It also has some fiber to nourish your immunity and keep your gut happy.
This sweet, creamy carrot salad is a flavor-rich option for low-sodium diets.
Sweet caution: If you use sweetened dried pineapple, it will add many grams of sugar to the final salad, so look for low-sugar or freeze-dried bits. You don't want to turn this into dessert!
But, with its rich dressing, Carrot Pineapple Raisin Salad is almost as scrumptious as carrot cake. (If you want an easy recipe for carrot cake, try this healthier option from the Fage yogurt folks.)
Dishes to enjoy with Carrot Pineapple Raisin Salad
These flavor-packed Grilled Umami Chicken Thighs would taste great alongside this salad. Add some plain brown rice to round out the meal.
It's also nice with the citrusy flavors in this sheet pan recipe, Lemon Chicken Traybake.
Or pair it with a juicy pork loin made quickly in the Instant Pot.
It would be terrific with a holiday ham or turkey and goes well with hamburgers, grilled portobellos, or veggie burgers. 🍔
Another way to serve it is on a salad plate with an assortment of cold salads like egg salad and maybe a kale Caesar!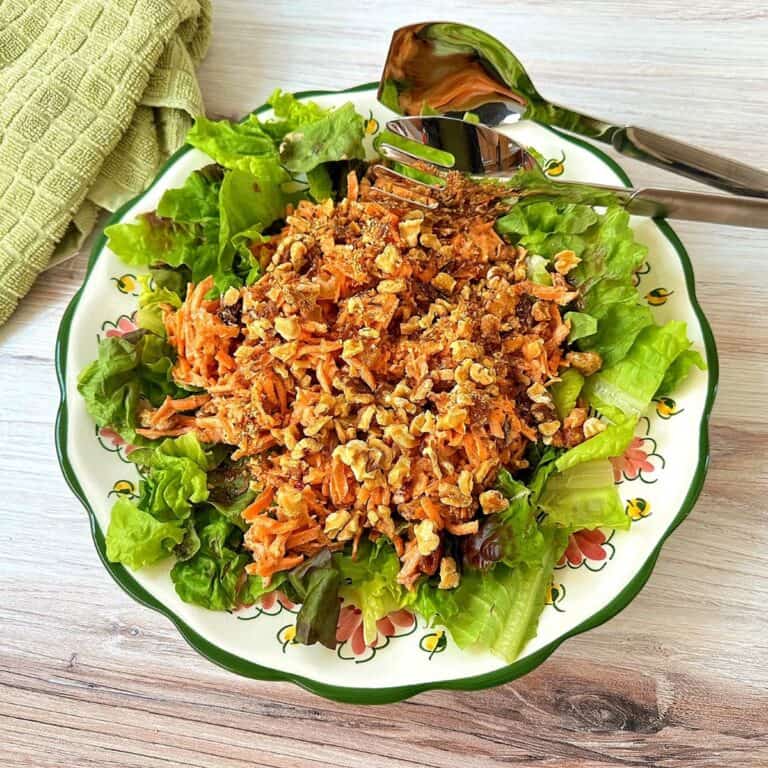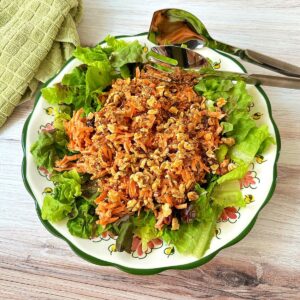 Carrot Pineapple Raisin Salad
Beautiful, lightly sweet side salad with dried fruit that is lovely for holidays, barbecues, and picnics
Ingredients
2

cups

grated carrots

¼

cup

dried pineapple bits

¼

cup

golden raisins

3

cups

red leaf lettuce,

torn

¼

cup

walnuts,

toasted pieces

For the dressing:

3

Tablespoons

Greek yogurt,

whole milk or low-fat

3

Tablespoons

mayonnaise

1

Tablespoon

lemon juice

1

teaspoon

honey

½

teaspoon

cinnamon

⅛

teaspoon

allspice

Pinch

cloves or star anise,

optional
Instructions
Wash hands thoroughly for 20 seconds before starting prep.

Combine grated carrots with pineapple bits and raisins.

Make the dressing and pour over the carrot mixture. Toss together. Refrigerate for an hour or more.

Line a platter or salad bowl with red leaf lettuce. Place the carrot pineapple raisin salad on top of the leaves. Sprinkle with toasted walnuts and serve.
Salad dressing
Combine the yogurt, mayonnaise, lemon juice, and honey in a small measuring cup or bowl with the spices. Whisk to emulsify all ingredients into a creamy dressing.

Or, place the ingredients in a jar and shake well.

Salad dressing may be made in advance.
Video
Notes
If you don't like the taste of mayonnaise, use more yogurt, or substitute sour cream.
You can use tidbits of fresh or canned pineapple if you can't find dried or freeze-dried. Warning: Canned pineapple can cause the dressing to become watery if storing the salad for a day or two.
This is not a problem if you eat all of it the day it's made! 😊
Nutrition
Serving:
0.6
cup
Calories:
218
kcal
Carbohydrates:
24
g
Protein:
4
g
Fat:
13
g
Saturated Fat:
2
g
Polyunsaturated Fat:
8
g
Monounsaturated Fat:
2
g
Trans Fat:
0.02
g
Cholesterol:
5
mg
Sodium:
128
mg
Potassium:
377
mg
Fiber:
3
g
Sugar:
16
g
Vitamin A:
12275
IU
Vitamin C:
6
mg
Calcium:
60
mg
Iron:
1
mg
---
Copyright © 2023 Jani H. Leuschel