Orange Pudding Cake with Star Anise is a nutritious, tempting dessert recipe that honors National Nutrition Month and its theme, Celebrate a World of Flavors.
The idea behind the theme is to eat, cook with, and enjoy tastes from different regions around the globe, saluting your own heritage and that of other cultures as part of a healthy lifestyle.
Every year in March, the Academy of Nutrition and Dietetics proclaims National Nutrition Month, shining a spotlight on making healthy choices when it comes to food and physical activity.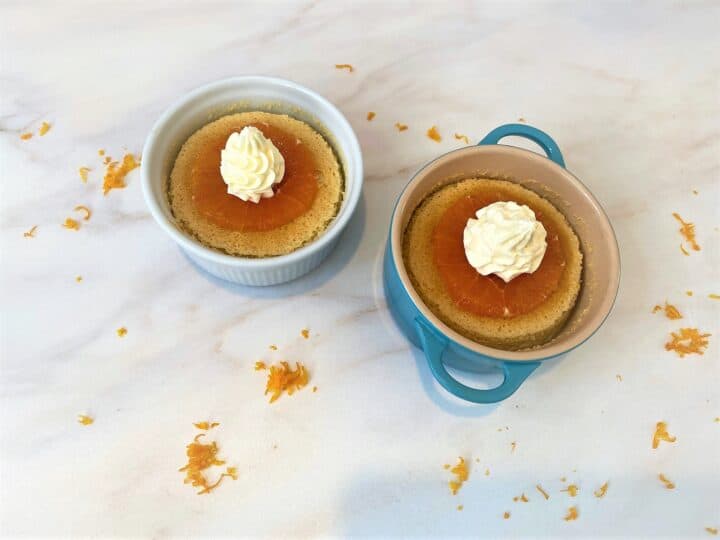 With ample nutrition and moderate calories, this orange pudding cake can be part of a healthy eating pattern. The subtle star anise flavor, used often in Chinese and Vietnamese dishes, elevates the dessert, making it deliciously different.
The dessert will remind you of souffle and of pudding. But the prep is easier than a souffle and the presentation is slightly more elegant than a pudding.
Ingredients and equipment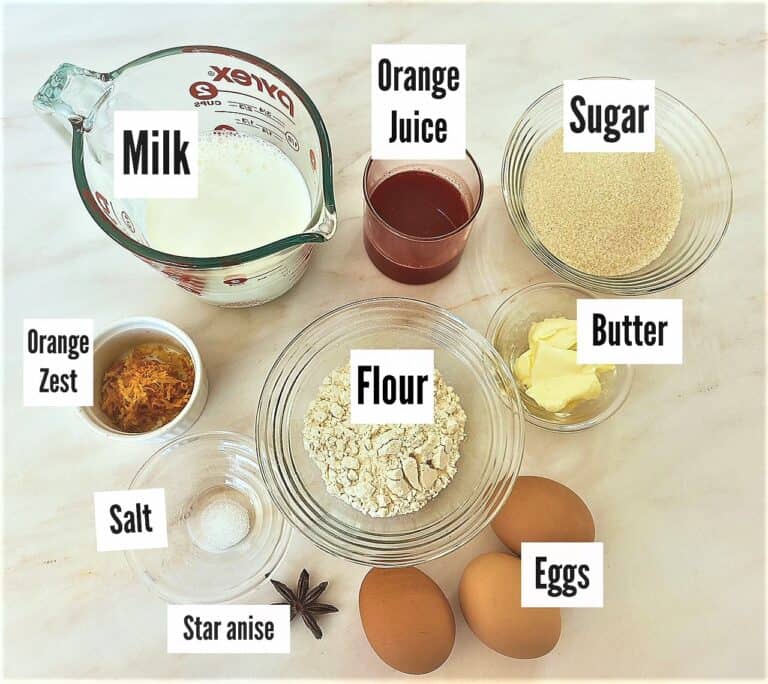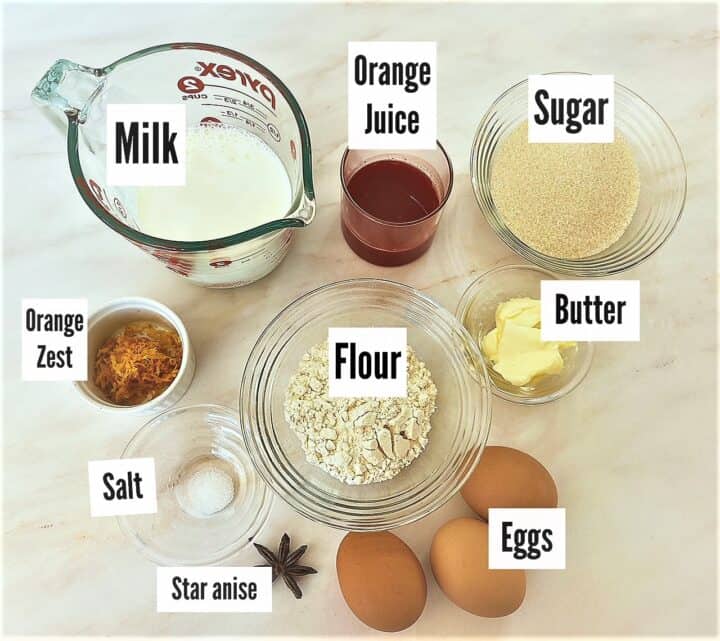 Whole milk or coconut milk
Star anise pod
Orange zest
Freshly squeezed orange juice
Sugar
Butter
Eggs
Flour
Salt
Less than 10 ingredients – that's not too bad!
As an Amazon affiliate, I earn a small commission at no additional cost to you from purchases made through links on this blog. Thank you!
Star anise: It's not hard to find at natural foods stores and large groceries. It retails for $5-10 per 0.6 oz jar. You can buy a larger quantity at Amazon at a cost of $6.99 per 3 oz.
Be sure you are buying Chinese star anise, and not Japanese star anise, which looks the same, but is a neurotoxin.
The spice is not inexpensive, but when stored in an airtight container, the pods stay fresh a long time. Other uses include adding the pods to stews and braises, or make the traditional Vietnamese pho, a filling noodle soup.
Grind star anise to craft your own Chinese five-spice powder. Use the ground spice in a crust for grilled meats or to amp roasted vegetables. It plays well with ginger, nutmeg, and allspice, mingling with the flavors in spice cake, pumpkin pie, or chai.
Be cautious with star anise. A little goes a long way!
Milk: For this recipe, choose dairy milk or plant-based milk, such as unsweetened coconut or nut milk. You can cut a few sugars and slightly increase the protein and calcium of the pudding cakes with ultrafiltered milk.
Oranges: Mid- to late winter, there are many varieties available for the pudding cakes. Choose blood, navel, or rosy-fleshed Cara-Cara oranges. I juiced blood oranges for their beautiful color and extra flavonoid content.
Equipment:
Roasting pan or 9"x13" Pyrex dish to make a hot water bath (aka bain-marie)
Six ramekins or a 1½-qt casserole (6-cup)
Measuring cups and spoons
Mixer
In addition, it's nice to have a large batter bowl or oversized glass measuring cup, but not absolutely necessary.
How to make pudding cakes
Pour milk into a microwavable container. Add star anise and orange zest. Stir, and heat for one minute on high in the microwave. Remove and let the milk steep briefly to absorb the anise and orange flavors until needed in the recipe.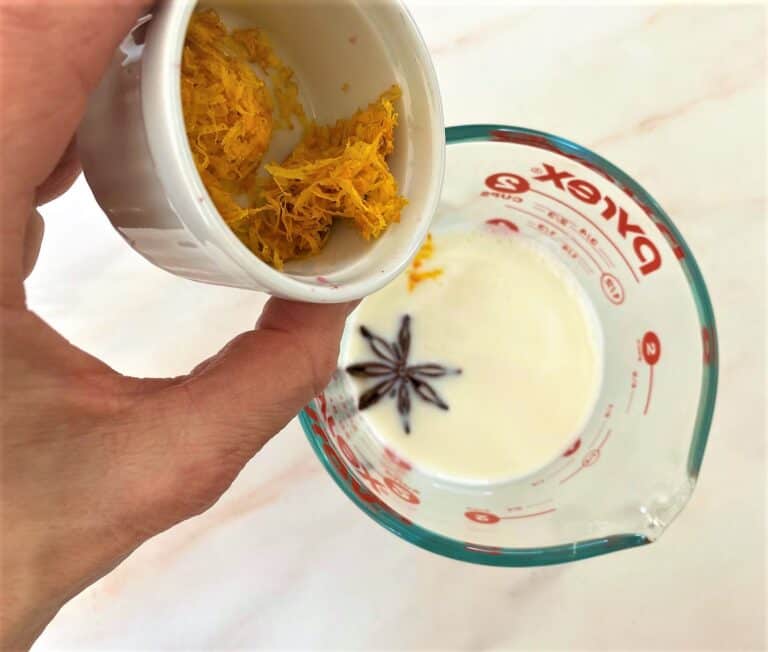 In a medium bowl, combine egg yolks, sugar, and softened butter, whisking together until thick and lemon colored.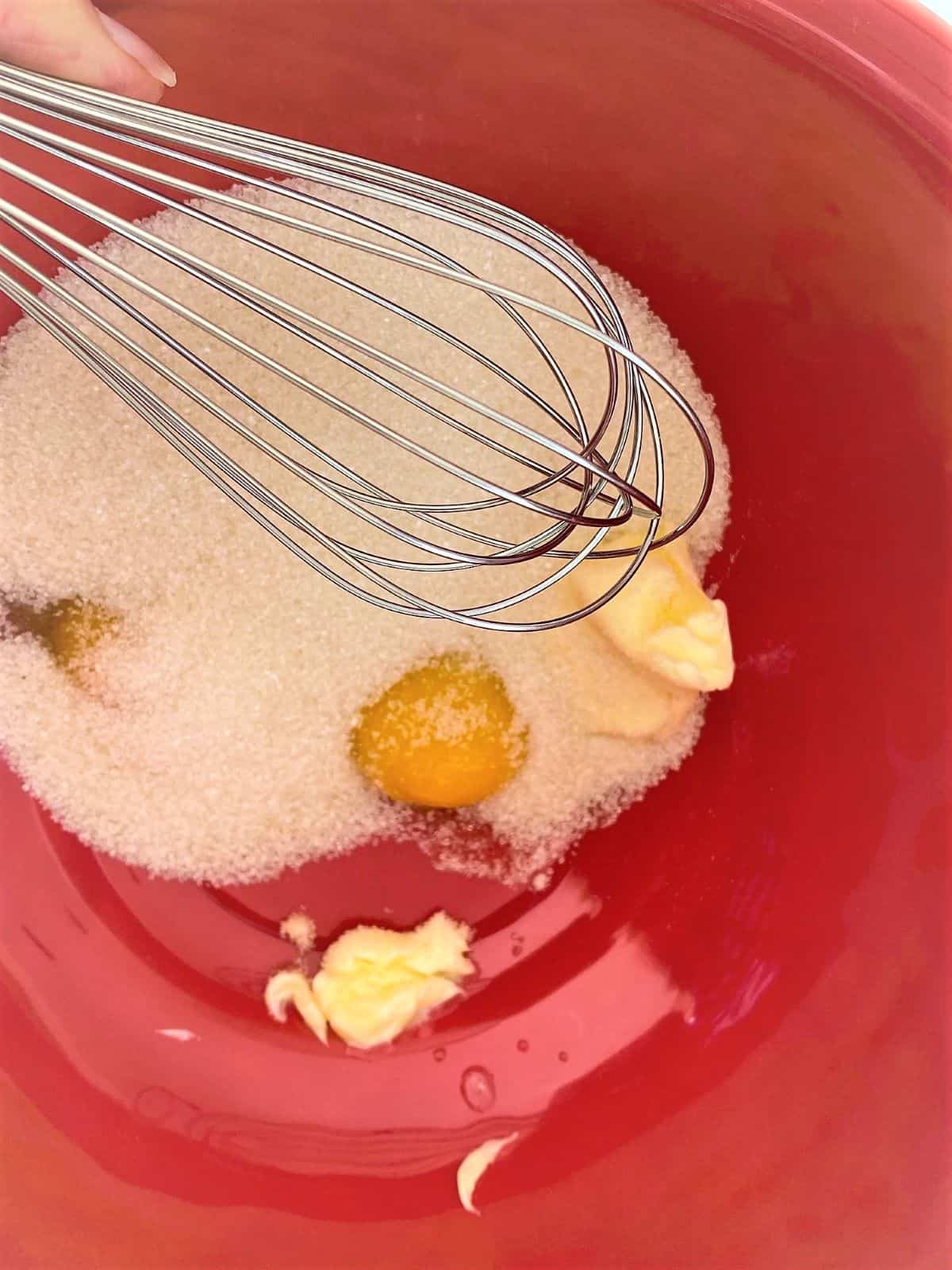 Add the flour, salt, and a generous splash of the flavored milk and whisk all until smooth.
Add the rest of the milk and continue whisking. Add the orange juice, whisk to make a very fluid custard/batter.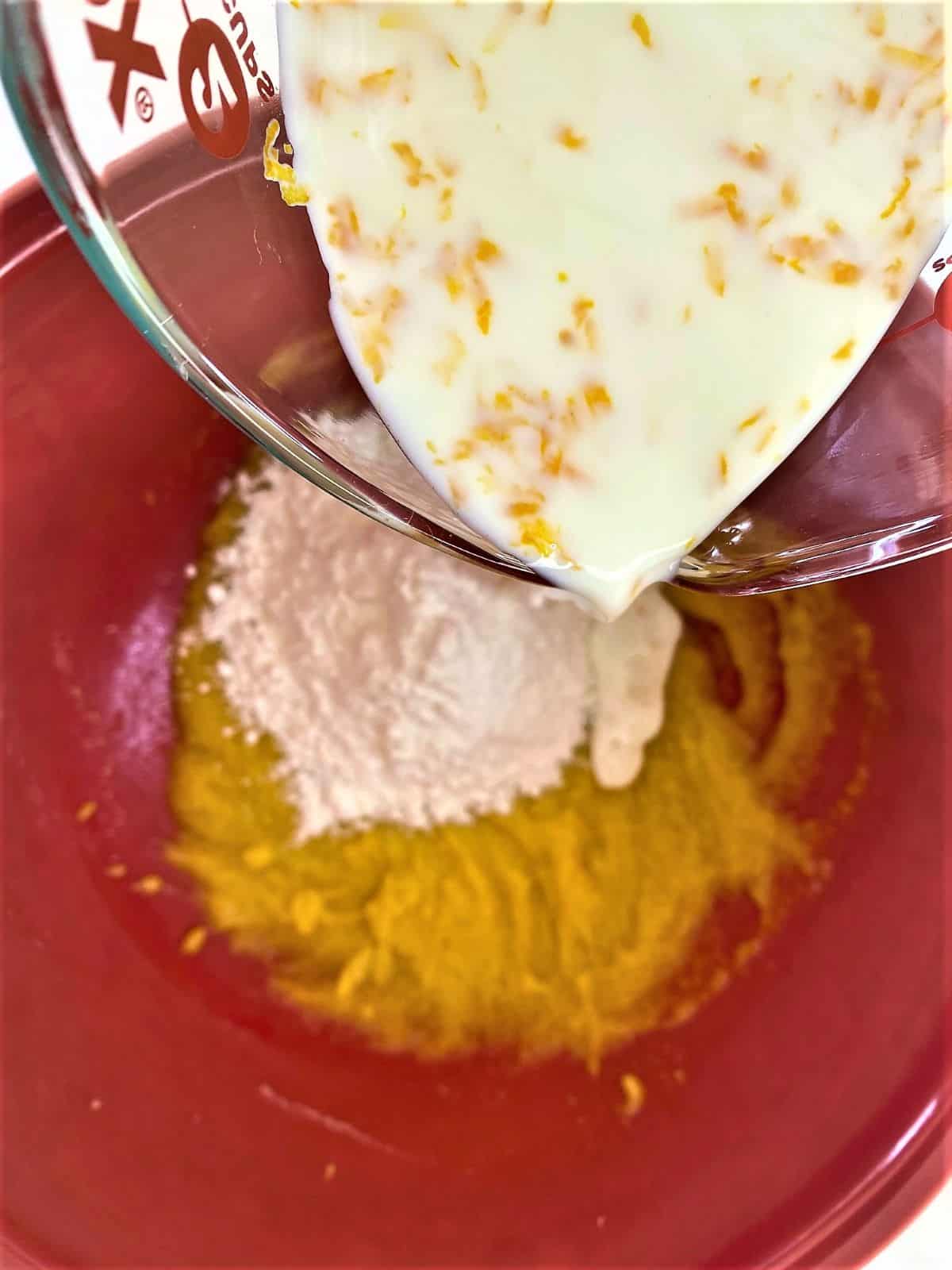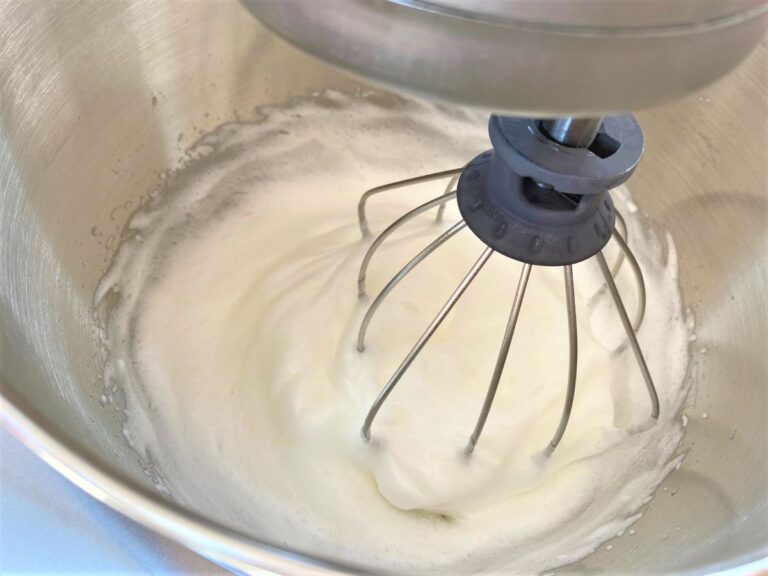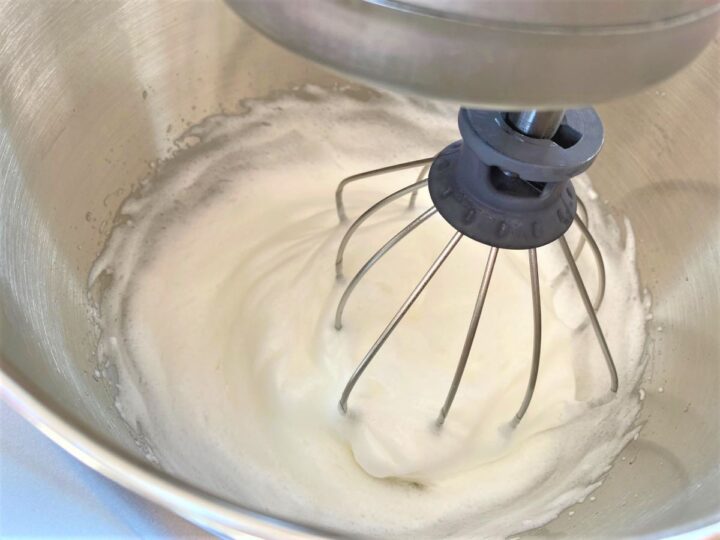 Beat egg whites with a little sugar to medium-stiff peaks. Be careful not to overbeat. Very stiff whites are difficult to work with.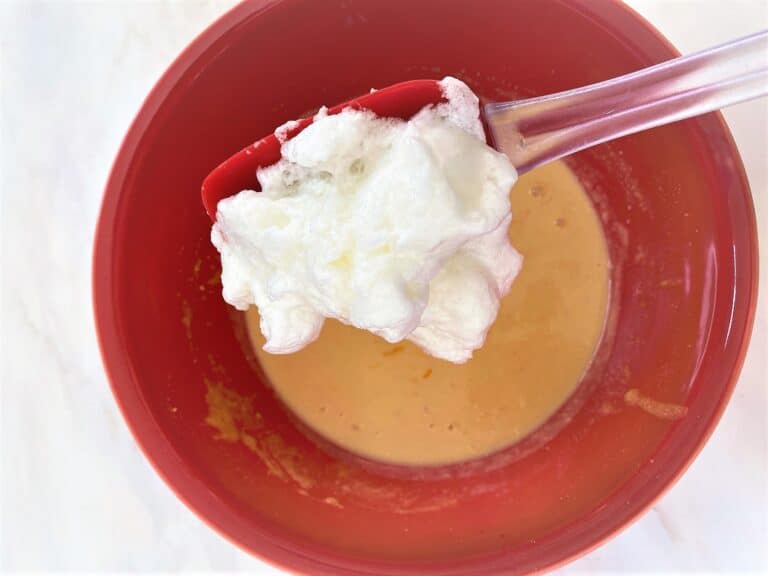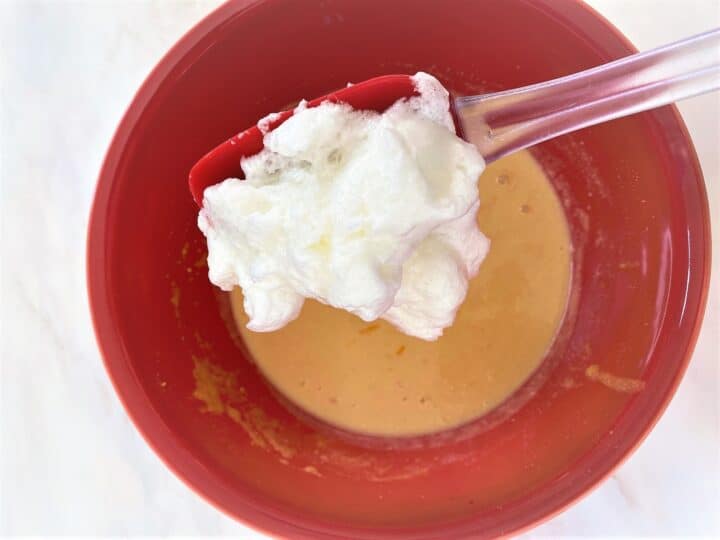 In two additions, fold whites into the creamy orange custard/batter.
Pour into ramekins or a 6-cup casserole dish set inside a rectangular Pyrex baker or a roasting pan.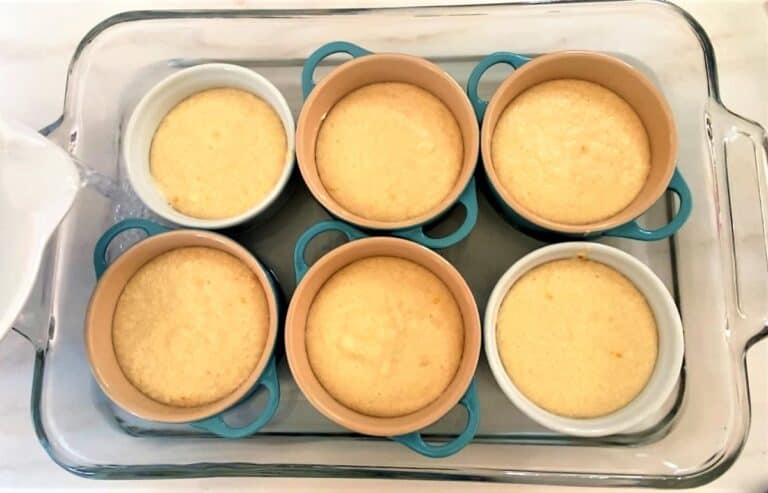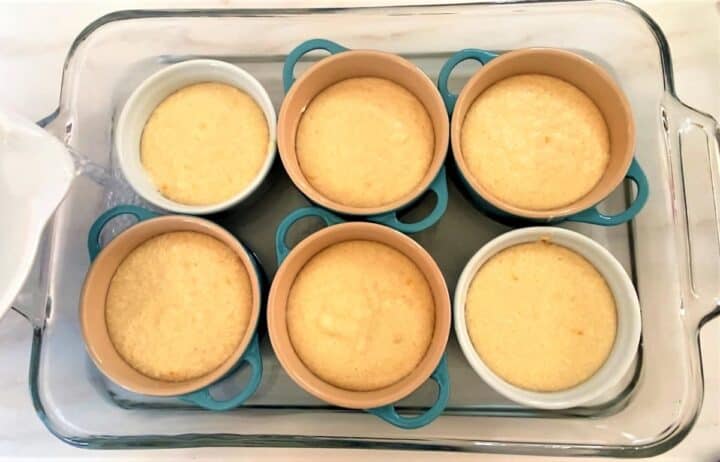 Pour hot water into the baking dish or roaster to a depth of about halfway up the sides of the ramekins or casserole. Be very careful not to pour any water into the pudding cakes.
Transfer the dish to the center of the oven. You'll want to move slowly so that water does not slosh into the puddings or onto the floor. Use a gentle push when sliding the rack into the oven cavity.
Bake 30 minutes for individual ramekins and 40 minutes for a 6-cup casserole dish. The cakes will look puffed and lightly golden when done.
Carefully remove from the oven and let cool in the water bath for a few minutes. When the puddings are cool enough to touch, place them on a kitchen towel to finish cooling.
Although the dessert is yummy at this point, it tastes even better after resting for a few hours or overnight. This gives it a chance to fully separate into cake and pudding layers–souffle on top and saucy pudding on the bottom!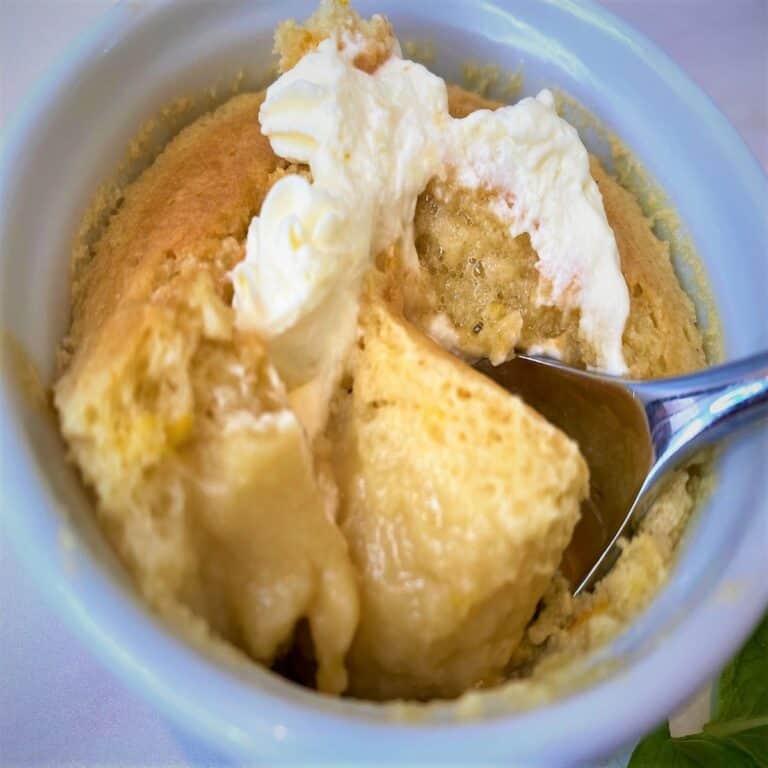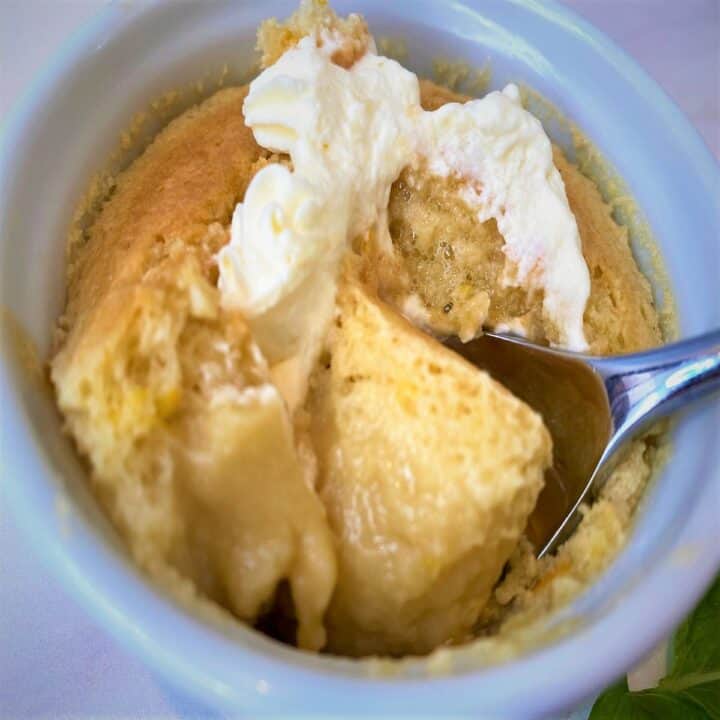 Saucy pudding on the bottom and melt-in-your-mouth cake layer on the top–yum! 😋
(Do not worry if your pudding cake crumples around the edges and pulls away from the sides of the dish while cooling. This is normal.)
Nutrition bonuses of Orange Pudding Cakes with Star Anise
🦴 Bone and heart health: The dynamic duo of calcium in the milk and vitamin C in the orange juice increases the absorption of these nutrients.
Also, the recipe is low-fat and low in sodium with less than 140 mg per serving–a good choice for healthy blood pressure.
😊 Diabetes-friendly: Each cake has a moderate amount of carbohydrates, about two servings.
💪 Muscle growth: The nice amount of protein from the eggs and dairy milk helps you hang onto and bank lean mass.
Mood, healthy metabolism, growth and more:
Eggs are packed with nutrition, including choline; fat soluble vitamins A, D, and E; vitamin B12; iron; and selenium. They also contain lutein and zeaxanthin, plant compounds that promote eye health.
Star anise offers many healthful plant compounds that are antibacterial, antifungal, and antiviral. The latter include shikimic acid, an active ingredient in Tamiflu, the antiviral medicine prescribed to ease flu symptoms.
Used in Traditional Chinese Medicine for at least 1,300 years, star anise functions as a warming medicinal. It encourages the flow of Qi and works against excess Yin (cold).
That said, the amount of star anise in the recipe is tiny, so it may not be enough of a dose to have health benefits. It does, however, have palate pleasing qualities!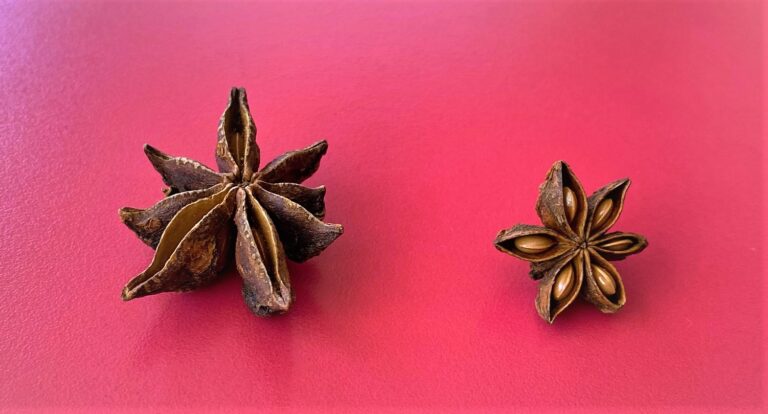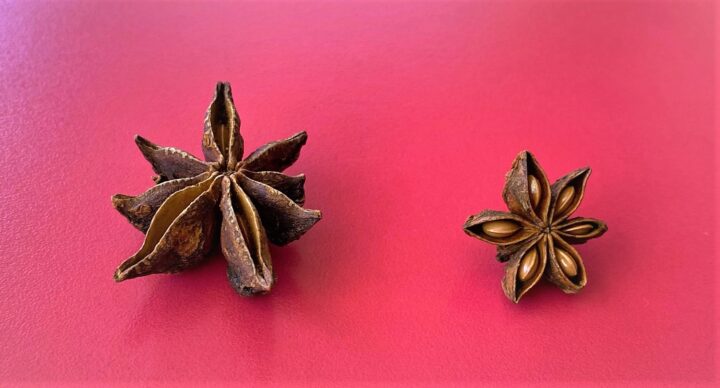 For the pudding cake recipe, choose either one large or two small star anise.
FAQ
What does star anise taste like? It has a lovely, mild licorice flavor that's slightly sweet and perfumed.
What can I substitute for a star anise pod?
Ground spices: Three-quarter teaspoon of crushed anise seeds or half a teaspoon of Chinese five-spice powder
Liquids: One tablespoon of anisette, Pernod, Sambuca or one-fourth to one-half teaspoon anise extract
Can I eat the star anise pod? No. The pod infuses savory and sweet dishes with flavor. Think slow-cooked stews, Instant Pot braises, or poached fruit, like pears or peaches.
Can you prepare the pudding cakes ahead of serving time? Yes. They taste best the next day because they develop a more saucy bottom and cakelike top layer. But be sure and refrigerate after cooling and eat them within three days.
Other recipes you might like
If you enjoy the complex flavor of star anise, try my East Asian Pear Butter. For another easy, pudding-like dessert, throw together No Bake Chocolate Pie in less than half an hour!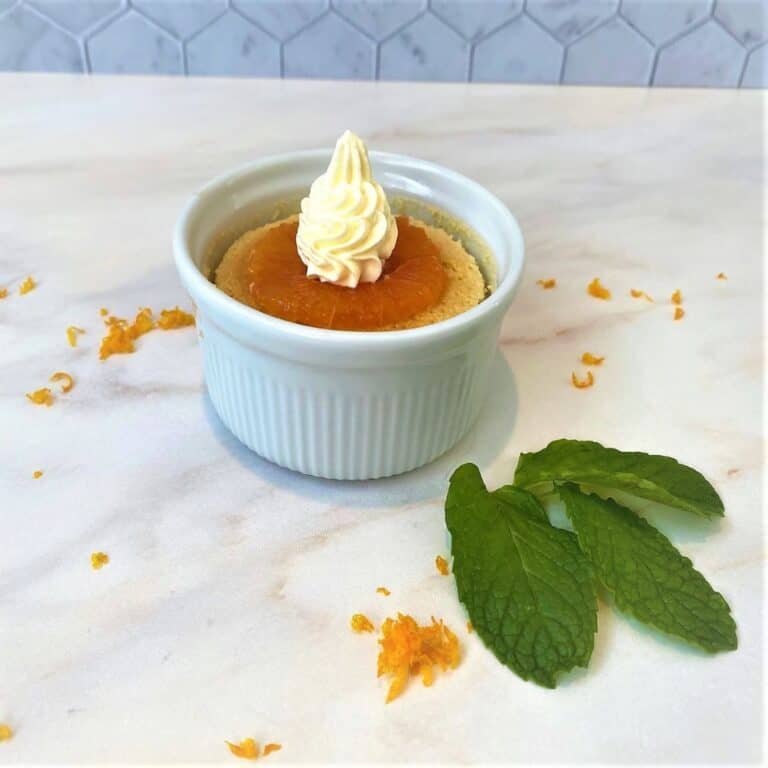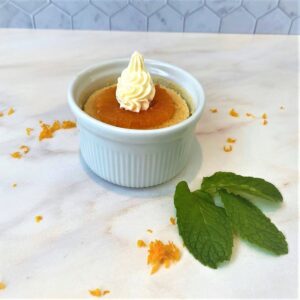 Orange Pudding Cake with Star Anise
These orange pudding cakes are delicate and slightly exotic. They have two-layer structure with a sauce-like base and a light, cakey top, almost as if a souffle and a pudding had a baby.
Equipment
mixing bowls

various sizes

Citrus zester

Hand-held or stand mixer

High-sided baking dish

like a roaster or 9×13" rectangular casserole

6 to 8 individual serving dishes or ramekins

or a 1 ½ quart shallow baking dish
Ingredients
1

star anise pod

2

teaspoons

orange zest,

finely grated

1

cup

whole milk,

can substitute unsweetened coconut or nut milk

¾

cup

granulated sugar,

divided use

⅓

cup

all-purpose flour

⅛

teaspoon

salt

3

large eggs,

separated

2

tablespoons

unsalted butter,

cut into pieces, room temperature

⅓

cup

orange juice,

freshly squeezed

Whipped cream and fresh orange segments for serving
Instructions
Heat oven to 350 F. Butter 6 ramekins or a 1½-quart shallow casserole and place inside a large baking dish.

Slip star anise pod and orange zest into the milk. Place the cup in the microwave and cook on medium power for 1 minute. Remove; set aside to steep.

Whisk egg yolks, butter, and ½ cup sugar together in a separate medium bowl. The mixture will be thick and lemon-colored.

Remove star anise from the milk.

Add the flour, salt, and about ¼ cup of the milk, whisking until smooth. Add remaining milk and orange juice, scraping all zest out of the measuring cup and into the batter. Whisking until smooth.

The batter will be very liquidy.

In a large bowl, beat egg whites with remaining ¼ cup of sugar to medium-stiff peaks. In two additions, gently fold the whites into the juice-milk mixture.

Divide the batter among the ramekins or pour it all into a 1 ½-quart shallow casserole dish. Place inside a large roaster or 9"x13" baking dish.

Carefully, pour hot water into the roaster baking dish halfway up the sides of the ramekins or the shallow casserole dish and place in preheated oven. (Be careful not to pour any water into the batter.)

Bake 30 to 35 minutes for individual servings or 35 to 40 minutes for a shallow casserole, until slightly puffed and golden brown on top.

Let cool for a few minutes after baking; then, remove from water and place on a kitchen towel to finish cooling.

The dessert is best served later in the day or even the next day. Refrigerate after cooling.

Serve with a dollop of whipped cream and a fresh orange segment or mandarin slice.
Notes
Be careful not to overbeat the whites. It's difficult to fold them into the pudding cake base when they are stiff and dry! 😊
For increased protein and calcium, use ultra-filtered milk, such as Fairlife or Mootopia  (HEB grocery stores). These milks are lactose-free, as well. 🥛
I prefer to use individual serving dishes because it helps with portion control. But using a larger dish makes for quicker prep and a longer bake!
Nutrition
Serving:
1
g
Calories:
218.6
kcal
Carbohydrates:
34
g
Protein:
4.9
g
Fat:
7.3
g
Saturated Fat:
3.9
g
Polyunsaturated Fat:
0.7
g
Monounsaturated Fat:
2.1
g
Trans Fat:
0.2
g
Cholesterol:
95.9
mg
Sodium:
98.2
mg
Potassium:
122.1
mg
Fiber:
0.3
g
Sugar:
28.3
g
Vitamin A:
331.7
IU
Vitamin C:
7.8
mg
Calcium:
63.3
mg
Iron:
0.8
mg
Copyright © 2022 Jani H. Leuschel