When you crave dessert but don't want to load up on sugar and calories, a chocolate chip cake in a mug is an easy homemade treat--a little healthy and a lot yummy.
Although you won't need an egg, you have to mix a few ingredients, so it's not instant gratification. Very quickly, however, with no big mess in the kitchen, you've got a warm cake with less than 300 calories.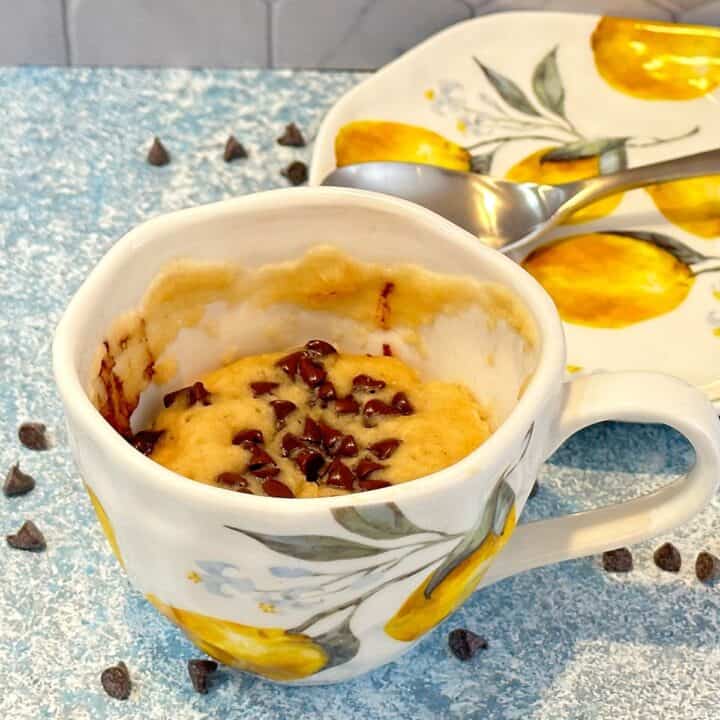 Want fewer calories? Share it with a loved one, or save half for later!
I earn from qualifying purchases at no extra cost to you as part of the Amazon Affiliate program.
Ingredients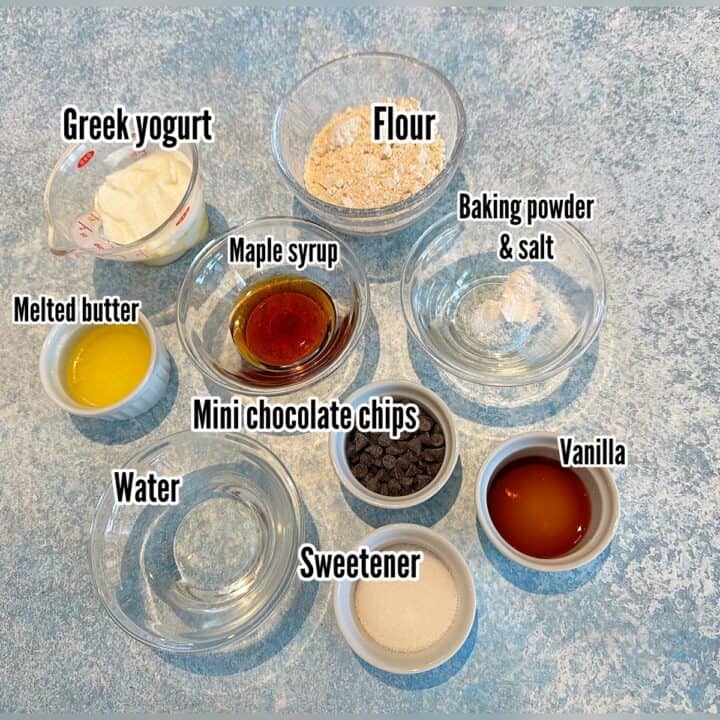 White whole wheat flour (sub whole wheat pastry flour, all-purpose flour, or gluten-free flour)
Sweetener (erythritol-stevia blend or sugar)
Baking powder
Salt
Greek yogurt
Water
Butter
Maple syrup
Vanilla
Mini-chocolate chips
Flour: For more nutrition, choose whole-grain flour. White whole wheat and whole wheat pastry flour yield a lighter cake. Use gluten-free flour if you avoid gluten. All-purpose flour works fine, too. Avoid stone-ground whole wheat flour.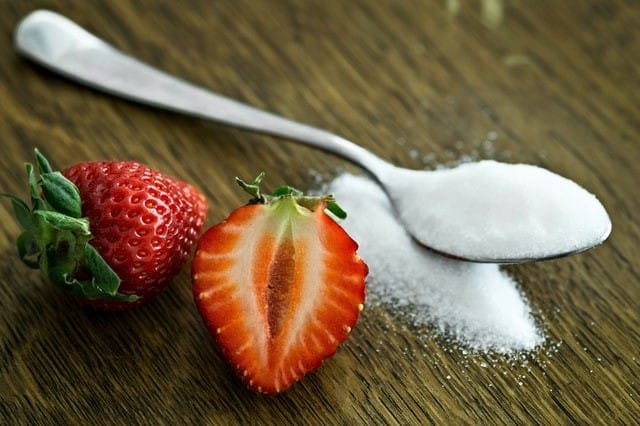 Sweetener: For fewer added sugars, I bake with a blend of stevia and erythritol, such as Pyure or Truvia. Or try Swerve sweeteners made from erythritol and oligosaccharides (many-chained sugars). Monkfruit sweeteners like those from Lakanto are another option.
Credit: Mali Maeder on Pexels
Baking powder: It helps the cake get fluffy without an egg.
Salt: Brings out the sweetness of the other ingredients.
Greek yogurt: Adds protein and its acidity improves the taste and rise of the cake.
Water: Use a Tablespoon to thin the batter and then pour it over the top before 'waving so your cake does not become a hockey puck!
🧈Butter: Do not use oil! For mug cakes, butter is where it's at for flavor and fluff.
🍁Maple Syrup: Gives the cake a sweet boost.
Vanilla: Madagascar vanilla is a favorite, but any kind with "pure extract" on the label should taste nice. Avoid those that say "vanilla flavoring."
Chocolate chips: Mini chips seem like the perfect size for mug cakes but use whatever you've got in the pantry. BTW: Ghiradelli is one of the brands of chocolate that contains less lead and cadmium, according to tests by Consumer Lab.
(FYI: The Consumer Lab information is behind a paywall.)
😳You can read more in this Consumer Reports article about lead and cadmium in chocolate.
How to Make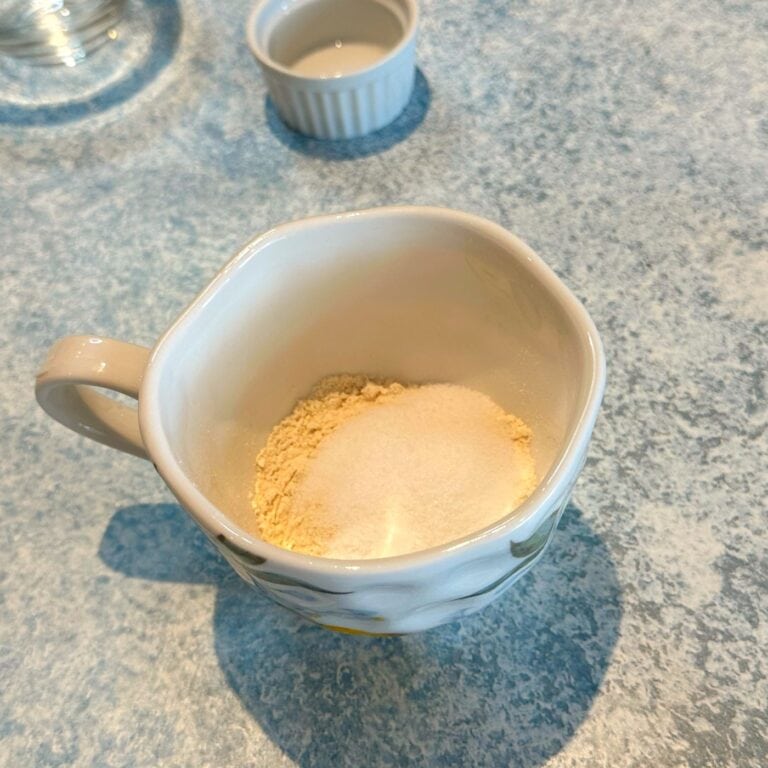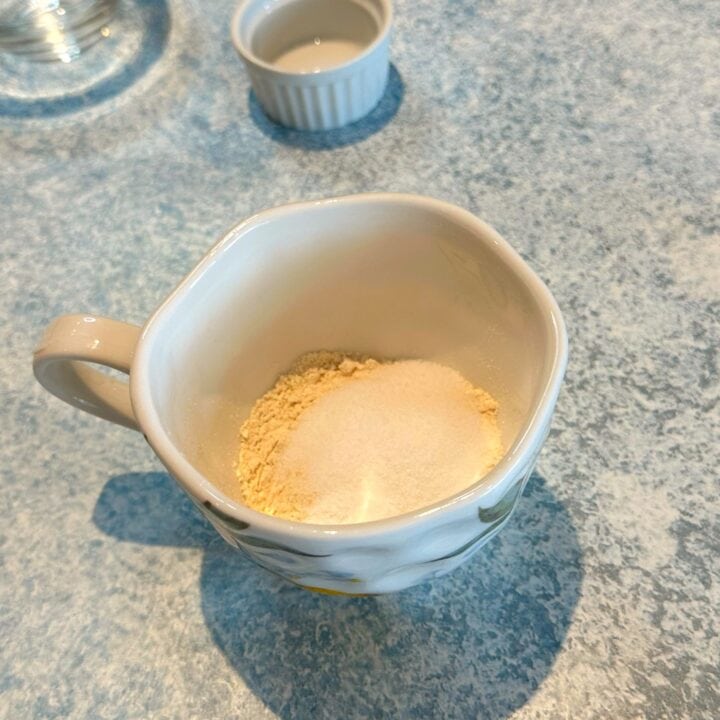 Mix dry ingredients in a mug or tea cup with a wide opening.
Add wet ingredients and half of the chocolate chips. Mix until there are no dry spots and the ingredients are well combined.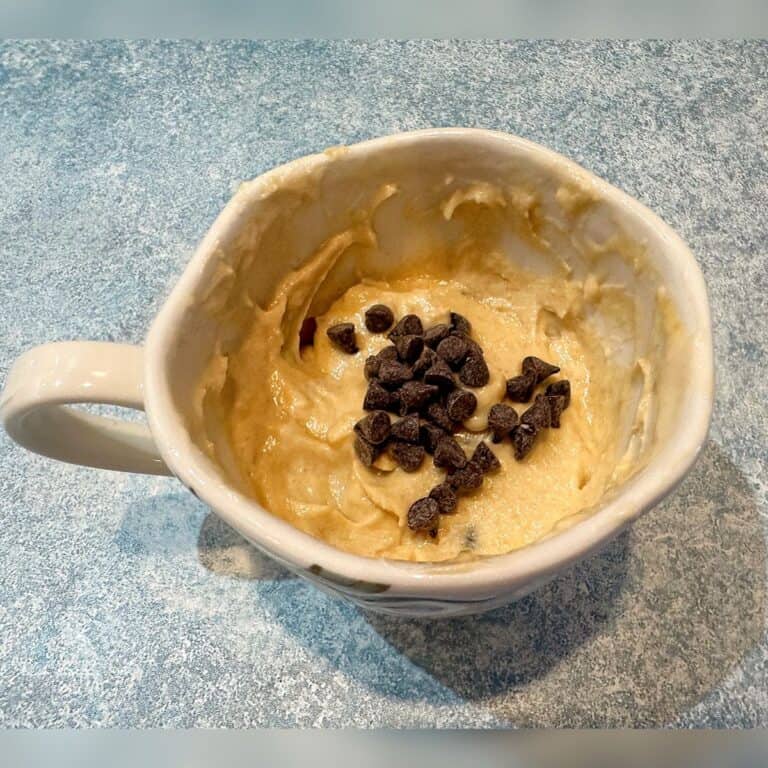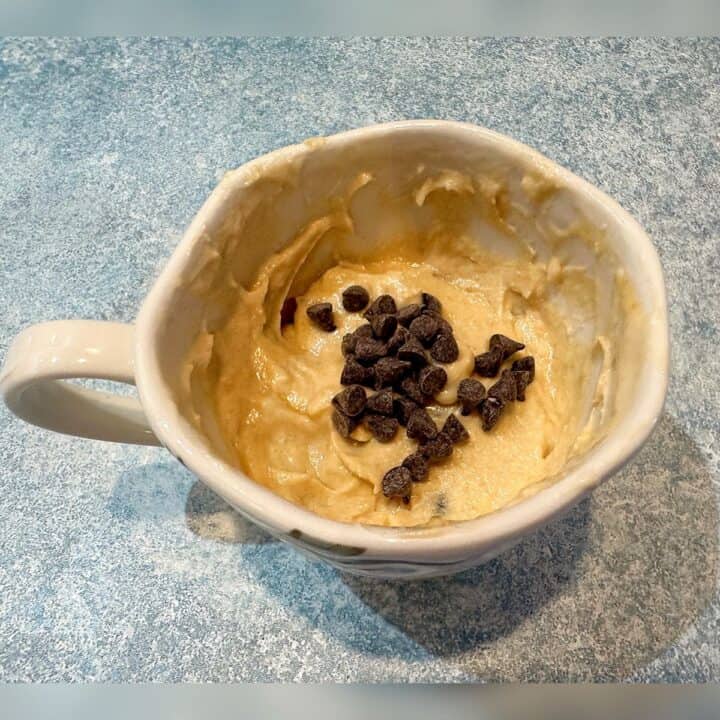 Top with the rest of the chocolate chips, and then pour a tablespoon of water over the top.
Microwave at 80 to 90% power for about 90 seconds.
Let stand for a minute or so to cool and then top with whipped cream or vanilla frozen dessert and dig in!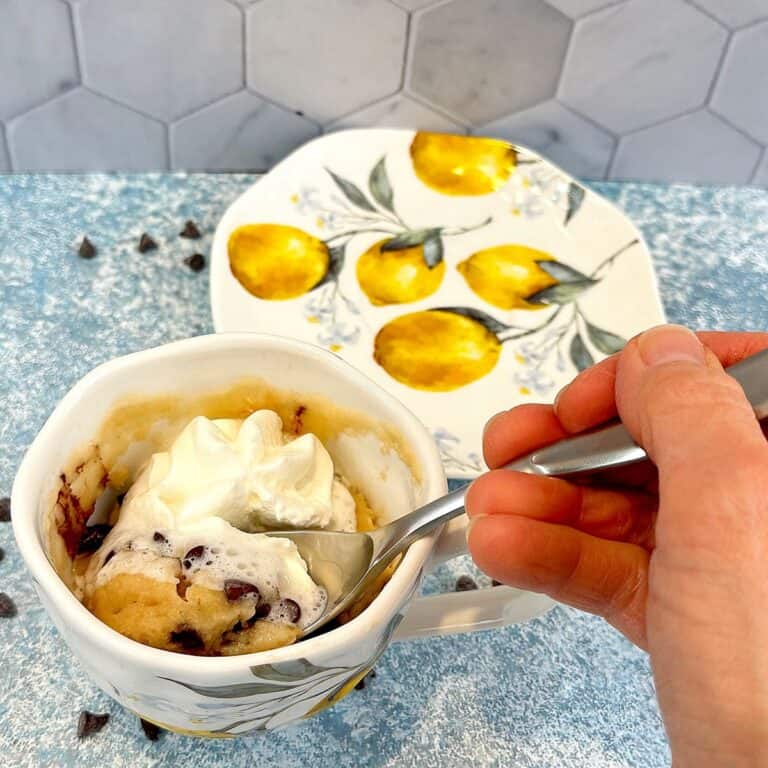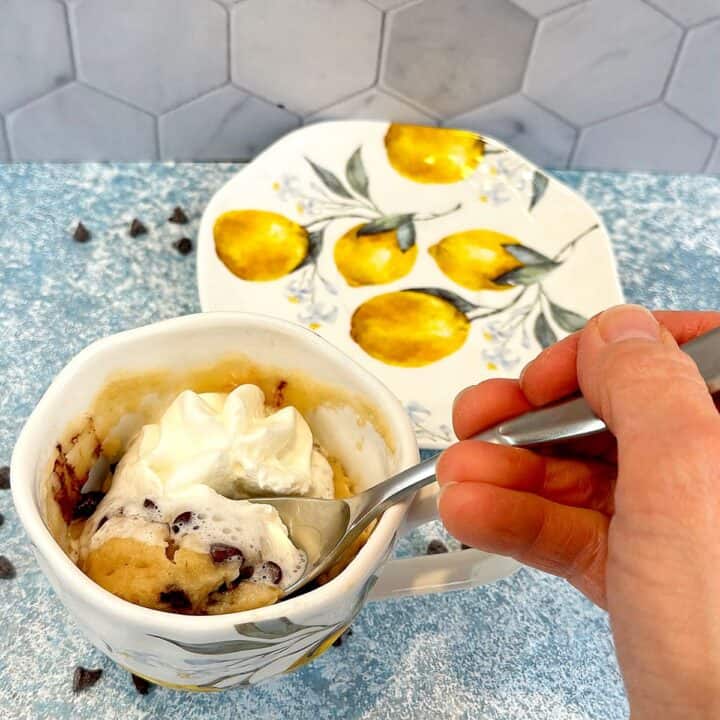 Cooking tips
Microwaves vary in power. Your microwave may take a few seconds more or less to cook the mug cake.
The cake may look moist or a little wet on top. It's probably done and will be delicious after cooling for a minute or so. If it's still very wet, microwave it at full power in 10-second intervals until the middle is not soggy.
💪🏽Nutrition Benefits and Bonuses
This is a dessert! But it is not a zero-nutrient treat.
🌾 Whole grains: With whole-grain flour, you'll get B vitamins, a bit of fiber, and minerals, such as magnesium.
🥛 Greek Yogurt: Adds protein and calcium. Read Savory Greek Yogurt Sauce to find out more about the health benefits of Greek yogurt.
🍫 Chocolate: It pleases your tastebuds, can help your mood, and boasts phytonutrients and a load of minerals, such as zinc and iron.

(However, recent reports have noted that some types of chocolate contain heavy metals from the soil and processing.)
FAQs
Can I make the cake ahead of time?
Yes, but it's best to make the cake when you plan to eat it. You'll relish it warm, so reheat before digging in.
If you want to store or save it for later, cover the cake with plastic wrap. Place any uneaten cake in the refrigerator after a couple of hours.
The cake will end up too spongy if you use oil instead of butter, or microwave for too long. The finished cake should be gooey--cake-like and pudding-like at the same time!
Is chocolate chip cake in a mug healthy?
Compared to a cake with buttercream frosting, it has less saturated fat, more minerals, fiber, and less sugar. And, of course, it has fewer calories!
It's easy to make a vegan chocolate chip cake in a mug by substituting oil for butter. The texture, however, may be slightly less appealing.
For a dessert, the answer is yes. Add half a scoop of vanilla ice cream and share. You'll each enjoy about 200 calories.
What is the best type of mug to use for the cake?
Look for a wide, not tall and narrow, mug or tea cup. Whatever dish you choose needs to have some height because the cake will puff up as it cooks, and it could overflow making a mess in your microwave! This is why a ramekin or small dish is not ideal.
Can I bake the cake in the oven?
Yes, and you can use ramekins for oven baking. See the recipe below for full directions. Baking is best if you are making more than one cake.
Yes, but you'll need to cook one at a time in the microwave. Oven baking is the best method for two or more cakes.
Other sweet recipes you might like…
Easy Orange Pudding Cakes are simple to bake as individual desserts in ramekins. You can also make a family-style dessert from this recipe in a casserole dish. As a bonus, this dessert makes its own sauce!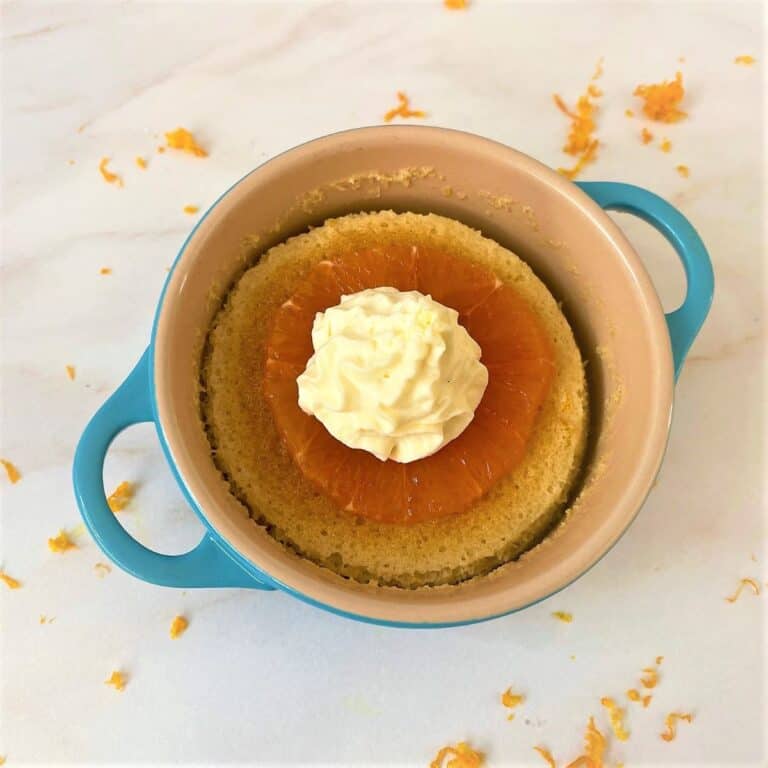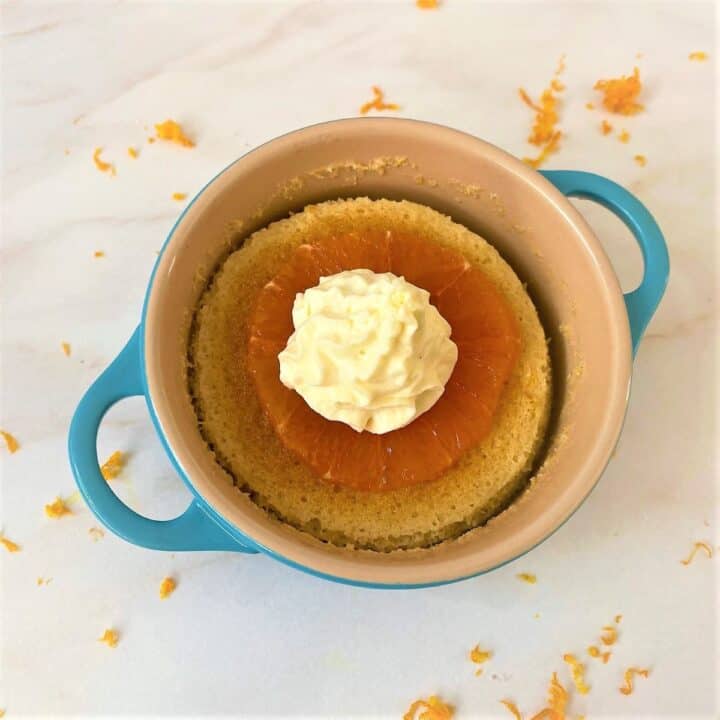 Another dessert that's perfect for small, single-serve dishes is Greek Yogurt Lemon Mousse. Although it's low-calorie, diet-friendly, and delicious, it's not quite as easy to throw together.
If you love chocolate chip cookies or muffins, you'll enjoy this simple gluten-free Banana Bread with Oat Flour. This loaf tastes like an oatmeal chocolate chip cookie!
Craving fudgy brownies? This recipe is a family favorite with less sugar, but not less sweetness due to a combo of erythritol, stevia, and sugar.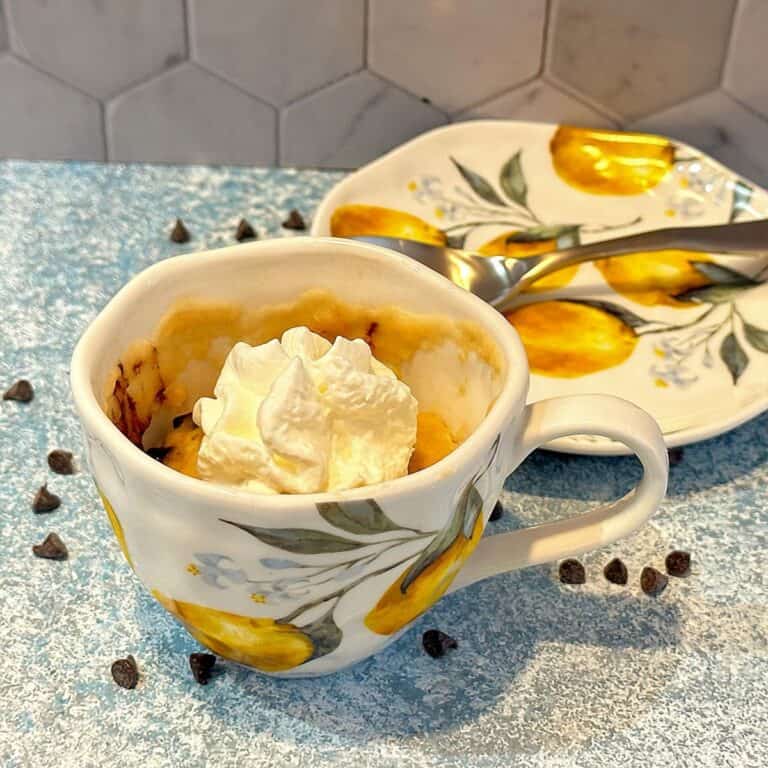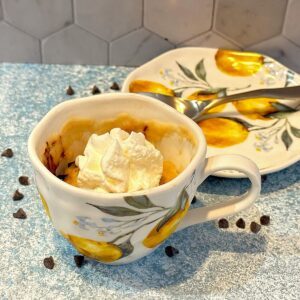 Chocolate Chip Cake in a Mug
Quick, & delicious low-calorie dessert for one that's perfect for satisfying sweet cravings.
Equipment
1 tall mug or ramekin

Fork or whisk
Ingredients
3

Tablespoons

white whole wheat flour

or whole wheat pastry flour or all-purpose flour. Can use gluten-free flour, if desired.

⅛

teaspoon

baking powder

pinch

salt

½

Tablespoon

erythritol-stevia blend,

the equivalent of 1 Tablespoon of sugar

4

teaspoons

water,

divided use

3

Tablespoons

Greek yogurt,

plain low-fat

2

teaspoons

butter,

melted

½

Tablespoon

maple syrup

½

teaspoon

vanilla

1

Tablespoon

mini-chocolate chips,

divided use
Instructions
Wash hands thoroughly for 20 seconds before you start cooking.

Put the flour, erythritol-stevia sweetener, baking powder, and salt in the mug and stir to combine.

Add a Tablespoon of water, yogurt, melted butter, maple syrup, vanilla, and half of the chocolate chips.

Mix all ingredients together so that no dry or wet spots remain. Then, beat together for a few more times.

Top with remaining chocolate chips. Now, pour a teaspoon of water over the batter and chips.

Microwave at 80 to 90% power for about 1 minute and 30 seconds. The top should be just set. If the center is still wet, microwave in 10-second intervals on 100% power until it is done.

It will continue to cook after you take it out of the microwave. A toothpick inserted in the center should come out with a few crumbs clinging to it.

(Be careful of overcooking. You don't want a tough, rubbery cake!)

Let sit for a minute or two and cool slightly before eating. Top with a splotch of whipped cream. Vanilla ice cream is also delicious on the cake!
Oven Baking Instructions
After mixing the batter (follow the recipe through step 5), pour it into a ramekin coated with baking spray. Place it on a tray in the center of the oven and bake for 12 to 15 minutes.

A toothpick inserted in the center will come out clean or with just a few crumbs clinging to it.

Let cool for about 5 minutes and then enjoy topped with whipped cream or ice cream.
Notes
To make sure the cake cooks through the center, choose a wide mug for microwaving.
This cake doesn't need an egg! It gets plenty of protein from Greek yogurt.
Eggs are expensive right now! Save them for a meal or for a larger cake!
The microwave cooks the cake so that it steams a little. The resulting dessert is a cross between a pudding and a cake. Yum!
Nutrition
Calories:
282
kcal
Carbohydrates:
41
g
Protein:
8
g
Fat:
12
g
Saturated Fat:
7
g
Polyunsaturated Fat:
0.3
g
Monounsaturated Fat:
2
g
Trans Fat:
0.4
g
Cholesterol:
26
mg
Sodium:
146
mg
Potassium:
116
mg
Fiber:
3
g
Sugar:
17
g
Vitamin A:
285
IU
Vitamin C:
0.1
mg
Calcium:
126
mg
Iron:
1
mg
Copyright © 2023 Jani H. Leuschel