Each spoonful of this creamy, indulgent chia seed and banana pudding tastes decadent but is a nourishing treat for your health and your tastebuds!
Enjoy it as a yummy low-calorie breakfast or satisfying dessert.
Plus, Chia Banana Pudding is very easy it is to prepare. Only four or five ingredients and a few hours of patience, while it sits in the refrigerator, are necessary.
I earn from qualifying purchases at no extra cost to you as part of the Amazon Affiliate program.
Ingredients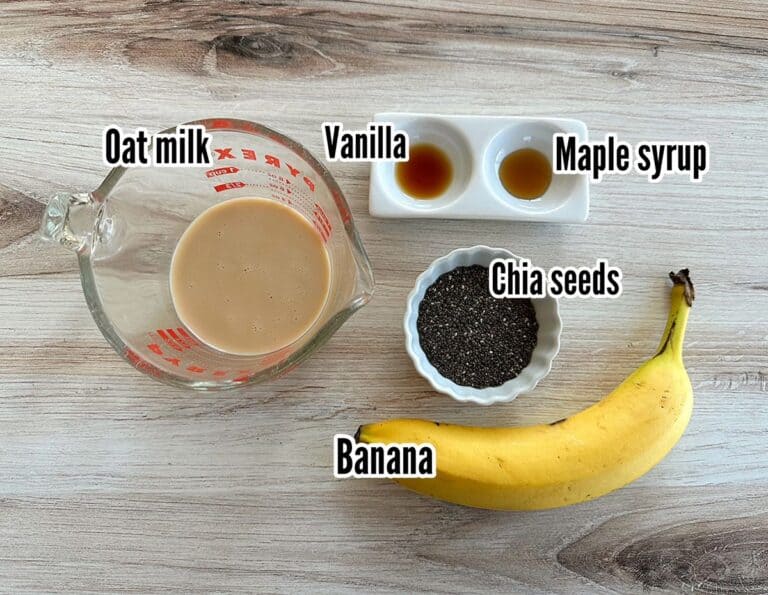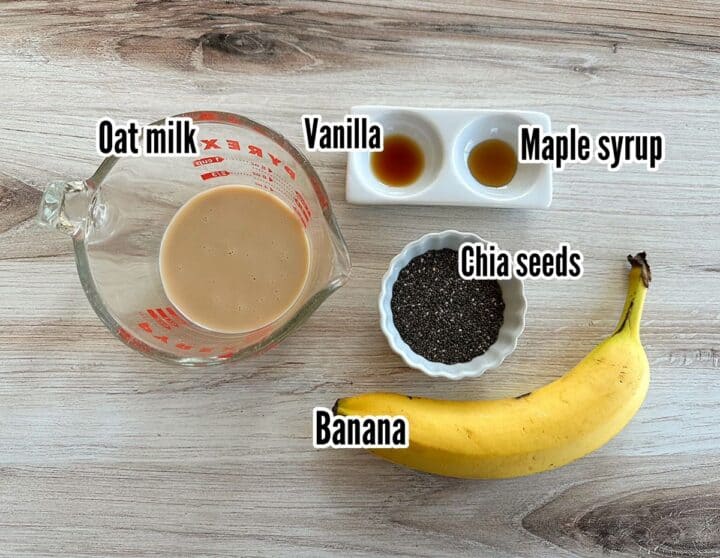 Oat milk (or other plant or dairy milk)
Banana
Vanilla extract
Maple syrup (optional)
Chia seeds
Oat Milk: I like the taste of oat milk in this recipe, but you can use any milk that you enjoy. The consistency of oat milk also tends to be thicker than other milk, which helps make the pudding creamier.
🍌Banana: Choose one(s) that are at least slightly ripe so they will taste sweeter and blend more easily.
Vanilla extract: This provides a dessert-like flavor and increases the yum factor! You could also use almond extract.
🍁Maple syrup: Use this sweetener to add another layer of flavor to your pudding. Planning to serve the pudding as dessert? Add an extra half teaspoon to the base and drizzle more on top!
Other sweeteners that are good in the pudding are honey, any sort of granulated sugar, and stevia or monkfruit. The latter are particularly suitable for diabetics.
How to Make
Pour the milk into a deep half-cup liquid measure or a deep smoothie blending container. Add sliced bananas, vanilla, and maple syrup.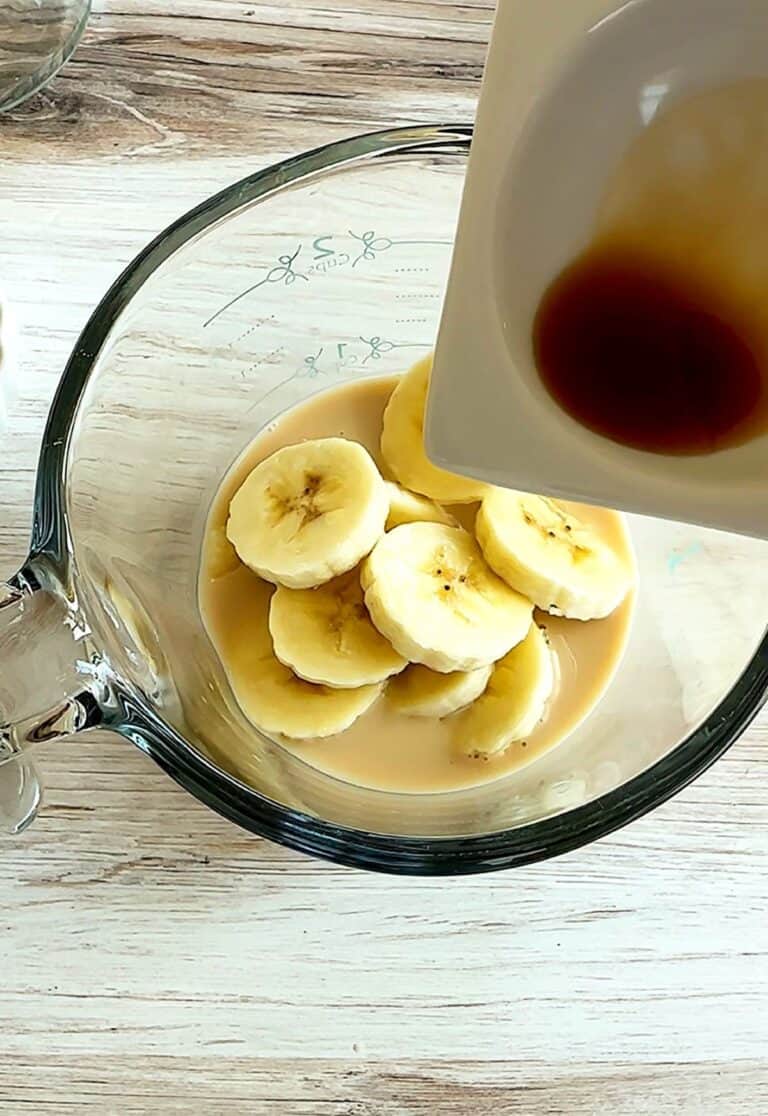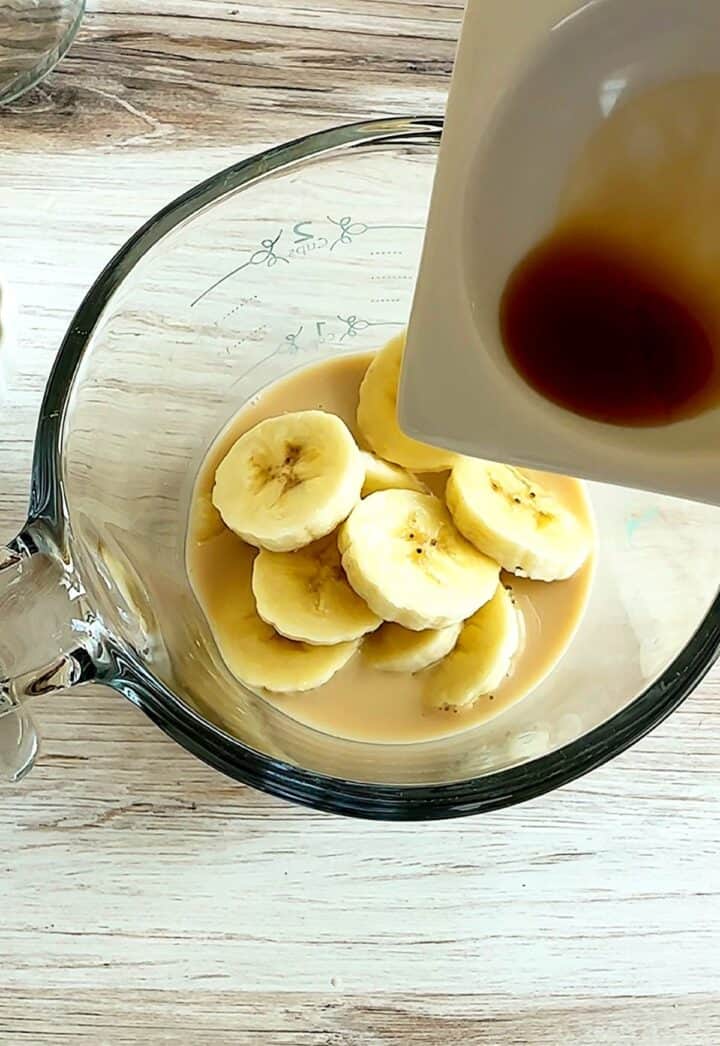 Blitz until smooth with a handheld immersion blender, or use a regular blender.
Stir in the chia seeds until well dispersed. Evenly divide the mixture between two small bowls or jars.
Refrigerate for three hours or overnight. The longer it sits, the thicker it gets!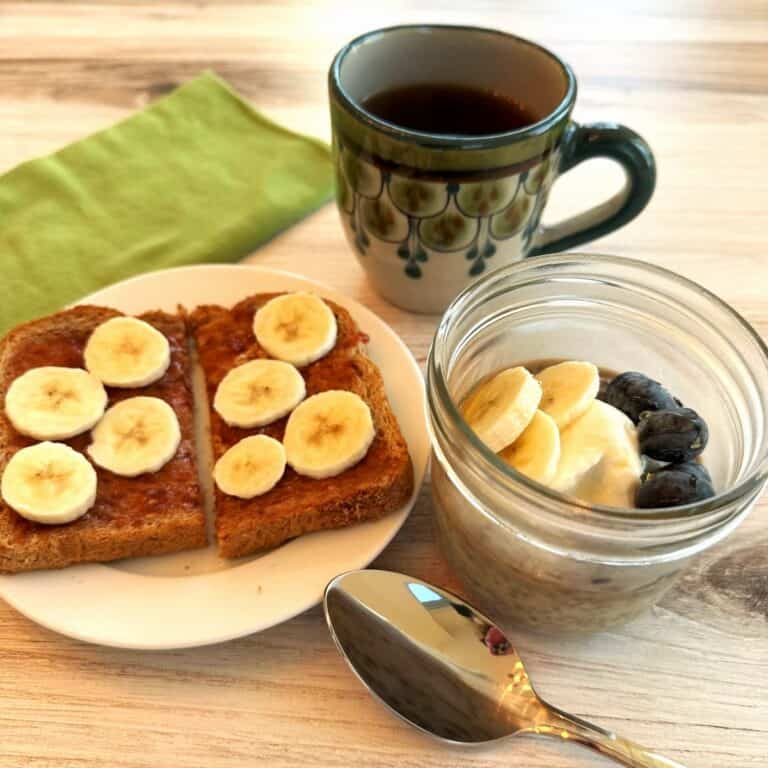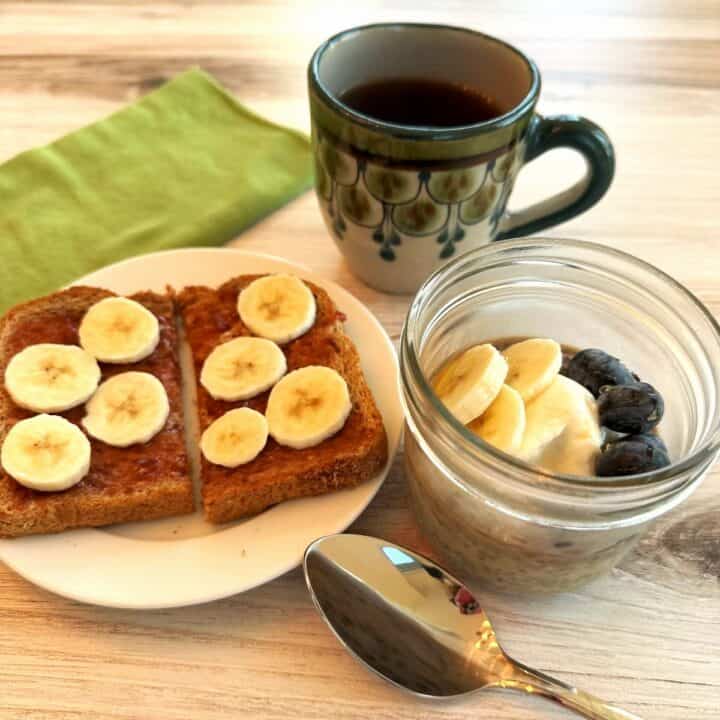 Serve topped with sliced bananas, berries, dried cranberries or raisins, flaked coconut, mini-chocolate chips, Greek yogurt, and/or whipped topping. An extra drizzle of maple syrup, honey, or chocolate syrup is delicious!
Storage
Chia Banana Pudding does not freeze well, which is why the recipe only makes two servings. It easily doubles or triples. Try doubling the recipe if you think you'll want to enjoy it throughout the week for breakfast.
❄It keeps covered in the refrigerator for about four days.
Prep tips
The pudding will darken slightly due to oxidation. (Think of how mashed bananas turn brown.) It does not affect the taste.
This is easy to make with fresh bananas, but if you have frozen ones, you can sub them for fresh ones. (This is an old smoothie hack!)
Just so you know, unlike other chia puddings, chia banana pudding does not have to be stirred again after resting to thicken properly.
Once the chia seeds are stirred thoroughly into the banana-milk base, just cover the container(s) with plastic wrap and let the pudding set in the refrigerator.
Variations
Two favorites are chocolate and peanut butter.
Add one and a half Tablespoons of cocoa powder or powdered peanut butter to the milk with the bananas and flavorings and then blend before stirring in the chia seeds.
Note that many cocoa powders are high in heavy metals. Third-party testing has found Ghiradelli cocoa powder to have lower levels than many other brands. (This link from Consumer Labs that shows the test results does include a paywall.)
Powdered peanut butter, like the PB2 brand, is easier to measure and blend than regular peanut butter; plus, it adds protein with less fat. The extra protein is especially welcome at breakfast!
Cinnamon Spice is also nice! Add half a teaspoon of cinnamon, a quarter teaspoon of nutmeg, a pinch of cloves, and maybe star anise to give your pudding a more holiday flavor!
Coffee-banana chia pudding is a highly energizing variation. Toss in half to a whole teaspoon of instant espresso or coffee before blending.
Nutty Chia Banana Pudding: Substitute almond extract for the vanilla and stir in a fourth cup of finely chopped nuts like pecans and or almonds with the chia seeds. Bonus points for toasting the nuts!
Banana-craisin or blueberry: Fold in dried craisins or blueberries with the chia seeds. Or add fresh blueberries after the chia seeds.
Whew! This is one adaptably delicious pudding!
Health benefits and bonuses
This pudding is a nutrition powerhouse. The health benefits are almost too numerous to mention, but here are a few worth knowing about.
Omega-3 fatty acids: Chia seeds are a rich, plant-based source of alpha-linolenic acid, one of these anti-inflammatory fats. They are beneficial for heart health, lowering the risk of cardiovascular and coronary heart disease, and improving cholesterol.
Fiber-rich: Add this pudding to your morning routine to solve any problems with constipation. Don't forget to drink plenty of fluids with it.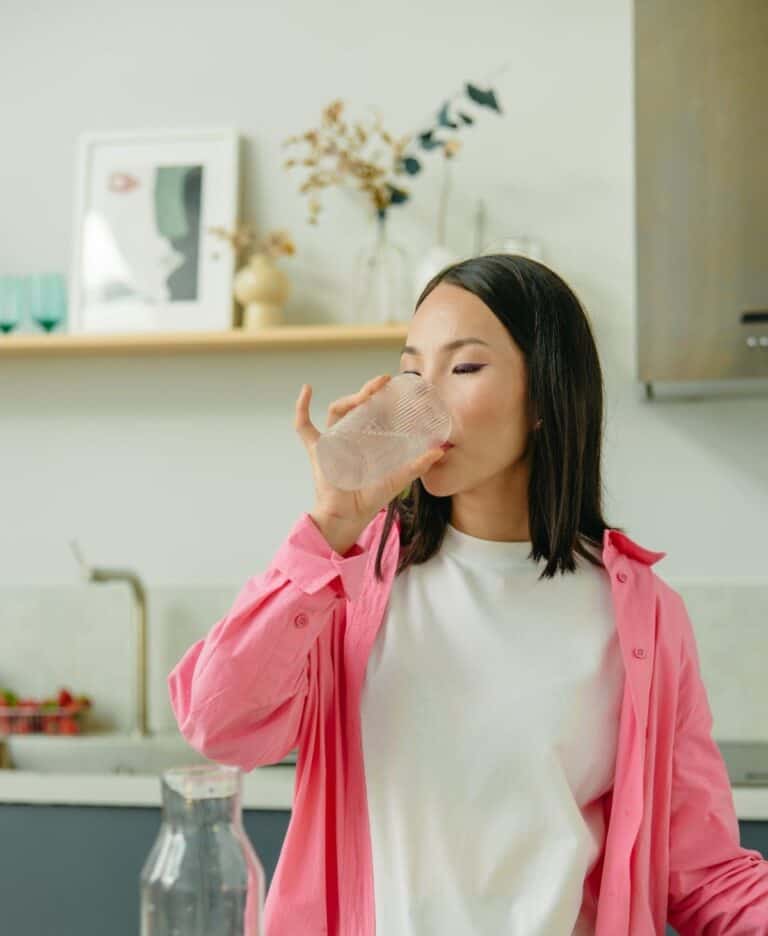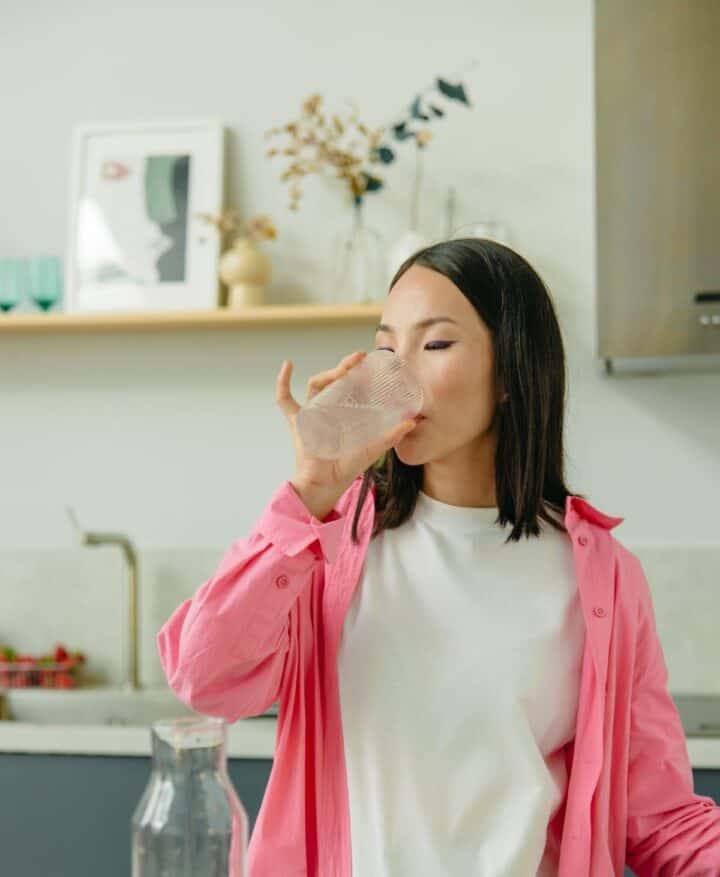 Blood pressure: Potassium in the banana and oat milk supports healthy blood pressure.
🦴Bone health: The pudding offers a wealth of minerals that benefit bone health, such as calcium, magnesium, and phosphorous.
Gluten-free: None of the ingredients contain gluten. It's also a good recipe for dairy/lactose sensitivities as long as you stick to plant milk.
🍬Blood sugar regulation: Since this pudding contains a well-rounded mix of carbs, fats, and protein, and is packed with fiber, it may help minimize spikes in blood glucose.
Well-rounded nutrition: It offers a balance of carbohydrates, protein, and fat--not too much of any macronutrient.
Antioxidant boost
Chia contains chlorogenic acid, caffeic acid, myricetin, quercetin, and kaempferol, phenolic phytochemicals that have a myriad of health-enhancing effects.
anti-aging
neutralize free radicals
good for brain health
fight cancer-inducing compounds
heart health
neuroprotective
It's important to remember that we don't consume vitamins, minerals, and other nutritious substances in isolation. Chia banana pudding can contribute to a healthy diet.
Can I add toppings?
Of course! Greek or plain yogurt is perfect as are sliced bananas, berries, and chopped nuts. For dessert, you could use a creamy Icelandic Skyr on top or whipped topping.

A drizzle of something sweet is also perfect for dessert. You could also throw on mini-chocolate chips or sprinkles. Do remember, however, that toppings will add calories and perhaps sugar and fat.

How do I make the pudding thicker or thinner?
You can play with the ratio of chia seeds to liquid. For thinner pudding, use two Tablespoons of chia instead of three Tablespoons in the recipe. Add a Tablespoon for thicker pudding.

Keep in mind that the banana and oat milk both help this pudding thicken. Using almond or dairy milk may result in a thinner, but still delicious, pudding.
Is Chia Banana Pudding vegan?
Yes, it is vegan when made with plant milk as shown in the recipe below. It is vegetarian if dairy milk is used instead of plant milk.
Other recipes you might like….
If you're nuts for seeds and appreciate their awesome taste and nutritional value, try these recipes. The granola and the pumpkin seed butter make lovely holiday gifts!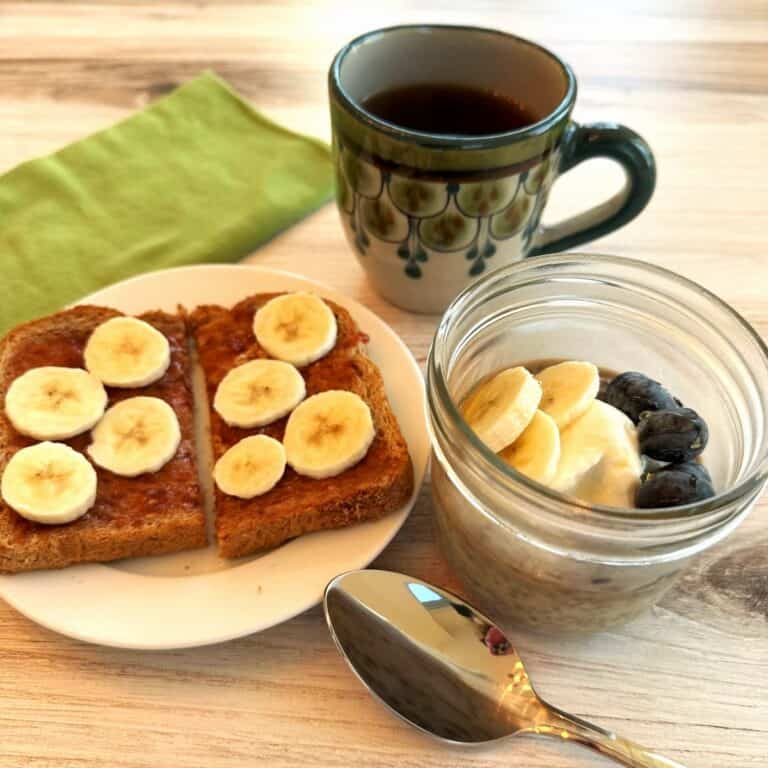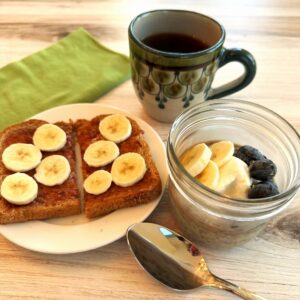 Chia Banana Pudding
Quick, thick pudding with a yummy banana flavor--eat it for breakfast or dessert!
Equipment
Stick immersion blender or regular blender

2-cup liquid measure

or other deep container

1 spatula

2 small jars or bowls
Ingredients
½

cup

oat milk,

or use another plant milk or 2% dairy milk

1

banana,

medium to large

½

teaspoon

vanilla extract

½

teaspoon

maple syrup,

optional

3

Tablespoons

chia seeds
Instructions
Pour the oat milk (or your choice of milk) into a two-cup liquid measure with high sides or a smoothie making container.

Slice the banana into the milk and add vanilla and maple syrup, if desired.

Use a handheld blender, smoothie tool, or regular blender to whip the oat milk mixture until smooth and uniform.

Vigorously stir in the chia seeds, distributing evenly throughout.

Cover and refrigerate for four hours or overnight. For individual servings, divide equally and pour into two small jars or bowls.

Serve topped with banana slices, berries and/or Greek yogurt.
Notes
The maple syrup is completely optional although if you want to serve this as dessert, you shouldn't leave it out. As a dessert, you might even want to use whipped topping with sliced bananas plus a drizzle of maple syrup on top!
Nutrition
Calories:
99
kcal
Carbohydrates:
21
g
Protein:
2
g
Fat:
1
g
Saturated Fat:
0.1
g
Polyunsaturated Fat:
0.4
g
Monounsaturated Fat:
0.1
g
Sodium:
29
mg
Potassium:
252
mg
Fiber:
3
g
Sugar:
13
g
Vitamin A:
162
IU
Vitamin C:
5
mg
Calcium:
101
mg
Iron:
1
mg
Copyright © 2023 Jani H. Leuschel