Chia seeds infuse this lower-fat cinnamon-oat granola with powerful plant nutrition. The deliciously toasty granola makes a nice Mother's Day gift and a healthy breakfast any day of the week!
Bake a batch and serve Mom breakfast in bed: yogurt topped with Chia Seed Granola, fruit, muffin or croissant, and coffee!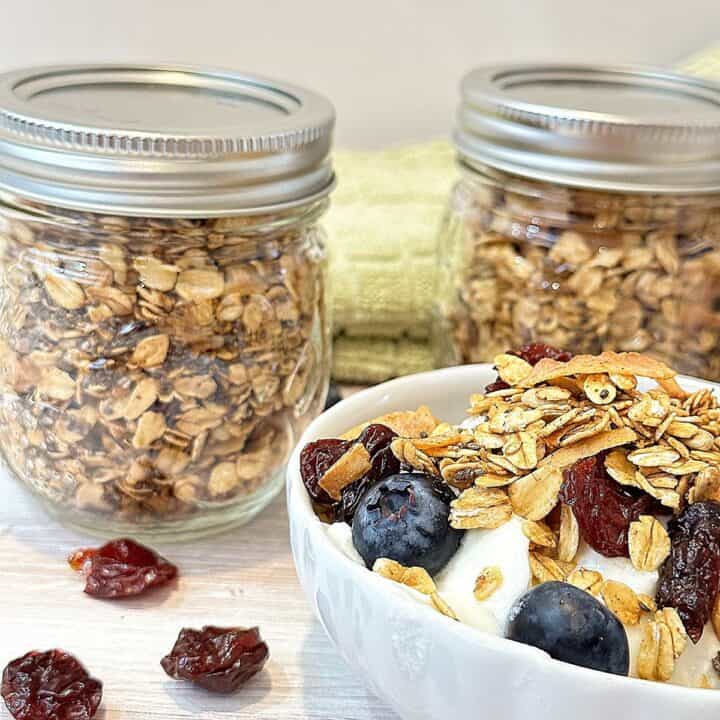 Seeds like chia can help vegans add protein and are an excellent alternative to nuts for those with allergies.
They offer many benefits, including anti-inflammatory omega-3 fats, protein, fiber, and minerals galore.
The old saying that "good things come in small packages" is especially true when it comes to chia seeds!
Why you'll love this granola
It's easy to make and flexible.
Do you love nuts? Substitute chopped pecans, walnuts, or almonds for the sunflower seeds. Hate coconut? Leave it out.
Use your favorite dried fruit or don't use any. If you're in a hurry, make the base granola without sunflower seeds, coconut shreds, and fruit.
Vegan recipe perfect for allergies and sensitivities
It's gluten, dairy, and nut free. So, it can be enjoyed by most in the household.
Low-fat, low-sugar, protein, plenty of fiber, vitamins, minerals, and antioxidants. (Deets are below.)
I earn from qualifying purchases at no extra cost to you as part of the Amazon Affiliate program.
Ingredients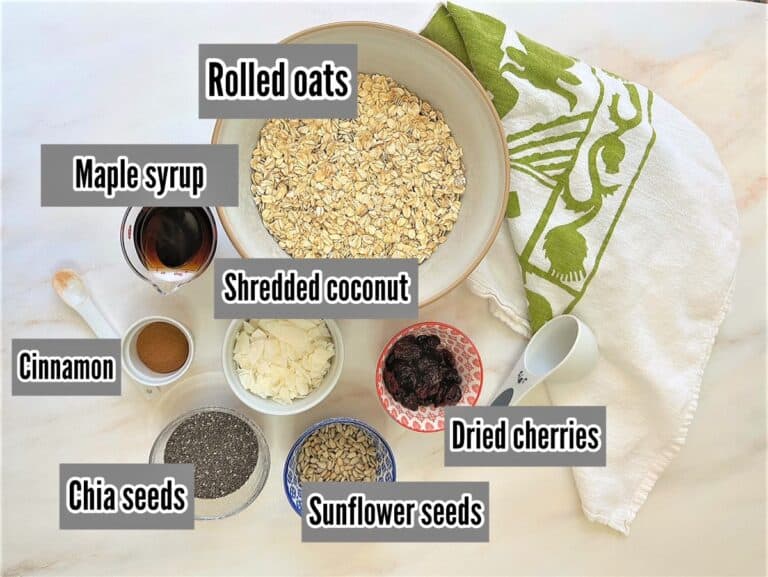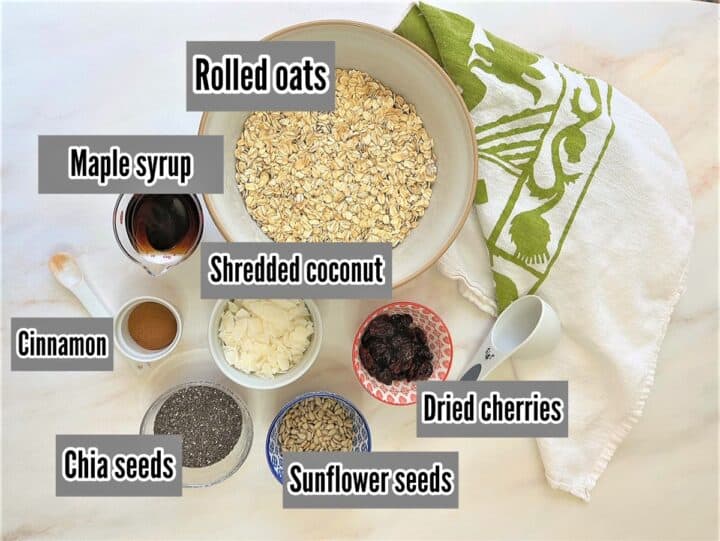 Oats
Chia Seeds
Sunflower seeds
Coconut shreds
Maple syrup
Cinnamon
Dried fruit
Oats: Use old-fashioned or rolled oats, not instant or steel-cut. If you are sensitive to gluten, be sure and check the label of your oats for the words "gluten-free."
Chia seeds: I used black chia in this recipe.
Sunflower seeds: They add vitamin E and more seed nutrition to the granola as well as good flavors.
*Shredded Coconut: I like the wide shreds, but thin shreds will work fine, too.
Maple syrup: Provides sweetness. Use whatever grade you can find at a reasonable cost.
Cinnamon: Vietnamese cinnamon will have more of a kick. Ceylon is milder with fewer coumarins (a chemical that can cause liver damage.) Read more about cinnamon.
Dried fruit: Use your favorite kind, whether it's dried cranberries, raisins, blueberries, chopped dates, etc.
*The FDA requires manufacturers to declare coconut as a tree nut, but it is actually a fruit. It does not usually trigger symptoms if you have a tree nut allergy.
How to Make
Combine oats, chia, sunflower seeds, and cinnamon in a large bowl. Pour the maple syrup over the oats, seeds, and spice and stir to coat. Sprinkle all with a touch of salt.
Spread evenly on a parchment or silicone-lined baking sheet and cook in a 300 F oven for 30 minutes.
Halfway through the cooking time, stir and add the coconut shreds.
When the bake time is finished, remove from the oven and let the granola cool completely before mixing in the dried fruit. Store in an airtight container.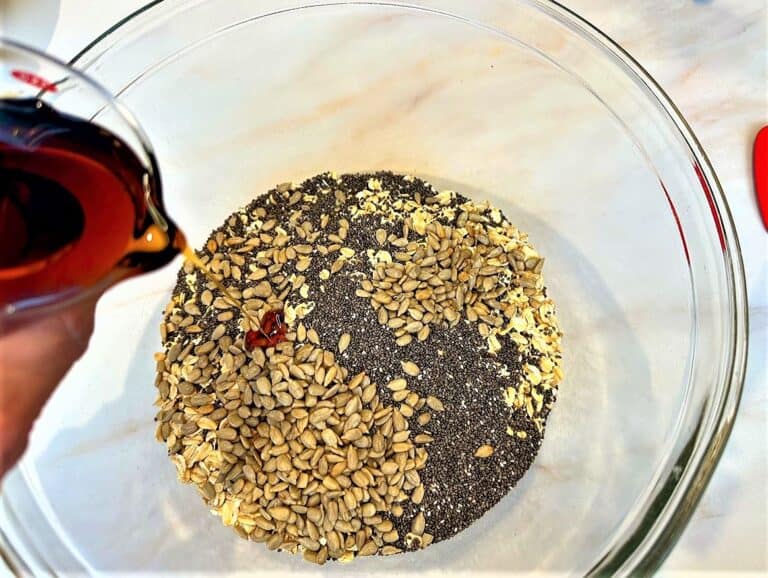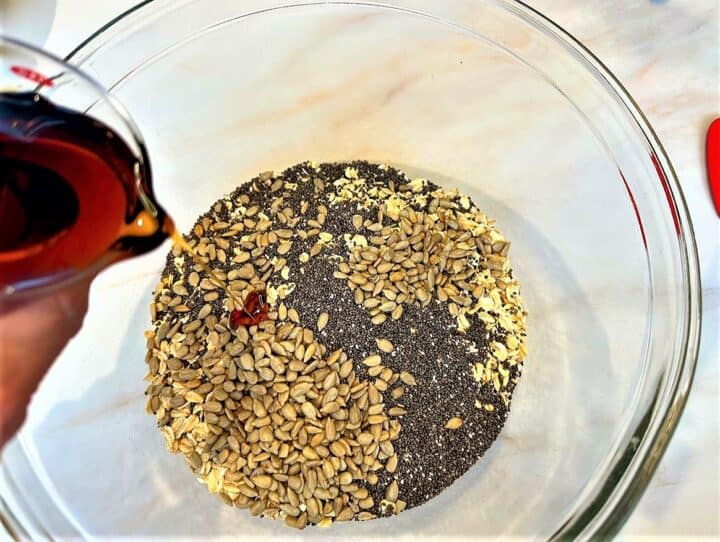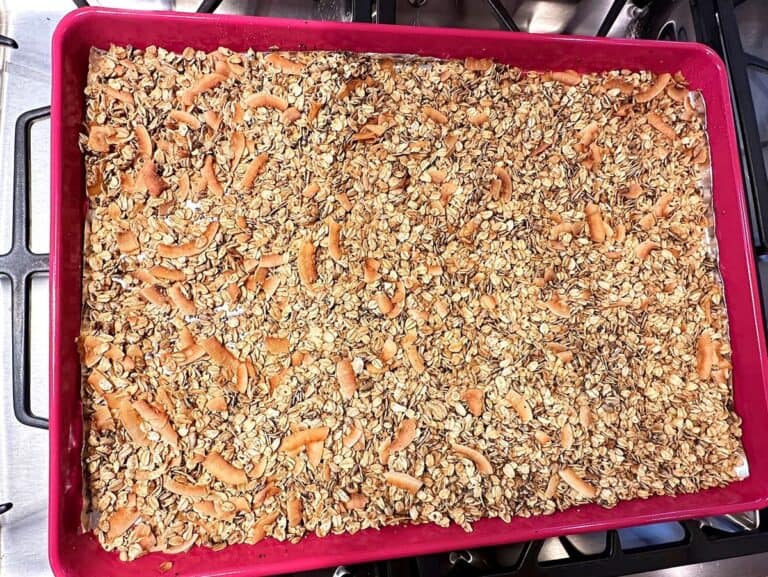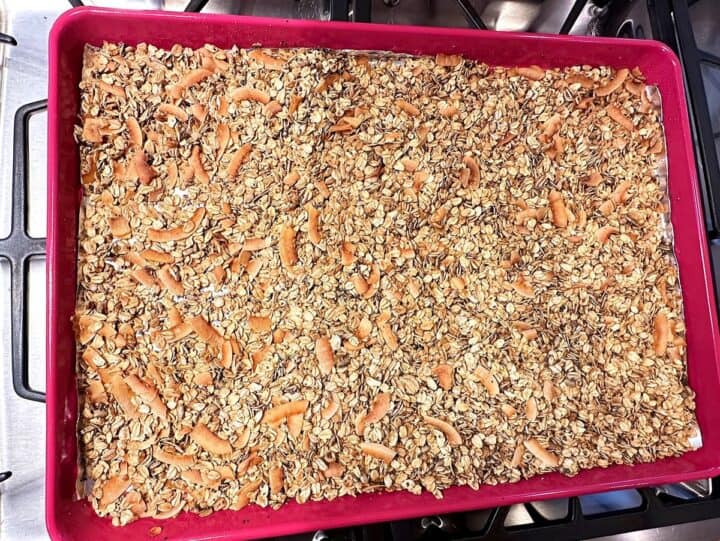 For complete instructions and amounts, see the recipe card at the bottom.
👩‍🍳Granola Cooking Tips
This granola is crunchy and not very clumpy. For clumpy granola, add a couple of Tablespoons of canola oil when you add the maple syrup. When you remove it from the oven to stir, press the oats and seeds together with your hands to make clusters.
Stirring is important! You want your granola evenly toasted evenly and not too dark in spots.
Do not add coconut at the beginning because it will burn!
When choosing a sweetener, know that a liquid one will be easier to blend with the oat-seed base of the granola.
Variations
Coconut: Add 3 Tablespoons of coconut oil mixed with the maple syrup. This is in addition to the shredded coconut.
Cocoa: Add 2 Tablespoons cocoa powder with the cinnamon before pouring the maple syrup over the oats and seeds.
Nut or seed butter: Mix a fourth cup of peanut, almond, or sunflower seed butter into the maple syrup before adding it to the oat-seed base.
Alternate sweeteners: Honey is a good choice for non-vegans, particularly if you don't keep maple syrup around the house. Agave tastes nice, too, and is not as sticky as honey.
Other spices, flavors: A quarter teaspoon of cardamom and/or nutmeg give the granola a more global flair. (Think chai spices!) A teaspoon of vanilla is also a flavor boost. (Again, mix this with the maple syrup before adding.)
A half cup of dark chocolate chips or chunks added to the batch will make the granola a go-to snack!
Deets on Nutrition Benefits and Bonuses
Omega-3 fats may be beneficial against cancer, too.
Chia Seeds
1 Tablespoon
% of DV
Calories
60
***
Protein
3 grams
***
Saturated Fat
1 gram
(Keep to 10% of daily energy)
Polyunsaturated Fat
3 grams
***
Carbohydrate
4 grams
***
Fiber
4 grams
14%
Calcium
70 mg
7%
Iron
1 mg
5% (♀), 12.5% (♂)
Manganese
1 mg
56%, 44%
Zinc
.55 mg
7%, 5%
Magnesium
40 mg
12.5%, 10%
*Omega-3, ALA
Alpha-linoleic Acid
2.3 g
123%, 209%
Info from USDA and Chia Seed Label (Sprouts brand)
Chia seeds also offer a good amount of omega-6 and omega-9 fatty acids.
Fiber: Oats and chia seeds contain plenty of fiber with benefits for slowing digestion and preventing spikes in blood sugar.
Oats boast beneficial beta-glucan fiber known to lower cholesterol.
The chia seed and oat fiber may aid in weight loss as it helps you feel full for longer and helps with bowel regularity. (Say goodbye to constipation!)
Protein: Chia seeds have almost half a serving of protein in a single Tablespoon. Oats have more protein than most grains–a reason they're a favorite among athletes.
Minerals and antioxidants: The amount of minerals in the teeny chia seeds is astounding. They are rich in manganese, which helps with metabolism, steady blood sugar, and calcium absorption--synergy since chia offers a good amount of calcium.
💪🏽Chia also has iron, as does any dried fruit you add to your granola, whether it's the cherries in the recipe below or raisins, dried cranberries, etc.
FAQ
Can you bake chia seeds in granola?
Yes. Baking toasts them and gives them a nice crunch!
When should I add chia seeds to granola?
Mix them with the oats at the beginning of baking. As long as your oven temperature is not too high, they will not get too hard or taste burned.
Is granola healthy?
The blog recipe is healthy, but many granolas are high in fat and sugar. That doesn't mean they don't have some health-giving ingredients like oats and dried fruit.
If you're buying granola, read the label, and avoid those with more than 6 grams of added sugar and more than 8 to 10 grams of fat per quarter-cup serving.
If you're making granola at home, leave out oil (or butter) and use a touch of syrup, honey, or sugar. Let the sweetness come from ingredients like dried fruit, toasty oats, and a small amount of a sweetener.
Can you eat granola like cereal?
Of course. It's a cereal!
Just remember that portion sizes for granola are usually smaller than those for other cereals. A quarter cup is the usual granola serving size, but some cereals like Cheerios have up to a cup (or more) as the serving size.
Where do chia seeds come from?
Chia seeds come from a plant in the mint family, Salvia hispanica. The Aztecs regularly ate chia seeds and this plant may be from Central America.
How to Store
The granola keeps for a month in an airtight container at room temperature. In the fridge or freezer, it will stay fresh for at least three months, possibly longer.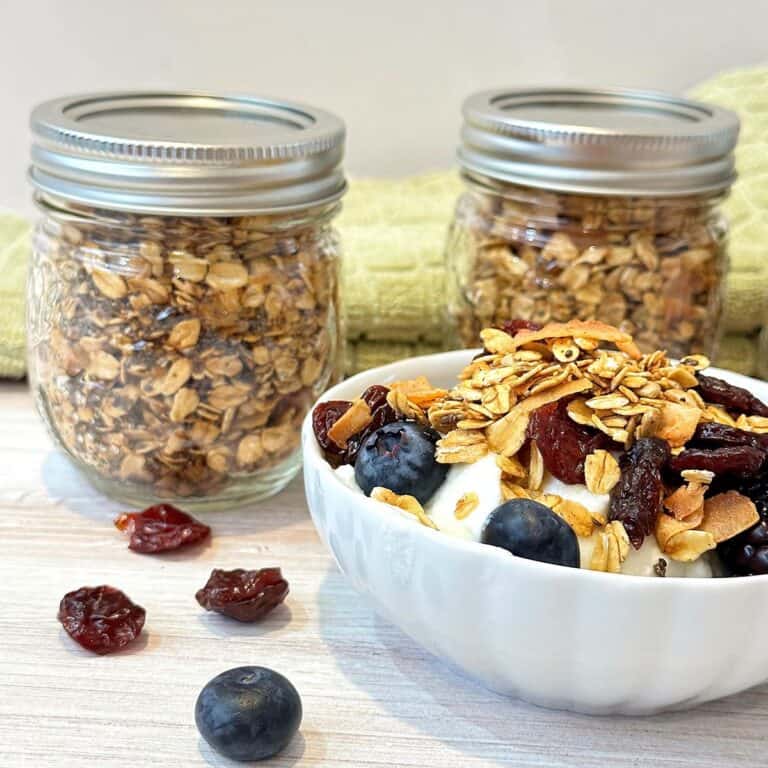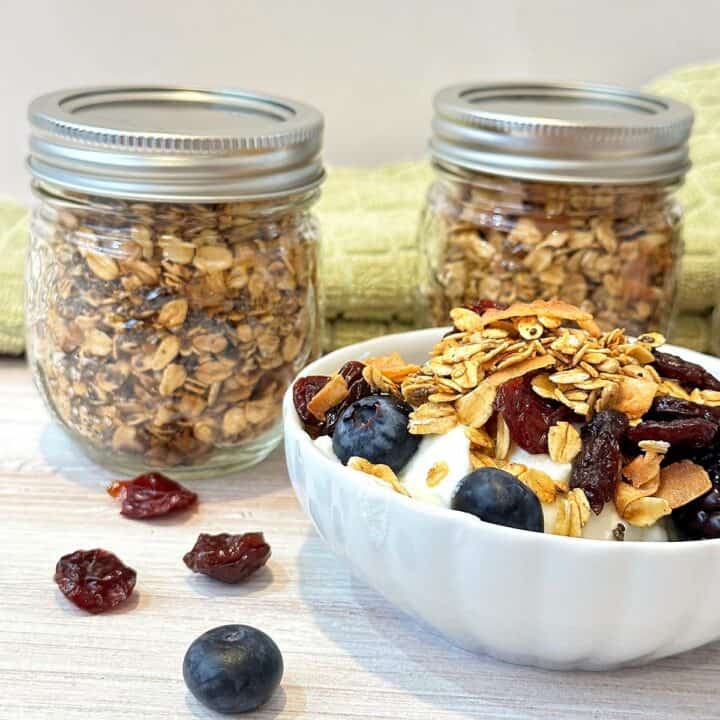 Yummy Serving Ideas
Breakfast best: The smaller size of this granola, with its tiny, crunchy chia seeds and toasted oats and sunflower seeds, makes it a perfect mixer for yogurt or kefir. Add fresh berries to take the flavor and antioxidant content over the top!
Enjoy just like cereal with a splash of milk. However, granola's serving size is smaller than most cereals. (If you're in a breakfast hurry, that can be perfect!)
Snack: Parfait it. Layer it with thick Greek yogurt, sliced fruit, and a drizzle or two of honey.
Many granolas are eaten out of hand, but the small chia seeds can make this a challenge. Better to sprinkle it onto a cup of applesauce, sliced bananas, or canned fruit if you want to eat it as snack.
Ice cream topping: It adds delicious crunch to a bowl of vanilla ice cream!
Gift it! Let others enjoy your homemade granola. Give it away–for Mother's Day and to friends and family!
Other healthy breakfast recipes you might enjoy
When you're got an active weekend, fuel up with these delicious Chocolate Protein Pancakes.
Or, try these Triple Chocolate Muffins, which are perfect for chocolate fanatics. The flavor is intense!
Earl Grey Scones have the bergamot-scented tea baked right into the pastry, and they're tea-glazed. Delicious--with all the benefits of black tea, including energy!
Want a more savory start? Enjoy these Rosemary Cheddar Biscuits with scrambled eggs, turkey sausage, and fruit!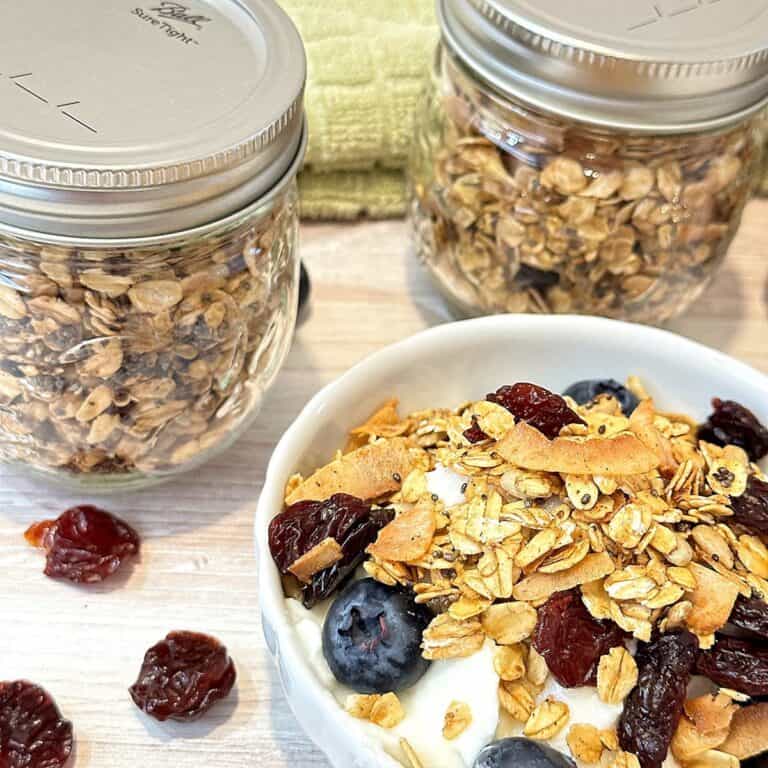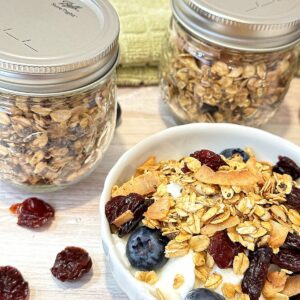 Granola with Chia and Cherries
This easy, nutritious granola is healthy way to start the day and a nice crunchy snack for mid-afternoon cravings.
Equipment
1 large bowl

1 spatula or wooden spoon
Ingredients
3

cups

rolled or old-fashioned oats

¼

cup

black chia seeds

¼

cup

sunflower seeds

1

teaspoon

cinnamon

¼

cup

maple syrup

or agave or honey

sprinkle

salt

¼

cup

shredded coconut,

unsweetened and wide

¼

cup

dried tart cherries,

can substitute any dried fruit
Instructions
Wash hands for 20 seconds before starting prep.

Preheat oven to 300 F, and line a baking sheet with a silicone mat or extra-wide foil. If using foil, coat it with non-stick spray.

Combine oats, chia seeds, sunflower seeds, and cinnamon in a large bowl. Pour maple syrup over all and stir with a spatula, thoroughly coating all ingredients.

Pour the oat mixture onto the prepared baking sheet and spread evenly. Sprinkle with salt and place in the preheated oven.

After 15 minutes, remove the granola from the oven and distribute the coconut shreds over the top. Stir the mixture and return to the oven for another 15 minutes.

Remove the granola from the oven and let cool completely. Add the dried cherries (or other dried fruit) and transfer to an airtight container for storage.
Video
Notes
This is a flexible and forgiving recipe. The only ingredient that can't be switched out are the oats.
(Be sure and check the package for "certified gluten-free" if you are sensitive to glutens.)
A half-cup of chopped nuts can be used instead of the chia and sunflower seeds if you prefer nuts to seeds.
Although cinnamon is usual in granola, other spices, such as nutmeg, cardamom, and cloves, are quite nice.
If you like a richer granola, add a couple of tablespoons of neutral vegetable oil like canola or grapeseed.
🍯 Honey or another liquid sweetener is fine instead of maple syrup. You can use sugar or a stevia-erythritol blend, but granulated sweeteners aren't as easy to work with.
🍒 Of course, any dried fruit you have on hand and enjoy is fine in place of the cherries. Just be sure to wait until the granola has cooled to add it. Dried fruit does not need oven time because it turns into rocks!
😋 And you can always add some chocolate chips or chunks when stirring in the fruit.
Nutrition
Serving:
0.25
cup
Calories:
112
kcal
Carbohydrates:
17
g
Protein:
3
g
Fat:
4
g
Saturated Fat:
1
g
Polyunsaturated Fat:
1
g
Monounsaturated Fat:
1
g
Trans Fat:
0.004
g
Cholesterol:
0
mg
Sodium:
3
mg
Potassium:
105
mg
Fiber:
3
g
Sugar:
5
g
Calcium:
34
mg
Iron:
1
mg
Copyright © 2023 Jani Hall Leuschel