With a deep, dark flavor and enticing aroma, Triple Chocolate Muffins are perfect for Mother's Day, Father's Day, or any day you crave chocolate. Their flavor is more intense than cake or brownies!
These muffins are decadent and nutritious. (The terms are not opposites!)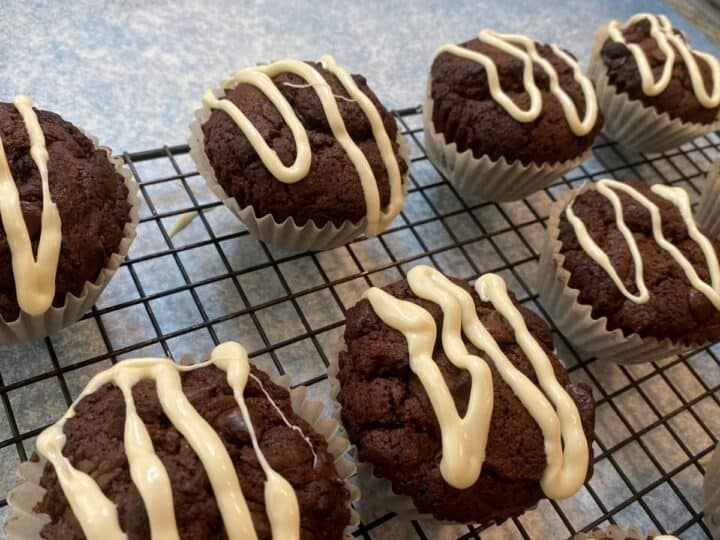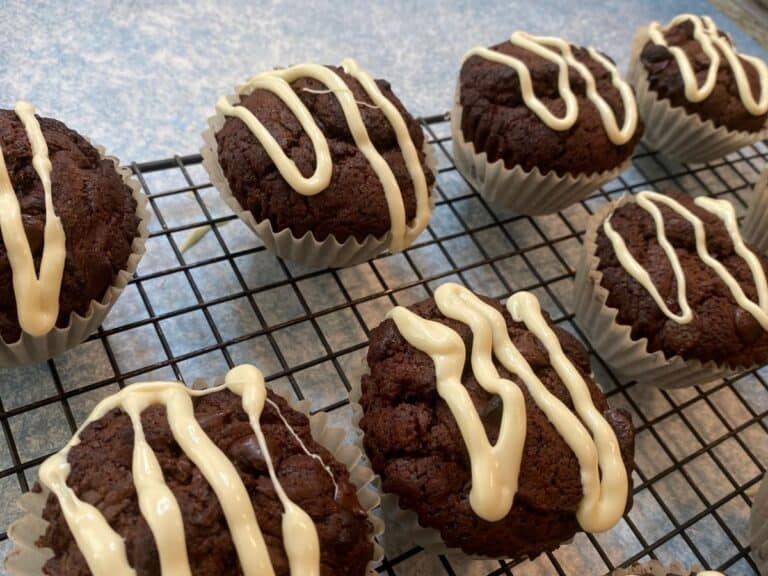 Read below to get the skinny on how to make them plus the nutritional deets.
As an Amazon Associate, I earn a small commission at no cost to you when you make a purchase from links on this blog. Thank you!
Ingredients: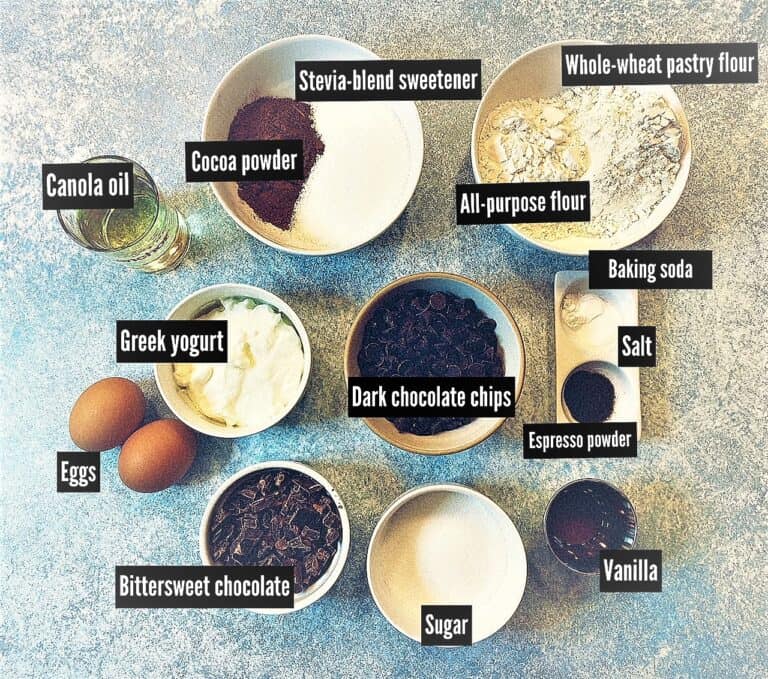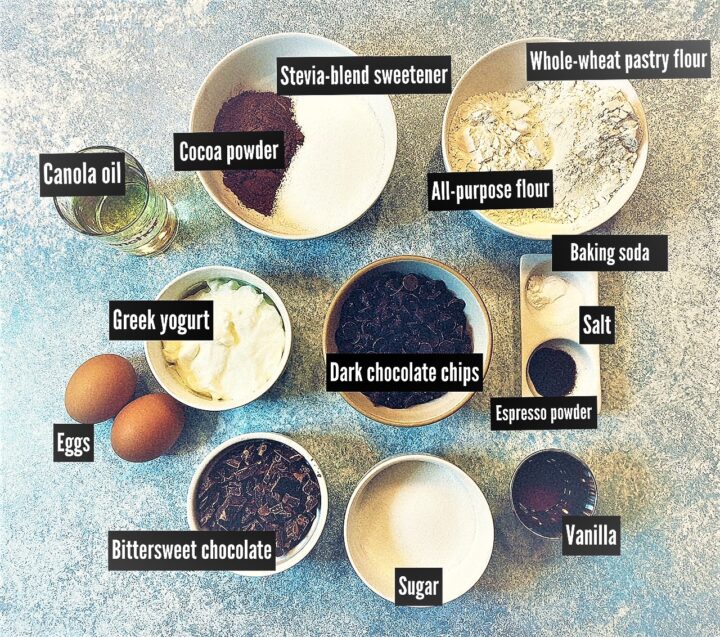 Whole-wheat pastry flour
All-purpose flour
Cocoa powder (natural, not Dutch-processed)
Stevia-blend sweetener
Espresso powder (optional, but adds depth to the flavor)
Baking soda
Salt
Bittersweet chocolate
Canola oil
Plain low-fat Greek yogurt (can sub plant-based yogurt if vegan)
Eggs (can sub flaxseed eggs if vegan)
Vanilla
Bittersweet (dark) chocolate chips
Flour: Anyone with celiac disease or gluten sensitivity can substitute a gluten-free flour for the whole-wheat and all-purpose flours.
I like using whole-wheat pastry flour when making cakes, cookies, and pastry because it is not as strong as regular whole-wheat flour. This means your baked goods get a touch of whole-grain goodness and achieve a higher rise.
Cocoa: For optimum nutrition and flavor, choose natural, not Dutch-processed cocoa powder. Dutch-process cocoa has alkali added, which changes how it reacts in recipes and reduces the nutrition slightly by removing some of the flavanols.
If you want to sub Dutch-process cocoa in the recipe below, add half a teaspoon baking powder and reduce the amount of baking soda to half a teaspoon.
The two brands of cocoa that I like are Scharffen Berger and Ghiradelli Premium Baking Unsweetened Cocoa Powder.
Sweetener: It's easiest to use a stevia that measures just like sugar. For excellent nutrition, Sweet Complete from Truvia is a good choice because it blends stevia with erythritol and with prebiotic chicory root, which is good for your gut.
Of course, you can use sugar in place of stevia sweetener, which costs more! Having some sugar helps the bake and the taste. I don't want anyone to take a bite and immediately know the muffins are lower in added sugars!
Instant espresso powder: If you have it in your pantry, espresso powder heightens the dark chocolate flavor. But, you don't have to make a special purchase. The muffins will taste yummy without it.
I use Medaglia D'Oro, available in many grocery stores, or you can order espresso powder if you'd like to try it.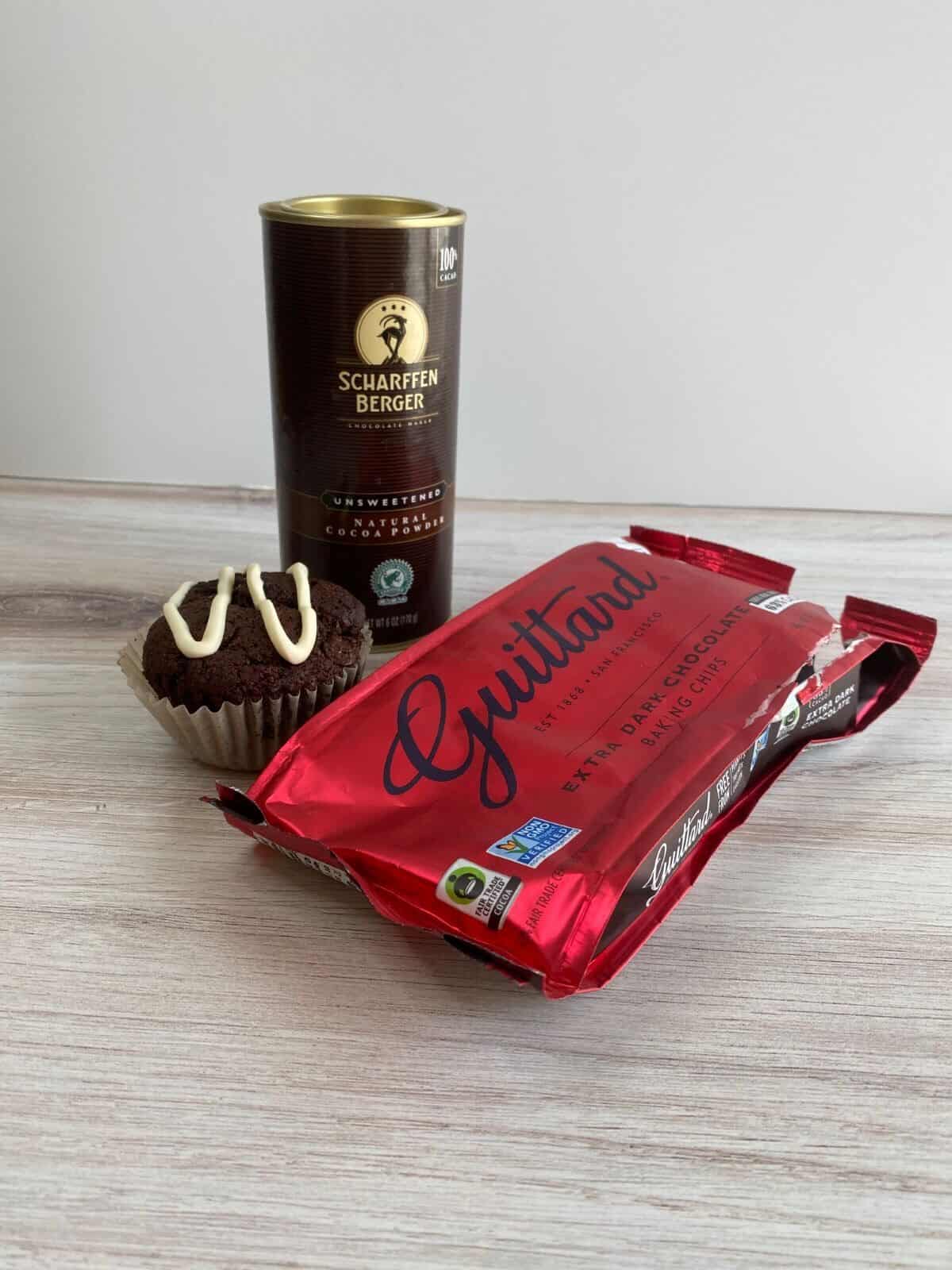 Bittersweet baking chocolate and chocolate chips: You can sub in semisweet, but the flavor is more intense with bittersweet. Plus, darker chocolate usually offers more nutrition, especially in the form of flavanols.
Guittard has baking chocolate for melting down with 70% cacao, as well as extra dark chips with 63% cacao. The chips were a top pick by ConsumerLab.com!
Ghiradelli has a 60% bittersweet baking bar and a bittersweet chip. Both were rated highly by ConsumerLab.com.
Scharffen Berger makes bittersweet bars, too, with 70% cacao.
Of course, good ol' semi-sweet chocolate–baking bars and/or chips–will be fine in this recipe, too. Sometimes, you've got to go with what's in your pantry!
Vegetable oil: Any neutral-tasting vegetable oil should be fine. I like canola oil because of its heart-healthy polyunsaturated fatty acids.
Yogurt: This ingredient adds protein, keeps the chocolate muffins moist and helps them rise. For the sake of flavor, it's best to use low-fat or whole milk. Stay away from non-fat or flavored varieties.
🥚🥚 Eggs: These offer protein, fat, and a host of vitamins, minerals, and nutrients like choline, which helps with healthy brain and liver function, metabolism, and more!
Vegans can replace the yogurt and eggs with plant milk or plant-based yogurt and flaxseed eggs. Below is the recipe for a flax egg.
1 Tablespoon ground flaxseed meal
3 Tablespoons water
Mix in small bowl and let stand for five minutes, until thickened.
How to Make
Line a muffin tin with paper liners. I like to use parchment liners because they separate from the muffin very easily. For a special occasion, these tulip-shaped liners are nice!
Mix the flours, cocoa, stevia-blend sweetener, espresso powder (if using), baking soda, and salt in a good size bowl. Set aside while you prepare the wet ingredients.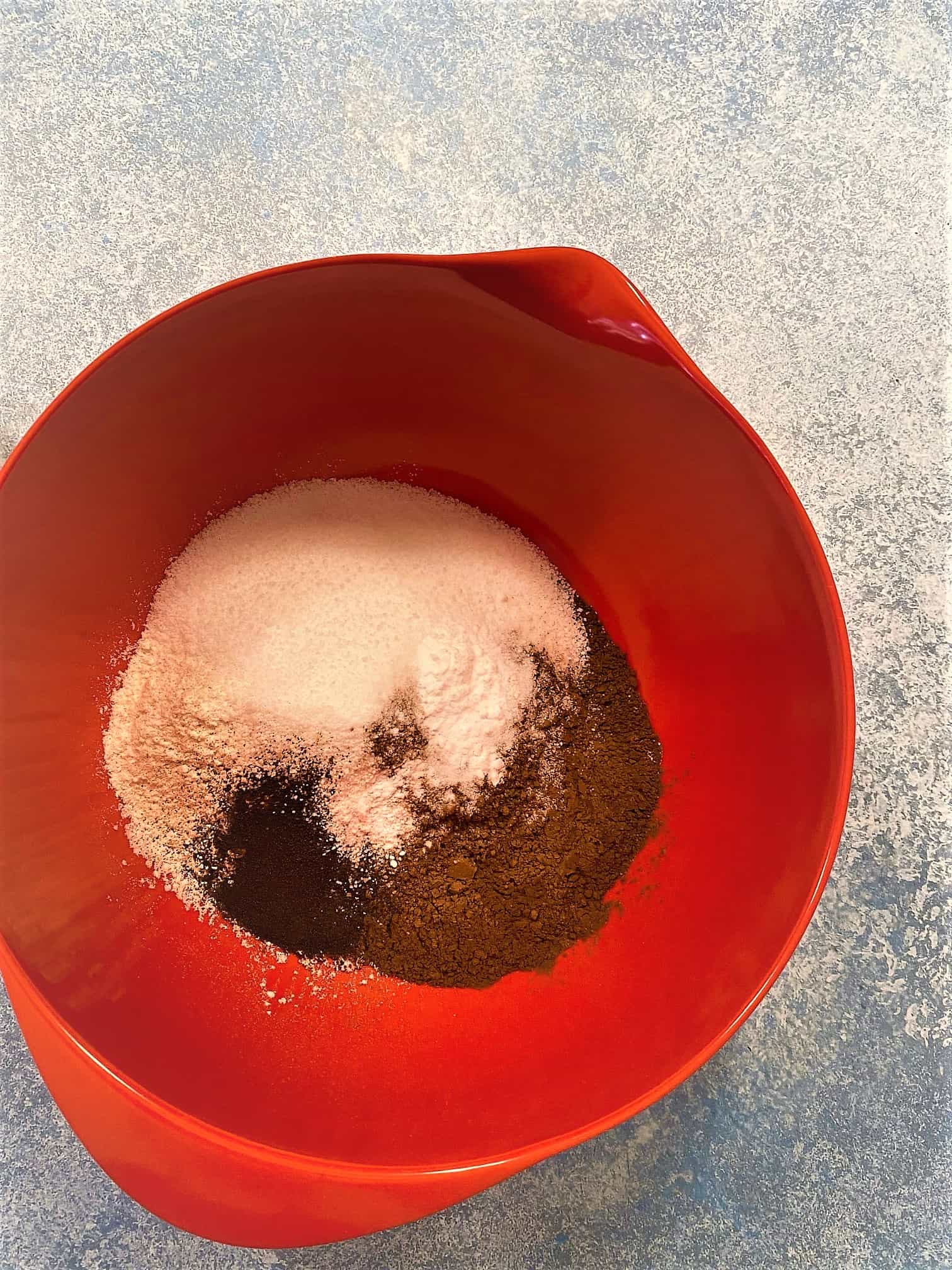 Melt chopped bittersweet chocolate. You can do this in the microwave or set a heatproof bowl over simmering water in a small sauce pan. (See recipe card below for complete instructions.)
Add the sugar, oil, yogurt, and vanilla to melted chocolate and mix well. Then, add the eggs one at a time, beating after each addition. Or, if using flax eggs, add all at once, beating into the mixture.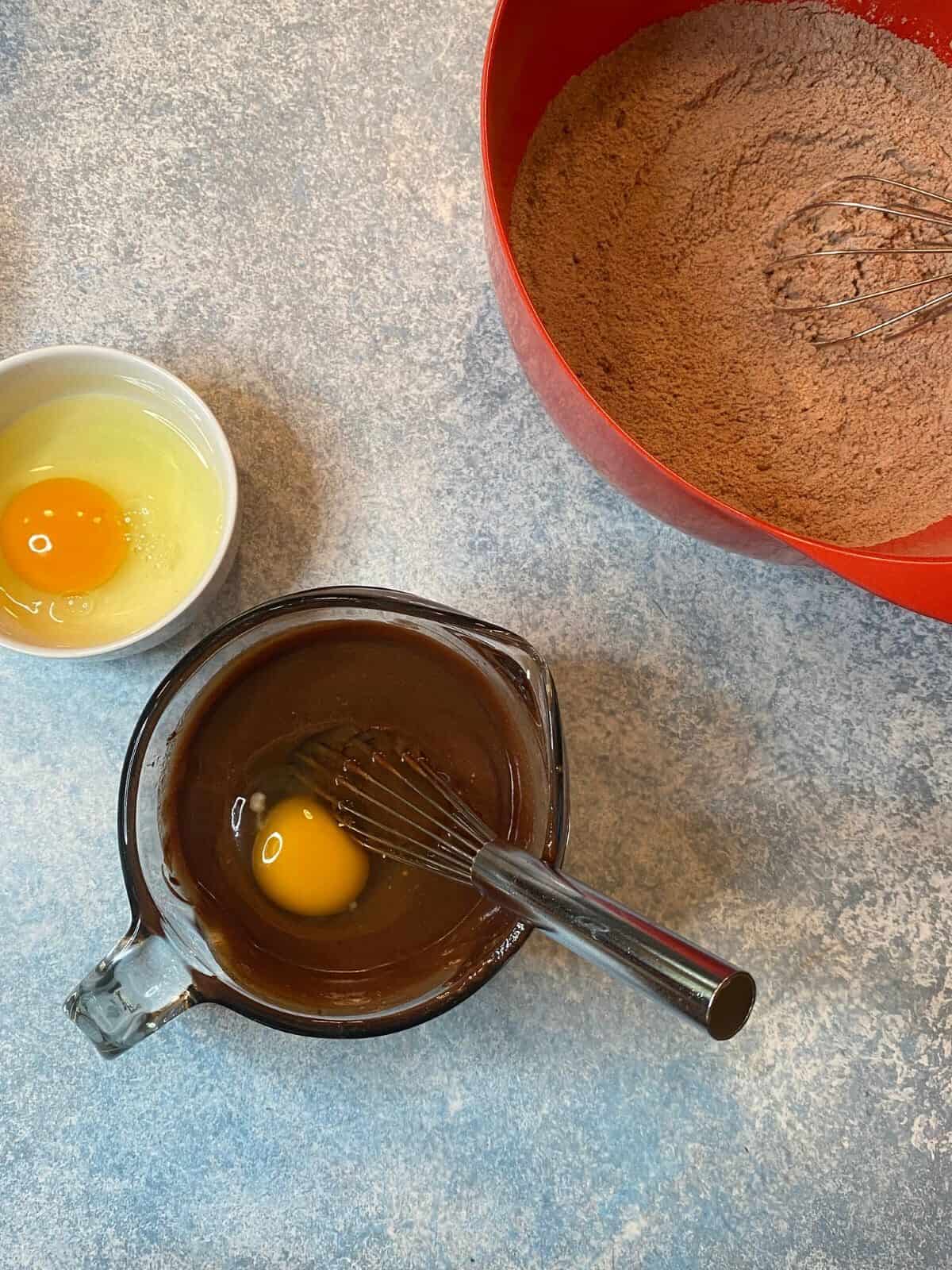 If you've been cracking eggs, wash your hands thoroughly.
Pour the wet ingredients into the dry ingredients and mix lightly, leaving some dry, streaky spots. Overmixing is your enemy when it comes to muffin making!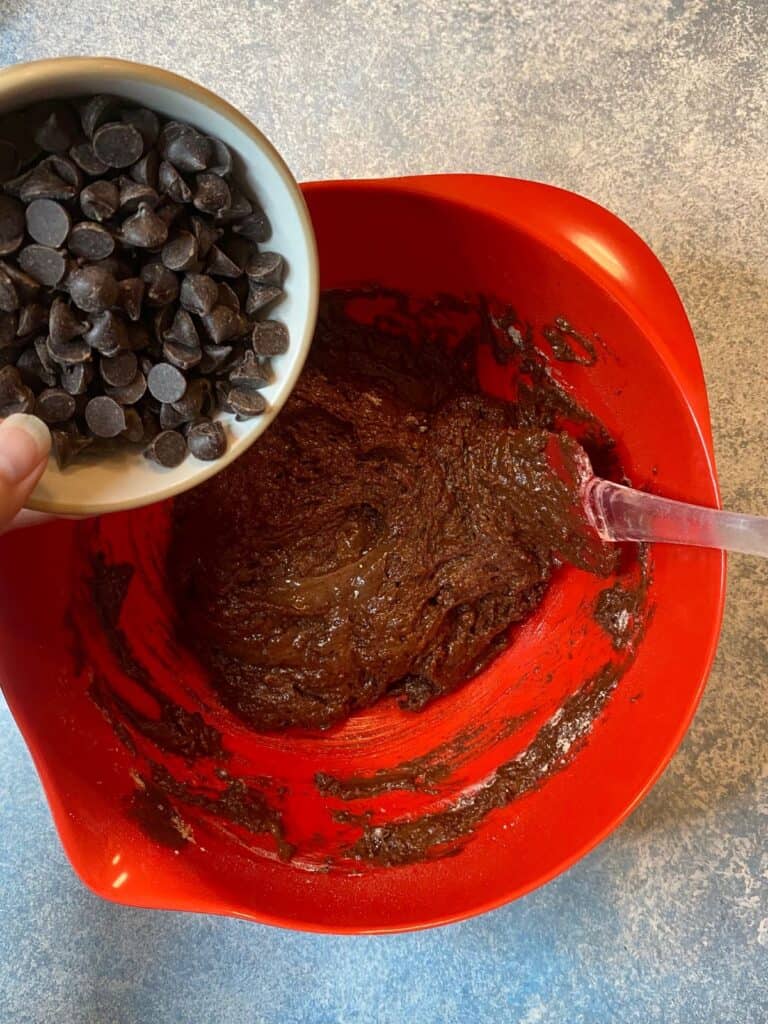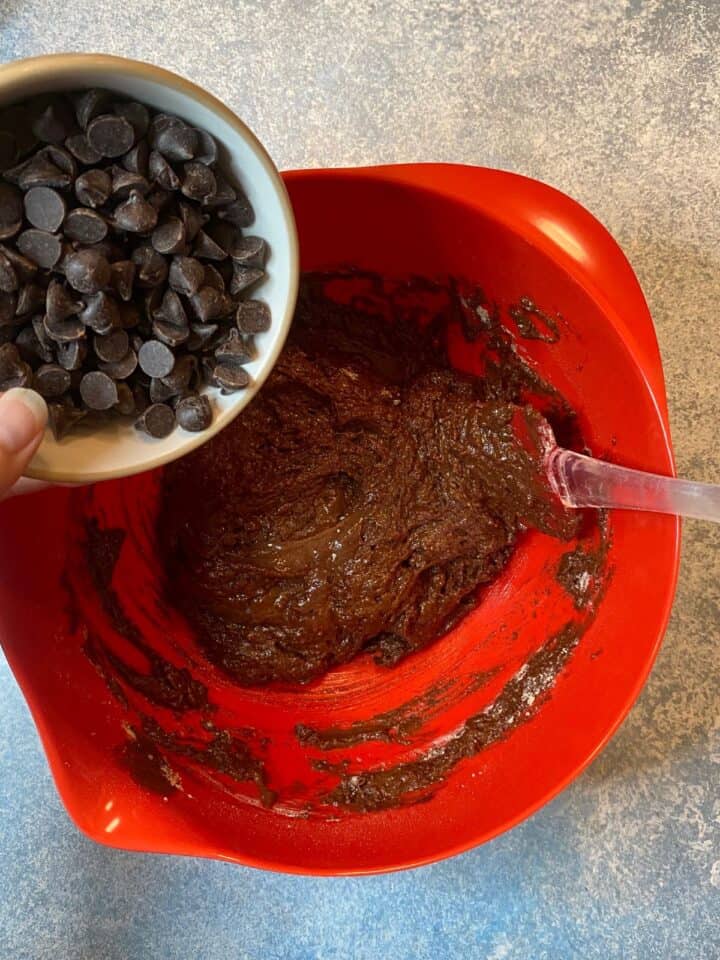 Lightly mix in the chocolate chips.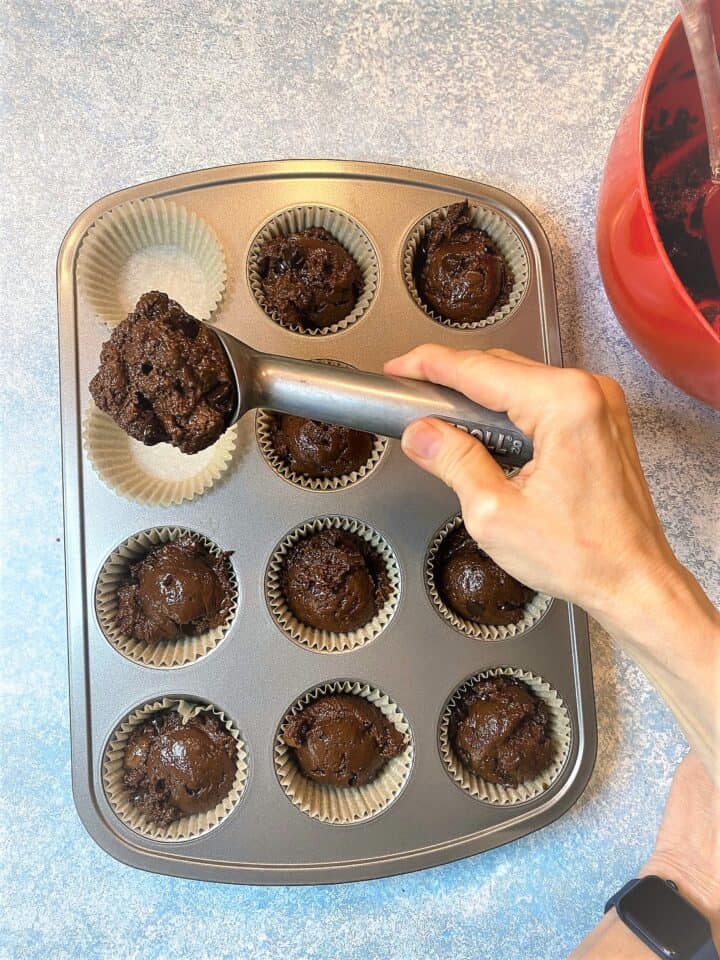 An ice-cream scoop makes it easy to portion the batter into the muffin cups.
Initially bake for eight to 10 minutes at 400 F, then lower the heat to 350 F. Rotate the pan front to back and and bake for another eight minutes.
Lowering the heat is key! It helps the center of the muffin set and prevents the outside from burning. The finished muffin will have a crusty top and be moist inside.
Remove from oven and let cool in the pan for five minutes before removing to a rack. (Time to sample a warm chocolate muffin with melty chips inside!)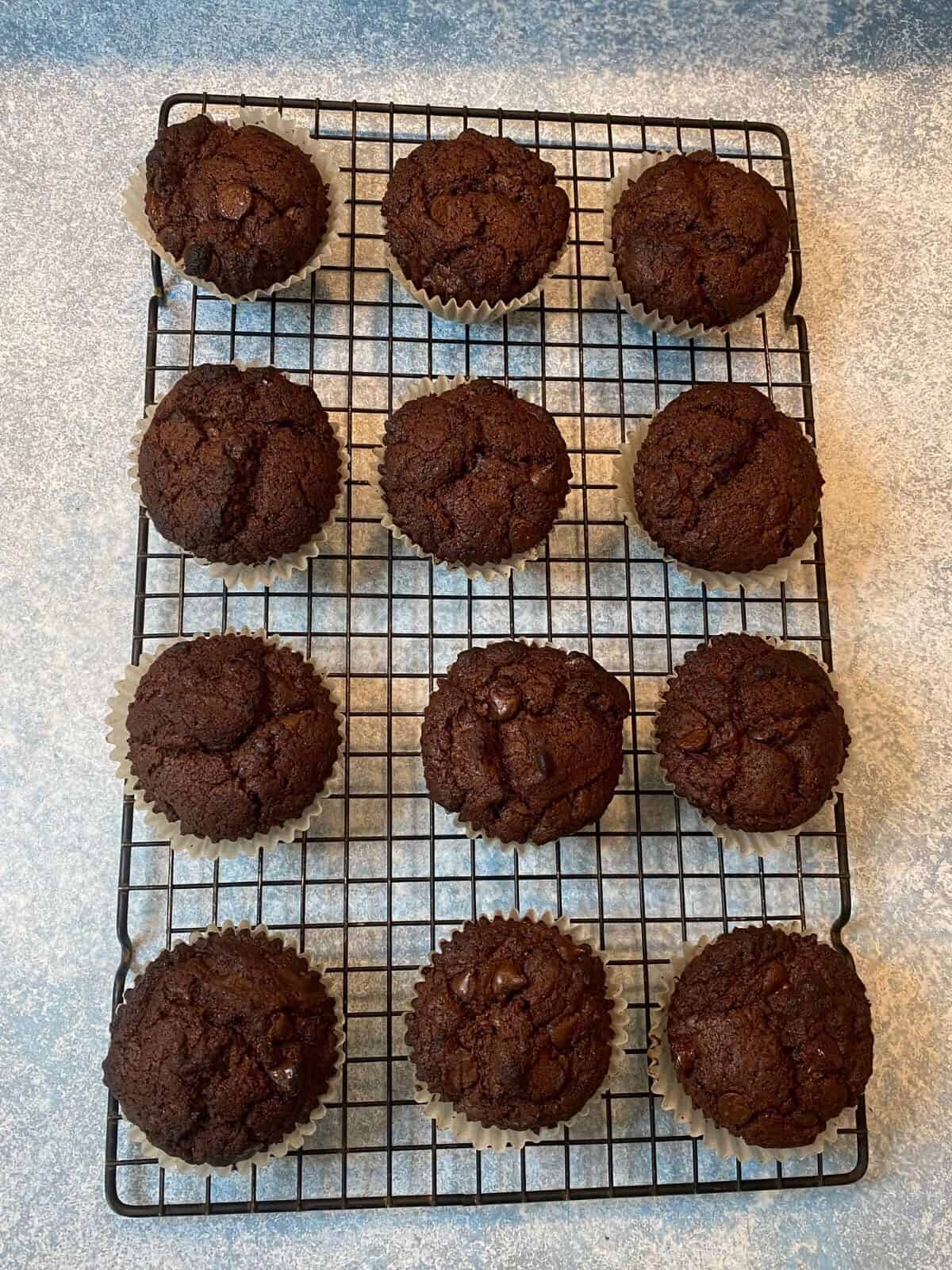 Nutrition Bonuses 🌟
Cocoa flavanols: These phytonutrient, antioxidant compounds found in plants have multitude of health benefits. To reap the rewards, you need at least 200 mg per day.
A recently updated article from ConsumerLab.com* mentioned the following health perks along with the amount of flavanols needed:
Better blood flow and cardiovascular disease improvement--minimum of 200 mg/d
Blood glucose management--minimum 200 mg/d
Cognitive function improvement--minimum 500 mg/d
Smoother and tighter skin--minimum 320 mg/d
The same article detailed testing results from several baking chocolates with high levels of flavanols. Ones that could be used in this recipe include:
Baker's Semi-Sweet Chocolate Bar
Ghiradelli Intense Dark
ConsumerLab.com recommended the following dark baking chips for high levels of flavanols with less cadmium, a hazardous chemical. (For more info on cadmium, read below.)
Guittard Extra Dark Chocolate Baking Chips (top pick)
Ghiradelli Chocolate Premium Baking Chips (better for children)
Ghiradelli Chocolate Premium Baking Cocoa was ConsumerLab.com's top choice among cocoa powders tested because it offers a good amount of flavanols with less cadmium.
*ConsumerLab.com may require a paid subscription to view the full report.
Cacao Solids meaning?
According to ConsumerLab.com, the confectionery industry defines cacao solids as the total of cocoa liquor, cocoa powder, and cocoa butter in a product.
Because cocoa butter does not contain flavanols, the percent cacao solids listed is not a reliable way to choose a product . Unsweetened cocoa powder, which has had the cocoa butter removed, is loaded with flavanols.
Health bonuses in 100 grams (3.5 ounces) of dark chocolate
Here are some deets on dark chocolate with 60-69% cacao solids:
8 g fiber
62 mg calcium
6.32 mg iron
176 mg magnesium
2.65 mg zinc
86 mg caffeine
632 mg theobromine
Dark chocolate is rich in minerals!
Stimulants? Yes, no, or maybe?
Caffeine, of course, can make you feel jittery in large amounts. Theobromine is also stimulant with slightly different effects that tend toward focus instead of jitters.
There is research showing that some of the happy feeling you get from eating chocolate is due to the combination of caffeine and theobromine.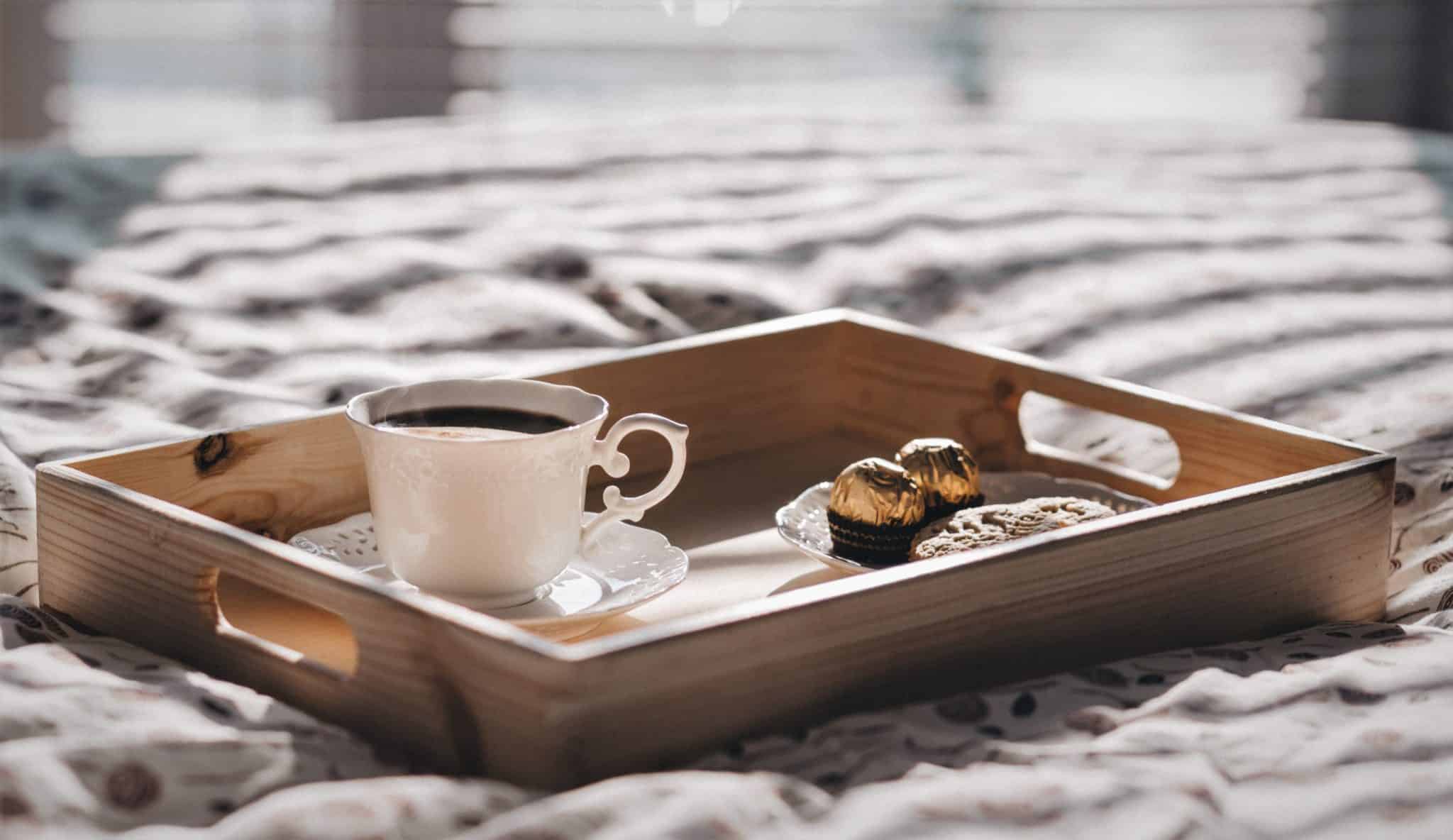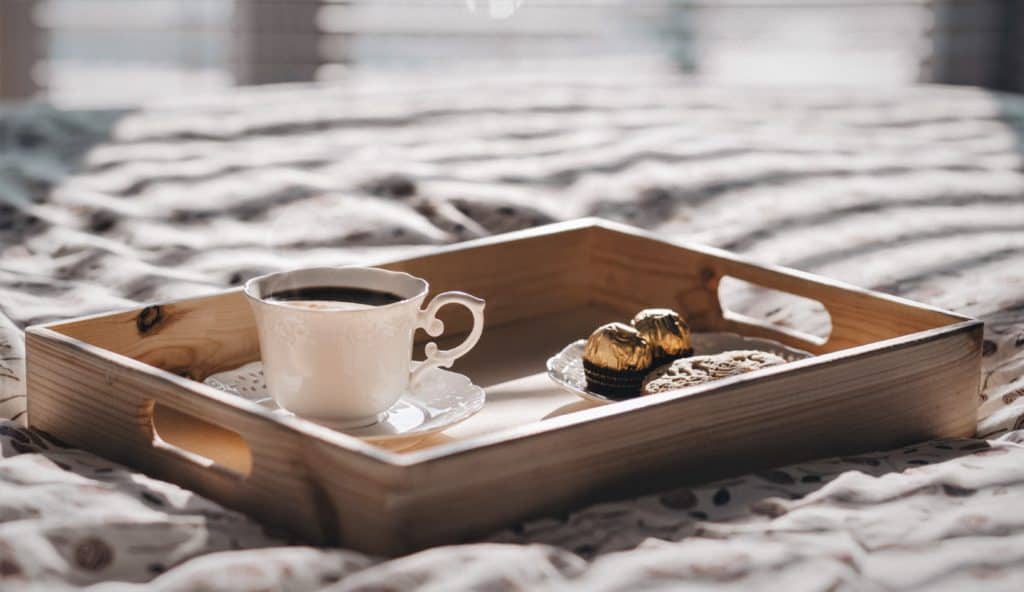 Despite the lift they provide, I would not eat these muffins in the late afternoon, but my husband enjoys them with a glass of milk at bedtime!
A muffin with moderate carbohydrate content
Compared to store-bought chocolate muffins, these Triple Chocolate Muffins have far fewer carbohydrates.
One decent size muffin has only 30 grams (two servings for those who count) if the muffins are made with stevia-blend sweetener plus sugar. About 13 of those grams are from added sugar.
A chocolate muffin from Costco can have 87 grams of carbohydrate, almost three times as many, with 38 grams of added sugar!
Nutritional minuses: fat and cadmium 😟
Triple Chocolate Muffins are not low-fat. Each muffin has 17 grams of fat and is delicious!
The biggest health drawback is cadmium. ConsumerLab.com's testing found that many chocolates with high concentrations of flavanols also had high concentrations of cadmium.
Cadmium is a heavy metal found in environment and depending on where you're getting your information, it's a probable carcinogen, known to cause cancer.
This is especially true for cadmium in cigarette smoke. It enters the food chain from soils since it's found in the earth's crust, fertilizers, and coal. Also, it's a byproduct of metal extraction.
Cocoa powders sometimes have a high amount of cadmium.
Ghiradelli Chocolate Premium Baking Cocoa has a lower cadmium concentration to go with its higher flavanols, which makes it a healthy choice for baking. The downside is that it's expensive.
How to store and reheat 🔥
The muffins are fine to store at room temperature for a day or two, and will keep in the refrigerator for up to five days.
(As they age, they become more crumbly.)
You can freeze them for up to two months.
In the microwave, heat a frozen muffin for 45 seconds. A muffin from the refrigerator will need about 20 seconds, and a room temperature muffin might need 15 seconds (to melt the chocolate chips).
Note: Microwave ovens vary in power, so your oven may perform slightly differently than above.
Truly, they are best eaten on the day they are baked. It's probably a good idea to pop any leftovers (if there are any) in the freezer at the end of the day.
When to eat ⏰
Enjoy the muffins for breakfast, brunch, or an afternoon pick-me-up. They could also be dessert, but be mindful of the caffeine and theobromine content. (Although this has not been an issue for my husband! 😄)
With a cup of coffee or tea in the morning, they are very energizing!
Other chocolate recipes
If you are trying to get your 200 mg per day dose of chocolate without resorting to supplements like CocoVia™, or swallowing straight spoonfuls of cocoa powder, here are more recipes you might like:
No-bake Chocolate Pie is a quick dessert win made in the microwave!
Chocolate Protein Pancakes are a recovery meal that doubles as a delicious brunch! (Your grandma needs these pancakes, too. You don't have to tell her about the protein part.)
My blog with an erythritol brownies recipe gives the low-down on this no-calorie, no-carbohydrate sweetener and how it's combined with stevia to make easily digestible, healthy treats.
Or, make a few scones for brunch. Try these tea-infused Earl Grey Scones or super-quick Blackberry Scones.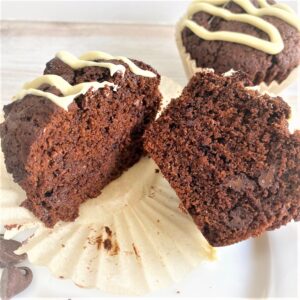 Triple Chocolate Muffins
Decadent, dark, and delicious--these muffins are the pinnacle of chocolate perfection with surprising health perks!
Equipment
1 12-cup muffin tin

paper liners or non-stick baking spray

1 large bowl

1 2-cup glass measure

like Pyrex or Anchor Hocking

measuring spoons and cups

spatulas and whisks
Ingredients
¾

cup

whole-wheat pastry flour

½

cup

all-purpose flour

½

cup

stevia-blend sweetener,

check label to be sure that the sweetener measures spoon for spoon like sugar. You can sub regular sugar.

¼

cup

cocoa powder,

natural, not Dutch-processed

1

teaspoon

espresso powder,

optional

¾

teaspoon

baking soda

½

teaspoon

salt

4

ounces

chopped bittersweet chocolate

¼

cup

sugar

½

cup

canola oil

or vegetable oil

½

cup

low-fat Greek yogurt,

whole milk or plant-based yogurt is fine, too. Don't use non-fat.

2

eggs,

sub flax eggs if vegan. See notes below for flax egg instruction.

1

teaspoon

vanilla

1

cup

chocolate chips,

bittersweet (dark)
Instructions
Wash hands for 20 seconds before beginning prep.

Heat the oven to 400 F and place paper liners in a 12-cup muffin tin. I like to use parchment liners because they separate easily from the muffin.

Or, spray each muffin cup in the tin with non-stick baking spray.

In a large bowl, combine the flours, cocoa powder, stevia-blend sweetener, espresso powder (if using), baking soda, and salt.

Place the chopped bittersweet chocolate In a small microwave-safe bowl or measuring cup, Microwave on medium power for 30 seconds and stir. Microwave an additional 30 seconds on medium power and stir.

If the chocolate is still chunky, microwave in 20-second bursts on medium power until mostly melted.

If there are still a few chocolate lumps in the meltiness, no worries. It should become completely liquid with gentle stirring.

Alternatively, you can melt the chocolate in a heatproof bowl set over a saucepan of barely simmering water.

Remove the bowl from the microwave or saucepan and stir in the sugar. Add the oil, yogurt, and vanilla. Thoroughly combine.

Beat in the eggs one at a time, taking care that the mixture is not so warm that they scramble. Wash hands after handling eggs.

(This is not a concern if you substitute with flaxseed eggs.)

Pour the liquid ingredients into the dry ingredients and stir gently, taking care not to overmix. (It's okay if there are a couple of dry, streaky spots in the batter.)

Gently stir in the bittersweet chips.

Use an ice cream scoop to generously fill paper liners in the muffin pan. Insert the pan into the middle rack of the preheated oven.

Bake for 10 minutes and then turn the oven down to 350 F. Rotate the pan front to back and bake for another eight minutes.

Remove the pan from the oven and let the muffins cool in the pan for 5 minutes, then remove them to a wire rack. Decorate with melted chocolate (white, dark, or milk), if desired.

Serve at breakfast or brunch. They are also delicious as a snack or dessert!
Notes
Sweetener: Sometimes baking with stevia sweeteners can be challenging. Truvia and others usually combine stevia with erythritol, but they are often not quite as sweet as sugar. If you prefer to use all sugar, that should work just fine.
It's important to read the package on the stevia sweetener to know whether it measures the same as sugar or if you should use half as much. This recipe is written for a product that measures equally.
Cocoa powder: I prefer natural cocoa powder, such as Scharffen Berger or Ghiradelli Premium Baking Cocoa (unsweetened) for their lively chocolate flavor. If you want to use a Dutch-processed cocoa powder, add ½ teaspoon of baking powder to the recipe and reduce the baking soda to ½ teaspoon.
Flax eggs: For each egg you are replacing, combine one tablespoon flaxseed meal with three tablespoons of water. Allow the flax egg to sit for five minutes and thicken before using.
♦The muffins are done if the middle is set and only a couple of crumbs stick to a toothpick inserted into the center.
Nutrition
Serving:
1
muffin
Calories:
268.1
kcal
Carbohydrates:
29.5
g
Protein:
4.4
g
Fat:
16.8
g
Saturated Fat:
5.3
g
Cholesterol:
30.6
mg
Sodium:
183.8
mg
Potassium:
73.7
mg
Fiber:
3.9
g
Sugar:
12.9
g
Vitamin A:
45.7
IU
Vitamin C:
0
mg
Calcium:
21
mg
Iron:
1.9
mg
Copyright © 2022 Jani H. Leuschel