This old-fashioned corn and sausage chowder is a hearty bowl of comfort. Evaporated milk makes it taste creamy and delicious.
With an easy prep, it can be ready to slurp in about 45 minutes, start to finish.
The recipe has a few more veggies and less fat than many other chowders, but you can take it in a richer direction if you want. (Read on to find out how!)
Want to make it in the slow cooker or Instant Pot? See the full recipe for instructions.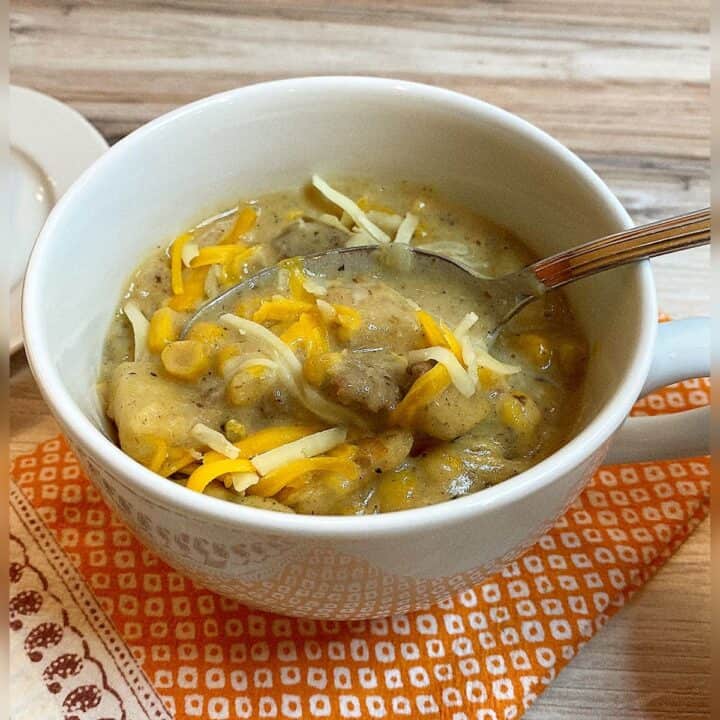 Ingredients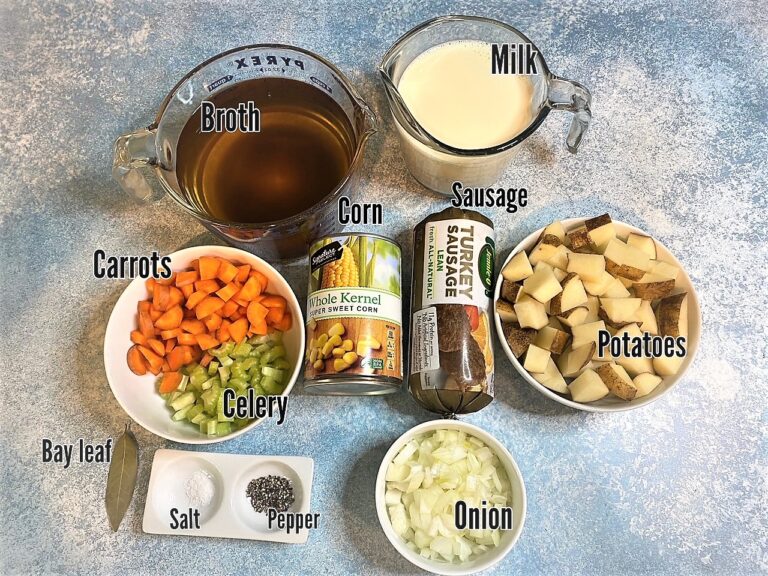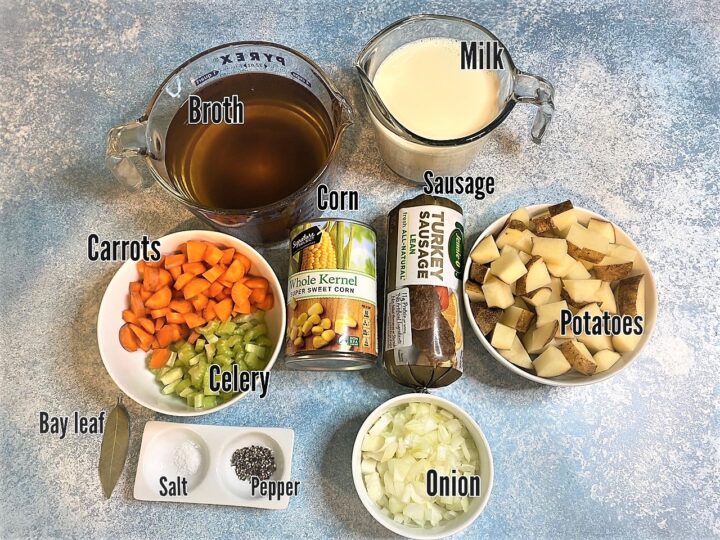 Ground sausage meat: turkey or pork
½ large onion
1 large celery stalk, chopped
1 large carrot, chopped
1 large russet potato, cut into medium chunks
1 bay leaf
¼ teaspoon salt
½ teaspoon black pepper
3 cups broth (low sodium, if possible)
1 (15-ounce) can of corn (use 2 cups of frozen or fresh corn, if desired)
1 (12-ounce) can of 2% evaporated milk
2 Tablespoons cornstarch
2 Tablespoons cold water
Shredded Colby-Jack Cheese for serving
🦃 Sausage: Turkey sausage saves you fat and calories. It's a healthy choice for those with diabetes or heart disease and for your waistline. No need for anything fancy. Use a tube of sausage meat like Jimmy Dean, Jennie-O, or a store brand.
🥕 Onion-celery-carrot: Sometimes called mirepoix, this traditional blend of vegetables is a classic soup starter. The veggies add vitamins, minerals, phytonutrients, and fiber!
🥔 Potatoes: I like russets because they are often less expensive. Plus, they fall apart after a long simmer, thickening the soup. Waxy small potatoes, such as gold or red varieties, are also fine.
🌿 Seasonings: That distinctive chowder flavor comes from bay leaf! You can add half a teaspoon of a dried herb like marjoram or thyme to boost the taste even more.
Broth: Use veggie or chicken broth or water. If you use water, it may be necessary to increase the salt in the recipe.
🌽 Corn: I like the convenience of canned corn. Just drain, and rinse off the extra sodium before adding it to the soup. Frozen corn, thawed and drained, is also fine.
🥛 Evaporated Milk: Choose the 2% variety to save fat. It still tastes rich and creamy. Or, if fat is not a concern, substitute whole milk, half-and-half, or heavy cream.
Cornstarch: It makes your chowder thick, and it's gluten-free.
🧀 Colby-Jack Cheese: The shreds make a delicious garnish!
How to make
Start by browning the sausage in a Dutch oven or deep, high-sided 5-quart pan.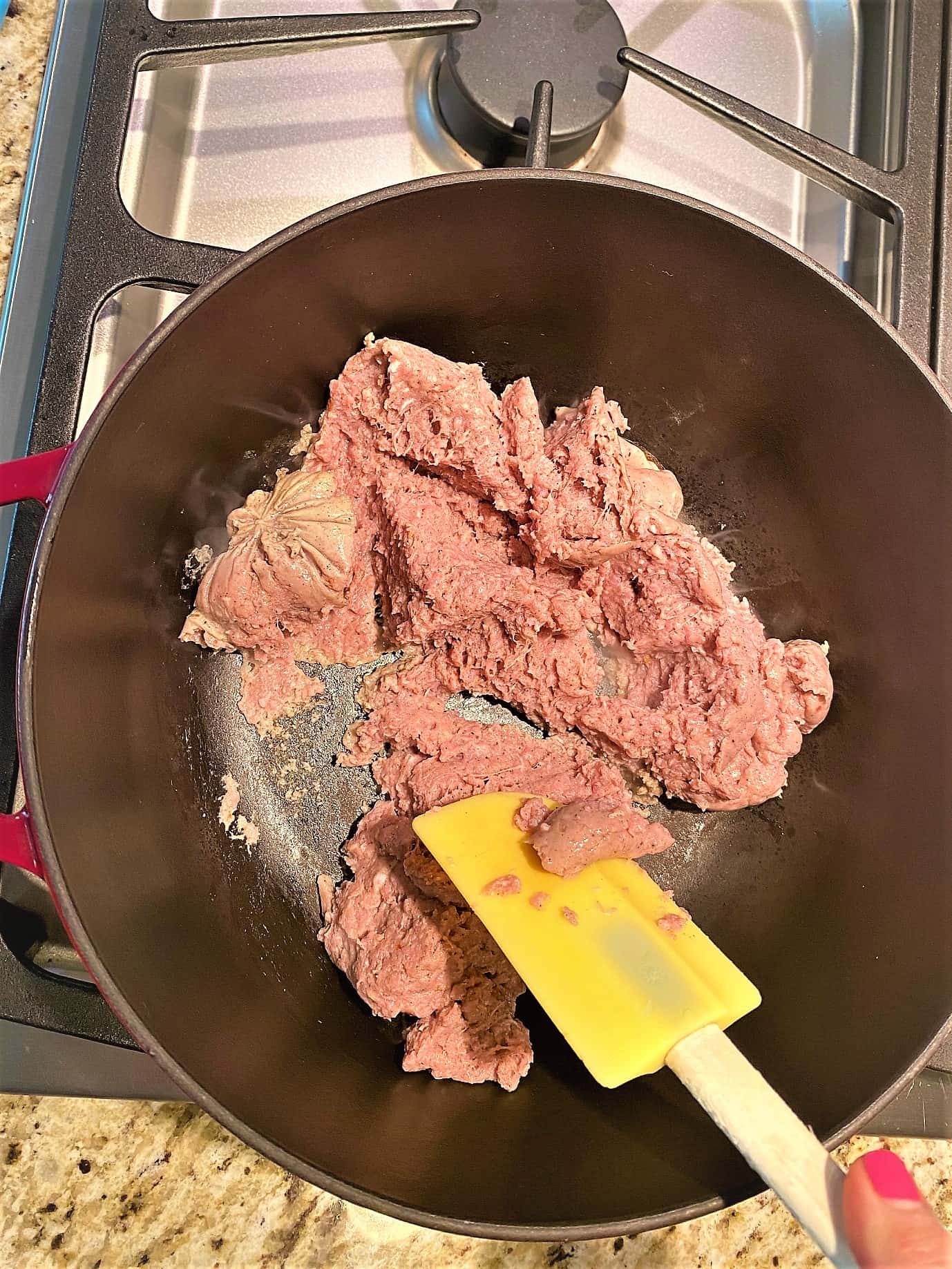 Remove the cooked meat, leaving the drippings.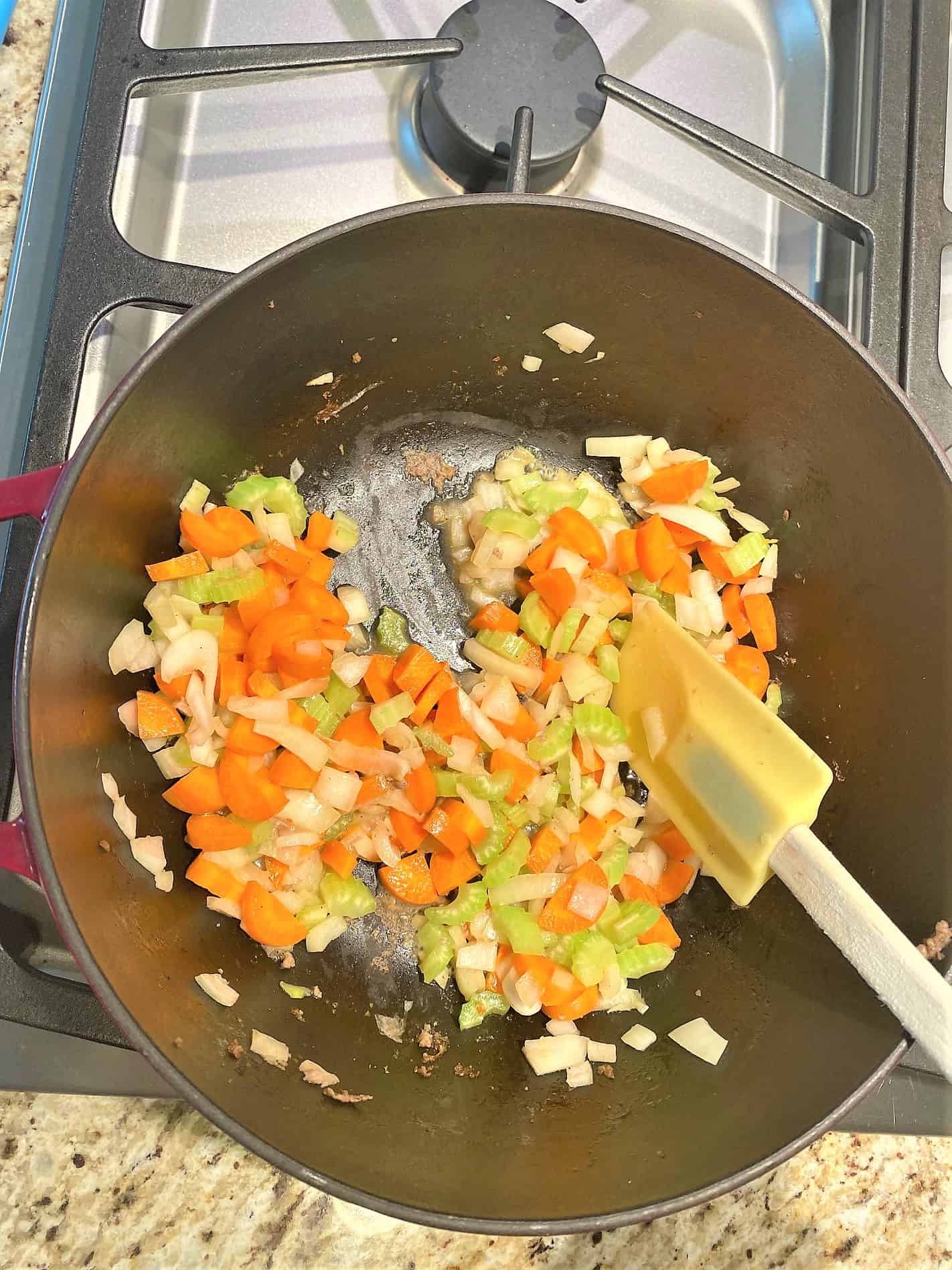 Add the chopped onion-celery-carrot to the hot drippings. Cook until the onion becomes translucent (see-through). Add the potatoes and cook for about three minutes.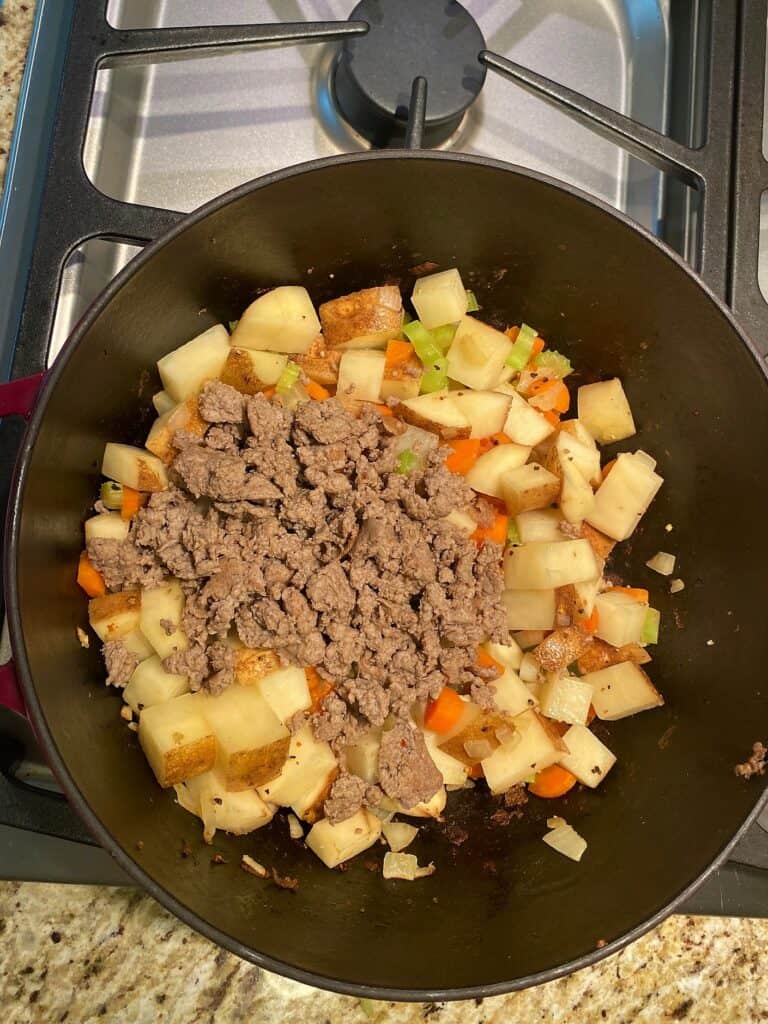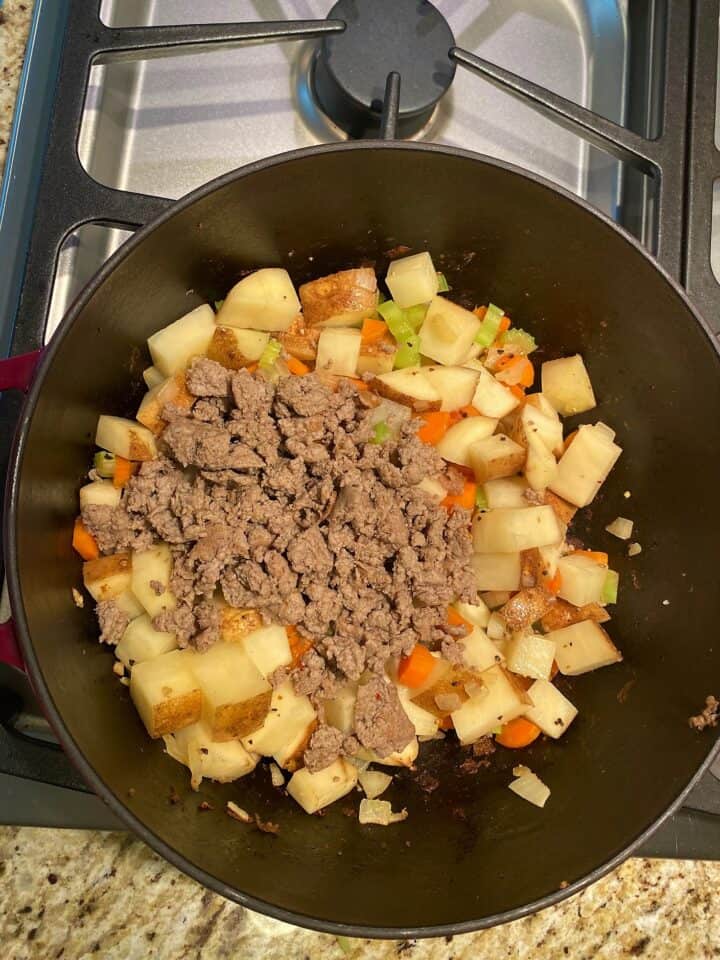 Return the cooked sausage to the pan.
Add the bay leaf and seasonings and cook for a minute, until the bay leaf is fragrant.
Pour in the broth or water, scraping up any browned bits from the bottom of the pan.
Bring to a boil and then, lower heat and simmer for 10 to 15 minutes, until potatoes are barely tender.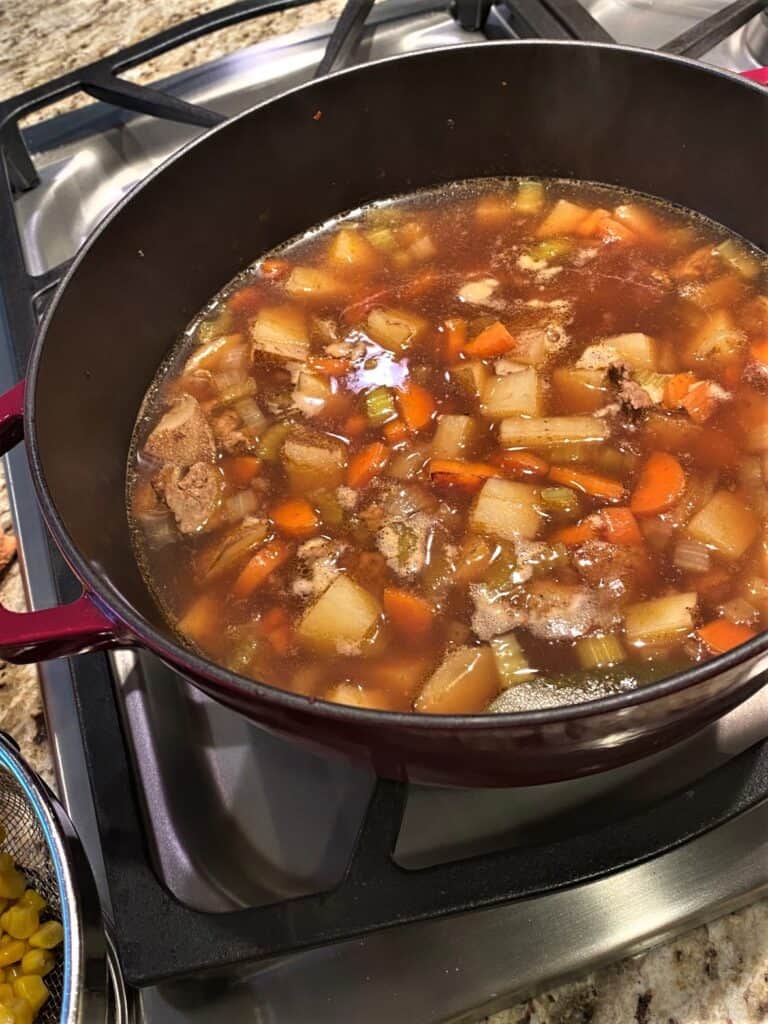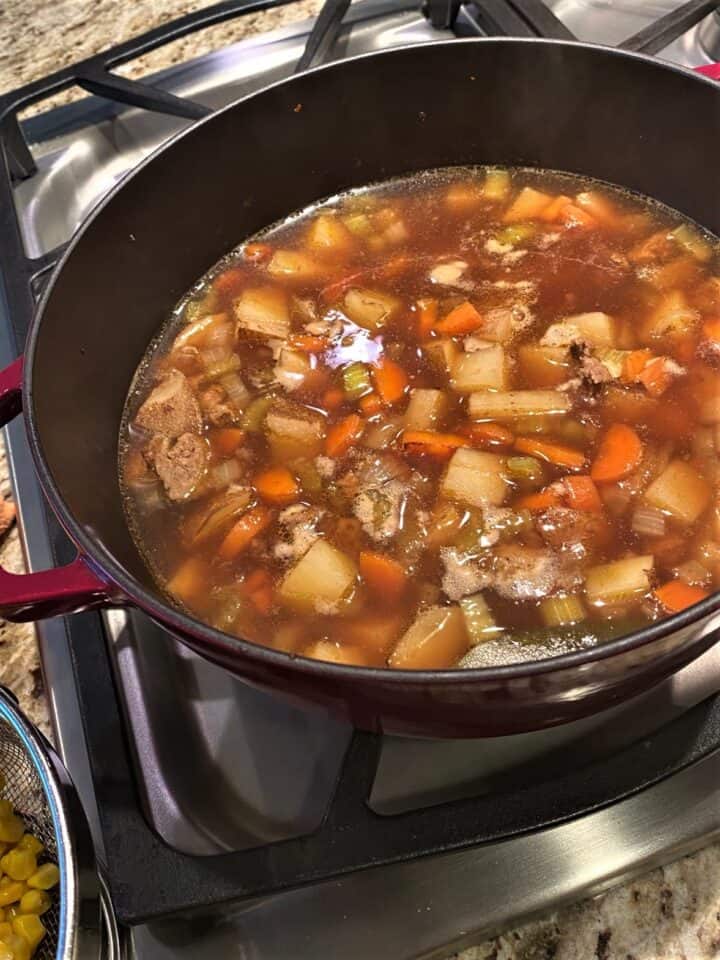 Stir in the corn and evaporated milk and heat for about 10 minutes to mingle the flavors. You can simmer, but do not boil.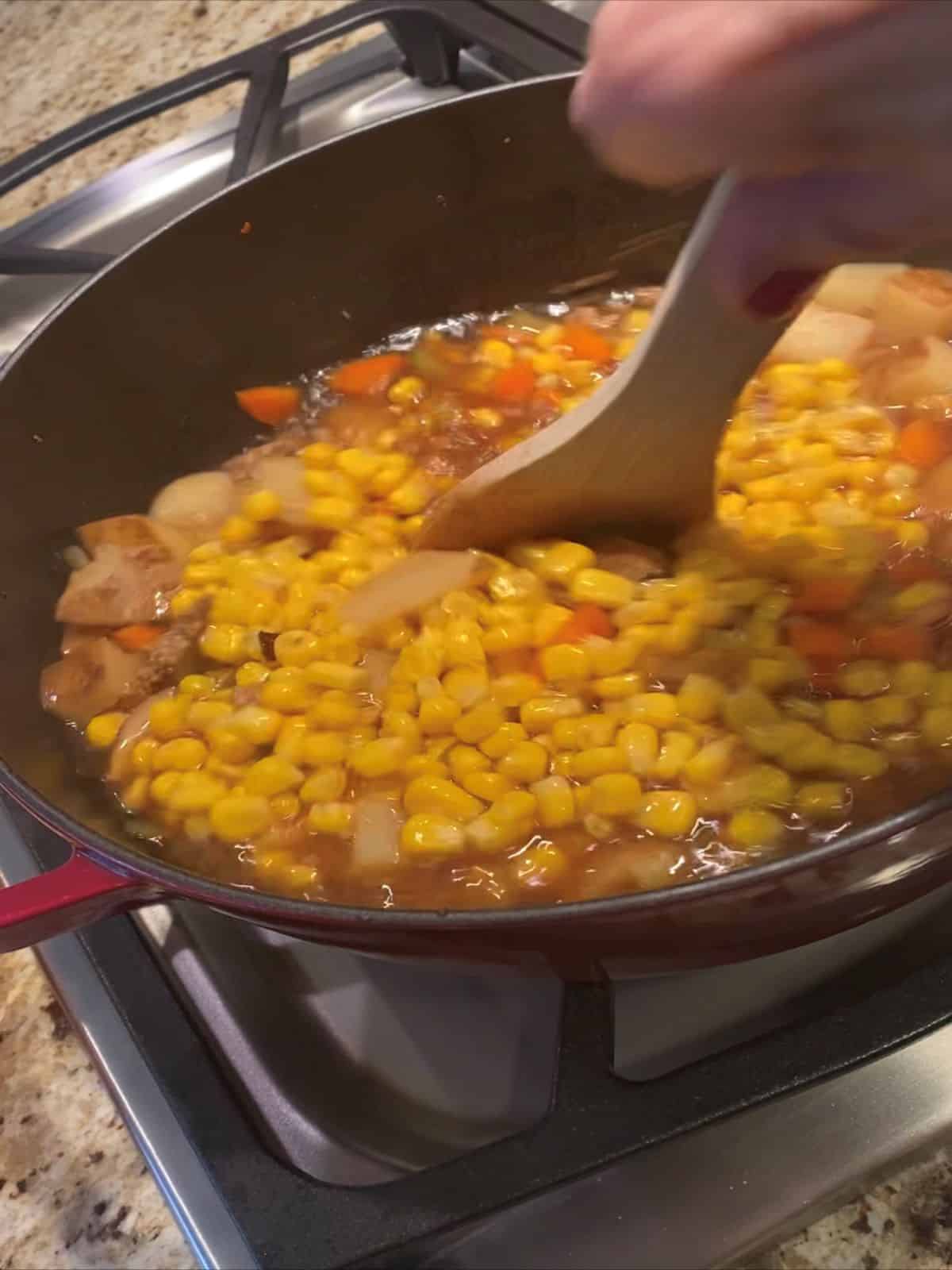 Mix the cornstarch with the cold water and whisk into the soup to thicken. Taste; add extra salt or pepper if desired.
Serve in large mugs, crocks, or bowls, with a Tablespoon or two of cheese on top.
For slow-cooker and Instant Pot directions, see the notes in the full recipe below.
What to serve with it
A green salad and cornbread or crusty French loaf are all that's needed on the side. One reason you'll love this soup is that it is almost a meal in one!
This recipe for Simple Green Salad just might come in handy!
How to store
❄ Corn Chowder with Sausage will keep in a sealed container in the refrigerator for three days.
If you plan to freeze it, don't add the milk or cornstarch until you thaw and reheat because the texture will suffer. The dairy-free base will keep in the freezer for three to six months.
How to reheat
♨ Warm a single bowl or cup of soup in the microwave (covered with a damp paper towel) on 80% power for a minute and a half to two minutes. Stir to distribute the heat. Top with cheese.
(Keep in mind that power levels and wattage on different models of microwaves vary. So, you may need a few seconds more or less.)
To serve your family, warm in a pan on the stovetop until the chowder barely begins to break a simmer. DO NOT BOIL!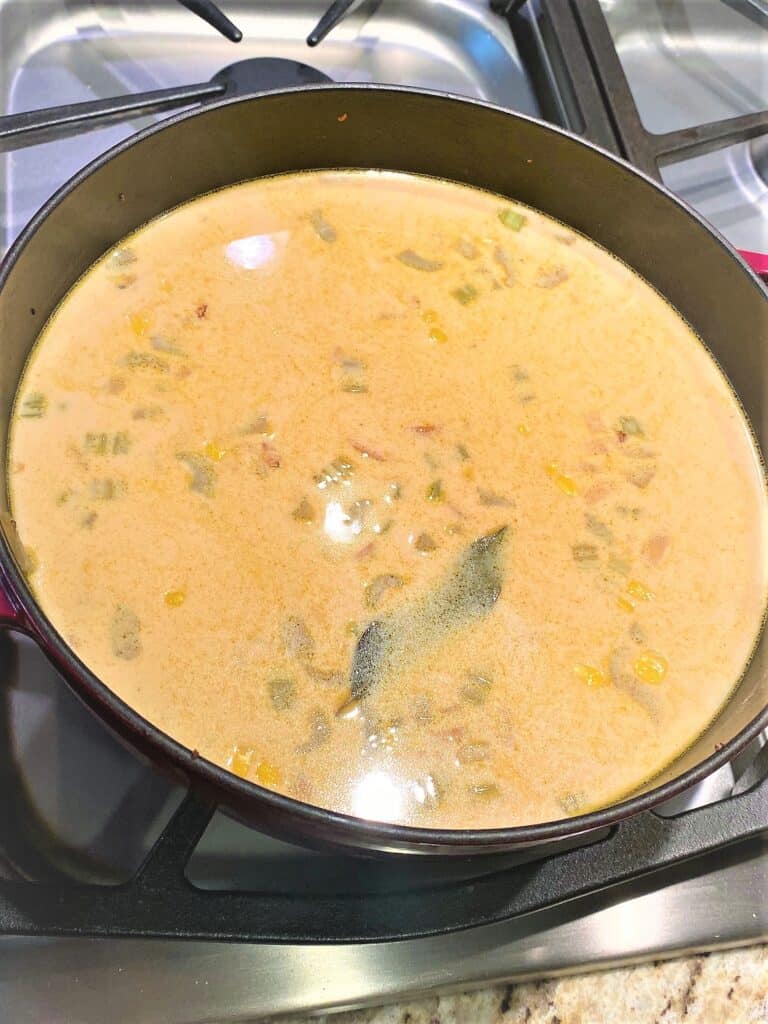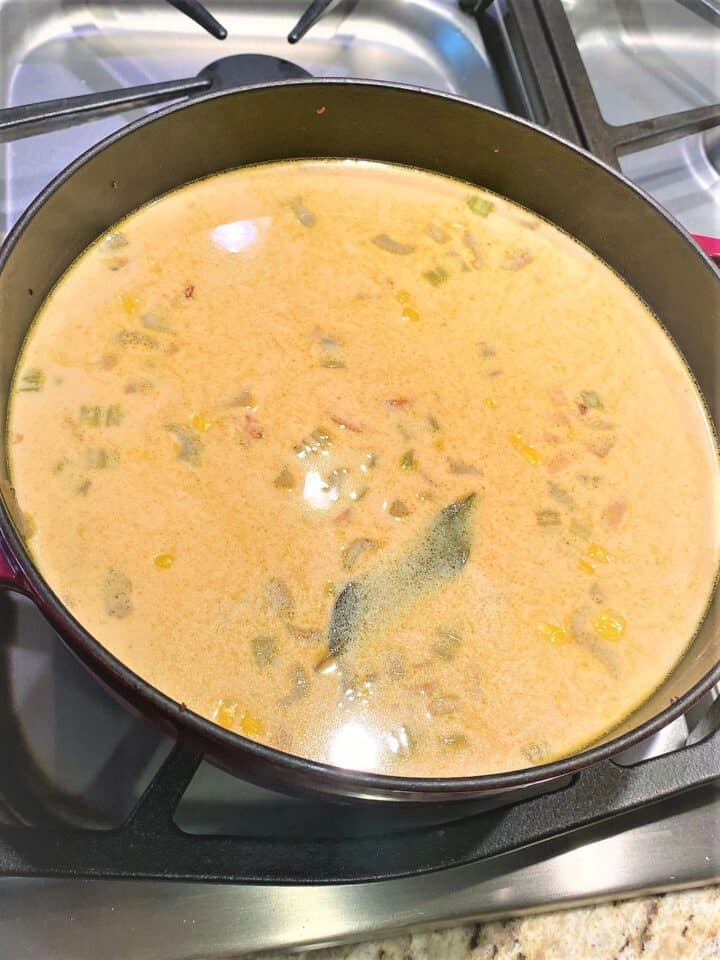 Thaw any frozen soup overnight in the refrigerator. Proceed with the recipe from the point of adding the evaporated milk and then, the cornstarch to make your soup thick.
Why you'll keep this chowder recipe in your backpocket
With inflation sending food costs soaring, this chowder feeds your family for less than 10 dollars!
Most of the ingredients are already in your pantry, fridge, or freezer. You probably have onion, celery, and carrots on hand, and maybe canned or frozen corn and evaporated milk.
Sausage is all you need to add to the grocery list. (Unless it's in your freezer.)
(Did you know that canned and frozen foods are good for your health and your wallet? Read all about their nutrition virtues at Love Canned Food.)
The chowder tastes rich, creamy, and yummy with the sagey flavor of sausage and the sweetness of corn. Kids and adults enjoy this chowder!
Nutrition bonuses
This recipe is NOT low-fat, but it's lower fat than most other chowder recipes.
Gluten-free: It's suitable for people with celiac disease diets and anyone with gluten sensitivities.
Vitamins and minerals: It's an excellent source of calcium and potassium. Because evaporated milk is fortified, the chowder has more than half the vitamin A needed by an adult woman, as well as a decent amount of vitamin D.
FAQ
Can I make this soup vegetarian? Yes! Add an extra can of corn and extra cheese on top or use vegetarian sausage in place of the turkey or pork sausage.
Can I use plant-based milk instead of evaporated milk? Yes; sub in any type except for coconut milk, which will change the flavor too much.
Can I use regular milk, cream, or half-and-half? Of course! But, for best taste do not choose 2%, 1%, or non-fat milk. You can also increase the milk to two cups instead of one and a half (12 ounces).
Can I add other vegetables? Peas and green beans are great in this soup. Avoid leafy greens, tomatoes, and any type of vegetable that is watery.
Can I add more spices? Nutmeg, cayenne or hot sauce, garlic–all give the soup a bit more depth. Sometimes, I like to use whole black peppercorns instead of ground black pepper.
Can I thicken the chowder without cornstarch? Yes. Make a slurry by mixing flour with cold water in a two-to-one ratio until smooth. Whisk in at the end of cooking. Of course, this adds gluten.
🍲 Other soups you might like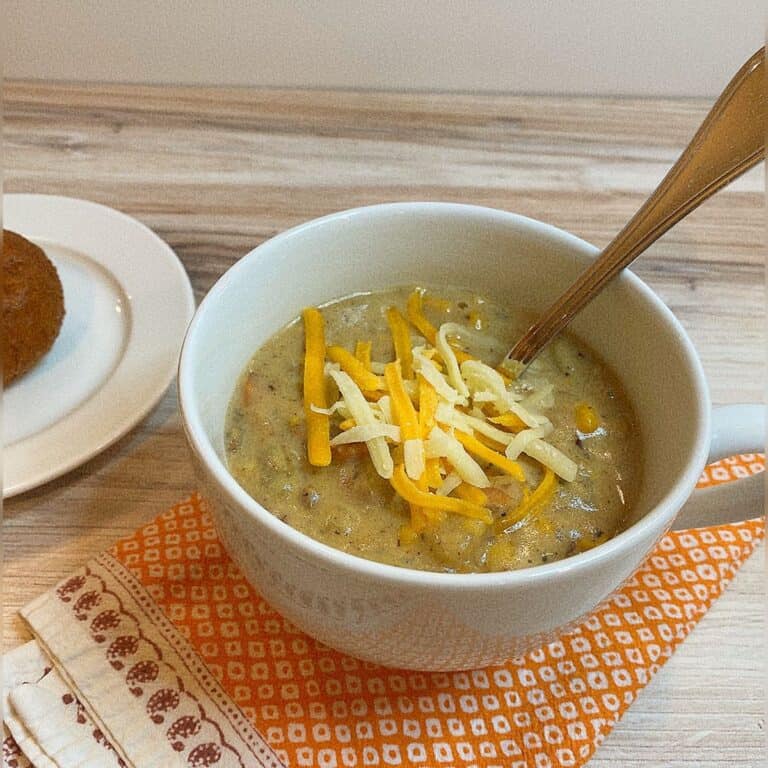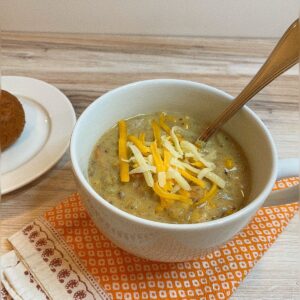 Corn and Sausage Chowder using Evaporated Milk
Inexpensive, yummy, hearty soup that makes dinner out of a can of corn and sagey bulk sausage.
Ingredients
1

pound

turkey or pork sausage;

raw ground sausage like Jimmy Dean or Jennie-O

½

large onion,

chopped

1

celery stalk,

chopped

1

large carrot,

chopped

1

large russet potato,

with skin on, cut into chunks

1

bay leaf

¼

teaspoon

salt

½

teaspoon

black pepper

3

cups

broth

or water

1

15-ounce can

corn

1

12-ounce can

2% evaporated milk

2

Tablespoons

cornstarch

2

Tablespoons

cold water

½

cup

Colby-Jack cheese

shredded for topping
Instructions
Wash hands carefully for 20 seconds.

Heat a large, deep saucepan or Dutch oven to medium-high and brown sausage, breaking it up into crumbles. No pink should remain.

Remove browned sausage to a plate lined with paper towels.

(Use non-stick spray on the pan if using turkey sausage.)

Saute the onion, celery, and carrot in the pan juices of the sausage.

Note: If using pork sausage, pour off some of the oil and juice before adding vegetables.

Mix the potato chunks with the vegetables, and cook briefly.

Return the sausage to the pan. Add the bay leaf, salt, and pepper and stir to heat spices and coat with pan juices.

Pour in the broth and scrape up any brown bits stuck to the bottom of the pan. Bring to a boil, then, lower the heat and simmer for 15 minutes. The potatoes should be tender.

Add the corn and stir. Then, pour in the milk and heat to a simmer for about 10 minutes, stirring occasionally.

Mix the cornstarch with water until it dissolves. Stir it into the chowder bit by bit. The soup should thicken.

Lower the heat and taste. Adjust the salt and pepper if needed.

Serve in bowl or mugs topped with a little shredded cheese.
Notes
🧂 The sodium in this recipe is high. You can cut it by using low-sodium broth, leaving out the salt, and rinsing the corn. Using water rather than store-bought broth will also help.
👀 Watch the heat when sauteing the onion-carrot-celery. The vegetables burn easily.
---
---
♦ Instant Pot-multicooker Instructions:
Set the Pot to Saute for 10 minutes. Spray with non-stick oil (avocado, if possible) if using turkey sausage.
Cook sausage until no longer pink and add vegetables except for potatoes. Cook until the onion is translucent. Add potatoes and seasonings, and stir well.
Add broth and put the lid on, turning it to lock. Seal the vent and set it to cook at high pressure for 4 minutes. Rapid release the pressure at the end of cook time.
Remove the lid and stir in evaporated milk. Cook on the low Saute setting for 5 minutes. (If chowder starts to boil vigorously, cancel the Saute and choose the Keep Warm setting.)
Mix cornstarch with water and whisk into chowder. Serve thickened chowder immediately.
♦ Slow Cooker Instructions:
After browning the sausage, pour it into a slow cooker with drippings. Top with onion, celery, carrot, potatoes, and seasonings. Decrease the broth or water to 2 cups and pour into the cooker, over the sausage and vegetables.
Cook on low for 6 hours. Stir in the corn and evaporated milk. Turn the heat to high.
When the chowder begins to boil, dissolve the cornstarch in the water. Whisk in the cornstarch mixture and turn the heat to low or warm once the soup thickens.
Nutrition
Calories:
274
kcal
Carbohydrates:
22
g
Protein:
22
g
Fat:
11
g
Saturated Fat:
4
g
Polyunsaturated Fat:
2
g
Monounsaturated Fat:
3
g
Trans Fat:
0.3
g
Cholesterol:
67
mg
Sodium:
1149
mg
Potassium:
411
mg
Fiber:
1
g
Sugar:
6
g
Vitamin A:
2229
IU
Vitamin C:
5
mg
Calcium:
252
mg
Iron:
1
mg
Copyright © 2022 Jani H. Leuschel