Now that it's soup season, the only sidekick Minestrone di Verdure needs is a thickly sliced loaf of bread.
Topped with pesto, Minestrone di Verdure is sometimes called Italian green minestrone.
A piping hot bowl provides a filling and delicious meal with protein (beans), starchy tidbits (pasta), and, of course, vegetables.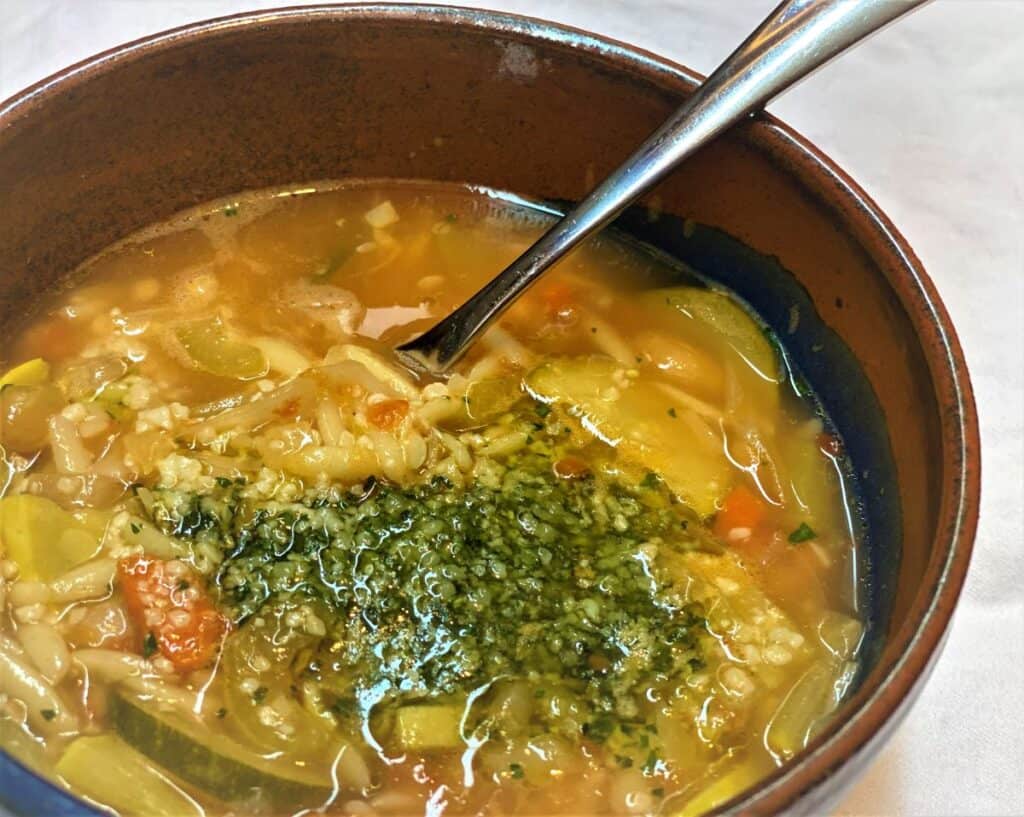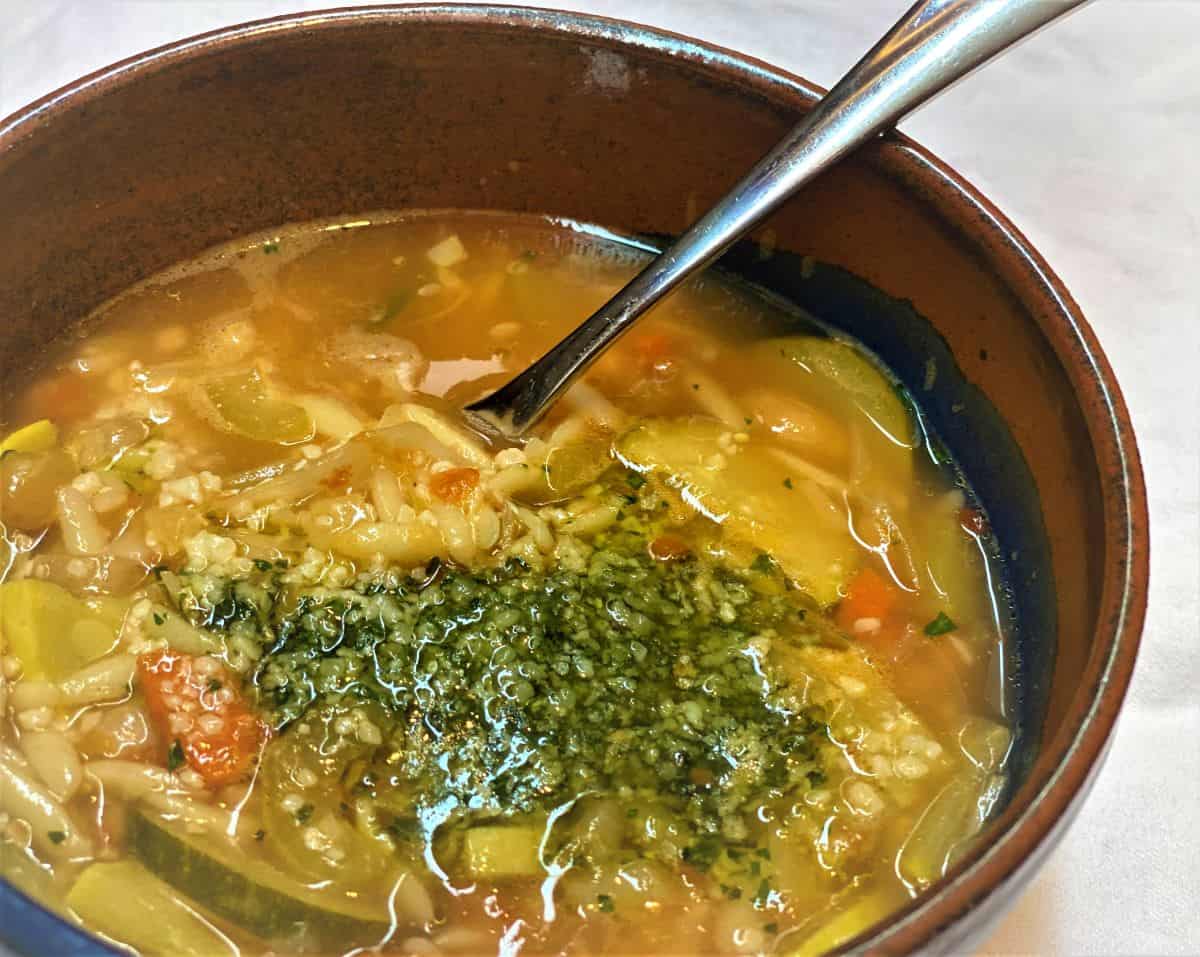 I use the Instant Pot for quick prep (less simmering time), but you could easily make it in a stockpot, the more traditional way to cook soups.
But first, let's find out more about this healthy vegetable soup.
What is minestrone?
Minestrone is not a single recipe. Translated from Italian, "di verdure" simply means "of vegetables."
The word "minestrone" is from minestrare, which means "to serve, to prepare" in Latin.
This humble soup dates back to Roman times, created out of necessity from available vegetables that often included onions, cabbage, carrots, and beans. It has roots in cucina provera, the rustic cookery of Italian peasants.
The texture can be thick or brothy.
Minestrone is NOT a cream soup of a stewy dish whose primary ingredient is meat.
The Minestrone di Verdure recipe, with tender green vegetables and pesto, is often known as Minestrone Alla Genovese. This means that it hails from Genoa, a city in the Ligurian region of Italy that borders the Mediterranean Sea.
(More on the Mediterranean aspects of Minestrone di Verdure later!)
Necessary ingredients
It may be needless to mention that you will need vegetables to make Minestrone di Verdure. The blog recipe also calls for small pasta, white beans, pesto, Parmesan cheese, and extra-virgin olive oil.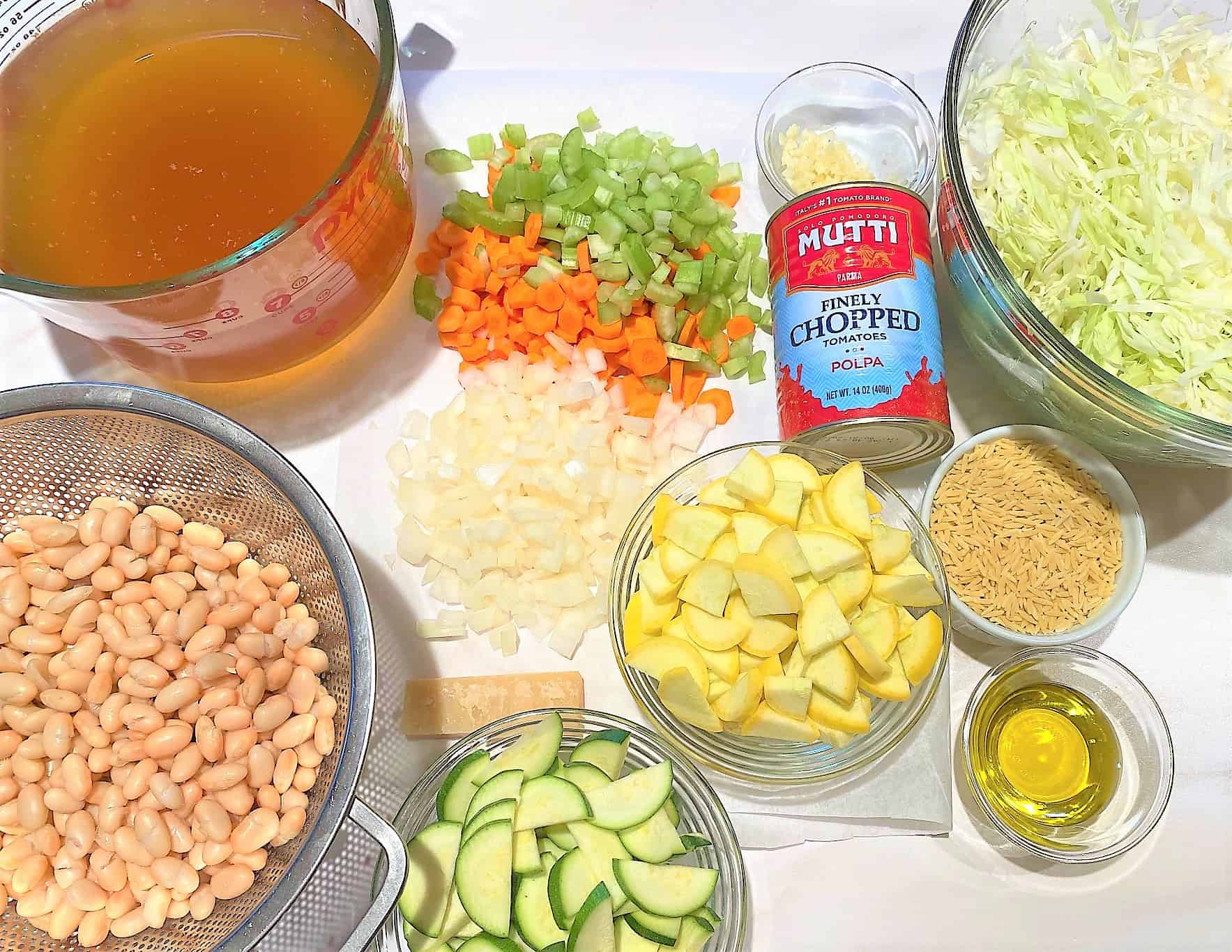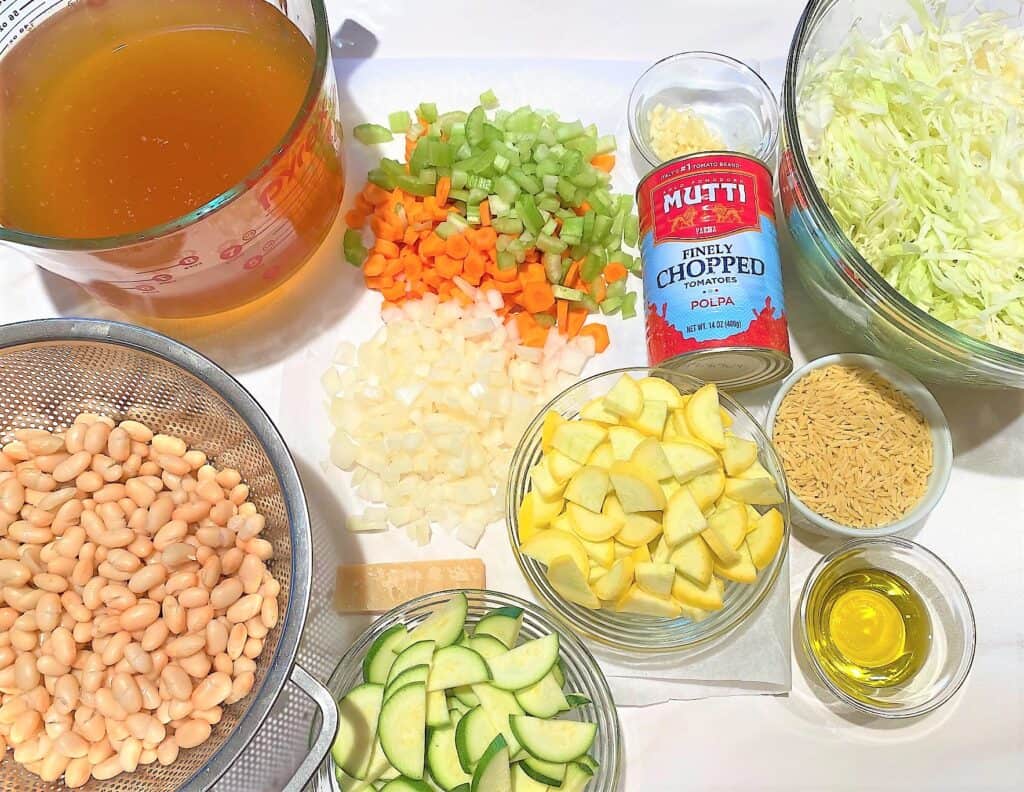 Here's what you'll need:
onion
carrot
celery
garlic
canned tomatoes
zucchini
yellow squash
cabbage
orzo or ditalini (pasta with a small shape)
navy or cannellini beans
vegetable broth or water
Parmesan cheese, including the rind
extra-virgin olive oil
pesto (homemade or storebought, for serving)
How to prepare Minestrone di Verdure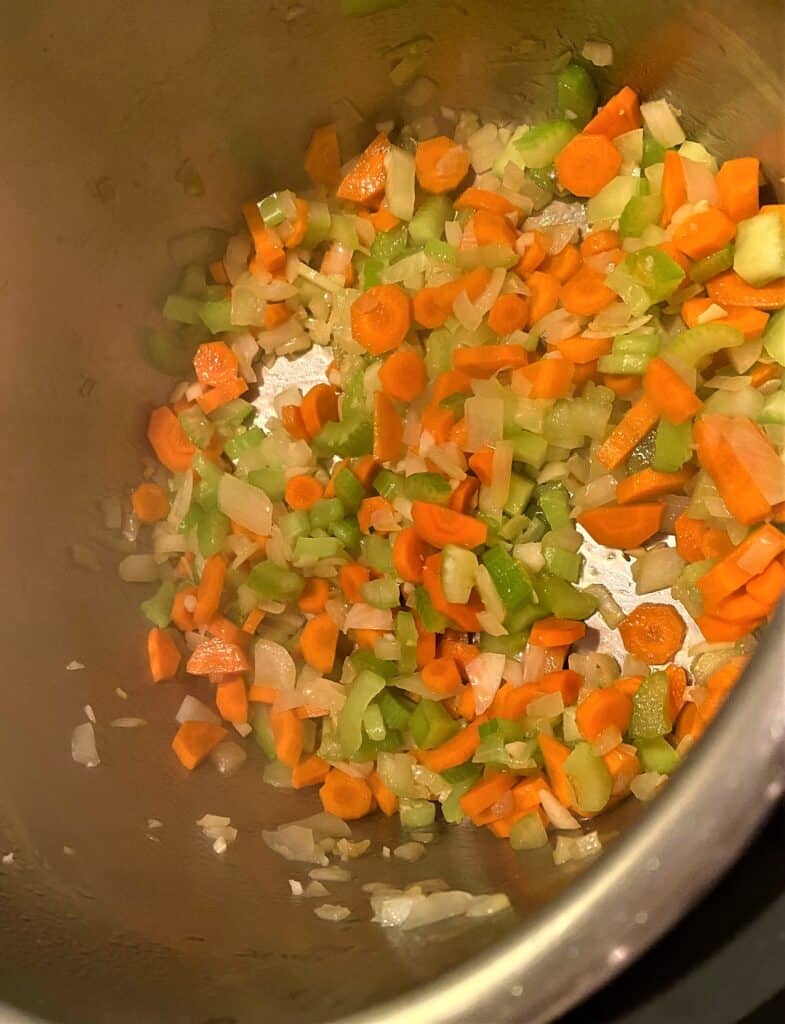 The first step is to saute the onion, carrots, and celery (soffritto). Once the soffritto is tender, toss in the garlic and stir for a few seconds, releasing the tempting garlic aroma.
Next, turn off the Instant Pot and add the tomatoes, beans, cheese rind, and pasta.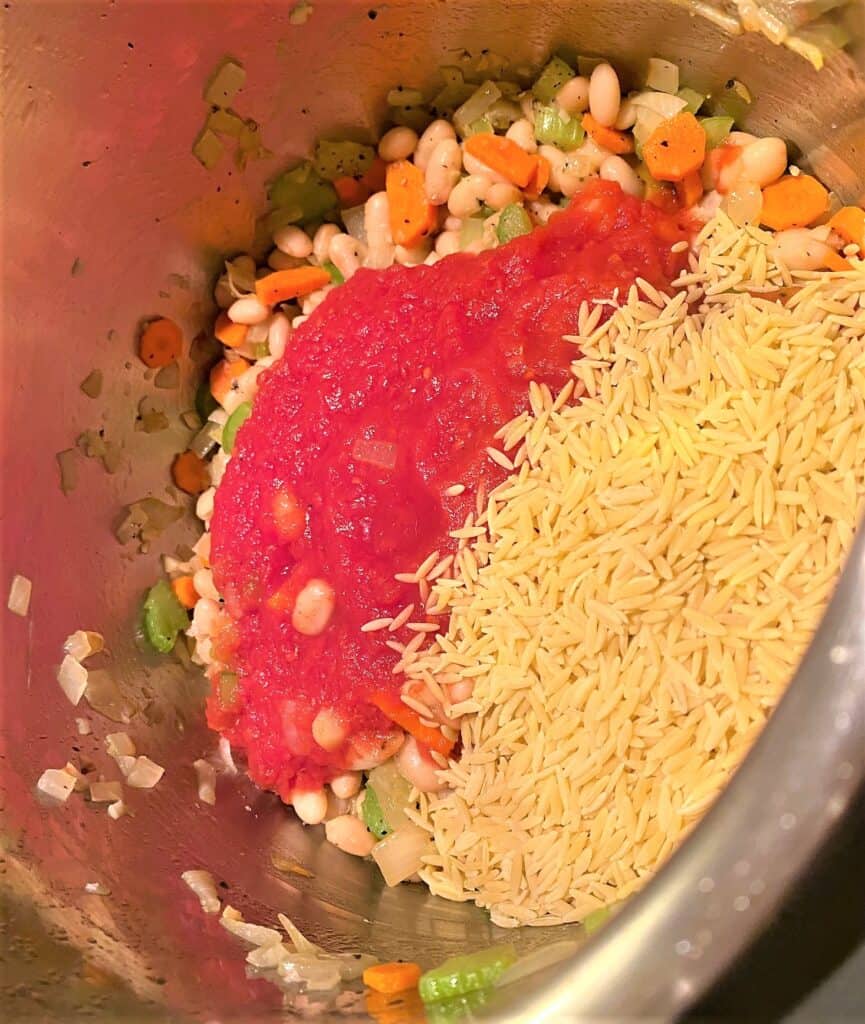 Pour the broth over all ingredients. Put the lid on the Instant Pot and select Pressure Cook for 2 minutes.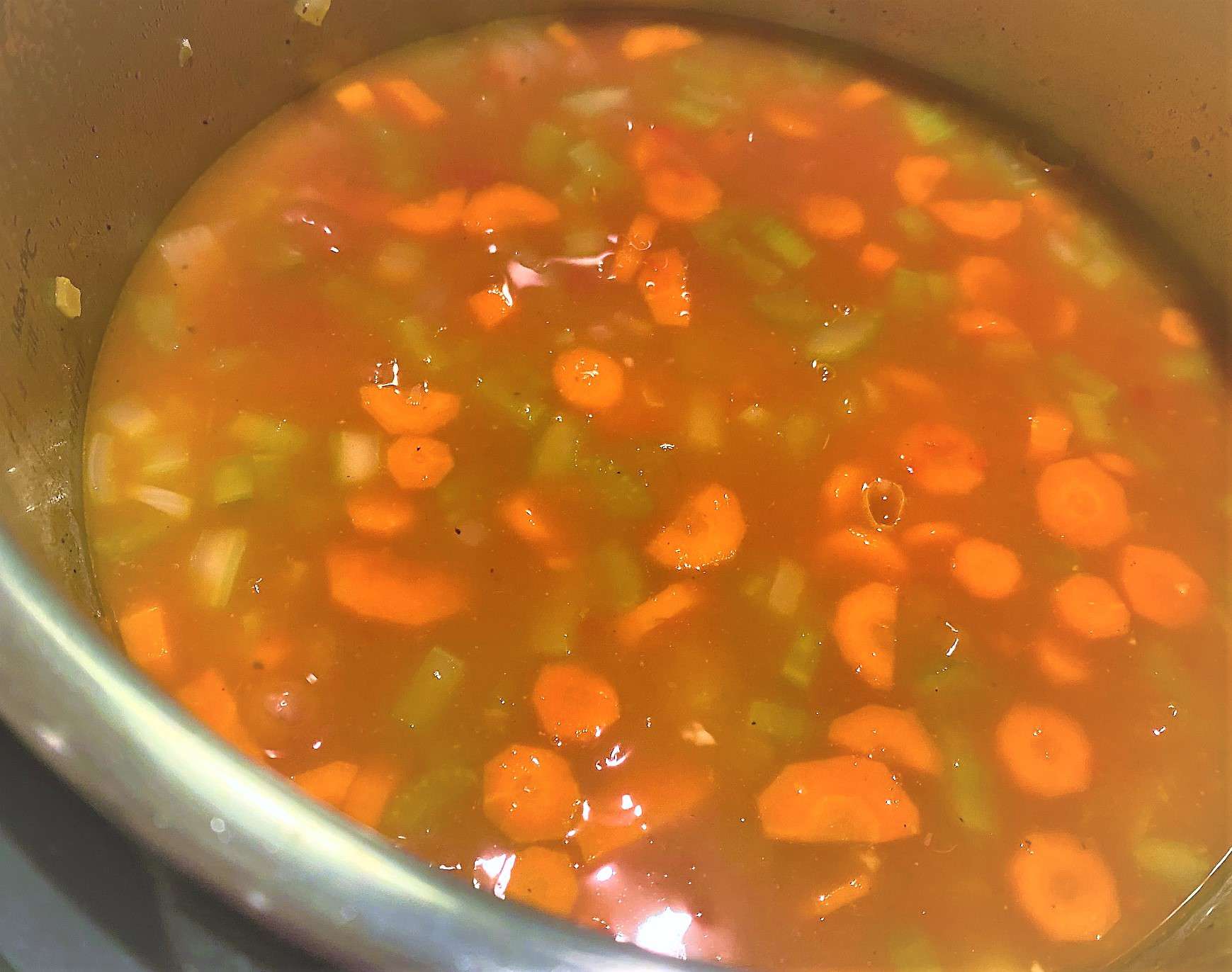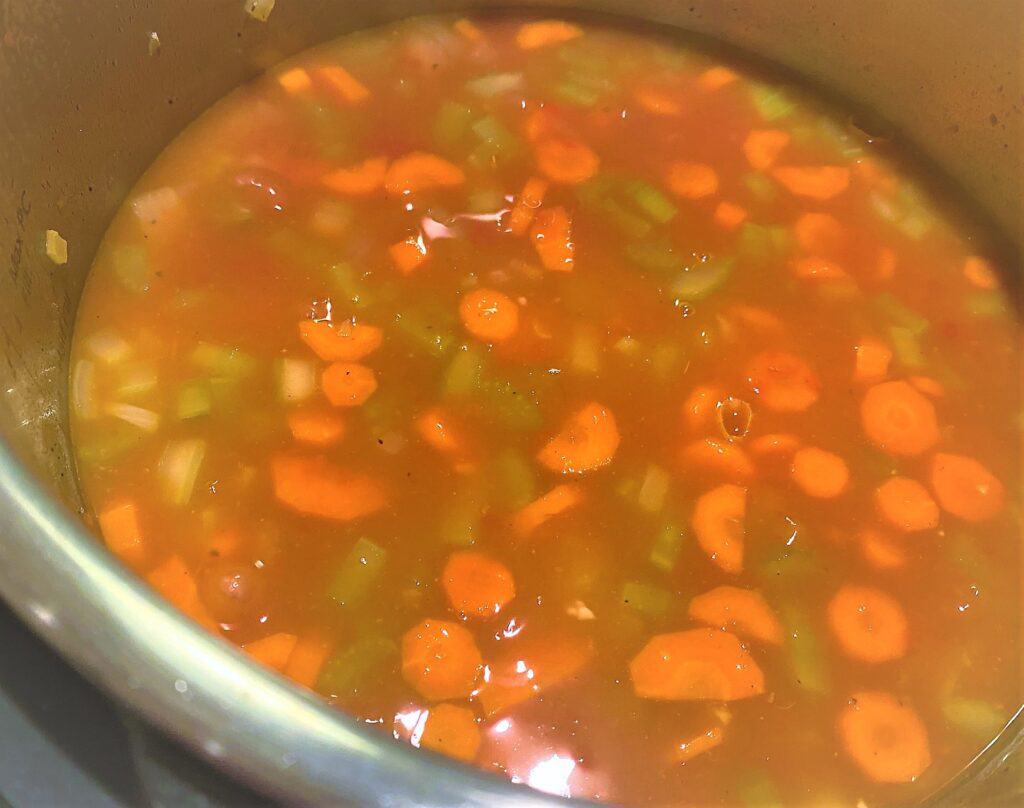 Quick-release the pressure when the cooking time is finished. (I like to place the Instant Pot near my vent hood, so the steam released is whisked out of the kitchen.)
Remove the lid when the pressure valve drops, and select the Saute function. Add the zucchini, yellow squash, and shredded cabbage, if using.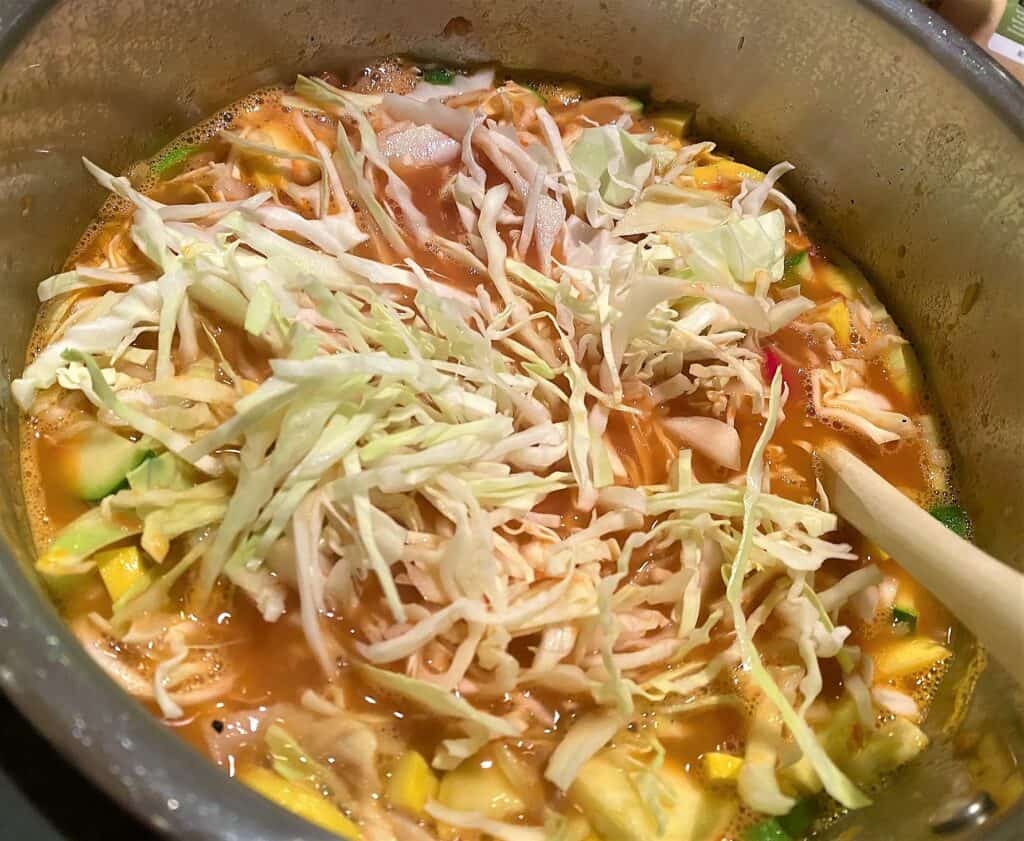 Boil a couple of minutes to soften the fresh vegetables. Select Keep Warm on the Instant Pot keypad. Remove the cheese rind using a fork or tongs.
Place a thick slice of toasted bread in the bottom of a deep bowl. Ladle the soup over the bread and top with pesto, a sprinkle of Parmesan, and a splash of extra-virgin olive oil.
Serve with Parmesan and olive oil on the side plus more bread, if desired.
Other types of minestrones
As mentioned above, minestrone is highly flexible. Although this Minestrone di Verdure is vegetarian, you could also get tasty soup by including a few scraps of meat.
Many minestrones include pancetta (Italian bacon), lardons (chunky French bacon), and regular bacon.
Beef pieces, however, are also delicious. If you cooked a beef roast and have leftover pieces, minestrone will accommodate them.
The "Minestrones" section of the encyclopedic Italian cookbook, The Silver Spoon (Phaidon, 2011) includes a recipe for Borsch or Minestrone Alla Russa. Of course, Minestrone Alla Russa includes beef in the ingredient list.
The meat is sauteed at the beginning, and then, the soffritto is softened in the rendered fat.
The starches that give body to a minestrone are also varied. Although beans are practically inescapable, you don't have to pair them with pasta.
There are many other choices, such as rice, farro (Italian barley), potatoes, or winter squash. You may have other favorites!
Clearly, it's easy to prepare a gluten-free minestrone. Although you could use gluten-free pasta, the other starches mentioned may have a nutritional edge compared to some gluten-free pasta choices.
Also, the choice of fresh vegetables that go into a minestrone is not terribly important. Seriously, any vegetable you have on hand is fine.
Some recipes don't even specify certain vegetables other than onion and garlic. They might just call for an amount, like 2 or 3 pounds, in the ingredient list.
(Note: In Italy, you can make a soup out of almost anything. The Silver Spoon has recipes for Oatmeal Soup and Lettuce Soup Au Gratin!)
Is Minestrone di Verdure healthy?
With all those vegetables and beans (legumes), this soup is full of nutrition bonuses. You name it and Minestrone di Verdure has it.
This plant-based bowl of goodness has benefits for heart disease, diabetes, cancer prevention, and overall health:
decreasing cholesterol and blood pressure
improving vascular health
blood glucose management
vitamins, minerals, fiber, antioxidants
A balanced soup: protein, wholesome carbohydrates, healthy fats
Even without any meat, minestrone offers complete protein that includes all nine essential amino acids.
The combo of beans with grains or potatoes ensures this and also supplies energy in the form of carbohydrates.
The olive oil in the soup is a healthy, mostly monounsaturated fat.
A Mediterreanean Diet dish
Naturally, Minestrone di Verdure is Mediterranean Diet compliant.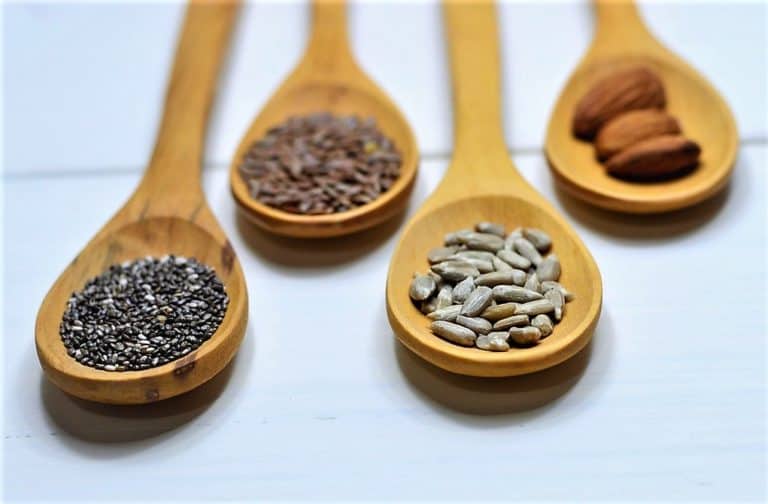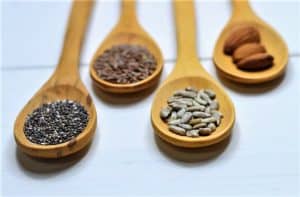 The Mediterranean Diet is based on the health-enhancing foods and cuisine of Italy and the countries that border the Mediterranean Sea.
Excellent for heart health, it leans on foods rich in monounsaturated and polyunsaturated fats like olive oil, legumes (beans), nuts, and grains (farro, pasta, rice).
For recipes and information about the Mediterranean Diet, visit the Oldways website. Or get the low-down from my blog article.
A hydrating bowl
Like all soups, Minestrone di Verdure can also help with hydration during the cooler months when you may not drink as much water.
Storing and reheating
You can make a pot of Minestrone di Verdure on a weekend, and eat it throughout the week.
The vegetarian version of the soup in this blog will last in the refrigerator for a week. If you add meat, it can be eaten for no more than three days after preparation.
Be sure to cool the minestrone to room temperature within two hours before refrigerating or freezing.
Bring to a boil and then simmer gently in the microwave or in a pan on the stovetop. It's a good idea to thaw frozen soup in the refrigerator before reheating. But, you can also thaw frozen soup in the microwave.
Facts about freezing
You can freeze Minestrone di Verdure for 4 to 6 months without a loss of quality.
The freezer life is shorter for minestrones that contain any sort of meat. They will taste freshest if eaten within a month although they could be okay for up to three months.
Soup texture: pasta and veggies
Another consideration when freezing is the texture of pasta in the soup. Although you can freeze pasta, it will be mushy when thawed and reheated.
So, if you don't plan on eating the soup right away, you may want to add it when reheating the Minestrone di Verdure. The small shape (orzo or ditalini) will cook quickly.
After thawing, the vegetables will be softer, too. It's best to leave out the cabbage if you're planning on freezing the soup.
Containers for minestrone storage
You can store cooled soup is in Mason jars. If you're going to freeze the jars, leave about two inches of headspace.
You can also freeze soup in a plastic or silicone freezer bag. Use a canning funnel to fill the bags and flatten them after removing all the air. You can stack the flat bags in your freezer.
Here's a useful primer on the funnel-and-freezer bag method of freezing.
I prefer glass or silicone storage since there is less possibility of harmful chemicals leaching into your soup.
These amazing silicone soup freezing containers resemble ice cube trays. They have lids that keep freezer odors from invading the frozen blocks of soup. Each slot in the Souper Cubes tray holds a 1-cup portion of soup.
(They were featured on Shark Tank.)
More soup on the blog…
If you love soup–and who is not a fan during the cool months–here are a couple you may enjoy.
Pumpkin-butternut Squash Soup with Fall Fruit and Roasted Pumpkin/Butternut Soup with Sage strike perfect flavor notes as we head toward the holidays.
Or for those blustery days with the sniffles, try Chicken Soup with Rice. This comforting, classic soup is great for sick days–and there's research to prove it!
---
🌿 If you love the simple Italian dishes typical of cucina provera, check out Cucina Provera: Tuscan Peasant Cooking by Pamela Sheldon Johns.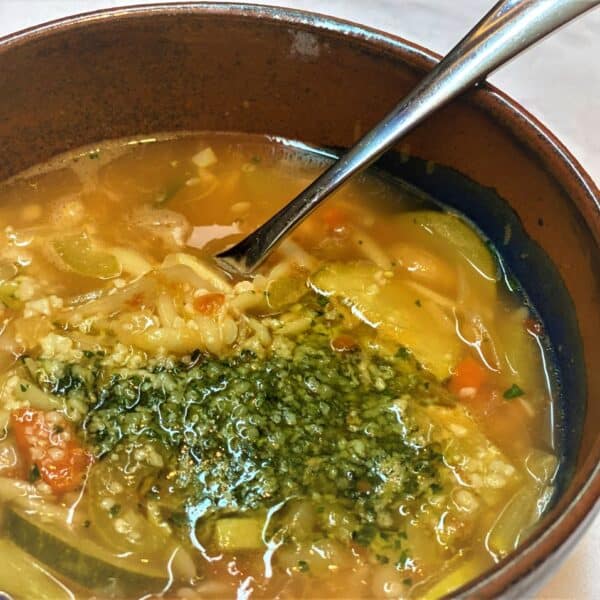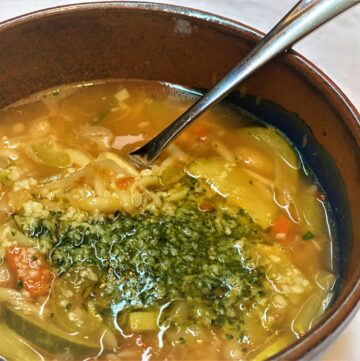 Minestrone di Verdure (of vegetables)
This Instant Pot rendition of Italy's green minestrone features pesto, Parmesan cheese, and plenty of fruity olive oil. It makes a soup-er healthy and satisfying dinner in a bowl!
Equipment
Instant Pot (or stockpot)
Ingredients
2

Tablespoons

olive oil,

plus, extra for drizzling

1

onion,

chopped or sliced

1

cup

carrot,

chopped

1

cup

celery,

chopped

2

cloves

garlic,

minced

1

14 oz can

tomatoes,

petite dice or puree

2

14 oz cans

white beans,

navy or cannelini

½

cup

small pasta,

orzo or ditalini

6

cups

vegetable broth,

can use chicken broth or water

1

zucchini,

sliced

1

yellow squash,

sliced

¼

head

green cabbage,

shredded, optional

1

rind

Parmesan cheese,

optional, plus grated cheese for serving. (Look for Parmigiano Reggiano in the store.)

¼

cup

basil pesto,

homemade or storebought
Instructions
Heat 2 tablespoons of olive oil on the Instant Pot on the Sauté setting. Cook the onion for about 4 to 5 minutes, until translucent. Add garlic and cook for 30 seconds, until fragrant.

Add the carrots and celery and continue cooking, stirring occasionally for another 3 minutes. Press the Cancel button to turn off the Sauté function.

Add the tomatoes, beans, pasta, and Parmesan rind (if using). Pour broth over all ingredients and give the soup a stir, loosening any browned bits from the bottom of the pot.

Put the lid on and push the Pressure Cook button. Select 3 minutes.

At the end of the cook time (the pot will beep), open the vent to release the pressure. (You can throw a kitchen towel over the vent so the steam doesn't spew everywhere.)

When the pressure nozzle drops, open the pot and select Sauté again. Add the zucchini and yellow squash and boil for about 2 minutes. Add the cabbage shreds, if using, and continue cooking for another minute.

Place large crusty slices of toasted bread in the bottom of a large bowl. Ladle minestrone over the bread and dollop with a Tablespoon (or more) of pesto. Add a tiny drizzle of fruity olive oil.

Serve with grated Parmesan and extra pesto on the side.
Notes
If cabbage is not in your vegetable rotation, feel free to substitute a sturdy green leafy, such as kale or Swiss chard. Of course, you can leave it out entirely!
Please note that the nutrition facts for the soup do not include the toasted bread slice in the bottom of the bowl. Ditto for extra pesto, olive oil, and Parmesan cheese!
Those extras bump up the calories,, but not too much!
To make this Minestrone di Verdure in a stock pot, follow these steps:
Heat olive oil in a large stockpot and sauté onion over medium-high heat until it begins to soften and lose color.
Add garlic and cook for 30 seconds, until fragrant.
Add carrot and celery and cook for about 5 minutes.
Add puree or canned tomatoes with juice and scrape up any stuck bits of vegetables.
Add the beans and cheese rind, and pour the broth over all. Stir well.
Bring to a boil, then lower the heat and simmer for 30 minutes to combine the flavors.
Add the orzo, zucchini, and squash. Simmer for about 5 minutes, until orzo is tender. Turn off the heat and stir in the cabbage shreds, if using. The residual heat should soften the cabbage.
Place a toasted slice of bread in the bottom of a deep bowl. Ladle minestrone over and top with a generous dollop of pesto and swirl of extra-virgin olive oil.
Serve with grated Parmesan on the side.
Nutrition
Calories:
235.4
kcal
Carbohydrates:
22.2
g
Protein:
8.5
g
Fat:
13
g
Saturated Fat:
4.4
g
Trans Fat:
0.1
g
Cholesterol:
13.3
mg
Sodium:
1166.7
mg
Potassium:
408.2
mg
Fiber:
3.4
g
Sugar:
7.5
g
Vitamin A:
4618
IU
Vitamin C:
28.7
mg
Calcium:
214.7
mg
Iron:
0.8
mg
COPYRIGHT © 2021 FOOD HALL BY JANI