Although pozole is a chile-filled concoction that is usually eaten on New Year's Day or Christmas, we're still in the throes of soup season.
Often, pozole is enlivened by either verde (green chile) or rojo (red) with pork or chicken. But, since the USA is experiencing a deep freeze from coast to coast, I included both types of chile in this pozole recipe.
(The groundhog must have seen his shadow! Note: pozole and posole are the same soup with slightly different spellings.)
If you are lucky enough to have the heat and power needed for cooking, soup is a warm and comforting meal. This is especially true of spicy pozole. The recipe I am sharing features fresh green chile grown locally in New Mexico plus frozen red chile from Bueno foods.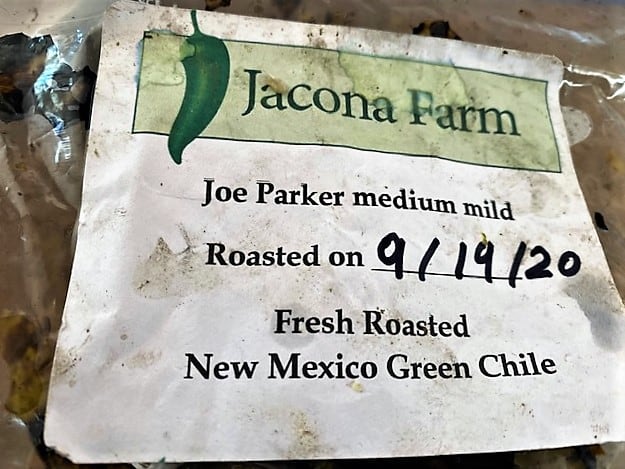 Chile verde (green) sourced locally at the Santa Fe Farmer's Market
Animal or vegetable? Pozole rojo or verde?
My pozole also contains pork shoulder that will fall into shreds at the end of the cooking time. (I was fortunate to source my pork from a local rancher.)
Of course, you don't have to use meat in your pozole. The main requirements for pozole are chile and hominy corn. My son, who prefers to eat vegetarian style, makes a vegan pozole with soyrizo.
I've also had delicious pozole based on simply from hominy corn and green chile. Many pozole recipes with chicken are also available. Here's a good one by Emma Christensen on the Fine Cooking website.
Traditionally, chicken pozole features salsa verde while red chile is the star in pork pozole. Chances are if you order pozole rojo in a restaurant (something that is imaginable now that Covid vaccines are available), you will get a bowl with pork, red chile, and hominy corn.
Bone benefits with pork pozole
I prefer to use pork that contains a bone for a couple of reasons. The first is simply that bones equal flavor. Adding a bone to a soup or stew always amps the umami.
The second reason is all the nutritional goodies from the bone, cartilage, and connective tissue. Of course, you'll add collagen to your brew, along with calcium and a slew of other minerals like magnesium and phosphorous.
(If you want to know more about how collagen can benefit your joints, skin, and other body systems, read Collagen: 3 or 4 Ways It Keeps a Body Together.)
You'll actually be adding gelatin and its associated amino acids to the soup since collagen becomes gelatin when it is cooked. This is why soups and stocks cooked with bones and animal parts turn jelly-like as they cool.
Maybe you are wondering, "what are these beneficial amino acids, and what makes them so great?" Mainly, they are proline, glycine, and glutamate.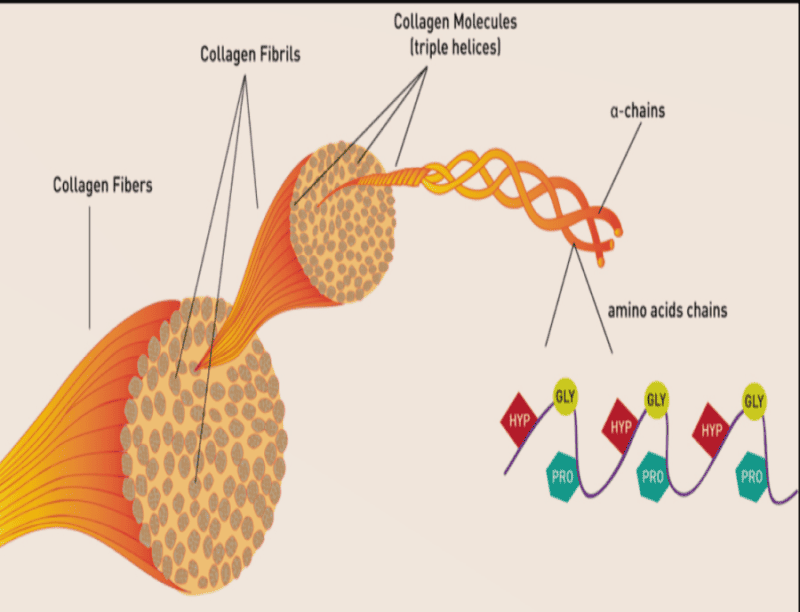 Proline helps with cartilage and joint repair
Glycine acts like a neurotransmitter in the brain. It's good for improving sleep.
Glutamate is also a neurotransmitter, but it has an excitatory function, and it is important for digestion. It endows foods with an umami depth of taste.
Of course, the bone marrow itself contains iron (since this is where your red blood cells start their life). According to Medical News Today, it boasts many other nutrients:
Fatty acids
Vitamins A and K
Selenium
Zinc
Manganese
Pozole soup is not bone broth, but it will have many of the same health benefits as bone broth if you make it with chicken or pork that contains bones.
However, before serving, remove the meat from the bones. Shred the meat and return it to the soup. This will make for a better eating experience.
If you're interested in supplementing with collagen, two brands of collagen peptides that I can recommend are Vital Proteins and Neocell. Most days, I dissolve a flavorless scoop into a cup of green tea, which I sip in the early afternoon hours.
As an Amazon affiliate, at no extra cost to you, I will earn a small commission if you make a purchase through the Amazon links supplied in this post.
Hominy corn: all about nixtamilization
The hominy corn in the soup is a healthy, gluten-free carbohydrate, rich in fiber. Part of what makes hominy so wholesome and so large — it's sometimes called giant corn — is nixtamilization.
This process uses lime, wood ash, lye, or calcium hydroxide to create an alkali soaking solution for the corn that frees up nutrients like niacin (vitamin B3) and eradicates fungi, e.g., mycotoxins. It also improves the flavor and aroma of the corn.
Corn soaked in an alkali solution (like lime juice and water) puffs up, becoming hominy corn. This process is known as nixtamalization.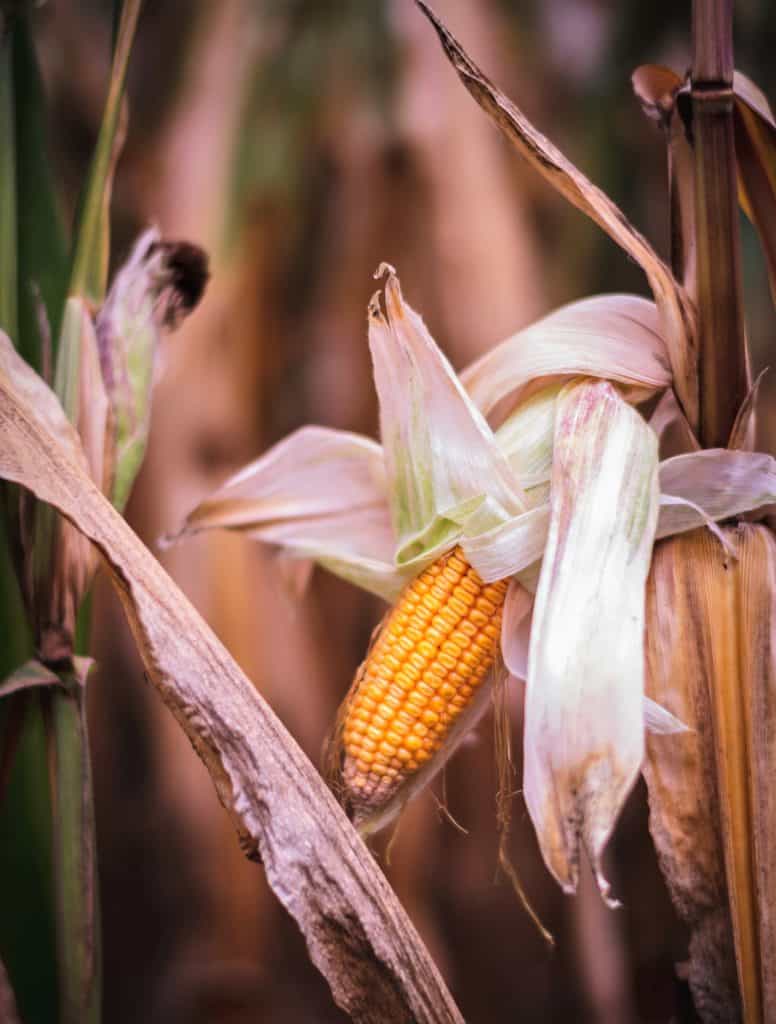 Native peoples in the Americas have used nixtamilization for centuries to make their corn more wholesome. They showed European settlers how to make the nixtamilization solution (with wood ash) when they arrived in the U.S.
(The Story of Corn, by Betty Fussell, is an excellent social history of grain and its role in American food culture. You wouldn't expect a book about a commodity to be such a page-turner, but it's a fascinating read. You can purchase it through Amazon by clicking on the link. )
In fact, corn tortillas, tamales, tortilla chips, and more are made from masa dough that uses nixtamal or ground treated corn. You can find this corn flour or masa harina in many grocery stores.
When populations eat a diet based on corn and don't use nixtamilization, a deficiency called pellagra can develop. The deficiency is characterized by the four "D"s: diarrhea, dementia, dermatitis, and death.
Pellagra was common in the southern region of the U.S. in the early part of the 20th century. By the 1950s, the U.S. started to fortify bread and other cereal products with B vitamins, so the deficiency became less common. It is still prevalent in economically disadvantaged parts of Africa and India where corn is a staple food.
This is a longish explanation of why the hominy corn is so nutritious — and tasty!
Make a pozole that suits your eating style
Whether you prefer a vegan, vegetarian, or Flexitarian eating experience, pozole is gluten-free and perfect if you or your loved ones have celiac disease.
Here's an easy vegetarian recipe from the SpruceEats that puts the focus solely on the hominy corn. It doesn't even call for chiles, just chile powder!
Serve this hearty, comforting bowl with corn tortillas on the side for your celiac/gluten-free family and friends!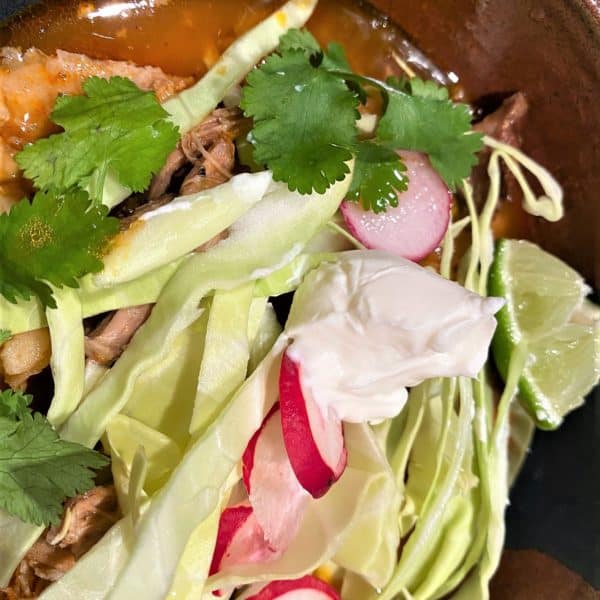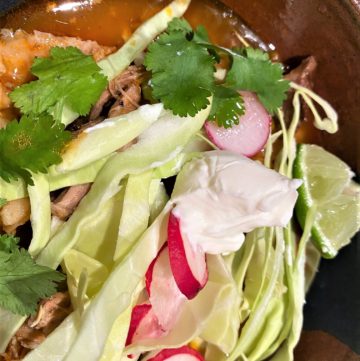 Red and Green Pozole
A Mexican stew made with red and green chiles, hominy corn, and pork shoulder. Very warming on a cold night! Made in the slow cooker, it fills your house with mouth-watering aromas!
Equipment
slow cooker

Dutch oven

cutting boards

measuring cups

large forks
Ingredients
3

pounds

pork shoulder

bone-in for best taste

1

Tablespoon

olive oil

2

pounds

hominy corn

Bueno fresh hominy corn, or use 2 25-oz cans

⅔

cup

green chiles

diced

½

cup

onion

diced

3

cloves

garlic

minced

8

ounces

red chile

Bueno frozen or a canned brand

2

teaspoons

cumin

1

teaspoon

oregano

preferably Mexican

1½

teaspoons

kosher salt

divided use

¾

teaspoon

black pepper

freshly ground

2

limes
Toppings:
cabbage, shredded

radishes, thinly sliced

sour cream

Cilantro sprigs
Instructions
Wash hands thoroughly and assemble ingredients. Measure and prep as necessary to have ingredients ready to use.

Coat the inside of a slow cooker with non-stick olive oil spray to make clean-up easier.

Heat olive oil over medium-high heat. Place pork shoulder on a cutting board and pat dry. Season with ¾ teaspoon of salt and sear it on all sides in the hot oil.

Be sure to keep raw pork separate from other ingredients and wash hands again after handling. Do not use cutting board for prepping other ingredients. Clean and sanitize after use.

Rinse the hominy corn and spread it over the bottom of the slow cooker along with green chiles, onion, and garlic. Place the seared shoulder on top of the vegetables.

(If roast is too large to fit comfortably in the slow cooker, slice it in half. Place a half on either side of the cooker. Clean and sanitize the knife used to cut the pork.)

Add the red chile and dry spices to the slow cooker. Squeeze the limes over all ingredients, and add water to cover.

Put the lid on the slow cooker and set on low for 8 hours or high for 6 hours. Stir the mixture a couple of times, but don't take lid off too often or it will slow the cooking process.

At the end of the cook time, check the pork for doneness. You should be able to remove it from the bone and shred it easily, even if it is a little firm.

Return the shredded pieces of pork to the stew and thoroughly combine with hominy corn and other ingredients. Let the stew become piping hot while you prepare the toppings.

Serve the pozole with warm tortillas, shredded cabbage, thinly sliced radishes, sprigs of cilantro, and lime wedges.
Notes
The toppings make the pozole taste especially fresh. The shredded cabbage has a nice crunch and actually soaks up some of the flavor of the soup if you push it down into the broth.
To keep this dairy free, leave off the sour cream. If you don't mind a bit of dairy, consider shredded cheese as another topping.
Of course, you don't need any toppings if you're short on time. The pozole is delicious on its own! 🌽
You'll get a bounteous amount of pozole from this recipe. Freeze any leftovers for another dinner (or lunch).
Nutrition
Calories:
158
kcal
Carbohydrates:
6
g
Protein:
17
g
Fat:
8
g
Saturated Fat:
2
g
Cholesterol:
56
mg
Sodium:
449
mg
Potassium:
397
mg
Fiber:
1
g
Sugar:
2
g
Vitamin A:
237
IU
Vitamin C:
39
mg
Calcium:
31
mg
Iron:
2
mg
Copyright © 2021 Jani Hall Leuschel